NCF Nation:

Tyler Shatley
September, 19, 2012
9/19/12
2:00
PM ET
Heading into this season, the offensive lines at both Florida State and Clemson were two of the biggest question marks in the ACC. The Tigers had to replace three starters up front, and the Seminoles were coming off a Champs Sports Bowl win against Notre Dame in which four true freshmen were in the starting lineup.
You'd never know it by looking at the stats so far this season, as deceptive as some could be.
As No. 10 Clemson and No. 4 Florida State prepare to face each other in Tallahassee on Saturday, both offensive lines have shown significant improvement through the first three games of the season. Florida State is No. 2 in the country in scoring offense, racking up its stats against two FCS opponents and an overmatched Wake Forest team. Clemson is No. 23 in the country in scoring offense, with its most impressive win coming against Auburn. Both Clemson and Florida State are allowing fewer than two sacks per game.
[+] Enlarge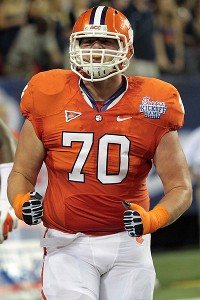 Cal Sport Media via AP ImagesGifford Timothy and Clemson's offensive line could hold the key to victory against Florida State.
Both groups, though, still have something to prove -- particularly at Clemson. The Tigers' offensive line will arguably get its biggest test of the season Saturday when it faces Florida State's defensive line. The Noles are tied for No. 10 in the country with 3.67 sacks per game. How Clemson fares up front could be the key to the entire game.
"It's going to be a tough challenge, no doubt about it," said Clemson coach Dabo Swinney. "But we're going to find out Saturday night one way or another."
Clemson's starting lineup against Auburn was
Dalton Freeman
,
David Beasley
,
Gifford Timothy
,
Brandon Thomas
and
Tyler Shatley
. Timothy was injured on the last offensive play of the game and missed the Ball State game. That opened the door for redshirt freshman
Shaq Anthony
to start and also play the first half against Furman.
Beasley was injured against Ball State, allowing
Kalon Davis
to play most of that game and all of the Furman game. Shatley was injured against Furman and missed the second half. Redshirt freshman
Ryan Norton
played the second half of that game.
Swinney said his offensive line was "pretty average" in last week's 41-7 win against Furman.
"Nothing great," he said, "just OK."
"They are a question mark; they're still a question mark," Swinney said. "I don't think that's changed. … We're a long ways away from being a great offensive line right now."
The good news for Clemson fans is that the starting lineup used against Auburn should be healthy and ready to play at Florida State. And the backups have now had some significant experience. Entering the FSU game, Clemson has eight different offensive linemen who have played at least 98 snaps.
Florida State's improved pass protection has been measurable. So far, the line has allowed three sacks in 194 snaps and 84 pass attempts. All three sacks, though, came against the best competition they've played -- a Wake Forest team that was missing one of its top defensive linemen in injured nose guard
Nikita Whitlock
.
It's still a foreshadowing of improvement since last season, when the Noles allowed 41 sacks in 820 offensive snaps, which amounts to one every 20 plays. Only eight teams in the nation yielded more sacks than FSU in 2011.
There's no question that FSU is also running the ball better. In 2011, the Seminoles produced just 112.2 rushing yards per game -- their lowest average since 2006 -- and managed 1,458 yards on the ground. Through three games the Noles are averaging 279 rushing yards.
The numbers are skewed because they've been racked up against unheralded FCS competition in Murray State and Savannah State, but FSU coach Jimbo Fisher said he likes what he has seen so far.
"I think they're very good players," Fisher said. "They're all very talented. It took a little bit of time to learn, and that's a position that's very hard to adapt to, and we loved them because of their size and athleticism. I think that's where you've got to control both lines of scrimmage -- that's where it's got to start.
"I've been very pleased with them, but I don't think we are close to where we can be," Fisher said. "I think each challenge is bigger and bigger each week."
This one, of course, might be the biggest of the season.
September, 4, 2012
9/04/12
4:00
PM ET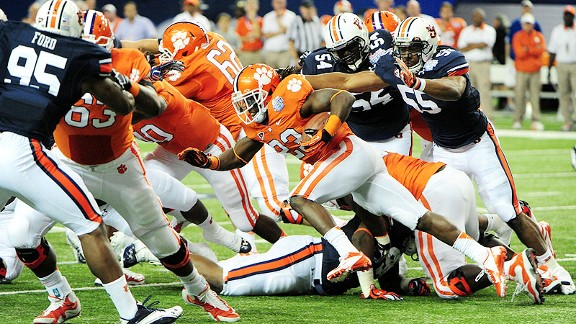 Scott Cunningham/Getty ImagesClemson's offensive line performed well against Auburn, allowing Andre Ellington to run for 231 yards.
When Clemson opened its game against Auburn, some of the major concerns about a revamped offensive line were played out.
Missed assignments. Pre-snap penalties -- one that cost the Tigers a fourth-and-goal attempt at the 1. Way too many Auburn defenders coming free, forcing
Tajh Boyd
to avoid the pressure on numerous occasions. At the end of the first half, Clemson had given up four sacks -- that only happened twice all of last season.
But a funny thing happened on the way toward writing off the offensive line. All five guys started playing much better, together. And their superior conditioning in the spread hurry-up started paying off. Center
Dalton Freeman
, tackles
Brandon Thomas
and
Gifford Timothy
, and guards
David Beasley
and
Tyler Shatley
had their way with the Auburn defensive front, which was clearly exhausted and having a hard time keeping up.
The end result? No second-half sacks allowed, no more procedure penalties and a hard-fought victory.
"We knew coming in that we were inexperienced but we weren't going to let that be an excuse for us," Freeman said after the game. "I was impressed with our poise. We did a good job of handling adversity. We're very happy with where we were … Early on, we were beating ourselves, probably trying to do a little too much. Once we calmed down, we played pretty well."
Freeman and Thomas are the only two starters returning from a year ago. Beasley, Timothy and Shatley had a combined 75 plays on the offensive line entering the Auburn game. (Shatley played 317 snaps in 2011, but all were on defense.)
After the rough start, the offensive line helped
Andre Ellington
run for 228 yards, and a 320 total yards on the ground. That was the highest rushing total for Clemson since gaining 323 against Georgia Tech in the 2009 ACC Championship game. Clemson is now 107-4-1 when it gains at least 200 yards rushing and 200 yards passing in the same game.
What's more, all five starters played every single snap but the final one -- only because Timothy got banged up and had to leave the game. Freeman was so good, he was selected as one of the ACC Players of the Week on Tuesday. Coach Dabo Swinney said during his news conference Tuesday he expects Timothy to play Saturday against Ball State, and he also hopes to get some of his reserves more involved.
Still, it was an impressive performance after a shaky start. Despite the result, both Swinney and Morris cautioned there is
plenty more work to do
.
"I think we all saw same thing, they've still got a lot of room for improvement," Morris told reporters in Clemson on Monday. "We're not ready to name them the 'Seven Blocks Of Granite' or 'Four Horsemen' yet. Those guys have earned some respect on this football team."
August, 28, 2012
8/28/12
5:00
AM ET
1. Auburn will have two new starters on its offensive line and will start two freshmen and two sophomores up front when it plays No. 14 Clemson in Saturday night's Chick-fil-A Kickoff Game at Atlanta's Georgia Dome. And Auburn won't even have the youngest offensive line on the field.
After setting a school record with 440.8 yards of offense per game in offensive coordinator Chad Morris' first season in 2011, the Clemson Tigers are undergoing a facelift up front. Senior center
Dalton Freeman
(36 career starts) and left tackle
Brandon Thomas
(10 career starts) are the only returning offensive linemen with any starting experience. Left guard
David Beasley
, a sophomore, played 30 snaps in five games last season, and right tackle
Gifford Timothy
played 45 snaps, mostly blocking on placekicks. Junior right guard
Tyler Shatley
is a converted defensive tackle, who signed with Clemson as a fullback.
Auburn is expected to start redshirt freshman
Greg Robinson
at left tackle, and freshman
Avery Young
is a top candidate to start at right tackle. Sophomore
Tunde Fariyike
will probably start at center after expected starter
Reese Dismukes
was suspended following his arrest on public intoxication charges.
2. Remember that frustration you felt when the scoreboard operator refused to show you the replay of a controversial play in a game? Well, if you're the fan of an SEC team, you might get to see those plays over and over again this season.
The SEC announced Monday that its member schools are no longer limited in use of replays, except when a stoppage occurs for an official review. The new SEC rule allows a replay to be shown on the video board from the end of a play until the beginning of the next play. During an official review, replays from TV network video feeds can be shown between the referee's announcement to stop play and when he announces the replay outcome. In the past, SEC schools were only allowed to show a replay once.
"The change in policy will allow our fans to see more of the action, including great plays and close calls," SEC Commissioner Mike Slive said in a statement. "Fans in the stadium now can see many of the same views of a play seen by fans watching on television. This should add to the overall game experience for fans inside our stadiums."
The SEC changed the rule in part because it didn't want fans staying at home, where they could watch replays time and time again on TV.
3. Some college football coaches, like Florida State's Jimbo Fisher, have banned their players from using Twitter during the season.
But USC's Lane Kiffin seems to be embracing social media. The Trojans have included players' Twitter handles on their respective bios on the school's website and even next to their names on the depth chart released on Monday. Right guard
John Martinez
was the only offensive starter who didn't use Twitter, and all but three defensive starters also had Twitter handles.
March, 6, 2012
3/06/12
2:00
PM ET
I know, I know, Clemson overload today, but coach Dabo Swinney had a teleconference this morning to preview spring practices, which begin on Wednesday in Death Valley. Here are a few quick highlights from the call:


Swinney said the main point of emphasis this spring will be the offensive and defensive lines, where the Tigers have to replace a total of six starters. The goal is to find a two-deep up front. He said offensive lineman Brandon Thomas has been like an MVP this offseason and has embraced a leadership role. "He has been great this offseason," Swinney said. "He has really stepped up in a role he wasn't necessarily in last year, and we need that." Thomas can play tackle or guard effectively, and gives the Tigers some options up front. Swinney said Tyler Shatley, a former defensive tackle, looks "totally different" on the offensive side of the ball. "He goes from being an OK athlete to a really, really good athlete." Shatley will start off at right guard.
The only two injured players out this spring are linebacker Tony Steward and safety Rashard Hall. Steward, who tore his ACL in October, was denied a medical redshirt, Swinney said. "That's the rule and that's the way it is," Swinney said. Steward will be a true sophomore.
The punter situation is a question going into spring. Spencer Benton will go in as the starter. Swinney said the staff will experiment with a few things on special teams this spring.
Clemson's staff took a trip to Nevada this offseason to study the pistol offense, but Swinney said the Tigers were in the pistol some last spring and fall. The staff just wanted to learn a little more about it. As for how much of it will be incorporated this year, Swinney said he's not going to give out a blueprint. "We're going to do what we did last year, hopefully a little bit better."
Swinney said running back Mike Bellamy is "hanging in there" and will practice with the team while trying to improve himself on and off the field. Swinney said Bellamy has gained some weight and gotten stronger. The goal for this summer is about 180 pounds, well over the 160 he came in at.