January, 4, 2012
1/04/12
7:00
PM ET
MIAMI -- The time for talking has ended. Game time is almost here. A few important notes for you to chew on as West Virginia and Clemson prepare to kick off in the Discover Orange Bowl.


1. The Big Ten is officiating this game.
So no talk about the referees having it in for West Virginia because it is en route to the Big 12.
2. Watch for the receiver rotation.
Tyler Urban
has been banged up, and
Brad Starks
is out so that means guys like
Ivan McCartney
,
Devon Brown
and
J.D. Woods
are going to have to step up. Also remember
Dustin Garrison
is out, and he was tied for fourth on the team with 24 receptions. Woods is coming off his most productive game, with four catches for 38 yards against USF.
Coach Dana Holgorsen was asked about Woods this week and said, "
"Well, we gave him a chance. And one of the things that as a head coach you try to get your guys to be accountable for what their actions are, and J.D. wasn't doing a very good job of that from an academic standpoint to a workout standpoint. He thought a lot of stuff was optional, so he wasn't able to play very much. That was carrying over on the field.
"Eleven games later he was functioning right. I guess he wanted to stay playing some football when we were playing in Florida. He's from Naples, so when we went to South Florida he had his best week of practice, we put him in there and he made plays. Then when we get to go to the Orange Bowl, I guess he figured he'd start practicing good again, so he had 15 good practices because he gets to play in Miami. I guess we'll play all our games in Florida and he'll come out and he'll practice well and do what he's supposed to do."
Let's not forget, McCartney is from Miramar, Fla., down the street from Sun Life Stadium.
3. Which young player is going to step up?
Take your pick, plenty of young players will be relied upon in this game --
Andrew Buie
? Wes Tonkery? Shaq Petteway? McCartney? Right guard Quinton Spain is going to have to have a good game as well to help keep the Clemson pass rush at bay.
June, 30, 2011
6/30/11
2:00
PM ET
I had a chance to catch up with West Virginia receiver
Tyler Urban
, and we discussed his transition from tight end to receiver. Urban is listed as No. 1 on the depth chart at Y-receiver, ahead of Wake Forest transfer
Devon Brown
. Here is a little of what Urban had to say:
AA: What do you think when you hear fans talking about you as an impact player for 2011?
TU:
As an offense, we have a lot of impact weapons. We have
Tavon [Austin]
,
Stedman [Bailey]
. My role change has been a little different, so I guess they see me in more of an impact role. But we have a lot of weapons on this offense I feel.
AA: How do you feel about the move to receiver?
TU:
At first, I was hesitant about it. I wasn't sure about it. After working through spring ball, I felt more and more comfortable in trying to learn the position and embrace it with open arms.
AA: Why were you hesitant?
TU:
With Coach [Dana] Holgorsen's offense, I knew there wasn't much of a role for a tight end. He talked to me within a couple weeks of being here, and he told me I could play in this offense. Through spring ball, the reps I got and the production made me more comfortable.
AA: What has been the hardest adjustment?
TU:
Everything before was from a 3-point stance from the line of scrimmage. Now I'm out in open spaces running routes way more often than doing blocking. I'm not blocking down on a defensive end or anything. There's a lot more contact, but I felt good during the spring. I'm still working on it. I saw some areas I need to improve during spring ball.
AA: How much help are you getting from the other receivers?
TU:
We work together at least three times a week, all the receivers are working together. Tavon, we have two much different playing styles. He's the speedy inside receiver, I'm more the post-up bigger inside receiver. I can't compare too much with him, but they've been giving me tips on basic route running, watching how they release off the ball or how they extend their routes. I'm more watching them and learning. I'm also working with some of the younger quarterbacks, probably four times a week and just getting reps every day, doing as much as I can on top of 7-on-7.
AA: What else do you have to work on this summer?
TU:
I still have to work on being comfortable in space. It's just something I am going to have to get used to. Spring ball helped me with that, and I want to increase my speed as much as I can.
AA: What do you think of the high expectations people have for this offense?
TU:
It's definitely exciting,. It's exciting to have that buzz around WV football again. Now we have to wait until September to prove it, and we'll try to take it from there.
April, 6, 2011
4/06/11
12:25
PM ET
MORGANTOWN, W. Va. -- Some quick thoughts after attending the viewing window of West Virginia's spring practice on Wednesday, the Mountaineers' first day in full pads:
I was excited to see Dana Holgorsen's new offense in person, and it's not hard to see the reasons for optimism. The Mountaineers have speed at receiver, a promising young quarterback in Geno Smith and were giving their own defenses problems with the mix of run and pass. Bill Stewart had told me on Monday that the team hadn't looked downfield much yet in practice, but Smith threw deep a few times during the 11-on-11 period, and with good success. It wasn't all passing, though, as the offense lined up with two backs frequently and did some inside zone running.
Holgorsen mostly stands on the sidelines during the team periods, signaling in the calls as he will on gameday. He doesn't say a whole lot during practice, letting his assistants handle the bulk of the talking. Holgorsen gives out a lot more instructions during film review, the players say.
No worries about Smith's health. He was participating in all drills and running around well on his surgically repaired foot. This offense doesn't ask him to run much, anyway.
Freshman Paul Millard got the second-team reps and throws a nice ball. Holgorsen told me he's far ahead of fellow freshman Brian Athey at this point, mostly owing to the fact that he played 5-A Texas high school ball. How this kid went unrecruited is baffling.
Still no real standouts at tailback, but Daquan Hargrett had some nice runs while I was watching, including a burst up the middle for a long touchdown.
Brad Starks got behind the defense for a long completion. He looks great and could be poised for a big senior year. Ivan McCartney dropped a pass early but later caught a short one and completely juked Brodrick Jenkins out of his shoes. McCartney has major potential if he continues to develop and mature. J.D. Woods also made a nice catch in traffic. Tyler Urban also got involved, and it will be interesting to see how the offense uses him.
The defense wasn't allowed to tackle the quarterback, of course, but Bruce Irvin was in the backfield a lot -- "No one can block him yet," Stewart said -- and Julian Miller wasn't far behind. That's not surprising, especially since starting offensive tackles Don Barclay and Jeff Braun are out this spring with injuries. Irvin and a few other players were wearing the gold shoes from last year's special Nike Pro Combat uniforms, which made me happy to see.
Linebacker Tyler Anderson had an interception off a tipped ball. Stewart then told him he should have stayed up and tried to score instead of falling on the ground. About the only thing last year's defense didn't do right last year was get turnovers and points.
Overall impression: The Mountaineers weren't as sharp or crisp defensively as they were a year ago at this time, but that's almost a given after losing seven starters. There is still a lot of talent and speed here, and it's just going to take a little time for the defense to gel and the offense to get the system down. If it all comes together, this could easily be the best team in the Big East this year. But there's a long way to go.
April, 5, 2011
4/05/11
11:00
AM ET
MORGANTOWN, W.Va. -- It's early, real early, this spring for West Virginia, which began practice later than any Big East team. But one thing seems pretty clear in the initial going: the Mountaineers have a wide-open competition at running back.
This is something new around these parts, as West Virginia could count on
Noel Devine
and Steve Slaton before him to claim the ball-carrying load for the past several years. With a new offensive system and different types of backs on the roster this year, though, that position looks uncertain.
[+] Enlarge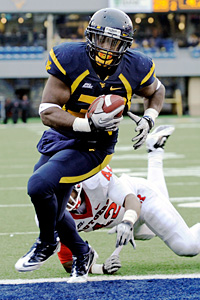 AP Photo/Jeff GentnerAt 230 pounds, Ryan Clarke is not the protypical running back for Dana Holgorsen's offense.
"I have not seen that Noel Devine or that Steve Slaton guy," head coach Bill Stewart said. "I have not seen that jump cut. Is it there? We'll see. But I haven't seen it yet."
The most experienced running backs on the team are 230-pound
Ryan Clarke
, 220-pound
Shawne Alston
and 235-pound
Matt Lindamood
. Those aren't the types of runners that Dana Holgorsen is used to using in his spread offense.
"The main back has always been a little quicker, a shiftier guy," Holgorsen said. "Someone who can get involved in the passing game, get the ball out in space and go score."
Kendall Hunter
, who ran for more than 1,500 yards under Holgorsen last season at Oklahoma State, was a 200-pounder. He coached smaller, quicker backs at both Houston and Texas Tech before that.
Holgorsen will adapt his offense to his personnel -- see his three-back, diamond formation last season at Oklahoma State -- and West Virginia will be able to throw some serious power looks at teams with Clarke, Austin, Lindamood and even
Tyler Urban
, who will see some time in the backfield as the tight end is phased out.
But it seems likely that a younger, more fleet-footed tailback will get some opportunities in an offense based on speed.
"A guy like
Daquan Hargrett
or a
Trey Johnson
, those guys have got a chance to see the field and touch the ball a lot more than they did last year," Holgorsen said. "That doesn't mean we're giving up on Alston and Clarke."
The Mountaineers will also bring in two shiftier players this summer in highly-regarded running back prospect Andrew Buie, a 190-pounder, and highly-productive Texas high school runner Dustin Garrison, who measures 5-foot-8 and 160. Both could see some action right away, just as Slaton and Devine did as true freshmen.
It might be until the summer, at least, before West Virginia discovers the heir to those former stars.
September, 23, 2010
9/23/10
1:21
PM ET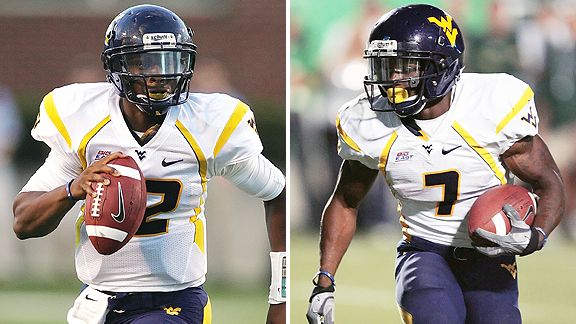 Icon SMIThe West Virginia offense has evolved into something more than Geno Smith and Noel Devine.
West Virginia faced a third-and-2 early in the second quarter against Marshall. Before the snap, Matt Timmerman shifted from left tackle to the right side to form an unbalanced line.
After the snap, tight end
Will Johnson
(238 pounds) followed behind Timmerman. Fullback
Matt Lindamood
(234 pounds) served as another blocker out of the I-formation.
Ryan Clarke
(247 pounds) took the handoff and rumbled 4 yards behind all that beef for the first down.
That mountainous Mountaineer package offered a hint that's been confirmed by the stats through three games: This is a different kind of West Virginia offense.
No longer does the offense rely just on small, speedy backs and quarterback runs. LSU's defense must prepare for a balanced, multi-faceted attack on Saturday.
"Two years ago against Colorado, we couldn't get a first down because I didn't have any tight ends or fullbacks," head coach Bill Stewart said. "I had little skill guys and slots. I didn't have any Will Johnson because he just converted, or
Tyler Urban
, or Ryan Clarke because he wasn't doing what I wanted and now I have a 238-pound chiseled man.
"So, we have to become well-rounded, and we have more in the arsenal. It's called spreading the wealth and keeping people off balance."
The additional poundage has helped, but nothing has aided the offensive transformation more than the emergence of sophomore quarterback
Geno Smith
as a precision pocket passer.
Smith is completing 70.3 percent of his throws; the school record for completion percentage in a season is Pat White's 66.7 percent in 2007. He has already thrown eight touchdown passes, or four fewer than the Mountaineers had all of last season.
Smith can run, but that's rarely his first option. His only two runs of more than 10 yards this season came as he scrambled against a Marshall prevent defense in the fourth-quarter comeback. West Virginia is averaging 226 passing yards per game this season, up from 191 per game in 2009 and 151 in '08.
The play calling reflects that balance as well. The Mountaineers have rushed 136 times this year and passed it 107 times, a 56-44 ratio. Last year, the ratio was 59-41 in favor of the run, and in '08 it was tilted 63-37 toward the run.
Last week against Maryland, Smith tossed four touchdown passes in the first 33 minutes, and West Virginia used the power running of Clarke behind Lindamood to help run out the clock late. No wonder the Mountaineers tried a double-pass trick play in the third quarter; when you've got that many toys, you want to play with them.
"We've got more options," offensive coordinator Jeff Mullen told the Charleston Daily Mail after the Maryland win. "We don't have to throw it on every down just like we don't have to run it on every down. We've got a lot of guys who can do a lot of things."
They've still got the small skill guys in
Noel Devine
,
Jock Sanders
and
Tavon Austin
. But they're also developing receivers like
Stedman Bailey
and tight end Johnson, who caught the touchdown near the end of regulation in the Marshall win.
"Those guys really make a defensive coordinator look at this offense differently than they did a couple years ago," Smith said.
September, 16, 2009
9/16/09
2:43
PM ET

Posted by ESPN.com's Brian Bennett
Auburn went through some major growing pains last year as it tried to change its offense from buttoned-down and predictable to high-flying and modern. So painful, in fact, that offensive coordinator Tony Franklin and head coach Tommy Tuberville wound up out of work.
This year, under new coordinator Gus Malzahn, the Tigers have finally become a potent attack, scoring 86 points the first two weeks. Auburn's opponent this week can relate to how changing an offense often takes time and the right people to make it work.
West Virginia underwent an identity change last year with new offensive coordinator Jeff Mullen. Head coach Bill Stewart wanted to counter how teams like Pittsburgh and South Florida were slowing the Mountaineers' spread option by loading the box with nine defenders.
| | |
| --- | --- |
| | |
| | AP Photo/Jeff Gentner |
| | Noel Devine has rushed for 192 yards in West Virginia's first two games. |
"We had to become more multiple to win big," Stewart said. "Plus, Patrick White was graduating. He wasn't going to be here forever."
Change came slowly and, at times, painfully. The once-explosive West Virginia offense sputtered to score three points at East Carolina, 14 at Colorado, 17 against Syracuse and 15 at Pitt. Only three times in the regular season did the Mountaineers manage 30 points or more against an FBS opponent.
But now, those changes are paying big dividends. It started in the Meineke Car Care Bowl, as White threw the ball all over the field in a 31-30 win over North Carolina. It has continued this season, as West Virginia has averaged 34 points in two victories. In the last three games, the offense has thrown for an average of 303 yards and run for an average of 164 yards. Balance has been achieved.
"We definitely feel a little bit more comfortable now," tight end
Tyler Urban
said. "We can trust the system because it's been intact for a solid year."
Trust is always a sketchy proposition when you ask players to do something totally different than what they're used to. Mullen had to convince a team that had been running Rich Rodriguez's option system to throw the ball downfield more. And as the new system clunked along, Mullen was heavily criticized by fans and surely faced doubt from his own players.
"I think it depends on how much success you have early," Mullen said. "That's clearly the case with Auburn right now, because they're having a ton of success. Whenever there's success, there's instant credibility, and so that faith journey doesn't take as long.
"With us, we had some of that success taken from us. So it took us a little longer to get back into that mode of believing in something and doing what we thought was right. Slowly, over time, we started to get better and better and better."
Coincidentally enough, Mullen said he thought the Mountaineers really started buying into his system during last year's game against Auburn. After falling behind 17-3, they rallied for 31 unanswered points and, in Mullen's eyes, "got their swagger back."
"When we put up 34 against Auburn, I think we felt a little bit more comfortable," Urban said. "We knew we could score against those highly-ranked defenses."
This year, the passing game has leaped forward under first-year starter
Jarrett Brown
, who has a cannon arm and a fifth-year senior's savvy. Brown has completed 75 percent of his passes so far while throwing for 577 yards and four touchdowns and running for 142 yards and a score. West Virginia's strength used to lie in the legs of its quarterback and with runners like Steve Slaton and Owen Schmitt. Stewart said now the team is loaded at receiver with a guy who can make any throw.
So the Mountaineers' own growing pains on offense now seem worth it for the growth that has occurred. And Mullen says there's more room for improvement.
"Right now, we're trying to ride the three-game streak we're on," he said. "So far, so good. But we're not satisfied, and we certainly don't feel like we've arrived yet."
April, 7, 2009
4/07/09
10:41
AM ET
Posted by ESPN.com's Brian Bennett
MORGANTOWN, W.Va. -- The final installment of West Virginia's Saturday scrimmage gave the offense the ball at the defense's 10-yard line. And the defense knew what was coming.
The Mountaineers repeatedly handed the ball to Ryan Clarke and let him pound into the pile. The redshirt freshman scored three touchdowns, carrying tacklers in from the 5-yard line on one of those scores.
Anyone watching that couldn't help but wonder: Where was this guy last year when West Virginia struggled to convert so many crucial short-yardage situations?
The answer: Clarke was holding onto his college career by his fingernails.
He was recruited to give the team a big back, but not as big as he showed up to campus last summer. The 6-foot Clarke weighed about 260 pounds -- or 30 pounds more than he was supposed to be.
That was bad. Even worse, Clarke didn't take care of his academics during his first semester of college.

"I was going out and partying too much," he said, "not focusing on the right things."
He spent much of last season riding an elliptical bike during practice and watching from the sideline during the game. Meanwhile, the Mountaineers spent all season trying to find someone who could convert third-and-short and fourth-and-short situations. Their inability to do so probably cost them at least two wins.
Toward the end of the season, Clarke decided to change his ways.
"I started realizing everything I was missing out on," he said. "I wasn't playing, and grades were coming out and it wasn't looking too good. I had to make a turnaround."
He went to work on slimming down, cutting out fast foods and all bread. He ate mostly meats and vegetables during five small meals per day.
"It was different," he said. "I feel like if you want to eat healthy, you can't have taste buds. A lot of that stuff was nasty. But I wanted to make the weight, so I had to do it."
He's now down around 230 pounds and says he feels lighter and much faster. Though listed as a fullback, he's not just a blocker. He can provide a power running complement to West Virginia's diminutive speedsters Noel Devine, Mark Rodgers and Jock Sanders.
"I'll tell you what, when he runs the ball somebody is going to get hurt," head coach Bill Stewart said. "It might be him who gets hurt, but somebody's going to get hurt."