March, 7, 2014
Mar 7
9:00
AM ET
Breaking down the spring in the ACC Coastal division:

Duke
Spring practice over
What we learned:
Momentum rolls on. It's hard to believe the Blue Devils are already done with spring ball, but coach David Cutcliffe opted to open practice in February to capitalize on the momentum that was created last season. After the spring game ended Saturday, he praised the way his players handled the practices. There was a great deal of retention and not a lot of re-teaching, so coaches were able to get much more out of their players this spring.
Max McCaffrey emerges. Jamison Crowder had a spectacular 2013 season, but it was essentially him and then everybody else in the receiver group. That may not be the case this season. McCaffrey earned praise from coaches and teammates for the way he improved during the spring. Offensive coordinator Scottie Montgomery said McCaffrey made as many plays as anybody else on the offense this spring.
Stepping up on the line. The Blue Devils lost three starters on their defensive line -- both ends in Kenny Anunike and Justin Foxx, and defensive tackle Sydney Sarmiento. But it appears as if the players behind them are ready to step up and make a seamless transition. Defensive ends Jordan DeWalt-Ondijo and Dezmond Johnson each had two sacks in the spring game. Kyler Brown also made the switch from linebacker to defensive end and had a sack in the spring game as well.

Georgia Tech
Spring start:
March 24
Spring game:
April 18
What to watch:
Justin Thomas takes over. After Vad Lee announced his transfer from Georgia Tech, the quarterback reigns fell to Thomas, who played in 10 games this season. The Jackets had their share of highs and lows under Lee, but what the staff is going to be looking for first and foremost is Thomas' ability to hold on to the football. Georgia Tech had 24 giveaways and ranked No. 12 in the ACC in turnover margin.
Defensive line questions. The Jackets lose three starters on the defensive line, including All-ACC defensive end Jeremiah Attaochu -- who had 22.5 sacks over the last two seasons. Who will step up and fill that type of production? The most experienced backups returning are sophomores Tyler Stargel and Patrick Gamble. Also, Travin Henry will get a look at defensive end after playing wide receiver last season.
Offensive line questions. Georgia Tech also loses three starters on the offensive line -- tackles Ray Beno and Will Jackson and center Jay Finch. The trio combined to start 117 games in their careers, so there is no doubt this is going to be a much less experienced unit in 2014. The good news is All-ACC guard Shaq Mason returns to help anchor the new-look line.

Miami
Spring start:
Started March 1
Spring game:
April 12
What to watch:
Quarterback derby. Stephen Morris is gone, but the Canes do have at least one experienced quarterback on the roster in Ryan Williams, a Memphis transfer who has served as Morris' backup the last two seasons. As a true freshman with the Tigers, Williams started 10 games -- all the way back in 2010. Challenging Williams is redshirt freshman Kevin Olsen, who had a bit of a rocky first year in Miami, along with Gray Crow.
Defensive improvements. Perhaps more than what happens at quarterback, Miami must see improvements out of its defense this season. Embattled defensive coordinator Mark D'Onofrio kept his job but the status quo cannot persist. Every single area of the defense must be upgraded. Ranking No. 13 in the ACC in total defense just can't happen again.
Defensive improvements, Part II. To try and help the secondary, Miami already moved Dallas Crawford over to safety, where the Canes could use the help. But Miami must be stronger on the defensive front. The Canes only had 12 sacks in eight conference games. By comparison, BC led the way with 25 sacks in conference games. This is a big opportunity for guys like Al-Quadin Muhammad, Tyriq McCord and Ufomba Kamalu to really step up.

North Carolina
Spring start:
Started March 5
Spring game:
April 12
What to watch:
The quarterbacks. Marquise Williams took over as the starter when Bryn Renner was gone for the season and ended up helping the Tar Heels make a bowl game after a 1-5 start. But coach Larry Fedora said the competition is open this spring. Look for Mitch Trubisky and Kanler Coker to give Williams a major push.
Defensive line questions. Kareem Martin and Tim Jackson are both gone, leaving big holes in the North Carolina front. Martin ended up notching 21.5 tackles for loss to rank No. 3 in the ACC. So who are the next guys up? At end, Junior Gnonkonde and Jessie Rogers are the top two contenders, while Shawn Underwood, Devonte Brown and Justin Thomason will compete for one of the tackle spots.
Replacing Ebron. Eric Ebron was dynamic at tight end for the Tar Heels last season, leading the team with 62 receptions for 973 yards, while adding three touchdowns. Will the Tar Heels be able to replace that type of production with just one player? Jack Tabb would be next in line among the tight ends, but this is a huge opportunity for the North Carolina receiving group as well. We saw plenty of promise out of young guys like Bug Howard, T.J. Thorpe and Ryan Switzer.

Pitt
Spring start:
March 16
Spring game:
No spring game. Last day of practice April 13
What to watch:
The quarterbacks. Chad Voytik played really well in relief of an injured Tom Savage in the bowl game, but coach Paul Chryst said the competition to win the starting job is open headed into the spring. At this point, Voytik and Trey Anderson are the only scholarship quarterbacks on the roster. So you can bet the biggest goal of all is to keep them both healthy.
Replacing Aaron Donald. One of the biggest surprises in all of college football this past season was the emergence and utter dominance of Donald at defensive tackle. Donald swept every major defensive award after notching 28.5 tackles for loss, 11 sacks, 16 quarterback hurries and four forced fumbles. Darryl Render is the next man up.
Complementary receiver. Devin Street is gone, leaving Tyler Boyd as the only standout receiver on the roster. Not only do the Panthers have to develop a consistent No. 2 receiver, they also have to develop some depth. Watch for Manasseh Garner, a former H-back who moved to receiver late last season when Street got hurt. He is more physical than Boyd, and has some extended playing experience.

Virginia
Spring start:
Started March 1
Spring game:
April 12
What to watch:
The quarterbacks. David Watford is not guaranteed to win his starting job back after last season, when he threw eight touchdown passes to 15 interceptions. Greyson Lambert and Matt Johns are also in the mix and reps with the first team will be split. In fact, Lambert got the first-team reps when the Hoos opened spring ball last weekend.
Andrew Brown. The highly-touted freshman will have every opportunity to win a starting job at defensive tackle, and it all starts in spring ball. The No. 3-ranked player in the ESPN 300 comes in with tons of hype; now can he translate that into on-field success? He, Donte Wilkins and Chris Brathwaite will be competing to start next to David Dean.
Mr. McGee. Jake McGee was the best player the Hoos had among the group of tight ends and receivers a year ago, leading the team with 43 catches for 395 yards. This spring, McGee has now moved over to receiver so the Hoos can take advantage of his athletic ability. Plus, Virginia is lacking playmakers at the position, so we'll see how much this move benefits both McGee and the offense.

Virginia Tech
Spring start:
March 27
Spring game:
April 26
What to watch:
Quarterback. Mark Leal heads into the spring with a leg up in the quarterback competition but make no mistake, there is no set starter. He will get competition from freshmen Andrew Ford and Brenden Motley in the spring, with freshman Chris Durkin and Texas Tech transfer Michael Brewer arriving in summer. This competition will likely drag on into the fall.
Front seven. The Hokies are losing five terrific players up front, including ends James Gayle and J.R. Collins, and linebacker Jack Tyler, who racked up 100 tackles in back-to-back seasons. There is no doubt a major priority this spring is finding their replacements and building depth along the line and at linebacker. Who will step up as the leader of this group with Tyler gone?
Skill players. This has been an ongoing theme over the last two seasons and will continue to be a theme until the Hokies have consistently good players at running back and receiver. Offensive coordinator Scot Loeffler is excited about the return of tight end Ryan Malleck, and his entire tight end group for that matter. A healthy Malleck and improvement from Kalvin Cline means the Hokies could simultaneously improve their run and pass game.
September, 9, 2013
9/09/13
1:59
PM ET
MIAMI GARDENS, Fla. -- The 15-minute cooling-off period had come and gone, but Al Golden had not cooled off just yet.
He walked into the interview room wearing an orange Miami polo shirt, a quick change from the shirt and tie he wore during the game. Yet he had already sweated through his new shirt, and sweat still poured from his red face.
Every few seconds, he wiped his brow with a white towel as he answered questions about Miami's 21-16 win over No. 12 Florida on Saturday afternoon.
You understand why Golden was still so worked up after the game ended. Golden was the coach with the most to lose on Saturday, given the raised expectations in Coral Gables this season. Miami has not lived up to its high standards for years. And the Canes had consistently struggled against ranked teams -- especially last year, going 0-3 against Kansas State, Notre Dame and Florida State.
Golden himself faced questions about his record in big games, too. Never once have his teams -- at Temple or Miami -- posted winning records against squads that finished the season above .500. Going into the Florida game, Golden was 8-31 against teams with winning records, 2-8 against ranked teams in his career.
[+] Enlarge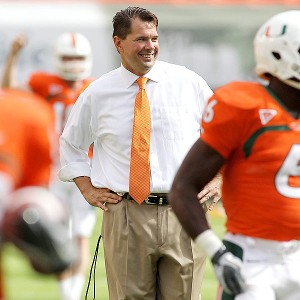 Robert Mayer/US PresswireMiami coach Al Golden is smiling about the state of his program after a definitive win against a ranked in-state rival.
Players saw a different Golden last week leading up to the game. So did reporters. He tightened up a bit. There was no time to relax. This game would serve as a benchmark for Miami. Everybody knew it.
Florida and Miami might not be bitter rivals on the field anymore, but they are in their home state and on the recruiting trail. Golden has to compete against Florida for fan interest, national pub and, most importantly, recruits across the state. That includes South Florida, where the top prospects are no longer locks to throw up the "U." Miami invited a reported 115 recruits to the game, underlying its importance.
The Gators had surpassed Miami in just about every way -- in the rankings, in recent championships, in NFL prospects and in recruiting class rankings. If Miami had any designs on beginning its climb back, it had to beat Florida.
So when the Canes did, Golden sprinted across the field like a giddy player and celebrated with his players and fans. In between the coachspeak in his postgame comments, you truly saw how much this win meant to him and to a program that has been in the headlines for major NCAA problems, not major NCAA victories.
His celebration resonated with his players, who feed off his passion and enthusiasm. Linebacker
Tyriq McCord
pointed to one Golden moment from a game against USF in 2011 that essentially made his decision to play for Miami. The Canes got ready to line up for a field goal to win with seconds left in the game.
"Usually the kicker has to be poised, nobody needs to be around him, they're trying to ice the kicker and everything," McCord said. "Coach Golden was standing there right in the middle with Jake Wieclaw, jumping around and everything. That's the main reason why I came here. Coach Golden is like one of us, and that's what I love about him."
With 24 hours to reflect on the victory, Golden admitted he was completely shot after the game, having expended so much energy in preparation time and on the sideline. To celebrate, he hung around his house Saturday night with family.
It was back to work Sunday. His team came into the facility to lift and watch tape. Golden made no mention of its rise to No. 15 in the AP poll -- the first time any of his teams has ever been ranked. The giddiness was gone. The focus cannot be on the rearview; it must be ahead, especially with a week off before Savannah State on Sept. 21.
Golden says they cannot "let this turn into Mardi Gras. We don't need a week's celebration here. We all know the corrections we have to make. We're happy about the win, but we have a lot of things we have to get fixed this week."
Still, there is something to be said for what the win can do for the team moving forward. Last year, Miami simply was not mature enough to win a big game like this. Now, it is, and that can only lift spirits and raise confidence. What Golden saw on the sideline was a team that enjoyed being in a slugfest, that did not get down when mistakes were made.
Golden saw a much more physical team. It has been years since Miami looked as physical as it did against the Gators. He also saw a more unified, team, too. Golden credits the work his players put into the offseason program.
"Nobody was complaining, there was no infighting," Golden said. "We're in better condition than we were a year ago and markedly better than two years ago. Our mental errors are down because of it, and our tackling is up because of it. ...
"The last thing anybody sees is what you do between the lines, but that confidence started way back with what this team has done in the weight room. We've had great leadership. Now we go and have that win, you're right there in confidence there. The way to gain confidence is to do it."
And the way to build a program back up is to take small steps toward a bigger goal. This was not a small step, though. It was a giant step for Miami and Golden. They now know they can win a big game without playing their best game.
But they also know they cannot allow one win to define their season. Ten games remain, including the entire ACC schedule. For Miami to get where it wants to go, this game must serve as a beginning.
Not an end.
September, 8, 2013
9/08/13
9:00
AM ET
Week 2 is in the books. Here are the ACC's top performers:

Miami's defense:
Linebacker
Denzel Perryman
recorded 13 tackles and forced a fumble, and
Tyriq McCord
sacked Jeff Driskel late in the fourth quarter, forcing a fumble that proved the difference in the game. In all, Miami forced three fumbles, picked off two passes, sacked Driskel twice and held Florida to 2.8 yards per carry on the ground. Not bad for a group that ranked dead last in the ACC in rushing defense a year ago.
Boston College running back Andre Williams:
The senior carried the ball a whopping 35 times en route to 204 yards rushing and a touchdown in a win over Wake Forest. It was Williams' second 100-yard performance of the season. Williams carried the ball eight straight times on BC's final drive, running the last five minutes off the clock and helping the Eagles to match their win total from 2012 after just two games.
Maryland quarterback C.J. Brown
: No, Brown didn't quite repeat his impressive Week 1 performance against Florida International, but he came close. The senior threw for 275 yards and two touchdowns and ran four times and scored twice more versus Old Dominion. Through two games, Brown has already collected nine touchdowns. A year ago, no Maryland QB accounted for more than 11 touchdowns all season. More good news for Maryland: Brown wasn't the only playmaker.
Stefon Diggs
racked up a career-best 179 yards receiving, and
Brandon Ross
ran for 149 yards and a score.
Duke quarterback Brandon Connette:
Starter
Anthony Boone
went down with a broken collarbone in the second quarter, but that didn't doom Duke's chances at its first 2-0 start since 1998. Connette, a junior with just 45 career passing attempts entering the game, came on to rally the Blue Devils' offense. For the game, he completed 14 of 21 passes for 198 yards and two fourth-quarter touchdowns to help Duke to a 28-14 win over Memphis.
NC State's two-minute offense:
In what was hardly a vintage performance for the Wolfpack against FCS foe Richmond, the two-minute drill to end the game worked to perfection, capped by kicker
Niklas Sade
's 48-yard, game-winning field goal with 33 seconds remaining. NC State trailed 21-13 at the half but forced a turnover deep in Richmond territory to set up a third-quarter touchdown, then drove the ball 48 yards on seven plays in the final two minutes of action, setting up Sade's game winner, which cleared the goal post with ease. QB
Pete Thomas
was 4-of-5 for 31 yards passing on the drive.
September, 7, 2013
9/07/13
7:22
PM ET
MIAMI GARDENS, Fla. -- The statement was made, and well, Miami simply could not contain its raw emotions, perhaps because this was all so new.


Al Golden sprinted across the field with 4.4 40 speed to shake Will Muschamp's hand. His players gathered en mass in one corner of the end zone to celebrate with fans then sprinted across the field to the end zone on the other end of the field to celebrate some more.
In between it all, an inflatable alligator float lay deflating on the field, its snout taped shut.
"We've been through so much," Golden said after
his team's 21-16 win over No. 12 Florida
on Saturday afternoon. "It was almost cathartic, to be honest with you. It was just 26 months unleashed there."
Miami, trying to take baby steps back to the top, had not been able to win a big game like this under Golden. The spotlight shined on the Canes last season in games against nationally ranked Kansas State, then unbeaten Notre Dame, then eventual ACC champ Florida State. Each time, Miami wilted or failed to show up, its defense exposed as a major liability, its toughness questioned.
Everybody inside the program knew it needed this win. But the Hurricanes were not the only ones who needed it badly. So did the ACC.
The league made a statement in Week 1 with
Clemson beating Georgia
, vaulting the Tigers to No. 4 in the rankings. Another win against a marquee team would send ACC officials dancing from press box tables. Especially a win from Miami -- a program that has underwhelmed despite the expectation it would enhance the league's reputation when it joined in 2004.
The Gators went in favored and seemingly had the edge up front. Miami players heard all the talk and got more motivated, developing the proverbial and cliché chip on their shoulders. They didn't need coaches preaching all week that they needed to be the more physical team. They knew.
They also knew this game meant more than suiting up against Florida Atlantic.
As linebacker
Tyriq McCord
said afterward, he came to Miami to play against a team like the Gators, to have the national stage, the national spotlight, a chance to begin Miami on its road back to a championship.
With a fired-up crowd filling Sun Life Stadium, the two rivals battled gamely in the final scheduled regular-season matchup between them.
Miami matched Florida hit for hit. For once, this team could believe in its defense. Florida racked up yards and first downs and owned time of possession but could not put points on the board. Because Miami was there to make the crucial play, time and again.
Florida turned the ball over four times inside Miami territory -- three times inside the red zone. The Canes had a crucial stand on fourth-and-inches from the Miami 16 in the second quarter. Florida kept driving, and Miami kept caving just a little bit. But the Canes refused to be broken.
Meanwhile, the Miami offense struggled for most of the game against the ferocious Florida front, a group quarterback
Stephen Morris
called "the best defensive line I've ever seen."
[+] Enlarge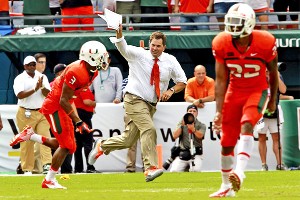 Charles Trainor Jr./Miami Herald via Getty ImagesMiami coach Al Golden and the Hurricanes beat Florida 21-16 on Saturday in their final scheduled regular-season matchup.
Morris and running back
Duke Johnson
are the two best players on the Miami roster. But improbably, it was the much maligned Miami defense that won the game for the Hurricanes.
"Without trust, you don't have anything," Miami cornerback
Tracy Howard
said. "If you make plays, you can talk. Trust is a big thing. The offense trusts the defense. The defense trusts the offense."
Perhaps as improbably, the ACC went 2-2 against the SEC to open the season. North Carolina and Virginia Tech, the two teams that lost to SEC competition last week, rebounded with wins Saturday the way everybody expected against far inferior competition.
Virginia did not have the same success against No. 2 Oregon
on Saturday.
But the focus for the first two weeks was on the big headliners against the SEC, a conference that has owned the ACC on the field and the recruiting trail. Every single ACC team went in as the underdog, including the Tigers and Canes at home.
Many believed Clemson and Miami had the best shot at pulling the upsets. In the end, what stood out in both victories was the way they won -- with an aggressiveness and physicality that most folks associate with the SEC.
The ACC essentially out-SEC'd its conference rival in both wins. Some 755 miles to the north in Clemson, coach Dabo Swinney noticed. He ended his postgame comments after Clemson's 52-13 win over South Carolina State by saying, "How about that ACC? Spunky little old league."
He flashed "The U" sign and walked out of the room.
Swinney has reason to brag. The ACC won only two games over ranked nonconference teams in each of the past three seasons. In just two weeks, the ACC has matched that win total. Miami linebacker Denzel Perryman put it bluntly when asked what the league's 2-2 mark over the SEC meant:
"We ain't no cupcake league," Perryman said.
Two big wins in two weeks does not completely change perception, but it's a start. The ACC should have three teams ranked in the Top 25 come Sunday. Miami has a shot to start 4-0 before a tough ACC game against Georgia Tech on Oct. 5. Florida State and Clemson also have a shot at being undefeated when they play each other Oct. 19.
As much as Golden wanted to sound a word of caution, saying this was only one game and only one win, a giddy McCord could not hold back.
"We're back," McCord said. "That's all I can say. We're back."
It appears the ACC is too.