NCF Nation:

Tyrone Crawford
May, 1, 2012
5/01/12
9:00
AM ET
The knock against Boise State year after year is always its schedule.
Too weak, the critics say. Play with the big boys, they yell. No credibility, they howl. The argument has always been a lazy one, steeped in superficiality and ignorance.
This past weekend proved it.
Boise State had a school-record six players drafted, including two in the first round. For those scoring at home, only Alabama (eight), Georgia and Oklahoma (seven each) had more. Ten Boise State players have been drafted in the past three years. To put that into context, Boise State had 10 players drafted between 2002-08, a span of seven years.
[+] Enlarge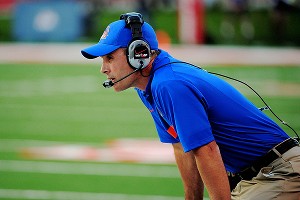 Kyle Terada/US PRESSWIREChris Petersen has been churning out victories and NFL talent at Boise State.
So it turns out, going 50-3 over the past four seasons was not so much a product of a lousy schedule, but a product of some darn good football players, and some excellent coaching.
Consider: Boise State never lands Top 25 recruiting classes. In fact, Boise State and five-star commitments go together -- never. Coach Chris Petersen is perhaps the most underrated coach in America when you consider the talent level of the players he has to work with when they arrive on campus.
Shea McClellin
went No. 19 overall to the Bears. In the class of 2007, he was unheralded and unranked out of a
tiny town in Idaho
.
Doug Martin
went No. 31 overall to Tampa Bay. In the class of 2007, ESPN ranked him the No. 248 running back in the nation. They are about as unlikely a pair of first-round picks as you will find in the draft. And yet NFL teams, NFL coaches and NFL scouts seemed to have no problem with the competition they faced.
Anybody who has bothered to watch Boise State play under Petersen appreciates the type of players he has been able to develop. Three of the four starting defensive linemen on last year's team were drafted, and that is no big surprise. Boise State
dominated up front
the past several years -- as Georgia will attest to after getting walloped in the season opener last season. McClellin and
Billy Winn
(sixth round, Cleveland) were stalwarts on that unit.
Tyrone Crawford
moved into the starting unit in 2011, but he has been a significant contributor over the past two seasons, as the team's leader in tackles for loss. Crawford is another player with an unlikely story. He hails from Canada, and only began playing in ninth grade at the request of his physical education teacher. He was picked in the third round by the Cowboys.
We have not even talked about quarterback
Kellen Moore
, who went undrafted and signed as a free agent with the
Detroit Lions
. Moore helped engineer all those victories with his leadership, his skill and his incredible knowledge of the offense. He is talented, yes. But he is undersized and lacking in some of the key measurables teams want in a quarterback, so he was passed over despite the intangible values he brings to the quarterback position.
Whether he should have been drafted is another topic. The point is that NFL teams and scouts are not simply enamored with college success, enough to overlook deficiencies or potential stumbling blocks for that particular player on the next level. These NFL teams do an inordinate amount of homework and research when they make their selections. They are looking for talent and potential when they watch tape, not the strength of the opposition.
Nobody is going to argue that Boise State has played the quality schedule Alabama has played. But the argument that Boise State is simply lucky and not any good must end. The Broncos have proven they have way too much talent to be undercut with such a silly notion.
December, 7, 2011
12/07/11
11:30
AM ET
BOISE STATE BRONCOS
11-1, 6-1

What can you say about a team that got left out of the BCS despite a No. 7 ranking and one loss on the season? Should have won all its games, right? In the world of the non-AQs, there is absolutely no margin for error. There has never been a one-loss team from a non-AQ make it into the BCS. Not even a deserving team like Boise State, which beat SEC East Division champion Georgia to open the season and lost at home by one point to a ranked TCU team thanks to another missed field goal. Now the Broncos are headed for the MAACO Bowl Las Vegas for the second straight season to play a 6-6 Arizona State team. You can see why coach Chris Petersen ripped into the BCS earlier this week, saying
everybody was tired of the system
.
Despite the loss, this was yet another double-digit season for Boise State, and the fourth year in a row the Broncos finished in the Top 10 of the final BCS standings.
Kellen Moore
had the best season of his career, throwing for a career-high 41 touchdowns and setting a career mark with a .741 completion percentage. Injuries did take their toll, most especially in the TCU game, when Boise State was left with a walk-on at running back and freshmen playing in the secondary. All things considered, this Boise State senior class has lost three total games and still deserves some national recognition, even if they are playing in a non-BCS game.
Offensive MVP:
Moore, QB. Moore completed 300-of-405 passes for 3,507 yards this season and became the winningest quarterback in NCAA history. He is the only quarterback this season who carved up the Georgia secondary and what he was able to do with new starting receivers should reaffirm his skill as a quarterback.
Defensive MVP:
Tyrone Crawford, DE. This was a tough one because so many of these players had solid seasons. I am going with Crawford because he led the team with 13.5 tackles for loss and 6.5 sacks, and did a solid job in replacing Ryan Winterswyk on the line.
Turning point:
Losing 36-35 to TCU. Given the way the college season ended, you have to wonder whether an undefeated Boise State team would have had a shot at playing LSU in the national title game. The Tigers were the only undefeated team in the nation. Anybody's guess whether Boise State would have had enough of a push to move ahead of Alabama, but this might have been their best chance. It was not meant to be. For the second straight season, their BCS hopes ended on a missed field goal.
What's next:
Life after Moore. The senior class has a chance to set the school record for most wins by a departing group in the bowl game (50), and then it is time to say good bye to a group that elevated the program to an elite level. How will Boise State handle itself without Moore, and with plans to join the Big East for 2013?
October, 17, 2011
10/17/11
5:39
PM ET
Here are your non-AQ players of the week, as selected by each conference. The independent players of the week are picked by a national media panel.
C-USA
Offense:
J.J. McDermott
, QB, SMU. McDermott was 20-of-31 and passed for a career-high 358 yards and two touchdowns as SMU defeated UCF, 38-17. McDermott improved to 5-0 as a starter and it marked his third straight 300-yard passing game, tying the SMU record.
Defense:
Vinny Curry, DE, Marshall. Curry had nine tackles, which included four tackles for loss and 3.5 sacks, to go with a forced fumble and a fumble recovery in a win over Rice.
Special teams:
Richard Crawford, PR, SMU. Returned a punt 92 yards in a win over UCF, the second-longest punt return in league history. He totaled 141 punt return yards for the game, the second-best single-game effort in SMU history.
Independent
Offense:
Riley Nelson
, QB, BYU. Nelson completed 17 of 27 passes for 217 yards and three touchdowns, while adding a team-high 87 rushing yards on 12 carries to lead BYU to a 38-28 win over Oregon State.
Defense:
Brandon Ogletree, LB, BYU. Forced turnovers on each of the Beavers' first three possessions of the third quarter, intercepting a pass and causing two fumbles.
Special teams:
Jon Teague, PK, Navy. Teague made two field goals against Rutgers, though his 34-yard attempt was blocked with under five minutes to play.
MAC
East Division
Offense:
Bernard Pierce
, RB, Temple. Pierce broke five school records in a 34-0 win over Buffalo after running for 152 yards and two touchdowns on 23 carries. Pierce and
Matt Brown
each rushed for 100 yards.
Defense:
Roosevelt Nix, DT, Kent State. Forced an early fumble that led to a Kent State field goal and posted career-highs of six tackles and four solo stops in a loss to Miami (Ohio). He also had two tackles for loss, a pair of quarterback hurries and broke up a pass.
Special teams:
BooBoo Gates, KR, Bowling Green. Gates had four kick returns for 152 yards, including an 88-yard touchdown return in the fourth quarter in a 28-21 loss to Toledo.
West Division
Offense:
Chandler Harnish
, QB, Northern Illinois. Ran for a career-high 229 yards on 14 carries and passed for 203 yards on 14-of-27 passing for a total of 432 yards of total offense in the Huskies 51-22 win over Western Michigan.
Defense:
Desmond Marrow, DB, Toledo. Had a team-high 10 tackles in a 28-21 win at Bowling Green. Marrow added a career-best three passes defensed.
Special Teams:
Scott Kovanda, P, Ball State. Punted seven times for 327 yards and a 46.7 average in a 23-20 win at Ohio. Kovanda pinned Ohio inside the 20-yard line four times and had a career-long 67-yard punt.
Mountain West
Co-Offense:
Doug Martin
, RB, Boise State.
Ronnie Hillman
, RB, San Diego State. Martin carried the ball 20 times for a career-high 200 yards and three touchdowns in a 63-13 win at Colorado State. His 65-yard TD run was the longest of the season for Martin. Hillman ran 27 times for 172 yards and two touchdowns in a 41-27 win at Air Force. Both of his touchdowns came in the final period after the game was tied with 2:30 remaining in the third quarter.
Defense:
Tyrone Crawford, DE, Boise State. Crawford recorded five tackles in a win at Colorado State, including two sacks for losses totaling 14 yards. He also recovered a fumble.
Special teams:
Chris McNeill
, WR/PR, Wyoming. McNeill returned a punt 76 yards for a touchdown, threw a 28-yard touchdown pass and also completed a 2-point conversion pass in a 41-14 win over UNLV. The punt return for a touchdown was the Cowboys' first since 2004 and the first in the Mountain West this season.
Sun Belt
Offense:
Kolton Browning
, QB, ULM. Went 23-of-31 for 275 yards and three touchdowns in a win over Troy. He also added 33 yards on nine carries on the ground to top the 300-yard mark in total offense.
Defense:
Lance Kelly, LB, ULL. Had a game-high eight tackles, a tackle-for-loss, a fumble recovery, a pass break-up and an interception in a win over North Texas.
Special Teams:
Mitchell Bailey
, RB, ULM. After ULM took a 15-10 lead on Troy late in the third quarter, Bailey forced a fumble on the ensuing kickoff that the Warhawks recovered on the 17-yard line. Two plays later, Browning threw a touchdown pass to
Colby Harper
to stretch the ULM lead and the Warhawks never looked back.
WAC
Offense:
Chandler Jones
, WR, San Jose State. Scored three touchdowns three different ways in a 28-27 win over Hawaii. He scored on a 20-yard reverse, off a fumbled kick return, and caught a 37-yard pass with 36 seconds remaining to win. Jones came into the game with just one career touchdown.
Defense:
Khalid Wooten, CB, Nevada. Recorded six tackles, forced two fumbles and intercepted a pass in a 49-7 win over New Mexico.
Special teams
: Travis Johnson, DE, San Jose State. Blocked two kicks in San Jose State's win over Hawaii. One was on an extra-point attempt, which was picked up and returned by Duke Ihenacho for the Spartans' first-ever 2-point defensive PAT. He also blocked a 42-yard field goal attempt with 3:22 remaining.
September, 6, 2011
9/06/11
4:00
PM ET
The cliched story line gets repeated over and over whenever Boise State plays a team from an AQ conference. Somehow, people still think the Broncos cannot match up with bigger offensive lines because they simply are not physical enough to handle the load.
And every single time, Boise State dispels the tired complaint with a ferocious performance. It happened last season against Virginia Tech. It happened even more emphatically Saturday in a 35-21 win over Georgia.
[+] Enlarge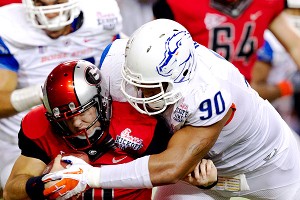 Bob Kupbens/Icon SMIBilly Winn and the Boise State defensive line sacked Georgia quarterback six times during Saturday's season opener.
The Bulldogs boast an offensive line full of 300-pound big men. Tackle Cordy Glenn and center Ben Jones are two of the more highly rated offensive linemen headed into the NFL draft. But they and their teammates could not stop a relentless Boise State defensive front, featuring veteran players who simply know how to play their assignments and make big takedowns behind the line.
Tackles Billy Winn and Chase Baker, and defensive end Shea McClellin have been starting together for two years now. Tyrone Crawford took over for Ryan Winterswyk, but as a reserve last year he was tied for the team lead with 13.5 tackles for loss and second on the team with seven sacks. This is a group that knows each other, that plays together and works extremely hard to prove themselves.
Boise State ranked first in the nation last season with 48 sacks. The Broncos are off to another great start after racking up six against the Bulldogs. McClellin had 2.5; Crawford had 1.5. What does it say that McClellin led the team with seven tackles? He constantly harassed
Aaron Murray
, hurrying him into throws and getting him on the run. Coach Chris Petersen said simply: "Shea McClellin had a great day."
As for the performance of his entire line, Petersen said, "They did have a good day. They're good players. They're well-coached. They answered against a pretty good offensive line in Georgia. There's no way we're going to play good defense if we don't start on the defensive line."
A big reason why they play so well together is because they have done so for so long. Baker has started 28 games; McClellin 25. Winn started all 13 last season. Crawford was supposed to redshirt last season after transferring from a junior college. But he made so many plays behind Winterswyk, the Broncos had to play him because he was too valuable to keep on the sideline.
His transformation has been remarkable. He only began playing football in Windsor, Canada, in ninth grade. His physical education teacher also was the head football coach, and asked Crawford to play for him because he had such a big body. Crawford played running back, tight end and a little linebacker, but it was not until junior college in Bakersfield that he started playing defensive line.
His story just shows once again how Boise State coaches can take raw players without all the recruiting hype and turn them into stars on their defense. Crawford understands the importance of joining such a strong defensive front, and believes they can be the best in the nation this season.
"We can take it to the top," he said. "Our first and second string defensive line, we have all big guys who know how to play. I feel we can go as far as everyone is saying we can."
Petersen, ever the humble coach, had no answer when he was asked Monday whether his line was the best in the nation.
"I would have no idea on that," he said. "They're good for us but those are hard comparisons to make."
August, 31, 2011
8/31/11
11:00
AM ET
A new year begins, but it might as well be Groundhog Day for Boise State. The Broncos open the season against a highly touted opponent. A win keeps them in the national conversation. A loss, and hopes for another BCS appearance are all but lost.
[+] Enlarge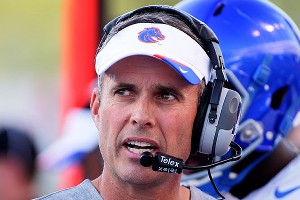 Brian Losness/US PresswireAnother season, another important early test for coach Chris Petersen and Boise State.
This is a recurring theme when you are a team outside the automatic qualifying conferences. Boise State has won four consecutive games against teams from AQ conferences -- including a big opening week win against Virginia Tech last season -- but the "what have you done for me lately" question always looms.
"What we've done is in the past," Boise State coach Chris Petersen said. "We've had good teams in the past. But what have we got right now? The season will tell. You've got to keep winning."
So yes, the opener against Georgia in the Georgia Dome on Saturday night is yet another must-win. There are plenty of reasons for that. For starters, the one conference always mentioned as being a place where Boise State could never win week in and week out is the SEC. Boise State is 0-4 against teams from the SEC.
The lasting image fans have of the Broncos against an SEC team is an embarrassing 48-13 loss to Georgia in 2005. Think Boise State has forgotten about that? Ask defensive end Tyrone Crawford, who knew nothing about the SEC while growing up in Canada.
"I didn't know what the SEC was until this year, but from what I've heard and how they've been talking about it, this is an extremely big game," Crawford said. "I've talked to a lot of guys on the team when Boise State lost to Georgia and how big that is to them if we beat them this year."
To be clear, the 2005 Boise State team is nowhere near the 2011 team. For starters, Boise State had never made a BCS appearance in 2005, and Petersen was not the head coach. Since then, the Broncos have gone to two BCS games and won both of them.
That has helped Boise State get more national attention. The consistency in winning has helped as well. Boise State is ranked in the preseason Top 10 for the second straight season. The Broncos are ranked higher than their SEC opponent in this game.
Even more fascinating -- Georgia coach Mark Richt has taken every opportunity to say he believes this is a game to get his team back into the national spotlight after recent struggles.
Who would have ever thought they would hear an SEC coach say that about Boise State? These are always spotlight games for the Broncos, after all.
"He's speaking for himself," Petersen said. "I think in a lot of ways he's in a good spot and I think he knows it from a coaching standpoint. They've got a huge chip on their shoulder. They've got good players, they've got good coaches. They're very motivated, so he's anxious to open with us. He knows he's got a good team or he wouldn't be excited about playing."
No matter what Richt says, a win for Boise State would be bigger. No team outside an AQ conference has made it to a BCS game with one loss. Teams from the SEC have no trouble in that regard. Perhaps we are getting closer to the day when a one-loss team from a non-AQ can get into a BCS game. Boise State had one loss last season and was eligible for an at-large berth, but was passed over.
Even a win here does not guarantee much of anything for Boise State. No non-AQ has ever played in a BCS national championship game, either.
"You have to keep playing and keep winning, and slowly but surely things change," Petersen said. "We've just got to take care of our business. I can't worry about what people are saying or thinking about us. There are always going to be some doubters out there. If you're undefeated … that's so far from where we are right now. Why would I even talk about that?"
It is a question that is constantly debated, but there will be no debate if Boise State loses.
"We're just excited about the opportunity," Boise State quarterback
Kellen Moore
said. "We know how good Georgia's been. We know how talented they are. They're from a conference everybody looks at very highly. We're just excited about this and looking forward to it."
May, 11, 2011
5/11/11
4:30
PM ET
I featured three
non-AQ players to watch
in one of my spring wrap videos: Boise State quarterback
Kellen Moore
, San Diego State running back
Ronnie Hillman
and BYU quarterback
Jake Heaps
.
But there are plenty other non-AQ players to watch. Here is a brief list of other players I think could have big seasons in 2011:
Tank Carder, LB, TCU.
He should be a first-team All-American this season as one of the top linebackers in the nation.
Tyrone Crawford, DE, Boise State.
Crawford had a good season in 2010 as a reserve, but he is poised for a breakout season, leaving many confident he will step right in for the departed Ryan Winterswyk at defensive end.
Dominique Davis, QB, East Carolina.
Davis won the Conference USA Newcomer of the Year award in 2010 after setting school single-season records in touchdown passes (36), attempts (552), completions (358) and passing yards (3,699). He loses his top playmaker in Dwayne Harris, but he will be expected to carry the team once again while the defense undergoes a makeover.
Chandler Harnish, QB, Northern Illinois.
He can run, and he can throw, and chances are he is going to be the preseason pick for MAC Offensive Player of the Year. How he does in Dave Doeren's system will be fun to watch.
Logan Harrell, DT, Fresno State.
Harrell had 10.5 sacks last season as the Bulldogs really improved their pass rush. With
Chris Carter
gone, can Harrell duplicate the same results in 2011?
Tim Jefferson, QB, Air Force.
There are some who think Air Force could be a dark horse in the Mountain West because of Jefferson, perhaps the most improved player in the Mountain West last season.
Case Keenum, QB, Houston.
Could another 5,000-yard season be in the works for Keenum? The big question is how he looks one season removed from ACL surgery. Some quarterbacks have a harder time with their mobility. It took two seasons for Tom Brady to get back to his former self.
G.J. Kinne, QB, Tulsa.
You have read ad nauseum on here that he has his third offensive coordinator in three seasons with the Golden Hurricane. But 2010 was his best season yet, and coach Bill Blankenship was promoted from assistant to head coach and knows what works well for Kinne.
Bobby Rainey, RB, Western Kentucky.
Rainey led all rushers in the country with 340 carries and ranked No. 4 among running backs with 1,649 yards. Can he do that agian?
May, 10, 2011
5/10/11
12:00
PM ET
2010 overall record:
12-1
2010 conference record:
7-1 WAC (co-champs)

Returning starters
Offense: 7, defense 7 , punter/kicker 0
Top returners
QB
Kellen Moore
, RB
Doug Martin
, OT Nate Potter, S George Iloka
Key losses
WR Austin Pettis, WR Titus Young, S Winston Venable, S Jeron Johnson
2010 statistical leaders
(* denotes returners)
Rushing:
Martin* (1,260 yards, 12 TDs)
Passing:
Moore* (273-of-383 for 3,845 yards, 35 TDs, 6 INTs)
Receiving:
Young (1,215 yards, 9 TDs)
Tackles:
Johnson (82)
Sacks:
Shea McClellin* (9.5)
Interceptions:
Brandyn Thompson (3)
Spring Answers
1. Geraldo Hiwat emerges.
The biggest question going into the spring was who would fill the big gap created with the departure of Austin Pettis and Titus Young. After the spring, the name on everyone's mind is Hiwat, who turned heads. He needs to continue to develop and has the potential to follow in line.
2. Tyrone Crawford is a handful.
Crawford played well behind Ryan Winterswyk last season, recording seven sacks. Now he takes over at defensive end full time, and he had a great spring, leading coaches to believe that position is in good hands.
3. Smooth transition to Pease.
When offensive coordinator Bryan Harsin went to Texas, Boise State went and hired back receivers coach Brent Pease, who had left for a coordinator job at Indiana. Because Pease is so familiar with the Boise State offense, the transition in coordinators was smooth during camp. There will be a few new wrinkles, but nothing overly dramatic.
Fall Questions
1. Receivers.
Hiwat may have stepped up this spring, but playing in games as a featured receiver is another matter entirely.
Tyler Shoemaker
,
Kirby Moore
and Hiwat do have experience, but what is it going to be like when they are going to be relied upon full time?
2. Safeties.
Boise State loses so much without Johnson and Winston Venable, and coach Chris Petersen knows it. The starters here are not solidified yet, partly because of injuries during the spring that took out some top competitors. Hunter White and Dextrell Simmons are the top competitors for Venable's spot while Jeremy Ioane, Cedric Febis and Travis Stanaway are competing for Johnson's spot.
3. Mountain West.
How will the Broncos fare in their first season in the Mountain West? Many are picking them to win the league, but remember Boise State is going to be facing a slew of teams it has never seen before. That unfamiliarity could be a problem in some of the tougher matchups against Air Force and San Diego State.