September, 8, 2011
9/08/11
1:30
PM ET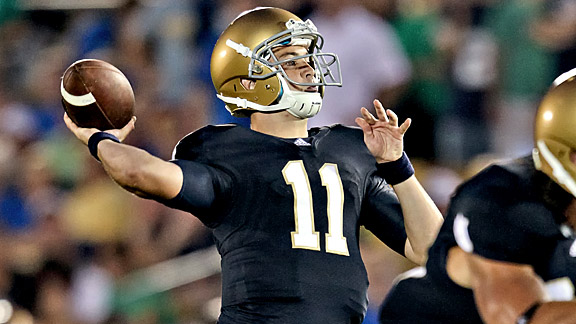 Robin Alam/Icon SMITommy Rees will start when the Irish take on Michigan in the first-ever night game at the Big House.
SOUTH BEND, Ind. -- Before he could lead a group of older teammates into Yankee Stadium, and before he could quarterback the first Notre Dame team to win at USC in a decade,
Tommy Rees
had to go 78 yards in 3 minutes, 26 seconds at Libertyville High School.
Only a high school sophomore at the time, Rees took his Lake Forest teammates 77 yards, enough to set up a game-tying field goal before his game-winning touchdown pass clinched a 23-20 overtime victory, knocking the hosts out of the playoffs.
"He put the team on his back," Lake Forest coach Chuck Spagnoli recalled. "That's probably my biggest memory of him."
The stage has gotten slightly bigger in the four years since, as Rees finds himself directing Notre Dame into a Michigan Stadium that is expected to host the biggest crowd in college football history Saturday night.
For a kid who grew up in a football family, the situation is hardly daunting.
Rees' father, Bill, spent 17 years as an assistant with Northwestern and UCLA before working for four NFL teams. His older brother Danny played at UCLA.
"This kid was at Rose Bowl games when he was young," Spagnoli said. "He's been around high levels of football as a youngster, so I don't know that stadiums really intimidate him. He was on the sidelines when he was 10 years old at NFL games, so he's probably got an advantage growing up in that environment."
That shows during preparation in the film room, where tight end
Tyler Eifert
says a lot of players don't initially know what exactly they're looking for.
That wasn't the case with Rees.
"I think a lot of the quarterbacks see film differently than other people," Eifert said. "He just sees the whole defense as a whole instead of just looking at one guy or end up watching the offense, actually, instead of watching the defense."
Offensive coordinator Charley Molnar said Rees broke down every play from the first half of the Fighting Irish's loss to South Florida flawlessly -- all the more striking since Rees didn't take a snap until the third quarter.
"I think he's got a real innate sense about the game of football," Molnar said. "He has some real football intelligence that other players just don't have, and that's just a product I think of him growing up in a football family, No. 1.
"No. 2 is he's a gym rat, as we say. He spends the time watching film, watching himself and really, really trying to be the best football player that he can be. He loves football, and that's obvious by the way he practices and the way he plays."
But it's less obvious by his stature. Spagnoli remembers the first time he met Rees, then an 11-year-old whose dad brought him to practice to watch Danny in his sophomore year under Spagnoli.
"Just a little guy with freckles," Spagnoli recalled. "I wasn't going, 'Oh my god, this is the future.' He was just a little kid at the time."
At a less-than-imposing 6-foot-2 and 193 pounds when he enrolled at Notre Dame in the spring of 2010, Rees hardly made a first impression on unsuspecting teammates.
Said Eifert: "He was the dork. I was the lanky, tall kid."
But the dork soon showed his heart,
Michael Floyd
said, taking hits in the pocket and instilling confidence in the offense with his unflappability.
"It's kind of weird," Floyd said. "Kind of different just knowing coming from high school and to playing elite college football. Kind of surprising that a freshman quarterback can do that."
Added Brian Kelly: "His FBI, his football intelligence, was really good early on. He had to physically develop. As I've said before, he looked like a high school student -- I guess he was, he was a high school student. He physically needed to develop, but mentally I thought he was well beyond his years."
Still, Rees' teammates never miss a chance to rag on his demeanor when the opportunity arises.
Take Tuesday, when
Cierre Wood
told reporters that Rees dresses like a bum, a line that made its way to teammates.
"They hit that dead-on," Braxston Cave said. "You always see him in like a raggedy sweatshirt and some shorts and just hanging out. That's just Tommy."
Rees was met with ridicule upon entering the locker room the next day.
"We were in the cold tub and someone was like, 'Man, you do look like a bum,'" Cave said. "So we were kind of giving him crap for that."
Cave said Rees off the field is one of the least serious people he's ever met. That thick skin will serve him well under the lights at the Big House as he gets another shot at the team that ruined his debut last season.
Replacing a woozy
Dayne Crist
in the first quarter of that contest, Rees had his first career pass intercepted in an eventual loss.
"A 'Welcome to College Football' moment," he said, adding: "Since that moment I haven't really looked back, so that probably has helped me in the long run."
A year, an initiation and a full-time job later, Rees is tasked with turning roughly 114,000 opposing fans and a prime-time audience into believers.
Even if he catches most of them off guard.
"He's unassuming, but at the same time you better be careful of what you can't see," Spagnoli said. "This guy -- I won't say he's a shark or anything like that -- he's pretty much what you see except one thing: He cares.
"He really has been around it a long enough time that he understands the implications of when he doesn't succeed as a quarterback."
September, 27, 2010
9/27/10
1:11
PM ET
September, 16, 2010
9/16/10
9:00
AM ET
My picks in Week 2 were … slightly better than awful. With a 12-10 overall record, I need somebody to give me a pep talk. Is Frank Beamer available? Oh wait. He is probably busy giving his team one of those.
On to the picks!
Virginia Tech 35, East Carolina 27
. No way Virginia Tech loses a third straight, right? Well, the Hokies have a recent history of losing to the Pirates -- dropping the opener in 2008.
Dominique Davis
has played lights out for the Pirates, but the defense -- not so much. The Hokies are going to be fighting mad, and should be able to slow down the East Carolina offensive attack just enough to escape.
Oklahoma 24, Air Force 20
. The Falcons present a unique offense to defend, and Oklahoma has looked helter-skelter in its first two games. Air Force did a fantastic job slowing down the BYU offense, limiting the Cougars to 88 yards through the air. Oklahoma struggled against
Diondre Borel
. But give the Sooners the win here based on the play in the trenches.
Florida State 30, BYU 20
. Don't think the BYU quarterback problems are going to be solved against the Seminoles, who dismantled a far better Cougars team last year on the road. Unfortunately for BYU, the passing game is not in tip-top shape right now and that is where the Sooners did most of their damage last week.
TCU 24, Baylor 20
. The Bears are one of three teams that have yet to allow their opponent into the end zone this season, but they haven't played anybody as good as TCU. Don't think that streak will continue against veteran
Andy Dalton
and an experienced offense.
Houston 35, UCLA 17
. Are the Bruins that bad? I am calling this game for Houston, regardless of who starts at quarterback.
Case Keenum
(concussion) might be day to day, but his backup has proven capable and so has the running game through two games this season. UCLA, meanwhile, has been able to muster nothing on offense or defense.
Southern Miss 20, Kansas 17
. The Golden Eagles dropped a close one to the Jayhawks last season, and though they looked pretty unspectacular against South Carolina in the opener,
Austin Davis
and
DeAndre Brown
could be in line for big games. This is a huge test for a defense that has played inconsistently. But, hey, so has Kansas.
California 28, Nevada 17
. The Wolf Pack haven't had much success against AQ opponents, losing eight straight games. Though the defense has looked much better, and defensive coordinator Andy Buh spent the last three seasons as a Stanford assistant, California simply has too much talent on offense. The Bears will find a way to slow down
Colin Kaepernick
enough to win.
Hawaii 37, Colorado 30
. Going with the upset in this one. I know Hawaii has been away from home for a really long time, increasing its chances of losing this game, but
Bryant Moniz
and the offense have looked good in the first two games. The Buffaloes? Not so good, especially last week.
SMU 44, Washington State 10
. The Cougars nearly lost to FCS Montana State last week, so that should tell you how the rebuilding effort is going in Pullman. SMU has had some injuries to deal with, but as long as
Kyle Padron
is behind center, the Mustangs should easily win this one.
Missouri 33, San Diego State 27
. The Aztecs are vastly improved, thanks to a better run game and more experience from
Ryan Lindley
. But
Blaine Gabbert
is playing well for the Tigers, with a completion percentage over 70 percent. The Tigers defense also has six interceptions on the year and makes the difference in this one.
Miami (Ohio) 30, Colorado State 10
. The Rams have scored a total of nine points in two games, and true freshman quarterback
Pete Thomas
has been sacked eight times. The defense hasn't played much better, either. The RedHawks haven't exactly torn up the field but have shown much more improvement this season than the Rams.
Army 24, North Texas 17
. Things went from bad to worse for the Mean Green this week when they found out starting quarterback
Nathan Tune
would be out for the season with a dislocated hip. Five starters have gone down with season-ending injuries now, and coach Todd Dodge is trying to cope. It's going to be tough against a much-improved Army team.
August, 12, 2009
8/12/09
5:00
AM ET
Posted by ESPN.com's Ivan Maisel
1. News item: Florida is looking at putting cornerback Joe Haden into a Wildcat offensive set. Hello? Seems to me that the Gators already have a Heisman Trophy winner at quarterback. This strikes me as too clever by half. Is Indianapolis coach Jim Caldwell looking to spell Peyton Manning with a Wildcat formation featuring Joseph Addai or Marlin Jackson? No. You know why? Duh -- he has Peyton Manning.

2. Here's the clearest definition of the haves and have-nots in college football. The BCS paid slightly less than $23.2 million each to the Big 12 and Southeastern Conferences for putting two teams in BCS bowls last season. The BCS paid $225,000 to each of eight FCS conferences. That's not quite 1 percent of what the Big 12 and SEC received. The money doesn't look good when compared to the six-figure checks that individual FCS schools cash in those rent-a-victim games.
3. UCLA offensive coordinator Norm Chow thinks that redshirt freshman quarterback Kevin Prince has the tools to be a great quarterback. But Chow doesn't know if Prince "will pee down his leg" before his first college game against San Diego State. Chow used that same inelegant phrase six years ago to describe the USC sophomore he tapped to start the season opener at Auburn. Matt Leinart turned out pretty well.
August, 15, 2008
8/15/08
12:00
PM ET
Posted by ESPN.com's Ted Miller
| | |
| --- | --- |
| | |
| | Stephen Dunn/Getty Images |
| | Ben Olson's foot injury could be the biggest impact news item in the Pac-10 so far. |
With real, live games now two weeks away (hooray!), I'm trying to identify the biggest impact news item thus far.
Tempted to say it's this: the "jock itch epidemic" at USC -- just because I want to link to the story for, like, the fifth time.
Most folks would say it's USC quarterback Mark Sanchez's injury, but I discount that for two reasons: One, I suspect he will start on Sept. 13 against Ohio State; two, in any event, I think the Trojans can win without him.
While Washington isn't a front-line Pac-10 team this year, quarterback Jake Locker is a front-line player, and when he suffered a hamstring injury, it was big news because the Huskies can't win without him -- and that would immediately damage Tyrone Willingham's chances to put together the sort of season that would save his job. But Locker also looks to be quickly improving and should lead the offense at Oregon on Aug. 30.
That's why I'm going with UCLA quarterback Ben Olson's foot injury.
This is a for-real, needed-surgery, out-for-at-least-eight-weeks injury.
At the start of Rick Neuheisel's first spring session with the Bruins, he was overseeing a competition between two quarterbacks with significant starting experience in a UCLA uniform -- Olson and Pat Cowan.
Now he has neither, though Kevin Craft, the likely starter, saw some action at San Diego State.
Last we checked, QB is an important position, particularly in this conference.
Sure, with Olson's long injury history, it's not surprising he's gone down. But let's face it: More than a few of us probably wondered if offensive coordinator Norm Chow would be the guy to transform Olson's obvious talent into consistent performances.
Neuheisel already was handed a flawed team. The offensive line is pure mix-and-match.
The defense will have to carry this team because the offense is probably going to struggle to score 20 points per game.
And that was before Olson went down.
Toss in one of the toughest schedules in the nation, and it could be a long season.
Of course, it's always possible that Craft -- or maybe even someone else -- will toss around some fairy dust and the Bruins will shock everyone.
Not likely, but possible.