April, 15, 2010
4/15/10
3:22
PM ET
STORRS, Conn. -- There's no doubt that UConn defensive end Marcus Campbell can run. In high school, he was a Connecticut state champion in the 100 meters with a time of 10.96 seconds.
But last year, his football career came to a screeching halt. He didn't take care of his academics, and that got him booted from the team.
[+] Enlarge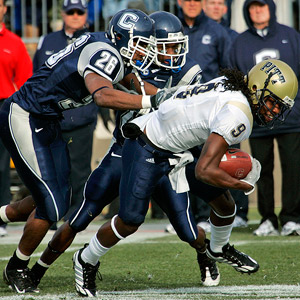 AP Photo/Bob ChildThe Huskies are counting on Marcus Campbell to start after he missed the 2009 season.
"It was a big shock," he said. "Devastating. But I knew if I could get my grades right, I'd come back."
Campbell spent last year as a regular student at UConn's satellite campus in West Hartford, close to his home of Bloomfield. He worked out on his own, kept in touch with his teammates and watched the Huskies' games on TV.
Most importantly, he improved his GPA enough to get back, and he's been working out as a starter at defensive end this spring.
"I said to myself, 'If I ever do get back, I'll cherish it and not take it for granted,'" he said. "It made me want to work harder."
Campbell said he's still a little rusty and needs a lot of work on his technique. But head coach Randy Edsall likes his attitude.
"He knows he's gotten a second chance," Edsall said. "Sometimes kids have to get slapped in the face and have something taken away for them to understand how important education and playing football is to them. He's out here performing well and getting back into the swing of things."
The Huskies need someone to replace the production from departed senior Lindsey Witten, who led the Big East with 11.5 sacks last year. This spring, there are no returning starters at defensive end, because Jesse Joseph is out until the fall with an injury. Sophomore Trevardo Williams is starting at the other end spot, and like Campbell he can really fly. He was a 100-meter track star in high school, too.
UConn hopes their speed makes up for a lack of bulk. Campbell is listed at just 227 pounds, while Williams checks in at 224. Edsall prefers quickness on the edge, especially against spread offenses, and former ends like Witten and Julius Williams had lots of success. Still, those ends will have to take on some massive tackles during the year.
"It's all about staying low, using my speed and my explosiveness," Campbell said. "Those guys may be 70, 80 pounds more than me, but I'm up there with them on strength.
"I've talked to Lindsey and Julius and the one thing they really stressed was getting more flexible. so you can stay low around the big tackles. They're about 6-foot-6, and I'm about 6-3, so if I get under their arms I can get right by them with speed and quickness."
In addition to Joseph, UConn hopes converted linebacker Greg Lloyd can come back from major knee surgery this fall. Redshirt sophomores A.J. Portee and Ted Jennings should make an impact as well.
Campbell's career numbers are modest -- just 24 tackles and two sacks in 23 career games. But he's looking to make a leap in the same way Witten went from backup to star.
"I'm glad to be back," he said. "I can definitely contribute to the defensive line."
April, 13, 2010
4/13/10
9:02
AM ET
STORRS, Conn. -- As the final seconds ticked off the clock of the Papajohns.com Bowl in January, the
Connecticut Huskies
began looking toward the future.
"We were already thinking about first game of [2010] against Michigan and who we'd have coming back," running back
Jordan Todman
said.
[+] Enlarge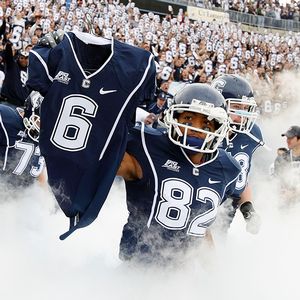 Elsa/Getty ImagesKashif Moore and the Huskies came together after cornerback Jasper Howard was killed.
Spring optimism has never run higher in Storrs since UConn joined the FBS level in 2002. The Huskies finished last season on a four-game winning streak, including a 20-7 victory over South Carolina in that bowl game. Their five losses last year came by a total of 15 points. Eight starters return on both offense and defense, along with a host of improving young players.
But while the Huskies eagerly look forward, they also won't forget the past. The story of their 2009 season wasn't that they went 8-5. It was how they dealt with the tragedy of losing starting cornerback Jasper Howard in the middle of the year.
The memory of Howard, who was stabbed to death on campus the night of the Oct. 17 Louisville game, hovers constantly on the players' minds. A large display of Howard's image greets visitors to the Burton Family Football Complex. Howard's locker, complete with the possessions he left in it, remains preserved and will be so until the end of this year, when he would have graduated.
After Thursday's practice, a former player presented the team with a stained glass window depicting a football with Howard's name and number. The players applauded when they saw the window and immediately started offering suggestions for where it should be placed.
The pain has lessened with time. What has endured is inspiration and compassion.
"We came together and bonded as a team, and Jazz would have wanted that," quarterback
Zach Frazer
said. "We worked harder and came in this year with more motivation. We're all pretty close now. We get on each other if we're not doing the right things, but then we get together and hang out, have a barbecue or something."
Coach Randy Edsall, whose poise and grace in guiding his team through the adversity won national respect, said he noticed players grow and mature toward the end of last season. No longer were they hanging out with just their position groups or guys from their hometown. The whole team was spending time and talking with one another, and the approach to offseason workouts took a more serious tone.
"We're all brothers now," Todman said.
The players who changed the most, Edsall said, were the ones closest to Howard. Receiver
Kashif Moore
held Howard as he bled from the stab wound before the ambulance arrived. Moore emerged as a key playmaker late last season and has been one of the offensive stars of the spring.
"He was my best friend," Moore said. "When I'd go home for the weekend or the summer, he'd come with me. My family was his and his family was mine.
"I think about that every day, and I come out and try to play well in honor of him."
The Huskies can think of no better way to honor Howard than to turn in a banner year in what would have been his senior season. They appear to have enough talent and depth to challenge for the Big East title.
Though still thought of as a conservative offense, UConn embraced the no-huddle attack last season and finished as the Big East's second-best passing team while averaging 40.8 points in the final four regular season games. Frazer is back under center after hitting his stride late in the year, and Todman returns following an 1,188-yard season. The defense features a pair of fourth-year starters at linebacker in Scott Lutrus and Lawrence Wilson, who led the Big East in tackles a year ago.
There are pressing issues in the secondary, but Edsall's practice of redshirting as many freshmen as possible has resulted in a team that's two- and even three-deep at many spots.
"This is probably the first spring that we've had this kind of depth, this kind of competition in my 12 years here," Edsall says.
So the future looks promising. And the Huskies race into it while always remembering the past.
April, 12, 2010
4/12/10
1:00
PM ET
STORRS, Conn. --
Jordan Todman
rushed for 1,188 yards last season, good for third best in the Big East. Imagine what he could have done if he weren't in a platoon situation.
Todman certainly has.
"The more opportunities you get, the more yards you get," the
Connecticut Huskies
tailback said. "I definitely feel like with more opportunities, I probably would have had a better season."
Todman formed a terrific one-two punch with
Andre Dixon
last year. Both topped 1,000 yards, with Dixon adding a little more power to contrast Todman's speed. Dixon actually had four more carries (239 to 235) than Todman did.
Huskies coach Randy Edsall isn't sure yet whether he'll go to another combo platter at halfback now that Dixon graduated. It remains to be seen whether a young player like Meme Wylie, who's been impressive in spring practice, or converted defensive back Jonathan Jean-Louis can emerge as a complementary runner to Todman.
Robbie Frey
will make his case this summer when he recovers from shoulder surgery.
One thing's for sure: UConn is going to run the ball as its first priority, and whoever gets the carries will have ample opportunities for success behind an excellent offensive line. Todman is willing to share duties again, but he wouldn't mind becoming more of a workhorse back as well.
That was one of the questions about him early in his career, whether he was sturdy enough to be an every-down player. He has continually put on weight, though, and hopes to be about 205 pounds at the start of his junior year. He checked in at about 190 last season.
"I have confidence in myself and I have the heart, so I won't take myself out if I'm tired," he said. "I've worked hard to make sure I'm in shape at all times.
"I'm not content or happy just saying I'm an every-down back. I have to go out there and show everybody, show myself. That's the only way to do it, to continue going, going, going."
Whatever the shape of his role, Todman figures to be very valuable to the Huskies this season. He can catch the ball out of the backfield, and he also returns kicks, memorably bringing one back 96 yards for a score in the win over Notre Dame last season.
Overall, he touched the ball 276 times in 2009. With more opportunities this year, who knows what kind of numbers he might put up?