NCF Nation:

Uona Kaveinga
August, 17, 2011
8/17/11
10:45
AM ET
I've taken a look into my crystal ball, and here are three predictions for BYU in 2011:

1. BYU will beat Ole Miss to open the season. This is one of the biggest games the school has played because of its magnitude. The Cougars cannot afford to start Year 1 as an independent with a loss on national television to a team that is predicted to finish last in the SEC West. Not only do I think BYU will be extra-motivated and extra-prepared, I also think the Cougars have an advantage at quarterback with
Jake Heaps
. There is depth at running back, too, which should help open up a play-action game. Although there is a concern about playing in the heat and humidity, plenty of teams have traveled East and handled that. I just think BYU is a better overall team, and that will show Sept. 3.
2. Heaps will pass for 3,000 yards. Last season was a blip at BYU, where quarterbacks are almost expected to throw for 3,000 yards. In fact, 2010 was the first time since 2004 that BYU did not have a 3,000-yard passer. The new offense under coordinator Brandon Doman should open up the passing game for Heaps. What also will help is a stable of receivers who have plenty of talent. Watch for
Ross Apo
, a 6-foot-3, 202-pound receiver who redshirted last season. He,
Cody Hoffman
and
McKay Jacobson
should have productive seasons.
3. Linebacker Uona Kaveinga will turn heads. Given how many national television appearances the Cougars will make this season, Kaveinga will show everybody why BYU has raved about him during the spring and fall. Kaveinga initially committed to BYU out of high school but changed his mind and signed with USC. Two years later, he decided to transfer to BYU. Kaveinga sat out last season because of NCAA transfer rules but is now ready to start at middle linebacker. At 5-11 and 255 pounds, Kaveinga has a knack for being all over the place on defense. In football speak, he has a nose for the ball. His presence should be a huge upgrade to the BYU linebackers.
August, 5, 2011
8/05/11
9:00
AM ET
BYU opens camp Saturday. Let us take a look at three burning questions:
1. Can the Cougars be a national player?
BYU ended the season on a hot streak and brings back nearly everybody on offense. There has been a shift in philosophy with new offensive coordinator Brandon Doman. Everybody expects
Jake Heaps
to be infinitely better this season than he was last. Now BYU has the perfect opportunity to prove all that on a national stage in Year 1 as an independent. The season starts with games at Ole Miss and Texas, then home games against Utah and UCF. Plenty of opportunity to grab some headlines early.
2. Who gets the ball?
I mentioned Heaps above -- now who does he get the ball to? BYU has a wealth of riches at the skill positions. JJ DiLuigi,
Bryan Kariya
and Josh Quezada all return in the backfield;
Cody Hoffman
and
McKay Jacobson
return at receiver. Add in highly touted receiver
Ross Apo
and tight end
Devin Mahina
, and you have got plenty of options to get this offense back to what is expected with the Cougars.
3. Leaders on defense.
BYU loses six starters from its defense, but there are plenty of talented players ready to fill in. Linebacker Jordan Pendleton is back and healthy after sitting out a chunk of last season with a knee injury and has stepped into a leadership role. Tackle Romey Fuga returns from an injury as well, and safety Travis Uale is back. There are big losses, though. The top three tacklers from last season are gone. Coach Bronco Mendenhall hopes to replace Andrew Rich with Daniel Sorensen and Shane Hunter with Uona Kaveinga. Both had impressive springs and could make this unit even better.
May, 10, 2011
5/10/11
3:00
PM ET
With spring practice in the books, let's hand out some virtual hardware.
Best newcomer
: BYU linebacker Uona Kaveinga sat out last season after transferring from USC and is now eligible. Judging by the spring he had, he should have an immediate impact. Coach Bronco Mendenhall cited him as a leader on his defense during the spring.
[+] Enlarge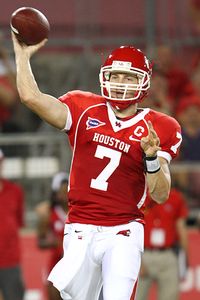 Thomas Campbell/US PresswireIf Case Keenum can make a full return from injury, the Cougars' offense should be back on track.
Best new quarterback
:
Derek Carr
, younger brother of David Carr, takes over as Fresno State's starter, and already he has the complete trust and confidence of his coaches and teammates. He had a great spring, and coach Pat Hill says, "Derek is the kind of kid who can take us to this next level."
Best quarterback competition
: It's hard to envy the position new Miami (Ohio) coach Don Treadwell will face this fall -- choosing between the quarterback who started the 2010 turnaround in
Zac Dysert
, or the quarterback who capped the turnaround in
Austin Boucher
. They are even. Treadwell says he would rather have two skilled choices than no choice at all.
Best transformation
: TCU's
Sam Carter
came into school as a quarterback. But after redshirting last fall, he is now playing safety and had a good spring. Carter is just the latest to change positions at TCU. That is what Patterson does best.
Best brother tandem
: The Moore brothers will once again be on the same field. Kellen the quarterback now has his brother to throw to again after Kirby redshirted in 2010. A natural chemistry exists between the two. Now we'll see how that pays off on the field.
Best spring news
: Houston learning that
Case Keenum
would be eligible for a sixth season. Keenum got his medical hardship waiver granted and will get another chance to try to break the NCAA record for passing yards. He didn't practice this spring, but just the idea that Keenum would be back lifted the spirits of his coaches and teammates.
April, 14, 2011
4/14/11
2:00
PM ET
BYU coach Bronco Mendenhall generally shies away from using the word "best" to describe anything. But he couldn't help himself when asked about how his team fared this spring.
"If we're looking for adjectives to describe who they are, this team loves to compete, they love to have fun they're very talented and we have more depth in the six years that I've been the coach here," Mendenhall said in a phone interview Thursday.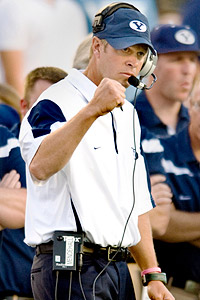 Douglas C. Pizac/US PresswireBronco Mendenhall said the Cougars have had "the best spring" of his tenure as coach.
"I would say it's been the best spring not only from the standpoint of what we got accomplished but possibly where our team is coming out of spring. I'm very optimistic."
There is plenty of reason for optimism as BYU begins its first season as an independent. The Cougars return 19 starters and have a much more solid foundation today than at this time last season. They also have an identity, something that was missing going into 2010. Part of the reason is because Mendenhall was undecided on his starting quarterback, and played both
Jake Heaps
and
Riley Nelson
.
The team struggled to a 2-5 start before closing on a big-time tear and dominating UTEP in the New Mexico Bowl. Mendenhall revamped his coaching staff in the offseason, promoting Brandon Doman to offensive coordinator while deciding to stay on as defensive coordinator after assuming that role midway through last season.
Just as important, Heaps is the definitive starter at quarterback. He and his young teammates are simply more mature.
"We were all disappointed the season was over after our bowl game because we were making progress," Mendenhall said. "I was hopeful to see that same thing happen in spring practice and that happened. We didn't lose ground. We picked up where we left off. I was really happy they were so anxious to compete with each other and the fun they were having -- sometimes spring isn't a time to bring out a heightened sense of competition but that's the way it went."
Indeed, the spring game last week went into overtime. After Nelson ran for a score and hit
Bryan Sampson
for the 2-point conversion, the winning White team carried its coach for the game, Paul Tidwell, off the field.
That speaks to the competitiveness, and BYU is going to need that as it faces a tough opening stretch with games against Ole Miss, Texas and Utah. The biggest holes to fill are on defense, where safety Andrew Rich is gone. Rich led the team in tackles, interceptions, pass breakups and forced fumbles last season and was named AllMWC first team.
But the Cougars feel they have somebody to step right in and make an impact. Daniel Sorensen has returned from his mission and had a nice spring. USC transfer Uona Kaveinga is penciled in to start at middle linebacker and also flashed during the spring.
The front seven is the unquestioned strength of the defense, with talent and depth. Defensive tackle Romney Fuga missed the spring as he rehabbed from a knee injury but is expected to return along with Eathyn Manumaleuna, Matt Putnam and Jordan Richardson.
Offensively, BYU got a boost when tackle Matt Reynolds decided to return to school instead of leaving for the NFL. The running back group is deep with
Bryan Kariya
, JJ DiLuigi and Josh Quezada, and so are the receivers with
Cody Hoffman
,
McKay Jacobson
and
Ross Apo
.
"As we finished last year's season, that identity has formed the basis for what they see going forward," Mendenhall said. "It took a lot of seasoning to get to that point. That's why we'll play with a clearer sense of resolve and identity than we had."
September, 3, 2008
9/03/08
12:35
PM ET
Posted by ESPN.com's Ted Miller
A look inside the Pac-10 this week.

Washington: The heat is on coach Tyrone Willingham, and his likely tall order is producing an upset victory over No. 15 BYU at Husky Stadium this weekend in front of an increasingly disgruntled fan base. It's obvious that the Huskies defense can only do so much with schemes to mask talent gaps. But it's the offense that severely underachieved at Oregon. That should improve this week inside a home stadium where calling audibles at the line of scrimmage will be far easier than inside boisterous Autzen Stadium. The offensive line, which was surprisingly bad against the Ducks, also should feel challenged this week, and a less athletic BYU defense should help. Moreover, offensive coordinator Tim Lappano told reporters he plans to expand the playbook after holding back with so many freshmen in the playing rotation.

Arizona State: The Sun Devils offensive line -- picked apart during the preseason -- mostly passed its first test against Northern Arizona. Give them a gentleman's C, considering the absence of a running game while yielding only one sack. Stanford will offer a far stouter test. For one, the Cardinal feature a veteran defense with nine starters returning. Second, that defense was strong against the run vs. Oregon State but gave up 404 yards passing, which means ASU QB Rudy Carpenter will be firing away. But will he be safe in the pocket? This won't just be a test of the OL, either. It will be a test of whether Carpenter will stick to the plan to get rid of the ball quickly instead of trying to wait for a big play to develop downfield. It's notable, though, that the Beavers rebuilt offensive line only gave up two sacks in 54 pass attempts to the Cardinal.

Oregon State: It's interesting how so many appear to be expecting Penn State to roll through the Beavers. That gets a big "hmmm" here. Are folks supposed to be impressed with the Nittany Lions bludgeoning Coastal Carolina 66-10 with 334 yards on the ground and six rushing TDs? If so, why isn't Arizona getting more hype for its 70-zip win over Idaho, which would beat Coastal Carolina, a team that, apparently, is located on the coast of one of the Carolinas? I see an Oregon State team that will shock Penn State with its speed on the perimeter. If the Beavers maintain something approaching parity in the trenches, this will be a close game. The return of safety Al Afalava also will substantially help the Beavers run defense, which was so porous against Stanford. One caveat: It's also possible that some of OSU's younger players will be wide-eyed playing in front of 107,000-plus at Beaver Stadium, so that could lead to early and critical mistakes.

USC: Which is more important a RB's foot or an LB's finger? While most eyes are on Ohio State RB Beanie Wells' injured foot in anticipation of the Buckeyes Sept. 13 visit to USC, it might be as important to pay attention to Trojans LB Rey Maualuga's broken finger, which he aggravated vs. Virginia while turning in a performance well below the All-American's standards. The thing with a RB's foot -- it becomes obvious when it's injured and the back can't play. With a finger, the feeling is tape it up and go. But it's often worse to play with a seemingly minor injury because it can lead to major mistakes. Recall QB John David Booty playing with an injured hand in the upset loss to Stanford and tossing four interceptions. What if a RB or TE escapes a Maualuga tackle and transforms a routine play into a TD? Moreover, USC has been quietly hit by injuries to its LB depth, most particularly Maualuga's talented backup Chris Galippo (back). At present, Maualuga's backup is true freshman Uona Kaveinga, though Galippo could be back for the Ohio State game.

UCLA: If we can step away from the glow of an upset win over Tennessee for a moment, the present and future reality is the Bruins need to replace three injured offensive starters. Recall: This offense already has a patchwork line and is using its third QB. So who steps in for TE Logan Paulsen (broken foot), WR Marcus Everett (toe) and TB Kahlil Bell (ankle)? Well, Paulsen's replacement Ryan Moya didn't look like a lightweight after leading the Bruins with seven receptions for 65 yards against the Vols -- including the go-ahead 3-yard TD pass with 27 seconds left -- but Paulsen's absence hurts the viability of two-TE sets. With Everett out a few weeks, junior Terrence Austin steps in. He caught five passes for 37 yards against the Vols. Sophomore Dominique Johnson and freshman Taylor Embree both played well against Tennessee, so there's encouraging depth there. And at TB, Raymond Carter jumps to the first team, but count on Rick Neuheisel tapping into his talented freshman class, including Aundre Dean.
August, 20, 2008
8/20/08
2:26
PM ET
Posted by ESPN.com's Ted Miller
| | |
| --- | --- |
| | |
| | AP Photo/Kevork Djansezian |
| | Pete Carroll and the Trojans have their sights set on a Pac-10 title. |
LOS ANGELES -- Sat down with USC coach Pete Carroll on Sunday night. He ate ice cream and answered questions.
What's your feeling on this scenario: Let's say Mitch Mustain starts at quarterback against Virginia and has a lights out game. Do you have a philosophical opinion on whether an injured starter [Mark Sanchez] always retains his job or do you go with the hot hand against Ohio State?
Pete Carroll: I would never... I can't even answer a question about that. To surmise what's going to happen with one guy and then what we're going to do with the next guy? I wouldn't even tell you what the first stage of it is let alone the second or third. So I'm not going to answer that. Too much conjecture there.
You talk about getting better and growing every year. What have you changed in the past couple of years about how you do things?
PC: Not very much. We do mostly the same stuff with just small changes. It depends on our staff continuity. This year, we've got 99 percent staff continuity so it's really easy [only staff change was the GA who works with the secondary]. We're able to do more things with that. When we're bringing new people along, we can't do that. We can't afford to go off and experiment. This year, we've done more things but it's kind of like if you have a philosophy then why would you change? The consistency is part of the philosophy -- how you recruit, where you recruit, who you recruit. The consistency of what the expectations are, the consistency of the standards for practice, the offseason programs. All of those things are the same. We get better at them. We get better versed on knowing what we want and getting more astute as we go along but we don't change much.
I know this is going to sound pretty stupid, but you're the only coach who can be asked this: Is winning the Rose Bowl ever not enough?
PC: No. You've got to understand that our mindset is to focus only on what we can control. We can only control getting to the Rose Bowl. Winning our conference and going to the Rose Bowl is what our goal is every year. Our goal isn't about national championships, because we don't have control of that -- that's in somebody else's hands. We found that out years ago [2003], when we were No. 1 but then we were No. 3. We already knew that but that just proved it. If we win our games and we're out there and they want us to go somewhere else, then we'll go. We love the Rose Bowl.
Does it ever register with you that there's such a small margin for error for USC that if you don't win the national championship then some believe it hasn't had a successful season?
PC: I know people say that but I don't care. They can say whatever they want.
Could you give me a couple of names of younger guys who have stepped up in preseason practices?
PC: A guy who's had a really good camp is Travon Patterson, a wide receiver. He's caught touchdowns on every big day, every big scrimmage we've had. He's playing fast and has made a lot of plays for us. The guys who have done a lot of good stuff are the freshmen -- [TE] Blake Ayles is a guy you might not have expected to but he's looked great. The other guy is [RB] Allen Bradford. He's had a great camp again. I really like [WR] Jordan Cameron. All four of the freshmen defensive linemen [Armond Armstead, Jurrell Casey, Wes Horton and Malik Jackson] -- they look great. These guys have a chance to play early. Uona Kaveinga has been playing second-team "Mike" linebacker. [Safety] Drew McAllister has looked really good -- he's had three or four picks in big, scrimmage-type situations and hit well. It's been a really solid freshmen class. The offensive linemen have looked good but it's going to take them some time.
Things get a little juicer in Part II, when Carroll talks about new UCLA coach Rick Neuheisel, his future and what he thinks of his legacy.