September, 6, 2013
9/06/13
11:00
AM ET
Saturday's 8 p.m. PT kickoff between Stanford and San Jose State ensures that the Cardinal, who had a Week 1 bye, will be the last team in college football to start its season. So yeah … Stanford's players are more than a little anxious to get going.
[+] Enlarge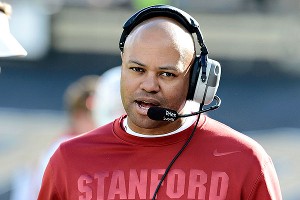 Ron Chenoy/US PresswireWith an extra week before starting the season, David Shaw and Stanford have not played a game in 250 days.
"I was 50-50 before but now I'm in favor of playing (in Week 1)," Stanford head coach David Shaw said. "It's hard not to play when other people are playing -- especially the start of a season. The start of the season has such a buildup. We're antsy."
Shaw split last Saturday watching games and pulling dad duty. Most of his players rallied around TVs and watched games with as critical of an eye as possible. Still, others were so focused on Stanford's Week 1 that they failed to realize it was actually college football's Week 1.
"I didn't even realize the season started on Saturday until I turned on the TV and saw College Football Live," defensive back
Usua Amanam
said. "It was awesome. I love watching football."
Now he gets to play some, finally, with a familiar foe coming to town. Last year the Spartans pushed the Cardinal in the opener. Not that the Cardinal took SJSU lightly last year, but they probably weren't expecting Mike MacIntyre's team to come out with such tenacity. A fourth quarter field goal was the difference in Stanford's 20-17 victory.
"We were ill-prepared," Amanam said. "They came out fast and punched us a couple of times in the mouth. It wasn't until the third or fourth quarter that we realized we were in a dog fight. Looking back at that game will help prepare us better for this year."
It's also, for the foreseeable future, the last Bill Walsh Legacy game on the schedule. Whether the game will/should continue in the future has added a little fuel to the rivalry
in the Bay Area media this week
.
The Spartans are led by new head coach Ron Caragher. Ironically enough, Caragher replaced Jim Harbaugh and Shaw -- Harbaugh's assistant -- at the University of San Diego after Harbaugh left for Stanford.
"We met for the first time at the Bay Area Media Day, about a month ago, which is strange because we know so many of the same people," Shaw said. "We had never met before or been in the same room before. I feel like I know him because I've heard so much about him from guys we've both coached at USD as well as other places he's been."
Pleasantries aside, the Cardinal will be out to rattle and disrupt Caragher's QB. San Jose State quarterback
David Fales
, the most accurate quarterback in FBS last year, is a top priority for the Stanford defense. With some good receivers around him like
Noel Grigsby
and
Chandler Jones
, the pressure is on Stanford's front seven to create some pressure, while the back half of the defense closes up passing lanes.
"He can fit tight balls in," Shaw said. "He played extremely well (last week) and still had a few balls that were dropped on him that were very well-placed. He's one of the best quarterbacks in the nation. He's hard to get to. He sees things quickly and gets the ball out of his hands."
The Cardinal offense, on the other hand, spent this past week installing new red zone schemes. With some critical weapons -- like running back Stepfan Taylor and tight end Zach Ertz – gone to the NFL, Shaw is looking for the next generation of players to step up.
"We've had good receivers, but the guy (Ertz) was phenomenal," Shaw said. "And I loved Coby Fleener. Coby Fleener was special. But I don't know if I've ever been around a guy like Zach that can run all the routes. He'd run every single route the smaller, quicker, faster guys could run and most of the times run them better."
Expect a heavy rotation of
Anthony Wilkerson
and
Tyler Gaffney
at running back, with others trying to carve out their own niche. The maturation of quarterback
Kevin Hogan
will also be a storyline to watch.
Stanford's defense, which is being heralded as one of the nation's best, is also looking to make a good first impression.
"We have a chance to do something special this year," Amanam said. "We want to make the most of the opportunities we have."
January, 2, 2013
1/02/13
5:00
AM ET
1. While it may sound familiar that the Big Ten went 1-4 on New Year's Day, the fact that Northwestern got the victory made it feel a lot better. The Wildcats found a lot of painful ways to lose bowl games -- by a lot, by a little, in overtime -- before beating Mississippi State, 34-20, in the Gator Bowl. Northwestern gets Pat Fitzgerald's first 10-win season. Fitzgerald has 50 wins and two seasons to go before he turns 40. That could be the foundation of a long, legendary career.
2. Big Ten champion Wisconsin played the best of the four losing Big Ten teams, fighting Stanford to the final 2:30 even as the Badgers failed to penetrate beyond the Cardinal 46-yard-line in the second half. The ticking clock and a 20-14 deficit forced fifth-year quarterback
Curt Phillips
to emerge from his comfort zone and start passing. Phillips threw a sloppy pass over the middle, and defensive back
Usua Amanam
picked it off. In the second half, Phillips completed 3 of 8 passes for 15 yards and that pick.
3. It is inconceivable that Nebraska went 10-4 and scored a minimum of 30 points in each of those four losses. It is unfathomable that the school that made black shirts famous gave up five touchdown passes to Georgia quarterback
Aaron Murray
. It is mind-boggling that the Huskers gave up 70 points to Wisconsin and 63 to Ohio State. It's also pretty easy to figure out Job No. 1 for head coach Bo Pelini over the next eight months. If he can fix his defense, Nebraska -- and maybe the Big Ten -- will return to power.
January, 1, 2013
1/01/13
8:27
PM ET
PASADENA, Calif. -- A nip-and-tuck defensive battle was expected in the 99th edition of the Rose Bowl Game presented by Vizio. And neither Stanford nor Wisconsin disappointed as the Cardinal downed the Badgers
20-14
. Here's how it all went down in Pasadena:


It was over when
: Stanford's
Usua Amanam
recorded the first turnover of the game when he intercepted Wisconsin's
Curt Phillips
with two minutes left in the fourth quarter.
Turning point
: An interference penalty while
Drew Terrell
attempted to fair-catch a punt gave the Cardinal great field position with about 10 minutes left in the game. The drive resulted in a 22-yard field goal from
Jordan Williamson
and a 20-14 Stanford lead.
Game ball goes to
: While this certainly wasn't the cleanest game for Stanford quarterback
Kevin Hogan
(12-of-19, 123 yards), he kept plays alive with his feet, rushing for 54 yards on seven carries, and he didn't turn the ball over. As we saw, even one turnover can make the difference.
Unsung hero:
After taking quite a beating following last season's Fiesta Bowl, Williamson turned in a solid performance, hitting field goals of 47 and 22 yards.
What it means for Stanford
: It's a bit of good news for the Pac-12, which has had a disappointing bowl season. The Cardinal, playing in their third BCS bowl game in as many years, get to wash away a bit of the bad taste from last season's Fiesta Bowl loss.
What it means for Wisconsin
: The Badgers now are 0-for-their past three Rose Bowls, and the Big Ten has won just one Rose Bowl Game since 2000. It also caps a disappointing day for the conference, which saw Michigan, Nebraska and Purdue all go down.
November, 25, 2012
11/25/12
1:15
AM ET
PASADENA, Calif. -- The 24-hour rule is not in effect for Stanford or UCLA. Not even close.
"There are no 24-hour rules when you are playing for a championship," said Stanford linebacker
Trent Murphy
of the time coaches generally allow a team to savor or sulk following a win or loss.
And across the hallway in the other locker room…
"All we have to do is get better in six days. Plenty of time, right?" UCLA offensive coordinator Noel Mazzone asked, rhetorically, sarcastically.
They better. Because the
Stanford Cardinal
came into the Rose Bowl and sacked quarterback
Brett Hundley
seven times, held Doak Walker finalist
Johnathan Franklin
to just 65 yards on 21 carries and locked up the Pac-12 North Division with a
35-17 win
over the Bruins.
"Not this time, no 24 hours," said Hundley. "It's an after-the-game-rule. I'm already on to next Friday. There is no 24 hours. This loss, it is what it is, we'll get better from it."
The teams will meet again on Friday at Stanford Stadium for the Pac-12 title and a shot at the Rose Bowl on the line.
"It's going to be hard," said Stanford head coach David Shaw. "It's going to be 10 times harder than this game was … Beating Oregon last week didn't help us win this game. Winning this game is not going to help us win the next game. As I like to say, each game is its own lifetime. It's its own entity. Every game is different and you have to approach it that way."
If the Cardinal do what they did Saturday -- and to that point if UCLA does what it did – the Cardinal will be in a BCS game for the third straight season. Running back
Stepfan Taylor
rushed for 142 yards and a pair of touchdowns on 20 carries (7.1 average) and one of the nation's best defenses was stifling.
[+] Enlarge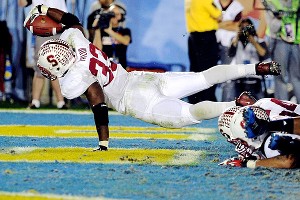 Jayne Kamin-Oncea/US PRESSWIREStanford's Stepfan Taylor rushed 20 times for 142 yards and two touchdowns against UCLA.
"This will be a tough night to sleep, if you do sleep," said UCLA defensive coordinator Lou Spanos, whose team surrendered 221 yards on the ground and three rushing touchdowns. "All you can do is start watching film and figuring out how to get better."
The Stanford defense, however, did what it does best. It pressured the quarterback, got penetration and tallied nine tackles for a loss -- two apiece from
A.J. Tarpley
and
Chase Thomas
, who also had a pair of sacks.
"Brett was under a lot of pressure tonight, so we have to do a better job of finding a way to protect Brett," said UCLA head coach Jim Mora. "I think that it's a combination -- pressuring with four and then they brought five and six. And sometimes we did not get open. Sometimes he didn't find the open guy. Sometimes they beat us. I think it was a combination of all those things."
Offensively, Taylor continued to roll for the Cardinal (10-2, 8-1) -- winners of six straight. It's the third straight game he's gone for more than 100 yards and the eighth time this season. He said if the Cardinal stick to what has worked for them all year -- power running behind their vicious defense -- they should be fine.
"We shouldn't make it difficult," he said. "We knew if we won this game what the situation would be. We have a mature enough team to understand the situation and that it's a quick turnaround. We need to get our bodies right and get back on film and watch this to be ready. They did some great things tonight. We have to study what they did and be able to make adjustments."
The home team showed flashes of why they are the South Division champs. But they also continued a disturbing trend -- excessive penalties. In the previous three games, the Bruins (9-3, 6-3) had committed 13 (Arizona), 12 (Washington State) and 12 (USC) penalties. Saturday they were flagged 12 times for 135 yards. Mora, Mazzone and Hundley all pointed to penalties when reviewing the stat sheet as a top concern.
"Yes, it's disappointing," Mora said. "But we have to get over it quickly because we have a game on Friday night."
One of the intriguing factors about the rematch is that it's a clean slate for both teams. Each will have the opportunity to self-scout tendencies, mistakes and tells. But at the same time, neither team is going to drastically change what got them to the conference championship.
"Both teams will probably have similar game plans, but it definitely helps to see the team you're playing in the following week," said Stanford defensive back
Usua Amanam
, who scored a touchdown after recovering a UCLA fumble off a kickoff -- a pivotal game-changing play midway through the third quarter. "You kind of know what to look for and you'll have a feel for them. But the same can be said for UCLA."
Stanford safety
Jordan Richards
, who nabbed Stanford's lone interception, said he's taking a moment to enjoy the win -- because without it the Cardinal wouldn't be playing next week. But a moment is long enough.
"Losing next week makes this game irrelevant," he said. "We're going to prepare to win like we did this week and try to dominate."
November, 24, 2012
11/24/12
9:49
PM ET
PASADENA, Calif. -- With Oregon topping Oregon State, Stanford knew it had to win on the road to capture the Pac-12 North. And the Cardinal did it in dominating fashion,
35-17
. Here's how it all went down at the Rose Bowl.


It was over when
: Stanford took a 28-10 lead midway through the third quarter on a touchdown run from
Stepfan Taylor
. On the ensuing kickoff,
Kenneth Walker
was hit by
Alex Debniak
and fumbled.
Usua Amanam
picked up the fumble and returned it 11 yards for the touchdown, giving Stanford 14 points in a 13-second span and a 35-10 lead.
Stat of the game
: 7 -- the number of times the Cardinal sacked UCLA quarterback
Brett Hundley
. Heading into the game, Stanford ranked second nationally in sacks.
Second-guessing:
The
Pac-12 preseason media poll
-- which predicted USC and Oregon in the conference championship game. Please accept a humbled frowny face on behalf of all us media types.
Game ball goes to
: Taylor turned in his usual workmanlike performance, carrying 20 times for 142 yards and two touchdowns -- including a 49-yard touchdown run.
What it means for Stanford
: The Cardinal claim the Pac-12 North by virtue of their tiebreaker over Oregon -- which they gained by beating the Ducks last week. They play UCLA again Friday -- this time serving as hosts for the Pac-12 title game.
What it means for UCLA
: The Bruins had already locked up the South Division with their victory over USC last week. There are certainly some things to work on before heading to Palo Alto, Calif. -- like pass protection, turnover reduction, cleaner special teams, run defense, etc., etc.
October, 27, 2012
10/27/12
9:49
PM ET
PALO ALTO, Calif. -- It counts the same as any other win, but Stanford's
24-17
victory over Washington State on Saturday isn't one the Cardinal will feel all too good about.
Against the Pac-12's No. 11-ranked rush defense, Stanford (6-2, 4-1 Pac-12) managed just 120 yards on the ground -- its third-lowest total of the season -- as running back
Stepfan Taylor
(20 carries, 56 yards) was rendered largely ineffective.


WSU (2-5, 0-5) outgained Stanford 385-256 and controlled the tempo for most of the game, but a pair of big plays by the Cardinal proved to be the difference. First, a 70-yard touchdown pass from
Josh Nunes
to
Jamal-Rashad Patterson
in the second quarter, which came as a result of broken coverage, and then a 25-yard interception for a touchdown from safety
Ed Reynolds
in the fourth quarter.
The good news for Stanford? Most of the Bay Area -- evident by the sparse crowd at Stanford Stadium -- had their attention on the San Francisco Giants and Game 3 of the World Series.
Here are a few highlights from Stanford's less-than-impressive win:
It was over when:
Henry Anderson
sacked WSU quarterback
Jeff Tuel
with the Cougars facing second-and-goal from the 19 with only seconds remaining in the game.
Game ball goes to
:
Usua Amanam
, who had seven tackles, two sacks, two and a half tackles for loss and a pair of pass breakups. He came up with a crucial sack of Tuel as the Cougars faced first-and-goal with under a minute to play.
Stat of the game
: Washington State was held to minus-16 yards rushing. The performance by the Stanford defense comes a week after limiting Cal to just three yards on the ground.
Unsung hero
: DE
Josh Mauro
was solid up front for Stanford. He finished with one and a half sacks.
What it means
: The Cardinal are officially bowl eligible, but the poor execution by the offense is definite reason for concern. Stanford is nearly assured of another win next week with a trip to Colorado on tap, but with No. 7 Oregon State and No. 2 Oregon after that, improvement will be paramount.
September, 3, 2012
9/03/12
10:00
AM ET
Taking stock of the first week of games in the Pac-12.
Team(s) of the week
: USC and Oregon did nothing to dispel the notion they are the class of the conference and are headed toward an epic clash on Nov. 3 in Los Angeles. Both teams pounded lesser foes, while a number of teams trying to challenge them -- Stanford, Washington and California -- didn't look ready for prime time. Further, both looked strong on both sides of the ball.
[+] Enlarge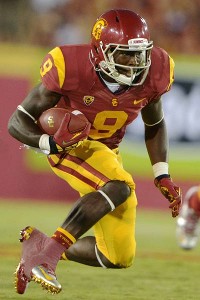 Kirby Lee/US PresswireUSC receiver Marqise Lee stole the show against Hawaii on Saturday.
Best game
: Arizona gave the conference its lone, true nail-biter of the week. QB
Matt Scott
threw a 10-yard touchdown pass to
Terrence Miller
in overtime to give the Wildcats a 24-17 victory over Toledo in Rich Rodriguez's coaching debut. Scott bailed out kicker
John Bonano
, who missed a 25-yard field goal as regulation ended after failing on a 24-yard attempt earlier in the game.
Biggest play
: We'll give you two from the same guy. USC WR
Marqise Lee
took the very first play of USC's game with Hawaii 75 yards for a score. He later dashed 100 yards for a touchdown on a kickoff return.
Offensive standout
: Scott seems like a good fit for Rodriguez's offense, just as most expected. He completed 30 of 46 passes for 387 yards and two scores and also rushed 14 times for 74 yards in the win against Toledo.
Defensive standout
: Stanford CB
Usua Amanam
, a converted running back, recorded six tackles, two sacks, four tackles for loss and a fumble recovery in the Cardinal's win over San Jose State.
Special-teams standout
: Hard to overlook Lee's 100-yard kickoff return. The truth is it wasn't a very good weekend for special teams, with lapses all over the conference.
Smiley face
: Well, is there anyone who doubts Oregon's redshirt freshman QB
Marcus Mariota
now? Yes, it was a home game against an overmatched Arkansas State team, but Mariota looked completely in control during the brief time he played. He completed 18 of 22 passes for 200 yards with three TDs and no interceptions. He also rushed for 24 yards. It was the ninth most efficient performance on the opening weekend.
Frowny face
: Cal! Cal, Cal, Cal! DRRRRRRRRR. That 31-24 loss to Nevada was bad period, but losing on the very day you celebrate the opening of your $321 million renovated stadium? Yuck. Nevada has now swept a home-and-home series with the Bears, and the only conclusion is the Wolf Pack is just better. After all, they outgained Cal 450 yards to 365 and converted 11 of 20 third-down plays compared to 3-of-14 for Cal. Oh, and the Bears' piddling run game likely won't get better if OT
Matt Summers-Gavin
is injured. Recall the Pac-12 blog writing about solid upset hopes for the Bears at Ohio State on Sept. 15? The Pac-12 blog wishes that stricken from the record. Consider this from
Jeff Faraudo of the Contra Costa Times
: "[Nevada QB Cody] Fajardo torched the Bears for 327 yards rushing and passing. Uh-oh ... in two weeks, Cal faces Ohio State and QB
Braxton Miller
, who had 368 combined yards vs. Miami-Ohio."
Thought of the week
: Arizona State's 30 penalty yards versus Northern Arizona were the fewest it has posted since recording just 27 versus Arizona on Dec. 1, 2007, a span of the past 51 games. New coach Todd Graham talked about discipline and he delivered in the first game. Sure, it's against an FCS team and not a very good one at that, but since his controversial hiring, Graham continues to give off a positive impression. Now let's see what he can do the next two weeks against Illinois on Saturday and at Missouri on Sept. 15. Oh, and did anybody see that
Pittsburgh-Youngstown State score
? Just wondering how the post-Graham era started for the Panthers.
Questions for the week
: The Pac-12 went 8-3 against a weak opening slate, with California, Colorado and Washington State losing and Arizona, Stanford and Washington playing tight games with what should have been overmatched foes. It was not an impressive opening weekend for the most part. Now the competition amps up considerably, with matchups with the SEC (Washington at LSU), Big 12 (Oklahoma State at Arizona), Big Ten (Illinois at Arizona State, Nebraska at UCLA, Wisconsin at Oregon State) and ACC (Duke at Stanford) and Big East (USC vs. Syracuse in East Rutherford, N.J.). The Pac-12 will be underdogs in four of those games. Is anyone capable of pulling an upset? And will the favorites all hold serve?
September, 2, 2012
9/02/12
9:00
AM ET
Helmet stickers are back! And there are some very worthy winners this week. If you forgot the criteria, Ted explains it quite well in this
mailbag from a year ago
.

On to the stickers:
Johnathan Franklin, UCLA
: The Bruins running back rushed for 214 yards (2 yards shy of his career high) and three touchdowns in helping UCLA to a
49-24 win
at Rice. Franklin scored on runs of 74, 78 and 22 yards.
Usua Amanam, Stanford
: While the Cardinal defense as a whole looked average at best in a
20-17 win
over San Jose State, Amanam was head and shoulders above all defensive players, notching six tackles, two sacks, four tackles for loss and a fumble recovery.
Marqise Lee, USC
: The wide receiver took USC's first offensive play 75 yards for a touchdown and never looked back. He finished with 10 catches for 190 yards and a touchdown, but also returned a kickoff 100 yards for a score in a
49-10 win
over Hawaii.
De'Anthony Thomas, Oregon
: Can you imagine what this guy could have done if he actually played for more than a quarter and a half? He caught four balls for 55 yards and two touchdowns and ran for 64 yards and a score on three carries -- including a 33-yard touchdown run during Oregon's
57-34 win
over Arkansas State.
Matt Scott, Arizona
: The Wildcats' quarterback came up big in overtime, connecting with
Terrence Miller
on a 10-yard pass to give Rich Rodriguez a
24-17 victory
in his Arizona debut. He completed 30 of 46 passes for 384 yards and two scores and also rushed 14 times for 74 yards.
September, 1, 2012
9/01/12
4:19
AM ET
By
Kyle Bonagura, Special to ESPN.com
| ESPN.com
PALO ALTO, Calif. -- What a difference a year can make.
Nearly a year removed from a 54-point drubbing of San Jose State, Stanford rang in the post Andrew Luck era with a thud. The Cardinal needed a 20-yard field goal from
Jordan Williamson
early in the fourth quarter to provide the difference in a
20-17 victory
.
The smiles and laughter that followed last year's 57-3 season-opening win against the Spartans were replaced by straight faces and looks of concern.
Running back and potential Heisman Trophy candidate
Stepfan Taylor
said the team needs to work on its communication. Coach David Shaw said the poor play was due to a lack of execution. Whatever it was, it won't be good enough when the Cardinal entertain better opponents -- certainly not No. 1-ranked USC in two weeks.
[+] Enlarge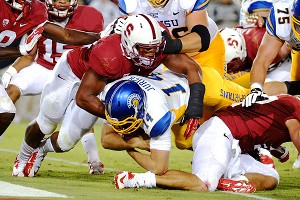 Kyle Terada/US PresswireStanford's defense couldn't quite keep a lid on San Jose State, which trailed just 17-10 after this Blake Jurich touchdown early in the third quarter.
With Luck and offensive linemen David DeCastro and Jonathan Martin off to the NFL, the supposed strength of the team was its defensive front.
That wasn't the case Friday as the Cardinal struggled to get pressure on San Jose State quarterback
David Fales
, who completed 24 of 35 passes for 216 yards.
"(They didn't play) up to their capability, flat-out," Shaw said. "I told them flat-out after the game, they are much better than the execution that was out there. Those guys shouldn't stay blocked. It's one thing to get blocked, it's another thing to stay blocked."
The team's best pass-rusher was nickelback
Usua Amanam
, who recorded a pair of sacks and four tackles for loss.
Usually that designation would belong to outside linebacker
Chase Thomas
, who considered a jump to the NFL but returned for his fifth year on the Farm. San Jose State keyed in on Thomas, who finished with five tackles and half a sack. He did, however, provide the biggest hit of Fales on the night, but it came after he'd already got rid of the ball.
Next week against Duke, the front seven should benefit from the return of potential All-American linebacker
Shayne Skov
. Skov, who missed most of last season with a torn anterior cruciate ligament, served a one-game suspension Friday for a February drunk-driving arrest.
"(Skov's) experience is going to be huge," Shaw said. "Getting him back will give us four guys on the inside that can play."
Skov is expected to start alongside sophomore
James Vaughters
, who displaced last year's leading tackler,
Jarek Lancaster
, as a starting inside linebacker. Vaughters made five tackles in his starting debut, but has some cleaning up to do, Shaw said.
While expectations are high for the front seven, the same can be said for the Cardinal running game which, early on, looked like the same unit that helped the team qualify for BCS bowl games in each of the past two seasons.
Behind Taylor and its power running game, Stanford scored touchdowns on its first two possessions. By halftime, the Cardinal led 17-3 and had 118 yards on the ground with 86 from Taylor.
The second half was a different story.
After averaging 5.6 yards per carry before halftime, Stanford ran for just 37 yards on 20 carries the rest of the game.
What happened?
"That's what I want to know," Shaw said. "Next question."
Taylor pointed to a lack of communication that comes with breaking in several new offensive linemen in the first game of the year, and while Shaw agreed, he wasn't ready to make any excuses.
[+] Enlarge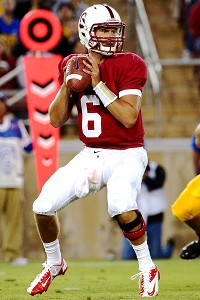 Kyle Terada/US PresswireJosh Nunes was 16-for-26 for 125 yards and a touchdown in his starting debut.
"They made some adjustments, which always happens," Shaw said. "We made some adjustments after that. And, honestly, we made a lot of mistakes. We need to make sure we step it up a notch, but at the same time, when we run a play against a defense and it's successful, and we run the same play against the same defense and it's not successful, we'll look to see why."
Taylor finished with 116 yards on 26 carries.
While Luck had autonomy at the line of scrimmage last year, his replacement,
Josh Nunes
, isn't quite there yet. The redshirt junior was solid in the first start of his career, but wasn't asked to do a whole lot.
"It was everything I dreamed," Nunes said. "I wasn't nervous at all.
It was nice being back on the field again."
Nunes completed 16 of 26 passes for 125 yards and found
Drew Terrell
on an 11-yard first-quarter touchdown, the first of his career.
"He played extremely well and was very poised under pressure," Shaw said. "San Jose State gave a few looks we had not seen and Josh handled it all very, very well. He showed great leadership for our team out there and we look forward to having him do so throughout the season."
Nunes knows he won't be Luck, but realizes there will be comparisons.
In Luck's first start as a redshirt freshman, he was 11 of 23 for 193 yards and a score in a 39-13 win at Washington State.
September, 1, 2012
9/01/12
1:37
AM ET
The No. 21
Stanford Cardinal
began life anew without Andrew Luck with a not-so-pretty
20-17 victory
over San Jose State. It was Stanford's ninth win in the last 10 meetings with the Spartans. Here's how it all went down in Palo Alto, Calif.


It was over when:
Locked -- surprisingly -- at 17-17 toward the end of the third quarter,
Alex Debniak
forced a San Jose State fumble on a third-and-long and Stanford's
Usua Amanam
recovered at the SJSU 38. The Cardinal worked their way to the SJSU 3-yard line and
Jordan Williamson
capped the drive with a 20-yard, go-ahead field goal. The Spartans had one last chance late in the fourth, but
Ed Reynolds
picked off
David Fales
on fourth-and-10 to secure the win.
Game ball goes to:
Stanford running back
Stepfan Taylor
turned in a steady performance, rushing for 124 yards on 26 carries with a touchdown.
Stat of the game:
Last year Stanford was third in the nation on third-down conversions (52.57 percent). Against the Spartans, Stanford was just 2-of-13.
Unsung hero:
Stanford corner/nickelback Amanam had two sacks -- both on CB blitzes -- a tackle for a loss and also had the crucial fumble recovery that swung the momentum back into Stanford's favor.
What it means:
For large portions of the game, Stanford was pushed around at the point of attack on both sides of the ball. That has to be a huge concern -- particularly on defense -- where the Cardinal are supposed to boast one of the top front-sevens in the conference.
What it means, take 2:
The Cardinal were also benefactors of various SJSU mistakes -- dropped balls, bad penalties etc. Safe bet that most teams in the Pac-12 won't be so generous.
Quotable:
"Our guys responded to some challenges -- some challenges that we made for ourselves that we have to go back and get fixed," said Stanford head coach David Shaw.
April, 3, 2012
4/03/12
12:00
PM ET
Stanford's secondary is going to be young next season. Not exactly breaking news, but that's the reality when four seniors, three of them starters, graduate. But the players returning also have some experience and quality playing time, which should help compensate for their youth.
In other words, there no excuses.
"I think [defensive coordinator Derek] Mason might have been a little more tolerant with us last year, a little more patient," said safety
Jordan Richards
. "Not anymore. We've all been here and have a full season under our belts. This is on us -- and coach Mason is making sure we know that."
[+] Enlarge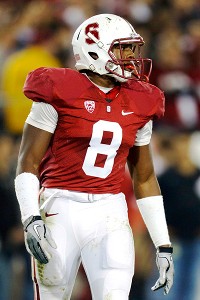 Jason O. Watson/US PresswireJordan Richards is one of many young Cardinal defensive backs that will have to replace three senior starters.
The back four -- two cornerbacks and two safeties -- have to be getting tired of hearing how good the front seven is going to be. They are so experienced. This guy is back and that guy is back. It gets old. And if the front seven is considered Stanford's defensive strength, by virtue of elimination, the back four can't be.
That perception is something the group is looking to alter. But first they'll need to settle some competition. Gone are safeties
Delano Howell
and
Michael Thomas
. Gone are cornerbacks
Johnson Bademosi
and
Corey Gatewood
.
Terrence Brown
and
Barry Browning
are back at cornerback, along with the highly-touted
Wayne Lyons
who is returning from a foot injury.
Usua Amanam
should also be in the mix and don't be surprised if Alex Carter makes an immediate impact when he arrives in the summer. Also returning are Richards and
Devon Carrington
at the safety spot along with
Ed Reynolds
, who is also returning from injury.
Kyle Olugbode
has also seen reps this spring.
Richards was one of the true freshman called into action when Howell went down for several games with a hand injury. He started three games for Stanford last year -- the most brutal stretch of the season that included at USC, at Oregon State and home to Oregon. Tough detail.
"It was, at times, a blur," Richards said. "And other times, I felt like I was in control and the game slowed."
The telling part of that quote is the "at times" portion. Richards notched eight tackles in his first start against USC. Then a couple of games later he watched Oregon run all over the Cardinal. Sometimes good, sometimes bad. In his second year, he's striving for more consistency. And having had the chance to learn behind Thomas and Howell, he thinks he's found it.
"I learned how to see the game from those guys," Richards said. "As a freshman, you come in with tunnel vision. You need to learn to see how things move around. Now it's a transition. You've been here for a year, you learn to read formational cues and the game slows down a lot more. You know what the offensive tendencies are. That's the biggest difference. You're not a deer in the headlights anymore. You just go out and play and try not to over think it."
Brown has the most experience at cornerback, followed by Browning who started three games last season. According to Richards, Brown and Reynolds have taken on the leadership roles vacated by the departed seniors.
"As a group, it's been TB and Ed," Richards said. "Those guys have been around. But we all know what's at stake, and we're all trying to be leaders and be on our game as a group because we know that we are going to be young and people are going to try to come after us."
Like in Week 3, when the Cardinal host USC -- a pass happy offense with the Heisman front-runner at quarterback, the top wide receiving duo in the country and possibly the No. 1-ranked team in the nation. So this group is going to have to find a way to come together quickly.
"That's what the spring is all about," Richards said. "We're working hard to be a cohesive group. Coach Mason is pushing us and I think we're going to come together."
October, 1, 2010
10/01/10
10:14
AM ET
Toby Gerhart is gone. What is Stanford to do? No way it will maintain its power running game without that rampaging bulldozer in the backfield. It's going to have to throw the ball a lot. Good thing the Cardinal have quarterback
Andrew Luck
. He'll certainly help them transition to passing team.
That, at least, was a major school of thought heading into the 2010 season. Well, that school of thinkers certainly wasn't smart enough to get into Stanford. In fact, it needs to put on a dunce cap and go sit in the corner.
[+] Enlarge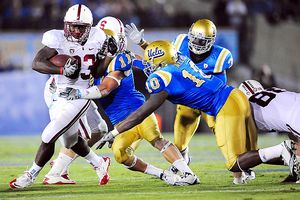 Gary A. Vasquez/US PresswireStanford's offense isn't all Andrew Luck. Stepfan Taylor, above, leads a collection of Cardinal running backs with 265 yards on 59 carries.
Stanford averaged 218 yards rushing per game with Toby Gerhart last year. This year, it's averaging 223 yards. Yes, the passing offense is up, too, from 209 yards per game to 234.
"It's still the same schemes," said Oregon coach Chip Kelly, who's fourth-ranked team will play host to the ninth-ranked Cardinal on Saturday.
No Gerhart, no problem. You want balance? How about 11 touchdown passes from Luck and 11 rushing TDs from eight different players.
The simple fact is the Stanford offense in 2010 -- at least so far -- is better than the one with the best running back in the country last year. Stanford is averaging 457.6 yards and 48 points per game this year vs. 428 yards and 35.5 points last year. While many focus on what skill player are coming back from season to season, the key for Stanford was the return of four offensive linemen from what might have been the Pac-10's best unit last year. The Cardinal also returned perhaps the best fullback in the country in
Owen Marecic
, who pulls a night shift as a starting inside linebacker, too.
Of course, the competition steps up considerably in Pac-10 play, starting with a visit to soothing, tranquil Autzen Stadium.
"I hear it is crazy loud," said Stanford running back
Stepfan Taylor
, who has become the lead dog in what started out as a backfield-by-committee.
Taylor had 28 of the Cardinal's 44 rushes at Notre Dame last weekend and he finished with 108 yards. His 59 carries -- for 265 yards -- are more than backups
Tyler Gaffney
and
Usua Amanam
have combined (46).
Taylor, a 5-11, 208-pound sophomore, joins a long list of Texans -- Luck and Oregon QB
Darron Thomas
as well as Ducks running back
LaMichael James
are all from the Lone Star state -- who will be key figures in Saturday's game, which should establish an early frontrunner for the Rose Bowl.
Luck is the potential Heisman Trophy candidate and the likely first-round pick in the NFL draft whenever he opts to declare. He's Stanford's star, and deservedly so. Last year, though, he played a critical Robin to Gerhart's Batman in the Cardinal's 51-42 upset of Oregon. Gerhart rushed for 223 yards and three TDs, but Luck's 251 yards passing and two touchdowns softened the Ducks up. Luck had completions of 40, 39, 31 and 27 yards, often throwing the ball into the only place where his receivers could get it and Ducks DBs couldn't.
Now Stanford is his team. But it won't be ideal for Luck, no matter how good he is, to be throwing the ball 40 times in Autzen Stadium against an athletic Ducks defense that is third in the nation with nine interceptions.
"Andrew is amazing but we have great players around him as well," Taylor said.
That means the power running game will be key. While the Ducks lead the Pac-10 in scoring defense -- 11 ppg. -- they have shown a vulnerability to the power running game against Tennessee and Arizona State. The Ducks have yielded a middling 122.8 yards rushing per game.
And more than a few folks believe Stanford and coach Jim Harbaugh will run right at that fast but undersized Ducks defense. Not just because it might work, but also because Harbaugh is hardwired to want to turn big games into street fights.
"I equate rough and tough with Jim Harbaugh," Arizona coach Mike Stoops said. "He should be a defensive coach -- his offense plays like defense."
Taylor is
known for being a humble guy
, but when asked if Stanford is eager to pound at Oregon and physically challenge the Ducks defense, he said, "I think everybody knows what our game is. We play with class and cruelty."
So Stanford believes itself just fine without Gerhart. And it also doesn't believe Luck is going to be the only weapon at Oregon.
There's no rampaging bulldozer in the backfield, but Stanford still believes it's going to win by running right at you. Again and again and again.
July, 22, 2010
7/22/10
7:42
PM ET
Another year, another strong collection of running backs, even with the departures of Toby Gerhart and Jahvid Best.
While Pac-10 quarterbacks will grab most of the preseason headlines -- that's what happens when the two best NFL prospects at the position play in the same conference -- the class of running backs is nearly as strong.
Three 1,00o-yard rushers are back, and that doesn't include California's
Shane Vereen
, who piled up 952 yards as a backup, nor does it including Arizona's
Nic Grigsby
, who rushed for 1,153 yards in 2008. Six of the top-nine running backs will return this fall, and more than a few teams are decidedly deep at the position.
By the way, you might note there is more mention of incoming freshman at this position than others. Two reasons: 1. The Pac-1o had a strong haul of RBs in recruiting; and, 2. RB is often the easiest place for a young player to break into the lineup.
Great shape
[+] Enlarge

Rick Scuteri/US PresswireJacquizz Rodgers may be the most talented individual running back in the Pac-10 this year, but Oregon has the best group.
Good shape
We'll see
Stanford: The Cardinal doesn't have one guy who can replace Gerhart. But who does? The good news for a backfield-by-committee approach with Jeremy Stewart, Tyler Gaffney, Stepfan Taylor and freshman Usua Amanam in the mix is the offensive line in front of them should be outstanding.

Arizona State: The Sun Devils must replace leading rusher Dimitri Nance, who didn't exactly scare opposing defenses in 2009. Cameron Marshall is the leading returning rusher with 280 yards. James Morrison and Jamal Miles will provide depth, though an incoming freshman might get into the mix. As has been the case for a while with the Sun Devils, the first order is improving the offensive line.

Washington State: Leading 2009 rusher Dwight Tardy is gone. If James Montgomery is healthy -- and stays that way -- he gives the Cougars a quality runner. He was clearly the best guy last preseason before he got hurt. Logwone Mitz, Chantz Staden, Carl Winston and Marcus Richmond will compete for touches during fall camp. Whatever the pecking order, the offensive line is the biggest issue.