NCF Nation:

UT-San Antonio
September, 8, 2010
9/08/10
9:00
AM ET
Football practice has begun at UT-San Antonio, but the preparations are far from over.
There is so much to do to get ready for its inaugural season, coach Larry Coker has taken on many different jobs. He is coach, yes, but he is also ambassador, salesman and architect all wrapped up as the face of a program eagerly anticipating its arrival in 2011.
"It's been very hectic, very busy, but it's been a very good busy," Coker said in a telephone interview.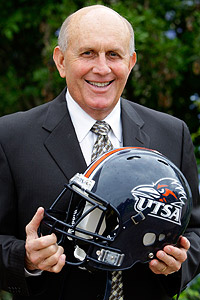 AP Photo/Eric GayLarry Coker has embraced the challenge of building a football program from scratch.
Four seasons removed from his job as Miami head coach, Coker has settled in just fine at San Antonio. When he became head coach of UTSA in 2009, he saw great vision for football in South Texas, and the opportunity to start a program from the ground up.
Of course, he probably did not envision working out of modular buildings and holding practices at a high school field while plans are drawn up to build a football complex. But those are minor details. The important piece is building tradition at a program that has high hopes to move from FCS to full FBS member within a short three-year window.
That is why you may have heard UT-San Antonio as a potential candidate to join the WAC as that conference anticipates its next move. But WAC talk aside, what goes into building a program makes the days and hours tick away.
"We bought one of those clocks that shows the hours, minutes and days," said athletic director Lynn Hickey, who helped push to add football to the UTSA athletic department. "It goes so fast, so Coach Coker when he first got here, I made him take the clock with him because it made me too nervous."
Given the recent reports of athletic departments sinking further into financial trouble, Hickey is taking a risk adding football, the most expensive sport to run. The school is in the middle of a $15 million fundraising initiative to make improvements to its athletic facilities. But Hickey believes there will be a return on the investment.
The school will play its home games at the Alamodome, and both she and Coker say the excitement throughout San Antonio has grown.
"When I took the position here, the school president asked, 'Should we add football?'" Hickey said. "I said, 'No sir, it's cost prohibitive. I spent 15 years at Texas A&M, I knew what big-time football was. But after being here a year, and understanding the needs not only of this campus but of this community and all of South Texas, for us not to go forward would have been the wrong thing.
"Are you taking some chances? Are you throwing the dice a little bit? Maybe, but the response we've had has been outstanding."
Hickey said the best-selling T-shirt on campus reads, "UTSA football, still undefeated."
For Coker, the business of getting down to football has just begun. He signed his first recruiting class in February and finally has a chance to coach them up with his complete staff. His recruiting area is primarily in the state of Texas, and though he tries to downplay his accomplishments, the prospective players are thrilled to play for a coach who won a national championship with the Hurricanes in 2001.
But of course, that comes with heightened expectations when UTSA begins play next season. Coker is ready for that, but more than anything, he cannot wait to lead his team out onto the field for the first time.
"People assume you hire a national championship coach and you're going to win immediately, so those expectations have to be tempered," Coker said. "I haven't had to do that yet because we haven't started playing, but I'm sure I will have to at some point."
August, 27, 2010
8/27/10
3:05
PM ET
As the WAC figures out its next step, one school that commissioner Karl Benson discussed about becoming a potential member is UT-San Antonio. The school begins play next season on the FCS level under former Miami coach Larry Coker. But in June 2012, UTSA plans to notify the NCAA it wants to begin play on the FBS level in 2014.

While Benson said identifying teams already in FBS would be a priority, he did not rule out adding schools that intend to join FBS. UTSA would fulfill the transitional requirements that go along with moving up a division and would be bowl eligible in 2015.

Athletic director Lynn Hickey has had discussions with Benson, but realizes what happens is out of her control.

"The fastest we can go is to declare in June 2012 that we want to move to FBS, that year we really need to have an idea that we can either be independent or have a new conference home with that time line in mind," Hickey said in a phone interview Friday. "We've got a little bit of time. The difficulty of the conference situation right now is so fluid. It's not only day-to-day but hour-to-hour, so there's just so many things out there we can't control."

UTSA had planned to play as an independent on the FCS level while searching for an FBS conference. But the Southland Conference passed a new rule in June that says all members must have its varsity sports within the league. The school must make a decision next July about whether it wants to stay in the Southland with football included, go independent, or find a new conference and stay independent in football.

There also is potential NCAA legislation that says an FCS school cannot move to FBS unless they have an invitation to a conference, but that legislation has not even left committee.

Hickey said she has been in talks with several other conferences about finding a home. Benson mentioned the importance of the state of Texas to the WAC's future -- if the conference is able to survive the latest round of shakeups.

"Everything is in their court," Hickey said. "It was quite honestly an honor for our name to be mentioned in the press conference (Benson) had, but our role right now is to make sure we're going forward with our plans and making sure we have put in the ground work and laid the foundation so if an opportunity does come up that we are seen as an asset and seen as an institution that another group of schools would like. In the meantime, we're in a good conference."