NCF Nation:

Utes-Frogs 111409
November, 15, 2009
11/15/09
1:32
AM ET
FORT WORTH, Texas -- There was a lot of talk going into Saturday's pivotal Mountain West clash between No. 4 TCU and No. 16 Utah about the defenses and the quarterbacks.
And while both played their part in the
Horned Frogs' decisive 55-28 win
, it was the special teams that ultimately made the difference.
TCU's special teams were both good and bad, and had the other facets of the game not come through, could have turned a big win into a big loss. It seemed like every time the Horned Frogs made a kicking snafu, other members of the special teams unit helped make up for the gaffe.
In the first quarter, TCU forced a fumble on the Utes first kickoff return and got the ball on the Utah 16. The drive stalled and Ross Evans missed a 26-yard field goal.
[+] Enlarge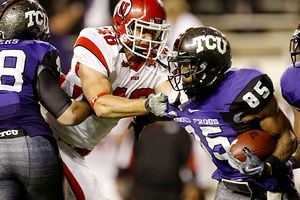 Ronald Martinez/Getty Images Jeremy Kerley's play on special teams helped TCU stay unbeaten.
On the Horned Frogs next possession, Anson Kelton knocked a punt 14 yards off the side of his foot and out of bounds. Utah scored on the subsequent possession.
"I didn't like the way we punted," TCU coach Gary Patterson said matter-of-factly.
But after the early struggles, the kick coverage and return teams buckled and actually helped sway momentum in the Frogs favor.
TCU blocked a punt late in the first quarter, which the Horned Frogs ultimately turned into a touchdown. On TCU's next possession,
Jeremy Kerley
returned a 52-yard punt 39 yards to the Utah 29 setting up another score.
The special teams were a catalyst that allowed TCU to jump out to a 35-7 lead just over a quarter into the game.
"[Special teams] did a great job tonight," said linebacker Tank Carder, who intercepted a
Jordan Wynn
pass for a 15-yard touchdown during the second quarter surge. "That's probably one of the best special teams games they've had in awhile. They caused a fumble and stopped them inside the 30 numerous times on the kick return. They came to play."
November, 15, 2009
11/15/09
1:03
AM ET
FORT WORTH, Texas --
Andy Dalton
didn't go back and watch last year's game against Utah.
He'd seen it enough times and the images of last year's devastating loss often played in his head.
[+] Enlarge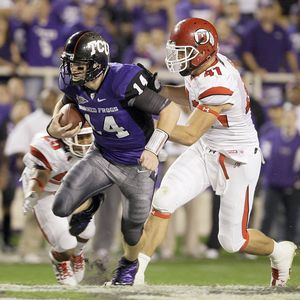 AP Photo/Donna McWilliamQuarterback Andy Dalton threw for 207 yards and a touchdown in TCU's win Saturday night.
Instead, Dalton, TCU's junior quarterback, focused on the positive and the possibilities. He thought about what a win against Utah would do for his team and the program and the record crowd of 50,307 fans who came to Amon G. Carter Stadium to cheer the Horned Frogs on.
"I didn't go back and watch the game from last year because I didn't want to have that same feeling going in," Dalton said. "I felt like if we just came out and played that we could really control what we needed to do. I think just everything going into the game was motivation itself."
Dalton led the Horned Frogs to
a 55-28 win
. He helped keep them undefeated and in the hunt for both a Mountain West title and a BCS bowl.
But just as important, Dalton exorcised the demons of past Utah games.
During the past two years, Dalton has accounted for no touchdowns and six interceptions against Utah. His games against the Utes were memorable only because they were some of the worst in his career.
But on Saturday, all of that disappeared. Dalton started slowly, but found a rhythm late in the first quarter when he found
Ryan Christian
, who tight roped the sideline 16 yards to give Dalton his first passing touchdown against the Utes.
"I hadn't thrown a touchdown pass against them and thrown quite a few interceptions," Dalton said. "My job is to get our guys the ball and he made a great play. I was glad that he scored."
Dalton finished the game with 207 passing yards, 48 yards on the ground, a touchdown and an interception, but he helped the offense score just five fewer points than it had against the Utes during the last four seasons combined.
The 55 points was as many points as the Utes had given up in their past four games combined and the most since 1990. Saturday's game was one of the most lopsided and decisive outcomes the Horned Frogs had ever achieved in a game of that magnitude.
"They were who we thought they were. Tonight, that was a good football team," Utah coach Kyle Whittingham said. "I have been a head coach for five years and that is the best team that I've faced. They are a solid team from top to bottom and we knew we were going to have to play our best to compete tonight. That did not happen."
Dalton said the team could now see the light at the end of the tunnel. With two games remaining against Wyoming and New Mexico, the Horned Frogs are one win away from clinching at least a share of the Mountain West title and two wins away from owning the conference title outright, a BCS bowl berth and a possible national championship berth should some teams suffer losses.
TCU was in a similar position heading into the Utah game a year ago, and Dalton said avoiding the pain of a missed opportunity is what pulled the Horned Frogs through on Saturday.
"That was a big game for us to lose and just the feeling afterward was just really what I'll remember from it," Dalton said. "I think this whole team knew that we didn't want to have that same feeling going into this year.
"I think we made a big statement. To play a great team like Utah. For us to come out and have a big win like this just shows what this program is about."
November, 14, 2009
11/14/09
11:11
PM ET
FORT WORTH, Texas -- The Horned Frogs made a major statement tonight, not just to the nation, but also to themselves. Utah has been a huge hurdle for this program and this win will only increase the confidence TCU already has.
How the game was won:
TCU outscored Utah 24-7 in the second quarter to take a commanding 38-14 halftime lead and the Horned Frogs never looked back.
Stat of the game:
The Utah running game was ineffective and it had little to do with the fact that Utah played from behind almost all of the game. TCU made Utah one-dimensional, which put pressure of freshman quarterback
Jordan Wynn
and often stunted the offense.
Player of the game:
TCU defensive end Jerry Hughes will haunt quarterback Jordan Wynn for quite some time. Hughes led the Horned Frogs with eight tackles, 1.5 sacks and 2.5 tackles for loss. He was credited with three quarterback hurries, but he was so much more disruptive than he'll get credit for.
Second guessing:
Utah's decision to stick with Jordan Wynn at quarterback will be questioned, but I'm not really sure
Terrance Cain
would have been a better option. Cain had played in a big game at Oregon, but he's also been turnover prone much of the year. Not sure either could have done much against a tough TCU defense.
What it means:
This lopsided win put TCU in a good position to finish the season undefeated and even get some consideration for a national championship berth. The Frogs would need some losses at the top and from Cincinnati, but TCU has definitely established itself as a team worthy of consideration.
November, 14, 2009
11/14/09
10:26
PM ET
FORT WORTH, Texas -- Utah quarterback
Jordan Wynn
took the Utes 63 yards for their third touchdown of the game.
Wynn actually scrambled for 14 yards to get the ball to the 1-yard line before running back
Eddie Wide
punched it in. That's actually the most positive thing Wide has done this game.
The Utes are still down 41-21, but the score makes it mildly interesting and puts some pressure on TCU to answer or at least sustain a drive and keep the Utah offense off the field.
November, 14, 2009
11/14/09
9:35
PM ET
FORT WORTH, Texas -- TCU is defeating Utah soundly, but the Utes aren't really helping their own cause.

Through the first half, the Utes have 10 penalties for 85 yards. The penalties have been everything from personal fouls to offsides and several have helped put the Horned Frogs in scoring position.

Utah's season-high for penalties -- in an entire game -- is 11 against San Jose State during the second game of the season.
November, 14, 2009
11/14/09
9:26
PM ET
FORT WORTH, Texas -- This game has not been the defensive battle many expected. TCU has dominated the game, but Utah quarterback
Jordan Wynn
started finding some holes deep in the TCU secondary. It will be interesting to see how that plays out in the second half.
Turning point:
Near the end of the first quarter, TCU blocked a Utah punt that was recovered by linebacker Tanner Brock on the Utah 23-yard line. The Horned Frogs scored early in the second quarter and proceeded to run off three consecutive touchdowns before Utah could answer.
Stat of the half:
Despite Utah running back
Eddie Wide
coming into the game with six consecutive 100-yard games, the Utes have not been able to get anything going on the ground against TCU, racking up just 29 rushing yards. This isn't real surprising, The Horned Frogs have been tough against the run, but it's put a lot of pressure on freshman quarterback Jordan Wynn to provide almost all of the offense.
Best player in the half:
TCU linebacker Tank Carder has excelled through the first half. He leads the Horned Frogs with six tackles and had a pick-6 against Wynn. The entire defense has played well tonight, but Carder has been exceptional for a sophomore in one of the biggest games of his young career.
November, 14, 2009
11/14/09
8:49
PM ET
FORT WORTH, Texas -- Utah's offense needs to get something going pretty quickly.

After the Utes touchdown, they've had two three-and-outs for minus-1 yard.

Field position has played a major role in this game. The Horned Frogs got a blocked punt, which led to a touchdown, and a big punt return, which also led to a score.

Utah was facing an uphill battle with a freshman quarterback in this game to begin with, but now asking him to mount a 21-point comeback is a tough task especially when the running game isn't providing much relief.
November, 14, 2009
11/14/09
8:38
PM ET
FORT WORTH, Texas -- So much for the defensive battle between TCU and Utah.
So far, the only defense that has shown up is TCU's.
Utah has allowed 161 yards to the Horned Frogs and the second quarter is just underway. The TCU defense was put in some bad field position with a poor punt that led to the Utes touchdown, but otherwise the Horned Frogs have been stout.
TCU has allowed 52 yards, but most of it came on a big pass play by
Jordan Wynn
.
November, 14, 2009
11/14/09
8:27
PM ET
FORT WORTH, Texas -- TCU quarterback
Andy Dalton
notched his first passing touchdown against TCU with a 16-yard toss to
Ryan Christian
in the first quarter.
Dalton came into the game with no touchdowns and six interceptions the past two years against the Utes.
During the scoring drive, Dalton completed all four of his passes for 53 yards.
November, 14, 2009
11/14/09
8:18
PM ET
FORT WORTH, Texas -- Earlier I wrote that special teams would likely prove an advantage in this game and currently the Utes have the upper hand.

TCU's kicker Ross Evans already missed a field goal and punter Anson Kelton hit a 14-yard punt, which helped set up Utah's first score.
November, 14, 2009
11/14/09
8:04
PM ET
FORT WORTH, Texas -- Utah freshman quarterback
Jordan Wynn
has officially been introduced to the TCU defense.
He completed one pass, was nearly sacked and was hurried quite a bit. On one play he was forced to throw the ball out of bounds. He looked a little nervous, which is to be expected since he's in just his sixth collegiate quarter. But he needs to get it together especially since Utah wasn't able to do much on the ground during it's first drive.
November, 14, 2009
11/14/09
7:19
PM ET
FORT WORTH, Texas -- There's no late-arriving crowd for this game as the stands are almost full and it's still more than 30 minutes before game time.
It was a similar situation in Salt Lake City a year ago. The crowd for the TCU-Utah game was so loud and so rowdy that it shook the press box.
Both teams are warming up and there are flashbulbs going off everywhere. The Horned Frogs look sharp in
their new uniforms
and Utah is in the all-white. The Utes actually have a nice little following in the west end zone. There's probably a couple hundred red shirts in the crowd.
Not sure what to expect in this game. The Utes are 7-0 against ranked teams when they also are ranked and the Utes have won the past three games in this series.
While a lot has been made about the quarterbacks and the defenses of both teams, I think a lot of this game will hinge on special teams. TCU's Jeremy Kerley is one of the best returners in the country and the Utes have one of the worst kick coverage teams. If Kerley can give the Horned Frogs a short field, as he's done quite a bit this season, TCU will have a huge advantage in this contest.
Both teams have a BCS stake in this game. With three teams below Utah already losing today, a win against the Horned Frogs could put the Utes in the BCS conversation with just one loss. TCU is the nation's top non-AQ team and this is the last major obstacle on the schedule.
November, 14, 2009
11/14/09
5:40
PM ET
FORT WORTH, Texas -- Disrespect has been No. 16 Utah's major motivation heading into today's game against No. 4 TCU.


The Utes are major underdogs against the Horned Frogs and it's all the Utes have been talking about all week.
"We're the defending champ," coach Kyle Whittingham said earlier this week. "The championship trophy is in this building and somebody's got to take that away from us. That's the first thing we tell our guys. TCU is a very good football team. We respect them and they're hitting on all phases, but the bottom line is we've played some good football as well and we're going to show up on Saturday night, line up and see what happens."
Utah has been the biggest challenge for TCU since the Horned Frogs joined the Mountain West in 2005. The Utes are the only team TCU has a losing record against (1-3) and three of the four games have been decided by a possession. TCU's only win against the Utes since joining the Mountain West came from a 23-20 overtime win.
"We've lost three against Utah the last three years," TCU coach Gary Patterson said. "If that doesn't bring you to your senses then I don't know what will. We get a chance to play them at home, we've got a lot at stake, a conference championship, leading in the race, and we control our own destiny. Really, I haven't had to say much."
The difference between Utah and most of the other teams TCU faces during league play is team speed. The Utes have similar athletes to TCU, which allows them to level the playing field. Although the Horned Frogs are playing about as well as any team in the country, the Utes still pose a huge challenge athletically.
"Even though we've sputtered in some games this year and haven't played our best, I think that there is a certain air of confidence about this football team," Whittingham said.