Ted Miller interviews Utah center Tevita Stevens following the Utes' loss to USC.
Ted Miller interviews Utah quarterback Jordan Wynn.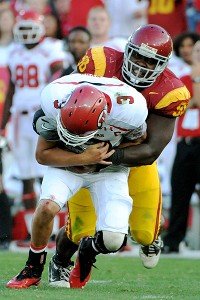 LOS ANGELES -- Losing is misery. Losing a close game is doubly-so. Utah center Tevita Stevens and his teammates trudged off the Coliseum field and into the long, cavernous tunnel that leads to the locker room thinking about all the "what ifs," all the moments that make a game what it is instead of what it might have been.
LOS ANGELES -- The Pac-10 was a conference of high-flying offense and fancypants quarterbacks.The first conference game in Pac-12 history, however, was a twisted tight defensive struggle, and USC outlasted newcomer Utah, 17-14.
LOS ANGELES -- USC leads Utah 17-14 after three quarters.The Utes have to like their chances. Multiple times USC looked poised to assert itself. Multiple times the Utah pushed back by either forcing turnovers or making plays.
LOS ANGELES -- Utah jumps on teams when they make mistakes. USC keeps making them, and the Utes keep jumping.USC fumbled near midfield, and a play later Reggie Dunn took a reverse 51 yards to the USC 1-yard line.
LOS ANGELES -- USC stopped Utah and then (finally) finished a drive.The Trojans went 88 yards in seven plays to take a 17-7 lead with 9:52 left in the third.
LOS ANGELES -- USC leads Utah 10-7 at halftime. While the Trojans dominated statistically, Utah scored a late touchdown to close the gap to just three points.
LOS ANGELES -- Turnovers are as big a story here as USC dominating early play.USC's only touchdown came after a Utah turnover. And USC has twice turned the ball over deep in Utah territory -- a Matt Barkley interception and a D.
LOS ANGELES -- USC didn't make Utah feel very welcome to the Pac-12 in the first quarter.The Trojans outgained the Utes 123-42 and built an 10-0 lead.
LOS ANGELES -- Pac-12 commissioner Larry Scott talked to reporters before the Utah-USC game again, but he had no expansion news.Sorry. Or congrats, whichever way you feel.
LOS ANGELES, Calif. -- The first-ever Pac-12 game features the old school and the new school in more ways than one.USC is one of the nation's most storied programs with a trophy case full of national titles and Heisman Trophies.