NCF Nation:

V'Angelo Bentley
November, 17, 2013
11/17/13
9:00
AM ET
Recognizing the best and the brightest around the Big Ten in week 12 …

Ohio State RB Carlos Hyde.
Ohio State coach Urban Meyer said that Hyde made the difference for the Buckeyes in a 60-35 win. The senior rushed for four touchdowns and 246 yards on 24 carries and tallied another receiving touchdown (he had two catches totaling 26 yards). It was Hyde's first 200-yard game of the season and more than double his previous season average of 117 yards per game.
Michigan kicker Brendan Gibbons and holder Drew Dileo.
Down three points with under 10 seconds remaining in regulation, the Michigan offense was sprinting off the field, the kicking team sprinting on the field and Dileo was sliding in to this holding position for Gibbons (yes, literally, sliding). Gibbons nailed a 44-yard field goal to send the game in to overtime, which the Wolverines eventually won after triple OT.
Wisconsin running backs.
The Badgers accounted for 554 rushing yards against Indiana.
James White
(205 yards, 1 touchdown),
Melvin Gordon
(146 yards, 1 touchdown) and
Corey Clement
(108 yards, 2 touchdowns) became Wisconsin's third 100-yard rushing trio this season. Wisconsin tallied seven runs of 30 yards or more and White recorded a 93-yard touchdown run which set a program record for the longest run. The Badgers' 554 rush yards are the most by an FBS team this season.
Nebraska RB Ameer Abdullah.
The Big Ten's leading rusher had his seventh 100-yard game of the season (bringing his rushing total this season to 1,213) and he became the first running back to rush for more than 100 yards against the Spartans defense. He accounted for 123 yards on 22 carries and his one TD of the day was a 12-yard receiving touchdown (his only catch of the day). MSU came into the match up giving up just 43 rushing yards per game -- which Abdullah tripled.
Illinois DB V'Angelo Bentley.
Coming into this weekend the Buckeyes had allowed just 1.5 yards per punt return and haven't allowed any kind of a return on 92 percent of their punts. But with the Illini down 28-0 on Saturday Bentley managed to get past more than half of Ohio State's punt coverage team and go 67 yards to the end zone. Not only did he become the first player to have success against this group, he also gave Illinois its first sign of life against the Buckeyes.
Honorable mention: Michigan State kicker Mike Sadler.
With a six-point lead in the fourth quarter and the Spartans faced with a fourth-and-1 on the Cornhuskers 27 yard line, Mark Dantonio called for a fake field goal play. Sadler was supposed to go right, but the formation wasn't quite what MSU expected, so instead of checking out of it and going for a field goal he rushed for three yards up the middle and a first down, setting up an MSU score.
November, 16, 2013
11/16/13
6:10
PM ET
CHAMPAIGN, Ill. -- It says a lot about the place Ohio State finds itself that a 25-point conference road victory, in which it scored 60 points, provides fodder for critics and detractors.
But that's the nature of college football in late November for an undefeated team. Politicking and nit-picking all play into a sport that chooses its championship game largely by way of popular opinion, creating a week-to-week beauty pageant.
Urban Meyer admitted after Saturday's
60-35 victory
at Illinois that he and his team got a little too caught up in all the national title talk recently. Following a performance filled with warts, if not outright worry, Meyer wants the No. 3 Buckeyes to hop off that carousel.
"We need to make sure our focus is on just getting better each week instead of all the national stuff," Meyer said. "I think I'm learning a lesson. Just shut your mouth and quit worrying about this, quit worrying about that."
[+] Enlarge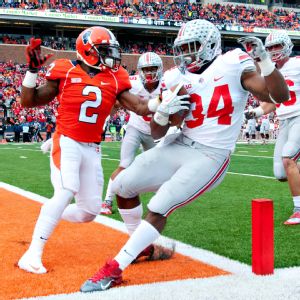 Bradley Leeb/USA TODAY SportsOhio State's Carlos Hyde crosses the goal line for the first of five touchdowns he scored Saturday at Illinois.
Meyer even suggested that he will restrict media access to his players in the next few weeks. Issues such as style points and schedule strength have dominated the discussion in recent weeks for Ohio State, and wide receiver
Evan Spencer
made waves last week by saying, albeit somewhat jokingly, that his team would "wipe the floor" with Alabama and Florida State. Linebacker
Ryan Shazier
said Saturday that "everybody was up in our heads" about the national title race during the Buckeyes' bye week.
Any distractions that might have caused didn't surface until well into Saturday's game. Ohio State, as it does just about every week, seized immediate control of the game, racing out to a 28-0 lead with 10:20 left in the first half. The Buckeyes have outscored opponents 63-0 in the first quarter in their past three games.
But the Illini -- who now own the nation's longest conference losing streak at 20 games, the second-worst streak in Big Ten history -- found a hole in the Buckeyes' most airtight unit this season: punt coverage.
V'Angelo Bentley
scored on a 67-yard punt return in the second quarter to give his team some life. Led by a gutsy effort from quarterback
Nathan Scheelhaase
, Illinois sliced the lead to 14 early in the second half and trailed by only 12 with less than five minutes to play.
"When we got up big, everybody just kind of mellowed," Ohio State receiver
Corey "Philly" Brown
said. "We thought they would give up and they didn't. ...
"It was a big-time wake-up call."
Unlike the previous two games, the Buckeyes had to play their starters the whole way. Meyer had hoped to rest left tackle
Jack Mewhort
, who tweaked his knee in practice Wednesday, but he was forced to put Mewhort back in during the second half.
Ohio State couldn't exhale until
Carlos Hyde
ripped off two 50-yard-plus touchdown runs in the final 4:03, and on a windy day that made passing a challenge, Meyer rode the running skills of quarterback
Braxton Miller
harder than he had all season. Miller finished with 184 yards on 16 carries.
But it was the defensive effort that proponents of teams such as Baylor and Stanford will harp on, as Ohio State gave up 420 yards and its highest point total of the season. Few will give the Buckeyes a pass for missing starting linebackers
Joshua Perry
and
Curtis Grant
or for losing starting defensive lineman
Joey Bosa
to a neck injury after he had rung up 2.5 sacks. Meyer called the defensive performance simply "not good enough."
"That is unacceptable from us," safety C.J. Barnett said. "Illinois is a good team with some great athletes, but at the same time, we expect more from ourselves."
Only in college football would a team that secured its 22nd consecutive victory with a 25-point road win be scrutinized and criticized. And make no mistake: The Buckeyes were not satisfied with their showing. The truth is that they're not going to the BCS title game unless Alabama or Florida State lose, and their best argument remains the long winning streak.
Just don't expect to hear much about that subject from the Ohio State camp in the coming days.
"There will be a lot more focus on Indiana this week," Barnett said, "instead of worrying about the big picture or what's in the future. We need to worry about the right here and now."
September, 2, 2013
9/02/13
11:00
AM ET
Exhale.
You wait nearly nine months for the return of college football, to see players and coaches that have been endlessly analyzed all offseason, and then it all spills out on opening weekend. So of course the natural inclination is to make immediate judgments on what you've seen, and to find instant reasons to panic.
Nebraska's defense is going to be historically bad! Michigan State's offense is somehow worse than last year's! Ohio State is wildly overrated! Purdue and Iowa might not win a game in the conference besides the one against each other!
Some concerns obviously are valid. But remember that it was just opening week. Teams and players are still figuring things out, learning who and what they are. In Week 1 last year, for example, Michigan State beat a ranked Boise State team, Michigan got destroyed by Alabama, Minnesota needed triple-overtime to put away a bad UNLV team, Penn State lost at home to Ohio and Illinois rolled over Western Michigan. Those outcomes hardly defined the season for those teams.
Or better yet, look back to Iowa's win over Northern Illinois in the first game of the 2012 season. Who would have guessed then that the victorious team would wind up 4-8 and that the loser would go to the Orange Bowl?
Many of Saturday's games were also played in extreme heat, a stark contrast to the unseasonably cool August temperatures most teams trained in during the preseason. That's not an excuse, because Big Ten opponents had to deal with the same conditions. But the league race will be decided in October and November in much different weather, and probably by teams that will look a whole lot different.
It's a coach's cliché that teams make their biggest improvements from Week 1 to Week 2. So it's not time to panic yet. At least not for another Saturday.
Take that and rewind it back:
[+] Enlarge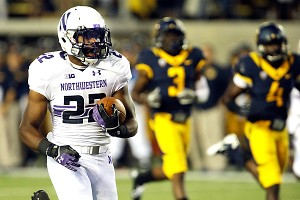 AP Photo/Ben MargotTreyvon Green rushed for 129 yards and two touchdowns in the victory over Cal.
Team of the week:
Northwestern. The Wildcats went to Pac-12 country, where Big Ten teams have had little success in recent years. They lost starting quarterback
Kain Colter
to injury on the second play against Cal, star tailback/returner
Venric Mark
spent more time on the exercise bike than the field, and cornerback
Daniel Jones
went down with a knee injury right before halftime. Meanwhile, Cal threw some haymakers and seemed to seize the momentum in the third quarter. Yet Northwestern -- which had some trouble holding onto late leads last year -- prevailed 44-30.
The win didn't come without controversy, as Cal fans and coaches thought Wildcats players were faking injuries in the second half to slow down the Bears' high-tempo offense. During one Cal drive, Northwestern players went down to the turf after three consecutive plays. Some players, such as linebacker
Damien Proby
, went down more than once. Cal coach Sonny Dykes threw up his hands in frustration at one point, while Bears fans booed, which was pretty funny, given
Cal's own history with faking injuries
against a high-tempo offense.
Northwestern coach Pat Fitzgerald said his team wasn't up to any hijinks.
"If anybody were to question the integrity of myself, our program or our players, I question theirs," he said in the postgame news conference. "When our guys get dinged up, they are instructed to go down, not hobble off to the sideline."
Worst hangover:
The Boilermakers got outscored 35-0 in the second half of their 42-7 loss at Cincinnati and might have gotten shut out if not for a botched Bearcats punt return late in the first half. Purdue was a mess in just about every area and was neither physical nor disciplined, two traits that Darrell Hazell has made priorities.
We're going streaking:
Thanks to Iowa's loss and Illinois' escape against Southern Illinois, the Hawkeyes now have the Big Ten's longest current losing streak, at seven games. That's tied for the fifth-longest losing streak in the FBS and second-worst among AQ teams, behind only Kansas, which was idle last week. The good news is that Iowa should finally get back in the win column this week versus Missouri State, and its Week 3 opponent, Iowa State, lost to Northern Iowa on Saturday.
Fun with numbers (via ESPN Stats & Information):
Yes, the Michigan State passing attack was as bad as it looked against Western Michigan. Through Sunday's games, the Spartans rank second-to-last among all FBS teams in yards per pass attempt (3.14) and percentage of completions that went for at least 10 yards (17.6). ... No team gave up more first downs in Week 1 than Nebraska, which allowed Wyoming to move the chains 35 times. The Huskers were also one of only two AQ teams that gave up more than 500 yards of offense to a non-AQ team in regulation. Oregon State was the other. ... Michigan's
Devin Gardner
threw two interceptions, but he had the Big Ten's
top QBR score
and was No. 15 nationally in Week 1. ... Wisconsin averaged 8.9 yards per rush against UMass and ranks third nationally in that stat. ... Penn State is last in the FBS in third-down conversions after going 1-for-16 against Syracuse. Of course, third down is often only a prelude to the next play for Bill O'Brien.
Point-ing up:
Indiana leads the nation in scoring after putting up 73 against Indiana State on Thursday. The schedule really helped, but offense was up throughout the Big Ten. Eight of the 12 league teams scored at least 37 points and the conference scoring average after one week is 39.5 points per game. Compare that to last year, when the league averaged 26.7 points per game in Week 1. Again, many of the opponents weren't great last week, but the simple eyeball test tells you that several Big Ten teams look more comfortable and have more playmakers on offense. With a couple of notable exceptions.
Big Man on Campus (offense):
Sure, it was against an FCS team, which is why we excluded him from our helmet stickers. But let's recognize Illinois quarterback
Nathan Scheelhaase
, who threw for a carer-high 416 yards and two touchdowns in Bill Cubit's new offense. In one game, Scheelhaase accounted for more than 30 percent of his entire passing yardage in the 2012 season.
Big Man on Campus (defense):
Northwestern linebacker
Collin Ellis
helped save the day, er, night at Cal with a pair of pick-sixes.
Big Man on Campus (special teams):
Tons of big special teams plays this weekend, including kickoff returns for scores by Minnesota's
Marcus Jones
and Illinois'
V'Angelo Bentley
and a punt return TD from Indiana's
Shane Wynn
. Michigan's
Joe Reynolds
scored on a blocked punt by teammate
Dymonte Thomas
. But how about Penn State's
Sam Ficken
? The kicker who was such a liability early last season has turned into a strength, and he made all three of his field goals -- including a career-best 46-yarder -- in the Nittany Lions' 23-17 win over Syracuse.
Best play:
Michigan State safety
Kurtis Drummond
's
one-handed interception against Western Michigan
. Now, can he play receiver?
Looking ahead:
The "GameDay" crew will be at Notre Dame-Michigan, and the Big Ten had better hope for a good showing in this spotlight game. That's because there's nothing much else of interest going on in Week 2. Two Big Ten opponents -- South Florida (at Michigan State) and San Diego State (at Ohio State) -- were blown out by FCS squads in their openers, while another, Southern Miss (versus Nebraska) lost to Texas State. Northwestern-Syracuse is probably the week's second-best game, and the Orange are 0-1 after losing to Penn State.
March, 4, 2013
3/04/13
9:00
AM ET
Very little went right for Illinois under first-year coach Tim Beckman last year. After a 2-10 season, the Illini are ready to turn the page and look forward to 2013 when they hit the practice field Tuesday.
I recently caught up with Beckman to ask about the pressing issues his team faces this spring. Here is that Q&A:
[+] Enlarge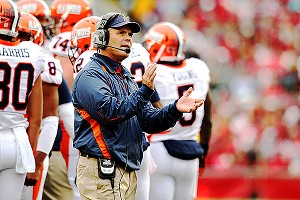 Brace Hemmelgarn/USA TODAY SportsDespite a 2-10 record this past season and a slew of changes on his staff, Illinois' Tim Beckman is full of optimism heading into spring workouts.
You turned over half your staff from last year, with some voluntary departures and some not. What has that been like and how much transition are you going through right now?
Tim Beckman:
Well, it's kind of crazy, because I saw a stat the other day where there's only, like, 22 staffs that haven't changed in college football, so it's been the norm. But I think with the professionalism that coaches have and the guys I've been able to hire into this new family, they're outstanding people. They're professionals, they've been coordinators, they've been head coaches, they've been in great programs. The transition has been good. I've been able to hire two Illini, which is huge, with [receivers coach Mike] Bellamy and [defensive line coach Greg] Colby.
So I think it's been a great transition. Our players have been really excited. With Mike Bellamy, he's been involved with this program for a year. So the kids were pumped when he was hired on staff, because they know him. And now he brings that Illinois flavor to the staff. All the other coaches, we've been working with each other. Jim Bridge was telling me the other day there are four or five other guys that he's been with at other places. So that's one of the unique things, because it's like a fraternity. These guys have worked with one another.
How much will the offense change with new coordinator Bill Cubit?
TB:
Well, it's Bill's offense. It's what Bill was hired for. And that's how it's always been, really, with the coordinators. But I think the uniqueness that Bill has, in coaching against him, is that he's been able to adapt his offense based on personnel. He's had
Jordan White
, a great, great football player. He's had great wide receivers, and he's been able to move them around and adapt his offense to the guys that need to be getting the football.
After a year like last year, what do you do to keep the players' confidence up?
TB:
We went back to a lot of competition, back to a lot of leadership building. We addressed the situation that occurred. I met, as I always do, with each one of the players for 10 minutes. That takes a good week. We did that in December. I asked them what their goals were, because we split up the season into four quarters -- winter workouts, spring practice, summer workouts and then the most important quarter, the season. And I had them set goals for themselves to attain each quarter. So they just wrote out their goals out for spring ball. And I also do the same thing for the team. "What do you want this team to be able to say they can do after each quarter?"
Our motto is win whatever is needed, and win the day. Whatever is needed today for us to become a better and closer football team.
What are your primary concerns for this spring?
TB:
The scenario here is depth. There hasn't been depth. And when you get a young man injured, it hits you drastically because you just don't have that depth. We were able to get 10 young men here in January, five junior college players and five high school players. Junior college wise, there hasn't been a whole bunch here before. There might have been one or two. But we needed to add age to our football team, and that's what the junior college players help us do.
You've only seen the junior college guys in winter workouts so far, but what is your early impression of those guys?
TB:
The first thing that I look at always is how have they been accountability wise. Because it's new. They get in here, and, bam, they're thrown into the fire right away. I'm proud, because they've all been very accountable. We haven't been late for things. Being in school and being a football player hasn't got their minds out of whack or anything like that. They've shown football wise that they can compete, but they've also shown that they're doing a very good job of being accountable on and off the football field.
How do you see the quarterback competition, where you've got a veteran starter in Nathan Scheelhaase but also a guy in Reilly O'Toole who's played a lot and a big-time recruit (Aaron Bailey) coming in?
TB:
As in any position, there's competition. Nathan will go in as the guy, being the starter. Somebody's got to beat him out. But Nathan's won a lot of football games here. We had a tough year, no question, but that's not going to be on Nathan's shoulders. He was getting sacked too many times. All those things you can't have your quarterback doing, getting hit. We've got to get better at protecting our quarterback, and we've got to be able to get the ball out quicker and do those types of things so our quarterback can be successful.
[+] Enlarge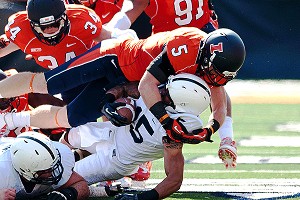 Bradley Leeb/USA TODAY SportsSteve Hull will be trading in delivering hits for making catches on offense this spring.
You talked often last year about the lack of depth at the offensive skill positions. How has that come along?
TB:
It's getting better. Those young men we played with last year have moved up in age. We've taken
Steve Hull
and moved him to offense, so that adds age and depth to that position. Wide receivers and DBs are the big concern here. And we've been able to add freshmen and junior college players to those positions.
Why did you move Hull to receiver?
TB:
He's had some issues with injury. We felt that Steve, for his fifth year, would be better suited to play on the offensive side of the ball to take out maybe some of the direct collisions he was getting as a safety. And he's been great with it. He loves it, and he's emerged as being one of the big vocal leaders on the team.
The offensive line really struggled last year, and you lost two senior starters in Graham Pocic and Hugh Thornton. How does that position group look going into spring?
TB:
Losing the two senior starters, they were dinged up a little bit during the season, so we had to move some players around. But we also had three, really four, players that got a lot of playing time last year. So they should be a year better. I like the philosophy that coach Bridge brings in here as our offensive line coach and what coach Cubit does with the running game. Our offensive line has done a great job these last three months -- and [strength coaches] Aaron Hillman and Dave Andrews get a lot of credit for it -- of getting stronger, getting bigger and doing those things you need to do to be a Big Ten offensive lineman.
You played a lot of freshmen on defense last year, like Monheim and Mike Svetina. Do you expect them to be much farther along this spring because of that experience?
TB:
No question. They're not going to be freshmen that are 18 years old out there starting in the Big Ten. They're going to have a year's experience. We played
Teko Powell
on the defensive line last year so he could gather experience.
V'Angelo Bentley
played a bunch last year as a true freshman, so he got a bunch of experience. Now these players that were just brought in in January, plus the redshirt freshmen, are going to have to step up and be involved in the front and in the back end. You had a guy like a
Jake Howe
, who was playing very good and then broke his hand and was out for the year. You have
Austin Teitsma
, who got quite a few reps last year. Darius Caldwell.
Houston Bates
, who got hurt last year.
Jonathan Brown
. We've got to get those guys back and healthy.
You mentioned concerns about depth in the secondary. What young players do you expect to step up there?
TB:
I think
Eaton Spence
has done a good job for us. V'Angelo Bentley has done a good job. The two freshmen we brought in have done a good job in winter workouts. I haven't seen them on the football field, but they've been doing their change of direction stuff very well. A young man named
Taylor Barton
, a true freshman, has done a good job. Eric Finney, who came in from junior college,
LaKeith Walls
,
B.J. Bello
,
Jevaris Little
-- these are names who have worked extremely hard this season. They're not names a bunch of people know because they've not played yet, other than Spence and Bentley. But these guys have definitely improved.
Have you started identifying leaders on this team yet?
TB:
Well, we have really been pushing it. We've been meeting on it. We've been talking about it as a team and then as individual classes, and then our honor council. We've had a guest speaker come in every Monday and talk about leadership, from military people to a gold medal winner in the wheelchair marathon. So we've really built that in. I've seen players from young and old step up in winter workouts, step up and be leaders. Steve Hull has emerged as a guy who definitely does an outstanding job of leading this football team.
Mason Monheim
, who was a freshman, he's jumped up and taken control.
Earnest Thomas
. Guys that probably weren't as much leaders last year that might not be seniors have jumped up and tried to lead this football team well.
We've got 62 players who are freshmen and sophomores, so there's a big number of guys who have been here three or less years because of redshirts. So we've got to be able to all be leaders in this program, and that's what we're stressing.
Not surprisingly, the fan base was really down on last year. What can you do to create some more optimism?
TB:
I opened up the Friday practices again to the community. This is the University of Illinois. It's our state, our team. We talk about it, and that's the truth. I want to get the community involved in this program. I've always wanted to do that and we're going to do it even more. We're going up to Chicago for a practice. Of course, we've got a game in Chicago at Soldier Field, which is an outstanding opportunity for Illini Nation and those things. We're moving forward.
Nobody was happy with last year. I mean no one. I haven't been involved in that type of year. So we have to move forward and we have to take this program forward. And that's what we asked this football team and this coaching staff to do.