September, 4, 2013
9/04/13
9:00
AM ET
After he sliced and diced Oregon State's defense last Saturday, Eastern Washington quarterback
Vernon Adams
recalled his team's dispiriting conclusion to an otherwise good 2012 season. Just like the Beavers, the Eagles had seen their strong campaign a year ago end on a down note against a team from Texas.
The Eagles lost to Sam Houston State in the FCS semifinals, a massive comeback from a 35-0 halftime deficit falling just short, 45-42. The Beavers self-immolated in the fourth quarter and lost to Texas in the Alamo Bowl, 31-27.
Sort of a vast distance betwixt the two, eh?
[+] Enlarge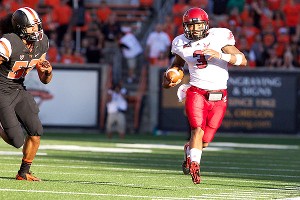 Jaime Valdez/USA TODAY SportsThe Oregon State defense yielded big numbers in the loss to Eastern Washington.
So Eastern Washington, after beating the then 25th-ranked Beavers 49-46, moves on to the Big Sky Conference -- Cal Poly, Weber State, UC Davis -- with big intentions in the FCS playoffs, while Oregon State … well, does what?
Serves as a national punch line? Suffers through another season like 2011, when a loss to another FCS team -- Sacramento State -- presaged a horrid 3-9 campaign that had folks calling for coach Mike Riley's head?
Or Oregon State rights itself and redeems its season, transforming the inglorious opener into a fluke, a tough lesson that can be later referenced after a bowl victory as the touchstone for ultimate and satisfying success.
"[Cornerback]
Rashaad Reynolds
said something great in the locker room," quarterback
Sean Mannion
told reporters after the defeat. "He said that there are two ways that we can go about this: We can either lay down or stand up and overcome this by working harder than we ever have. Obviously, that is the route that we are going to take."
Of course, that's also pretty obvious. The same thing was said after the Sacramento State loss, though it's worth noting the Beavers were riven after that game by the QB switch from the popular Ryan Katz to Mannion, then a redshirt freshman.
Still, the perception of Oregon State has taken a hit. Again. The preseason take on the Beavers was they were headed for a 7-0 start and potential top-10 ranking that would make the Oct. 26 visit from Stanford a red-letter date nationally. Now the visit from woeful Hawaii on Saturday doesn't feel like a sure thing.
Oregon State welcomed back seven starters from one of the nation's best defenses in 2012, yet it yielded ludicrous numbers against the Eagles -- 625 total yards, 8.8 yards per play, 31 first downs, 448 passing yards, etc. The big preseason question for the Beavers was the quarterback competition between Mannion and
Cody Vaz
, but Mannion was lights-out and the offense rolled up 46 points, which would have been enough to win every game the team played since 2006, other than matchups with Oregon in 2008, 2011 and 2012.
Think of all the great offenses Oregon State has faced over the past few years. Yet when the Beavers gave up 29 first-half points, it was the most they'd yielded since 2008 against Oregon. The Eagles' 23 second-quarter points were the most the Beavers have surrendered in any quarter since UCLA scored 28 in the fourth on Sept. 29, 2007.
No matter how dynamic Adams was, this probably ranks as one of Oregon State's worst defensive performances of the modern era, particularly when you factor in that the foe was from a lower division.
So what was the problem?
"We got totally disrupted," Riley said. "We were way out of sorts in pass rush, pass-rush lanes, we were misaligned defensively. We made some crucial technical errors, just playing Cover 3 and giving up a deep ball right down the middle of the field. Just kind of simple football mistakes, whether it's just lining up or maintaining a pass-rush lane or maintaining position on a receiver."
Throw in poor tackling and that just about covers it. The defensive failure was a total team effort. All-Pac-12 defensive end
Scott Crichton
was invisible, recording just two tackles.
"The quarterback gave us fits," Riley said. "Scott could never quite get there or finish a play."
The Beavers were the only ranked team to lose to an FCS foe on the opening weekend, but they certainly weren't the only AQ conference team to get toppled. Kansas State, the defending Big 12 champions, lost to North Dakota State. Folks aren't going to start questioning Bill Snyder's coaching acumen, at least not anyone with a brain.
Stuff happens.
The question now is whether this is just one of those games -- an anomaly -- where things go haywire. The answer to that only will be revealed in coming weeks. But know that the visit to Utah in Week 3 suddenly seems freighted with far more meaning than in the preseason.
Not that the Beavers should be overlooking anyone at this point.
"I think everybody takes it on themselves, coaches, players," Riley said. "Everybody has to take responsibility."

September, 3, 2013
9/03/13
11:00
AM ET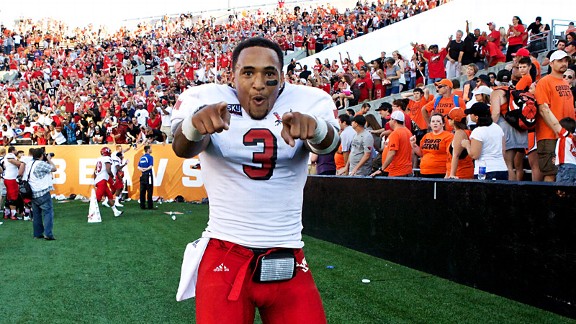 Jaime Valdez/USA TODAY SportsEastern Washington QB Vernon Adams celebrates after defeating the Oregon State Beavers 49-46.
For four months, ESPN The Magazine will follow the march to the BCS championship game, moment by moment, culminating in our Story of the Season double issue on Dec. 27. Every Tuesday, Mag senior writer Ryan McGee will pick the previous week's biggest moments and tell you why they'll have the most impact on potential BCS title matchups. If you disagree, send a tweet to @ESPNMag and tell us why your moment matters more, using the hashtag #StoryoftheSeason. Who knows? Your moment (and tweet) might just end up in our issue.
IT'S SUCH A
cliché to say that football is a game of inches. But tell me how many clichés ain't the truth?
Just a few days before the start of the 2013 season, HBO aired an episode of "The Newsroom" during which a preachy-yet-usually-correct anchorman (played by Jeff Daniels) opines about near-misses. How the direction of American history has been written as much by wobbly chairs and weird weather as it has by well-intentioned men and women. "So sometimes," Daniels explained, leaned over a table, "it's just the one thing."
On Saturday night, Mark Richt was also leaning over a table. He had just emerged from the visitors' locker room at Memorial Stadium, having addressed his
Georgia Bulldogs
after a crushing 38-35 season-opening loss to the
Clemson Tigers
. Richt didn't steal any lines from Daniels' monologue, but what he said would have fit snugly into the script.
"It'd been interesting to know what would have happened if we'd have made that short-range field goal."
With 1:05 remaining in the third quarter, the entire Georgia sideline joined Richt to watch a 20-yard field goal that would pull the Bulldogs even at 31-31. The coach was a little more anxious than normal about the chip shot because the kicker was
Patrick Beless
. The walk-on redshirt sophomore's only other live-action field goal wasn't even a live-action field goal. It was a 23-yarder in the team's G-Day spring scrimmage.
But Beless had been pressed into service because starting kicker
Marshall Morgan
was suspended by Richt after his boating under the influence arrest in late July. Throughout the rest of summer practice, Richt directly forbade all players involved with the kicking game to talk to the media, from punters to placekickers to holders to likable long-snapper
Nathan Theus
. Leading up to the weekend, Richt joked that everyone would know what the plan was "by halftime of the Clemson game."
The initial speculation was that another walk-on, junior
Adam Erickson
, would replace Morgan. But in the end, Richt decided that keeping Erickson, the backup punter, as the regular holder of Theus' snaps would provide stability.
The Bulldogs' opening drive ended in a punt, but their next four offensive series finished in the end zone. On all four PATs, Theus snapped it cleanly to Erickson, who placed it onto the turf perfectly for Beless, who flawlessly booted the ball through the uprights. Their first and only field goal attempt was little more than another extra point, with the line of scrimmage at the 2 and Erickson on his knees at the 10.
Before the snap, Theus, a 6-foot-3, 241-pound redshirt sophomore, sensed a space open off his right shoulder, but off his left shoulder, he felt crowded. It was 6-1, 285-pound
DeShawn Williams
, aka Big Nuke 99, who had his head stuck in as close to being offside without actually being called offside as is humanly possible. Big Nuke's left shoulder was essentially resting on Theus' left shoulder.
In the fraction of a second before the ball was snapped, all 20 men who were crammed along the line of scrimmage held completely still … except for Williams, who stomped his feet: left foot once, right foot twice.
The long-snapper's goal is to keep his actions smooth amid chaos, applying even pressure from both hands and moving both arms back in a perfectly parallel throwing motion, then seamlessly raising upright into a crouched blocking position. But Theus gave it a little too much gas with the left arm, the arm that had been all but resting against Williams' shoulder. The good news was that he got a quick launch into Williams, driving the now-standing tackle out of the likely path of the football. The bad news was that the ball wasn't coming.
For Richt, who has long stuck to the practice of not having a special-teams coach, the most frustrating aspect of watching the play on Sunday morning was that the snap still looked pretty good. Erickson still nearly pulled it down. He managed to keep his knees bent and get his hands on the football. Had it been two knuckles lower, or had the 5-foot-10 holder been able to extend his arms perhaps one more inch, he might have pulled it down and gotten it set for Beless … and who knows?
Instead, the ball fell to the turf and Erickson dived to smother it. Then he was smothered by Big Nuke. When Williams jumped up to celebrate, he crashed into a Georgia player, who promptly gave him a "get the hell off me" forearm shot. It was Theus, who didn't know that at that exact moment he was being identified by Brent Musberger on national television. That never happens for a guy like Theus, unless the situation has gone horribly wrong.
So did Georgia lose the game on that field goal try? No. As Richt explained during his postgame news conference, there were plenty of other chances to put Clemson away. The Bulldogs could have scored on the three plays leading up to the field goal attempt, all of them starting inside the Tigers' 6-yard line.
But on Saturday night, there was only one play with which Richt played "what if?" And with Georgia's and Clemson's schedules, it's a what-if that could have repercussions far beyond Aug. 31 and well beyond Death Valley. Georgia rolls into another top-10 matchup, hosting South Carolina. The Tigers will see the Gamecocks at regular season's end. If the Bulldogs win, they're still in the SEC East hunt. If Clemson loses, will we point to the Georgia win as proof the Tigers shouldn't be knocked out of the BCS title game?
In other words, we could still be talking about Theus' snap when we get to Pasadena in January.
"It's very disappointing, but that's football," UGA receiver
Justin Scott-Wesley
explained before the team boarded the bus back to Athens. "It's a game of inches.
Told you.
---
" Elsewhere in the cosmic tumblers department, it's not misguided to think that the weekend's slew of Davids slaying Goliaths could have far-reaching effects for other Goliaths as the season rolls along. When the
Oregon State Beavers
lose to Eastern Washington, it should send chills down the spine of the
Stanford Cardinal
, who narrowly escaped the Beavers one year ago and will travel to Corvallis on Oct. 26. Even a close game would hurt Stanford's national rep, not to mention those of the
USC Trojans
(Nov. 1) and
Oregon Ducks
(Nov. 29). Same scenario applies for the schools of the Big 12 if they get "upset" by the
Kansas State Wildcats
, who were beaten by two-time defending FCS champ North Dakota State ...
" But the biggest shock waves will likely be coming from Storrs, Conn., where the Huskies have started jackhammering the already thin ice beneath the Louisville Cardinals' national title hopes. The American Athletic Conference was a mess entering the season, but when Towson toppled UConn, the whole league went down another notch. The Huskies host
Teddy Bridgewater
on Nov. 8, a game they won at Louisville in OT last season.
" During NFL training camp, I had a conversation with former Appalachian State QB (current Carolina Panthers receiver) Armanti Edwards about being the little guys who beat the big guy and still have a chance to beat some other big guys. "I remember after we beat Michigan [in '07] how everyone talked about them the rest of the year. I've talked to guys who played them later that year and they all say they were so scared to lose to Michigan because it'd be like they lost to us, too." He mentioned Penn State and Florida, a pair of top-10 teams that fell to the Wolverines that year, as well as Notre Dame. Then he laughed. "We ended up wrecking a lot of people's seasons, didn't we?"
---
This year's version of Edwards is Eastern Washington quarterback
Vernon Adams
. Against then-No. 25 Oregon State, he was 23-of-30 for 411 yards and four TDs through the air and ran for 107 yards and two TDs on the ground. Anyone who follows FCS football already knew he had explosive capabilities, but this year he looks more in control of his talents. A big reason for that is time spent over the summer with another Washington-based QB (and current ESPN The Mag cover model), Russell Wilson.
Adams says they talked plenty about mechanics and football skills, but also about being the little guy. "We're the same height, and people have always tried to say he's too short. But he's had a lot of success. Perhaps I can, too."
So far, so good.