September, 10, 2012
9/10/12
4:30
PM ET
USF receiver
Sterling Griffin
has every right to curse the football gods after a rotten string of bad luck has ended his season prematurely.
Again.
[+] Enlarge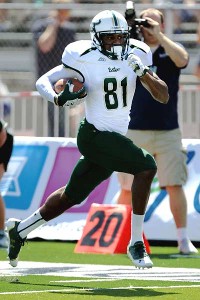 Cathleen Allison/AP PhotoSouth Florida's Andre Davis scores on a 51-yard reception against Nevada on Sept. 8.
But Griffin is not the type to throw pity parties.
His season may be over
, but it is just beginning for his teammates, who were back out on the practice field Monday preparing for their Big East opener against Rutgers -- some 30 hours after landing home from Nevada.
So Griffin stood on the sideline on crutches, serving as a de facto coach, doing whatever he needed to do to get his fellow receivers ready to face the best secondary in the Big East.
"I feel real bad for him, as hard as he's worked to get back from an ankle injury and now to deal with an ACL injury," quarterback
B.J. Daniels
said in a phone interview Monday. "He's a very determined guy. Even today on the practice field, on his crutches, knowing he's out for the season, he was still out there for us, still a vocal leader."
Griffin has not been able to catch a break injury-wise since he arrived in Tampa. He redshirted in 2010 because of a broken ankle. Last season started with tremendous promise, as he had 493 yards through the first seven games of the season to rank No. 4 in the league in receiving yards per game and receptions per game. But he broke his foot against Cincinnati and missed four games, returning in time for the finale against West Virginia.
His return this season, though, was highly anticipated. For one, he is the veteran of this group. For another, some very young players got an opportunity to play last season in his absence. They would be another year older, and USF would have one of the deepest receiver groups in the Big East.
Now we get to see how truly deep this group is without its leader.
All eyes turn
to
Andre Davis
, one of the youngsters who benefited the most with Griffin on the sideline a year ago. You saw his amazing potential on full display in the riveting come-from-behind win over Nevada.
Davis set a school record with 191 yards -- the most of any FBS player in Week 2 -- and his 56-yard touchdown reception with 38 seconds to go made the difference in the game. Davis and Griffin play the same receiver position, so watch out for more games like this to come.
"This second game he really came into his own and unfortunately with Sterling down with the injury he had to step up," Daniels said. He had to play more plays, and he did a good job."
Davis already has shown his ability to stretch the field, and so has
Chris Dunkley
, another player USF will have to rely on with Griffin out.
Derrick Hopkins
,
Terrence Mitchell
and
D'Vario Montgomery
have speed in spades as well. Add in
Deonte Welch
and
Victor Marc
, and there are plenty of options.
The big question is whether USF can continue to build on its impressive pass game performance against Nevada, which came after Griffin got hurt. Consider last season, USF had only one completion that went over 50 yards in an FBS game. Against Nevada, USF had three 50-yard touchdown passes. Getting much bigger plays from the receivers has been a huge point of emphasis this offseason.
"Last year, we made a big jump offensively in our numbers but to add the deep ball to our arsenal now and be consistent with it gives us an opportunity to stretch the defense and it makes it a lot easier for us," Daniels said. "Teams have to cover the entire field, horizontal and vertical. As long as I give them the opportunity to go get the ball and keep it in bounds, with the type of speed and athleticism they have, more than likely they'll come down with it."
The opportunities certainly will be there for them, with their leader watching from the sideline.
October, 25, 2011
10/25/11
10:30
AM ET
What already was a young group of USF receivers just got younger with the news that
Sterling Griffin
will miss six to eight weeks with a fracture in his ankle.
Griffin was hurt in a loss to Cincinnati, and coach Skip Holtz feared the worst Monday during the Big East coaches call. That timetable means Griffin most likely will miss the rest of the season and would be available should the Bulls (4-3) make a bowl game. It really is a tough blow for the Bulls and Griffin, having a career year after missing all of last season with an injury to the same ankle.
Just a redshirt sophomore, Griffin was the veteran in the group of receivers USF has relied on most this season. He leads the team with 40 receptions for 493 yards, with two touchdowns, and ranks No. 4 in the Big East in receptions and yards per game. It is obvious how much he has become the go-to receiver on this team.
Victor Marc
is second on the team with just 18 receptions.
But several young players stepped up against the Bearcats and are going to be asked to do much more with Griffin out.
Redshirt freshman
Deonte Welch
set a career-high with 130 yards receiving on five receptions, and was able to get open and rip off big chunks of yards. True freshman
Andre Davis
had a career-high 60 yards on four catches, and his 10-yard touchdown reception with 1:27 left in the game put the Bulls up 34-30 before Cincinnati came back for the win.
True freshman
Ruben Gonzalez
also has made some contributions this season.
"It's going to be hard -- to lose a sophomore like that would be a blow, because he's really been playing well," Holtz said Monday, before knowing the full extent of Griffin's injury. "It's kind of forced guys like Andre Davis, Deonte Welch, Ruben Gonzalez to grow up, forced them to mature and grow up. ... To see the way a couple of the young guys are stepping up is really exciting. I would absolutely hate it for Sterling for everything he's been through. He's come back so strong and he's such a great young man. He's worked so hard to be here and has made such a huge impact on this team this season, it would be difficult to lose him. It definitely looks like that's going to be the case, at least for a couple weeks. Somebody's going to have to step up."
USF is off this week before playing at Rutgers on Nov. 5.
September, 3, 2011
9/03/11
5:06
PM ET
SOUTH BEND, Ind. -- USF has a 16-0 lead thanks to three Notre Dame turnovers. The defense is coming up with big plays when they need them. The offense is doing just enough, even if it looks a bit uneven.
The Bulls have 10 points off three Notre Dame turnovers. It could have been more. After DeDe Lattimore saved another drive with an interception in the end zone, USF got no points.
Theo Riddick
muffed a punt and
Victor Marc
recovered to give the ball to USF on the Notre Dame 20. But the Bulls got a 36-yard field goal from Maikon Bonani.
Points are points, especially on the road. So no quibbling here. The USF defense has gotten better as the game has gone on, especially the defensive line, which has gotten more pressure on
Dayne Crist
. Notre Dame receivers are helping matters with butter fingers. But the USF defensive backs have had some nice break ups. Kayvon Webster, who had the fumble return for a touchdown earlier in the game, had a nice one in the end zone on the drive that ended with the Lattimore interception.
Though the offense hasn't gotten into much of a rhythm, they have done a nice job of mixing up the play calling.
B.J. Daniels
continues to run the ball; there have been some five-receiver sets and a few shots downfield, along with a power run game as well. You cannot complain with this game plan. And the best part of all-- there have been no turnovers from USF.
The rain has started to come down in South Bend, with severe thunderstorms a possibility. With a 16-0 lead, USF has got to feel good if the game turns into a slog.