November, 2, 2013
Nov 2
9:50
PM ET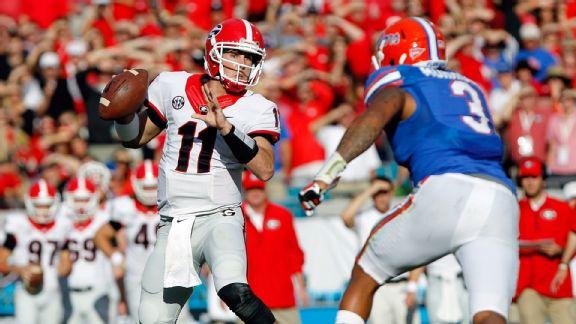 JACKSONVILLE, Fla. -- Mark Richt hardly seemed to be in a celebratory mood after Georgia's 23-20 win over Florida gave him three straight victories against the Gators for the first time since he became the Bulldogs' coach in 2001.
He had just watched the Bulldogs (5-3, 4-2 SEC) nearly melt down in the second half for the second consecutive game only to be saved by a late defensive stand and a clock-eating drive that ran out the remaining time in the fourth quarter. So perhaps it's understandable that Richt felt far more relieved than jubilant.
[+] Enlarge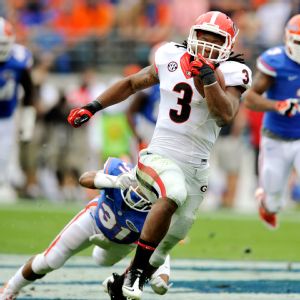 AP Photo/Stephen MortonGeorgia RB Todd Gurley ran for a pair of TDs and helped the Bulldogs win three straight over the Gators for the first time in 24 years.
"It's because we're winning 23-3 ... and then we about lost the doggone thing," Richt said. "That's why I'm subdued right now -- because I'm trying to get over it."
Imagine how Will Muschamp felt. Florida's coach saw his team claw back from a 20-0 deficit at the start of the first quarter, pull within three points at the start of the fourth and then ruin its comeback bid with regrettable penalties at the end of the game.
The Gators (4-4, 3-3) would have gotten the ball back for one final possession, but defensive lineman
Darious Cummings
was flagged for a personal foul -- illegal hands to Georgia center
David Andrews
' face -- to spoil a third-down stop with barely more than a minute remaining. Despite four personal foul calls between the two sides, the resulting first down after Cummings' penalty allowed Georgia to run out the clock and earn its first three-game winning streak in the series since 1987-89.
"We did have Coach [Vince] Dooley come by and speak to our team this week," Richt said, referring to the coach who led the UGA program from 1964-88. "That's one thing he mentioned. I didn't know the stat, but he said if we win, it would be the first time we got three in a row in like 30 years or something. I was frankly kind of embarrassed that was the truth. But that's where this series has gone. It's nice to at least, to this point, get it turned around a little bit."
Richt has been on Muschamp's side of this rivalry, too, however. The early days of Richt's tenure saw Georgia blow numerous winnable games, including a 2002 loss that might have cost the Bulldogs a chance to play for the BCS championship. Richt was 2-8 against Florida until the Bulldogs launched their three-game winning streak in 2011, but perhaps now they have permanently removed the Florida monkey off the program's back.
"Three in a row's awesome," said Georgia senior
Aaron Murray
, who threw for 258 yards and a touchdown and became just the third UGA quarterback since the 1940s to beat the Gators three times. "It's a great feeling and this is just such a great game. The environment's unbelievable. To be in that stadium, it's a true blessing. It's a great feeling to win three in a row -- something that hasn't happened in 24 years, and hopefully next year we'll keep it up."
Saturday's win wasn't pretty by any means. In fact it was symptomatic of Georgia's season thus far, with self-inflicted wounds, costly penalties and general breakdowns combining to place what looked to be an easy victory in jeopardy. Coming off a 31-27 loss to Vanderbilt, where similar problems allowed the Commodores to close the game with a 17-0 run in the fourth quarter, Georgia had to feel as though it was experiencing deja vu against the Gators.
"We just shot ourselves in the foot. I've said that 100 times," said Georgia receiver
Michael Bennett
, who had a team-high five catches for 59 yards. "It's just mental mistakes, I had a dropped pass. Stuff like that, you're going to end up having the other team start scoring points and giving them opportunities. You can't do that."
Tailback
Todd Gurley
-- who scored Georgia's first two touchdowns and finished with 187 yards of total offense -- fell short on a fourth-down run at the Bulldogs' 39 in the fourth quarter, with Georgia clinging to a 23-20 lead.
Florida's
Neiron Ball
was flagged for unsportsmanlike conduct after stopping Gurley, however, pushing the Gators back 15 yards. Their ensuing drive pushed the ball to Georgia's 43 before Bulldogs defensive coordinator Todd Grantham sent a third-down blitz at Gators quarterback
Tyler Murphy
.
Safety
Corey Moore
tracked Murphy down in the backfield for a 14-yard loss, forcing a fourth-and-26 midway through the final period that removed even the possibility that Florida would go for it on fourth down.
"I thought it was the right time to do it," Grantham said of the decision to blitz and leave his defensive backs vulnerable in one-on-one coverage. "We had to go end the game, and that's what we did."
Georgia took over with 8:17 to play and drove 67 yards in 15 plays -- including a huge third-and-7 conversion pass for 7 yards from Murray to
Rhett McGowan
and the Cummings penalty that produced another key conversion -- running out the remaining time.
The loss drops Muschamp to 0-7 in the Florida-Georgia series -- 0-4 as a Georgia player and 0-3 as the Gators' coach -- which undoubtedly creates a lonesome feeling with which Richt can identify.
Richt's team somehow held on for a win on Saturday, however, although the Bulldogs' stumbling style of late seems to be taking a toll on their coach.
"They must like it," Richt said of Georgia's numerous games that have been decided in the waning minutes. "I don't like it. It makes you wonder if this is really a good way to make a living."
June, 21, 2013
Jun 21
3:00
PM ET
Part of the surprise about Bret Bielema's sudden departure from Wisconsin to Arkansas in December stemmed from the fact that Bielema seemed like such a Big Ten guy.
Other than perhaps Northwestern's Pat Fitzgerald, Bielema was the most "Big Ten" of the 2012 Big Ten head coaches. Born in Illinois, played at Iowa, spent his first eight years as a coach at his alma mater, left Big Ten country for two years to coordinate Kansas State's defense, returned as Wisconsin's defensive coordinator and then was elevated to head coach after the 2005 season.
But three days after coaching Wisconsin to a Big Ten championship game victory, Bielema bolted for the spotlight and scrutiny of the SEC. And he's not alone.
From today's
Grantland story on Bielema at Arkansas
:
Although SEC football has long been a vessel for expressions of Southern exceptionalism, many of the conference's most successful coaches come from the Midwest. Les Miles, Nick Saban, and Urban Meyer all have roots in Ohio. Mark Richt is from Nebraska. In fact, among the league's 14 current coaches, eight were born in states with Big Ten programs, while only five hail from SEC country.
I've joked that if you don't know where a college football coach grew up, just say Ohio and you'll probably be right. But the percentage of SEC coaches with Big Ten roots is notable. The SEC coaching ranks used to be filled with homegrown coaches like Vince Dooley, Pat Dye, Johnny Majors, Paul Bryant and Phillip Fulmer. Former Florida quarterback and head coach Steve Spurrier is still in SEC territory at South Carolina, but he's no longer the norm.
Here's a quick look at SEC coaches with roots in the Big Ten footprint:
Bret Bielema, Arkansas: Born in Illinois, played and coached at Iowa, assistant coach and head coach at Wisconsin
James Franklin, Vanderbilt: Born in Pennsylvania, played college ball in Pennsylvania at East Stroudsburg
Butch Jones, Tennessee: Born in Michigan, played college ball in Michigan at Ferris State, head coach at Central Michigan and Cincinnati
Les Miles, LSU: Born in Ohio, played at Michigan and served as an assistant coach at Michigan from 1987-94
Dan Mullen, Mississippi State: Born in Pennsylvania (attended high school in New Hampshire)
Gary Pinkel, Missouri: Born in Ohio, played college ball in Ohio at Kent State, coached at two MAC schools (Kent State and Bowling Green)
Mark Richt, Georgia: Born in Nebraska (attended high school in Florida)
Nick Saban, Alabama: Played in Ohio at Kent State, assistant at Ohio State and Michigan State, head coach at Michigan State from 1995-99
Mark Stoops, Kentucky: Born and raised in Ohio, played at Iowa
Kevin Sumlin, Texas A&M: Played high school football in Indiana, played college football at Purdue, assistant at Minnesota and Purdue
The Big Ten has more of a homegrown flavor in its current coaching ranks, as seven leading men grew up in Big Ten states: Illinois' Tim Beckman (Ohio), Iowa's Kirk Ferentz (Pennsylvania, born in Michigan), Michigan's Brady Hoke (Ohio), Michigan State's Mark Dantonio (Ohio), Nebraska's Bo Pelini (Ohio), Northwestern's Pat Fitzgerald (Illinois) and Ohio State's Urban Meyer (Ohio). Purdue coach Darrell Hazell hails from a future Big Ten state (New Jersey).
Although homegrown players are the biggest reason for the SEC's run of dominance, coaches from Big Ten country also have played a role.
June, 6, 2013
Jun 6
2:00
PM ET
South Carolina coach Steve Spurrier looked around the room recently at a meeting of SEC head football coaches and couldn't help but notice he was in the minority.
No, it had nothing to do with his customary visor, and he wasn't drawing up ball plays on a napkin or looking at his watch and wondering if he'd make his tee time.
"I got to thinking, 'Where are all the guys who played football in this league over the last 30-some years?'" Spurrier recounted. "You don't see many former players from the league coming back [to the SEC] to be head coaches anymore."
Over the past decade, there have been a few such as former Mississippi State coach Sylvester Croom (Alabama), former Kentucky coach Joker Phillips (Kentucky) and former Auburn coach Gene Chizik (Florida). And before Nick Saban took over at Alabama, former Alabama quarterback Mike Shula headed up the Crimson Tide's program.
Currently, though, Spurrier and Florida's Will Muschamp are the only two. Matter of fact, more of the current SEC head coaches played their football in the Big Ten -- Arkansas' Bret Bielema and Kentucky's Mark Stoops at Iowa, LSU's Les Miles at Michigan and Texas A&M's Kevin Sumlin at Purdue.
An SEC pedigree was once a must for becoming a head coach in the SEC, but times have changed.
Click
here
to read my entire column on the changing guard in the SEC.
April, 30, 2013
Apr 30
11:45
AM ET
SEC commissioner Mike Slive
says he wants "football expertise"
on the selection committee that will pick the four teams for the College Football Playoff starting in 2014.
The most intriguing component in the whole move to a playoff remains the makeup of that committee.
Who's going to be on it? Better yet, who wants to be on it?
From an SEC perspective and a football perspective, I've come up with a few possible candidates. And, yes, I realize that just about every one of these would be perceived as having some kind of bias, which is going to be the problem in finding a panel that satisfies everybody.
They're listed in alphabetical order:
Bill Battle:
The new Alabama athletic director was the head coach at Tennessee in the early 1970s and later founded Collegiate Licensing Company and built it into a money-making empire.
Charles Davis:
A former defensive back at Tennessee, Davis has carved out an impressive broadcasting career at several different networks and provides analysis for both college football and the NFL.
Vince Dooley:
A true legend in SEC coaching circles, Dooley is about as intertwined with SEC football as it gets. He played at Auburn and was a Hall of Fame coach at Georgia.
Jeremy Foley:
He's easily the SEC athletic director with the most clout nationally, although he's already said he wouldn't be interesting in serving on the committee.
Phillip Fulmer:
Granted, the Alabama fans wouldn't be thrilled, but Fulmer won 98 SEC games, tied for the fifth most in history, and he's available.
Bo Jackson:
Still very involved at his alma mater, Auburn, Bo knows football as well as he played it ... and just about every other sport imaginable.
Bobby Johnson:
Now retired and living in Charleston, S.C., the former Vanderbilt coach is as sharp and respected as they come and would be a terrific choice.
Roy Kramer:
He might be the father of the BCS, but few men have helped to shape college football and the SEC in a positive way more so than Kramer, who's retired and living in East Tennessee.
Archie Manning:
One of the SEC's greatest players, Manning still keeps close taps on college football in between watching his two famous sons play in the NFL.
Joe Pendry:
A veteran of both the college and pro game, Pendry is now retired from coaching after helping to build some powerhouse offensive lines at Alabama.
Bill Polian:
He's currently doing NFL analysis for ESPN, but few people anywhere know the game inside and out any better than Polian, one of the NFL's top executives for a long time.
Gene Stallings:
He has ties to both Alabama and Texas A&M and played under the legendary Bear Bryant. Stallings knows what championship teams look like.
Sterling Sharpe:
The former South Carolina and Pro Bowl receiver for the Packers is doing a little radio now in addition to his NFL Network duties. He would offer some keen insight in the selection of the teams.
Danny Wuerffel:
The former Heisman Trophy winner at Florida would be an excellent choice. He was as smart as he was good and is one of the best people you're ever going to meet. He's also doing better after battling some health problems.
July, 10, 2012
7/10/12
1:30
PM ET
Former Georgia coach and athletic director Vince Dooley didn't hold back when talking about troubled running back Isaiah Crowell's dismissal from the Bulldogs' football team.
Dooley told the Atlanta Journal-Constitution that all the negativity surrounding Crowell in his short time in Athens
outweighed what he brought to the field
. Dooley also believes Crowell's departure is actually good thing for Georgia going forward.

"I don't want to put any pressure on them, but losing that guy may have been the best thing to happen to them," Dooley told the newspaper. "It was a bad apple-type thing, if you ask me."
Dooley went on to say that this could be something that brings a team that could be vying for more than just an SEC title this fall together.
"That kind of thing will unite a team many times," he said. "Historically, when things like this have happened in the past, they tend to have a unifying effect on teams. They go on to have an even better season than they were predicted to have."
While we don't know exactly how the Bulldogs will respond on the field to Crowell's dismissal, it's clear that Dooley wasn't Crowell's biggest fan. And when the top Dawg isn't that concerned with losing the team's top rusher, you know something's up.
No word yet if he was one of those who joined the Bulldog faithful in booing Crowell when he limped off the field during the SEC championship game.
Crowell's recent brush with the law, in which he was arrested and charged with a felony count of possessing a weapon in a school zone, a felony count of altered identification mark and a misdemeanor count of possession/carrying a concealed weapon, was the final straw for coach Mark Richt, but this was not Crowell's first transgression as a Bulldog.
There were reports that he wasn't in proper shape when he reported to camp last summer, he had maturity issues throughout the year and was even suspended for a game for reportedly failing a drug test. It was obviously too much for Richt to handle and Dooley certainly had no problem with Richt sending Crowell packing.
Crowell is now enrolled at Alabama State, a Football Championship Subdivision program, and started classes on Monday.
Dooley's comments seem to imply that maybe there was more going on with Crowell behind closed doors when it came to the team. What exactly was going on might never come out, but honestly it doesn't matter. The Bulldogs have already started to move on and if this team really wants to compete for more than just an SEC title, they'll have to put Crowell and all of his distractions behind them.
Despite his up-and-down first season, Crowell was Georgia's best rushing threat heading into this season, but it's not like Georgia doesn't have talent to replace him. It might be by committee, but the Dawgs ran by committee last year too.
Georgia should be fine without Crowell, but this should serve as a wakeup call for the Dawgs. This team has too much talent to waste it with more distractions. The spring was full of off-field distractions and the fall will likely see a suspension to defensive starters. Finding focus and being more disciplined is the key for this team. The silliness has to stop or this Bulldogs team will be a major disappointment and will fall short of its lofty expectations.
July, 9, 2012
7/09/12
9:32
AM ET
Everybody can recite who's the all-time winningest coach in the SEC.
Bear Bryant won 232 career games at Alabama and became one of the most iconic figures in college football along the way.
To this day, Bryant's name is mentioned with reverence around the Capstone.
But even if you take his 232 career wins out of the equation, the Crimson Tide would still have 582 wins.
[+] Enlarge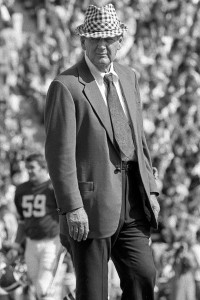 Bernard Troncale/US PresswireBear Bryant won 232 career games at Alabama.
So while the guy with the Houndstooth hat carved out a legendary career at Alabama, the Crimson Tide's success on the football field hasn't been defined solely by the Bryant years.
Frank Thomas won 115 games. Gene Stallings won 62 games. Wallace Wade won 61 games. Nick Saban -- in just five seasons -- has already won 55 games.
All five men, including Bryant, have also won national championships at Alabama.
In surveying the winningest coaches at all 14 SEC schools, some of what you find, especially when you take away each school's all-time wins leader, is telling.
For instance, Bryant is actually the winningest coach at two different SEC schools. He was 60-23-5 at Kentucky from 1946-53, and led the Wildcats to eight consecutive winning seasons.
Since Bryant's departure from the Bluegrass following the 1953 season, the Wildcats have had 10 other head coaches, but only one of them compiled better than a .500 record, Blanton Collier, who succeeded Bryant, was 41-36-3 in eight seasons.
Steve Spurrier could join Bryant this coming season as the second coach to earn the distinction of being the winningest coach at two different SEC schools.
Spurrier owns that distinction at Florida. He won 122 games in 12 seasons in Gainesville from 1990-2001. He's 55-35 in seven seasons at South Carolina, and can pass Rex Enright as the Gamecocks' winningest all-time coach with 10 wins this season. Enright was 64-69-7 in two different stints at South Carolina from 1938-42 and 1946-55.
Since Enright stepped down following the 1955 season, the Gamecocks have had 13 head coaches. Spurrier is one of five since Enright to post a winning record. Other than Enright and Spurrier, only two other coaches have won more than 40 games at South Carolina -- Jim Carlen (45) and Paul Dietzel (42).
Georgia and Tennessee are the only schools in the SEC with three head coaches in their history to have won 100 or more games.
Vince Dooley is Georgia's all-time leader with 201 wins. Wallace Butts won 140, and Mark Richt has won 106. Georgia has 747 wins all-time.
Gen. Robert Neyland is Tennessee's all-time leader with 173 wins. Phillip Fulmer won 152, and John Majors 116. That's a total of 441 of the Vols' 794 wins.
In fact, Tennessee is the only SEC school that still has 600 or more wins if you take away the winningest coach's win total. The Vols would still have 621 even if you didn't count Neyland's 173 wins.
Only eight other schools nationally would have more than 600 wins if you took away their winningest coach -- Miami (Ohio), Michigan, Navy, Notre Dame, Ohio State, Oklahoma, Texas and USC.
Florida has won 669 games, and 187 of those wins have come courtesy of two of the Gators' past four head coaches. In addition to Spurrier's 122 wins, Urban Meyer won 65 in six seasons from 2005-10.
At Ole Miss, John Vaught won career 190 games. Nobody else has won more than 67 there (Billy Brewer). Anybody want to guess who is No. 3 on the Rebels' all-time wins list? David Cutcliffe was 44-29 (.603) from 1999-2004.
The biggest difference in the SEC when you start taking the winningest coach out of the equation can be found at Vanderbilt. Dan McGugin was 197-55-19. But without him, the Commodores would be just 367-519-31 all-time. McGugin last coached at Vanderbilt in 1934. Nobody else at Vanderbilt has won more than 39 games.
At some schools, there simply hasn't been much longevity by coaches.
Charles McClendon is LSU's all-time winningest coach with 137 career wins in 18 seasons from 1962-79.
But since McClendon retired, the only LSU coach to last longer than five seasons has been current coach Les Miles, who's won 75 games in seven seasons.
Below is a look at the win totals for all 14 SEC schools and the winningest coach at all 14 schools:
Alabama – 814 (Bear Bryant 232)

Tennessee – 794 (Gen. Robert Neyland 173)

Georgia – 747 (Vince Dooley 201)

LSU – 733 (Charles McClendon 137)

Auburn – 711 (Shug Jordan 176)

Texas A&M – 681 (R.C. Slocum 123)

Arkansas – 680 (Frank Broyles 144)

Florida – 669 (Steve Spurrier 122)

Missouri – 625 (Don Faurot 101)

Ole Miss – 621 (John Vaught 190)

Kentucky – 578 (Bear Bryant 60)

Vanderbilt – 564 (Dan McGugin 197)

South Carolina – 555 (Rex Enright 64)

Mississippi State – 506 (Jackie Sherrill 75)
November, 9, 2011
11/09/11
10:56
AM ET
ATHENS, Ga. -- The thought of relaxing never crossed Mark Richt's brain after he watched his team slip into the driver's seat of the SEC East.
Even after Arkansas' 44-28 win over South Carolina Saturday put destiny into Georgia's hands, the Bulldogs' coach, who was surrounded by vitriol after an 0-2 start, went right to work. His brain switched from pig sooie to War Eagle, as he began preparation for the 15th-ranked Bulldogs' game with No. 20 Auburn (6-3, 4-2).
A Georgia win and a South Carolina loss would give Georgia the division.
He was excited when he saw then-East-leading South Carolina lose, pushing Georgia (7-2, 5-1) to the top of the division, but he understood that all the pressure was now on him.
[+] Enlarge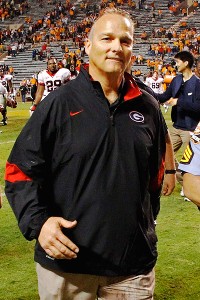 AP Photo/Wade PayneMark Richt has overcome an 0-2 start, and the Bulldogs control their own destiny in the SEC East.
"Before we really didn't have control, and we could only control trying to keep pace," Richt said after meticulously laying out almost every detail concerning Auburn's team. "Now that we have control of our destiny I would say that's even more of a reason to heighten your work ethic and prepare maybe even a little harder."
After losses to Boise State and South Carolina to open the season, it was easy to write Georgia and Richt off. He and the Dawgs hadn't made it to the SEC title game since 2005 and were fresh off a disastrous 6-7 season.
To say Richt's seat in Athens was hot was a grave understatement. It was nearly engulfed in flames after that 45-42 loss to the Gamecocks in Week 2.
While hope might have been lost on the peripheral, confidence was still there inside the program. Richt felt it and his players felt it.
Former Georgia coach and athletic director Vince Dooley felt it, too. He acknowledged being beaten by a better Boise State team and the myriad of mistakes that cost the Bulldogs against South Carolina, adding that Georgia "outplayed" the Gamecocks. But he expected a rebound.
"I said early on that I felt like [Richt] was going to be OK," Dooley said shortly after accompanying Richt for his weekly press conference.
"I really felt like the team would do good and they've done good."
For Richt, getting this team back on track was all about reinforcing the chemistry constructed during the offseason. He wanted to build togetherness and a family. You handle adversity with trust, but he wasn't going to be sure what his team was made of until it was challenged.
"You never know for sure until it hits you in the mouth how you are going to react," Richt said. "I wasn't shocked that they guys reacted in a real positive way.
"There wasn't a whole lot of 'woe is me' in there, it was more of 'If we get our act together, we can be really good.'"
Quarterback
Aaron Murray
said this team never caved because it understood that the SEC wasn't going to be won after two weeks.
"We knew we still had a chance when we went 0-2 and people were like, 'Oh, the season's over with,'" Murray said. "We have great leadership on this team and guys were like, 'Hey, this is the SEC.' South Carolina has never gone a season without losing at least three SEC games, so we're like, 'Hey, just because we're one behind them, you never know what could happen.'"
Even with all the negativity hurled his way, Richt said he turned to his faith and let his life away from football navigate him.
"I love my job. I love Georgia. But what I do is not who I am," he said. "Sometimes if we become what we do, and then things aren't going just right, then all of a sudden our entire world falls apart. I've got a faith in my Lord and savior Jesus Christ, and I know that God loves me and is going to take care of me."
Richt might have stayed mellow, but his players understood what was possibly at stake. Tight end
Aron White
said the team took Richt's criticisms to heart and didn't want to be the reason he was shown the door.
"No one wanted to be that team at Georgia that ended the Mark Richt era," he said. "That's not the legacy that we wanted to leave at all. We've definitely been playing our hearts out for him this year and he's been coaching his heart out for us.
"We don't want to see him go and I don't think anyone in the Bulldog Nation wants to anymore. That was something we never questioned. We were always playing for Coach Richt."
May, 17, 2011
5/17/11
12:48
PM ET
Former Georgia coach Vince Dooley once said that Jake Scott was as complete an athlete as he ever saw on the football field.
For that matter, Dooley said he couldn't remember any player doing as many things well as Scott could while playing for the Bulldogs in 1967 and 1968.
Scott, who later went on to fame with the Miami Dolphins as the MVP of Super Bowl VII, was selected Tuesday into the College Football Hall of Fame.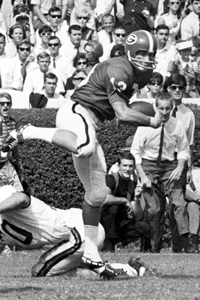 AP Photo/JSJake Scott led the SEC in interceptions, punt returns and punt return yardage in 1968.
A consensus All-American in 1968, Scott was also named that season as the SEC's Most Valuable Player as selected by The Nashville Banner.
A two-time All-SEC selection, Scott led the SEC in interceptions (10) for a second straight season in 1968. He also led the league in punt returns and punt return yardage, leading the Bulldogs to an SEC championship. They lost in the Sugar Bowl that year to Arkansas.
Former SMU coach Mike Cavan, who played with Scott at Georgia, says Scott is still the best safety that Cavan has ever seen play. Scott remains the career record-holder at Georgia with 16 interceptions and 315 return yards.
Scott had a falling out with Dooley toward the end of his college career, which centered around Dooley's decision to play in the Sugar Bowl following the 1968 season instead of the Orange Bowl, where the Bulldogs would have had an outside shot at the national championship.
At the time, college juniors weren't allowed to declare early for the NFL draft, but Scott left early anyway -- signing a deal with the CFL's British Columbia Lions. Scott returned to Georgia in 2006 as honorary captain for the Georgia Tech game. That was his first association with his alma mater in nearly 40 years and came after Dooley had retired as athletic director.
Scott was named to the Quarter Century All-SEC Team (1950-74). He had a brilliant NFL career, making five Pro Bowl appearances with the Dolphins.
October, 7, 2010
10/07/10
10:21
AM ET
Hard to believe it's already Week 6 of the season. Here are 10 items worth watching this weekend in the SEC:
1. John Brantley's ribs:
Florida's junior quarterback took a nasty shot to the ribs last week against Alabama and isn't 100 percent. He's done more in practice as the week has gone along, and Florida coach Urban Meyer says he's going to play. The question is: How effectively will he play against an LSU defense that has specialized in hitting the quarterback this season? This is one of those games where Florida may use redshirt freshman
Trey Burton
even more, particularly when the down and distance favors the Gators.
[+] Enlarge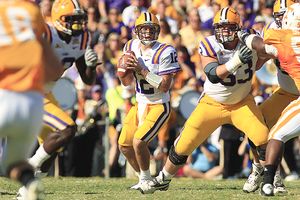 Tyler Kaufman/Icon SMIJarrett Lee came off the bench to go 16-of-23 for 185 yards and a pick against the Vols.
2. Sharing snaps:
Jarrett Lee
was the one playing most of the snaps at quarterback for LSU after
Jordan Jefferson
's struggles took a turn for the worse last week. Lee says he'll be ready when called on Saturday against Florida. Chances are he won't have to wait long. LSU coach Les Miles said he plans to play both quarterbacks against the Gators, who've already intercepted 12 passes this season. In their last four games, the Tigers have thrown six interceptions and no touchdown passes. Jefferson and Lee combined to throw three picks last week against the Vols.
3. Taking down No. 1:
South Carolina ended one long losing streak last season when it upset No. 4-ranked Ole Miss in Columbia. Prior to that game, the Gamecocks had lost 22 straight games to top-5 opponents and not beaten a top-5 team since a 31-13 win over No. 3-ranked North Carolina in 1981. They're 0-14 all-time against teams in the top 2 of the Associated Press poll and get a chance to end that drought Saturday when No. 1-ranked Alabama comes to town. The Gamecocks have never beaten a top-5 team when they were also nationally ranked.
4. Another Heisman moment:
It was against South Carolina last season that Alabama's
Mark Ingram
became a full-fledged Heisman Trophy contender. He sliced and diced his way to a Bryant-Denny Stadium-record 246 yards and had 167 of those yards after contact in an amazing display of balance, power and toughness. You can bet the South Carolina defenders who are still around (and many of them are) haven't forgotten how bad Ingram made them look a year ago. Likewise, given the Gamecocks' inability to tackle Auburn quarterback
Cameron Newton
a few weeks ago, you can bet the Crimson Tide are going to give Ingram every chance to play human bowling ball again.
5. Third-down dominance:
It goes without saying that South Carolina will want to avoid third-down passing situations against Alabama, which feasts on teams facing third-and-long. The Crimson Tide are first nationally in third-down defense with teams converting only 52.8 percent of the time against them. The next closest team nationally is Florida, which is holding teams to a 61.4 percentage rate on third down. Now, if it's third-and-short, the pendulum swings a little more in the Gamecocks' favor. They've converted 85.7 percent of third downs with 3 or fewer yards to go, which is third nationally among FBS teams.
6. Deja vu for Auburn:
A year ago, 5-0 didn't treat Auburn real well. The Tigers lost their next three games and wound up losing five of their last six SEC games. One of the most disappointing losses in that skid was the home loss to Kentucky. Well, the Tigers are 5-0 again and they go to Kentucky this weekend eager to prove they have a little more staying power this time around. This is a deeper Auburn team and a more mature team. "Last year we got to 5-0 and fell off the face of the earth," said Auburn senior offensive tackle Lee Ziemba. "This year we're going to try to prevent that from happening by first acknowledging that we're not there yet and that we need to keep working."
7. Cats taking charge:
The practice field this week at Kentucky has been a little louder and a little more demonstrative. Several of the Wildcats' leaders, including
Randall Cobb
, have turned up the heat on their teammates when they make mistakes or take shortcuts. We'll see what effect that has come game time. Kentucky has lost two in a row, and Auburn's visit on Saturday kicks off a crucial three-game homestand for the Wildcats that will likely determine whether they're going to make a fifth straight appearance in a bowl game. After Auburn, Kentucky gets South Carolina and Georgia at home the following two weeks.
8. Preparing for Houston:
A few things have changed since Mississippi State last faced Houston. The Cougars won't have star quarterback
Case Keenum
, who suffered a season-ending knee injury against UCLA, and they also won't have his backup,
Cotton Turner
, who went down in that same game. If that's not enough, Houston's top receiver,
James Cleveland
, has been suspended for this game. He caught 11 passes for 131 yards and two touchdowns in Houston's 31-24 win over Mississippi State last season. The Cougars are getting a pair of true freshman quarterbacks ready for Saturday's game --
Terrance Broadway
and
David Piland
-- although Houston coach Kevin Sumlin says he won't name a starter until game time. The Cougars have won 18 straight games at home.
9. Dooley family reunion:
Don't look for any camera shots of former Georgia coach Vince Dooley in the stands sweating out Saturday's Georgia-Tennessee tilt. That's because he won't be there. He plans to watch the game at home, as his son, Derek Dooley, leads the Vols into Sanford Stadium for the first time as head coach. Clearly, Vince will be cheering for his son, but he also couldn't bring himself to be there in Sanford Stadium, where he served most of his adult life as either head football coach or athletic director, and cheering against the Bulldogs. Derek's mother and Vince's wife, Barbara, plans to be there, though, and will sit in their regular end zone box. Barbara has been known to say just about anything, and Derek has joked frequently that his mother is a regular violator of his media policy.
10. Coaching for his job:
Whether or not Georgia's Mark Richt is genuinely coaching for his job, he said the reality is that you always are, especially in this league. The Bulldogs have lost four straight games and will try to avoid their first five-game losing streak since 1953 this Saturday against Tennessee. "I can tell you that I'm coaching my tail off. I can tell you that," Richt said when asked this week if he were coaching for his job. The Bulldogs will get receiver
A.J. Green
back for a second straight game, although he's had a little hamstring issue this week. One thing that may change is Georgia's makeup in the offensive line. On Wednesday in practice, Trinton Sturdivant was at left tackle and Clint Boling at right tackle. True freshman Kenarious Gates was working with the first team at right guard, meaning senior Josh Davis could be the odd man out.
March, 23, 2009
3/23/09
12:28
PM ET
Posted by ESPN.com's Chris Low
Making the rounds in the SEC. Arkansas, Auburn, Florida, Mississippi State and Ole Miss will all begin spring practice this week:
November, 26, 2008
11/26/08
12:23
PM ET
Posted by ESPN.com's Chris Low
We make the rounds to see what others are saying and writing about the SEC:
TOP 25 SCOREBOARD
Thursday, 12/5
Friday, 12/6
Saturday, 12/7
TOP PERFORMERS