NCF Nation:

Vinston Painter
February, 27, 2013
2/27/13
11:12
AM ET
The poking, prodding, interviews and drills have wrapped up at the NFL combine in Indianapolis. Now let's take a quick look at who stood out from the ACC during the all-important event.
The defensive backs were the last group to go, wrapping up Tuesday. And there were some pretty good performances. Miami cornerback Brandon McGee posted one of the fastest 40 times at the combine, running a 4.40 to rank him No. 13 among all participants. He also was a top performer in the bench press and 20-yard shuttle run. Those numbers will not do anything but help his draft stock.

[+] Enlarge

AP Photo/Dave MartinNC State cornerback David Amerson showed off his speed at the NFL combine, clocking a 4.44 in the 40-yard dash.

NC State cornerback David Amerson was out to prove himself at the combine after an up-and-down 2012 season. He definitely opened eyes with his performance, which NFL Network analyst Mike Mayock described as "excellent." Amerson ran a 4.44 in the 40 and was also a top performer in the vertical jump.

Those two guys were not the only fast defensive backs at the combine. Of the players with the top 15 times at the position, six have ACC ties. Rod Sweeting of Georgia Tech (4.42), Shamarko Thomas of Syracuse (4.42), Xavier Rhodes of Florida State (4.43) and Earl Wolff of NC State (4.44) were among the fastest.

Speaking of Rhodes, his vertical leap was incredibly impressive, at 40.5 inches to tie for first among all defensive backs and rank No. 3 overall. He also was a top performer in the broad jump, and certainly helped himself with his day. So did Thomas, one of the most underrated players in college football last year. Though Thomas made some headlines after he fell at the end of his 40, he had a huge day. He also leaped 40.5 inches and was a top performer in the 20-yard shuttle and broad jump.

The ACC had several top performers in the bench press as well. Wake Forest fullback Tommy Bohanon tied for No. 4 overall with 36 reps and was also a top performer in the vertical jump and 60-yard shuttle. Also in the top 15 overall for bench: North Carolina guard Jonathan Cooper (35), NC State guard Zach Allen (32) and Virginia Tech offensive tackle Vinston Painter (32). Speaking of Cooper, ESPN draft analyst Todd McShay said the lineman "had one of the more impressive workouts."

Florida State quarterback EJ Manuel had a nice combine himself, though he was inconsistent with his throws. Manuel was a top performer in the broad jump, ranking No. 3 among all quarterbacks after jumping 9 feet, 10 inches. He also was a top performer in the 40 (4.65), vertical jump (34), 3-cone drill (7.08) and 20-yard shuttle (4.21) to rank among the top 5 in each category.

The folks at Scouts Inc. had this to say about Clemson receiver DeAndre Hopkins, a top performer at his position in the bench press and vertical jump (36): "His 4.57 in the 40 is about what we expected. His game is more about being physical, though, and Hopkins showed good ball skills. He is was one of the most natural pass-catchers on the field, with good focus in the gauntlet drill and the ability to extend fully for balls." He's got a second-round grade.

Virginia Tech receiver Marcus Davis put up some good numbers as well, topping his position with a vertical jump of 39.5 inches, while also posting good numbers in the 40 (4.56) and bench press (19 reps). It's never been about physical talent for Davis, so the numbers aren't much of a surprise. He has to put it all together on the field.

Now for running back: North Carolina's Giovani Bernard was a top performer in various categories. He ran a 4.53 in the 40; and was a top performer in the 20-yard shuttle and 60-yard shuttle. Miami running back Mike James also put up some good numbers.
September, 4, 2012
9/04/12
1:57
AM ET
BLACKSBURG, Va. -- Virginia Tech quarterback
Logan Thomas
said he probably won't sleep too well following his pedestrian performance in the Hokies'
20-17 overtime win
against Georgia Tech.
It might help him to watch the game film of the first three and a half quarters.
It was a snoozefest. Nyquil in uniform. Until the final 7:46 of regulation, when the Hokies scored 10 points to tie the game at 17 and force the first overtime game in Lane Stadium history. It was a thrilling, historic, dramatic finish that went off like an alarm and reminded many of us why we love college football.
You never know what you're going to get -- and that just might be the story of the Hokies this fall.
There were signs that Virginia Tech can again play its way to the ACC championship game -- and historically, the winner of this game has gone on to do just that in each of the past seven seasons. But more often than not Monday night, the offense was sluggish, Thomas' throws were off, and the youth and inexperience around him was exposed. The defense, though, lived up to the billing, particularly on the interior defensive line, which was disciplined and effective against the Jackets' spread option offense. It was only the first game of the season -- a big one as far as the conference standings go -- but this team's identity will likely grow with the offense this year.
[+] Enlarge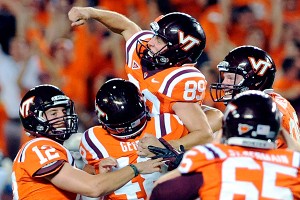 AP Photo/Don PetersenVirginia Tech eked out a win over Georgia Tech on Cody Journell's field goal in overtime.
"They say when you're ripe, you rot," said linebacker
Jack Tyler
. "We like to say that we're green, we still have room to grow."
And a schedule that will allow them to do it.
The Hokies' most difficult game of the month is behind them. Three of the next four games are in Lane Stadium, the lone exception being a trip to Pittsburgh to face a team that just lost to Youngstown State. With upcoming nonconference games against Austin Peay, Pittsburgh, Bowling Green and Cincinnati, Virginia Tech could be a deceiving 5-0 heading into an important Coastal Division game against North Carolina on Oct. 6.
Odds are 47 first-half rushing yards aren't going to continue to cut it. To be fair, a 22-yard loss contributed to that after freshman punter
A.J. Hughes
let a bad snap sail through his hands. The errant play set up Georgia Tech's first touchdown that tied the game at 7. For a long, long time.
"We're not as good of a football team as we need to be right now, but I think we've got the potential to be a really good football team," coach Frank Beamer said. "That's our challenge is to keep growing, keep getting better, day by day."
Nobody in the program shied away from the fact that there's room for improvement.
Thomas' performance wasn't exactly first-round-esque. He completed 21 of 38 passes for 230 yards and two touchdowns. He had a couple of overthrown balls, and the offense never quite got into a rhythm, but his receivers weren't flawless, either. He took all of the blame, though.
"The offensive line played great, the receivers played great and the running backs played great," Thomas said. "I would say I was the one holding us back."
Some growing pains were to be expected. Virginia Tech had to replace four starters on the offensive line, a first-round draft pick in running back David Wilson, and the top two pass catchers in school history. This offense got a makeover, and it showed. The same five linemen started every offensive snap against Georgia Tech. Six players made their first career starts, including offensive tackle
Nick Becton
, offensive tackle
Vinston Painter
, guard
David Wang
and tailback
Michael Holmes
.
"It's the first game, we had a bunch of young guys who hadn't played a lot," linebacker
Bruce Taylor
said. "In the fourth quarter we showed some promise, that's something to look forward to for next week. The offense looked a lot better in that fourth quarter. ... We can only build from here and it will look better from here."
August, 2, 2011
8/02/11
2:29
PM ET
Virginia Tech senior offensive tackle Blake DeChristopher has a strained left pectoral muscle and will be out four to six weeks, the school announced Tuesday afternoon.
We won't know how Virginia Tech handles this as far as the lineup goes until the depth chart is released on Thursday for practice, but Vinston Painter and Michael Via are the leading candidates to replace DeChristopher, according to a school spokesman. Via started three games at center as a redshirt freshman in 2009 and played well, but he has played mostly tackle since. He was expected to concentrate on the center spot this fall.
Of course it's reason for concern, especially with a first-year starting quarterback taking over. Virginia Tech wants the best protection it can have for
Logan Thomas
, but there are two reasons for optimism here:
1. Virginia Tech's schedule.
The Hokies aren't exactly lining up against Boise State without DeChristopher. They open against Appalachian State and a road trip to East Carolina.
2. Depth.
The fact that Virginia Tech even has options as to what to do without DeChristopher is a sign that the depth up front is better than it has been in recent years.