NCF Nation:

Vols-Wolfpack-083112
September, 1, 2012
9/01/12
1:50
AM ET
ATLANTA -- By the time the first quarter finally came to an end Friday night, Derek Dooley thought it was halftime.
The quarter, which lasted more than an hour and a half, was that long and that exhausting for Tennessee's coach.
That type of fatigue from a coach usually means his team is just as tired, or worse. But not Friday.
For a team that could barely make it through a full game in 2011, Tennessee pushed through like Dooley had never seen, and the Vols cruised to a
35-21 victory
over NC State in Game 1 of the Chick-fil-A Kickoff inside the Georgia Dome in Atlanta.
A first quarter such as Friday's would have sent last season's Vols into rollover mode, but this team was different. After jumping ahead 22-7 in the first quarter, Tennessee was able to hold on to and build on its lead in front of the announced crowd of 55,529.
Even when the mistakes came and NC State cut Tennessee's lead to eight before halftime, the Vols rallied to control the second half, thanks to some grit and some much-needed depth.
"That was a good step for our team," Dooley said. "I said this at the beginning of the year: We're going to have to learn how to grit through four quarters of football. We're going to be in a lot of games this year, and that was a good start. I was proud of them."
The first quarter was full of explosive plays from the Vols and featured a stretch in which they scored 16 points in 38 seconds. But the second was sloppy. NC State rushed back with a 67-yard touchdown drive, while Tennessee punted twice and saw its final drive end with quarterback
Tyler Bray
fumbling at the goal line on a quarterback sneak.
You could feel the momentum shift as both teams went into the locker rooms, but Tennessee adjusted, physically and mentally.
The staff rotated bodies all night to keep guys fresh, and it showed in the second half. The offensive line saw seven to maybe eight players get in. Three running backs played, with third-teamer
Marlin Lane
leading all ball carriers with 75 yards, including a long of 42, on nine attempts.
Tennessee threw as many defenders as it could out on the field, not just to keep guys fresh but because it had the bodies and talent to do it. For once in Dooley's Tennessee life, depth wasn't an issue, and it powered the Vols in the second half.
[+] Enlarge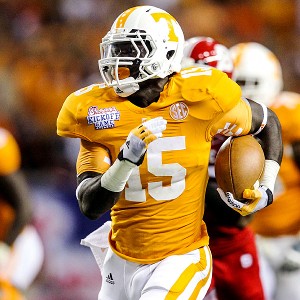 Daniel Shirey/US PresswireMarlin Lane had nine carries for 75 yards in Tennessee's win over NC State.
Wide receiver
Justin Hunter
, who played in his first game since tearing his anterior cruciate ligament early last season, said he hadn't seen a Tennessee team play like the Vols did in the second half.
"Playing for 60 minutes was a problem that we used to have in the past," said Hunter, who caught a game-high nine passes and had 73 receiving yards. "For us to come out here in a big environment and play for 60 minutes like this, I think we did great."
Just look at third downs. Tennessee was 3-of-9 on them in the first half but was 6-of-10 in the second. That's how you win games and that's how you tire out opponents.
"Rotating running backs, linemen and receivers is going to keep fresh legs," Lane said. "With this fast-paced offense, we're going to keep wearing defenses down. With fresh legs on the field and a tired defense, it's going to be [some] pretty great offensive drives that we can sustain."
It also helps when you have a thoroughbred alongside Hunter at receiver. Junior-college transfer
Cordarrelle Patterson
more than made up for the loss of Da'Rick Rogers by having a true breakout game. He absolutely burned All-American corner
David Amerson
on a bump-and-go for his first touchdown -- a 41-yarder -- and shook/sprinted past the entire Wolfpack defense on a 67-yard touchdown run.
He finished the night with 165 total yards and two touchdowns on eight touches. Quite the opening night for someone Dooley didn't think totally grasped the playbook.
"I'm not sure he ran the right route," Dooley said. "That's the beauty of Bray: He don't care; he's gonna let it fly. That pretty much summed it up. Run the wrong route, Bray rewards him, touchdown."
But somehow he found a way, just like the rest of Dooley's football team Friday. And when Patterson was shut down in the second half, the Vols tried to grind it out or Bray found other targets. There always seemed to be options.
The defense did its job by abusing the Wolfpack up front, with its revamped -- and much more intimidating -- image. As the Vols pressed, NC State quarterback
Mike Glennon
flinched and threw his way to three second-half interceptions.
It seemed like every other play, someone else -- starter or not -- was making a big play on defense for the Vols.
Tennessee wasn't perfect but it was solid. Now, it's time to build off Friday's transformation.
"It's one game," Dooley said. "All that matters is we're 1-0. We have to go clean up a ton of mistakes and go on to the next week and get focused on the next week. It really doesn't mean anything other than we won the first game."
September, 1, 2012
9/01/12
12:59
AM ET
By
ESPN.com staff
| ESPN.com
Edward Aschoff talks to Tennessee quarterback
Tyler Bray
after the Vols' 35-21 win over NC State.
August, 31, 2012
8/31/12
11:37
PM ET
A flurry of explosive offensive plays in the first half and a defense that intercepted North Carolina State quarterback
Mike Glennon
four times steered Tennessee to a
season-opening 35-21 victory
on Friday in the Chick-fil-A Kickoff Game at the Georgia Dome.


The Vols' pass defense looked shaky early, but they regrouped and held the Wolfpack to just one touchdown in the second. Glennon was repeatedly harassed by Tennessee's pressure, and
Prentiss Waggner
,
Byron Moore
,
Eric Gordon
and
Marsalis Teague
all had interceptions for the Vols.
Tennessee rolled up 528 yards of total offense and won the battle up front most of the night.
It was over when:
Tennessee held North Carolina State on fourth-and-9 with a little more than five minutes to play. Glennon's pass sailed incomplete. The Vols took over at the Wolfpack 39 and moved into position for
Michael Palardy
's 35-yard field goal to build a two-touchdown lead with fewer than two minutes to play.
Game ball goes to:
Cordarrelle Patterson
showed off in his debut for the Vols. The junior college newcomer caught a 41-yard touchdown pass and also ran for a 67-yard touchdown on a reverse where he made a wicked cut across the field and then out-ran everybody, including North Carolina State All-America cornerback
David Amerson
, to the end zone.
Stat of the game:
The Vols just missed 200 yards rushing and averaged 5.1 yards per carry after finishing 116
th
nationally out of 120 teams in rushing offense last season.
Star watch:
Amerson, who had 13 interceptions last season for the Wolfpack, had a forgettable outing. He was beaten twice on long touchdown passes by Patterson and
Zach Rogers
and also couldn't catch Patterson on his long touchdown run.
What it means for Tennessee:
The Vols absolutely had to have this game, especially with Florida coming to Knoxville in two weeks. Neyland Stadium is sure to be rocking for the Gators' visit, and this appears to be a Tennessee team that could make some noise in the East race this season.
What it means for North Carolina State:
The Wolfpack have to get better up front offensively, and Glennon needs to get over this one in a hurry. After a good start, he appeared to lose his poise after making some poor throws on interceptions. The Wolfpack were forced to throw it 48 times. They've got to find some better balance on offense.
August, 31, 2012
8/31/12
7:30
PM ET
ATLANTA -- No, you don't need to adjust your TV sets. Really, it's OK.


Both Tennessee
and
NC State are both wearing their dark jerseys for tonight's game. It's part of a new tradition the Chick-fil-A Kickoff is starting. It might get a little confusing to you folks at home, but I wonder what it will be like for these players.
You know, pressure play with only a few seconds to react. Your head says go to your color, but this is red and orange. Granted, Tennessee's orange is more of a creamsicle orange, but still. Things could get awkward.
"If our guys think red looks like orange, we'll be in trouble," Tennessee coach Derek Dooley said earlier this week.
It looks -- and sounds -- like it's a pretty pro-Tennessee crowd right now, and we all know how loud the Georgia Dome can get. The NC State players seemed to embrace all those boos that rained down on them when they took the field. They had better be ready for a lot more.
This game has a bunch of intrigue to go along with it. Not only is it an SEC-ACC matchup, but both these teams are trying to make a statement this year. NC State looks like a team on the rise in the ACC, while Tennessee is looking to get back to true relevancy in the SEC.
A win for either team would do a lot for both programs.
August, 31, 2012
8/31/12
6:30
PM ET
ATLANTA -- And we're off in one of the country's best college football cities and one of the sport's best venues.
We're just about ready to get things started here at the first game of this weekend's Chick-fil-A Kickoff, with Tennessee taking on NC State inside the Georgia Dome.
TGIF, indeed!
This should be one of the more exciting games of the first weekend, especially with the matchup between Tennessee's passing game and the Wolfpack's secondary. The interesting storyline is that both groups are down solid players.
Da'Rick Rogers has made his exit from Tennessee's football team, while NC State cornerback
C.J. Wilson
, who has started 29 games in his career, is dealing with an NCAA eligibility issue.
The good news for the Wolfpack is that junior cornerback
Dontae Johnson
had already beaten out Wilson before he was ruled out of Friday night's game.
Oh, and cornerback
David Amerson
, who led the ACC in interceptions last year, is still around for NC State, and he might be a future first-round pick.
It's not like the Vols are down and out at wide receiver without Rogers, who led the SEC in receptions (67) last year and was second in receiving yards (1,040).
Justin Hunter
is back after his ACL injury that he suffered early last season. At 100 percent, he might be the SEC's top deep threat. Helping him will be junior college transfer
Cordarrelle Patterson
, who received a boatload of hype heading into fall camp.
Highlight reels show that Tennessee should be fine in the passing game, especially with quarterback
Tyler Bray
slinging the ball, but coach Derek Dooley's still a little worried. He expects Hunter to be a bit rusty in his return and isn't sure if Patterson will have the breakout performance fans are banking on against NC State's talented secondary.
"I'm very concerned because we have very little experience and they've got a lot of experience," Dooley said earlier this week. "What those guys do best is they make you pay for any mistakes, whether it's a poor route, whether it's an inaccurate football, a bobbled ball. Whatever it is, they're going to make you pay."
Bray's natural ability will play a big part in helping limit the mistakes. He's got all the skill to make his guys look good, but he's had issues with the mental part of the game in the past.
Both teams are trying to prove that they can compete in their respective conferences. Tonight we'll get a glimpse of things to come for both squads.