NCF Nation:

Wally Burnham
September, 30, 2012
9/30/12
10:00
AM ET
Here's what I learned after an eventful week in the Big 12:
The Big 12 has great offense, but its defenses are in for a long, long season.
The league spent most of Saturday reinforcing its stereotype of being an all-offense, no-defense type of association. Texas Tech and Iowa State quietly tried to dispel that in Ames, but higher-profile games between West Virginia and Baylor in Morgantown and Texas and Oklahoma State in Stillwater stole the spotlight. The Longhorns had major, major tackling issues. Oklahoma State, West Virginia and Baylor were varying shades of not very good in coverage for most of their games. Get ready for plenty of points as Big 12 play hits full swing.
[+] Enlarge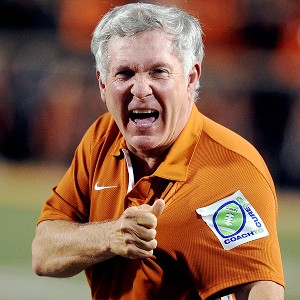 Mark D. Smith/US PRESSWIREUnlike the past two seasons, Texas coach Mack Brown says of the 2012 Longhorns, "we've got a chance now each week."
The rebuilding job at Texas is complete.
Hear me out on this, folks. No, Texas isn't a juggernaut that's going to rumble to a Big 12 title easily. It is, however, vastly improved. Mack Brown said it best after the 41-36 win at Oklahoma State: "Two years ago we stunk. Last year we were in some fights, and then we weren't, and we were OK and we made some progress. Tonight, I told the guys, was a big step. though, that we're at least back in the mix and we've got a chance now each week. I think this game does that." Texas isn't going to play anybody in the league that it doesn't have a great shot to beat. That hasn't been the case the past two years. Texas went back to the drawing board after the 2009 season. The 2010 team was a disaster, and last year was a little better, but this is a team that will be very, very difficult for anybody to beat.
TCU had better clean itself up, or it will pay very, very soon.
These sloppy mistakes are not going to get it done when TCU lines up against an offense that's actually functional. You saw those offenses on display all Saturday, and you saw TCU's mistake-laden squad, too. I know it was rainy, but TCU forced six turnovers and only beat a very underwhelming SMU squad by eight, letting the Mustangs back into the game late with a TD drive and a punt miscue that gave SMU the ball back on the TCU 1-yard line and the Frogs leading by just eight. The defense came up big with a sack and two incompletions to maintain the lead, but the Frogs can't keep putting the defense in those kinds of situations. That was absurd.
Iowa State's defense is for real.
Yes, the Cyclones lost. Still, I was impressed. I had major, major doubts about the unit entering the week, but I came away much more impressed with the ISU defense than Texas Tech's, mainly because Tech has a much better offense, and what ISU's defense did was more impressive.
Steele Jantz
put the defense in some tough spots with three turnovers, but these guys covered well and pressured
Seth Doege
constantly. Texas Tech's defense may end up being pretty good, but Saturday doesn't prove it. Next week against Oklahoma will be an interesting test, but even then, it gets a lot tougher. The Cyclones may have a bad game or two, but that's now 10 consecutive games giving up fewer than 30 points. That'll keep ISU in some games this year. Credit defensive coordinator Wally Burnham. While the rest of the Big 12 is giving up points in bushels, the Cyclones are playing some great, great D.
Don't you dare turn your back on Oklahoma State
. Yes, a loss is a loss. It'll hurt for the Cowboys, who fall to 2-2 and join Kansas as the only Big 12 team with more than one loss. Still, even without their starting QB, the Cowboys hung in with a very good Texas team, led by
Joseph Randle
, who played some tough, tough ball. He finished with 199 yards and two scores on 25 carries against an athletic Texas defense that, I will say, struggled with form tackling on Saturday. Still, this is strong program that's not going anywhere very soon. Don't be surprised if these two teams meet again next year with a ton on the line, like perhaps a Big 12 title.
October, 23, 2010
10/23/10
2:30
PM ET
Iowa State came into today's game after giving up 120 points in its past two games combined.
When it has needed a stop on Saturday, it's gotten it, and leads 14-6.
Texas
cost itself points
inside the 5-yard line in the first half, but the Cyclones' defense held the Longhorns to a field goal after a lengthy drive midway through the third quarter.
You have to give Paul Rhoads and defensive coordinator Wally Burnham a lot of credit for the effort today. Texas' offense hasn't played well, but the Cyclones are a huge reason for that. On the third down that closed the Longhorns' last drive inside the Cyclones' 10-yard line, an Iowa State defender brought down
Garrett Gilbert
as he threw and another knocked away the pass intended for tight end
Greg Smith
in the end zone.
Iowa State shocked Texas Tech with offense in a 52-38 win earlier this season. Today in Austin, the 21-point underdogs have done it with defense.
September, 26, 2010
9/26/10
1:58
AM ET
Time to pass out a few helmet stickers to put a cap on a set of games that proved to be interesting. Plenty of
this week's "What to watch"
came into play all day on Saturday.

Iowa State defense:
No sense in picking out one player on a defense that pitched a shutout against Northern Iowa in a
27-0 win
. The defense scored two touchdowns to the offense's one, and forced five turnovers. This one was never in doubt, and the defense was the reason why. Jeremy Reeves (94 yards) and A.J. Klein (25 yards) returned interceptions for scores. Any more credit goes to coordinator Wally Burnham.
Carson Coffman, QB, Kansas State:
If you're the difference in a close win, you're going to earn a helmet sticker. Carson Coffman, that means you. The
maligned senior quarterback
spearheaded a lengthy 13-play, 67-yard drive capped by his go-ahead, 7-yard rushing touchdown in the final minute of Kansas State's
17-13 win
over Central Florida. Coffman completed a pair of third-down passes, including an 18-yarder on 3rd-and-10 to keep the drive alive. The win means the Wildcats are 4-0 for the first time since 2003.
Jonathan Nelson, DB, Oklahoma:
Did you think I was kidding? Oklahoma managed a tight road win, and Nelson was the difference. He chased down Cincinnati receiver
D.J. Woods
on a 73-yard catch-and-run, and poked the ball out and into the end zone, where the Sooners recovered for a touchback in the second quarter of their
31-29 win
over Cincinnati. Later in the second quarter, he intercepted a pass in the end zone for another touchback. A missed extra point kept the Bearcats from being able to go for the tie in the fourth quarter, but without Nelson's plays, the Sooners would be 3-1 right now.
Robert Griffin, QB, Baylor:
Griffin
wanted plenty of his throws back
from last week's loss to TCU, but he took advantage of the ones he got against Rice. Griffin tossed two touchdowns longer than 40 yards and added another short one in Baylor's
30-13 win
over Rice. He completed 20 of 28 passes for 268 yards and ran for 50 yards on 11 carries.
Lavonte David, LB, Nebraska:
Bo Pelini wasn't exactly singing his praises ("He has a lot to fix. It goes well beyond statistics.") after the game, and David downplayed his effort, saying it "doesn't feel like it," but the first-year starter racked up 19 tackles against South Dakota State in Nebraska's
17-3 win
. That's the most of any Nebraska linebacker since Barrett Ruud in 2004. David also broke up two passes.
Honorable mention
: Kansas'
D.J. Beshears
, who scored three touchdowns, including a 96-yard kick return in Kansas' 42-16 win over New Mexico State.
February, 10, 2010
2/10/10
11:19
AM ET
By
Tim Griffin
| ESPN.com
With spring practice set to begin soon -- Texas opens its camp on March 2 -- here's a quick look at how I have the teams ranked heading into spring practice. In formulating my rankings, I took into account returning players, transfers, arriving freshmen and a teams' schedules.
1. Texas
(14 starters back: 6 offensive, 7 defensive, 1 special teams).
Garrett Gilbert
got a head start on replacing
Colt McCoy
with his considerable playing time in the national title game, an invaluable learning experience for a young player. The Longhorns return most of the defense that improved in its second season under Will Muschamp. The biggest chores will be for offensive coordinator Greg Davis, who has to boost running game production and find a replacement for record-breaking wide receiver
Jordan Shipley
.
2. Nebraska
(18 starters back: 8 offensive, 8 defensive, 2 special teams). Bo Pelini has the Cornhuskers positioned for a potential top-10 preseason ranking. Most of the offensive weapons will be back from a unit that sputtered down the stretch before breaking out in the Holiday Bowl victory. Quarterback
Zac Lee
will miss some of spring practice as he recovers from postseason surgery.
Cody Green
and
Kody Spano
will get most of the work until Lee returns. Nebraska coaches think the defense can be better this season, even without the up-the-middle strength of Ndamukong Suh, Phillip Dillard, Larry Asante and Matt O'Hanlon.
3. Oklahoma
(15 starters back: 9 offensive, 4 defensive, 2 special teams). The Sooners overcame a debilitating run of injuries last season to finish with a flourish, knocking Oklahoma State out of a BCS game and winning the Sun Bowl in their final two games.
Landry Jones
will be infinitely better in his second season as a starter and
Ryan Broyles
and
DeMarco Murray
may be the best one-two receiving/running back combination in the conference. Bob Stoops will be facing a big renovation on defense where key players like Gerald McCoy and Dominique Franks left early for the NFL draft. Look for Travis Lewis to be the key to a defense that will need to improve by the time Big 12 play begins if the Sooners are to have any hope of claiming a seventh Big 12 title this season.
4. Missouri
(19 starters back: 9 offensive, 9 defensive, 1 special teams). The Tigers will miss
Danario Alexander
and linebacker Sean Weatherspoon, who were arguably the best players at their positions in the conference last season. But
Blaine Gabbert
is back for a second season as starting quarterback and some talented recruits are expected to emerge on defense. A key for the Tigers' success will be a more productive running game and consistency from the offensive line. Improvement on both will be critical for coordinator David Yost during the spring.
5. Texas Tech
(15 starters back: 7 offensive, 6 defensive, 2 special teams). New coach Tommy Tuberville immediately will have to sort through a potentially difficult decision at quarterback between
Taylor Potts
and fan favorite
Steven Sheffield
. New coordinator James Willis hopes to install a 3-4 defense that should be a haven for athletic linebackers. But the group's success will hinge on replacing Jamar Wall at cornerback and finding some pass-rushing threats to replace Brandon Sharpe, Richard Jones and Daniel Howard along the front.
6. Texas A&M
(19 starters back: 8 offensive, 9 defensive, 2 special teams). With
Jerrod Johnson
,
Jeff Fuller
,
Uzoma Nwachukwu
and
Christine Michael
back, the Aggies shouldn't have trouble scoring points, although the line needs to do a better job of protecting Johnson. But the Aggies' success will depend on the returning starters quickly taking to new coordinator Tim DeRuyter's teachings. The group was blistered for at least 35 points in seven games last season and allowed at least 30 points in two other games. So needless to say that even with nine starters back, DeRuyter has his work cut out.
7. Kansas
(16 starters back: 7 offensive, 7 defensive, 2 special teams). New coach Turner Gill inherits an uncertain quarterback situation, but has the framework for a strong running attack with all of his starting linemen back, along with
Toben Opurum
and heralded back Brandon Bourbon as running threats. The Jayhawks will need to fill in for the loss of Darrell Stuckey in the secondary, but new coordinator Carl Torbush should find the elements for a blitzing, attacking defense among the returnees. But the biggest reason the Jayhawks might be bound for a bowl game in Gill's first season is swapping Texas, Texas Tech and Oklahoma for Texas A&M, Oklahoma State and Baylor in their cross-divisional schedule.
8. Iowa State
(13 starters back: 8 offensive, 4 defensive, 1 special teams). Paul Rhoads returns most of the offensive weapons that led the Cyclones to the Insight Bowl, most notably quarterback
Austen Arnaud
and running back
Alexander Robinson
. But the team loses all of its starting linebackers; veteran coordinator Wally Burnham will be challenged to cobble together a serviceable unit. The Cyclones could actually be a better team in 2010 but post a worse record. A tougher schedule featuring nonconference games against Utah, Iowa and Northern Illinois and the addition of South Division powers Oklahoma, Texas and Texas Tech will make last season's bowl trip much tougher to duplicate.
9. Oklahoma State
(10 starters back: 4 offensive, 4 defensive, 2 special teams). The Cowboys must find replacements for key players like
Zac Robinson
, Keith Tosten, four offensive linemen (including Outland finalist Russell Okung) and six of their back seven on defense. New offensive coordinator Dana Holgorsen finds an uncertain quarterback situation but will lean heavily on a healthy
Kendall Hunter
. A manageable nonconference schedule should have them in bowl contention, but this should be a step back from Mike Gundy's last two teams.
10. Kansas State
(15 starters back: 7 offensive, 6 defensive, 2 special teams). The Wildcats missed out on a bowl trip last season only because they scheduled two FCS teams, but they surprisingly challenged for the Big 12 North title up to their last game of the season. It might be tougher to do that this season, although
Daniel Thomas
will provide the foundation on offense.
Carson Coffman
has the inside track at quarterback, but keep an eye out for Oregon transfer
Chris Harper
at either that position or wide receiver. Players like Jeffrey Fitzgerald and John Houlik will be missed on defense, but all four starters are back in the secondary.
11. Colorado
(16 starters back: 8 offensive, 7 defensive, 1 special teams). Dan Hawkins' seat is the hottest in the Big 12 and arguably in college football after missing a bowl for a second straight season last year.
Tyler Hansen
returns as the starting quarterback, but the Buffaloes need to find some help in the backfield with only three scholarship backs in spring practice. The defense was young last season and should be improved, but will miss the leadership provided by Jeff Smart and Cha'pelle Brown. A bowl trip likely will be necessary to save Hawkins' job and a tough nonconference schedule featuring games at California and against Hawaii and Georgia will prove troublesome even before Big 12 play begins.
12. Baylor
(14 starters back: 6 offensive, 6 defensive, 2 special teams). The Bears' hopes of stopping the conference's longest bowl drought will hinge largely on the health of Robert Griffin, who is recovering from knee surgery that forced him to miss the final nine games of the 2009 season. New offensive lineman "Big" Robert Griffin will have to protect his quarterback if coach Art Briles has any hope of making a bowl trip.
Jay Finley
and
Kendall Wright
are underrated offensive threats, but the Bears will miss key defensive leaders like Joe Pawelek and Jordan Lake who were stalwarts for several years.
September, 3, 2009
9/03/09
8:28
AM ET

Posted by ESPN.com's Tim Griffin
Here are some things I'm watching across the Big 12 this week, starting with Iowa State's season opener against North Dakota State tonight in Ames, Iowa.
1. Can Oklahoma State prove it belongs among the national powers?
Oklahoma State started 8-1 before collapsing with four losses in its final six games in 2008, including struggling defensive performances against Texas Tech, Oklahoma and Oregon. The Cowboys will be depleted without MLB Orie Lemon and will be facing a Georgia team that shouldn't be intimidated by the crowd at Boone Pickens Stadium. The Bulldogs are 30-4 on the road since Mark Richt took over in 2001 -- a better winning percentage than for their home games. Georgia is 10-2 on the road against ranked teams on the road under Richt, including 3-1 against top-10 foes. So it will be a huge challenge for the Cowboys to counter those trends, particularly with a roster that has been dotted with defections this week.
2. Oklahoma's retooled offensive line:
The Sooners' offensive line has been the team's biggest question coming into the season as they try for an unprecedented fourth straight Big 12 title. Four offensive line starters are gone from last season's team, leaving only left tackle Trent Williams back to protect Heisman Trophy winner
Sam Bradford
. The Sooners' line was called out before spring practice because of their lack of dedication by coach Bob Stoops, but has received recent praise after working with the Sooners' monstrous defensive line in recent weeks. The Sooners shouldn't be tested very much by a BYU defense that ranked 60th in rushing defense and 59th in total defense last season.
3. Does Baylor deserve its early hype?
The Bears started last season with a 28-point home loss to Wake Forest. This season, they are a slight underdog on the road against the Demon Deacons. Can Robert Griffin continue his mercurial development and lead the Bears to an upset against the Demon Deacons, who have qualified for three straight bowl games? The Bears have lost 13 of their last 14 road games and have never won away from Waco with Art Briles coaching them. Does an improved, senior-laden team have what it takes to win -- especially with two new tackles protecting Griffin's flanks?
4. Blaine Gabbert's first career start for Missouri:
All the sophomore quarterback has to do is pick up the reins from Chase Daniel, who piloted the Tigers to back-to-back trips to the Big 12 title game and arguably was the best quarterback in school history. Gabbert was a higher regarded prospect coming into school than Daniel and will be able to prove those ratings, but he'll be facing the challenge of playing in his home area against arch-rival Illinois.
5. Vondrell McGee's chance as Texas' featured running back:
McGee took advantage of an injury to Fozzy Whittaker to claim the starting position and an opportunity to work as Texas' featured running back in the Longhorns' opener against Louisiana-Monroe. McGee should be able to play on most downs when the Longhorns' starting team is in the game. How will he hold up -- particularly considering he's had double-figure carries in only five games in his career and never rushed for more than 80 yards in any game? The opportunity to claim the role is there against a Louisiana-Monroe team that ranked 109th nationally against the run.
6. Colorado's starting quarterback:
Will Dan Hawkins opt for a quiet dinner table at home by starting backup
Tyler Hansen
or stick with his family ties by giving his son Cody the nod in the Buffaloes' Sunday night opener against Colorado State? Both should play, although the Colorado coach remains adamant he's not making the call until shortly before kickoff Sunday night.
7. Bill Snyder's emotional return to the sideline:
Is the Kansas State coach bigger than his program? Snyder will travel to the stadium Saturday on a highway named in his honor before arriving at a stadium named for him and his family as he ends a three-year sabbatical to return to coaching Saturday night against Massachusetts. The moment should be even more poignant for him and the program as the largest athletic reunion in the school's history will coincide with the game.
8. Nebraska's new-look offense:
Bo Pelini starts his second season with the Cornhuskers facing a massive turnover as he looks for a new quarterback, two new wide receivers and help in his running game. The Cornhuskers must try to build on last season's 9-4 record with new quarterback
Zac Lee
, new featured receivers and a heavy reliance on Roy Helu Jr. after Quentin Castille's dismissal late in training camp. Nebraska players say that Lee will provide more of a vertical passing game than was featured last year with Joe Ganz. He shouldn't face much of a challenge against a Florida Atlantic University team that ranked 81st or lower in every major team statistic, tied for 112th in sacks and returns only three defensive starters.
9. Will Kansas show much mercy against outmanned Northern Colorado?
The Bears come into Lawrence coached by former Nebraska assistant Scott Downing. It will be interesting to see how much that association causes Mark Mangino to step off the accelerator if the Jayhawks jump ahead early against an opponent that was 1-10 last season and ranked among the bottom 20 FCS teams in pass defense and pass efficiency defense. I'm looking for extended target practice for
Todd Reesing
,
Dezmon Briscoe
,
Kerry Meier
and the rest of the Jayhawks' talented pass-and-catch combo against the outclassed Bears.
10. The tackling of Iowa State's defense:
The Cyclones have had a total makeover defensively by new coach Paul Rhoads and defensive coordinator Wally Burnham, who have been critical of the Cyclones' tackling techniques they inherited from the staff of former coach Gene Chizik. Rhoads even admitted that the lack of technique "frustrated" him. Iowa State shouldn't face too many challenges tonight against South Dakota State, although the Bison have won three of their last five games against FBS teams. Rhoads and his new program can't afford such a slow start.
August, 11, 2009
8/11/09
10:25
AM ET
Posted by ESPN.com's Tim Griffin
It's been a long time between bowl trips for Baylor.
The Bears' last bowl trip came in 1994 when they were defeated by Washington State in the Alamo Bowl. Current Baylor starting quarterback Robert Griffin was 4 years old when that game was played.
But excitement is rampant along the Brazos River and the Bears are ready to snap a bowl drought that is tied with Duke for the longest in schools in BCS-affiliated conferences.
Considering that Grant Teaff was coaching Baylor then and Steve Spurrier was directing the Blue Devils, it has been an extensive drought for both schools.
The Bears have their best hope this season and I'm thinking they squeak in. It will be critical for them to win at least one of their first two games against Wake Forest and Connecticut. They also need victories over Northwestern State and Kent State to enter Big 12 play at 3-1.
If Baylor does make that remarkable step, it will likely mean the Big 12 will be able to fill its full complement of bowls. It was unable to fill two bowls at the bottom of its list of partners. But that likely won't be the case this season if the Bears live up to their preseason hype.
Here's a look at how I predict the Big 12's bowl slots will be filled this season with a record nine teams making trips. The last two or three might be 6-6 teams, but there won't be much complaining from any of them.

Baylor Bears
Bowl bid: Possibly.
Best case: Robert Griffin electrifies the nation with stunning victories over Wake Forest and Connecticut to start the season and the Bears are already at six victories by mid-October. It makes them the feel-good story of the conference, places Art Briles in prime consideration for a couple of top jobs and pushes the Bears into the Alamo Bowl where they last went bowling in 1994.
Worst case: Offensive tackle Danny Watkins can't protect Griffin's blind side and the Bears stumble early with two-straight losses. Those pass-protection problems fester all season as the Bears revert to their losing ways and miss a bowl for another season.
Prediction: Texas Bowl.

Colorado Buffaloes
Bowl bid: Possibly.
Best case: In a nod to soothsayers everywhere, the Buffaloes indeed live up to Dan Hawkins' preseason "prediction" and win 10 games, claiming a surprise Big 12 title game and ending up in the Holiday Bowl.
Worst case: The Buffaloes don't settle on either quarterback and tumble out of bowl contention for the third time in the last four seasons under Hawkins, making his seat extremely toasty this winter.
Prediction: Independence Bowl.

Iowa State Cyclones:
Best case: The Cyclones become the surprise story of the conference as Austen Arnaud immediately blossoms in Tom Herman's new offense. The defense shows steady improvement under Wally Burnham, providing a surprise trip to the casinos and crawfish boils at the Independence Bowl in Shreveport, La.
Worst case: Paul Rhoads is a willing worker, but his new team just never jells with his philosophy. More road woes continue against Kent State as the Cyclones see their nation-worst road losing streak stretch to 22 games as they stay home from a bowl for a fourth-straight season.
Prediction: Home for the holidays.

Kansas Jayhawks
Bowl bound: Count on it.
Best case: The Jayhawks find a couple of defensive reincarnations of Aqib Talib to help them spring a couple of upsets over South Division powers. Confidence gleaned from those games helps them surprise the South Divison champion in the Big 12 title game and send Mark Mangino and his team skipping into their second BCS bowl in three seasons -- this time to the Fiesta Bowl.
Worst case: Todd Reesing struggles behind a retooled offensive line and the Jayhawks' offense isn't nearly as potent as expected. Without a high-powered scoring team, the Kansas defense is exposed as posers, falling to the Insight.com Bowl for the second-straight season.
Prediction: Sun Bowl.

Kansas State Wildcats
Best case: Bill Snyder brings the magic back to Manhattan, picking up a couple of upset victories to restore some pride in the Kansas State program from early in the season. The Wildcats ride that momentum for a surprise trip to the Insight.com Bowl.
Worst case: A quarterback never emerges and a struggling pass defense regresses into a horrific unit against the Big 12's high-powered aerial attacks. Those defeats make Snyder wonder why he ever left retirement as the Wildcats finish out of a bowl trip for the fifth time in six seasons.
Prediction: Home for the holidays.

Missouri Tigers
Bowl bid: Possibly.
Best case: Blaine Gabbert provides steady leadership as Derrick Washington becomes the most versatile back in the Big 12. The retooled defense emerges as the Tigers claim a surprise Big 12 North title and end up at the Cotton Bowl.
Worst case: The loss of Chase Daniel, Jeremy Maclin, Chase Coffman and both coordinators cause the wheels to fall off the Missouri program and they miss a bowl trip for the first time since 2004.
Prediction: Insight.com Bowl

Nebraska Cornhuskers
Bowl bound: Count on it.
Best case: Zac Lee is a revelation at quarterback and the defense emerges in Bo Pelini's second season to push the Cornhuskers to a upset victory in the Big 12 title game and into the Fiesta Bowl.
Worst case: The hype for Lee is just that. The new quarterback struggles and the Cornhuskers' defense backslides all the way t
o the Texas Bowl.
Prediction: Holiday Bowl.

Oklahoma Sooners
Bowl bound: Count on it.
Best case: The young offensive line jells and the defense plays better than expected as the Sooners earn another chance to play in the BCS title game -- restoring order in the Cotton Bowl on Oct. 17 along the way.
Worst case: The offensive front struggles to protect Sam Bradford and the defense isn't as good as expected, dropping the Sooners to their first visit to the Alamo Bowl.
Prediction: Fiesta Bowl.

Oklahoma State Cowboys
Bowl bound: Count on it.
Best case: The offensive triplets exceed expectations as Bill Young cobbles together enough defense to enable the Cowboys to outduel Texas and Oklahoma for their first Big 12 championship and a trip to the Fiesta Bowl.
Worst case: The defense still can't match up with Oklahoma and Texas -- and some of the other teams in the South Division either. Those struggles send the Cowboys skidding all the way to the Insight.com Bowl in Tempe, Ariz., where they play second-fiddle to the Sooners who are playing up the road in the Fiesta Bowl.
Prediction: Cotton Bowl.

Texas Longhorns

Bowl bound: Count on it

Best case: The Longhorns find a featured running back and enough push from the defensive front to make all of the BCS rankings meaningless en route back to another shot at the national title in Pasadena.
Worst case: Colt McCoy gets hurt, the running game struggles and the Longhorns keep playing dropsy with key turnovers chances for another season. Instead, Texas players fumble their way to the Holiday Bowl in San Diego where they munch fish tacos and feed the whales at Sea World for the fourth time in the last 10 years.
Prediction: BCS National Championship Game.

Texas A&M Aggies
Bowl bid: Possibly.
Best case: Jerrod Johnson plays so well at quarterback that Ryan Tannehill moves back to wide receiver full time. The Aggies respond to defensive coordinator Joe Kines' defense with vast improvement through the season, stunning Texas in the regular-season finale to push them into the Alamo Bowl.
Worst case: A leaky offensive line can't open holes or pass block and the Aggies' defense struggles against all Big 12 quarterbacks in another season that finishes without a bowl.
Prediction: Home for the holidays.

Texas Tech Red Raiders
Bowl bid: Count on it.
Best case: Taylor Potts exceeds all expectations and the Red Raiders defense plays so well that some start accusing the school of being a "defense-first" program. The Red Raiders don't win the Big 12 South, but they revisit the location of Mike Leach's biggest bowl victory at the Holiday Bowl.
Worst case: The Red Raiders miss Graham Harrell and Michael Crabtree more than expected and skid out of bowl contention for the first time under Leach.
Prediction: Alamo Bowl.
April, 21, 2009
4/21/09
12:45
PM ET
Posted by ESPN.com's Tim Griffin
With only two teams still holding spring games, we're nearly down to the bitter end in terms of practices across the Big 12.
Colorado and Kansas State still have work to do. But there are other stories around the conference today that merit some consideration as well.
March, 31, 2009
3/31/09
1:00
PM ET
Posted by ESPN.com's Tim Griffin
Iowa State defensive players know they didn't play well last season.
| | |
| --- | --- |
| | |
| | Charles LeClaire/Getty Images |
| | Paul Rhoads hopes to turn things around at Iowa State. |
That realization, along with the arrival of defensive-minded head coach Paul Rhoads, has ratcheted up competition for the Cyclones' beleaguered unit in hopes of improving this spring.
"Speaking personally, I have a huge chip on my shoulder after last year," senior nose guard Nate Frere said. "I think we have a lot to prove. We didn't play well. We didn't tackle well. And that's the bottom line."
The Cyclones finished the season with a 10-game losing streak that dropped them to 2-10, including eight straight losses in Big 12 play. The Cyclones allowed at least 28 points in every Big 12 game, including at least 35 points in all but one conference game.
The ISU defense ranked among the bottom 10 units nationally in scoring defense (tied for 110th), total defense (112th), pass defense (116th) and pass efficiency defense (117th). That gives Iowa State a lot of room for improvement this spring.
It's led Rhoads, who arrived at ISU after serving as the defensive coordinator at Auburn, to take a back-to-the-basics approach as he attempts to rejuvenate the defense as his first task in his transformation of the program.
That's why the Cyclones have been involved in simple tackling drills from the first day of spring practice. They are working on their balance and technique as well as the proper way to deliver forearm shivers and ankle stops.
Some teams might have been embarrassed with such a simplistic approach. But it's what Rhoads believes his defense needs to improve its fundamentals and tackling.

"Defensively, we lag behind where we are offensively," Rhoads said. "They know they gave up a lot of points, they know they gave up a lot of yards and they know they didn't tackle well. And that's where you have to start."
March, 5, 2009
3/05/09
12:14
PM ET
Posted by ESPN.com's Brian Bennett
New Connecticut offensive coordinator Joe Moorhead met with media members in Storrs yesterday and talked about the new no-huddle attack he will install this spring. As Jeff Jacobs writes in the Hartford Courant, this isn't some spread offense that will abandon UConn's bread-and-butter running game.
"At Akron last year, we were 46 percent four wide and the other percent there was a tight end, a fullback or both on the field," Moorhead said. "I've never seen spread offense defined in the dictionary. But if it means four wide with no fullback or tight end on the field, that's not what we're going to be. We'll line up anywhere from five wide receivers to two tight ends, two receivers and a back.

"Any idea that it is some finesse offense where we will be passive is sorely mistaken. That cannot be further from the truth. We will be physical."
And what about quarterback Zach Frazer's assertion last week that the Huskies would score 40 points per game?
"I appreciate Zach's exuberance," Moorhead said, "but we've got to crawl before we can walk."

• Jim Leavitt made some
minor tweaks to his coaching staff,
moving his tight ends coach to co-offensive line coach and hiring a graduate assistant to oversee tight ends, Greg Auman notes in the St. Petersburg Times. Mike Canales' new offense doesn't figure to involve the tight ends much.
• New Bulls defensive coordinator Joe Tresey will make $190,000, or $30,000 less than Wally Burnham earned, Brett McMurphy writes in the Tampa Tribune.
• A
new Mountaineers mascot
will be named on Saturday.
February, 23, 2009
2/23/09
1:29
PM ET
Posted by ESPN.com's Tim Griffin
No contract negotiations across the conference for Big 12 coaches and we're only four days from the start of spring practice.
Oh yeah, it's supposed to be 72 degrees in San Antonio this afternoon with nary a cloud in the sky.
Could life get much better?
Maybe with these Big 12 lunch links ...
February, 18, 2009
2/18/09
12:00
PM ET
Posted by ESPN.com's Brian Bennett
Former South Florida defensive coordinator Wally Burnham couldn't turn down the challenge of helping improve Iowa State, where he'll also be working with his son, Brett McMurphy writes in the Tampa Tribune.
"They've been down the last couple of years," Burnham said. "I'm taking it as a challenge to try and turn that thing around, be competitive in the Big 12 and win the northern half of the league.

"To me if you're a competitive person, you look forward to those opportunities. Something felt good about it."
And McMurphy says the Bulls are about to lose another assistant, as secondary coach Troy Douglas is expected to take a job at North Carolina.

• California offensive coordinator Frank Cignetti Jr. was in Pittsburgh on Tuesday night interviewing for the Panthers' playcalling job, Kevin Gorman writes in the Pittsburgh Tribune-Review.
• Pitt received its first commitment in the 2010 class, landing the younger brother of redshirt freshman running back Chris Burns, Paul Zeise reports in the Pittsburgh Post-Gazette.
• Expect some wrangling in future negotiations over the Marshall-West Virginia series, which currently is scheduled through 2012, Jack Bogaczyk writes in the Charleston Daily Mail. The Thundering Herd will want more home games after this current deal will see them getting West Virginia at their place only twice in seven years.

December, 5, 2008
12/05/08
11:44
AM ET
Posted by ESPN.com's Brian Bennett
Rutgers was unbelievably impressive in destroying Louisville 63-14 on Thursday night, in a game it led 49-0 at halftime. Tom Luicci writes in The Star-Ledger that the Scarlet Knights put on quite a show in their final regular-season game.
Coach Greg Schiano described it as the "best offensive performance by a team I've been the head coach of -- maybe ever that I've been a part of."
Star-Ledger columnist Steve Politi says Rutgers deserves a good bowl game and should go to the Sun Bowl with the way it's playing. Won't happen, though.