December, 13, 2012
12/13/12
9:00
AM ET
Our assignment is to pose a best-case and a worst-case scenario for every Pac-12 bowl team.
So here goes.

Arizona
Gildan New Mexico Bowl, Albuquerque, N.M., Dec. 15:
Arizona (7-5) vs. Nevada (7-5), 1 p.m. ET, ESPN
Best case:
Arizona rolls 40-28, as quarterback
Matt Scott
goes out with a bang that raises NFL eyebrows, and running back
Ka'Deem Carey
rushes for 195 yards to sew up the national rushing title.
Worst case:
Scott gets knocked out of the game early and backup
B.J. Denker
looks overwhelmed, raising questions about the future at QB. Carey rushes for 35 yards and loses the rushing title as Nevada rolls 42-21. Michigan fans hit the message boards with a litany of "I told you so" about Rich Rodriguez.

Washington
MAACO Bowl Las Vegas, Las Vegas, Dec. 22:
Washington (7-5) vs. Boise State (10-2), 3:30 p.m. ET, ESPN
Best case:
In a "Welcome back!" performance, QB
Keith Price
throws for 295 yards and three touchdowns -- matching the total TD passes the Broncos have yielded all season -- and runs for another score as the Huskies end 2012 with a statement victory that bodes well for 2013. The Huskies' hot offseason topic is how high the preseason ranking will be.
Worst case:
Washington starts slowly as it has much of the season, then gives up a double-digit fourth-quarter lead as Price throws multiple interceptions. Boise State wins going away 38-17, and the Huskies' hot offseason topic is whether coach Steve Sarkisian has plateaued.

UCLA
Bridgepoint Education Holiday Bowl, San Diego, Dec. 27:
UCLA (9-4) vs. Baylor (7-5), 9:45 p.m. ET, ESPN
Best case:
That the Bruins score 45 points is not unexpected. That Baylor is held to just 17 points is unexpected. UCLA dominates on both sides of the ball, and quarterback
Brett Hundley
looks like a budding Heisman Trophy candidate. After the game, linebacker
Anthony Barr
and guard
Xavier Su'a-Filo
both announce they are returning for the 2013 season. Says Barr, "Unfinished business? Naaah. I just like playing with these guys."
Worst case:
Baylor rolls over UCLA in a 55-30 win, as the Bruins' defense can do nothing to slow the Bears, while Hundley throws three picks. Barr and Su'a-Filo opt to leave for the NFL, as does coach Jim Mora, who is hired by the Philadelphia Eagles.

Oregon State
Valero Alamo Bowl, San Antonio, Dec. 29:
Oregon State (9-3) vs. Texas (8-4), 6:45 p.m. ET, ESPN
Best case:
Oregon State throttles the Longhorns 31-13 with stifling defense, but the big story is Cody Mannion -- or is it Sean Vaz? -- throwing four touchdown passes and making a strong case to be the 2013 starter.
Worst case:
The Beavers become the only team that couldn't run on Texas this year, and
Sean Mannion
and
Cody Vaz
both throw two interceptions in a 30-10 defeat. Meanwhile, Oregon State makes both
Case McCoy
and
David Ash
look like superstars. "Well," say all the national commentators. "This makes a strong case for the Big 12's superiority over the Pac-12. But we've still got to see the Fiesta Bowl."

Arizona State
Kraft Fight Hunger Bowl, San Francisco, Dec. 29:
Arizona State (7-5) vs. Navy (7-4), 4 p.m. ET, ESPN2
Best case:
Arizona State uses its superior speed on both sides of the ball to throttle Navy 48-17. After the game, consensus All-American defensive tackle
Will Sutton
announces he's returning for his senior year.
Worst case:
Navy's triple option wears down the Sun Devils in a 28-17 victory. Even worse, the Sun Devils turn the ball over five times and commit 12 penalties for 105 yards, including two personal fouls. They look like the 2011 team, not the 2012 version under new coach Todd Graham.

USC
Hyundai Sun Bowl, El Paso, Texas, Dec. 31:
USC (7-5) vs. Georgia Tech (6-7), 2 p.m. ET, CBS
Best case:
Matt Barkley
looks like, well, Matt Barkley, throwing five touchdown passes as the Trojans roll 40-10. As for the defense, coordinator Monte Kiffin goes out in style, with the Trojans holding Georgia Tech's option to just 225 total yards. Head coach Lane Kiffin announces after the game that he has hired Bob Diaco away from Notre Dame to be his defensive coordinator.
Worst case:
Barkley tries to play but reinjures his shoulder, and the Trojans fold thereafter, ending a horribly disappointing season with a 38-17 loss. After the game, receiver
Robert Woods
, running back
Silas Redd
and cornerback
Nickell Robey
announce they will enter the NFL draft. Lane Kiffin also announces the hiring of Nick Holt to run the Trojans' defense.

Stanford
Rose Bowl Game presented by Vizio, Pasadena, Calif., Jan. 1:
Stanford (11-2) vs. Wisconsin (8-5), 5 p.m. ET, ESPN
Best case:
Stanford dominates on both sides of the ball in a 30-10 victory, holding the Badgers to just 79 yards rushing and 210 total yards. Quarterback
Kevin Hogan
throws two touchdown passes and runs for another, while running back
Stepfan Taylor
rushes for 145 yards and a score. After the game, linebacker
Shayne Skov
, defensive end
Ben Gardner
and tight end
Zach Ertz
announce they will be returning for their senior seasons.
Worst case:
Montee Ball
rushes for 197 yards and two scores as Wisconsin pushes the Cardinal around in a 24-17 win. The Badgers sack Hogan four times, overwhelming the Cardinal's offensive line. After the game, Skov, Gardner and Ertz announce they will enter the NFL draft. Coach David Shaw is hired by the Philadelphia Eagles, and Walt Harris is rehired.

Oregon
Tostitos Fiesta Bowl, Glendale, Ariz., Jan. 3:
Oregon (11-1) vs. Kansas State (11-1), 8:30 p.m. ET, ESPN
Best case:
Oregon starts fast and never lets up in a 51-20 blowout, with running back
Kenjon Barner
rushing for 187 yards and two scores and quarterback
Marcus Mariota
throwing for three TDs. The Ducks sack
Collin Klein
five times and grab two interceptions. "I'm sure glad we didn't play them in the regular season," Kansas State coach Bill Snyder says afterward. Shortly after the game, Ducks coach Chip Kelly signs a lifetime contract, opens practices and promises to be more patient with hypotheticals and other sorts of irritating questions.
Worst case:
The Kansas State defense throttles the Ducks' offense, and Klein throws three TD passes in a 30-13 victory. The Ducks rush for only 101 yards. "Oregon struggles in these big games," say the national commentators afterward. "And this really makes the Pac-12 look bad." Kelly is hired by the Philadelphia Eagles. Mariota quits football to become a professional surfer. John Mackovic is hired to replace Kelly.
October, 27, 2011
10/27/11
12:28
PM ET
In 2006, Stanford was irrelevant in college football. When it lost 42-0 to USC on Nov. 4,
the only angle of interest
was the Trojans bouncing back after a 32-game regular-season winning streak ended at Oregon State the week before.
The Cardinal would finish 1-11, and coach Walt Harris got the boot. Enter Jim Harbaugh.
[+] Enlarge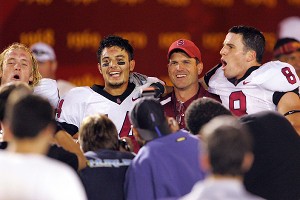 Gary A. Vasquez/US PresswireThen-coach Jim Harbaugh, back center, celebrates Stanford's 24-23 upset of USC in 2007.
Suffice it to say that the USC-Stanford rivalry, which the Trojans had dominated under Pete Carroll, last losing in 2001, would ramp up in intensity. Roles shortly would reverse. And, best of all, it also would get a heck of a lot more colorful.
In 2007, USC was ranked No. 2 in the nation when Stanford came to the Coliseum, where the Trojans had won 35 consecutive games. They were a 41-point favorite against the lowly Cardinal, which was forced to start backup quarterback Tavita Pritchard because starter T.C. Ostrander had suffered a seizure in a restaurant just days before.
But Pritchard threw a 10-yard touchdown pass on fourth-and-goal with 49 seconds remaining, giving Stanford a 24-23 victory, one of the monumental upsets in college football history.
The Trojans again rolled over Stanford in 2008, 45-23. They went on to win the Rose Bowl -- again -- and Stanford finished with a losing record for a seventh consecutive season. The planets had realigned, right?
Ah, but that wasn't the deal, was it? Harbaugh's Cardinal transformed in 2009, with Toby Gerhart and a power running attack and a young quarterback by the name of
Andrew Luck
. That team went to the Coliseum and scored 27 fourth-quarter points, transforming a seven-point game into a 55-21 blowout. And with 6:47 left and the Cardinal up 17, Harbaugh elected to go for two. Why?
"I just honestly thought there was an opportunity coming off the ball, the way our backs were running and the way we were playing," Harbaugh said after the game.
In other words: Because we could.
That reality is what Lane Kiffin inherited when he replaced Carroll. It wasn't the same as from 2001 to 2006, when he was a Trojans assistant and Stanford was a foe that offered little resistance.
"It obviously has changed a lot and balanced back out, which was very different from when we were here a year before," Kiffin said.
Before last year's game, the way Stanford had won -- running up the score -- was a big issue. Kiffin saw it on film, for one. And, yes, everyone asked about it, reminding him of the testy handshake between Carroll and Harbaugh that's best remembered for Carroll asking Harbaugh, "What's your deal?" But that celebrated exchange mostly falls on Carroll's being disgruntled. What's not often noted is how before meeting Carroll at midfield, Harbaugh pointedly made fun of the Trojans as they quickly scampered up the Coliseum tunnel. "Look at them all running in! Look at them all running in!" he said to himself -- and to a large TV camera just in front of him.
New Stanford coach David Shaw was the Cardinal's offensive coordinator for that game. He's previously cited that game as his
favorite example of his program's physical style
. And there is plenty of insider scuttlebutt that Shaw, although far more polished than the rough-around-the-edges Harbaugh, enjoys pounding opponents as much as Harbaugh did. Still, Shaw waves away an opportunity to recall the fourth-quarter thinking in 2009.
"That was a long time ago. That was what it was," he said. "We've all moved on since then. We had a heck of a game last year that was nip-and-tuck."
That's true. Last year's game was a back-and-forth thriller. USC took a one-point lead with 1:08 left on a 3-yard TD run from Allen Bradford, but Luck and the Cardinal drove for the winning 30-yard field goal on the game's last play for a 37-35 win. Luck and USC QB
Matt Barkley
each threw three TD passes with no interceptions, while Trojans receiver
Robert Woods
stole top billing with 12 receptions for 224 yards and two scores.
That well-played game sets the stage for Saturday, when the unbeaten, sixth-ranked Cardinal try to keep their national title hopes alive against the 6-1 Trojans, who are ranked 20th in the Associated Press poll. Other than Harbaugh, all the actors who played starring roles are back.
Of course, the role reversal is unmistakable. USC used to be the team hunting conference and national championships as well as Heisman trophies. Now the Trojans can only be spoilers -- they are ineligible for the postseason because of NCAA sanctions -- and Stanford is the team producing Heisman Trophy candidates. USC's motivation won't be the same as Stanford's.
"It is different from everyone we're playing, having their hopes and dreams taken away from them," Kiffin said of his players' motivations.
Stanford's fifth-year seniors were around for the 2007 game, and their fourth-year players went 5-7 in 2008. They also all know what it's like not to play in the postseason. They've also watched as USC has gone from the nation's most feared program to one they've eclipsed, winning three of the past four in the series.
Is there special emotion this week? Has this rivalry heated up?
"I don't know if it's become a heated rivalry more than any other," Shaw said.
Maybe. But Stanford has high hopes and national title dreams. Those used to dance in the Trojans' heads.
Here's a guess that Kiffin and USC would relish an opportunity to deal those a crushing blow and then to watch the Cardinal scamper up the Coliseum tunnel with their heads down.
January, 7, 2011
1/07/11
5:51
PM ET
Jim Harbaugh led Stanford to its best season in the modern era. Now he's off to a new challenge.
Harbaugh has agreed to a five-year, $25 million contract to become the
San Francisco 49ers
' head coach,
according to reports
.
It appears Stanford fought to retain Harbaugh. According to ESPN NFL analyst Chris Mortensen, Harbaugh met with top Stanford officials Thursday, and the school increased its contract offer from December.
The late gambit wasn't enough. He will replace fired coach Mike Singletary.
[+] Enlarge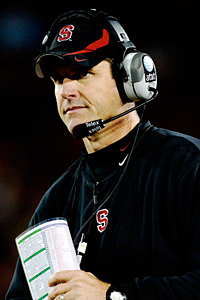 Jason O. Watson/US PRESSWIREJim Harbaugh was 29-21 in four seasons at Stanford, including a 12-1 record this past season.
But who will replace Harbaugh? The initial reaction from many Stanford fans: Nobody. Harbaugh was special. His shoes are just too big.
When Bob Bowlsby hired Harbaugh after the Cardinal went 1-11 in 2006, most folks went "What?" Oh, people knew who Harbaugh was -- a longtime NFL quarterback -- and it was interesting to learn how successful he was at San Diego, but few thought much of the choice. And when Harbaugh barked, "I vow I will attack this endeavor with enthusiasm unknown to mankind," he sort of seemed, well, slightly manic.
And Stanford is not a manic sort of place.
Harbaugh was
manic
. And he also turned out to be a hell of a coach and a hell of a motivator. Sure, he struck gold when he signed quarterback
Andrew Luck
, but Harbaugh deserves all the credit for hiring an outstanding staff, recruiting well and rebuilding a program into a surprising national power.
His first season, his outmanned Cardinal beat No. 2 USC 24-23, despite being a 41-point underdog. That -- the 4-8 finish wasn't particularly inspiring-- was only a first hint of what was to come.
He went 5-7 his second year, 8-5 his third and 12-1 this season. Along the way, he sold his players on a blue collar work ethic, announced, "We bow to no program at Stanford," and made good on that by running up the score on USC in 2009 and taunting Trojans coach Pete "What's your deal?" Carroll afterwards.
What's Harbaugh's deal? It doesn't feel hyperbolic to say his marriage with Stanford -- albeit brief -- was lightning in a bottle. Coaching magic.
It's also understandable why he left. His stock will never be higher. Harbaugh is as competitive a guy as you'll ever meet. He wants to test himself all the time and on the highest level. If you coach football, that's the NFL.
And know what? If he washes out -- if the 49ers locker room knows only enthusiasm known to jaded rich guys -- then no matter. Harbaugh's track record in college is so good he'd again be a hot coaching prospect should he want to return in the future.
As for Stanford going forward, there is one hire that would immediately quash the despondency among fans who just days ago were flying high: Boise State's Chris Petersen. There are more than a few folks who believe this is the sort of job that could lure Petersen away from the Broncos. And the cerebral Petersen would be a good fit.
The top internal candidate would be offensive coordinator David Shaw. Shaw would bring continuity for quarterback Andrew Luck -- no, Luck won't reconsider his decision to return because of Harbaugh's move -- and likely would try to maintain the Harbaughian culture. He's a Stanford graduate and has significant NFL coaching experience. His father, Willie, was an assistant coach at Stanford from 1974-76 and again from 1989-91.
While hiring Shaw might not have much pizazz with fans and media, it would resonate positively in the locker room. It also would continue a Stanford tradition of giving black coaches an opportunity. At present, there are no black head coaches in the Pac-10(Colorado joins next year in the Pac-12 with Jon Embree). And, yes, that is still something worth raising an eyebrow over.
There is a third option: Bowlsby again going off the grid. Let's face it: He's had plenty of time to contemplate who will replace Harbaugh. The general feeling all season was Harbaugh was going to bolt, either to Michigan or the NFL. So Bowlsby surely isn't flat-footed on the news today. Here's a guess he's already sent out some feelers.
Pause for a moment, though, Stanford fans. What a week, eh? Your Cardinal posts a dominant performance in a victory over Virginia Tech in the Discover Orange Bowl -- yeah! -- Luck announces his return -- yeah! -- scuttlebutt starts to surface that Harbaugh is seriously considering returning to the Farm -- yeah! -- and then (boom) it's announced that Harbaugh is headed across the peninsula to the 49ers.
Boo!
But don't get too morose. There is no reason to believe that Stanford is headed back to 1-11, to Buddy Teevens and Walt Harris. A winning culture has been established, much more so than when Tyrone Willingham left for Notre Dame in 2001, knowing full well his recruiting had been sub-par. The right coach has a good shot to maintain that culture.
Stanford is never going to be a team that regularly goes 12-1. It wasn't headed that way even with Harbaugh. But the Cardinal can and should remain competitive at a high level on a regular basis.
It just needs to attack this endeavor with enthusiasm unknown to mankind.
December, 29, 2010
12/29/10
9:00
AM ET
Folks throw around terms such as "best" and "worst" and "most" and "least" in sports in all the time, even when their application is more symbolic than real. Extremes are easy to understand. Talking about them can be fun. Actually experiencing them is rare, though. Living through the best of times and worst of times? That was just Charles Dickens rolling out a good opening line.
Richard Sherman and the rest of Stanford's fifth-year seniors, however, know both the best of times and worst of times, at least in terms of college football.
In 2006, the Cardinal went 1-11. That was the most losses in school history and worst record since an 0-10 mark in 1960. It was the program's fifth consecutive losing season, and coach Walt Harris was fired after just two years.
[+] Enlarge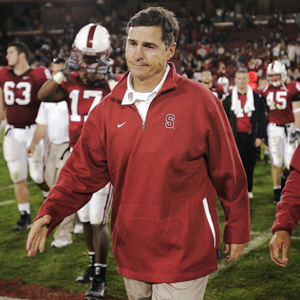 AP Photo/Paul SakumaThe Cardinal went 1-11 in 2006 under former coach Walt Harris.
Worst of times.
In 2010, the Cardinal went 11-1. That set a school season record for victories. Stanford, ranked fourth in the final BCS standings, hasn't finished ranked in the top five of the AP poll since 1940. It's headed for a date with Virginia Tech in the Discover Orange Bowl on Monday.
Best of times.
And, yes, the latter is more fun.
"It's unbelievable," Sherman said. "I can't even express to you the emotions I have and the other seniors have. Coming in the way we did, obviously, 1-11 and now leaving with a record-setting season, one of the best offenses in the country, one of the best defenses in the country. Just a great team. We love each other. I can't explain it to you. It's a combination of joy, happiness, pride, a lot of things. Man, watching these guys grow up. We've all come a long way."
Sherman was a freshman on the 2006 team. It was shut out twice. It lost to San Jose State. It ranked 118th in the nation in scoring (10.6 points per game) and 108th in scoring defense (31.4 ppg), meaning it lost by an average of three touchdowns.
Harris went 6-17, turning in the shortest tenure of any Stanford coach since Rod Dowhower left after one season in 1979 with a 5-5-1 record. It was clear his disciplinarian methods weren't clicking with the sort of players who can get into Stanford.
"It was maybe just a bad fit," receiver Mark Bradford said at the time. "Maybe we didn't respond to the way that was his style of coaching. His style of coaching probably would have worked in a lot of other places. It didn't work here."
Enter Jim Harbaugh, who introduced himself by stating, "I vow I will attack this endeavor with enthusiasm unknown to mankind."
He was the anti-Harris. "It was just a whole different way of coaching. ... Coach Harbaugh definitely brought a different energy and enthusiasm to the program. Basically, he brought a belief in winning that I don't think guys had before he got here," Sherman said.
That can't be undersold. While injuries were a huge issue for Stanford in 2006, there was
plenty of talent on the roster
: Trent Edwards was the quarterback for the first half of the season before he got hurt, and plenty of guys went on to the NFL. And many names are familiar because of their roles in the Cardinal's recent surge under Harbaugh, from running back Toby Gerhart to Sherman to almost the entire offensive line.
[+] Enlarge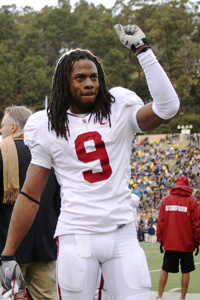 Ezra Shaw/Getty ImagesRichard Sherman is part of Stanford's senior class that has transformed the program.
There was talent in 2006. Sherman said the players worked hard and practiced hard. But the results were terrible. The offense only scored as many as two touchdowns in two games all season.
"It was rough coming from high school," said Sherman, who started out as a receiver. "You don't really know what to expect and then you come into that. It's rough to not get wins. You work hard every week, you game plan every week, and things just don't work out for you. It's obviously frustrating."
Just four years later, Stanford became one of the great turnaround stories in college football history. Louisville, which went 11-1 in 2001 after going 1-10 in 1997, was the last FBS team to win one game and then as many as 11 games four years later. Pittsburgh won the 1976 national championship with a 12-0 record four years after posting a 1-10 mark.
The 2010 Cardinal not only won, they dominated. They outscored foes by an average of more than 22 points. They ranked No. 8 in the nation in scoring (40.3 ppg) and No. 11 in scoring defense (17.83). They recorded three shutouts for the first time since 1969. They set a school record for points (484), and quarterback
Andrew Luck
set a school record with 28 touchdown passes. For the second consecutive year, the program produced a Heisman Trophy finalist -- Luck -- who followed Gerhart, the 2009 runner-up.
"This year was like the perfect storm," Sherman said.
But Sherman & Co. still retain a chip on their collective shoulders. They aren't ready to announce their arrival on the national scene just yet. They won four games in 2007, five in '08 and eight in 2009. It's been a process, and they sense there are still some stragglers who doubt them.
"People don't look at us as a talented team now and they didn't look at us as a talented team then [in 2006]," Sherman said. "Obviously, when you put on the Stanford 'S' it takes your talent and speed away. You're not fast or athletic anymore. It's been that way since I got here. We have great athletes, great players."
Sherman said the Cardinal aren't satisfied with merely earning the trip to Miami for a BCS bowl game. "There aren't going to be many guys trying to live the life in Miami. It's not about the trip. It's about the win," he said.
Winning, of course, is the only way to ensure that 2010 will be remembered as the very best of times on the Farm.