NCF Nation:

Walter McFadden
July, 29, 2010
7/29/10
3:30
PM ET
Northwestern's
Drake Dunsmore
caught the swing pass in the flat, shook free of Auburn defender Demond Washington and rumbled down the sideline.
About 40 yards later, Dunsmore encountered his next victim, Auburn's All-SEC cornerback Walter McFadden. McFadden appeared to have Dunsmore wrapped up around the 20-yard line, but Dunsmore kept pumping his legs, eventually depositing McFadden around the 8 before darting into the end zone.
[+] Enlarge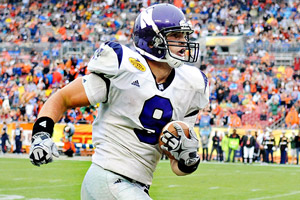 Al Messerschmidt/Getty ImagesDrake Dunsmore posted 120 yards receiving in the Outback Bowl, including a 66-yarder for a touchdown.
Listed as a superback, a hybrid position that includes tight ends and fullbacks, Dunsmore looked more like Superman on his
66-yard touchdown catch in an epic Outback Bowl
.
It's hard to believe that just six months earlier, Dunsmore was taking daily blood thinner medication and didn't know if he'd even play the season. And exactly three months after the Outback Bowl, the Northwestern standout was on an operating table in St. Louis, enduring a seven-and-a-half hour surgery that included the removal of a rib.
Dunsmore appeared in every game in the 2009 season, and he expects to do the same this fall as one of the Big Ten's top tight ends. But his body has taken a beating off the field.
"I've got some gruesome scars," he said. "When I go to the beach, I get a few extra head-turns."
The problem began last summer, as Dunsmore worked his way back from a torn ACL that cost him the 2008 season. He had added 15 pounds of muscle, putting him north of 240 pounds, and practically lived in the weight room.
It was there when he noticed numbness and swelling down his right arm. At first, he only felt it while doing over-the-head lifts, but the symptoms became more frequent, even cropping up while he watched TV at home. Dunsmore visited Northwestern's team doctor, who conducted an ultrasound and discovered a blood clot in his right subclavian vein, which runs from under the collarbone.
His next stop was a vascular surgeon in downtown Chicago, who thought Dunsmore might still play the season as long as the clot was removed and the symptoms subsided. Dunsmore was diagnosed with thoracic outlet syndrome, a condition where the rib closest to the collarbone and the scalene muscle, which runs down the side of the neck, impinge the vein, causing clots.
"They told me it's structural, it's the way I'm put together," Dunsmore said. "But it was also the amount of muscle I put on with my shoulder and neck. It didn't help the situation."
In July, he began taking blood thinners.
"Injections every night and taking a pill every day," he said. "I didn't really know if I was going to be able to play the season. The doctors attacked it like, 'OK, it's July, we've got to get rid of this blood clot first and see how long it takes.' "
Dunsmore responded well and was cleared to play just a week before training camp, arriving "really out of shape."
Although it took him several games to get comfortable, Dunsmore finished third on the team in both receptions (47) and receiving yards (523). He finished second among Big Ten tight ends in receiving and is the top returnee for 2010.
"I didn't have any symptoms during the season," he said. "I was blessed to make it through without any complications."
Dunsmore had surgery to repair a torn labrum in his right shoulder in January, but the symptoms on his left side resurfaced when he started lifting again during winter workouts. This time, he went to St. Louis to see Dr. Robert Thompson, a renowned specialist on thoracic outlet syndrome at Washington University Medical Center.
Thompson quickly discovered that the blood clot was back.
"Right away, he said, 'This is going to be a reoccurring thing for the rest of your life. If you want to have any kind of lifestyle like you do now, you're going to need surgery to repair it or you're going to be at a very high risk of getting blood clots,'" Dunsmore recalled.
But this wasn't a simple surgery. Doctors had to remove a rib and the scalene muscle by making two incisions near Dunsmore's neck.
The seven-and-a-half hour procedure took place April 1.
"They said it'd be extremely painful and you stay in the hospital for a few days just for pain management," Dunsmore said. "They said you can't move your neck, you can't even get up out of bed and walk around. But within two days, I was doing all that. I was up, walking around, I didn't have any pain after a week and a half, hardly any pain."
Dunsmore had to wait 12 weeks to ensure there were no complications before being cleared to play.
He'll actually be in better shape when Northwestern opens preseason camp Aug. 9 than he was a year ago. Although he's down a rib, Dunsmore barely notices a difference. Aside from those stares on the beach, of course.
"I've got to come up with different stories every time, fool with people," he said.
Despite the flashy title, Northwestern's superbacks have been used sparingly for most of the spread offense era, but that should change this fall. Dunsmore is the team's leading returning receiver, and offensive coordinator Mick McCall loves to feature him in a vertical passing attack.
"After a year like last year, where we utilized the position a little more, I think we're going to see even more of that," Dunsmore said.
Dunsmore expects more plays like his Outback Bowl run, even with one fewer rib on his frame.
"Oh, yeah," he said. "I'm going to be even faster now."
January, 12, 2010
1/12/10
11:00
AM ET
Having had a few days now to digest the 2009 bowl season, here's a look at the All-SEC bowl team:
OFFENSE
[+] Enlarge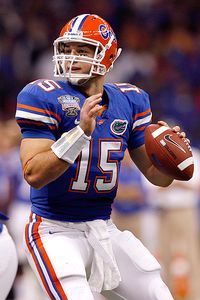 Matthew Stockman/Getty Images Tim Tebow torched Cincinnati for a career-high 482 passing yards and three TDs.
QB Tim Tebow, Florida

Broke Vince Young's record for total offense in a BCS bowl game with 533 yards in the Gators' 51-24 rout of Cincinnati in the Allstate Sugar Bowl. Completed 31 of 35 passes for a career-high 482 yards.
RB Dexter McCluster, Ole Miss

Was there a better player in the SEC the second half of the season? McCluster rushed for 184 yards and two touchdowns in the AT&T Cotton Bowl win.
RB Mark Ingram, Alabama

Despite cramping up in the Citi BCS National Championship Game, the Heisman Trophy winner showed his grit and led the Crimson Tide with 116 rushing yards and two touchdowns.
WR Riley Cooper, Florida

Led the Gators' offensive explosion in the Sugar Bowl with 181 receiving yards, including an 80-yard touchdown. Cooper averaged 25.9 yards on seven catches.
WR Brandon LaFell, LSU

The Tigers didn't put up much offense, but LaFell had five catches for 87 yards, including a 24-yard touchdown. LaFell led all SEC players with 19 touchdown catches over the past two seasons.
TE Aaron Hernandez, Florida

His nine catches led all players in the Sugar Bowl, and he finished with 111 receiving yards. Hernandez opened the Gators' scoring with a 7-yard touchdown catch.
OL John Jerry, Ole Miss

Helped clear the way for Ole Miss' 193 rushing yards against an Oklahoma State defense that finished ranked 11
th
nationally against the run.
OL James Carpenter, Alabama

Combined with
Mike Johnson
to make the key block that helped spring
Trent Richardson
on his 49-yard touchdown run in the second quarter of the Citi BCS National Championship Game.
OL Justin Anderson, Georgia

The Bulldogs were playing without starting right tackle Josh Davis, and Anderson came off the bench in the second half to help give a much-needed lift to the running game.
OL Mike Johnson, Alabama

The anchor of an Alabama offensive line that paved the way for both Mark Ingram and Trent Richardson to each rush for more than 100 yards against Texas' vaunted defense.
C Maurkice Pouncey, Florida

Spent more than five hours at Tulane Hospital with kidney stones and had several IV's, but didn't miss the start and led the way for the Gators up front.
DEFENSE
DE Marcell Dareus, Alabama

Had the hit that knocked Texas quarterback
Colt McCoy
out of the game and also returned an interception 28 yards for a touchdown right before halftime.
DE Carlos Dunlap, Florida

Came back strong from his suspension in the SEC championship game with two sacks in the Gators' Sugar Bowl romp.
DT Geno Atkins, Georgia

Pressured Texas A&M quarterback
Jerrod Johnson
relentlessly. Atkins finished with a sack and also blocked a field goal attempt in the second quarter.
DT Dan Williams, Tennessee

A rock all season long in the middle for the Vols, Williams ended his career with nine tackles, including a half a sack in the 37-14 loss to Virgina Tech in the Chick-fil-A Bowl.
LB Patrick Trahan, Ole Miss

His 34-yard fumble return for a touchdown sealed the game for the Rebels with 3:12 remaining. Trahan also had an interception on Oklahoma State's next possession.
LB Jerry Franklin, Arkansas

Finished with 10 tackles and had a third-quarter interception that turned the game around for the Hogs. East Carolina was leading 10-0, but Franklin intercepted a pass and returned it 31 yards to set up an Arkansas field goal.
LB Eric Norwood, South Carolina

Wrapped up a record-setting career at South Carolina by leading the Gamecocks with 10 tackles in their 20-7 loss to Connecticut in the Papajohns.com Bowl.
DB Walter McFadden, Auburn

Intercepted two passes in Auburn's Outback Bowl win. McFadden's first pick set up a touchdown, and he did the honors himself on the second one – returning it 100 yards for a touchdown.
DB Tramain Thomas, Arkansas

His 37-yard interception return for a touchdown tied the game in the third quarter. Thomas also tipped away a pass at the goal line in the final minutes that might have saved the game.
DB Kendrick Lewis, Ole Miss

Intercepted two passes in Ole Miss' 21-7 Cotton Bowl victory over Oklahoma State. His big hit in the fourth quarter also forced the fumble that Patrick Trahan returned 34 yards for a touchdown to break the game open.
DB Chad Jones, LSU

Did a little bit of everything in his final game at LSU. Led the Tigers with eight tackles, including one for loss, while also forcing a fumble, breaking up a pass and blocking a kick.
SPECIAL TEAMS
K Alex Tejada, Arkansas

His 37-yard field goal in overtime was the difference in Arkansas' 20-17 victory over East Carolina in the AutoZone Liberty Bowl.
P Spencer Lanning, South Carolina

In extremely cold conditions, Lanning punted seven times for a 42.3-yard average and had a long of 48 yards. He also doubles as the Gamecocks' place-kicker.
KR Brandon Boykin, Georgia

Tied an SEC record with his third kickoff return for a touchdown this season, taking one back 81 yards to answer Texas A&M's first touchdown.
January, 1, 2010
1/01/10
3:39
PM ET
Well, that was wild.


For the second straight year, Northwestern went to overtime in
its bowl game
. And once again, the Wildcats came out on the short end of a wacky contest with Auburn. NU made two amazing comebacks and received one of the truly unique performances from senior quarterback
Mike Kafka
, but special teams once again hauntSteed the Wildcats, as Stefan Demos missed two field goals.
The Wildcats seriously might be cursed in the postseason.
The Big Ten falls to 1-2 in bowls.
How the game was won:
Both teams committed costly mistakes, combining for nine turnovers. Northwestern made a furious rally in the final minutes, scoring two touchdowns in the final 3:20 and getting the ball back with a chance to win at the end of regulation. But Demos hooked a 44-yard field goal, while Auburn's Wes Byrum converted a chip shot in overtime. Demos missed a 37-yard attempt in overtime but was roughed, giving Northwestern new life. The Wildcats couldn't get into the end zone and tried a fake field goal for the win, but Zeke Marskhausen was brought down short of the goal line.
Stat of the game:
Kafka's stat line qualifies here. He went 47 of 78 passing for 532 yards with four touchdowns and five interceptions. He also had 20 rushes for 29 yards and a score. Northwestern outgained Auburn 619-425.
Player of the game:
It's got to be Kafka. Sure, his interceptions put Northwestern in a big hole early, but he proved to be extremely clutch on both comeback attempts. The Wildcats had no run game today, so everything fell on Kafka's shoulders, and he made a ton of big throws. A team rarely has a chance to win when its quarterback throws five picks, but Kafka and an opportunistic defense kept NU in the game.
Second guessing:
Northwestern's offense was in a nice rhythm at the end of regulation, but the Wildcats went deep on second-and-long when they might have been able to set up a shorter field-goal try. I didn't mind the fake field-goal attempt for the win in overtime, but the Wildcats should have thrown to the end zone at least once after the gift roughing-the-kicker penalty set up first-and-goal from the Auburn 9.
Unsung heroes of the game:
So many to name for Northwestern. Wide receiver
Andrew Brewer
and tight end
Drake Dunsmore
combined for 16 receptions, 247 yards and three touchdowns. Cornerback Sherrick McManis had an incredible interception and a fumble recovery at the end of regulation. Auburn's Walter McFaden (2 INTs, 1 returned for TD) also deserves a mention.
What it means:
Northwestern's bowl losing streak continues, and this one will be very hard to swallow. Until special teams no longer becomes a liability, it's hard to see the Wildcats winning in the postseason. But they never give up, as they showed today and for much of the season. The program might not truly gain national respect until it wins a bowl game, but there was some measure gained today against Auburn. Northwestern loses several standout seniors but should be in decent shape for a third consecutive bowl run in 2010.
TOP 25 SCOREBOARD
Thursday, 12/5
Friday, 12/6
Saturday, 12/7
TOP PERFORMERS