NCF Nation:

Walter Thurmond
April, 24, 2010
4/24/10
11:28
AM ET
The NFL draft teaches hard lessons. Two USC players are learning that now:
Taylor Mays
and
Everson Griffen
.
Mays would have been a first-round pick last year. I know folks believe his perceived weaknesses would have
revealed themselves on film

then just as they did this season. But the 2008 USC
pass defense
was simply extraordinary in large part because of Mays playing an intimidating and impenetrable center field.
So Mays blew it by coming back for his senior season. And
he now knows this
.
As for you,
San Francisco 49ers
fans: Didn't you guys do fairly well a few years back with another
hard-hitting former USC safety
? I got a $5 bill right here that says Mays is going to become an outstanding NFL safety.
Griffen is another story: First-round talent with questions about his attitude and work ethic. (Keep this in mind about Mays: his work ethic couldn't be any better).
Who would have thought that Washington's
Daniel Te'o-Nesheim
would go before Griffen? Te'o-Nesheim is superior to Griffen in only one way but its a critical one: motor. Griffen's is questionable, Te'o-Nesheim's is not.
The lesson here is that being good isn't enough. The NFL cares about the entire package. And NFL teams don't want players who aren't self-starters, who don't motivate themselves.
Take note incoming five-star recruits.
Here are the Pac-10 picks to this point (11:15 a.m. ET ).
First round
DE
Tyson Alualu
, California, Jacksonville (10)
RB
Jahvid Best
, California, Detroit (30)
Second round
DT
Brian Price
, UCLA, Tampa (35)
S
T.J. Ward
, Oregon, Cleveland (38)
TE
Rob Gronkowski
, Arizona, New England (42)
S Taylor Mays, USC, San Francisco (49)
RB
Toby Gerhart
, Stanford, Minnesota (51)
OT
Charles Brown
, USC, New Orleans (64)
Third round
TE
Ed Dickson
, Oregon, Baltimore (70)
WR
Damian Williams
, USC, Tennessee (77)
LB
Donald Butler
, Washington, San Diego (79)
DT
Earl Mitchell
, Arizona, Houston (81)
DE Daniel Te'o-Nesheim, Washington, Philadelphia (86)
OG
Shawn Lauvao
, Arizona State, Cleveland (92)
CB
Kevin Thomas
, USC, Indianapolis (94)
Fourth round

DE Everson Griffin, USC, Minnesota (100)
CB
Alterraun Verner
, UCLA, Tennessee (104)
CB
Walter Thurmond
, Oregon, Seattle (111)
RB
Joe McKnight
, USC,
New York Jets
(112)
April, 12, 2010
4/12/10
8:08
PM ET
EUGENE, Ore. -- Quick: Who had the best defense in the Pac-10 last year?
Wrong. It was Oregon.
At least the Ducks had the best defense if you compare only Pac-10 games, which seems reasonable because of the broad range of relative difficulty with the nonconference schedules.
Oregon ranked No. 1 in the Pac-10 vs. conference foes in rushing defense (118.6 yards per game), No. 1 in total defense (316 yards per game), No. 1 in sacks (3.1 per game) and No. 2 in scoring defense (22.7 points per game).
(Some snarky sorts might point out that these numbers are skewed for a significant reason: Oregon's defense didn't have to play its offense, which was No. 1 vs. conference foes with 41.7 ppg).
Therefore, it's understandable that some Ducks might be affronted when pundits wonder whether Oregon, once viewed as the consensus conference favorite and a potential national title contender, will go south in 2010 because of the season-long suspension of quarterback
Jeremiah Masoli
.
"We took it as an insult because we're not just the quarterback position," linebacker Spencer Paysinger said.
Coach Chip Kelly has this to say about his defense: "We're going to be better than last year."
In one sense, the Ducks must replace four starters: end Will Tukuafu, tackle Blake Ferras, safety T.J. Ward and cornerback Walter Thurmond. But Ward and Thurmond missed significant action due to injury, so their backups actually qualify as returning starters.
Kelly believes he's two-deep at every spot on the depth chart. The loss of a pair of defensive linemen? He ticks off 10 guys he believes can contribute in 2010 and is particularly high on a guy who was a reserve tight end last year: sophomore
Dion Jordan
, who's moved to defensive end.
Jordan is 6-foot-7, 240 pounds and runs a 4.6 40-yard dash, according to Kelly.
"I think he's going to be a special, special player," Kelly said. "He's going to be the next really good football player here. He's shown it in just five practices. There are times he's unblockable."
Unblockable is good.
Moving speedy Eddie Pleasant from strongside linebacker to rover gives the Ducks secondary another physical presence -- as the hard-hitting Ward was -- while also opening up opportunities for Bryson Littlejohn, Bo Lokombo, Josh Kaddu and Michael Clay to get on the field at linebacker.
So how does Paysinger anticipate the Ducks defense will be different in 2010?
"We have a lot more speed," he said. "And hunger."
October, 28, 2009
10/28/09
8:13
AM ET
Posted by ESPN.com's Ted Miller
Oregon's defense doesn't pencil out. It's clearly very good, but it shouldn't be.
The Ducks lost six starters, four of whom were NFL draft picks, from a 2008 defense that ranked 82nd in the nation in total defense and 78th in scoring defense. T.J. Ward was a returning starter at free safety, but he's only recently returned to action after being injured in the first half of the season-opener at Boise State. Cornerback and team captain Walter Thurmond III, generally considered the Ducks' best player, blew out his knee on Sept. 26.
Look at it like this: Name a defensive starter for Oregon.
| | |
| --- | --- |
| | |
| | AP Photo/Chris Carlson |
| | Linebacker Spencer Paysinger and the Oregon defense have surprised many with their performance so far this season. |
Defensive end Will Tukuafu? Good for you. He's long been an underrated player. Clay Matthews? Actually, Oregon's middle linebacker is "Casey" Matthews, but it's the same gene pool, so that's not too bad.
It's a no-name crew that has been riddled by injuries -- Willie Glasper, who replaced Thurmond, also was lost for the year to a knee injury -- yet here Oregon is, ranked 19th in the nation both total defense and scoring defense.
When Washington scored a fourth-quarter touchdown in a 43-19 defeat last weekend, it was the first TD against the Ducks' defense in 15 quarters.
How can this be? Oregon hasn't ranked among the top 40 in total defense since 2004. It hasn't had a "special" defense since 1994, when the "Gang Green" led the Ducks to the Rose Bowl.
There are a lot of explanations, though.
"They're being very aggressive and they've really been aggressive mixing their odd front and their 4-2 front," said USC coach Pete Carroll, whose Trojans visit Oregon on Saturday. "It's been problematic for their opponents. They've had a lot of pressure and a lot of plays in the backfield."
That's true. Oregon ranks third in the Pac-10 and 10th in the nation in sacks (3.14 per game) and is 25th in the nation in tackles for a loss (7.0 per game).
UCLA had just 211 yards and didn't score an offensive touchdown against Oregon. Bruins coach Rick Neuheisel said the Ducks play hard, play their gap responsibilities and are good tacklers.
California's only points against Oregon in a 42-3 defeat came after the Ducks fumbled the opening kickoff. The drive totaled minus-8 yards. Coach Jeff Tedford said Oregon has speed at every position, which will be critical in the matchup with the Trojans.
"I think Oregon's defense is going to match up pretty favorably [with USC]," he said.
Washington moved the ball at times against Oregon, but the Ducks recorded four sacks and forced three turnovers, one of which concluded a first-half goal-line stand. Coach Steve Sarkisian said Oregon isn't giving up big plays, which has been a problem in the past.
"They're making teams drive down the field and not get yards in chunks," he said.
As for Oregon's longtime defensive coordinator, Nick Aliotti, he gives a jovial shrug. Why is his defense so good? Beats him.
"If I had the answer to that, I would bottle it," he said.
Maybe it's better chemistry. Maybe the focus and work ethic are better.
Of course, Aliotti is being a bit coy. There have been some scheme tweaks.
Coaches who have played the Ducks, as well as Carroll, note Oregon has diversified its defensive alignments and is running more zone blitzes.
"Yeah, we're doing more of that," Aliotti said after a brief pause. "I'm trying not to give away all our secrets."
Aliotti also admitted he's not trading out personnel groups as much, which can disrupt a defense's rhythm and sometimes lead to confusion. He also talked about the coaching staff being "on the same page," which suggests some staff changes, specifically the addition of defensive line coach Jerry Azzinaro, have helped.
Linebacker Spencer Paysinger, one of the returning starters you've never heard of but is, nonetheless, a really good player, said he likes how the defense is playing more aggressively and is "able to put bodies on people instead of just dropping into zones."
He's also noticed how the defense's play has turned Aliotti's frown upside down. More than a few Oregon fans have groused about Aliotti's defense through the years because it didn't match the typically high-powered offense. When Aliotti
defended his defense
, some rolled their eyes.
Those complaints are rarer these days.
"He does have a smile on his face," Paysinger said. "He knows his defense has been lights out the past few games."
While Aliotti clearly is enjoying the defensive renaissance -- he's coached at Oregon 19 seasons, split between three different tenures -- he's also quick to note the season is only seven games old and, oh by the way, USC is coming to town.
He's not ready to talk about this crew as the second-coming of his "Gang Green" unit just yet.
Not that he's ruling out a new nickname at some point.
"Maybe we'll give them something fancy at the end of the year," he said.
October, 10, 2009
10/10/09
5:18
PM ET

Posted by ESPN.com's Ted Miller
Ten years ago, would you have believed UCLA and Oregon would be 3-0 at halftime?


The Pac-10 is now a defensive league.
The Bruins lead on Kai Forbath's 52-yard field goal. And that's our scoring summary.
Oregon sophomore cornerback Anthony Gildon -- the Ducks third option at the position after Walter Thurmond and Willie Glasper went down to knee injuries -- has been flagged twice for pass interference, but the Bruins have been unable to exploit the Ducks secondary, which is also missing safety T.J. Ward and was riddled with illness this week.
Quarterback report?
Kevin Prince
and
Nate Costa
are both playing OK, but neither has strung a few good passing plays together.
Turning point
: Oregon posted an impressive goal-line stand when two quarterback sneaks by Prince from the 1/2-yard line failed.
Stat of the half
: Ducks are 1 of 6 on third down. Costa has played fairly well, but he hasn't been able to string together first downs.
Best player in the half
: Ducks running back
LaMichael James
has 83 yards rushing on eight carries. Of course, one carry -- from the Ducks' 1-yard line -- went for 49 yards.
What Oregon needs to do; What UCLA needs to do
: Both teams need the same thing. They need to keep playing stingy defense while finding an offensive rhythm. In a low-scoring game, turnovers are almost always critical. No turnovers so far. And both teams have made nice plays in special teams. In low-scoring games, field position is almost always critical. Wonder who gets to play on a short field more?
October, 9, 2009
10/09/09
5:00
AM ET

Posted by ESPN.com's Ivan Maisel
1. This from Brad Edwards and the ESPN research fiends: Florida has lost at least one game to an SEC West team in each of the past 10 years. Under coach Urban Meyer, the Gators are 6-6 against the West in the regular season, 2-0 in the league championship game. You could blame it on the familiarity that conference teams have with one another, but Meyer is 20-2 against the SEC East. Go figure.
2. Oregon began the season with three seniors in the secondary. T.J. Ward sprained his ankle at Boise State, and now both Walter Thurmond and Willie Glasper have suffered season-ending knee injuries. Ward came back to practice this week, which is good news. But which UCLA quarterback will the Ducks see?
Kevin Prince
, out four weeks with a broken jaw, is practicing. Omen alert: the Ducks' last 3-0 start in the Pac-10, 2001, had a BCS finish (Fiesta).
3. There is no better tradition in college football than the Army-Navy postgame, when both teams stand in front of the respective student bodies and sing each alma mater. Maybe it will spread. Tulane coach Bob Toledo had his team stand with the Black Knights and sing after the Green Wave won, 17-16, at West Point last week. "I was doing it out of respect for them," Toledo said. "I have great appreciation for those guys and what they stand for." Very cool.
September, 30, 2009
9/30/09
2:14
PM ET

Posted by ESPN.com's Ted Miller
Oregon quarterback
Jeremiah Masoli
feasted last Saturday. First on California Golden Bear. Then on his mom's "bomb burritos."
The Bear was sliced and diced by Masoli's precise passing in a 42-3 grilling and then slathered with vindication. Linda Masoli's burritos find their magic through a liberal use of cheese and spicy chicken.
| | |
| --- | --- |
| | |
| | Joe Nicholson/US Presswire |
| | Jeremiah Masoli silenced his critics with Saturday's performance against California. |
"I don't know how she does it, but they taste better than any burritos I've ever had," Masoli said.
No doubt Mrs. Masoli's burritos are the bomb, but it's safe to guess that the Bear slathered in vindication was a tasty amuse-bouche that got the family barbecue rolling.
Ah, what a difference a week can make.
After the Ducks beat No. 18 Utah on Sept. 19, despite a 4 for 16 passing day from Masoli, many wondered if coach Chip Kelly should start someone else at quarterback. After all, Masoli ranked last in the Pac-10 in pass efficiency. He was completing just 45 percent of his throws and had tossed two interceptions with zero TDs.
He looked uncomfortable in the pocket. He seemed to lock on one receiver --
Jeff Maehl
-- and telegraph his intentions.
Then he completed 21 of 25 passes -- 84 percent -- for 253 yards and three TDs with no interceptions in the bludgeoning of sixth-ranked Cal.
That buoyed his passing rating 33.7 points and now he ranks seventh in the conference.
"One of the big things for me is to not try to do too much," Masoli said. "Sometimes I get that mentality where I feel like I'm invincible and can do it all. I'm sure a lot of quarterbacks can relate to that."
Doing less certainly produced more. The Ducks are back in the national rankings, the disaster at Boise State now just looking like a bizarre detour on the Ducks' route to conference frontrunner status with Washington State headed to Autzen Stadium on Saturday.
Not that Kelly is entertaining such talk or believing Masoli will either.
"He's a pretty even-keel guy," Kelly said. "He knows it's just one game. All we did at this point in time is we created a nice memory from the Cal game. That should have no bearing on what we do as we move forward."
The win did come with a significant cost: cornerback Walter Thurmond, an All-American candidate, blew out his knee on the opening kickoff and is done for the season.
Yet Masoli believes the Ducks have found their rhythm, though maintaining it depends on remembering how hard it was to discover.
"We're just intensely focused and motivated for this week," he said. "Just seeing our potential last week against Cal and what we can do when we really focus and start clicking on offense and defense and get things going -- it really opened the eyes of guys on our team and showed how good we can be."
Kelly's patience paid off. Masoli clearly is appreciative that his coach took a dim view of questions during preceding weeks about whether Masoli had regressed. Perhaps channeling Bill Belichick, Kelly frowned and snapped and went monosyllabic when media sorts pointed at the junior's poor production and brought up backup
Nate Costa
's name.
The typically unflappable Masoli admits to being frustrated with his and the offense's play, but Kelly's unwavering support helped him maintain his confidence.
Kelly even gave Masoli a quick pep talk before the Cal game, reminding him that he was the same guy who was as good as any quarterback in the nation over the final three games of the 2008 season.
"He knew I could do it this whole time," Masoli said. "It always helps to know your coach has your back 100 percent, no matter what the fans or anybody else says. It helps you mentally and I think it instilled confidence in me and for the team when they hear the head coach's confidence."
Of course, frontrunner status in the Pac-10 hasn't been very secure. That crown weighed heavy on USC and then Cal.
But Masoli thinks the early cup of adversity helped the Ducks get ready for the season's larger banquet.
"I think we've matured very quickly in these three weeks since Boise State," he said. "We've seen what's gone on in the nation. We don't want to be one of those teams in that category of what-could-have-been and how they had a let-up against a team they were supposed to beat."
Even "bomb burritos" don't taste very good when served with what-could-have-been.
September, 29, 2009
9/29/09
1:08
PM ET

Posted by ESPN.com's Ted Miller

Oregon cornerback Walter Thurmond will miss the rest of the season due to the knee injury he suffered on the opening kickoff last Saturday against California, the school announced Tuesday.

An MRI on Thurmond's right knee revealed that surgery will be needed to repair the damage -- the press release didn't specify the type of damage -- forcing the Ducks co-captain to miss the Ducks' final eight games of the regular season and any potential bowl game.

Senior Willie Glasper replaced Thurmond in the lineup against Cal and likely will start against Washington State on Saturday.

The preseason ESPN.com All-Pac-10 corner played key roles in wins over Purdue and Utah, returning an interception and punt return for touchdowns in those games. A four-year starter, he posted 17 tackles in three games in addition to being ranked second in the Pac-10 and 21st nationally in punt returns (15.0 avg.) and fifth in the league in kickoff returns (27.7 avg.).

Thurmond, who had been included on the watch list for the Jim Thorpe Award as the nation's top defensive back, finishes his Oregon career scoring more touchdowns (5) than any other non-offensive player in school history, in addition to equaling a school record with three interception returns for scores, and tied for ninth on the school's all-time interceptions list (12).
September, 26, 2009
9/26/09
9:44
PM ET

Posted by ESPN.com's Ted Miller
EUGENE, Ore. -- Oregon's throwback uniforms Saturday were a tribute to the 1994 team that earned a Rose Bowl berth. The performance against No. 6 California, however, was a tribute to the 2008 squad that rolled over its final three opponents like an alien invasion.
Oregon's
shocking 42-3 romp
over the listless Bears reintroduced college football to the flash-and-dash Ducks and, particularly, to quarterback
Jeremiah Masoli
.
| | |
| --- | --- |
| | |
| | AP Photo/Don Ryan |
| | Jeremiah Masoli threw three touchdown passes in Oregon's win over California. |
That debacle at Boise State? It's hard to reconcile that team was the same one playing inside Autzen Stadium on Saturday, the one that gained 524 yards against what was widely considered an outstanding defense.
Masoli finished the 2008 season as arguably the nation's best pass-run quarterback. Yet just a week ago, there was chatter he should be benched. He completed just 4 of 16 passes in the Ducks' win over Utah and was the Pac-10's lowest-rated passer.
Against the Bears, he completed 21-of-25 for 253 yards and three touchdowns.
"That's the Jeremiah Masoli I know," coach Chip Kelly said. "That's why I didn't bench Jeremiah Masoli. He's 11-3 as a starter. Our confidence in Jeremiah is based on demonstrated ability."
Did Masoli feel like he answered his critics and prove he's the guy?
"You'd have to talk to the people who don't think I'm the guy," he said.
Meanwhile, the Ducks' maligned defense basically pitched a shutout. Cal's only points came after Oregon fumbled the opening kickoff. The three-play drive before a 47-yard field goal netted minus-8 yards.
Cal entered the game averaging 489 yards and 49 points per contest. It managed just 207 yards against the Ducks. A week after becoming a Heisman Trophy frontrunner with five touchdowns at Minnesota,
Jahvid Best
rushed for just 55 yards on 16 carries. He was mostly a spectator as the score got out of hand.
The Ducks' performance was a masterpiece. At least, that's how defensive coordinator Nick Aliotti described it.
"When you're painting, or you're artistic, and the picture in your mind that you put out there turns out the way it did today," he said, "it's like a Picasso."
The only thing that went wrong for Oregon was a knee injury to cornerback Walter Thurmond on the opening kickoff. But Kelly said "it doesn't sound like it's a season- [ending] deal."
While Kelley wouldn't disclose his game plan machinations, his players said the offense was simplified over the past week so Masoli and company would play looser.
"We weren't giving too many reads to myself or the receivers or even the linemen," Masoli said. "We just kind of lined up and played football today."
Another key part of the game plan was
Ed Dickson
, who's now the Pac-10's premier tight with Arizona's
Rob Gronkowski
done for the season with a back injury. Dickson entered the game with just four receptions for 58 yards and no touchdowns. He hauled in 11 passes for 148 yards and three scores against Cal.
The 19-8 loss at Boise State and all that went with it -- namely LeGarrette Blount's postgame meltdown -- is the Ducks' least favorite topic, but Dickson understood why it might be hard for some to wrap their minds around the vast distance between the team that looked so feckless on the blue turf and the one that just bludgeoned the nation's No. 6 team.
"Miles and miles," Dickson said. "The way we played the first game, we didn't look like a collegiate team. It didn't look like we knew what we were doing."
While Masoli's transformation merits the lead, the entire offense seemed to simultaneously find itself. Gone were the butterfingers receivers and the confused, overmatched offensive line. The play-calling was masterful on both sides of the ball, seeming to anticipate everything Cal wanted to do.
Said linebacker Spencer Paysinger of the Cal offense: "It was like we already knew what you're about to do and you're still doing it."
Oregon had touchdown drives of 80 and 96 yards. A quarter of Cal's offense came on one pass play.
Dickson, however, isn't sure if the wound sustained against Boise State is completely healed. And that's a good thing.
"This softened it up a little bit," he said. "But the only thing that is going to fix that is if we get into the Rose Bowl or a BCS bowl game."
A week ago, such an assertion would seem absurd. As of Saturday evening, it's not ridiculous to now call Oregon the Pac-10's new frontrunner.
USC visits on Oct. 31. Happy Halloween.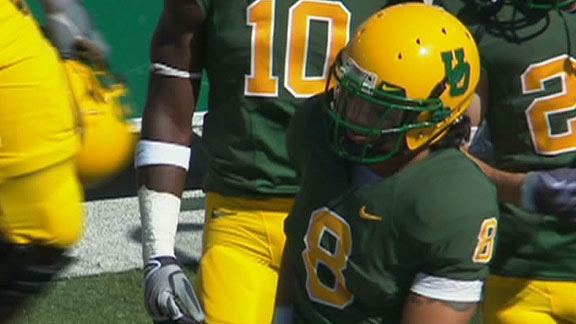 Posted by ESPN.com's Ted Miller

EUGENE, Ore. -- Potential big blow for Oregon -- cornerback Walter Thurmond has injured his knee.

That's all we know. Thurmond fumbled the opening kickoff, taking a big hit.

No word on the nature of Thurmond's injury, but the fact it was announced in the press box isn't good.

Odd are he's out.
August, 14, 2009
8/14/09
10:05
AM ET
Posted by ESPN.com's Ted Miller
It's never easy to put a preseason all-conference list together. Should you project forward or look back? How do you choose between three A-list cornerbacks or leave off a couple of deserving defensive ends?
Perhaps this list will be much different by mid-December.
QB Jeremiah Masoli, Oregon
RB Jahvid Best, California
RB Jacquizz Rodgers, Oregon State
WR Damian Williams, USC
WR James Rodgers, Oregon State
TE Rob Gronkowski, Arizona
C Kristofer O'Dowd, USC
OG Jeff Byers, USC
OG Colin Baxter, Arizona
OT Charles Brown, USC
OT Shawn Lauvao, Arizona State
K Kai Forbath, UCLA
DE Will Tukuafu, Oregon
DT Brian Price, UCLA
DT Stephen Paea, Oregon State
DE Dexter Davis, Arizona State
LB Keaton Kristick, Oregon State
LB Reggie Carter, UCLA
LB Mike Nixon, Arizona State
CB Walter Thurmond, Oregon
CB Syd'Quan Thompson, California
FS Taylor Mays, USC
SS Cam Nelson, Arizona
P Bryan Anger, California
August, 10, 2009
8/10/09
10:55
AM ET
Posted by ESPN.com's Ted Miller
What's our preseason projection for the Pac-10? Probably not many shocks here. This mirrors my vote in the Pac-10 media poll.
1. USC: The Trojans are No. 1 until somebody knocks them off the mountain. With nine starters back on offense, including what might be the nation's best offensive line, there will be plenty of help for the new quarterback. And do you really think USC's defense won't be elite again in 2009? Come on.
2. California: The Bears have 17 starters back from a team that went 9-4 in 2009, including a Heisman Trophy candidate in running back Jahvid Best. The secondary will be one of the nation's best and the defensive line is as good as any in the Pac-10. Replacing three of four linebackers doesn't seem to be causing much stress in Berkeley. The only issue is how much the passing game improves. If it improves significantly, this is a potential BCS bowl team.
3. Oregon: Quarterback Jeremiah Masoli and running back LeGarrette Blount give the Ducks a strong one-two punch on offense and an athletic corps of linebackers and cornerback Walter Thurmond and end Will Tukuafu will lead the defense. Both lines are questions that, if answered, could push the Ducks to the top of the conference.
4. Oregon State: Rebuild or reload? The Beavers have transitioned to the latter category, which is why most are overlooking a defense that needs to replace eight starters, including the entire secondary, and an offensive line that must replace three first-rate starters. There are two veteran quarterbacks in Lyle Moevao and Sean Canfield and the explosive Rodgers brothers -- James and Jacquizz -- leading the offense, while tackle Stephen Paea and linebacker Keaton Kristick lead the defense.
5. Arizona: Losing three offensive mainstays -- quarterback Willie Tuitama, receiver Mike Thomas and tackle Eben Britton --- hurts, but the Wildcats should be even better on defense in 2009, and the general feeling is the offense will be solid whether Matt Scott or Nick Foles wins the job. For one, tight end Rob Gronkowski is the best target in the Pac-10.
6. Stanford: The Cardinal have lots of guys back -- 17 -- from a team that fell just short of bowl eligibility in 2008. They also have seven home games after playing just five a year ago. The key is passing -- on offense and defense. Redshirt freshman Andrew Luck is supposed to be the answer for the offense, while an injection of young talent should improve the athleticism in the secondary.
7. UCLA: The Bruins have two big questions: quarterback and offensive line. The defense should be good, led by tackle Brian Price, linebacker Reggie Carter and cornerback Alterraun Verner -- all three are All-American candidates -- but it won't matter if the running game remains anemic. One big reasons for optimism: five offensive players are again available who would have started last year but were out for various reasons back: running back Christian Ramirez, tight end Logan Paulsen, center Kai Maiava, fullback Trevor Theriot and tackle Sean Sheller.
8. Arizona State: Not unlike UCLA, Arizona State has questions at quarterback and on the offensive line while the defense looks solid. Senior Danny Sullivan played well in the spring and looks to be the favorite at quarterback, while new faces could key dramatic improvement on the offensive line. If things fall into place, the Sun Devils could win eight or nine games, but it's hard to project that until the offensive line proves itself.
9. Washington: The good news is the Huskies could be the most-improved team in the conference. Of course, it's hard to regress from an 0-12 season. Moreover, Washington could play much better and still have little to show for it because the nonconfernce schedule features LSU and Notre Dame. Still, the return of 18 starters, as well as quarterback Jake Locker and linebacker E.J. Savannah, suggests the Huskies won't be anyone's patsy this fall.
10. Washington State: The biggest hope for the Cougars lies in a potentially improved running game that could keep a defense that is thin on talent on all three levels off the field. That didn't happen last year -- see an offense that ranked 118th in the country that surrendered 38 turnovers, tied for most in the nation. But there's experience on the offensive line and James Montgomery and Dwight Tardy give the Cougars a pair of solid backs. If either Marshall Lobbestael or Kevin Lopina provides adequate quarterback play, Washington State might surprise some folks.
September, 13, 2008
9/13/08
7:26
PM ET
Posted by ESPN.com's Adam Rittenberg
WEST LAFAYETTE, Ind. -- The teams traded field goals in the first overtime, though Purdue wasted another opportunity. A pass-interference call on Oregon's Walter Thurmond set up the Boilers with first-and-goal at the Ducks' 10. But Oregon's defensive line pressure forced the Boilers to settle for three points. Curtis Painter briefly had a seam to the end zone on third down, but it closed up quickly.
Can Purdue's defense come up big again or will Oregon reach the end zone? Stay tuned. The Boilers go on offense first.
August, 31, 2008
8/31/08
1:10
AM ET
Posted by ESPN.com's Ted Miller
EUGENE, Ore. -- From the Autzen Stadium press box:
Remember how I said Oregon should give the ball to RB Jeremiah Johnson more?
Well, who knew that Ducks offensive coordinator Chip Kelly reads this blog?!
Johnson's 13-yard TD run with 10:55 left in the third put the Ducks up more comfortably at 21-10. The run gave Johnson 112 yards -- a career-high -- on 12 carries and his second TD of the evening.
With QB Justin Roper injured, Jeremiah Masoli took over primary QB duties but true freshman Chris Harper also saw spot action, primarily as a runner. Neither got much done after the first drive, though.
Two letters: JJ.
The Huskies also couldn't be terribly happy with punter Jared Ballman, who added a 16-yard punt to the six-yard one he had in the first quarter. Of course, punting from his own endzone, Ballman boomed a 57 yarder that got the Huskies out of a field-position bind. It was feast or famine for him.
The Ducks defense did a nice job of manning up after getting jobbed by a bad pass interference call against CB Walter Thurmond. A Spencer Paysinger sack ended the Huskies penetration into Duck territory.
That set up a 51-yard Jairus Byrd punt return -- which might end up leading to points -- as the third quarter bell rings.
TOP 25 SCOREBOARD
Saturday, 12/21
Monday, 12/23
Tuesday, 12/24
Thursday, 12/26
Friday, 12/27
Saturday, 12/28
Monday, 12/30
Tuesday, 12/31
Wednesday, 1/1
Thursday, 1/2
Friday, 1/3
Saturday, 1/4
Sunday, 1/5
Monday, 1/6