April, 18, 2013
4/18/13
5:04
PM ET
UConn officially
unveiled its new logo and new uniforms for this fall on Thursday
, finalizing a more than yearlong process that began before Warde Manuel even took the helm of athletic director.
[+] Enlarge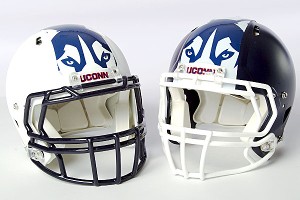 UConn Sports InformationUConn's new helmet prominently features the Husky.
"The process started about 14 months ago with the collaboration with Nike and their graphic identity group that takes a look at all of the ways that you present yourselves in marketplace and on the apparel and on the gear that we wear, our student-athletes wear to represent ourselves," Manuel told ESPN.com on Thursday. "The biggest thing coming out of it is that in the marketplace we were known as 'UConn.' When you put the 'U' and the 'C' together or the 'C' by itself or other representation of the logo that we had, people didn't always easily identify that as UConn. But when you put 'UConn' out there, that was the most identifiable.
"So the process really started to try to get to one look as opposed to multiple options of how we were presented, our apparel was presented and our student-athletes were presented in the marketplace. It took about 14 months and it really took probably 6-7 months on the actual process of getting to the design that we put out. And then it was, once we made the decision to move forward, taking everybody, all of our key people through the process of ordering and showing, and once we got the final approvals then it was basically going through the process of starting the development of the apparel for our teams and any apparel that'll be licensed out in the marketplace."
One does not need to look far on the Internet to find immediate negative reaction or mocking of the new logo and uniforms, as is often the case with change among college athletic programs.
The new look coincides with the debut of the American Athletic Conference, a convenience for a athletic program that, despite being on the outside looking in as several peers have jumped to the ACC, was going to have to do a bit of redecorating around its Storrs athletic facilities regardless.
"As we all transitioned and transitioned new conferences, new banners with the new conference, new teams in the conference, we were already going to be part of this transition," Manuel said. "I think it actually worked out to be pretty good timing for all of us. While we didn't anticipate all this change along with the change of a new logo and wordmark, it works out that we were going to have to make the changes internally and to what we put in our facilities anyway, the different ways we presented ourselves. We're going to have to change in the different names of the conference and all those things, different banners. So it works in effect that it should only be one change."
March, 4, 2013
3/04/13
4:10
PM ET
Connecticut beefed up its nonconference slate Monday, scheduling BYU for a home-and-home series in 2014 and 2015.


The Huskies will host the Cougars before heading to Provo, Utah, the following season.
"We are very excited to bring another nationally prominent opponent to Rentschler Field," UConn athletic director Warde Manuel said in a statement. "BYU has a long tradition of football excellence with prominent players that are known around the country. With Michigan playing at UConn in 2013 and Tennessee in 2015, we feel that we have a very strong non-conference schedule for the next several years and plan on continuing that practice.
"I also think UConn fans will enjoy making the trip to Provo in 2015. Our loyal followers have established a tradition of travelling well to national non-conference contests and I think this will happen again when we go to BYU."
The two schools have never met.
"The series with BYU is a great opportunity and challenge for our football program," UConn coach Paul Pasqualoni said in a statement. "A strong non-conference schedule puts our team on the national stage and also prepares the team for league play. Everyone in college football knows about the proud heritage of BYU football."
November, 28, 2012
11/28/12
1:42
PM ET
Connecticut
released statements Wednesday afternoon following the departure of Louisville to the ACC
. Here they are:

UConn President Susan Herbst
: "I know this may seem like a tough moment for our fans, but we need to focus on the fundamentals of academic success across the university and in our athletic program as well. We are winners -- we win, we like to win and we will continue to play the best possible opponents. We will be athletically successful, regardless of our conference, because of our successes in NCAA competition. We will keep building our winning record through the lens of a great university, that focuses on academics, not on the fluid and unpredictable nature of
conference realignment. Again, I realize this is a difficult day, but when we focus on research, discovery, and student success, we'll never go wrong."
UConn Director of Athletics Warde Manuel
: "Conference realignment is a prominent national issue in collegiate athletics and will continue to be so into the future. UConn has established a rich history as a very successful academic and athletic institution. We understand that because of that UConn will continue to be brought up in the discussion regarding potential schools considered in realignment. We have and will continue to monitor the situation regarding conference realignment and work to ensure that UConn is in the best position for the continued success of our athletic programs. We are proud of the success of our coaches and student-athletes and the tradition that has been established of winning conference and national championships. We are proud and appreciative of our great Husky fan base. Husky Nation is strong all over the country and the world. UConn has one of the most captive audiences of any school in the country and we have strong penetration in several of the nation's largest television markets."
February, 13, 2012
2/13/12
2:15
PM ET
Warde Manuel was officially introduced as the new UConn athletic director on Monday. There is no doubt his first charge will be to help the overall academic performance of the men's basketball team.
But I did have a chance to ask him some football-related questions during a phone interview. Manuel officially begins work March 19, and he briefly had a chance to meet Paul Pasqualoni. Here is a little of what he had to say.
A lot is always made about the relationship between a coach and the athletic director. How do you work on building relationships with coaches you didn't hire?
[+] Enlarge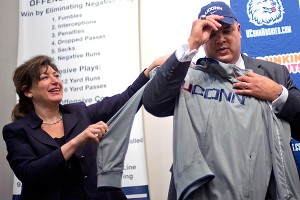 AP Photo/Jessica HillWarde Manuel was introduced Monday as UConn's new athletic director.
WM:
To me that doesn't matter. Whether I hire them or they're here already, my goal is to work with Paul to be successful and to help him develop his program in football. That's how it is with all the coaches -- to help develop their programs and see what their needs are and to understand where they've been, where they're going and how I can assist them. The goal is to win in every program. My job is to assist so they can get back to winning the Big East Conference and to get back to a bowl game.
How stable a home is the Big East for UConn?
WM:
That's a good question and one I can answer this way: There has not been a sense that the Big East is not stable. I think John [Marinatto] is making some moves to stabilize the conference. I don't think anybody feels it's going to fall apart, but not having been here long enough to understand or to talk to John yet, I believe he's working hard to pull it in the right direction and to stabilize the Big East as a great conference and we'll see how I can participate in those discussions and what we can do as a conference and as an institution.
Is the Big East the long-term home for UConn?
WM:
I can't answer that question right now in terms of long-term home of the conference. Here is my approach: I'm walking into the University of Connecticut and we're a member of the Big East Conference, and that's where my focus is going to be, winning the Big East Conference and helping our student-athletes be successful. The college landscape is changing, so I'm not going to put blinders on and not keep my eye out, and ears to the ground to figure out what's in the best interest of UConn. But I'm not here to do anything else but to help work with the coaches and student-athletes to be successful and help us win.
You played at Michigan under Bo Schembechler. What did you learn from him that has most influenced your leadership style?
WM:
Hard work, dedication, be direct, open, honest, have integrity, follow the rules and love the people around you. He had a saying, and I'm going to paraphrase here, when things are tough, give love. When things are going well, then be tougher because you may get soft. That's my attitude. We can't sit back and say we've done all these great things and we don't need to keep working hard. But when times are tough, you have to make sure people know you care about them, you're there with them, you're going to battle through to make things better.
How has your football career helped you as an athletic director?
WM:
I understand the time demands the student-athletes go through, having been on three Big Ten championships teams. The dedication, teamwork, commitment it takes to be successful. I also know how to do all that and balance the things they should spend most of their time on -- academics. It can be done. Knowing what I know now, I wish I could go back and do it all over again. I try to tell them that, try to relate to them and help them understand they have to work hard at it, that it's fleeting. But I push them and prod them athletically and academically, and tell them to try and enjoy all that as the process is going on.
What do you want to know from Paul when you sit down and talk to him, to help get this team competing for Big East championships on an annual basis?
WM:
I look forward to talking to Paul. I haven't sat down to evaluate our sports programs, but I know Paul and the staff are planning on winning this year, planning on having success preparing the team, putting the team together for spring ball and preparing to win the Big East. He's been a great coach at Syracuse and he's shown he can win there, and I just look forward to meeting him and listening to him.
When you hired Turner Gill at Buffalo, you gave him time to turn around the program. What is your general feeling on how long coaches should be given to implement their plans, given the "what have you done for me lately" mindset prevalent in sports today?
WM:
It's one of those things where it's going to be on a case-by-case basis. I'm not coming in here with the attitude that I'm going to get rid of people to bring in my own people. I want to learn what's going on here, get a sense from the coaches, from the people around here, what are the great things about each program what are the issues we have to deal with and really get a sense of it before I make any major decisions or contemplate any changes. I just want people to work hard, operate within the rules and do things the right way, treat these young people with love and respect but be demanding on them to be successful, and we'll see where it goes from there. The 'what have you done for me lately,' -- that's not my style. I look at the entire program.
February, 13, 2012
2/13/12
9:00
AM ET
UConn has settled on a new athletic director, hiring Warde Manuel from the University of Buffalo.

Manuel will be formally introduced at a news conference in Connecticut later this morning.

"UConn is synonymous with greatness, excellence and achievement," Manuel said in a statement. "It is without a doubt one of the legendary schools that is at the pinnacle of intercollegiate athletics. The opportunity to be the athletics director at UConn and lead this extraordinary division is the role of a lifetime. You have remarkable coaches, great leadership, outstanding student-athletes and a wonderful base of fans, alumni and supporters. Our focus will be on academic success, compliance, ensuring great relationships with our fans, friends and supporters and, without a doubt, victory on the field and the court."

What should really be noted about this hire is his emphasis on academics. Remember, the UConn men's basketball team has been banned from postseason play because of a poor APR, a decision the school has appealed.

Buffalo has improved dramatically in its APR under Manuel, who spent six years at the school. When he arrived at Buffalo, football, men's basketball, wrestling, all fell far below the Academic Progress Rate cut score of 925. At the end of 2009-10, all four teams posted a four-year APR rate above the cut score. In that calendar season, 10 of Buffalo's 20 sports had scores of 975 or above.

APR was not an issue for the UConn football team in 2009-10, as the Huskies performed above the average of all FBS schools. Of course, hiring an AD is not only about the football program but an all-encompassing decision.

At first blush, this seems to be a good hire because Manuel can bring a vision and a plan to an athletic department in need of one. He has a wealth of experience not only as an athletic director, but also as a member of several NCAA cabinets and committees. Here, note again, he served four years on the NCAA Academic Cabinet.

Of course, any time a new athletic director comes on board, questions always surface about how he will interact with the football coach. Paul Pasqualoni was hired by somebody else. And I don't need to remind you how much consternation his hiring caused former athletic director Jeff Hathaway. Pasqualoni is not on the hot seat by any stretch, but there has to be a sense of urgency to get the Huskies back to a bowl game after missing out this season.

It should be noted that Manuel hired Turner Gill in 2005 at Buffalo. At the time, Gill was one of just five black head coaches in FBS. After Gill left for Kansas, Manuel then hired former Cincinnati offensive coordinator Jeff Quinn to replace him, though the Bulls have struggled in two seasons with Quinn at the helm, going 5-19.
December, 6, 2008
12/06/08
2:05
AM ET
Posted by ESPN.com's Graham Watson
| | |
| --- | --- |
| | |
| | Michael Sackett/US Presswire |
| | The Buffalo Bulls are 15-22 under coach Turner Gill. |
DETROIT -- As Buffalo players gathered in the middle of the field after their 42-24 win over Ball State in the Mid-American Conference Championship game, Willie Evans stood on the sideline, hands in his pockets, taking it all in.
Evans was one of two African-American players on the 1958 Buffalo team that declined a bowl invitation because the bowl wouldn't let integrated teams play. It was the only bowl invite the Bulls ever received and the only semblance of a championship they'd ever won.
So as Evans stood on the sideline, he was filled with pride as his alma mater achieved a goal that was 50 years overdue.
"Unbelievable, remarkable and all the other possible adjectives you can think of," Evans said. "To see these young men work so hard and see them come through with a win is just great. You can't imagine what this is doing for the University and the Buffalo community."
In the midst of the chaos, Buffalo athletic director Warde Manuel couldn't contain his emotion either. His eyes welled up with tears as he hugged every player, manager, coach and member of the 1958 team within arms reach. The emotion was not just from pride in his program, but from the fact that for so long Buffalo had been the doormat of the NCAA.
Entering this year, the Bulls were 13-59 in MAC play, the worst winning percentage of any school in the conference, and 17-86 overall as a member of the MAC.
The Bulls' eight wins this year (8-5) is the team's most wins since becoming an FBS program The Bulls are 15-22 under Turner Gill, but were 10-69 in their previous seven years of FBS football.
"So many people told us we couldn't do it, told us not to come [to Buffalo], told [coach] Turner [Gill] not to come and just the belief of the kids and the community and the university and to be where we are today is just overwhelming," Manuel said. "I thought it would take a little bit longer, but Turner is the best person, the best coach, the best motivator, the best leader, one of the best I've ever been around. What he's done with these kids, we were told we couldn't do it here."
After Friday's game, representatives from the International Bowl offered an invitation to the Bulls to their Jan. 3 game, which they accepted. Manuel said the entire 1958 team, several members of which have been around the program most of the year, will also get complimentary trips to Toronto to play the representative from the Big East.
"The president and I have decided that the 1958 team will have a bowl experience, and they will be coming with us and we will have them with us, as many of them that want to come, to Toronto for the International Bowl," Manuel said. "They're a part of it. It's great to do it on the 50th anniversary and we look forward to them finally having, after 50 years, the bowl experience they rightly deserve."
Quarterback Drew Willy, a senior who was the freshman starting quarterback when the Bulls were 1-10 in 2005, hugged Evans and the two shared a laugh and some kind words. Willy hugged Manuel, who looked like he didn't want to let him go, and Willy hugged his fellow seniors -- guys who had toiled through one and two-win seasons to have this one moment in the middle of Ford Field to the sound of about 5,000 chanting fans.
He said Thursday he thought all along that Buffalo was a team of destiny. That destiny smiled on the Bulls yet again.
"All the overtimes, all the late heroics, I think someone up above was looking out for us," Willy said. "I think we're a team of destiny. This is what we came here for. My class, we came here to turn it around. When you've got a man like coach Turner Gill, everything is possible. We were 1-10 my freshman year and to go out a MAC champion is something I can truly cherish."
And then there was Gill, the coach who took on the task of turning around a hopeless team and doing so in a short amount of time. Gill was lost in the sea of blue and white after the game, but when he finally reached the interview room, he let out a big "Wooo!"
"Great feeling, great feeling," Gill said "Proud of these guys. Proud of these student-athletes. They understand love. They understand faith. They understand belief. They understand family. This is what this program is today. It's what it's going to be also tomorrow."