March, 24, 2014
Mar 24
4:00
PM ET
COLUMBUS, Ohio -- Stan Drayton isn't picky about how the job gets done.
The
Ohio State
running backs coach doesn't need his next starter to have all the same physical qualities
Carlos Hyde
brought to the backfield. Drayton doesn't even care if he needs more than one guy to fill the void Hyde left behind after his final season with the Buckeyes, and he's not in a hurry to settle on a depth chart or figure out how to distribute carries.
In terms of fitting some sort of ideal mold for a tailback, Drayton has no preference as he sorts through a handful of options with different sizes and strengths. As for the details of how to match Hyde's wildly productive, staggeringly efficient work on the ground, it doesn't appear to make any difference to Drayton whether it takes one guy or five, as long as the results are the same.
[+] Enlarge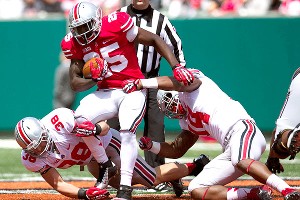 Greg Bartram/USA TODAY SportsBri'onte Dunn, a four-star recruit in the 2012 class, redshirted last season and is squarely in the mix for playing time.
"He has to be replaced," Drayton said. "This is The Ohio State University, and it's the next man up. I'm sure if you asked Carlos Hyde, he'd tell you the same thing. It's the next man up.
"Somebody has to step up and fill the shoes of Carlos Hyde. If it takes more than one guy to do that, I promise you it's going to get done."
The Buckeyes certainly weren't a one-man show on the ground last year, and no matter what happens at running back this spring, they still won't be in the fall with
Braxton Miller
and his talented legs returning at quarterback.
But Hyde was far and away the main focus at tailback last season, accounting for more rushing attempts than the rest of Ohio State's stable of running backs combined despite missing three games to suspension. And now that he's gone, those 208 carries he had as a senior will have to go somewhere, and the race is already heated as the new candidates scramble to claim them.
Rising sophomore
Ezekiel Elliott
appears to be first in line after shining in a limited role a season ago, averaging 8.1 yards per carry while showing off his explosive speed and the ability to absorb or inflict punishment with his 225-pound frame.
Rising senior
Rod Smith
isn't far behind and is doing everything he can to finally turn his natural talent into production before it's too late. Sophomore
Bri'onte Dunn
is coming off a somewhat unexpected redshirt season during his second year at Ohio State and is impressing with his improved grasp of the offense.
Warren Ball
and early enrollee
Curtis Samuel
both are squarely in the battle for playing time as well, with the latter turning heads during offseason workouts and potentially becoming an option to play a hybrid role as a rusher and receiver when he gets completely healthy.
So even if the Buckeyes can't settle on just one guy to fill Hyde's shoes, they're clearly not short of options.
"It's real competitive, and coach Drayton really has us going," Dunn said. "Everybody wants to play for Ohio State, so we'll go as hard as we can.
"Carlos was like a big brother to me. He taught me a lot, and by his example last year, it just taught us all a lot. ... Everybody is just going hard and trying to go for the spot. Our mindset is to be the best back in the country."
Hyde made his case last season, finishing with 1,521 yards, 15 touchdowns and a resume that might make him the first running back selected in the upcoming NFL draft.
But Drayton doesn't necessarily need one candidate to emerge as the best individual rusher in the country to get what he's looking for this spring. The only thing that really matters to him is making sure Ohio State has the best backfield, any way he can get it.
"I'm always going to operate under the notion I need at least three [guys]," Drayton said. "I need at least three, and there's five of them.
"All those guys are in the mix. They're so competitive, they all bring something different to the table, they all have a different style, different strengths and weaknesses and they can all help this football team. ... I just prefer a guy who is going to be productive, period."
Drayton might not be picky about how the production comes. But there's no flexibility about making sure the Buckeyes get it one way or another.
August, 13, 2013
8/13/13
3:00
PM ET
COLUMBUS, Ohio -- The medical redshirt already assured a do-over of Jordan Hall's final season with the Ohio State program.
Now it appears he'll get a mulligan at the starting position that a pair of injuries cost the veteran a year ago.
After watching
Carlos Hyde
cement himself as the leading option in the backfield while he was on the shelf, then spending spring practice largely focusing on learning the playbook at the hybrid H-back position and working out with receivers, reclaiming the job that was once expected to be Hall's never looked like much of an option.
But here he is now, once again listed as a senior and apparently on top of the depth chart at running back as well.
[+] Enlarge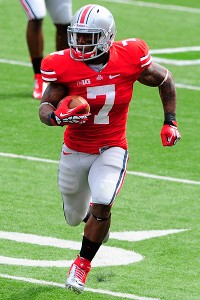 David Dermer/Diamond Images/Getty ImagesHealthy again, RB Jordan Hall is giving Ohio State options within its offense.
"I'll play anywhere they put me, because I just want to be on the field and help us win," Hall said. "It doesn't matter. Anywhere they put me, I'll be ready."
The Buckeyes always had designs on putting Hall in the backfield at least part of the time again as he cross-trained between running back and the versatile H-back spot that requires more work in the passing game. But for the second summer in a row, the early-season plan may have required a bit of flexibility.
Last summer it was Hall's fluky injury when he stepped on a piece of glass and needed surgery to repair a torn tendon, leaving him on the sideline during training camp and the first two games while Hyde slid into the vacant first-team spot. Hall briefly returned to the lineup before a knee issue knocked him out for the rest of the season, ultimately allowing Hyde to prove he could thrive as an every-down back and form a lethal combination with quarterback
Braxton Miller
on the ground.
This summer it's Hyde's offseason incident at a Columbus bar and a minimum suspension of three games that has shaken up the expected pecking order. And while the Buckeyes have no shortage of talented tailbacks capable of picking up the slack at one of the deepest positions on the roster, at least for now they appear willing to turn back the clock and give a healthy Hall the shot he never really had last year.
"Jordan Hall is a guy who has had some playing experience and been through some adversity, obviously, but he does have some game experience," running backs coach Stan Drayton said. "You've got
Rod Smith
who is in that group, those two would be at the early part of the season kind of taking the bull by the horns. But for that first game, probably
Jordan Hall
.
"Going into this first game, I'd say he's probably the No. 1 guy right now."
That list is always subject to change, particularly at a position as loaded as running back.
Smith figures to get plenty of touches over the first few weeks given his impressive set of skills and dynamic athleticism.
Bri'onte Dunn
got his feet wet last season and has shown flashes of being a steady contributor in the backfield, and both redshirt freshman
Warren Ball
and newcomer
Ezekiel Elliott
have impressed during training camp. Ultimately Hyde will be back on the field as well, and his production in the spread offense is well documented.
But the rise of those rushers wouldn't necessarily be a threat to Hall, who Drayton indicated was tabbed all along to spend time in his meeting room and will continue to work at both positions throughout the season even if he does emerge as the weapon at H-back Ohio State has been waiting for.
And Hall won't complain either way as he tries to make the most of a second chance at a senior season, regardless of where he lines up.
"I've seen how fast it can be taken away," Hall said. "So I'm not going to take any plays off, any reps off."
All the Buckeyes have to do is tell him where to take them.
July, 30, 2013
7/30/13
11:08
PM ET
COLUMBUS, Ohio -- The circumstances clearly aren't the same, but the situation is pretty much identical.
Ohio State reported to training camp a year ago with its starting running back on the shelf and unavailable for at least the first two weeks of the season, putting the spotlight on the backup and casting at least a little doubt about how the rushing attack would survive until
Jordan Hall
returned.
[+] Enlarge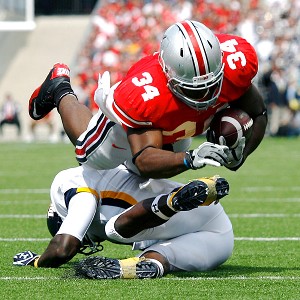 Kirk Irwin/Getty ImagesCarlos Hyde dove through the door that opened after Jordan Hall's injury. Will another player do the same during Hyde's suspension?
Carlos Hyde
walked through the open door then and made the position his own. One summer later, with a minimum suspension of three games ahead of him, Hyde has cracked it open for somebody else.
The senior's case was officially closed Tuesday by Columbus police after an investigation into an alleged assault didn't produce any charges against him, but Meyer had the final word when it came to playing time. He promptly took that away for "conduct not representative" of Ohio State. And while his breakout season a year ago and his unique combination of size and speed makes it unlikely that his starting spot will be spoken for when his punishment ends, Hyde should know all too well what can happen when an unexpected opportunity pops up.
Hall's freak foot injury in the offseason gave Hyde his first platform for extended work when the season opened. And while the projected starter actually reclaimed that job briefly before another health issue ended Hall's season, Hyde had already made enough of an impression to push for an expanded role thanks to his nonconference audition.
Now it's
Rod Smith
's turn to do the same thing.
There's no question the junior has the same type of athleticism and the ability to deliver a blow to would-be tacklers at 238 pounds. He has already flashed his enormous potential in a live setting under Meyer by averaging a robust 6.7 yards per carry in a reserve role last year. Smith's biggest weakness has been an inability to protect the football, but if the fumbles disappear while getting what should be steady work during the first couple weeks of the season, he might find himself in a similar situation as Hyde a year ago.
Smith isn't alone, of course. The Buckeyes are overflowing with talented options in the backfield, and sophomore
Bri'onte Dunn
and redshirt freshman
Warren Ball
both impressed the coaching staff enough during spring practice to make it worthwhile to include a diamond formation with three running backs on the field at once in the playbook. What once might have been a battle for scraps might suddenly turn into meaningful work as they slide a spot up the depth chart in September.
In addition to highly touted freshmen such as
Ezekiel Elliott
and
Dontre Wilson
, Hall is also coming back for another season after taking a medical redshirt last fall.
Hall was already being tabbed for a critical role for the Buckeyes in the H-back position as a hybrid rusher/receiver, but he could wind up doing more of the latter than the former with Hyde out.
Even with Hyde out of the picture, there are more than enough options on hand to help navigate a stretch after the opener against Buffalo that could be tougher than expected with San Diego State visiting the Horseshoe before the Buckeyes travel across the country to take on California.
But Meyer sent a message to his program by taking away a sizable portion of Hyde's final season with the program. And if Smith or another current backup takes a page out of his book, Hyde might also end up losing some of the work he was expecting even after he returns.
April, 11, 2013
4/11/13
5:00
PM ET
On Wednesday, the head coach and one player from each Big Ten Legends Division team participated in a
spring football teleconference
with the media. On Thursday, it was the Leaders Division's turn. Here are some notes and updates from the call:

Illinois
Head coach Tim Beckman said the junior college players he brought in helped with depth and age issues on his young team. "We have 40 football players that have never been in our spring football until this year," he said. Of the juco imports, Beckman said wide receiver Martize Barr has quick hands and good playmaking skills, both in the passing game and on kick returns; Eric Finney has earned a starting job at the Star linebacker position; Abe Cajuste is adding depth by playing both defensive tackle and defensive end; and Dallas Hinkhouse is making an impact at offensive tackle.
Beckman sung the praises of offensive lineman Corey Lewis, a sixth-year senior who has battled back from five knee surgeries and has become a team leader. "Corey Lewis comes to my office probably four or five times a week, just to talk," he said. "To me, he is what college football is all about." Beckman said that Lewis has "had a special spring" and hinted that he has earned a starting job.
Quarterbacks Nathan Scheelhaase and Reilly O'Toole will take most of the snaps in Friday's spring game so they can get more experience in the new offense. Beckman said Scheelhaase has "got a step in front" because of his experience, but the competition continues.
Scheelhaase on reasons for optimism in 2013: "Establishing an identity. That's something I don't know that we necessarily had last year, on offense or defense or as a team in general.

Indiana
Like many of you, head coach Kevin Wilson would like to know the new Big Ten division alignment. The reason? It's harder to recruit without being able to tell a prospect where he'll be playing his freshman season. Wilson added that if the league does indeed go to an East/West split, he'd like to see the Hoosiers placed in the East since they're located in the Eastern Time Zone.
Wilson said run defense and takeaways are two huge priorities for the Hoosiers' defense during the offseason. He noted that the Big Ten doesn't boast a large group of elite pass offenses, so IU must prepare better for run-driven attacks. Indiana finished last in the Big Ten in both run defense (231.3 ypg) and takeaways (13). Cornerback Greg Heban said the defense is working on takeaways every day in practice. "Every time the ball touches the ground, the defense is scooping it and scoring it," Heban said, "trying to give us a feel of what it's like."
Both Wilson and Heban praised the play of junior cornerback Tim Bennett this spring. Other spring standouts include linebacker T.J. Simmons, a freshman early enrollee, and Steven Funderburk, a junior-college transfer.
Heban called this "easily the best spring I've been around." He has seen more physical play and better effort on both sides of the ball, and the team also is having more fun than in past springs.

Ohio State
Head coach Urban Meyer said running back Rod Smith won't play in Saturday's spring game because he recently suffered a concussion. Before that, Meyer said Smith was one of the five most improved players on offense this spring. Meyer listed Carlos Hyde and Smith as the team's top two running backs, while Bri'onte Dunn and Warren Ball are even for the No. 3 spot.
Although the receivers have been better this spring -- especially Corey Brown and Chris Fields -- the depth is still nowhere near where it needs to be for Meyer's spread offense. "We're way behind on quality of depth at that position," Meyer said. "That's a major, major concern." Moving Jordan Hall to H-back should help, and Meyer noted that the Buckeyes boast two good tight ends in Jeff Heuerman and Nick Vannett.
Buckeyes offensive tackle Jack Mewhort paid close attention to the way John Simon and others led in 2012. He's ready to take on a greater load this season. "I welcome that," he said. "I see that as an honor, being compared to a guy like John Simon. I also see it as a challenge. I feel the pressure to step up and get guys going in the right direction." Mewhort also has seen quarterback Braxton Miller recognize his leadership responsibilities more this spring and get after teammates when he needs to.
Meyer said he puts more emphasis on spring practice and the spring game than most coaches. He has told his players that there will be a depth chart after spring ends, and while changes are possible in the summer, they're not likely. "In spring ball, you're trying to win a spot," he said. "During the fall, we're trying to win games."

Penn State

Purdue
Head coach Darrell Hazell said the Boilermakers have made major improvements in the last three and a half weeks. "Anytime you put in three different schemes, there's a little bit of a learning curve for the first couple weeks," he said. "You could see guys start to really get comfortable the last five or six practices."
Hazell said he has "three capable guys" right now at quarterback with Rob Henry, Danny Etling and Austin Appleby. He reiterated that he would keep the competition open until two weeks before the opener at Cincinnati. Of Etling, a freshman early enrollee, Hazell said: "For a young guy, a guy that should be at his prom, I think he's got tremendous poise. He's smart and really studies the game."
Hazell said backup tight end Justin Sinz and center Robert Kugler are two guys that have really caught his eye this spring. He called Kugler a "very much a leader on the offensive line."
Cornerback Ricardo Allen said Hazell has instilled an "all is one" mentality. "If one person does something, we all have to do it. We all wear black socks. We all wear the same uniform. We all tuck our shirts in. I feel like we're becoming closer as a team, and it's helping us build."

Wisconsin
Head coach Gary Andersen confirmed Curt Phillips and Joel Stave have separated themselves in the quarterback competition. It's a "mixed bag" of who takes snaps with the first-team offense, but both will continue to rotate through the rest of the spring and into fall camp. "The way they've separated themselves is simply production," Andersen said. "They know exactly where they sit and so does the rest of the team. … If they put all their friendships aside, their depth chart would look exactly like our depth chart."
Andersen praised the offensive line for tackling another transition, as the group works with its fourth position coach (T.J. Woods) since the 2012 Rose Bowl. The line has seen varying looks from the defense in practice and had players move around to different positions, in part because of injuries. Wisconsin had only seven healthy linemen a week ago, but Andersen is hopeful the number will rise to nine or 10 by next week's spring game. "Those kids have grinded through it every single day," Andersen said. "They're a tough-minded group."
Badgers senior linebacker Chris Borland said losing defensive end David Gilbert to recurring foot problems is a blow but the team has others to step in like Tyler Dippel, Brendan Kelly and Jesse Hayes, a redshirt sophomore who has stood out this spring.
Much like his old boss Urban Meyer, Andersen believes in constant competition and declares winners and losers in each practice. Andersen also mixes in some fun with a dance-off and throwing footballs into trash cans. "Some of them are a little bit quirky, but through the years establish some things we like," he said.
Borland said the strength program has brought the biggest changes in the transition to Andersen's staff. Cardiovascular work is stressed more, as is preventative care. Head strength and conditioning coach Evan Simon operates at a faster pace and uses more of an instructional approach than Ben Herbert, who stressed motivation.
April, 9, 2013
4/09/13
9:00
AM ET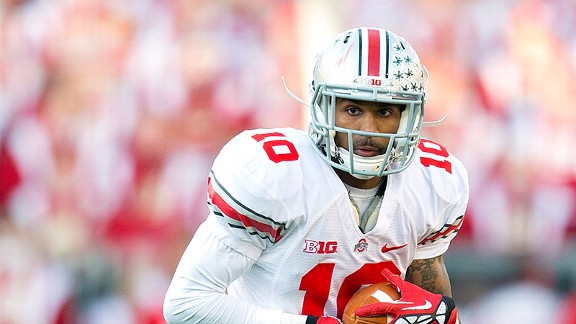 Jeff HanischThe Buckeyes are counting on WR Philly Brown to make the offense a more dynamic one in 2013.
COLUMBUS, Ohio -- Last year, Ohio State led the Big Ten in scoring at 37.2 points per game. Great, right?
Not in the minds of the Buckeyes, who thought they could have fielded a much better all-around attack.
"I feel like last year we didn't play a complete game as an offense," running back
Carlos Hyde
said. "Some games it was all running, while others it was just passing."
Head coach Urban Meyer rarely seemed happy with the offensive production last year, outside of the running skills of Hyde and quarterback
Braxton Miller
. He often expressed his dissatisfaction over a lack of speedy playmakers and an inconsistent passing game.
"I'd get frustrated," Meyer told ESPN.com. "But the bottom line is, name an offense that doesn't have guys who make people miss and are dynamic with the ball in their hands, and that's not a great offense. We don't have enough."
The names on offense haven't really changed much this spring. But the hope is that with another year of understanding the system, some improved throwing and catching and maybe some reinforcements from the recruiting class, the Buckeyes will come closer to fulfilling Meyer's vision of a truly great offense.
It all starts, of course, with Miller, whose efforts to become a more accurate passer this offseason have been well documented. Ohio State also needs continued development from its receivers, which is not a very deep group right now. Meyer singled out
Corey "Philly" Brown
, who led the team with 60 catches for 669 yards, as someone who's becoming one of those dynamic playmakers he's seeking.
"I've tried to work on my open-field running and body control so I could cut faster," Brown said. "It's really paying off for me right now."
Brown is the clear No. 1 receiver, but he needs more help. The team has only six scholarship receivers this spring, and offensive coordinator Tom Herman said he'd only feel comfortable playing four of them for a whole game.
Devin Smith
made some highlight-reel catches on deep balls early last year but was less effective down the stretch, as he had only 13 receptions in the final eight games.
"People, for lack of a better term, figured him out," Herman said. "He wasn't a very versatile guy. He did a couple of things really well, but the other things that he tried to do, he was very below average. He's starting to improve some of his weaknesses to be a more complete receiver, and he has a lot of physical tools and a great attitude."
Herman said
Chris Fields
has had a really good spring, and
Evan Spencer
is a reliable target. Sophomore
Michael Thomas
, the star of last year's spring game, has shown flashes of his talent but needs to progress in a lot of areas. Herman called the receiver depth "a bit scary right now." But the Buckeyes recruited several receivers in this year's class, including
Jalin Marshall
,
Dontre Wilson
,
James Clark
and Corey Smith. They're hoping at least one or two contributes right away.
"You hate to count on [recruits] because they're usually overrated," Meyer said. "But that's why we went out and recruited them."
"We're not asking them to come in and be Jerry Rice," Herman said. "We just hope they can provide some depth and maybe add some skills that we don't currently have in that room right now."
One area certainly not lacking in depth is at running back, where Hyde returns after rushing for 970 yards and 16 touchdowns last year.
Rod Smith
is having a good spring,
Warren Ball
appears to be coming on and if sixth-year senior
Jordan Hall
can ever stay healthy, he'll provide lots of versatility. There was a buzz last week in practice when the Buckeyes lined up with Hyde, Smith and Ball in the same backfield with Miller in a formation Meyer cribbed from the San Francisco 49ers.
"That can give a bunch of trouble to defenses," Hyde said. "They just see three big backs in the backfield and a quarterback who can also run the ball. They don't know who's getting the ball or who's going where."
Ohio State's offensive players do know where they're going, which is different than last spring. Now in the second year of the system, Herman says he can teach his guys not just what to do but why they're doing it.
"It's not just the memorization of, 'OK, I have to line up on the left here,'" he said. "I could train a monkey to do that. What separates really good offenses from average to below-average offenses is all 11 guys understanding the big picture, the entire concept and scheme we're trying to accomplish. It's been nice to kind of dive into that with all of our players this spring."
Knowing how to change a route against a certain defensive look, for instance, should help the Buckeyes play faster this year. The coaches have challenged the players to be a Top 5 offense in the nation this year. That's a lofty goal, but remember that this team is starting from an already high level despite its flaws.
"I definitely think we can be one of the top offenses in the country if everybody takes care of business and is mistake free," Brown said.