November, 10, 2010
11/10/10
3:00
PM ET
It's time for a blogger debate! And it doesn't get much better than when we match the SEC and Pac-10.
Our topic: No. 1 Oregon and No. 2 Auburn. Who's better and why?
Both are unbeaten, and if the season ended today, they'd play for the national title.
We've got lots of football left, and probably many more plot twists in the hunt for the national title, but there's no reason we can't engage in a hypothetical, is there?
So the Pac-10 blog -- Ted Miller -- and the SEC blog -- Chris Low -- have decided to meet for some civilized debate on Auburn versus Oregon.
Ted Miller
: Chris, since things are so quiet in the sleepy SEC, I think we should spice things up with a Pac-10-SEC blogger debate! It seems like a long time since we last had a debate between our two conferences. How'd that one go? Let's see I championed Taylor Mays and you celebrated Eric Berry. Wait.
Why did I bring that up
?
Anyway, our topic is Oregon and Auburn: Who's better and why.
[+] Enlarge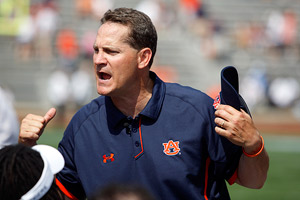 John Reed/US PresswireGene Chizik has silenced those critical of his hiring last year but getting Auburn off to a 10-0 start this season.
This is a potential national title game between the No. 1 Ducks and No. 2 Tigers, who are both unbeaten and feature Heisman Trophy candidates leading high-powered offenses.
You get first blood. Tell me about Auburn. It seems like it wasn't too long ago that Jay Jacobs was getting hounded for hiring Gene Chizik. Guessing that's died down a wee-bit.
Chris Low
: No doubt, Ted. I wonder where that obnoxious guy is now, the one yelling at Jacobs as he was leaving the airport after finalizing the deal with Chizik? Maybe Jacobs knew what he was doing after all. The guy with the 5-19 record at Iowa State has done all right by himself on the Plains. He has a Heisman Trophy-caliber quarterback and the SEC's leading rusher in Cam Newton, a 6-foot-6, 250-pound freak of nature who runs like Bo Jackson and also has an NFL arm. Keep your eyes, too, on freshman running back Mike Dyer, who they haven't had to lean on much this season, but is oozing with talent and has fresh legs for this stretch run. The Tigers' defensive numbers are nothing to write home about, but they do have the kind of dominant interior defensive lineman, Nick Fairley, who can take over games. Georgia coach Mark Richt said Fairley's the closest thing he's seen to Warren Sapp. Auburn's calling card defensively has been making plays at key times in the fourth quarter. The Tigers have been a serviceable defense through three quarters this season, but they've been a championship-caliber defense in the fourth quarter -- which is why they're 10-0.
So tell me about Oregon?
[+] Enlarge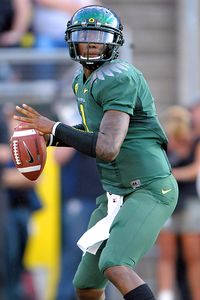 Kirby Lee/Image of Sport/US PresswireSophomore Darron Thomas was thrust into the starting quarterback job and has performed admirably.
Ted Miller
: Speaking of coaches: How about Oregon's Chip Kelly? How could he possibly expect to top winning the Pac-10 and playing in the Rose Bowl his first season? How about contending for a national title in his second? The Ducks, however, expected to be here when the 2009 season ended because just about everybody was coming back from the Pac-10 champions. That is until a guy you are now familiar with -- quarterback
Jeremiah Masoli
-- got caught up in some off-field issues and eventual got himself booted from the team. That seemingly left a void behind center, but sophomore
Darron Thomas
has not only filled Masoli's shoes, he's gone up a few sizes: He's 15th in the nation in passing efficiency and 21st in the nation in total yardage. Meanwhile, speedy running back
LaMichael James
is the top Heisman alternative to your guy, Newton. As for the defense, it's like the offense: Extremely fast. It ranks 13th in the nation in scoring defense and it has forced 28 turnovers, second-most in the nation. Folks often underestimate the Ducks' defense because it gives up some yards -- it ranks 29th in the nation in total defense -- but that's because the offense scores so quickly: The nation's No. 1 offense ranks 115th in the nation in time of possession. But the Ducks only give up 4.45 yards per play. Our factoid of the day is that number would rank No. 1 in ... wait for it ... the SEC!
Obviously, we're talking about two very good teams that have done impressive things on their way to remaining unbeaten. I know we both have Oregon ahead of Auburn in our power rankings, but give me the case for Auburn.
Chris Low
: Ted, I think what separates Auburn is Newton. Nobody has been able to stop him. If you commit to taking away the run, he's proved he can beat people throwing the ball. And if you come after him and/or don't have enough people in the box, he's been magic running the ball. Keep in mind, too, that we're not talking about a 220-pound guy running the ball. We're talking about a 250-pound guy who's physical, tough and doesn't run out of bounds. In the red zone, he's the great equalizer, because he gains 3 yards when he falls forward and has the size and the strength to push the pile. On top of it all, he's always a threat to throw the ball. Similar to Oregon, Auburn doesn't flinch if somebody puts 30-plus points on the board, because the Tigers' mentality is that they're going to score 50. Their offensive coordinator, Gus Malzahn, will make you defend everything -- reverses, throwback passes, passes to the backs, even passes to Newton. He caught a touchdown pass two weeks ago against Ole Miss. The Tigers also play at a tempo on offense that has opposing defenses gasping for air in the fourth quarter. But when they have to, they can put teams away and finish games by running the ball. They're fourth nationally (one spot ahead of Oregon) this week in rushing offense with an average of 307.2 yards per game. Auburn's top four rushers -- Newton, Dyer,
Onterio McCalebb
and
Mario Fannin
-- are all averaging at least 6.4 yards per carry. Do the Ducks have any answers for that running game?
[+] Enlarge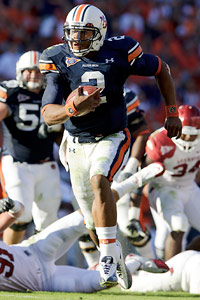 Paul Abell/US PresswireAuburn's Cam Newton is just as dangerous with his arm as he is on his feet.
Ted Miller
: That's what's so interesting about this as a potential national title game match -- there's an odd familiarity that both teams will have with each other despite never crossing paths. My guess is Malzahn and Kelly already have studied each other, just in terms of mutual admiration. And both defenses will be familiar with up-tempo, no-huddle, spread-option offenses that can power you and finesse you and throw downfield. Further, the Ducks have played against a number of big, fast, capable quarterbacks with NFL futures: Washington's
Jake Locker
, Ohio State's
Terrelle Pryor
and Stanford's
Andrew Luck
. The results have been mixed. Last year, Luck and Pryor got them. Luck beat the Ducks with uncanny downfield accuracy, which is why he'll go No. 1 in this spring's NFL draft. Pryor shocked them with the best passing game of his career in the Rose Bowl. Locker missed this year's game, but he's never had much luck against Oregon. In general, Oregon has a good run defense: Opponents are averaging 3.38 yards per rush. But the Ducks are undersized. A physical Stanford team had some success, rushing for 177 yards. But one thing about Oregon on both sides of the ball: It is masterful with halftime adjustments. They shutout Stanford, owners of the nation's No. 5 scoring offense, in the second half, and have given up just 48 points in the second half this year -- just seven in the fourth quarter!
Obviously, two very good teams that have done impressive things on their way to remaining unbeaten. I know we both have Oregon ahead of Auburn in our power rankings, but give me the case for Auburn if it played Oregon in the national title game. How do you see it going?
Chris Low
: Well, if that happens, the first thing we all better make sure we have is a calculator. That and make sure there's no danger of a power surge to the scoreboard. You're right about Oregon. Nobody in the country has been better in the second half. The Ducks' ability to score points in bunches is amazing, but the Tigers are equally adept at going on head-spinning scoring sprees. Just ask Arkansas, which saw Auburn roll up 28 points in the fourth quarter in Xbox-like fashion. I have no doubt that an Auburn-Oregon matchup would be played in the 40s. I think the difference, though, would be Auburn's ability to put the breaks on the track meet and run the football in the fourth quarter, especially with Newton being so good at converting on third down. So I'm going Auburn 45, Oregon 41 in a game that rates up there with the Texas-USC classic to decide the 2005 national title.
Ted Miller
: That's clearly something we can all agree on: This likely would be a highly entertaining, offensively driven national title game if these two teams manage to get themselves there. Further, I think, after never getting a USC-SEC title game, folks on both coasts would enjoy an SEC-Pac-10 matchup. No trash-talking there, right? And I do see a clear advantage for Auburn: It has been tested. It's played five games decided by eight points or fewer, and three decided by a field goal. The Ducks closest game? An 11-point win at Arizona State. But that's also why I'd pick Oregon in this one. Oregon beat the No. 6 team in the nation, Stanford, by 21 points. It shut Andrew Luck out in the second half. And I look at all of Auburn's close games: Mississippi State, Clemson, South Carolina, Kentucky and LSU, and think: None of them would be within 10 points of the Ducks. Maybe LSU, because any game Les Miles touches is surprising. And I think Vegas would agree with me. So if we ended up with an Oregon-Auburn national title game, my guess is the Tigers would go TD for TD with the Ducks in the first half, then the Ducks would pour it on late for a 50-35 win. But I reserve the right to change my mind, particularly because I think the Tigers' toughest test -- Alabama -- is ahead.
Moreover, both teams should be advised: You probably should get to the Jan. 10 date in Glendale before you start trash-talking each other. At least before you use your best stuff.
May, 12, 2010
5/12/10
12:00
PM ET
Two rounds are in the books and four teams are left in ESPN.com's playoff to determine
college football's best NFL pipeline
.
Clemson, Oklahoma State, Nebraska, Florida, Tennessee, Michigan, Arizona State and Penn State were eliminated in Round 2.
Georgia, Notre Dame, UCLA and Ohio State were pushed aside in Round 1.
Only Florida State, Pittsburgh, Miami and the University of Southern California are left.
Based on recent history, it's a surprise the Panthers are still standing.
Next to college football's teams of the 1980s (Miami), 1990s (FSU) and 2000s (USC), the Panthers stick out as much as Lane Kiffin sitting at a table of Hall of Fame coaches.
But here's a brief history lesson to bring you up to speed on Pittsburgh football:
In the early 1980s, there probably wasn't a better NFL factory than the Steel City's university. Quarterback
Dan Marino
played there, along with fellow Pro Football Hall of Famers Russ Grimm and
Rickey Jackson
.
Who can forget Pitt's stellar offensive linemen like
Mark May
, Jimbo Covert,
Ruben Brown
and
Bill Fralic
or its menacing defensive linemen such as Hugh Green,
Chris Doleman
and
Sean Gilbert
? Former NFL running backs
Curtis Martin
and Craig "Iron Head" Heyward played for the Panthers. More recently,
Arizona Cardinals
receiver
Larry Fitzgerald
and cornerback
Darrelle Revis
starred at Pitt.
But if the survey were based on the last 10 to 15 years -- instead of the last three decades -- the Panthers wouldn't have a seat at the front table.
FSU, Miami and USC are far and away college football's best NFL factories during the last two decades.
The Hurricanes blessed us with alumni who won five NFL Most Valuable Player awards and made 100 Pro Bowl appearances. An alumni game at "The U." would include a defense led by safety
Ed Reed
, linebacker
Ray Lewis
, and defensive linemen
Warren Sapp
and
Cortez Kennedy
. Try scoring against that unit.
The Miami offense would include quarterback
Jim Kelly
, tailbacks
Edgerrin James
and
Clinton Portis
, receiver
Michael Irvin
, tight end
Jeremy Shockey
, and tackle
Bryant McKinnie
.
Only USC can match that kind of star power. Four of the former Trojans drafted by NFL teams since 1979 are already in the Pro Football Hall of Fame: safety
Ronnie Lott
, tailback
Marcus Allen
, and offensive linemen Anthony Munoz and
Bruce Matthews
.
It's probably only a matter of time before former Trojans
Junior Seau
joins his fellow USC alumni in Canton, Ohio.
Florida State, which won 10 games or more every season from 1987-2000 and won national championships in 1993 and '99, produced NFL stars such as
Deion Sanders
,
Derrick Brooks
,
Walter Jones
and
Warrick Dunn
.
But many of FSU's best players during the 1980s and '90s never found as much success in the NFL.
Brad Johnson
, the only former Noles quarterback to have sustained success in the NFL, didn't even start during his senior season at FSU. Quarterbacks like
Peter Tom Willis
, Danny McManus,
Danny Kanell
and
Casey Weldon
had a cup of coffee in the NFL, but not much more.
What was the biggest surprise in the first round? No. 12 seed Ohio State over No. 5 seed Tennessee.
Ohio State's lineup of
Orlando Pace
,
Cris Carter
,
Chris Spielman
,
Eddie George
and
Robert Smith
is as good as anybody's, but Tennessee's roster of NFL talent is arguably just as solid.
Besides, who doesn't know the Buckeyes are going to lose to an SEC team every time?
December, 10, 2009
12/10/09
8:40
PM ET
By
Tim Griffin
| ESPN.com
Nebraska defensive tackle Ndamukong Suh picked up back-to back-awards in a five-minute period as he claimed the Outland Trophy as the nation's best interior lineman and the Chuck Bednarik Award as the nation's best defensive player.

Suh continued a Nebraska tradition, becoming the eighth Cornhusker and first since Aaron Taylor in 1997 to earn the Outland Trophy, beating out Russell Okung of Oklahoma State and Idaho's Mike Iupati.

In the process, Suh has been a part of a stunning turnaround in the Nebraska defense.

"It's been a tough ride but got some strong guys back there. My class especially has been through some kind of hell," Suh said. "But having a great coaching staff and great defensive gurus like (Nebraska coach) Coach Bo (Pelini) and (Nebraska defensive coordinator) Carl Pelini. We learned the best from them. We want to continue to improve and get better as we do through the year."

Suh said he hopes to represent all of the offensive and defensive linemen as a finalist for the Heisman Trophy on Saturday night in New York City. He becomes the first interior lineman since Warren Sapp of Miami in 1994 to be nominated.

"That's a crazy feeling. I never expected it," Suh said. "After the Missouri game there was some Heisman talk. But I never expected to be there. I'm very proud of it. I talked to a couple of guys when I was at the Lombardi Award and hopefully want to represent those guys in the right way.

"All the guys up front -- the offensive linemen and defensive linemen -- I definitely want to be that person to represent them and happy to do it."

Earlier, Suh overcame Alabama defensive tackle Terrence Cody and Florida linebacker Brandon Spikes to become first Cornhusker and third Big 12 player to win the Bednarik Award.
Posted by ESPN.com's Heather Dinich
Spring practices were postponed at both Maryland and Georgia Tech because of the rain, but that doesn't mean there's nothing to write -- or read -- about ACC football. Here's your daily dose of links:
One more, a leftover ...
TOP 25 SCOREBOARD
Saturday, 12/7
Thursday, 12/5
Friday, 12/6
TOP PERFORMERS