January, 4, 2012
1/04/12
10:45
AM ET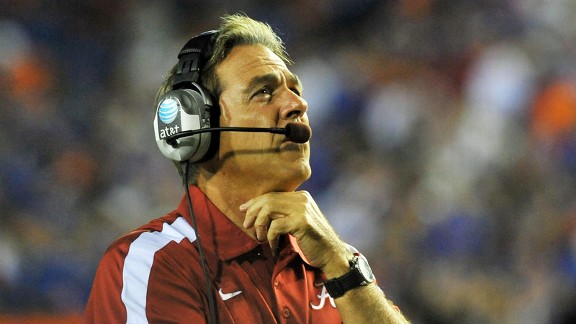 Al Messerschmidt/Getty ImagesNick Saban changed the recruiting culture in Baton Rouge when he led the LSU Tigers.
All it took was a little screen time for Nick Saban to officially say goodbye to LSU.
With his Alabama team surrounding him inside a movie theater and the popular movie "The Blind Side" playing, Crimson Tide players hooted, hollered and laughed when Saban appeared on screen, dressed as his former LSU self.
Saban played the old him, who recruited future Ole Miss star offensive lineman Michael Oher to LSU. The problem was that Saban was a few years removed from his LSU days and was coaching Alabama.
He was so uneasy about how his new players might react to his acting debut in the wrong colors that he asked Alabama's leadership group whether it was OK for him to do the cameo.
Without hesitation, his players allowed it, but only if they could poke a little fun at his expense.
Senior center William Vlachos said he and his teammates razzed the very matter-of-fact coach, letting him know that acting wasn't his thing, but they also informed them this was his new team and he could put his LSU thoughts behind him.
"If that had bothered us, he wouldn't have done it," Vlachos said. "His heart is with us."
And Saban makes sure people know that. He sidesteps most questions dealing with him and LSU, and it's pretty much a nonissue in Tuscaloosa.
The Saban-LSU storyline has been beaten to death, and even with Saban now facing his former school in the national championship, few have taken much time to pick his brain about the situation he'll be in.
But it will be hard for Saban not to take a peek at the past when his second-ranked Crimson Tide (11-1, 7-1) take on No. 1 LSU (13-0, 8-0) in the Allstate BCS National Championship Game on Monday night.
He can't ignore the monster he helped create in Baton Rouge, La. Before Saban got his hands on LSU, the Tigers were a mere afterthought in the SEC.
LSU had suffered through two straight losing season under previous coach Gerry DiNardo and had recorded seven losing seasons in the 1990s.
Saban swooped in and conducted a complete transformation. His first objective was to instill more discipline within the program and hammer home academics. He led the way for a $15 million fundraising effort for a new academic center for LSU student-athletes and made sure he and his players were tremendously active in the community.
Facilities were upgraded; a new attitude was created; and LSU quickly became a true force in the SEC. Saban won 48 games in his five-year stint with the Tigers that included a national championship (2003), two SEC championships, three SEC Western Division championships and three bowl wins, including two Sugar Bowl victories.
To get those wins, Saban also became a bulldog in recruiting. For years, LSU had struggled to keep top Louisiana prospects in state. In the 1990s, Baton Rouge athletes Warrick Dunn and Travis Minor left to become stars at Florida State, and New Orleans high school stars Reggie Wayne and Ed Reed left and eventually became key components of Miami's 2001 national championship squad.
But with Saban camped out in Cajun country, those kinds of players rarely stepped away from LSU's campus.
"It didn't happen overnight, but Nick Saban turned LSU into a recruiting powerhouse by gradually winning over the state's top prospects," ESPN recruiting analyst Corey Long said.
Saban's 2001 SEC championship team made a real breakthrough for the program, but Long said that his 2003 recruiting class served as a major breakthrough for LSU recruiting.
Saban was able to keep most of Louisiana's top high school prospects in state, including running backs Alley Broussard and Justin Vincent and athlete LaRon Landry. Quarterbacks JaMarcus Russell and Matt Flynn were a part of that class, as was Miami-area wide receiver Dwayne Bowe.
Saban controlled Louisiana, snagged recruits from other schools' comfort zones and even developed a knack for finding underrated talent, such as running back Jacob Hester.
Now, LSU is a winning and recruiting machine. Miles has picked up beautifully from where Saban left off, but he certainly owes a little of his own success to Saban's work. Miles hasn't relinquished LSU's stranglehold on the state of Louisiana and prides himself on building his team off of local talent.
"Before Saban arrived at LSU, the talent in Louisiana was a virtual grab bag for the top programs in surrounding states," Long said. "These days, it's rare that a top player in the state goes anywhere but Baton Rouge."
On Monday, Saban will meet the beast he created years ago. He doesn't like to pump his LSU ties, but this one is different.
This one is for all the sugar, and once Saban sets foot on the Superdome field and stares at that purple-and-gold monster, he'll have to take some pride in his work that helped create LSU's masterpiece.
May, 12, 2010
5/12/10
12:00
PM ET
Two rounds are in the books and four teams are left in ESPN.com's playoff to determine
college football's best NFL pipeline
.
Clemson, Oklahoma State, Nebraska, Florida, Tennessee, Michigan, Arizona State and Penn State were eliminated in Round 2.
Georgia, Notre Dame, UCLA and Ohio State were pushed aside in Round 1.
Only Florida State, Pittsburgh, Miami and the University of Southern California are left.
Based on recent history, it's a surprise the Panthers are still standing.
Next to college football's teams of the 1980s (Miami), 1990s (FSU) and 2000s (USC), the Panthers stick out as much as Lane Kiffin sitting at a table of Hall of Fame coaches.
But here's a brief history lesson to bring you up to speed on Pittsburgh football:
In the early 1980s, there probably wasn't a better NFL factory than the Steel City's university. Quarterback
Dan Marino
played there, along with fellow Pro Football Hall of Famers Russ Grimm and
Rickey Jackson
.
Who can forget Pitt's stellar offensive linemen like
Mark May
, Jimbo Covert,
Ruben Brown
and
Bill Fralic
or its menacing defensive linemen such as Hugh Green,
Chris Doleman
and
Sean Gilbert
? Former NFL running backs
Curtis Martin
and Craig "Iron Head" Heyward played for the Panthers. More recently,
Arizona Cardinals
receiver
Larry Fitzgerald
and cornerback
Darrelle Revis
starred at Pitt.
But if the survey were based on the last 10 to 15 years -- instead of the last three decades -- the Panthers wouldn't have a seat at the front table.
FSU, Miami and USC are far and away college football's best NFL factories during the last two decades.
The Hurricanes blessed us with alumni who won five NFL Most Valuable Player awards and made 100 Pro Bowl appearances. An alumni game at "The U." would include a defense led by safety
Ed Reed
, linebacker
Ray Lewis
, and defensive linemen
Warren Sapp
and
Cortez Kennedy
. Try scoring against that unit.
The Miami offense would include quarterback
Jim Kelly
, tailbacks
Edgerrin James
and
Clinton Portis
, receiver
Michael Irvin
, tight end
Jeremy Shockey
, and tackle
Bryant McKinnie
.
Only USC can match that kind of star power. Four of the former Trojans drafted by NFL teams since 1979 are already in the Pro Football Hall of Fame: safety
Ronnie Lott
, tailback
Marcus Allen
, and offensive linemen Anthony Munoz and
Bruce Matthews
.
It's probably only a matter of time before former Trojans
Junior Seau
joins his fellow USC alumni in Canton, Ohio.
Florida State, which won 10 games or more every season from 1987-2000 and won national championships in 1993 and '99, produced NFL stars such as
Deion Sanders
,
Derrick Brooks
,
Walter Jones
and
Warrick Dunn
.
But many of FSU's best players during the 1980s and '90s never found as much success in the NFL.
Brad Johnson
, the only former Noles quarterback to have sustained success in the NFL, didn't even start during his senior season at FSU. Quarterbacks like
Peter Tom Willis
, Danny McManus,
Danny Kanell
and
Casey Weldon
had a cup of coffee in the NFL, but not much more.
What was the biggest surprise in the first round? No. 12 seed Ohio State over No. 5 seed Tennessee.
Ohio State's lineup of
Orlando Pace
,
Cris Carter
,
Chris Spielman
,
Eddie George
and
Robert Smith
is as good as anybody's, but Tennessee's roster of NFL talent is arguably just as solid.
Besides, who doesn't know the Buckeyes are going to lose to an SEC team every time?