September, 17, 2010
9/17/10
11:30
AM ET
Monster Saturday may have turned into a dud, but there are plenty of intriguing national storylines to watch in Week 3.
Here is a little sampling:
1. How does the ACC rebound?
To call the ACC's performance last week abysmal would be giving the word abysmal a bad name. Virginia Tech loses to James Madison. Miami and Florida State lay eggs in their big non-conference showdowns. Kansas beats Georgia Tech. N.C. State got the league off to a good start Thursday night with a win over Cincinnati, but that is not really saying much considering the Bearcats hardly look like their 2009 selves. Florida State-BYU, Maryland-West Virginia, East Carolina-Virginia Tech and Clemson-Auburn highlight Saturday. Here's hoping the league doesn't embarrass itself again.
2. What will we see out of Boise State?
The Broncos had the week off last week, but you wouldn't have known it for all the chatter about them once Virginia Tech lost. They finally return to the field Saturday against Wyoming to play in Game 2 after what feels like a very long layoff. The Cowboys have played Boise State tough in recent meetings. The game will be sold out, and the crowd fired up. Key to watch: Will the Wyoming spread offense be able to take advantage of a Boise State secondary that looked shaky at times in the opener?
[+] Enlarge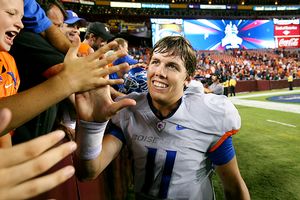 AP Photo/Joe Jaszewski/Idaho StatesmanThe last time we saw Kellen Moore and Boise State they were celebrating a win over Virginia Tech.
3. Jake Locker vs. Nebraska.
It may be unfair to pit one player against an entire team, but that is what this one is going to come down to on Saturday. Locker essentially had his Heisman campaign parked in a season-opening loss to BYU, a team that it turns out may not be as good as advertised. How will he do against a defense that continually brings pressure and is considered to be one of the best in the country? That will go a long way toward determining how people view Locker the rest of the way.
4. Can Georgia keep itself in the SEC East race?
It may be a stretch to say the Bulldogs are reeling, but Saturday's game against Arkansas has got to be considered a must-win. Georgia struggled in a 17-6 loss to South Carolina last week, with shoddy tackling headlining the defensive performance. While
Marcus Lattimore
and run-oriented South Carolina punished them last week, a different type of offense meets them this week behind pass-happy
Ryan Mallett
. Georgia is expected to open up more of its playbook for redshirt freshman
Aaron Murray
, but the onus is going to fall on the Georgia defense to stop Mallett and the Razorbacks.
5. Nick Foles vs. Adrian Clayborn.
Arizona faces its biggest test of the season against the No. 9 Hawkeyes, and this one is going to come down to the way quarterback Nick Foles is able to handle the pressure the Iowa defensive line is sure to bring. And by that we mean Clayborn, who is still waiting on his first sack of the season after notching 11 in 2009. Of course, there is this from ESPN Stats & Information: Since 1990, Pac-10 teams are 25-6-1 at home against Big Ten teams.
6. What does Denard Robinson do for an encore?
Surely the Michigan quarterback can't keep up his torrid pace, what with 885 yards of total offense in the first two games. He may not have to do as much Saturday against Massachusetts, though FCS teams have proven to be problematic for several teams this season. Still, Robinson has inspired awe throughout the country, and now word is out that high school players are leaving their shoelaces untied in order to be just like him.
7. Does Notre Dame rebound against Michigan State?
Surely a heartbreaking loss to Michigan won't be easy to get over, but the bigger question is whether
Dayne Crist
is 100 percent after he admitted he played against the Wolverines with blurred vision before being pulled from the game. If you thought the series against Michigan was a nail biter, check this out from ESPN Stats & Information: Over the past 10 meetings, the Notre Dame-Michigan State game has been decided by seven points or less eight times, with the game-winning score coming late in the fourth quarter or overtime in seven of the 10 meetings.
8. Any FCS upsets this weekend?
Already this year, five FCS schools have beaten their upper division opponents, headlined of course by James Madison over Virginia Tech. Last year there were only four. There isn't an overload of FCS-FBS games this week, but these are the teams on alert: Oregon, South Carolina, Michigan, Syracuse and San Jose State.
9. What do we see out of Alabama running back Mark Ingram?
The Heisman Trophy winner is getting his first action of the season after missing the first two games while recovering from knee surgery. Does Alabama need him to beat Duke? No. But they will need him for its run through the SEC, which begins next weekend with a huge game at Arkansas. Better get him game ready before then.
10. Any last-second heroics between Texas and Texas Tech?
We all remember the last time Texas visited Lubbock -- Graham Harrell to Michael Crabtree ruined the No. 1 Longhorns' shot at the BCS national championship. Point to remember from ESPN Stats & Information: Texas Tech has upset a top-10 Texas team twice in the Longhorns' previous four visits (2002 and 2008).
September, 2, 2010
9/02/10
9:37
AM ET
It's the most wonderful time of the year -- college football season. Watch as I put on my picking cap and make my supremely awesome predictions for 12 selected games involving non-AQ teams.
Now, on to the picks!
South Carolina 24, Southern Miss 14.
We know
Weslye Saunders
is out for the Gamecocks, but we're unclear about anybody else. Southern Miss coach Larry Fedora said his team didn't pay attention to the distractions. With those players or not, South Carolina is simply too talented, especially on defense. Southern Miss goes into the game with just three returning starters on offense.
Pittsburgh 21, Utah 17.
The Utes won the last meeting in the Fiesta Bowl in 2005. But this time around the Panthers have
Dion Lewis
, and he should make the difference -- especially against a defense that only returns four starters.
Northern Illinois 28, Iowa State 27.
One of the best teams in the MAC will pull the upset behind the legs of
Chad Spann
.
Minnesota 31, Middle Tennessee 20.
If
Dwight Dasher
was playing in this game, I would have called for the upset. But the Blue Raiders aren't going to be the same with
Logan Kilgore
at quarterback.
Washington 35, BYU 21.
The Huskies break their 12-game road losing streak behind the arm and legs of
Jake Locker
. BYU has had problems against quarterbacks like Locker in the past. The two-quarterback rotation for BYU is going to be a work in progress.
Colorado 21, Colorado State 10.
Both teams essentially have coaches on the hot seat, and quarterback uncertainty. While the Rams won the meeting last year, they go into this game with a freshman starting at quarterback in
Pete Thomas
. Only two first-time starters at quarterback have won this game for Colorado State.
SMU 44, Texas Tech 40.
Upset indeed.
Kyle Padron
should have a big day and break the Mustangs' 13-game losing streak to Texas Tech.
Navy 30, Maryland 10.
The Midshipmen have the real deal in quarterback
Ricky Dobbs
, who should pose all sorts of problems for the Terrapins defense. Maryland gave up over 200 yards on the ground four times last season.
TCU 24, Oregon State 20.
TCU is 9-2 against AQ teams in its past 11 games.
Andy Dalton
is eager to erase the memories of his Fiesta Bowl performance. The defense should be able to slow
Jacquizz Rodgers
down enough to limit his impact.
Fresno State 35, Cincinnati 34.
The Bulldogs controlled the ball in their game last year and ran for 290 yards. Ryan Mathews is gone, but
Robbie Rouse
hopes to get the running game going. Fresno State lost that game because Cincinnati was able to score and score quickly on a defense not used to seeing the spread. The Bulldogs should be improved there, and that will make the difference.
Tulsa 27, East Carolina 17.
G.J. Kinne
,
Damaris Johnson
and the Golden Hurricane offense are going to be too much for the rebuilding Pirates to handle. Tulsa starts the season on the road for the third straight year but that might not be such a bad thing in this case. The home team in this series has lost three straight.
Drumroll please …
Boise State 21, Virginia Tech 20.
The Broncos squeeze this one out on the strength of their offense, and their much improved defense.
Darren Evans
and
Ryan Williams
will get their yards, but their big games will be limited thanks to the great tacklers Boise State has in the open field -- Winston Venable and Jeron Johnson. Boise State will be able to take advantage of a Virginia Tech defense that lost seven starters, including three on the defensive line.
August, 16, 2010
8/16/10
12:00
PM ET
Today we gave you 20 games to watch this season. Three from opening weekend made the Top 20 list. But there are several others that just missed the cut:


USC at Hawaii, Sept. 2.
We have got to know how Lane Kiffin does in his opener with the Trojans, right? So much melodrama has followed this program since Kiffin took over, you can bet he and his players will be thrilled to start playing games -- even though they are ineligible for postseason play. We will get to see what strides QB
Matt Barkley
has taken, and take a look at the retooled Monte Kiffin defense. USC freshman RB
Dillon Baxter
won't be there -- he is suspended for violating team rules.


LSU vs. North Carolina, Sept. 4.
Huge game for both teams ranked in the bottom portion of the Top 25. Both teams have great defenses but mediocre offenses. There are some high expectations for North Carolina this season. If the Tar Heels can open with a win against a top-quality SEC team, their confidence will no doubt grow.


Purdue at Notre Dame, Sept. 4.
Two intriguing storylines here -- Brian Kelly makes his debut as Irish coach with high expectations and plenty of pressure. We'll see how his new offense looks with
Dayne Crist
under center.
Michael Floyd
could have a tremendous season. For Purdue, Miami transfer
Robert Marve
makes his debut. If Marve has a good season, the Boilermakers could surprise.


Connecticut at Michigan, Sept. 4.
When the Huskies were put on the schedule, a faction of Michigan fans scoffed. But the Huskies come into the Big House with a shot at winning the game. The Michigan defense has been atrocious and is lacking depth in the secondary. The specter of NCAA sanctions loom above the program as well. Could this be the last season opener Rich Rodriguez coaches with the Wolverines?


Washington at BYU, Sept. 4.
Steve Sarkisian returns to his alma mater with a quarterback who would fit right in at BYU.
Jake Locker
is receiving early Heisman and NFL draft buzz. Meanwhile, the Cougars have quite the opposite situation at quarterback, where
Jake Heaps
and
Riley Nelson
are competing for the starting job. If coach Bronco Mendenhall doesn't have his mind made up before the opener, watch for both to play.
Of course, the following weekend is shaping up to be even better, with Michigan-Notre Dame, Florida State-Oklahoma, Miami-Ohio State, Penn State-Alabama, Oregon-Tennessee and Stanford-UCLA all on the schedule.