September, 1, 2011
9/01/11
10:22
AM ET
Here's a look at what to watch this week in Notre Dame's opener:
More action for Toma. With Brian Kelly saying return man Theo Riddick's breaks will come on offense -- and with Riddick part of a five-man receiver rotation -- look for Robby Toma to see extended action in the slot. The 5-foot-9, 185-pound junior from Hawaii accounted for four plays of 20 yards or more last season.
Multiple freshmen at once. Kelly is hoping he doesn't have to play his newcomers too often, but he said Wednesday that they could play at the same time. That likely means a tandem of Aaron Lynch and Stephon Tuitt at one point. The prized defensive end recruits cracked the two-deep on this week's depth chart.
A new pregame route. The team will no longer walk from Mass at the Basilica to Notre Dame Stadium. It will instead board buses to the Guglielmino Athletics Complex for pregame meetings before walking to the stadium from the Hesburgh Library.
September, 1, 2011
9/01/11
10:21
AM ET
Can you hear that?
It's the sound of jerseys being carefully hung and neatly placed in lockers. It's the sound of last-minute helmet shines and play card lamination.
More importantly, it's the sound of the return to college football. Maybe, just maybe, these silly shenanigans that have taken our minds off the actually game will cease for a while.
[+] Enlarge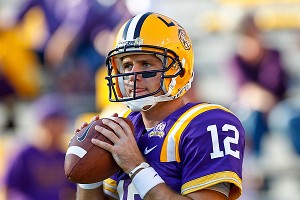 Derick E. Hingle/US PresswireLSU will turn to Jarrett Lee as the starting quarterback in the season opener against Oregon.
That sound is now transforming into the horns blaring and snares chopping. Soon, these sounds will be overwhelmed by that sticky, sweet smell of game day barbecue with a hint of fine fried snacks.
Let's get to what you should watch for in the SEC this week before I drool on my keyboard:
1. LSU's passing game:
Jordan Jefferson's
suspension for his involvement in a bar fight and
Russell Shepard
being ruled ineligible for discussing an NCAA inquiry with a teammate have the Tigers in a bit of an offensive bind to start the season. Veteran
Jarrett Lee
takes over for Jefferson, and while coach Les Miles believes Lee has what it takes to lead the Tigers against No. 3 Oregon, Lee has had a very rocky five years at LSU. Expect junior college transfer
Zach Mettenberger
, who has all the skill to be a special player, to get snaps as well. As far as receivers go,
Rueben Randle
will be the primary target and DeAngelo Peterson is a playmaking tight end. Miles said this week that freshman
Odell Beckham
could start, so expect the Tigers to use plenty of options.
2. McCarron vs. Sims:
This is one of the most exciting quarterback battles to keep an eye on this season.
AJ McCarron
and
Phillip Sims
are young and neither has separated himself from the other. However, teammates have said they wouldn't mind either one starting and trust both to lead the offense. But this isn't just any offense; it's the offense of a team that is a true national championship contender. Taking the reigns of this machine is a big deal, and the winner should be prepared for a load of pressure dumped into his lap. This is the first step toward someone pushing past the other, but this battle could bleed deeper into the season.
3. Fresh new faces:
There are two new head coaches making their SEC debuts this weekend. Will Muschamp takes over at Florida, after leaving Texas as its defensive coordinator, and James Franklin is in charge at Vanderbilt after being Maryland's offensive coordinator. Fortunately for both, their teams are favored this weekend, with Florida taking on Florida Atlantic and Vanderbilt squaring off against Elon. Muschamp has the tough task of replacing two-time national champion Urban Meyer, while Franklin has brought some much-needed excitement and confidence to a slumping program. Both programs are in need of some early excitement and both should provide plenty of that this weekend.
4. Marquee QB battle:
When Georgia and Boise State square off inside the Georgia Dome; they'll do so with two highly touted quarterbacks. Boise's veteran
Kellen Moore
, who has a thirst for big games, will look to keep his team in the national championship picture. Moore enters 2011 as the nation's active career leader in passing efficiency (166.74) and wins (38). He ranks second on the active career list in completion percentage (68.17), passing yards (10,867), passing touchdowns (99) and completions (831). Last season, Murray passed for a Georgia freshman record 3,049 yards (second in SEC history by a freshman) and 24 touchdowns. His 3,216 total offensive yards ranks him first in Georgia freshman history and second in SEC history. He also tied for first in school history for touchdown responsibility in a season with 28. Watching these two compete will be a lot of fun.
5. Wild runners:
The SEC brings back a stable of running back talent as five of the top 10 rushers from the 2010 season return. It would have been six, but Arkansas'
Knile Davis
suffered a season-ending ankle injury before the season. The SEC is loaded at running back, with South Carolina's
Marcus Lattimore
and Alabama's
Trent Richardson
making early Heisman Trophy lists. The scary thing is that Lattimore is only a sophomore and Richardson was a backup for two years. Auburn brings back the best rushing combo in
Mike Dyer
and
Onterio McCalebb
, who both have the potential to reach 1,000 yards. Ole Miss'
Brandon Bolden
is very underrated and should finally eclipse the 1,000-yard mark, while Mississippi State's
Vick Ballard
is one of the toughest runners around and is looking to pass his touchdown mark of 19 a season ago. Tennessee's
Tauren Poole
is another unheralded rusher, but he surpassed 1,000 yards in 2010. Expect others, like LSU's
Spencer Ware
and Kentucky's
Raymond Sanders
, to step up as well.
6. QBs getting their first shot to be the man:
The first week of football will feature a handful of new quarterbacks looking to prove they can lead their respective teams. McCarron and Sims will be battling it out against Kent State, while
Barrett Trotter
is taking over for Heisman winner Cam Newton at Auburn.
Barry Brunetti
makes his SEC debut at Ole Miss. Heck, Lee will have to prove he can be a solid short-term option for LSU, as well. There will be some growing pains and struggles around the league with these players, but they'll all be eager to get out there and show what they can do.
7. Houston Nutt as the underdog:
If history is an indicator, Houston Nutt does well when his team is counted out. Look at the 2006
Arkansas Razorbacks
, who made it to the SEC championship game and in 2008, Nutt's
Ole Miss Rebels
won their last six games, including the Cotton Bowl. Well, Nutt and his Rebels are being overlooked yet again and Ole Miss starts the season against a tough BYU team. Ole Miss isn't favored and it's fielding a slew of youngsters, including a new quarterback in Brunetti. A win would generate some valuable momentum for this team.
8. John Brantley's confidence:
The spread offense is gone in Gainesville and quarterback
John Brantley
couldn't be happier. He never fit in the spread, throwing more interceptions than touchdowns, but Muschamp and offensive coordinator Charlie Weis have rescued Brantley with a pro-style offense. Brantley set all sorts of records in high school -- some even held by former Florida star Tim Tebow -- but he was never able to play with much confidence in 2010. Now, Brantley has a chance to reinvent himself. Word out of Gainesville is that Brantley has more command in the pocket and has won his teammates over again. Saturday won't be a major test for Brantley, but it is a chance for him to play with confidence and maybe even some moxie, which should benefit him the rest of the season.
9. Kentucky's run defense:
Kentucky coach Joker Phillips made it perfectly clear that stopping the run is of the utmost importance when the Wildcats face Western Kentucky. When these two got together last season, the Wildcats' rush defense received what Phillips described as a "slap in the face" from Western Kentucky's
Bobby Rainey
, who ran for 184 yards and two touchdowns. For the rest of the season, Kentucky's rush defense struggled immensely, surrendering 177.1 yards per game and allowing a league-high 30 rushing touchdowns. For the Wildcats to develop some defensive confidence they'll have to shut down the Hilltoppers' running game.
10. Black bear sightings!:
Those of you who live in Oxford, Miss., or are traveling there for the weekend should be on the look out for black bears in the vicinity. Whether they're harmful or not is yet to be seen. Ole Miss is breaking in a new mascot in the "Rebel Black Bear" seven years after the university got rid of "Colonel Reb." The new mascot has received mixed reactions and expect Colonel Reb supporters to be out in full force for the bear's first home game. A loss to BYU could send this cuddly creature back into hibernation.
September, 1, 2011
9/01/11
10:15
AM ET
There's always something worth watching in the ACC, but Week 1 is usually one of the most interesting Saturdays of the season because of the anticipation that has been building since the end of the Orange Bowl. Here are 10 things to keep an eye on this week in no particular order as the ACC starts the season:
1. Debut of three new head coaches.
Maryland coach Randy Edsall and Miami coach Al Golden will kick off their first seasons against each other on Labor Day, while North Carolina interim coach Everett Withers takes on James Madison. Golden and Withers have both had trying off-field incidents to deal with, as NCAA investigations at both schools have added extra challenges.
[+] Enlarge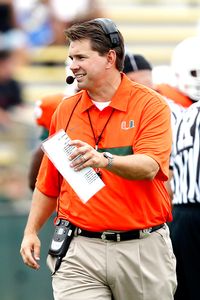 Joel Auerbach/Getty ImagesNew coach Al Golden is ready to shift Miami's focus onto the field.
2. Rookie starting quarterbacks.
Five first-year starters will be introduced this weekend in Clemson's
Tajh Boyd
, Virginia Tech's
Logan Thomas
, NC State's
Mike Glennon
, North Carolina's
Bryn Renner
and Virginia's
Michael Rocco
. FSU quarterback
EJ Manuel
is entering his first season as a full-time starter, along with Georgia Tech's
Tevin Washington
. There are bound to be a few plays they'd like to have back this weekend, but there should also be some signs of a promising future at the position.
3. Miami's replacements.
With eight players sidelined because of the NCAA investigation, Miami's backups have been promoted to critical roles. Players like Andrew Smith, Marcus Robinson and Jordan Futch will have to elevate their games quickly.
4. Georgia Tech's B-backs.
This could be the first season under coach Paul Johnson that the Jackets don't produce a 1,000-yard rusher in their run-based offense, only because the B-backs work more by committee.
David Sims
will start against Johnson's alma mater, Western Carolina, but
Charles Perkins
and
Preston Lyons
could both get some carries.
5. Florida State's offensive line.
This group has had injury problems all offseason, and if there's one question about the Seminoles this year, the offensive line is it. How this group looks intact remains to be seen.
6. New schemes.
Clemson's offense made sweeping changes under first-year coordinator Chad Morris, and Boston College will have some wrinkles under first-year coordinator
Kevin Rogers
. Maryland should also unveil a new look under first-year coordinator Gary Crowton.
7. Clemson receiver Sammy Watkins.
If he starts against Troy as expected, Watkins would be just the 14th Clemson first-year freshman to start the season opener since freshman eligibility returned to college football in 1972. Watkins would be the first wide receiver to start the opening game as a true freshman since Roscoe Crosby started the opener of the 2001 season against Central Florida.
8. Wake Forest placekicker Jimmy Newman.
He's on a serious streak. Newman has made 12 straight field goals, currently the longest streak in school history. He has also made all 65 PAT attempts in his career, the second-longest streak of extra points in school history behind Sam Swank with 121.
9. The Roccos.
Michael Rocco will be making his debut as Virginia's starting quarterback the same day his father, Danny, takes on NC State as the head coach at Liberty. Rocco enters the season with 25 career passing attempts, and his father is entering his sixth season at Liberty with a 40-16 record.
10. Revamped secondaries.
Georgia Tech and North Carolina have both undergone significant transition in the secondary, and Boston College has also had some turnover. The Yellow Jackets had to replace all four starters in the secondary, and the Tar Heels have to replace three starters. At BC, senior safety Dominick LeGrande decided to transfer, and projected starter Okechukwu Okoroha was dismissed from the team for disciplinary reasons.
September, 1, 2011
9/01/11
10:15
AM ET
The 2011 Big Ten football season kicks off Thursday night in Madison, and all 12 teams will be in action during the weekend.
Here are 10 items to track as you watch the games.
1. Coaching debuts:
After three years of relative stability in the Big Ten coaching ranks, four leading men will debut with new teams Saturday, while Nebraska's Bo Pelini coaches his first game as a member of the conference. Luke Fickell's every move will be closely monitored at Ohio State, while Brady Hoke begins a new chapter at Michigan. Kevin Wilson's Indiana debut takes place at the site of the inaugural Big Ten championship game (Indianapolis' Lucas Oil Stadium), while Minnesota's Jerry Kill draws the toughest first assignment as the Gophers visit No. 25 USC.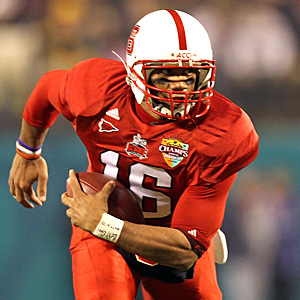 Mike Ehrmann/Getty ImagesRussell Wilson gives the Badgers an added dimension from the quarterback position.
2. Wisconsin's missing piece:
That's what Badgers fans hope
Russell Wilson
will be this season. The NC State transfer quarterback starts his first game in a Wisconsin uniform Thursday night against UNLV. Wilson looked terrific during preseason practice and transitioned well to his new team. He has a chance to display his skills on national television against the underdog Rebels and build some confidence for the grind ahead. It's also vital Wilson stays healthy as Wisconsin has significant depth problems at quarterback.
3. Penn State's QB audition:
Spring practice and fall camp evidently weren't enough time for Penn State to settle on a starting quarterback.
Rob Bolden
and
Matthew McGloin
both are expected to play in Saturday's opener against Indiana State. Joe Paterno, who may coach from the press box, didn't seem too concerned about the lack of a starter or the prolonged quarterback competition, but it will be interesting to see how the snaps break down. Bolden likely will get the first opportunity, and Penn State probably wants to settle on its offensive leader before a Week 2 showdown with No. 2 Alabama.
4. Flipping quarters in Columbus:
Penn State isn't the only team planning to use multiple quarterbacks in its opener. Ohio State likely will start senior
Joe Bauserman
on Saturday against Akron, although true freshman
Braxton Miller
also will see the field. Bauserman boasts more experience and could be the safer choice, although few doubt that Miller is the team's future under center. Akron ranked 99th nationally in total defense last season, so both men should have opportunities to make plays. It presents an interesting situation for a coaching staff that needs to win this season to remain with the Buckeyes.
5. Nebraska's new offense:
The Huskers boast what they believe to be a championship-caliber defense, so their season could hinge on the effectiveness of a new offensive scheme. Coordinator Tim Beck wants to give his players more freedom in the system while maintaining plenty of explosiveness. Pelini has stressed the need for efficiency after the Huskers struggled with ball security and penalties last season. Saturday's tune-up against Chattanooga provides the chance for quarterback
Taylor Martinez
and others to build their confidence in a game before the competition gets tougher.
6. Dan Persa's status:
Northwestern has one of the league's tougher season-opening draws at Boston College, and the Wildcats still don't know whether they'll have Persa on the field. The senior is still working his way back from Achilles' tendon surgery and won't be nearly as dangerous on his feet as he was in 2010. The good news is Persa can still attack defenses with his arm, and backup
Kain Colter
has made strides as a passer during the preseason. Colter will be part of the game plan Saturday, but how much Persa plays, if at all, remains to be seen.
7. Gray driving Gophers' offense:
Ever since highly-touted recruit MarQueis Gray committed to Minnesota, Gophers fans have been waiting for this moment. It has taken some time and a detour to the wide receiver position in 2010, but Gray finally will make his first start at quarterback Saturday against USC. He has bulked up to 245 pounds and should be a load for a Trojans defense that has struggled with dual-threat quarterbacks in the past. Gray will run a new offense and needs young players around him to step up, but it will be interesting to see how he fares in a tough environment.
8. TerBush's time:
Quarterback
Caleb TerBush
likely would have been a big factor for Purdue last season had he been academically eligible. The Boilers once again are calling on TerBush, and this time, he's ready to help. TerBush will make his first career start against a tough Middle Tennessee team. Purdue needs a boost after losing its leader
Rob Henry
to a torn ACL, and TerBush will try to provide one as he plays his first game since 2009.
9. Hawkeyes, Illini fill gaps on defense:
The NFL draft took its toll on Iowa's and Illinois' defensive units. The Hawkeyes lost three linemen to the draft -- Adrian Clayborn, Christian Ballard and Karl Klug -- along with standout safety Tyler Sash. Illinois lost dominant tackle Corey Liuget as well as linebackers Martez Wilson and Nate Bussey. Iowa will feature a larger rotation up front this season, while Illinois is looking to younger players like Akeem Spence and Jonathan Brown to step up.
10. Emotional opener for Dantonio:
It has been a tough week for Michigan State coach Mark Dantonio, whose father, Justin, died Sunday at the age of 86. Dantonio is at home in Zanesville, Ohio, for his father's funeral Thursday but will be back for Michigan State's season opener Friday against Youngstown State. It should be an emotional night for Dantonio, and expect Michigan State's players to rally around their coach, much like they did last year when he went through some health issues.
September, 1, 2011
9/01/11
10:15
AM ET
Ten issues to consider heading into the third week of games.
1.
Oregon's biggest issue might not be LSU's D-front
: In Phil Steele's unit rankings, he rated LSU's D-line 10th in the nation and its LBs 15th. There's no individual player as disruptive as Auburn's Nick Fairley, but LSU's Tigers are better across the entire front-7 than those Tigers. The Ducks could again struggle to run the ball. But the big problem is the LSU secondary, which Steele rates the nation's No. 4 unit. Auburn's secondary was weak all through 2010, and Ducks QB
Darron Thomas
picked it apart for 363 yards. But even though LSU lost first-round draft pick CB Patrick Peterson, their defensive backfield is deep and talented. Thomas won't find throwing into it as easy in any event, but particularly without his top-two receivers from a year ago.
[+] Enlarge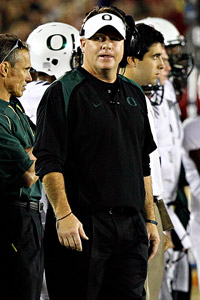 Ric Tapia/Icon SMIOregon coach Chip Kelly will need to scheme around a tough LSU run defense and an even tougher pass defense.
2.
Will UCLA catch a Case of Keenum
? UCLA was dominating Houston last year when it knocked QB
Case Keenum
out of the game in the second quarter, but Keenum remains a guy who is good enough to win a game on his own. Still, the Bruins should be able to win the battle on both lines of scrimmage, and that should make things easier for QBs
Kevin Prince
and
Richard Brehaut
, who both will play. Prince will be on the field to start the game. But will he be on the field to finish?
3.
A Gray day for the USC defense
: USC shouldn't have too many problems with Minnesota, but the biggest question is will the Trojans again show flashes of playing good defense. Golden Gophers QB
MarQueis Gray
is a bit of a mystery. He's being billed as a dual threat -- the sort who has given USC trouble in the past -- but he seems more like a 6-foot-4, 240-pound athlete who can run some option and scramble. His passing is decidedly questionable. The Trojans figure to crowd the line and dare Gray to throw. That means a secondary in man-coverage. Recall that the secondary got beaten a bunch in 2010.
4.
Maynard debut
: You look at California's depth chart and you think, "If these guys are any good at QB, they might be pretty tough." That's the pressure on
Zach Maynard
in his debut against a solid Fresno State team. If Maynard puts up good numbers, the Bears no longer will be so easy to write off in the Pac-12 North.
5.
Buffs
,
hit Moniz
: Hawaii QB
Bryant Moniz
put up huge numbers in 2010: 5,040 yards passing with 39 touchdowns. The Buffs secondary is suspect. Not a great combination. But a good way to protect a suspect secondary is with a good pass rush. While Moniz is a good athlete who can run, the best way for Colorado to end its 18-game road losing streak is to pound on Moniz and not give him time to throw. The good news on that: The Warriors have just three starters back on offense, one of whom is an offensive lineman.
6.
The Price of confidence
: Washington QB
Keith Price
makes his debut as Jake Locker's replacement against Eastern Washington, which is hardly a patsy. Sure, the Eagles are an FCS team. But they also are the defending FCS national champions and they are the preseason No. 1 team in FCS football. Warning! Warning! The key thing here is for the Huskies to show up focused and take care of business. For Price, he wants to play within himself, get comfortable and build his confidence because the competition will ramp up quickly.
7.
Cougars grinning
: Washington State is going to beat Idaho State. Not a big deal. What's a big deal is being 1-0 for the first time since 2005. What is a big deal is a team getting some early momentum, which it hasn't had in in coach Paul Wulff's first three seasons. The Cougs need to go out and pound on Idaho State. They need to walk away feeling good about themselves.
8.
Luck and Shaw
: Stanford is going to pound San Jose State. But the key thing for Cardinal interests is getting Luck some numbers and then sitting him, and letting Shaw get comfortable with his new job fronting the program.
9.
Utah, Arizona State and Oregon State -- just win
: The Utes, Sun Devils and Beavers each face weak, FCS foes. Each is going to win. And each faces a far more formidable foe the next week. The key is taking care of business, staying healthy and getting refocused. Starters eating orange slices in the third quarter is good, too.
10.
Defense wins championships
: OK, so what if LSU's defense thwarts Oregon's offense? The Tigers offense, particularly with
Jarrett Lee
at QB, is hardly scary. One of the often forgotten elements of the 2010 national title game against Auburn is the Ducks did about as good a job as anyone of slowing down QB Cam Newton. Lee is no Cam Newton. There is no law saying Oregon can't win a game 17-13. The LSU defense might stop the Ducks offense, but what if the Ducks defense is even more in control against perhaps the worst offense they will face all season?
September, 1, 2011
9/01/11
10:15
AM ET
Here are ten things I'm keeping an eye on in Week 1 of Big 12 football.
1. Garrett Gilbert.
Everything else aside, Gilbert is ultimately the one guy who will decide how far Texas gets this season. Or, at least whoever Texas' quarterback is by midseason. Gilbert needs to play well to a) make sure he's that guy and b) help Texas rebound from last year's debacle.
[+] Enlarge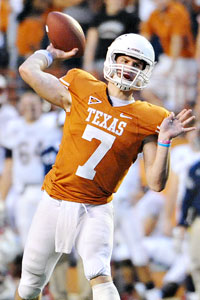 Brendan Maloney/US PresswireThe success of Texas' season likely rides on the shoulders of Garrett Gilbert ... or his replacement.
2. Does Baylor have a second go-to receiver?
Josh Gordon is a huge loss. Everything pointed to a breakout year for the big receiver, but who's going to emerge as
Robert Griffin III
's other top target. Baylor has talent at the position, but it's going to help if one receiver makes his presence clear.
Terrance Williams
?
Tevin Reese
?
Lanear Sampson
? Bueller?
3. Oklahoma's safeties.
Javon Harris and Aaron Colvin have a ton of potential, but they've got a tough test in Week 1. Last year, Oklahoma broke in two brand new corners against Utah State and nearly was upset on its home field.
G.J. Kinne
is a stud, and with both of last year's safeties in the NFL, are Harris and Colvin up for the task?
4. Weeden2Blackmon.
Here's the deal: This game won't be close. But I love watching these two play. And they're going to be putting up some big highlights for the first time in eight months. Football! Finally!
5. James Franklin's arm.
We've seen Franklin run plenty as a freshman playing behind Blaine Gabbert. But Missouri will go about as far as Franklin's arm will take them. His teammates have been impressed with what he's down through the air in the offseason. Will he validate them in the opener?
6. Steele Jantz's legs.
Nobody outside Ames has really seen Jantz, a transfer from a California junior college, do much. But he won the starting job over the more experienced
Jerome Tiller
(before he was ruled academically ineligible for the season) and has Cyclones fans excited. Is he the dynamic playmaker Iowa State's offense has been missing?
7. Kansas State's running backs.
Bill Snyder called it the closest competition on the team. The WIldcats have three co-starters, and third on the list is the Big 12 transfer with the most hype:
Bryce Brown
. Will he establish himself as the clear replacement for Daniel Thomas, who led the Big 12 in rushing the past two seasons?
8. Kansas' point total.
Kansas simply needs to show it can execute. It did it against New Mexico State last year and briefly against Colorado, but this is largely the same team from last year, with a handful of new faces added. How much better is the offense? Good enough to compete in the Big 12? Because the Jayhawks weren't close in 2010.
9. Texas A&M's linebackers.
Most of the attention is paid to quarterback
Kyle Padron
, but the Mustangs' 230-pound, rumbling running back
Zach Line
is no joke, either. He had at least 94 yards rushing in six of the past seven games in 2010, and the Aggies have a big hole at middle linebacker that Jonathan Stewart will try to fill.
10. Texas Tech's playcalling.
Tommy Tuberville wants a new commitment to the running game, but where will that show up? The Red Raiders have what I think will be a good QB, but lots of unanswered questions at receiver next to a deep stable of running backs and a good offensive line. I'm also excited to see what freshman tight end
Jace Amaro
can do.
September, 1, 2011
9/01/11
10:15
AM ET
Week 1 is here. So what should you be watching in the Big East?
1. Debut time.
There are plenty of anticipated debuts throughout the Big East: Dana Holgorsen at West Virginia, Todd Graham at Pitt,
Savon Huggins
at Rutgers and
Teddy Bridgewater
at Louisville to name the four biggest right at the top. But before we dive in there, we have to take a look at the biggest game in the league this week.
2. USF at No. 16 Notre Dame.
The Bulls are ready to make a statement in South Bend as Skip Holtz returns to his alma mater. USF has the speed, but can it hold the line? I will have a preview video later today examining the USF offensive line versus the Notre Dame defensive front as my key to watch. History also is against USF. The Bulls are 0-4 all-time in road season-openers. This is their first road opener since 2005, when USF lost 23-13 to Penn State in Happy Valley.
[+] Enlarge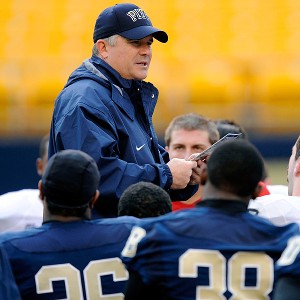 AP Photo/Don WrightTodd Graham makes his debut at Pittsburgh on Saturday night.
3. Holgorsen and his offense.
A quick Google search reveals that there is wide-ranging national interest in the new head coach at West Virginia. So much has been written about what his offenses have done in previous stops, it is time to actually see it in action in Morgantown. The Mountaineers open with in-state rival Marshall on Sunday afternoon. Last year, the Mountaineers struggled to win the game. But this year ... could
70 points be a possibility
?
4. Graham and new-look Pitt.
We get our first glimpse at a new-look Pitt team on Saturday night, when the Panthers go from pro-style to hurry-up against Buffalo. The big question is how the Pitt personnel will look running a system that may not be tailored to their strengths. How does
Tino Sunseri
look, particularly throwing the deep ball? On defense, how does the team adjust to the 3-4? How does Brandon Lindsey do in the new "Panther" role?
5. Huggins the savior?
Rutgers fans have been waiting on the debut of Huggins since he signed with Rutgers in February as the most decorated recruit in school history. Coach Greg Schiano has not said whether he or De'Antwan Williams will start tonight against NC Central. Both played extremely well during fall camp and in scrimmages. Schiano is not so much worried about who will start but is more interested in what he is going to see out of the position. High expectations have been placed on Huggins, but he has embraced them and is ready to make his mark.
6. What can Bridgewater do?
Another true freshmen with a much anticipated debut is quarterback Teddy Bridgewater at Louisville.
Will Stein
will start tonight against Murray State, but Bridgewater will most certainly play. Early reports are that he is mature beyond his years and will bring a different look to the offense. But true freshmen quarterbacks always have a learning curve, so it remains to be seen whether he will become the starter at some point this season.
7. Now starting for UConn at quarterback ...
Coach Paul Pasqualoni will unveil his starting quarterback to the world when the Huskies kick off against Fordham on Saturday.
Michael Nebrich
and
Johnny McEntee
appear to be the front-runners, with
Scott McCummings
also in the race. Your guess is as good as mine, because everybody up in Connecticut has been completely mum on the topic.
8. Cincinnati on D.
The biggest question for the Bearcats has surrounded the defense. How much better will they be with another year of experience and essentially everybody returning? They should be much improved, though there is some youth at linebacker and still questions in the secondary. We may not get a real answer until next week, when the Bearcats go on the road to play Tennessee.
9. Big East-ACC challenge.
Syracuse and Wake Forest play the first of six games between Big East and ACC teams. We all know how important these games are, what with my ongoing catfight with HD. OK, just kidding on that one. But still, a rivalry has grown between Big East and ACC fans about which league is better. The Orange, a bowl team a year ago, have got to beat a Wake team coming off a 3-9 season to keep their momentum going. The big question is how the much younger and slightly smaller defense will do against a pretty good running team.
10. Early Heisman candidates?
This may not be realistic after Week 1, but I certainly recall Michigan quarterback
Denard Robinson
getting some Heisman love after his debut last year against UConn. If
Geno Smith
has a big game for West Virginia, or maybe even
Ray Graham
at Pitt, the Big East can maybe bask in some early Heisman talk -- something it has been unable to do for the past several years.