College Football Nation:

Wayne Dorsey
October, 22, 2011
10/22/11
2:20
PM ET
You never want to make the mistake of overlooking a team in this conference.


Arkansas might be guilty of that as Ole Miss is up
17-7
at the half against the Razorbacks. The Rebels rushed out to a 17-0 lead until
Dennis Johnson
went 52 yards on a run. Johnson has been the only bright spot in Arkansas' offense, but outside of his touchdown run he has netted just 14 yards on three carries.
Tyler Wilson
has just 72 yards at the half, as Ole Miss' secondary has really stepped up. We haven't seen this sort of fire out of the Rebels' secondary all season, and the Rebels are without top defensive backs Marcus Temple and Wayne Dorsey.
If not for that long run by Johnson, the SEC's top offense might not have anything to show through the first two quarters. Arkansas has just 128 offensive yards at the half.
As for Ole Miss, the Rebels' offense has racked up 250 yards at the half, which is two yards less than what it averages each game. Quarterback
Randall Mackey
has completed 10-of-12 passes for 122 yards and a 31-yard touchdown to
Donte Moncrief
. The Rebels have also rushed for 128 yards.
Ole Miss' offense looks more like what we expected Arkansas' to look like today. Arkansas coach Bobby Petrino looked upset at the end of the half, so expect his Hogs to come out a little more focused in the second half.
August, 30, 2011
8/30/11
3:40
PM ET
Ole Miss' defense is getting back to the roots of it all.
Fundamentals, attitude, a blue-collar work ethic and trying to outwork others will be the foundation of a defense that was a disaster in 2010.
Defensive coordinator Tyrone Nix said his players took their talents and what those before them did for granted last season. Players strutted around thinking the red carpet was going to roll out for them each game.
It didn't come close to working that way as the Rebels ranked last in the SEC in scoring defense (35.2 points per game) and 11th in total defense (399.2) and passing defense (246.3). Ole Miss also allowed opponents to score a league-high 95 percent of the time when they ventured into the red zone (27 touchdowns and eight field goals in 37 attempts).
[+] Enlarge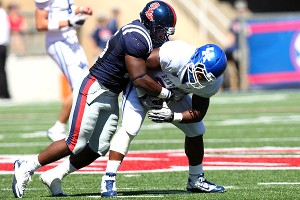 Nelson Chenault/US PresswireJoel Kight is part of an Ole Miss defense that expects to be improved this season.
That's a far cry from the defenses Nix led at Ole Miss in the previous two seasons. Those defenses commanded respect and delivered results. Last year's defense just struggled to keep its head above water.
This season, Ole Miss is dealing with a slew of younger players on defense. It has been both exciting and tiresome for Nix and his defensive staff, but with days until the Rebels' tough season-opener against BYU, Nix says he's happy with where his defense is.
"These kids have really worked hard and are trying to restore some of the respect that was lost last year," Nix said. "We built this thing up in the first couple of years and earned a lot of respect defensively and we're going to continue to work toward that."
In order to do that, this group has had to shovel away its pride and start over. Nix said he's seen players getting to meetings on time or earlier this time around. Players are holding each other accountable instead of assuming they'll get it right on the next play.
There is fire and determination in practice, Nix said, and he sees that in his coaching staff as well. Nix said the addition of Keith Burns as the secondary coach has been a major boost for the defense and added that the coaches have become better teachers. They too took past talents for granted.
Senior linebacker Joel Kight agrees: This team thought the past would push it in 2010. He was also wrong, but he also sees a change.
Kight sees more togetherness and trust among players. Youngsters are being vocal, but they are also willing to listen to veterans. Kight is being looked at as a leader, but he's made sure he hasn't fallen off in practice or his words will mean zilch to players, especially the young ones -- and there are a lot who will see the field early.
Top-rated linebackers C.J. Johnson and Serderius Bryant are expected make major impacts. So are defensive backs Cody Prewitt and Senquez Golson.
While Nix admits no true freshmen are ready to be regular starters, he thinks they'll contribute a lot, starting with the opener.
Seasoned players will also guide this team. Senior end Kentrell Lockett is back after blowing out his knee last season, providing a tremendous presence in the pass rush. Wayne Dorsey will be assisting opposite, while Marcus Temple will lead a more athletic defensive backfield.
The hope, Kight said, is that everyone doesn't hold back this year.
"They say we have a lot of potential. I don't really like the word potential," he said. "I want to see us use that potential. We're very talented and it's up to us to be a good overall, all-around defense."
But there will be plenty of hiccups. It's hard for a unit to perform an instant 360, and Nix is fine with that. What he won't tolerate is complacency. For the defense to shake last season's setback, it will have to rediscover itself and get back to the foundation of football.
"You're either at the top or at the bottom because everybody sitting in between is just a juggling act," he said. "Right now, we're at the bottom of it and we want to finish on top and all we can do is control the present and that's play the best we can, play as a team and play fundamentally sound. If we do those things I think we'll be happy with our season this year."
April, 21, 2011
4/21/11
4:00
PM ET
The moment outside linebacker D.T. Shackelford's injury proved to be season-threatening, distress signals circulated throughout Ole Miss's football team.
Offensive coordinator David Lee said the severity of Shackelford's knee injury, which is expected to sideline him for his senior season, felt like a shot to the figurative heart of the football program.
Not only was he an outstanding linebacker -- and arguably the Rebels' best player -- he was a tremendous leader. On a team lacking a ton of seniors, losing an emotional leader like Shackelford is devastating.
However, in the weeks since Shackelford's freak ACL tear, coach Houston Nutt has found some potential candidates who could step into Shackelford's leadership role.
Right now, Nutt is relying on veteran defensive ends Wayne Dorsey and Jason Jones. Dorsey, a senior, enrolled at Ole Miss last January and played in nine games in 2010, starting four.
Jones, a junior, played in 12 games last season, starting four.
[+] Enlarge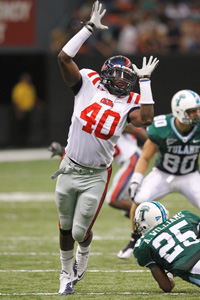 Derick E. Hingle/US PresswireSenior defensive end Kentrell Lockett is a strong candidate to fill the leadership void left after D.T. Shackelford's injury.
Neither is a household name for the Rebels, but Nutt said he saw both step up in place of Shackelford shortly after he went down.
"They showed real signs [of becoming team leaders]," Nutt said.
Sophomore Mike Marry, who worked some in Shackelford's spot after he went down this spring, also took on a leadership role for the team during that latter parts of spring practice, Nutt said.
One guy who could provide that leadership spark this fall is senior defensive end Kentrell Lockett. Lockett, who was granted a sixth year of eligibility by the NCAA after tearing his ACL last fall, missed all of spring practice, but is someone Nutt said he's really hoping steps up soon.
It shouldn't be hard for Lockett to grab the attention of his teammates. He's the most experienced guy on Ole Miss' roster and has great locker-room presence.
While each of these players could become dynamic leaders for this team, finding someone with the same electricity Shackelford possessed seems like a long shot.
"D.T. just took complete ownership," Nutt said. "It was just unbelievable the way he went about things."
That won't easy to replace.
As for finding someone to fill his playing shoes, besides a little work from Marry, the Rebels also rotated sophomore Clarence Jackson and redshirt freshman Ralph Wilson in at Shackelford's position this spring.
The player to keep an eye on this fall will be incoming freshman C.J. Johnson, who was the top recruit out of the state of Mississippi in 2010. He accumulated 149 tackles and two interceptions as a high school senior and despite playing inside linebacker he should be able to move outside.
Johnson has the skill to come in and immediately contribute, but developing his leadership qualities will be the next step in his maturation process.
February, 8, 2010
2/08/10
2:02
PM ET
Not even a week removed from signing day, and we're ready to trot out five newcomers to watch in the SEC next season.
Let's face it. There are always guys who emerge that nobody really saw coming. Look at what Vanderbilt's
Warren Norman
did last season, tying the SEC record with three kickoff returns for touchdowns.
Keep in mind, too, that newcomers include redshirt freshmen, junior college transfers and transfers from other FBS schools.
Granted, it's early, but here are five new faces to watch for next season in the SEC:
1. Auburn quarterback Cameron Newton:
In the spirit of full disclosure, Newton isn't completely new to the SEC. He played some as a freshman at Florida in 2007 and also played a few snaps in the 2008 opener before getting in trouble off the field and leaving Florida. He comes to Auburn after passing for 22 touchdowns and rushing for 16 touchdowns last season in leading Blinn College to the junior college national championship. The 6-6, 245-pound Newton has everything Gus Malzahn is looking for to run his spread offense and is already enrolled in school, meaning he'll be able to go through spring practice. It would probably be an upset if Newton doesn't win the Tigers' starting quarterback job.
2. Florida receiver Andre Debose:
Until he was derailed by hamstring surgery, Debose was being counted upon to be a big piece of the Florida offense last season. He had the speed, moves and playmaking ability and Florida coach Urban Meyer envisioned him doing a lot of the same things in the Gators' offense that
Percy Harvin
did during his three years in Gainesville. Debose will be a redshirt freshman this fall, and the hope is that he will be fully recovered. The door is wide open for him to come in and be Florida's go-to guy at receiver, especially with the likely shift to more of a passing offense now that
John Brantley
is taking over at quarterback. Whatever direction the offense takes, the Gators will surely look to get the ball in Debose's hands.
3. Alabama cornerback DeMarcus Milliner:
There are three starting jobs up for grabs next season in the Alabama secondary, including both cornerback spots. Milliner was one of the top defensive back prospects in the country and could be a factor next season at both cornerback and the star position, Alabama's version of the nickel. Milliner graduated high school early and will participate in spring practice, which in Nick Saban's system, is virtually a must if you're going to play right away as a freshman on defense. Milliner isn't the only newcomer in the secondary that may play early next season for the Crimson Tide. Keep an eye on freshman cornerback
John Fulton
and junior college newcomer DeQuan Menzie as well. Fulton will also be able to go through spring practice.
4. South Carolina running back Marcus Lattimore:
It's difficult to imagine a more important signee for Steve Spurrier since coming to South Carolina in 2005 than Lattimore. Simply, he's the marquee running back the Gamecocks haven't been able to land under the Head Ball Coach. Lattimore won't have to wait long to prove that he's as good as the hype suggests he is. South Carolina needs a serious infusion of pop into its running game, and the 5-11, 215-pound Lattimore has all the tools to be big-time runner in this league. He has speed, power, great acceleration and also has the versatility to be a factor in the passing game. He's not going to do it alone, though. As talented as Lattimore is, he's going to need South Carolina's offensive line to play better than it has each of the last two seasons.
5. Ole Miss defensive end Wayne Dorsey:
It's been a circuitous route for Dorsey to get to Ole Miss, but he may go straight to the top of the depth chart next fall. The Rebels are losing three senior defensive ends, and with the 6-8, 250-pound Dorsey already enrolled in school, he'll get a chance to show this spring what he can do. Originally from Baltimore, Dorsey went to a prep school in New York right out of high school and then spent two years at Mississippi Gulf Coast Community College before signing with the Rebels this past December. He's an exceptional athlete and was also recruited as a basketball player coming out of high school. As a football prospect, he was one of the top-rated junior college players in the country a year ago. Defensive ends have been plenty productive in Tyrone Nix's defense. Dorsey may well be that next dominant pass-rusher for the Rebels.