March, 28, 2013
3/28/13
9:00
AM ET
Rutgers was the last Big East team to open spring practice, kicking things off on Tuesday.
Kyle Flood is back in Piscataway, N.J., for his second season at the helm of the program, and his ninth overall with the school. We caught up with the head coach Wednesday, with one practice in the books and the Scarlet Knights looking to leave a lasting impression as they ready for their final season in the Big East.
What are you looking for Gary Nova to improve upon this spring? What do you want to see from the guys behind him?
Kyle Flood
: I think Gary's got a unique advantage coming into this spring that we haven't had a quarterback have in a long time around here, in that he got a chance to play in 13 football games last year as a starting quarterback and essentially played in the entirety of every one of them. So I think there's an experience advantage that he has that hopefully we can capitalize on. I think the fastest ways we can capitalize on it is if we can keep the highs and make them consistent, and then take some of the low points and take some of the games where maybe he wasn't as pleased with his performance and move him up a little bit, so you don't see the big swings between the really positive games and the games he wasn't happy with. So I think that in and of itself, if we can get to that point -- and I don't know if that happens in just 15 practices in the spring; I think that's the combination of everything he's done since the bowl game, spring practice and then what's going to come afterwards -- but going into next season that's hopefully what we can do.
You guys obviously have a challenge without Brandon Coleman this spring. What are you looking for from the receiving corps during these practices, and is there anyone you're looking to see rise to the occasion?
KF
: I think they're all fighting to find out what their role is going to be. Guys like
Miles Shuler
, who has got a tremendous skill set and really has come a long way in terms of being a receiver the last year. I'm excited to see what kind of spring Miles is going to have. A guy like
Quron Pratt
, who has been an excellent player here — statistically maybe that hasn't shown up, but he really has done a lot of things for us over the last two years. He can now have a much bigger role. When guys like
Timmy Wright
and
Mark Harrison
graduate, it provides opportunity, and with Brandon Coleman not there this spring it'll be even more opportunity for him to showcase himself. And then you've got some younger guys also, guys like
Ruhann Peele
and
Carlton Agudosi
, who are fighting right now to show the coaching staff how big of a role they should have next year.
There's no Coleman, and we know about Savon [Huggins]. Who are some of the other playmakers you are hoping to emerge from spring?
[+] Enlarge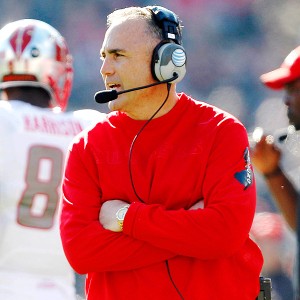 Frank Victores/USA TODAY SportsCoach Kyle Flood said spring drills at Rutgers have been a bit choppy so far -- though that's normal as younger players see more time on the field.
KF
: I have seen so much of Savon through his career right now in terms of practice and then in games -- I'm very confident Savon's going to do an excellent job for us at running back. I think everybody else right now at that position is doing exactly what those young receivers are doing; they're fighting to show us as players how big of a role they should have, and I think that competition is going to be exciting for everybody, including Savon. I didn't get a chance to get to it, but I would feel the same way really about the quarterbacks. I think all these quarterbacks right now, they're lined up behind Gary. And
Chas [Dodd]
is a little bit of a unique commodity in that he's won football games for us at Rutgers. Those guys create a very competitive environment. Every player in our program right now this spring could see opportunity, and that kind of competitiveness in the rooms, and the opportunity that spring provides, it really gives everybody a chance as we go through the spring.
You guys are breaking in two new coordinators this spring. Offensively with Ron Prince, do you expect this spring to be a little bit of a feeling-out period, or do you think things will go over relatively smoothly with him in charge of the offense?
KF
: It'll go over smoothly from coach Prince's perspective and from mine. I think that the bumps in the road are going to be some of the young players who now are going to have a lot more on their plate than they've ever had, and that'll create -- even yesterday in our first practice, some of the young receivers and running backs not having been in the fire, so to speak, are out there and they're struggling to get lined up. They're not as quick as maybe you would like them to be or maybe the group of receivers would have been last year because they were used to doing it. Those are all going to be things that are part of the learning curve as we go forward. I think there are going to be some rougher patches this spring at every position, but generally when those things happen it's much more about the younger players being allowed and given more opportunities than anything else. When you get to the season you're really only repping your starters and your ones and one-and-a-halves, as we call them. So right now everybody's getting reps, and at times that can make it a little bit slower or a little bit more choppy than you'd like it to be, but it's a necessity because you've got to find out what they know.
Defensively, you lose an all-timer in Khaseem Greene and another really good linebacker in Steve Beauharnais. Are those players really replaceable, or do you look for a collective effort from the group?
KF
: I don't think you replace players really at any position. Football is the ultimate team game, and to think that you're going to replace a Khaseem Greene or a Steve Beauharnais, that's really not the way we think about it. We've played defense at a high level here for a long time and we've done it with a lot of different pieces. And I think now what the staff is looking to see is who are the pieces going to be. And at linebacker we've got two guys in
Jamal Merrell
and
Kevin Snyder
, who, in my opinion, have already established themselves as players in our defense. We're trying to figure out who the third piece of that puzzle's going to be. Is that going to be a new Mike? Is that going to be a new Will? I'm not sure I can answer that question just yet. But I'm confident with what we have coming back that we'll be able to continue our tradition here of playing defense at a high level.
Three new starters in the secondary. Jeremy Deering is back there full-time. What do you see from him and that position group as a whole? What makes you feel more comfortable with him back there?
KF
: As coaches I think we'd better always be trying to get our best athletes on the field. And if there is a guy on your team you think can be a starter on defense but he's on offense, and he has a significant role on offense but maybe it won't be showcased the way he could be on defense, I think it's our responsibility to see if that player would have an interest in it. And I approached Jeremy with that decision and he was really excited about it. And it was certainly something that we tinkered with a little bit last year trying to build some depth in our sub packages, and we weren't really able to really put it in as far as we wanted to, but now with having an offseason and needing a guy with the departures of
Duron Harmon
,
Wayne Warren
and some of the other defensive backs, it's really a position on our team that will have more new faces than any other. And we really thought that Jeremy Deering, even though he is going into his senior year, he's got the right skill set to do that. He's got the right frame of mind to do it and he has the desire to do it, and I think Jeremy's going to do very well back there for us.
Big-picture, the Big East has been going through a lot of changes. The conference welcomes in four new teams this fall. I was just curious from your standpoint if there's anything different that you have to prepare for when you're seeing fresh staffs and fresh players on your schedule this season?
KF
: I think with the way the Big East was constituted in the past, we've seen a good variety of pro-style offenses, spread offenses. We have played the academies, so we've seen the option. We had West Virginia in the conference for a long time, so we played against the 3-3 defense. I don't know that there will be anything in this new collection of teams that will be significantly unique. Now I do know that each one will bring very specific challenges and they'll have strengths and weaknesses to their teams just like we do. But those will be things we'll address after spring practice. Right now we're trying to figure out what we are. We're trying to figure out who are going to be the playmakers on our team that are going to be out there. Who are going to be the people in the sub packages, and really what is our football team going to look like? And that's what I'm most concerned about, and I think that's what spring practice is for. We have the schedule, so we know who the first four games are going to be now. We'll get a little bit involved into doing some early game-planning for them, but we won't do that until after spring practice is over.
October, 7, 2012
10/07/12
9:00
AM ET
How about a few helmet stickers for a job well done?

Montel Harris, RB, Temple.
Harris resembled the back we saw star at Boston College, notching his first 100-yard game with the Owls. Harris ended up with 133 yards on 24 carries and two touchdowns. His 35-yard run with 1:03 to play sealed the
37-28 win over USF
. It marked the 23rd 100-yard rushing game of his career, which leads the nation.
Brandon Sharpe, DE, Syracuse.
Sharpe had a career-high four sacks in a
14-13 win
over the Panthers, tied for the second-highest single-game sack total in school history. He finished the game with a career-best seven tackles, including six for a loss. The six tackles for a loss rank second on the school's single-game record list behind Doug Hogue, who had 6.5 against Rutgers in 2009.
Rutgers defense.
The Scarlet Knights dominated UConn in a
19-3 victory
, forcing five turnovers -- including Wayne Warren's 25-yard interception return for a touchdown. Rutgers limited UConn to 53 yards rushing -- the fifth straight opponent to rush for fewer than 100 yards in a game. Rutgers entered the game with the nation's top rushing defense (62.5 rushing yards per game).
George Winn, RB, Cincinnati.
Winn had 16 carries for 128 yards and two rushing touchdowns in a
52-14 win
over Miami (Ohio). It was his second multi-rushing-touchdown performance of his career, and the season, after also running for two scores against Pitt on Sept. 6.
October, 6, 2012
10/06/12
3:37
PM ET
Rutgers won't be up for any beauty contests after its
19-3 win over Connecticut
, but the Scarlet Knights do look like the best in show of the Big East after five games.


The formula was simple Saturday against the Huskies, the team that crushed Rutgers' conference title hopes at the end of last season.
Jawan Jamison
carried the ball 28 more times for 110 yards, marking his sixth straight 100-yard game dating back to last season. The defense took care of the rest, forcing five turnovers, including a game-sealing 25-yard pick-six from
Wayne Warren
late in the fourth quarter.
It was a tight and, frankly, ugly contest — just the way the Scarlet Knights would like it.
UConn fumbled a kick return in the first quarter, leading to a Rutgers field goal. UConn later had a 21-yard punt after a low snap, before
Shamar Stephen
blocked a Rutgers field goal attempt in the second quarter. The Scarlet Knights responded with a bad punt of their own, kicking it just 12 yards on one attempt later in the second quarter.
For good measure, Rutgers'
Jeremy Deering
fumbled on a long kickoff return to open the second half.
The difference, however, was the Scarlet Knights' ability to capitalize on mistakes, scoring 12 points off three of UConn's turnovers. Both teams finished shy of 300 yards of offense on the day, but Rutgers was able to chew up clock in the second half on the back of Jamison, and the Huskies could never mount anything substantial on offense.
Lyle McCombs
, benched for the first quarter
following his arrest Friday
, rushed for 32 yards on 12 carries, and the Huskies managed just 53 yards rushing as a team. They continued their streak of win one, lose one under Paul Pasqualoni, and they are still searching for an answer on offense through six games.
Rutgers, meanwhile, needs to keep from looking ahead. In the meantime, we will. Syracuse, Temple, Kent State and Army await the Scarlet Knights, and it's easy to imagine a 9-0 Rutgers team heading into Cincinnati on Nov. 17.
September, 14, 2012
9/14/12
1:40
AM ET
TAMPA, Fla. -- You saw ugly, but you also saw relentless.
You saw mistakes, but you also saw beauty.
This has been the story of the Rutgers season so far, and it replayed itself that way again Thursday night against USF in a game that featured as many head-scratching plays as head-turning plays. What was definitive in the
23-13 win
over USF: The Scarlet Knights have a championship defense.
Its offense? Well, that remains to be seen.
What helps, of course, is having a workhorse back such as
Jawan Jamison
, who had a school-record 41 rushing attempts for 151 yards as Rutgers kept pounding away at what was supposed to be one of the better defensive lines in the Big East.
What helps, of course, is to have your quarterback manage the game the way
Gary Nova
did. For every two great passes he threw, he had a clunker. He overthrew receivers, underthrew receivers and has not quite gotten the deep ball down. But note: Nova had no interceptions, and made several critical third-down conversions on second-half drives that pulled Rutgers from behind.
What helps, of course, is playing a team in USF that Rutgers has dominated. Quarterback
B.J. Daniels
fell to 1-3 against the Scarlet Knights, and looked just as flustered Thursday night as he did when he played against them as a freshman in 2009 in a 31-0 loss.
Daniels threw three interceptions -- two on tipped balls. Five days after leading his team to a comeback win with an unbelievable 56-yard touchdown pass to
Andre Davis
in the closing seconds, Daniels had an opportunity to sprinkle some Nevada magic in Florida.
Down 16-13 with 2:48 left, USF got the ball at its own 35. Daniels threw complete on first down to Davis, easily his favorite target.
[+] Enlarge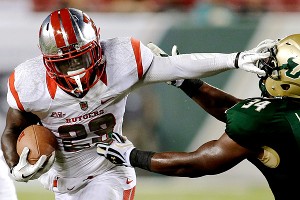 AP Photo/Chris O'MearaRutgers running back Jawan Jamison had 151 yards and a touchdown on 41 carries.
Second down: incomplete.
Third down: incomplete.
Fourth down: incomplete.
Ball game.
"You find a way to stay in this man's head, keep him running around making some throws where they weren't the greatest throws," said Rutgers safety
Wayne Warren
, who had one interception. "Just stay after him. We're an attack defense. We're going to come after you. I think every team knows that. We practice it and preach it and try to do well at it."
USF, of course, has had terrible luck on Thursday nights, falling to 0-9 on this particular day as Big East members. When asked about the voodoo, USF coach Skip Holtz answered, "I believe the curse was we turned the ball over five times."
The Bulls, a veteran team many expected to make a serious run at a Big East title, have now lost nine of their past 10 conference games. This was same ol', same ol' USF on full display.
But truth be told, this team had no business being in the game in the fourth quarter.
Rutgers had the edge in turnover margin, time of possession, first downs and plays. But the Bulls tied everything up at 13 with 9:23 remaining thanks to a huge 32-yard play from Daniels to
Derrick Hopkins
down to the goal line -- on a ball that
Marcus Cooper
nearly intercepted.
Demetris Murray
punched the ball in from the 1-yard line, and all of a sudden momentum seemed to be swinging back to the Bulls despite all their mistakes. You should note on this drive, Rutgers was called for two false starts in a row on third down, and this explains why USF hung around until the very end.
No matter how great Rutgers has looked on defense, its offense has sputtered at times, and penalties have been a major issue. Rutgers had 11 for 85 yards against USF, bringing its season total up to 31 penalties in three games.
Despite these mistakes, Rutgers did enough to win. With less than 2 minutes to play Jamison iced the game with a 41-yard rushing touchdown, featuring a nifty spin move, and yes, the name Ray Rice was invoked more than once. Can this team be as good as the 2006 version?
"To make comparisons this early in the year is dangerous," Rutgers coach Kyle Flood said. "This football team has done a nice job in the first three games, getting better in each game. The formula is our Rutgers formula. We want to run the football, which hopefully will create some one-on-ones in the passing game. That was our formula in '06. That was our formula last year. Maybe we didn't do it as well at times last year. I don't think I'm ready to make those types of comparisons yet, but I do think we're moving in the right direction."
Flood may not want to make those pronouncements. But his defense is already there, if the first three games of the season are any indication.
Nobody has rushed for 100 yards on this team. Nobody has scored more than 13 points. This D has allowed two total touchdowns in three games.
"This defense is playing really great," Warren said. "A lot of us are confident, but at the same time, we're just ready to work. We're happy with the win, but it doesn't stop here for us."
September, 13, 2012
9/13/12
11:22
PM ET
Rutgers broke a 13-13 tie late in the fourth quarter to
defeat South Florida 23-13
and go to 1-0 in the Big East. Here's a quick look at how it went down in Tampa, Fla.


It was over when
:
Jawan Jamison
rushed for a 41-yard touchdown with 1:19 left, putting Rutgers ahead 23-13. Jamison had a pretty spin move after breaking through the line, and he went untouched the rest of the way. South Florida quarterback
B.J. Daniels
had misfired on a fourth-and-3 throw with 2:13 left, giving Rutgers (3-0) the ball back with a three-point lead.
Game ball goes to
: Jamison rushed it a school-record 41 times for 151 yards and had the game-sealing touchdown, giving him 100-plus yards in all three games this season and four in a row dating back to 2011. Jamison now has 373 rushing yards on the season.
Stat of the game
: USF (2-1, 0-1 Big East) turned the ball over four times, with three coming from Daniels interceptions. His pick in the end zone -- intercepted by Rutgers'
Wayne Warren
-- proved very costly, as USF was at the 5-yard line and threatening to tie the game at 13 late in the third quarter.
What Rutgers learned
: Coach Kyle Flood got a big road win in his first conference test. The Scarlet Knights had success passing the ball, with
Gary Nova
throwing for 277 yards and
Tim Wright
catching nine balls for 125 yards. There's no reason to think Rutgers can't contend for the conference crown.
What USF learned
: So much for building off last week's comeback at Nevada. The Bulls fell to 0-9 in Thursday-night games, losing a key home contest to another preseason Big East contender. Daniels, who looked so promising last week against the Wolf Pack, completed only 15 of 33 throws for 242 yards with no touchdowns and three interceptions.
November, 15, 2011
11/15/11
4:00
PM ET
Every football coach in America talks about the importance of special teams. But only a few coaches in America have special-teams units that are truly special.
Rutgers coach Greg Schiano is one of them.
Throughout his tenure, Rutgers has produced one solid unit after another. This season is no exception. Rutgers has seven blocks in 2011, tied for second nationally. Only Fresno State (10) has more. Since 2002, Rutgers has 54 blocks to tie for second in the nation as well.
The importance of special teams is emphasized to every player at Rutgers from the day they set foot on campus. Not only is it a way for players to get extra playing time, special teams also is a way to make a huge impact in a game. Just ask starting cornerback Brandon Jones.
[+] Enlarge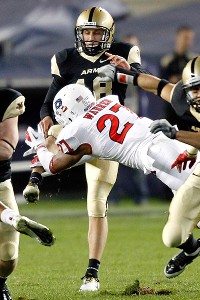 AP Photo/Paul J. BereswillBlocking punts and field goals has become a common occurrence for Rutgers' special-teams units.
It was Jones who blocked the go-ahead field goal against Navy late in the fourth quarter, a play that allowed Rutgers to win 21-20.
"It was probably one of the greatest experiences I had playing football in my whole career," Jones said in a phone interview. "I knew the timing of it, and it was a game that was on the line. I knew somebody was going to block it. The fact that I was able to come through for my brothers, it meant a whole lot to me."
Rutgers has had special-teams wizards in the past, guys like Devin McCourty and Joe Lefeged. But Schiano says this year has been more of a group effort. Five different players have blocked a field goal, punt or extra point this season. Jamal Merrell leads the team with three.
"A culture has developed here," Schiano said. "We spend a lot of time on it. It's emphasized, and we really do play a lot of starters on our special teams."
Jones estimates the special-teams units are made of 75 percent starters. One of the big points of emphasis for Rutgers' special teams is speed. So there are some younger players who get an opportunity because they can be difference makers. Rutgers works on punt and field goal blocks during practice every day, so it gets to the point where Rutgers does not just hope for a big play to happen. Players go into the game expecting a big play on special teams to happen.
"We make our luck," said Jones, who is on the punt block, kickoff return and kickoff coverage teams. "The preparation throughout the week is you're going to get a block, we're going to get it done. If everybody does the details and technique correctly, it will happen."
As for the message Schiano sells on playing special teams, Jones said, "Coach puts a big emphasis on it because it's a way you can win a game. Every guy that's on the team wants to play on special teams. It's not a punishment, it's something everybody wants to do because it's another way we can go about winning a football game."
Indeed, when you look at some of the blocks this season, they came at opportune times. Jones saved the day against Navy. Merrell had a blocked extra point and a blocked field goal against Syracuse, a game Rutgers won in overtime. Without those plays, the Scarlet Knights might have lost. Rutgers ended up scoring a touchdown off the blocked field goal, so that was a huge turning point in the game.
The most recent was a blocked punt by Wayne Warren last week against Army, with Rutgers holding a slim 13-12 lead. Jordan Thomas picked up the ball and returned it for a touchdown to swing momentum.
Aside from the blocks,
Jeremy Deering
has returned a kickoff for a touchdown and Rutgers has scored off a fumbled punt. The Scarlet Knights rank 11th nationally and lead the Big East in kickoff returns (25.5 yards per return). About the only part of the unit that has struggled has been kicker San San Te, who has missed 10 field goals this season.
"Sometimes it's kind of like a golfer in the middle of a round," Schiano said. "You can't fix it, but if you get on the range and you work the kinks out he knows what the problem is, he's just got to get it grooved out."
November, 12, 2011
11/12/11
7:19
PM ET
Rutgers got yet another huge play from its special teams to swing momentum in
its 27-12 win
over Army on Saturday.


After Army closed to 13-12 early in the fourth quarter, Wayne Warren came up with a huge blocked punt midway through the decisive period.
Jordan Thomas
scooped up the ball and ran it in from 32 yards with 6:36 to play to essentially put the game out of reach.
It was the 51st non-offensive TD under Greg Schiano. Exceptional special teams play has always been a calling card of this team, and this season is no exception. Rutgers also got some huge plays from its defense, with two nice stands inside its own 3 early in the game limiting Army to field goals only.
On offense,
Mohamed Sanu
was the big story again as he broke the Big East single-season record for receptions. He now has 94, passing the mark of 92 set by Larry Fitzgerald in 2003. Sanu had 13 of the team's 17 catches on the day. Meanwhile,
Chas Dodd
had an up and down day in his first game back as a starter, with two touchdowns and interceptions.
October, 23, 2010
10/23/10
1:55
PM ET
It's no surprise that Pitt and Rutgers are playing a close, hard-hitting game. The two teams are
tied at 14
at halftime.
How have the Scarlet Knights responded to the Eric LeGrand injury? They're playing hard, but it doesn't seem to have any effect on the game.
Typically, Rutgers isn't doing a whole lot on offense (less than 100 yards in the half) but is getting it done on defense and special teams. A great play by Charlie Noonan to pick off a shuffle pass and return it deep into Pitt territory led to the first touchdown. In the second quarter, Wayne Warren blocked a punt that Brandon Bing recovered in the end zone to tie the score. Rutgers continues to find ways to score in non-traditional ways.
Pitt has had some big plays, including a 46-yard pass from
Tino Sunseri
to
Jon Baldwin
to set up a score. It was good to finally see those to hook up for a big gainer.
Ray Graham
and
Dion Lewis
have combined for 95 yards. But the turnovers have hurt, and Rutgers' defensive pressure has come up big in key spots to stop Panthers' drives.
Pittsburgh has played better overall, but Rutgers likes to hang around with its defense and try to win the game in the fourth quarter. Knowing these two teams, the game will likely come down to that.