NCF Nation:

Weekend rewind 090213
September, 2, 2013
9/02/13
12:00
PM ET
Taking stock of Week 1 in the Pac-12:
Team of the week
: Washington opened fancy, renovated Husky Stadium with a dominant 38-6 win over No. 19 Boise State. Quarterback
Keith Price
was outstanding, and the defense kept the Broncos from scoring a touchdown. It was Boise State's worst loss since 2005.
Best game
: While Oregon State's 49-46 loss to FCS school Eastern Washington was the biggest nail-biter, the Pac-12 blog isn't in the habit of celebrating a conference loss to an FCS team. So we're going with Utah's 30-26 comeback win over Utah State. The Utes trailed 23-14 early in the second half but stormed back after following up a 45-yard field goal with a successful onside kick. It was a gutsy call that led to the Utes' go-ahead points.
Biggest play
: Colorado had taken a 26-24 lead over Colorado State early in the fourth quarter, but the Rams had driven to midfield and looked poised to counter on their next possession. On second-and-8, a
Garrett Grayson
pass to
Kapri Bibbs
looked like it was going to earn a first down, but Buffs defensive end
Chidera Uzo-Diribe
came from behind Bibbs and slapped the ball out.
Greg Henderson
got a nice bounce and scooped and scooted lickety-split down the sideline for a 53-yard touchdown that changed the game.
[+] Enlarge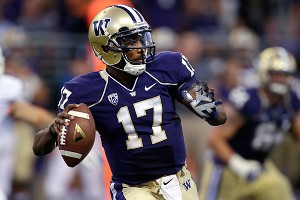 AP Photo/Ted S. WarrenKeith Price was stellar in Washington's win over No. 19 Boise State.
Offensive standout
: Price completed 23 of 31 passes for 324 yards with a pair of touchdown passes and rushed for 25 yards in the win over Boise State. Moreover, he did all that after throwing a pick on his first pass, showing mental toughness by not letting an early mistake in a high-pressure environment get him down. His efficiency rating for the game -- 176.8 -- would have led the nation in 2012. Price also now has 56 career TD passes, a school record.
Defensive standout
: Colorado's Addison Gillam was just the second true freshman to start a season opener at inside linebacker in school history, but that's not why he's noted here. He's here because he recorded 14 tackles, with two coming for a loss, and a sack. He also had a pass breakup and a key tackle on fourth down. The Buffaloes' defense, which was just awful last year, held Colorado State to 295 total yards.
Defensive standout II
: Yes, Washington's Justin Wilcox knows what he's doing as he continues to climb the short list of nation's best defensive coordinators. The Huskies were bend-but-don't-break early against Boise State, and then they took over. Six points was the Broncos' lowest point total since 1997 (a 58-0 loss to Washington State). While Boise State gained some yards -- both teams were running up-tempo schemes, so there were 173 total plays in the game -- the Broncos averaged only 3.9 yards per play. For the sake of comparison, Alabama gave up 4.2 yards per play last year. Boise State's longest running play was 18 yards, and its longest passing play was 16 yards. When you don't give up big plays, you have a chance to win.
Special-teams standout
: Utah kicker
Andy Phillips
, a former U.S. alpine skier who had never played competitive football -- at any level -- before his kickoff against Utah State, kicked field goals of 45, 19 and 38 yards and was perfect on three extra points in the Utes' 30-26 victory. The final two kicks came after the Utes had fallen behind 26-24 in the fourth quarter. Oh, and he perfectly executed an onside kick that might have been the biggest play of the game. His three kickoffs all went for touchbacks.
See this video
.
Smiley face
: The most important thing is to be 1-0 after the opening week, and seven of 10 Pac-12 teams that played can now say that. Two of the teams that lost, California to No. 22 Northwestern and Washington State at Auburn, showed fairly well as underdogs and probably felt they should have won. Washington, Colorado, UCLA, Arizona and Oregon probably feel like they got exactly what they wanted out of the week. USC and Utah are, again, happy to be 1-0.
Frowny face
: Oh, man, Oregon State. That defense.
Oregon State was the week's big loser. More like BIG LOSER. A four-touchdown favorite against Eastern Washington -- an FCS power but an FCS team nonetheless -- the No. 25 Beavers went down 49-46 because they simply couldn't stop Eagles quarterback
Vernon Adams
, who passed for 411 yards and rushed for 107. The Beavers welcomed back seven starters from one of the nation's best defenses, but that unit turned in a miserable performance. What the heck happened to All-Pac-12 defensive end
Scott Crichton
, who had just two tackles?
It was only the third time that an FCS school defeated a ranked FBS team.
Thought of the week
: You can never -- ever! -- take any team lightly. In a week when every Pac-12 team will be favored in nonconference play, that's something to remember.
Questions for the week
: USC and Washington State open Pac-12 play this week in the L.A. Coliseum on Saturday, and this game could be revealing. The Cougars showed they are an improved team at Auburn, while the Trojans are hard to pin down. Will Washington State get the upset? If that happens, the Mike Leach era gains momentum while the Lane Kiffin era takes a notable downturn. A secondary question is whether one or the other USC quarterbacks takes control of the starting job.
September, 2, 2013
9/02/13
11:33
AM ET
Yep, it's back for another season, our "Hot and Not" stroll around the SEC.
Week 1 is in our rearview mirrors, and some temperatures are already rising. Others ... not so much.
Here's a taste:
GLOWING EMBERS
[+] Enlarge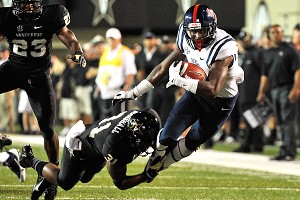 Frederick Breedon/Getty ImagesTrue freshman WR Laquon Treadwell had nine receptions for 82 yards against Vanderbilt.
Ole Miss' future:
It didn't take long for Ole Miss fans to see some of the Rebels' most prized members of their heralded 2013 signing class in action. They played a key role in Ole Miss' thrilling 39-35 win over Vanderbilt in Thursday's opener, and what was already a bright future for the Rebels just got a lot brighter. Receiver
Laquon Treadwell
looks physically like you'd expect a pro to look. He's a big target, gets open and catches it if it's anywhere close to him. Defensive end
Robert Nkemdiche
is scary good. He's 290-plus pounds, powerful and brings it on every down. Safety
Tony Conner
had a big interception early and is a perfect fit for the Rebels in that "Husky" position. He's physical enough at 6-foot-1 and 210 pounds to play the run but also can cover. Offensive linemen
Laremy Tunsil
and
Austin Golson
played extensively and played well. They were on the field a lot in the second half, and that's when the Rebels' offensive line found its groove. With
Aaron Morris
out for the season, their roles will only increase, and tight end
Evan Engram
caught five passes for 61 yards with three of those catches coming in the third quarter, when Ole Miss made its move. It's hard not to be giddy about the future if you're of the Hotty Toddy persuasion.
HOT
Georgia running back Todd Gurley:
If Gurley's not the best running back in college football, I want to see the back who is. Even with a thigh injury, Gurley was electric and finished with 174 yards on 12 carries in the Bulldogs' 38-35 loss to Clemson. He had touchdown runs of 80 and 12 yards, showing off both his speed and tackle-breaking ability.
NOT
Mississippi State's offense:
The Bulldogs' 21-3 loss to No. 13 Oklahoma State marked their lowest scoring output since a 31-3 loss to Alabama in 2009 during Dan Mullen's first season. Unfortunately for the Bulldogs, they've made a habit of not showing up offensively in games against nationally ranked foes. In their last eight games against ranked teams (going back to the 2011 season), they've averaged just 10.3 points per game and have been held to 17 points or fewer in all eight games. In six of those eight contests, Mississippi State has been held to 13 points or fewer.
HOT
Tennessee's fans:
Never mind that Tennessee was facing a team (Austin Peay) that had zero chance to even make it close. And never mind that the Vols entered the game on the heels of three consecutive losing seasons. Neyland Stadium was rocking, and an announced crowd of 97,169 showed up to see the Butch Jones era kick off. A year ago, the Vols drew just 87,821 for their opener against Georgia State and averaged 89,965 for home games, their lowest since 1979. Jones has his work cut out on the field, but he has them believing on Rocky Top.
NOT
Georgia's pass protection:
The Bulldogs had better figure it out in hurry on their offensive line before South Carolina and
Jadeveon Clowney
get to town this weekend. Rarely did
Aaron Murray
have time to throw in the loss to Clemson, and the Tigers' defensive front isn't going to be confused anytime soon with the Gamecocks' defensive front.
HOT
Alabama's defensive front seven:
So much for Alabama's offense maybe being a little bit ahead of the defense this season. The Crimson Tide are as menacing, swarming and suffocating as ever in their front seven, and senior end
Ed Stinson
was especially active. Alabama just keeps replacing great players with other great players.
NOT
Restless Georgia fans:
Enough with the Mark Richt must-go nonsense. Let's see what happens this weekend when South Carolina visits Sanford Stadium. Richt has proved in the past how resilient his teams are, and a win over the Gamecocks would ease a lot of the pain right now in Dawg Land. Remember, it's a looooong season.
HOT
South Carolina's defense:
OK, maybe Clowney didn't have six sacks and send somebody's helmet flying off in South Carolina's opener, but the Gamecocks are still a load on defense. They had 12 tackles for loss (in one game) in their 27-10 win over North Carolina -- with 11 different players getting into the act. They held the Tar Heels to 293 total yards and limited them to just 7.5 yards per completion on 43 pass attempts. There's a lot more to this defense than just Clowney.
NOT
Mark Stoops' debut:
It's never a good thing when Kentucky loses for a second consecutive season to Western Kentucky. But there was so much excitement surrounding Stoops and the way he has recruited, making the season-opening loss in Nashville even more disappointing. It also underscores what kind of challenge awaits Stoops.
FREEZER BURN
Johnny Football:
If you're tired of hearing about
Johnny Manziel
, you might want to get used to it. Here's a news flash: He ain't changing, nor does he care what anybody else thinks about him. What he should care about is whether he does anything to hurt his team on the field or anything that would reflect poorly on his teammates and coaches who have to be growing weary of the whole Johnny Manziel circus. It's obvious they love the way Manziel competes and the fire he plays with. In the time he was on the field Saturday in the second half against Rice, he looked even more comfortable in the pocket than he did a year ago and was extremely sharp throwing the ball. But he can't cost his team foolish (Kevin Sumlin's words) penalties, and he's too good a player to continue serving as a distraction with the juvenile antics. It's obvious Manziel revels in being college football's so-called bad boy and would like to tell everybody to go stick it. But there's a fine line sometimes between doing that and sticking it to your teammates.
September, 2, 2013
9/02/13
11:00
AM ET
Exhale.
You wait nearly nine months for the return of college football, to see players and coaches that have been endlessly analyzed all offseason, and then it all spills out on opening weekend. So of course the natural inclination is to make immediate judgments on what you've seen, and to find instant reasons to panic.
Nebraska's defense is going to be historically bad! Michigan State's offense is somehow worse than last year's! Ohio State is wildly overrated! Purdue and Iowa might not win a game in the conference besides the one against each other!
Some concerns obviously are valid. But remember that it was just opening week. Teams and players are still figuring things out, learning who and what they are. In Week 1 last year, for example, Michigan State beat a ranked Boise State team, Michigan got destroyed by Alabama, Minnesota needed triple-overtime to put away a bad UNLV team, Penn State lost at home to Ohio and Illinois rolled over Western Michigan. Those outcomes hardly defined the season for those teams.
Or better yet, look back to Iowa's win over Northern Illinois in the first game of the 2012 season. Who would have guessed then that the victorious team would wind up 4-8 and that the loser would go to the Orange Bowl?
Many of Saturday's games were also played in extreme heat, a stark contrast to the unseasonably cool August temperatures most teams trained in during the preseason. That's not an excuse, because Big Ten opponents had to deal with the same conditions. But the league race will be decided in October and November in much different weather, and probably by teams that will look a whole lot different.
It's a coach's cliché that teams make their biggest improvements from Week 1 to Week 2. So it's not time to panic yet. At least not for another Saturday.
Take that and rewind it back:
[+] Enlarge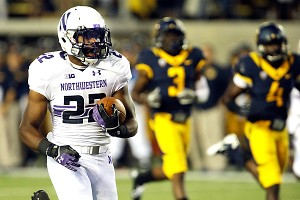 AP Photo/Ben MargotTreyvon Green rushed for 129 yards and two touchdowns in the victory over Cal.
Team of the week:
Northwestern. The Wildcats went to Pac-12 country, where Big Ten teams have had little success in recent years. They lost starting quarterback
Kain Colter
to injury on the second play against Cal, star tailback/returner
Venric Mark
spent more time on the exercise bike than the field, and cornerback
Daniel Jones
went down with a knee injury right before halftime. Meanwhile, Cal threw some haymakers and seemed to seize the momentum in the third quarter. Yet Northwestern -- which had some trouble holding onto late leads last year -- prevailed 44-30.
The win didn't come without controversy, as Cal fans and coaches thought Wildcats players were faking injuries in the second half to slow down the Bears' high-tempo offense. During one Cal drive, Northwestern players went down to the turf after three consecutive plays. Some players, such as linebacker
Damien Proby
, went down more than once. Cal coach Sonny Dykes threw up his hands in frustration at one point, while Bears fans booed, which was pretty funny, given
Cal's own history with faking injuries
against a high-tempo offense.
Northwestern coach Pat Fitzgerald said his team wasn't up to any hijinks.
"If anybody were to question the integrity of myself, our program or our players, I question theirs," he said in the postgame news conference. "When our guys get dinged up, they are instructed to go down, not hobble off to the sideline."
Worst hangover:
The Boilermakers got outscored 35-0 in the second half of their 42-7 loss at Cincinnati and might have gotten shut out if not for a botched Bearcats punt return late in the first half. Purdue was a mess in just about every area and was neither physical nor disciplined, two traits that Darrell Hazell has made priorities.
We're going streaking:
Thanks to Iowa's loss and Illinois' escape against Southern Illinois, the Hawkeyes now have the Big Ten's longest current losing streak, at seven games. That's tied for the fifth-longest losing streak in the FBS and second-worst among AQ teams, behind only Kansas, which was idle last week. The good news is that Iowa should finally get back in the win column this week versus Missouri State, and its Week 3 opponent, Iowa State, lost to Northern Iowa on Saturday.
Fun with numbers (via ESPN Stats & Information):
Yes, the Michigan State passing attack was as bad as it looked against Western Michigan. Through Sunday's games, the Spartans rank second-to-last among all FBS teams in yards per pass attempt (3.14) and percentage of completions that went for at least 10 yards (17.6). ... No team gave up more first downs in Week 1 than Nebraska, which allowed Wyoming to move the chains 35 times. The Huskers were also one of only two AQ teams that gave up more than 500 yards of offense to a non-AQ team in regulation. Oregon State was the other. ... Michigan's
Devin Gardner
threw two interceptions, but he had the Big Ten's
top QBR score
and was No. 15 nationally in Week 1. ... Wisconsin averaged 8.9 yards per rush against UMass and ranks third nationally in that stat. ... Penn State is last in the FBS in third-down conversions after going 1-for-16 against Syracuse. Of course, third down is often only a prelude to the next play for Bill O'Brien.
Point-ing up:
Indiana leads the nation in scoring after putting up 73 against Indiana State on Thursday. The schedule really helped, but offense was up throughout the Big Ten. Eight of the 12 league teams scored at least 37 points and the conference scoring average after one week is 39.5 points per game. Compare that to last year, when the league averaged 26.7 points per game in Week 1. Again, many of the opponents weren't great last week, but the simple eyeball test tells you that several Big Ten teams look more comfortable and have more playmakers on offense. With a couple of notable exceptions.
Big Man on Campus (offense):
Sure, it was against an FCS team, which is why we excluded him from our helmet stickers. But let's recognize Illinois quarterback
Nathan Scheelhaase
, who threw for a carer-high 416 yards and two touchdowns in Bill Cubit's new offense. In one game, Scheelhaase accounted for more than 30 percent of his entire passing yardage in the 2012 season.
Big Man on Campus (defense):
Northwestern linebacker
Collin Ellis
helped save the day, er, night at Cal with a pair of pick-sixes.
Big Man on Campus (special teams):
Tons of big special teams plays this weekend, including kickoff returns for scores by Minnesota's
Marcus Jones
and Illinois'
V'Angelo Bentley
and a punt return TD from Indiana's
Shane Wynn
. Michigan's
Joe Reynolds
scored on a blocked punt by teammate
Dymonte Thomas
. But how about Penn State's
Sam Ficken
? The kicker who was such a liability early last season has turned into a strength, and he made all three of his field goals -- including a career-best 46-yarder -- in the Nittany Lions' 23-17 win over Syracuse.
Best play:
Michigan State safety
Kurtis Drummond
's
one-handed interception against Western Michigan
. Now, can he play receiver?
Looking ahead:
The "GameDay" crew will be at Notre Dame-Michigan, and the Big Ten had better hope for a good showing in this spotlight game. That's because there's nothing much else of interest going on in Week 2. Two Big Ten opponents -- South Florida (at Michigan State) and San Diego State (at Ohio State) -- were blown out by FCS squads in their openers, while another, Southern Miss (versus Nebraska) lost to Texas State. Northwestern-Syracuse is probably the week's second-best game, and the Orange are 0-1 after losing to Penn State.
September, 2, 2013
9/02/13
11:00
AM ET
There's one more game to go, but here's a look back at the weekend that was in the ACC:

The good:
You have to start with Clemson, which came away with a signature, 38-35 home victory over favored Georgia from the SEC and has earned the early status of national title contender. The Tigers became the first non-SEC team ever to defeat consecutive top-10 SEC opponents.
Tajh Boyd
looked like a Heisman contender and
Sammy Watkins
looked like the guy everyone remembered from 2011. Dabo Swinney stressed that it was just one game, but it was certainly a major one for the ACC and its national perception.

The bad:
North Carolina's offensive line played respectable against
Jadeveon Clowney
and the vaunted South Carolina front. But the defense surrendered too many big plays, including a 75-yard touchdown run, a 65-yard touchdown pass and a 29-yard touchdown pass. The Tar Heels scored just one touchdown in three red zone trips in their 27-10 season-opening loss.

The ugly:
Beamer Ball was missing Saturday, as Virginia Tech gave up a punt return touchdown and a kickoff return touchdown to Alabama's
Christion Jones
.
Vinnie Sunseri
also notched a pick-six off
Logan Thomas
, whose 5-of-26 passing line was far from spectacular, too. (Honorable mention: FAU coach Carl Pelini ordering a spike on fourth down late in Friday's 34-6 loss at Miami.)

The surprise:
Jim Grobe was not kidding when he said he was going to play more true freshmen this season. Wake Forest broke in nine first-year players during Thursday's 31-7 win over Presbyterian. In his previous 12 years, Grobe had only played 22 true freshmen in total. (In opponent news, Villanova's fake punt against BC has to qualify here as well.)

strong>The history: In beating Elon 70-0, Georgia Tech tied a school record for points in the modern era and set a school record for margin of victory in the modern era. The Yellow Jackets also broke the ACC record for margin of victory, and their 10 touchdowns tied a school record as well.
The delay(s):
UNC and South Carolina took a nearly two-hour break Thursday because of lightning. Virginia's opener Saturday against BYU was delayed more than two hours because of bad weather, too. How bad? Just
take a look at the picture BYU posted on Twitter of the flooding in the tunnels of Scott Stadium
.

The unfortunate turn of events:
Dave Doeren unveiled
Brandon Mitchell
as his quarterback choice. It looked like the right one before Mitchell suffered a foot injury that will force him to miss four to six weeks. The Arkansas transfer went 3-of-3 for 93 yards and orchestrated consecutive touchdown drives to start the game. Colorado State transfer
Pete Thomas
shouldered the load after Mitchell's injury.

The playmaker:
Duke Johnson
gets this honor after tallying three plays of 35 yards or more in the first half Friday night for Miami. Johnson looks like he won't be taken down by a sophomore slump this year, as he opened with 186 yards and a touchdown on 19 carries.
September, 2, 2013
9/02/13
11:00
AM ET
Here's a look back at the opening weekend that was for Notre Dame:
The good:
Notre Dame ended a one-game losing streak that no one would stop talking about. The Irish's 28-6 win over Temple got them off to a sharp start in 2013, as they did not turn the ball over and had strong play from quarterback
Tommy Rees
and the rest of the offense.
[+] Enlarge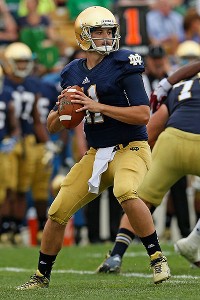 Jonathan Daniel/Getty ImagesTommy Rees was sharp in the opening victory over Temple.
The bad:
Nick Tausch
missed his only field goal attempt, a 39-yard try.
Kyle Brindza
then missed one from 44 yards, making the Irish 0-for-2 on the day. Head coach Brian Kelly had wanted Saturday to be somewhat of an audition for his kickers, and the Irish are now left with a crucial decision to make heading into this Saturday's game at Michigan.
Biggest surprise:
Kelly had harped on it throughout camp, but Rees' ball distribution was evident Saturday, as he connected with seven different receivers, including four who hauled in multiple catches. Not among them were freshmen
Corey Robinson
and
James Onwualu
, or redshirt freshman
C.J. Prosise
, either.
Best quote:
Kelly won his 200th career game, becoming the fifth fastest to accomplish the feat (270 games) and second youngest (51 years, 310 days old, second only to Pop Warner) to do it, per Notre Dame, among college coaches with at least five years of service or 50 victories at a school that was classified as a major college. Asked during a Sunday teleconference what 200 career wins mean, Kelly said: "That I'm a pretty good coach when I recruit good players."
Next up:
Notre Dame travels to Michigan for the final scheduled time, and for the second-ever night game at the Big House. College GameDay will be in town, just like it was last time. And we all know how that one ended. If the past four years are any indication, this one will likely come down to the wire. And it will likely give the winner a huge boost on the path to a potential BCS bowl berth.
September, 2, 2013
9/02/13
11:00
AM ET
Taking stock of what happened in Week 1 in the Big 12:
Team of the week:
Oklahoma State. By knocking off SEC opponent Mississippi State, the Cowboys delivered the Big 12 its best win of the opening weekend. Oklahoma State did it with defense, too, suggesting this could be the best unit Mike Gundy has had in Stillwater.
Biggest disappointment:
Kansas State. Losing to an FCS team hurts. But the way the Wildcats lost has to hurt worse. North Dakota State went on an 18-play, 80-yard touchdown drive that left just a few seconds on the clock to prevail 24-21. The Wildcats led 21-7 in the third quarter but were dominated the rest of the way. The way the Bison ran between the tackles has to be especially troubling going forward, considering stopping the run has been a calling card for Bill Snyder teams.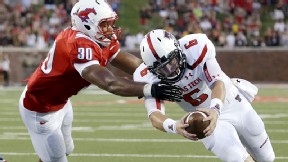 AP Photo/LM OteroTexas Tech freshman Baker Mayfield (6) had quite a debut against SMU.
Big (offensive) man on campus:
Texas Tech QB
Baker Mayfield
. A couple of weeks ago, the college football world had never heard of Mayfield. They have now. The walk-on true freshman completed 43 of 60 passes for 413 yards and accounted for five touchdowns. Kliff Kingsbury might have uncovered his quarterback of the future.
Big (defensive) men on campus:
Oklahoma LBs
Corey Nelson
and
Shaun Lewis
. Both seniors had big openers in their teams' big defensive performances. Lewis had three tackles for loss and a sack. Nelson had two tackles for loss and a sack and was constantly in Louisiana-Monroe's backfield. Combined, the Sooners and Cowboys allowed just one field goal.
Special-teams player of the week:
TCU's
B.J. Catalon
. The Horned Frogs running back delivered a 100-yard kickoff return in the second quarter that put TCU back in the game after a lackluster first quarter against LSU. Catalon also reeled off a 26-yard touchdown run in the third quarter and finished with 52 yards rushing and 22 yards receiving.
Play of the week:
Oklahoma State QB
J.W. Walsh
's second-quarter dash. With the Cowboys trailing 3-0 late in the second quarter, Walsh took an option keeper down the left sideline 46 yards to the Mississippi State 14-yard line. Another keeper put the ball at the Bulldogs' 3, and he carried the ball into the end zone two plays later to give Oklahoma State its first lead. Walsh led Oklahoma State with 125 rushing yards.
Stat of the week:
Trevor Knight
became the first Oklahoma quarterback under Bob Stoops to have more rushing yards than passing yards in a game. Knight ran for 103 yards and passed for 86. The last Sooners QB to rush for more than he passed for in a game was Eric Moore in 1998.
Quote of the week:
"Now will you believe me when I say we're not very good? That's what I've been trying to tell you." -- Kansas State coach Bill Snyder