NCF Nation:

Weekend-rewind-090511
September, 5, 2011
9/05/11
2:08
PM ET
PALO ALTO, Calif. -- Before the
Stanford Cardinal
move on to ACC country this week and the campus that basketball built, let's take one last look at the 57-3 romp of San Jose State.
[+] Enlarge

AP Photo/Paul SakumaAndrew Luck notched 171 yards on 17-of-26 passing with two touchdowns and another score on the ground in Stanford's blowout win.

Highlight reel: Andrew Luck's 1-yard touchdown run/pylon dive made every highlight because 1) He's Andrew Luck; 2) It was the first touchdown of the game/season; 3) His pregame meal would be a highlight if cameras were allowed in the dining hall; 4) It was a good play; and 5) He's Andrew Luck.

Best play: Luck's 13-yard touchdown pass to Zach Ertz to start the second quarter. Nice route, nice separation, pretty pass.

Worst play(s): Late in the first half, Stanford had first-and-goal at the SJSU 1-yard line. Stepfan Taylor up the middle, no gain. Next play, Taylor up the middle for minus-1 yards. The red zone running got better in the second half, but it will have to get a lot better than it was Saturday.

Who's hot: Stanford linebacker Shayne Skov, who led the team in tackles last season, picked up where he left off, leading the Cardinal defenders again with seven stops, five solo, and 1.5 tackles for a loss.

Who's not: Backup running back Anthony Wilkerson couldn't break free. Just 14 yards on eight carries for an average of 1.8 yards per carry. Expecting bigger things from him in the coming weeks.

The good: Any win is good, regardless of the score. Though almost doubling the point spread is pretty nice. The Cardinal looked motivated, if not sloppy at times. And the transition from Jim Harbaugh to David Shaw appeared seamless.

The bad: Too many holes and too many missed tackles in the secondary. Might chalk it up to a little inexperience and this being the first game. No cause for alarm yet. But like an open wound, watch it to make sure it doesn't get infected.
September, 5, 2011
9/05/11
1:00
PM ET
Time to take a quick look back on Week 1 and look ahead to Week 2.
The good:
The Big East went 8-0, joining the Big 12 as the only conferences to have a perfect record on opening weekend. Four of the wins came against FCS opponents and two against non-AQs. So the schedule was not the strongest. But the league should get credit for not having any bad losses. The ACC, Pac-12 and Big Ten cannot say the same. Duke and Oregon State lost to FCS teams, and Indiana lost to Ball State. Of course, the biggest win belonged to USF, which upset No. 16 Notre Dame, 23-20. Syracuse deserves credit, too, for erasing a 15-point, fourth-quarter deficit to beat Wake Forest in overtime.
[+] Enlarge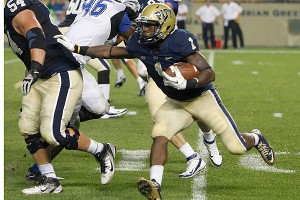 AP Photo/Keith SrakocicRunning back Ray Graham had a big opening game for Pittsburgh.
The inconsistent:
Neither Pitt nor West Virginia showed the true potential of its offense. Perhaps expectations were way too high for both to come flying out of the gate as unstoppable forces of nature. It takes time for players to get adjusted to new systems. There were significant differences between what the two teams showed this weekend. Pitt quarterback
Tino Sunseri
struggled. But
Ray Graham
proved he is going to be a valuable member of the offense, rolling up 201 yards on the ground. West Virginia quarterback
Geno Smith
made plays by himself left and right, thanks to a shaky offensive line. But the run game struggled mightily in three quarters -- just 42 total yards on the ground and an average of 1.6 yards per carry.
The unknown:
There are only so many conclusions to make in Week 1. Rutgers rolled up 48 points and Cincinnati 72. But both played FCS opponents, so there is no real way of knowing where either team stands heading into big tests in Week 2. The Louisville offense sputtered in the second half against Murray State. The Syracuse defense struggled for three quarters. USF gave up more than 500 yards to Notre Dame. Connecticut has three quarterbacks but no starter.
The weather:
South Florida and West Virginia endured significant rain delays in their games. The Bulls had some experience with that after waiting out a long weather delay before their first scrimmage of fall camp in Vero Beach. But the delays in Morgantown were much longer, and there was no choice but to call the game.
The freshmen:
Plenty of true freshmen played this weekend with mixed results. Rutgers running back
Savon Huggins
had two touchdowns but only 32 yards on 10 carries. The West Virginia trio of
Andrew Buie
,
Vernard Roberts
and
Dustin Garrison
were up and down.
Ronald Jones
at Pitt and Ralph David Abernathy IV at Cincinnati showed terrific flashes as returners. UConn quarterback
Michael Nebrich
got his chance, going 3-of-8 for 60 yards with an interception. Louisville had receiver
DeVante Parker
score a touchdown, and B.J. Dubose made some plays on the defensive line.
Another helmet sticker:
Tavon Austin
returned a kickoff 100 yards for a score in West Virginia's rain-shortened 34-13 win against Marshall.
Week 2:
Three games are on the slate against teams from other AQ conferences, and all three are on the road. Cincinnati is at Tennessee; Rutgers is at North Carolina; and UConn is at Vanderbilt. Even though Week 1 featured a game against a ranked team, this week is a more critical test for the league. None of the opponents are projected to win their conferences. But each has been to bowl games in the recent past. Plus, two of the games are against teams from the SEC. Sure, one of the games is against Vanderbilt, but wins against that league are always important.
Tennessee, North Carolina and Vandy opened with wins against FCS opponents. There were questions about the Tar Heels after the sudden termination of coach Butch Davis. Plus they have a first-year starting QB
Bryn Renner
. But he quieted some doubts after going 22-of-23 for 277 yards with two touchdowns and an interception against James Madison.
The other league games: FIU at Louisville; Maine at Pitt; Norfolk State at West Virginia; Rhode Island at Syracuse; Ball State at USF.
September, 5, 2011
9/05/11
1:00
PM ET
Every week we'll take a look back at the weekend's games and fast-forward to the week ahead. Here's a recap and preview of Weeks 1 and 2 in the ACC:
[+] Enlarge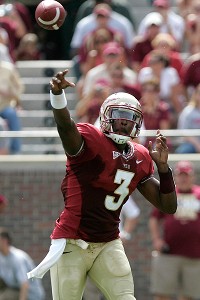 AP Photo/Steve CannonEJ Manuel and Florida State took care of buisiness in their opener.
The good:
Ranked teams roll. Kudos to No. 13 Virginia Tech and No. 6 Florida State for taking care of business this past weekend and looking good in the process. There were probably some FSU fans out there who were looking for more of the kind of romp we saw in Blacksburg, but it was a great opportunity for coach Jimbo Fisher to get
EJ Manuel
some quality passes against a live rush and take a look at some of his younger players. At Virginia Tech, there was no hint of a letdown or ghosts of 2010 as the Hokies rolled against Appalachian State.
The bad:
Losses to BCS conferences. Why, somebody asked me on Twitter, would I expect a 3-9 Wake Forest team to beat Syracuse on the road? Because this Wake Forest team, as Jim Grobe has said all offseason, is better than it was a year ago. Because Syracuse was 0-4 against FBS teams in the Dome last season, and because the Orange hasn't had a winning season overall at home since 2004. Instead, the Deacs squandered a 15-point, fourth-quarter lead and lost in overtime. Boston College, meanwhile, didn't look all that different from a year ago and depended too heavily on its defense to win the game. Luke Kuechly tried to do it himself, but BC lost to a Northwestern team playing with its backup quarterback.
The ugly:
Another loss to an FCS opponent. Sigh. Duke lost to Richmond. Again. For the third time in the past six seasons. And for the third straight year, the ACC has a loss to an FCS opponent on its record. Duke struggled inside the red zone, committed two turnovers, and lost to a team that's coach resigned Aug. 23. Duke should have won this game, or at least should have been expected to.
The record-setter:
North Carolina quarterback
Bryn Renner
tied a school record with 14 straight completions in his debut and set an ACC record for completion percentage in a single game when he completed 22 of 23 passes in the win against James Madison. It was a great start, and he certainly didn't play like a rookie.
The replacement:
Filling in for injured starter J.R. Sweezy, NC State defensive tackle Brian Slay put on quite a show. He had five tackles, including 1.5 for loss, 1.5 sacks, and two fumble recoveries, including one that was returned 52 yards for a touchdown -- the school's longest fumble return for a touchdown in 16 years and the first since 2007.
Top three games of Week 2
1. Virginia Tech at East Carolina:
This will be the Hokies' biggest challenge of the nonconference schedule, especially considering ECU was beating South Carolina 17-0 before the Gamecocks rallied to win 56-37. The Pirates defeated NC State last season, and they've knocked off the Hokies before. If Virginia Tech is going to trip up in the first four weeks, this would be the place.
2. Rutgers at North Carolina:
The competition is raised a notch this week after the Tar Heels' successful debut against James Madison. Both Rutgers and UNC are coming off wins against lesser opponents, and this is a good chance for UNC to build upon its Week 1 success. Rutgers was picked by the media to finish last in the Big East's preseason poll, but with 10 starters returning on offense, the Scarlet Knights could surprise some people this season.
3. NC State at Wake Forest:
Wake Forest running back
Josh Harris
told me (@ESPN_ACC) on Twitter the team shook off its heartbreaking loss to Syracuse and bounced right back with a good practice session Saturday. We'll be able to tell quickly if that loss will beat the Deacs twice. Liberty exposed some of NC State's weaknesses, and the offense isn't where it needs to be yet under quarterback
Mike Glennon
. Both Wake and NC State will need to show improvement this week, and whichever one does will gain an edge in the Atlantic Division standings.
September, 5, 2011
9/05/11
1:00
PM ET
SOUTH BEND, Ind. -- Notre Dame would like to forget its opening weekend as quickly as possible. The No. 16 Fighting Irish were sloppy in a 23-20 loss to South Florida that has fueled the school's critics who thought the Irish's BCS goals were unrealistic.
Here's a look back at the weekend that was for Notre Dame:
The Good:
Notre Dame's defense allowed just one touchdown despite being put in tough spot after tough spot by the offense and special teams. The Irish held USF to 2-of-14 on third downs and limited the Bulls to 254 yards of total offense.
[+] Enlarge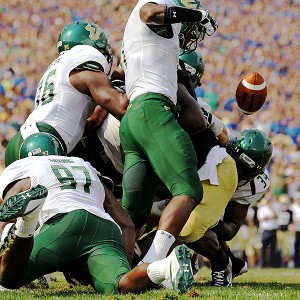 Jonathan Daniel/Getty ImagesJonas Gray's goal-line fumble was just one of five turnovers the Irish committed against South Florida.
The Bad:
No one expected to see a group Brian Kelly called as focused as any he has ever coached turn the ball over five times in its debut. The Irish will need to hope those first-game jitters are out before a prime-time showdown this weekend.
The Ugly:
Mother Nature takes the cake here. The first and second delays in more than a century of Notre Dame football resembled those of a baseball game, complete with the "time of the game" stat being announced at the end. (It was 5 hours, 59 minutes, for the record). The delays totaled 2 hours, 53 minutes, and it couldn't have been easy for either side to start and stop again after waiting the entire offseason for the games to begin.
Turning point:
Jonas Gray
's opening-drive fumble at the USF 1-yard line was picked up by Kayvon Webster and returned 96 yards for a touchdown. Kelly said afterward that a culmination of mistakes did his team in, not the first one. But watching the other team go up 7-0 after you drove 76 yards in eight plays over four minutes can be demoralizing early.
Call of the day:
It would have been easy for Skip Holtz to invoke himself in the pregame hoopla surrounding his return to Notre Dame. But the USF coach said his players would be the ones between the stripes Saturday, and so he made it about them. They returned the favor by delivering a victory that ranks right up there in the brief 15-year history of the program.
Next Up:
The Irish renew the rivalry with Michigan when the two teams meet under the lights at 8 p.m. ET Saturday for the first time in Michigan Stadium history. "College GameDay" will be in Ann Arbor, and you can bet it will be an atmosphere unlike any the Big House has ever seen. The Wolverines, like the Irish, dealt with rain delays in their opener before their game was called at the 1:23 mark of the third quarter, up 34-10 on Western Michigan. A 0-2 start going into a Week 3 matchup with co-Big Ten champ Michigan State is something Notre Dame will look to avoid at all costs.
September, 5, 2011
9/05/11
1:00
PM ET
Week 1 is in the books. Now it's time for a book review.
Be kind, rewind:
[+] Enlarge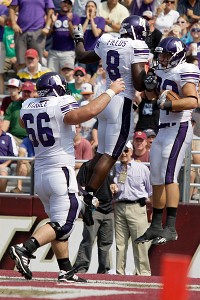 AP Photo/Mary SchwalmNorthwestern running back Mike Trumpy, right, celebrates a TD against Boston College.
Team of the week:
Northwestern. Missing star quarterback
Dan Persa
, the Wildcats still went on the road to Boston College and
won 24-17
. Most impressively, their offensive line pushed around what had been the nation's stingiest rush defense a year ago. If the offensive line can continue to play like that, and Persa can come back (Persa) strong, then Northwestern will be a factor in the Legends Division race.
Best game:
Northwestern's win, again. The game was close throughout, and Boston College drove into the red zone in the waning seconds before a Vince Browne sack ended matters.
Biggest play:
Purdue's Ricardo Allen blocked a 47-yard field goal attempt by Middle Tennessee's Alan Gendreau on the game's final play, preserving a 27-24 victory. It was sweet redemption for Allen, whose earlier fumble on a punt return set up a Blue Raiders touchdown. And had the Boilermakers lost this game, it could have set a bad tone for their season.
Best call:
This one happened on Wednesday of last week, when Michigan State senior guard Joel Foreman approached coach Mark Dantonio and asked if Arthur Ray Jr. could start in his place. Ray is a cancer survivor who had never played in a college game before. Foreman made a selfless decision, stopping his personal 22-start streak. Ray was in tears before the game and played the Spartans' first offensive snap before coming out.
Best meaningless play:
The game was wildly out of hand by this point, but Ohio State receiver
Evan Spencer
made a spectacular, twisting, one-handed catch during the fourth quarter of a 42-0 blowout of Akron. It ultimately meant very little, but Spencer now has his own YouTube moment.
Big Man on Campus (Offense):
Wisconsin quarterback
Russell Wilson
. There was considerable hype accompanying Wilson's debut after his highly publicized transfer from NC State, and Wilson lived up to it. He accumulated 317 total yards, including 255 passing yards and two touchdowns while completing 10 of his 13 attempts. And his sizzling 46-yard touchdown run was something Badgers fans have rarely if ever seen out of the quarterback position.
Big Man on Campus (Defense):
Michigan linebacker Brandon Herron. Things might be changing in Ann Arbor when a Wolverines defender is garnering all kinds of recognition. Herron deserves it after scoring two defensive touchdowns, one on a 94-yard interception return and the other on a 29-yard fumble recovery. Raise your hand if you predicted Herron would have two more scores than
Denard Robinson
in the opener.
Big Man on Campus (Special Teams):
Chaz Powell, Penn State. Clearly, you should never kick to Powell to start a season. The Nittany Lions senior returned the opening kickoff against Indiana State 95 yards for a touchdown. That matched his performance from last year, when he took the first kick of the year to the house against Youngstown State.
Worst hangover:
Indiana. I remain convinced that Kevin Wilson will eventually do very good things in Bloomington, but Saturday was a very bad start. The Hoosiers lost to Ball State 27-20 at Lucas Oil Stadium, a place in which they're highly unlikely to play in December any time soon. It's hard to use the first-year coach excuse, since Ball State also had a new guy on the sidelines. What's worse, IU got pushed around in the trenches. If that happens against a MAC foe, what will the Hoosiers do against Ohio State, Wisconsin and other Big Ten opponents?
Strangest moment:
Mother Nature wins this award in Week 1. Storms and lightning gave us the odd sights of both Kinnick Stadium and the Big House being evacuated -- that's more than 180,000 people who had to be moved out of harm's way. Iowa hadn't experienced an in-game weather delay in the 82-year history of Kinnick Stadium. Things were even crazier in Ann Arbor, where Michigan and Western Michigan agreed to end their game with 1:27 left in the third quarter after a couple of lightning delays. It was the first weather-shortened game in Wolverines history, and who knows what would have happened had the game actually been close at the time.
Week 1 suggests that deciding to play the Big Ten title game indoors might have been the right call.
September, 5, 2011
9/05/11
1:00
PM ET
A look back at the week that was as we hand out a few awards.
Best moment:
Sophomore linebacker Tom Wort, wearing Austin Box's No. 12 jersey as part of a team tribute, led the Sooners onto the field for the first time without Box, who died on May 19. A different defender will wear the jersey each game this season, and quarterback
Landry Jones
will keep his No. 12 at the wishes of Box's parents.
[+] Enlarge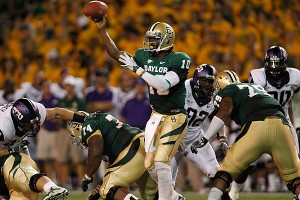 AP Photo/LM OteroBaylor quarterback Robert Griffin III passed for 327 yards against TCU on Friday.
Best offensive player:
Robert Griffin III, QB, Baylor.
The Bears played the toughest opponent of any Big 12 team and Griffin lit up a traditionally stingy TCU defense with a young secondary. He threw for 327 yards on 21-of-27 passing with a career-high five touchdowns. He also ran for 38 yards and
caught a crucial 15-yard pass to convert a third down on the game-winning drive.
Best defensive player:
Nigel Malone, CB, Kansas State
.
In his first-ever game, the Wildcats' juco transfer intercepted a pass in the end zone and picked off another on the final drive to seal the Wildcats' 10-7 win against Eastern Kentucky. In a game that close and that low-scoring, those kinds of plays are monumental.
Best team performance:
Tie, Oklahoma and Baylor.
Oklahoma personified excellence against the second-best team a Big 12 team faced in Week 1, Tulsa. Baylor knocked off No. 14 TCU as the league's only team facing a ranked team in Week 1. The win was the Bears' first against a ranked foe since 2004.
Best quarter:
Baylor's third quarter.
Baylor needed a strong start to the half after leading by 11 at halftime. The answer? Gorgeous touchdown passes of 42 and 64 yards to put the Aggies up 24 entering the fourth quarter. It looked like an unlikely rout was on. There was that matter of the fourth quarter ... but hey, Baylor won, right?
Best play:
Steele Jantz to Josh Lenz
. Trailing by six with just over four minutes left, Jantz rolled right on a 4th-and-10, shook off a tackle and chucked it to the corner of the end zone, where the Cyclones' receiver dove for the catch to put Iowa State ahead late.
Biggest fashion faux pas:
Oklahoma State
. Hey, Cowboys: I actually like most of your new jerseys. I really do. But
the gray tops and white pants
are not a becoming duo, and
according to reports of those on the scene
, made it hard to read the numbers. Not a good sign.
Second-biggest fashion faux pas:
Baylor
. Baylor's jerseys with the big blocky "BAYLOR" on the front look great. But guys, I'm pleading with you. Lose
the claw prints on the pants
. They're awful.
Worst half:
Texas Tech's first half
. Dennis Franchione is re-inventing himself at FCS Texas State, and the Bobcats somehow led the Red Raiders 10-9 at the break. Fortunately for Tommy Tuberville, his team rallied to outscore Texas State 41-0 in the second half and avoid any actual embarrassment.
September, 5, 2011
9/05/11
12:30
PM ET
Taking stock of the first week of games in Pac-12 history (and perhaps the
last first weekend of games
in Pac-12 history).
[+] Enlarge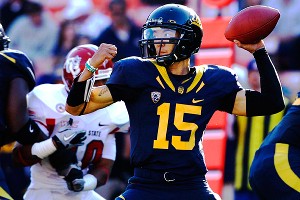 AP Photo/Jeff ChiuCalifornia quarterback Zach Maynard recovered nicely after an early interception.
Team of the week
: California was far from perfect in its 36-21 win over Fresno State -- the offensive line struggled at times -- but the Bears, singled out by some as a potential game one upset victim, made a solid statement against the Bulldogs that they might be a factor in the Pac-12 North Division. The biggest piece of news was the solid play of quarterback
Zach Maynard
. That he bounced back so well from an early interception might even be more meaningful. His two predecessors were known for letting mistakes linger and affect their performances.
Best game
: It shouldn't have been a thriller, but Washington needed a late interception to outlast Eastern Washington 30-27. And it's worrisome that the Huskies were outgained by the Eagles 504 yards to 250. Hey, guys, how about a little pass defense?
Biggest play
: Sure you've seen the highlight of UCLA receiver
Nelson Rosario
's 54-yard reception against Houston, ESPN's Play of the Day on Saturday, though it came in a losing effort. Rosario, turned around with his back to the endzone in tight coverage, grabbed the ball with his right hand, then trapped it on the back of the Cougars defender to make the catch. An instant classic. Now, Nelson, how about becoming consistent on routine plays?
Offensive standout
: USC wide receiver
Robert Woods
caught a school-record 17 passes for 177 yards and three touchdowns in the Trojans'
19-17 win
over Minnesota. A tip of the cap to Oregon State's true freshman running back
Malcolm Agnew
, who rushed for 223 and three TDs on 33 carries in the Beavers upset loss to Sacramento State.
Defensive standout
: While Arizona State linebacker Vontaze Burfict (three sacks) and Utah linebacker Brian Blechen (two interceptions) put up nice numbers versus FCS foes, Cal linebacker Mychal Kendricks piled up a game-high nine tackle with 2.5 coming for a loss -- the 0.5 was a sack -- against a solid Fresno State team. He also broke up a pass as the Bears held the Bulldogs to 218 yards and 11 first downs. It's possible the Bears will have the best defense in the conference.
Special teams standout
: Washington kicker Erik Folk was 3 for 3 on field goals of 40-plus yards in the tight win over Eastern Washington, connecting on kicks of 53, 47 and 40 yards.
Smiley face
: To the Bay Area. Both Cal and Stanford took care of business with solid performances. Sure, San Jose State isn't much, but Stanford was cruelly efficient in dispatching the Spartans. Cal surely raised more than a few eyebrows in the conference.
Frowny face
: The state of Oregon. Both Oregon and Oregon State went down, though to very different foes in very different ways.
Thought of the week
: Two things we thought we'd see on Saturday that we didn't: An improved UCLA defense and a strong performance from Colorado at Hawaii. The Buffs defense was pretty solid, though the Hawaii offense was rebuilding other than quarterback
Bryant Moniz
. But the offensive line is a big concern, giving up seven sacks and struggling to open holes for the running game. A struggling offensive line doesn't bode well for Cal's visit. As for the UCLA defense, it played much better in the second half at Houston. We'll see if the first half was an anomaly--
Case Keenum
is a pretty good QB, after all -- or the start of a pattern of inconsistency.
Questions for the week
: Welcome to "measuring stick" week. There are big nonconference games across the board that likely will establish how the Pac-12 is viewed nationally, particularly after a lackluster opening frame. Will the conference notch a couple of quality wins? Or will it get cut down and see its national perception plummet? Further, Utah's visit to USC is the first Pac-12 game in,well, history. Will the Utes immediately prove they belong?
September, 5, 2011
9/05/11
11:27
AM ET
We're a week into the 2011 college football season, which means somebody's hot and somebody's not in the SEC.
You've come to know this little exercise as Hot and Not, and it's back for another season:
GLOWING EMBERS
[+] Enlarge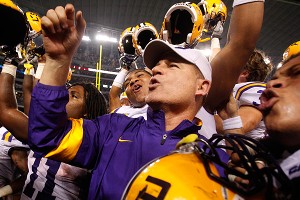 AP Photo/LM OteroLSU coach Les Miles has a knack for getting his team prepared despite distractions.
LSU's resiliency:
What distractions? The Tigers ventured into Cowboys Stadium last Saturday with everybody wondering how they could possibly be on top of their game after everything that had happened off the field with quarterback
Jordan Jefferson
's arrest. Never mind that they were playing the No. 3-ranked team in the country, and never mind that they were playing without three offensive starters. They never flinched and methodically took apart Oregon 40-27 in a win that should move the Tigers closer to that top spot in the polls. LSU coach Les Miles is no stranger to dealing with a crisis. Remember the terrible hurricanes in 2005, his first season as LSU's coach, and the way he guided his team to an 11-2 record despite the Tigers having to move home games and most of the LSU campus serving as a medical triage? It's obvious that Miles' teams don't lose their focus despite what's happening off the field, and it's just as obvious that this team has everything it takes -- physically and mentally -- to win a national championship.
HOT
South Carolina spur Antonio Allen:
He lines up at spur in South Carolina's defense, which is a hybrid safety/linebacker position. That's fitting, because the 6-foot-2, 202-pound senior spurred the Gamecocks to a 56-37 win against East Carolina with a career night. He had 16 total tackles and forced two fumbles, both of which he recovered. He returned one of those fumbles 25 yards for a touchdown to help the Gamecocks pull away from the Pirates.
NOT
Auburn's defense:
Defensive coordinator Ted Roof vowed that he would get it fixed, and there's a lot of fixing to do. Utah State piled up 27 first downs and 448 yards of total offense last Saturday, but Auburn escaped 42-38 thanks to a perfectly executed onside kick. There are a lot of new faces on that Auburn defense that will have to grow up in a hurry.
HOT
Mississippi State's offense:
You think the Bulldogs are salivating at the thought of going up against that Auburn defense after the way the Tigers were sliced and diced by Utah State? Granted, Mississippi State did its damage against Memphis, but the Bulldogs exploded for a school-record 645 yards in total offense in their 59-14 rout and scored five touchdowns that were 35 yards or longer.
NOT
Georgia's momentum:
The Bulldogs were hoping to go into their SEC opener against South Carolina with some momentum. Instead, they go into Saturday's home game against the Gamecocks with their backs squarely against the wall. An 0-2 start would go over in Athens about the same way a going-away party would for Texas A&M right now in Austin.
HOT
Arkansas receiver Joe Adams:
He's easily one of the best receivers in the league, but worked his open-field magic last weekend on a pair of punt returns for touchdowns. He scooted 61 yards in the first quarter and 69 yards in the third quarter, becoming the first SEC player to return two punts for touchdowns in the same game since Kentucky's Derek Abney in 2002.
NOT
South Carolina's start:
The Gamecocks looked more like the No. 12-ranked team in the SEC for much of the first half in their opener against East Carolina. They rebounded to win 56-37, but won't be able to get away with falling behind 17-0 against most SEC teams.
HOT
LSU nickel back Tyrann Mathieu:
If you like watching defense played at light speed, you're going to love this LSU defense. Mathieu played every defensive snap (82) in the win against Oregon and led the Tigers with 10 tackles. He also forced a fumble in punt coverage that he returned 3 yards for a touchdown. Wherever the ball is, you can bet Mathieu will be there, too.
NOT
Kentucky's offensive line:
Maybe it was just a bad first game, but even coach Joker Phillips said his offensive line play was disappointing in the Wildcats' 14-3 lackluster win against Western Kentucky. The Wildcats have had some nagging injuries in their offensive line. But if they don't play well this season up front, it's going to be a long season in the Bluegrass.
FREEZER BURN
Ole Miss' collapse:
The Jacksonville State loss in the opener a year ago was embarrassing. The 14-13 loss to BYU on Saturday in this season's opener was crushing. The Rebels led 13-0 at home with a little more than 10 minutes to play, and Tyrone Nix's defense had made one play after another to keep BYU out of the end zone. Then it all came crashing down, and the play nobody in Oxford can get out of their minds is one that should have never happened in the first place. The Rebels, leading 13-7 with 5:30 to play, had
Zack Stoudt
attempt to throw it from the shotgun on third-and-27 from their own 21 instead of running the ball and punting it away. Sure enough, somebody whiffed up front, and Stoudt -- playing in his first major college game -- was sacked and fumbled. BYU recovered the fumble for a touchdown, and just like that, Ole Miss trailed 14-13. From there, Ole Miss went into meltdown mode, complete with another puzzling decision on fourth-and-10 and several crippling penalties. The loss was costly enough, but it looks like the Rebels might have also lost star running back
Brandon Bolden
for the season to an ankle injury. The bottom line: You're not supposed to lose games at home when you give up just one offensive touchdown and your defense also scores a touchdown for you. Yet, the Rebels found a way to do it.
September, 5, 2011
9/05/11
11:00
AM ET
The good:
No.5 Boise State thoroughly and convincingly beat Georgia 35-21, picking up a critical first win over the SEC. But the Broncos were not the only to win a non-AQ vs. AQ game. Houston beat UCLA 38-34; BYU beat Ole Miss 14-13; Hawaii beat Colorado 34-17 and Ball State beat Indiana 27-20. The MAC now has eight wins over the Big Ten in the last three years. The Cardinals have also beaten Indiana twice since 2008, a huge first win for new coach Pete Lembo.
Speaking of firsts ...
New Temple coach Steve Addazio picked up his first win, 42-7 over Villanova.
Bernard Pierce
ran for 147 yards and three touchdowns in the victory. New Northern Illinois coach Dave Doeren also picked up his first win when the Huskies beat Army 49-26.
The great escape:
UTEP barely escaped Stony Brook, 31-24 in overtime. The Miners trailed 24-10 in the third quarter but
Nick Lamaison
keyed the comeback -- throwing three late touchdown passes, including the winner in overtime. Lamaison ended with 365 yards in his first career start. ... Wyoming also needed a last-second touchdown to escape Weber State.
Brett Smith
threw a touchdown pass to
Robert Herron
with 22 seconds left to give the Cowboys a 35-32 win. Weber State led for most of the fourth quarter before seeing its upset bid slip away.
The heartbreak:
Utah State and Middle Tennessee felt all sorts of heartbreak after their down-to-the-wire games came up just short for them on Saturday. The Aggies had the defending national champions down for nearly the entire game. But Auburn scored twice in the final 2:07, thanks in part to an onside kick the Tigers easily recovered. Utah State lost 42-38, but if anything came out of the loss -- the nation got its first glimpse of poised true freshman
Chuckie Keeton
, who impressed everyone with his play in the game. You can beat Auburn won't soon forget him. Meanwhile, Middle Tennessee had its game-tying 47-yard field goal attempt against Purdue blocked and lost 27-24. The Blue Raiders led 24-17 with 9:26 left in the game, but could not hold on long enough to win. Purdue scored 17 points and gained 192 yards in the fourth quarter. "It kicks you in the gut right now, you're sick to your stomach that you lost the game," Middle Tennessee coach Rick Stockstill said. ... New Mexico hung with Colorado State for the entire game but lost 14-10 because a familiar foe came back. Turnovers. The Lobos had three of them. Last season, New Mexico finished the season with a minus-12 turnover margin. ... Western Kentucky gave it a valiant effort against Kentucky, putting a scare into the Wildcats before losing 14-3. The Hilltoppers had more first downs and more total yardage, but also committed more penalties and turnovers in the loss. ... TCU also saw its win over Baylor evaporate when
Aaron Jones
kicked a 37-yard field goal with 1:04 left for a 50-48 win.
Casey Pachall
threw an interception to end the game. Much already has been made of the uncharacteristic defense TCU played. But contrast the end of this game with the Rose Bowl. TCU got a huge defensive play to help win the game when Tank Carder batted down the 2-point conversion attempt late in the game. But the Horned Frogs could not make one stop on Baylor's game-winning drive.
The young guns:
In the week leading up to the opener against Southern Miss, Louisiana Tech coach Sonny Dykes was asked who reminded him of his 17-year-old starting quarterback,
Nick Isham
. "Greg Brady," Dykes said. Isham, a true freshman born in 1993, asked the Bulldogs sports information director, "Who's Greg Brady?" Isham might be young, but he gained his first game experience against Southern Miss, going 20-of-36 for 176 yards in a narrow 19-17 loss. Keeton, Brett Smith of Wyoming and
Rakeem Cato
of Marshall were the two other non-AQ true freshmen to make starts and both looked poised behind center despite their teams' losses. Keeton went 21-of-30 for 213 yards, while Cato was 15-of-21 for 115 yards in a rain-shorted day against West Virginia. Smith went 27-of-41 for 294 yards and three touchdowns, but the first pass of his career was intercepted.
Helmet stickers
Boise State defense.
The Broncos absolutely dominated up front in a win against Georgia. The defensive line had six sacks and constantly harassed
Aaron Murray
. The Bulldogs had just 13 first downs and were never much of a threat.
Chandler Harnish, Northern Illinois.
The Huskies quarterback threw a career-high five touchdown passes and ran for another in a 49-27 win over Army.
T.Y. Hilton, FIU.
Hilton opened a win over North Texas with a 62-yard kickoff return that he almost broke for a touchdown. On the next drive, he scored on a 60-yard reception on the first play. He had 180 all-purpose yards in the first quarter and finished the game with 283 all-purpose yards, 12 shy of his own school record.
Case Keenum, Houston.
In his return from an ACL injury, Keenum looked like he was back to his old self, throwing for 310 yards and two touchdown passes in a win over UCLA. He went past the 300-yard mark for the 26th time in 38 career starts.
Bryant Moniz, Hawaii.
Moniz threw for 5,000 yards last season but he helped the Warriors beat Colorado with his legs. Moniz ran for 121 yards and three touchdowns -- the most rushing yards by a Hawaii quarterback since Glenn Freitas had 122 yards and four touchdowns against UTEP in 1995.
Kriss Proctor, Navy.
Much was made over what Proctor would face this season -- taking over for Ricky Dobbs at quarterback. But he did more than fine against Delaware, running for 176 yards and three touchdowns in a 40-17 win. He also threw his first career touchdown pass.