NCF Nation:

Weekend-rewind-091310
September, 13, 2010
9/13/10
2:31
PM ET
An undefeated weekend. Unless you're UCLA.
Team of the week
: Oregon actually in some ways looks better because it came back from a 13-3 deficit at Tennessee with a 45-zip run. If the Ducks had rolled from the get-go, it would have been a case of "that's what we expected." But by bouncing back from adversity -- nothing went right in the first quarter on either side of the ball -- Oregon showed notable resilience and grace under pressure. And, let's face it, it was kind of fun that the early going spawned some SEC trash talk -- "We play defense in the SEC!" -- that was notably muted by game's end.
Best game
: So Washington State nearly went down to Montana State? Think Virginia Tech, Kansas and Minnesota would prefer a "nearly" for themselves? The Cougars showed some heart by rallying from 15 points down in the fourth quarter to win 23-22.
[+] Enlarge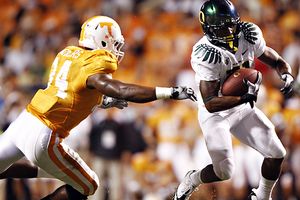 AP Photo/Wade PayneStopping LaMichael James in space is one of Stanford's biggest challenges.
Biggest play
:
LaMichael James
' all-on-his-own 72-yard TD run was a thing of beauty. Just spectacular. And when he made the Tennessee defense look silly -- there was a palpable wince in Neyland Stadium -- you could sort of sense that the Ducks were about to deliver a beatdown. And they did.
Offensive standout
: Washington receiver
Jermaine Kearse
bounced back from an inconsistent performance at BYU to dominate Syracuse's secondary. He hauled in nine receptions for 179 yards with three TDs. Kearse ranks third in the nation with 143.5 receiving yards per game.
Defensive standout (s)
: Two strong performances from Bay Area teams. California linebacker Mohamed led the Bears defensive effort against Colorado with 14 tackles and an interception for a TD, while Stanford safety Michael Thomas had five tackles -- one for a loss -- and forced two fumbles in the shutout win against UCLA. The second forced fumble he returned 21 yards for a TD.
Special teams standout
:
Kenjon Barner
returned a punt 80 yards for a TD, giving the Ducks three punt returns for scores in two games after Cliff Harris had two against New Mexico in the opener.
Smiley face
: The Stanford defense, which recorded its first road shutout since 1974, a 35-zip blanking of UCLA. Also, the Pac-10, a week after going 6-4 in nonconference games, went 7-0 against nonconference foes, including wins against the Big 12 (Colorado), the SEC (Tennessee), the Big East (Syracuse) and the ACC (Virginia).
Frowny face
: UCLA. The Bruins rank 115th in the nation in scoring, 115th in passing and 111th in total offense. The defense? It ranks 116th vs. the run and 102nd in scoring. And Arizona State's rushing offense, which only produced 56 yards on 29 carries against Northern Arizona. That's 1.9 yards per rush vs. an FCS team.
Sloppy
: Look at the
bottom of this list
. Arizona State and USC rank 118th and 119th in penalty yards per game (112 and 120, respectively). Both have committed 24 penalties in their first two games. Yeech.
Quote of the week
: "That's the most miserable 2-0 locker room I've ever been in," USC coach Lane Kiffin said after his Trojans beat Virginia.
Quote of the week II
: "Tonight was an offensive disaster," UCLA coach Rick Neuheisel said after his Bruins were blanked.
Thought of the week
: Here's are the top games (Oregon vs. Portland State is not included).
Iowa at Arizona
Arizona State at Wisconsin
Nebraska at Washington
Cal at Nevada (Friday)
Wake Forest at Stanford
Houston at UCLA
USC at Minnesota
Washington State at SMU
Louisville at Oregon State
The win-loss record on Saturday night will play a huge role in how the Pac-10 is perceived this season. And, Oregon fans, if you are starting to entertain national-title dreams, you should root hard for the conference to do well. And, yes, that includes the Huskies and Beavers. Saturday's results will resonate in both the national and computer polls -- and later the BCS standings.
September, 13, 2010
9/13/10
2:23
PM ET
Where you're hot, you're hot …
Yep, it's that time again in the SEC
EN FUEGO
South Carolina running back Marcus Lattimore:
I've been trying to think of the last time a true freshman has made the kind of impact in his first SEC game as Lattimore did in the 17-6 win against Georgia. I hesitate to say it, but I'm going to. I've refrained from making any Herschel Walker references until now. But Lattimore's performance against the Bulldogs was Herschel-esque, and who could ever forget Walker's debut in this league 30 years ago when he burst onto the scene in Knoxville, Tenn., and ran over Bill Bates at the goal line? Lattimore wasn't as selective. He took turns running over different Georgia defenders last Saturday.
Hot
LSU defensive tackle Drake Nevis:
When you start talking about the top interior defensive linemen in this league, don't sleep on Nevis. He had 2.5 sacks Saturday in the win against Vanderbilt and has 3.5 sacks in his first two games.
Not
Mississippi State's passing game:
When the Bulldogs needed to throw the ball last Thursday in the 17-14 loss to Auburn, they couldn't. It wasn't all the quarterbacks' faults, either. There were several costly drops.
Hot
Kentucky receiver Randall Cobb:
You hesitate to even put a position beside his name. It took the versatile Cobb all of two games to score touchdowns four different ways. In the blowout of Western Kentucky last week, he returned a punt for a touchdown, caught a touchdown pass and threw a touchdown pass. In the opener, Cobb had a 51-yard touchdown run. What's next? Maybe the Wildcats will put him in on defense, and he'll return an interception for a touchdown.
Not
Tennessee's resilience:
After outplaying Oregon for much of the first half, Tennessee ran for cover once the Ducks started to make their run. When it was over, Oregon had put up 45 unanswered points, and the Vols were left to process their worst beating in Neyland Stadium history.
Hot
Auburn defensive coordinator Ted Roof:
Nobody on the Plains was happy after Auburn gave up 26 points to Arkansas State in the opener. But the Tigers' defense saved the day (night) last Thursday. Roof did an excellent job of getting his guys ready to play on a short week of preparation.
Not
Georgia receiver A.J. Green:
It's not so much Green, who definitely made a mistake by selling his jersey, even though the system is skewed when Georgia can profit so handsomely on the sales of his jersey and he gets nothing. But, hey, Green has paid his price. He deserves to have his suspension reduced. Let him play!
Hot
Alabama's defense:
The real tests are yet to come, but it's hard to tell a big drop-off to this point. Safety Mark Barron and linebacker Dont'a Hightower are playing lights out, and the Crimson Tide gets back defensive end Marcell Dareus this week against Duke. Two field goals in two weeks ain't a bad way to start the season.
Not
LSU quarterback Jordan Jefferson:
The more you hear LSU coach Les Miles talk, the more you think Jefferson might be getting some help.
Jarrett Lee
played some in the fourth quarter last week. Miles is right, though. One way or the other, the Tigers are going to need better quarterback play if they're going to factor into the West race.
Freezer Burn
Vanderbilt's offense:
A year ago, the Commodores just didn't have the playmakers on offense, and quarterback
Larry Smith
was still learning the system. But one game into the SEC season this year, it looks like the same ineffective Vanderbilt offense. Only this time, coach Robbie Caldwell said mental errors were the biggest problem. He's even talking about cutting back the playbook. The Commodores need to do something, because what they're doing now simply isn't cutting it against SEC defenses. In their past 10 SEC games dating back to the end of the 2008 season, they've scored a total of five offensive touchdowns. And in those 10 games, Vanderbilt has been held to 10 or fewer points eight times. Those kind of offensive numbers will get you exactly what it got the Commodores a year ago – a winless season in the league.
September, 13, 2010
9/13/10
2:05
PM ET
Once upon a time ...
Team of the week:
Connecticut. I seriously considered leaving this one blank. West Virginia nearly lost at Marshall, South Florida and Syracuse lost by double digits, Rutgers struggled at Florida International and everybody else played FCS squads. UConn's opponent, Texas Southern, offered little resistance. But at least it was good to see the Huskies have some fun and romp 62-3.
Best game:
It had to be nerve-wracking, scary and frustrating most of Friday night for West Virginia fans. But after mounting two long drives in the final eight minutes to tie the game, the Mountaineers pulled out a season-saving, 24-21 overtime win against Marshall.
[+] Enlarge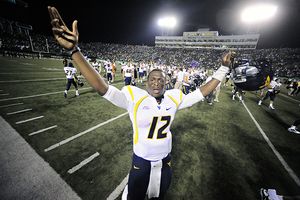 AP Photo/Jeff GentnerGeno Smith led West Virginia's late comeback against Marshall.
Biggest play:
Geno Smith
's five-yard touchdown pass to tight end
Will Johnson
with 12 seconds left in the Marshall game. Some West Virginia scribes even compared it to "The Catch" from Joe Montana to Dwight Clark.
Best call:
On 4th-and-2 in the second quarter, Rutgers lined
Mohamed Sanu
up in the Wildcat formation. Florida International expected Sanu to run, but he threw it to tight end
D.C. Jefferson
for a 24-yard touchdown. Had the Scarlet Knights not scored there, they might have lost instead of winning 19-14.
Big Man on Campus (Offense):
West Virginia's Smith. Despite having every reason to get happy feet from Marshall's pressure, the sophomore coolly led those two long drives and finished with 316 yards passing.
Big Man on Campus (Defense and Special teams):
Rutgers safety Joe Lefeged became the first player in Big East history to win the league's official weekly honors in both defense and special-teams play on Monday, and he gets the same recognition here. Check out this monster line: Two forced fumbles, two blocked punts, an interception and one pass break-up.
Worst hangover:
Syracuse. The Orange had a 10-0 lead at Washington, only to leave with a familiar feeling after losing 41-20. Syracuse's defensive performance against
Jake Locker
was especially disappointing. But it's not too disheartening, as most people figured the Orange wouldn't win that game anyway.
Strangest moment:
The halftime score at Nippert Stadium. The Bearcats led only 12-7 and even heard some boos from their home fans, who haven't seen a loss there in more than two years.
The future is now (This week's games listed in descending order of importance/interest):
Cincinnati (1-1) at NC State (2-0):
Bearcats had better win this one, or else they could easily be 1-3 after the Oklahoma game.
(ESPN, 7:30 ET, Thursday):
Maryland (2-0) at No. 21 West Virginia (2-0):
Terps have already matched their win total from '09. Mountaineers need to show much improvement to have a chance in Week 4 at LSU.
(ESPNU, Noon ET)
Louisville (1-1) at Oregon State (0-1):
Last time these two met, Bobby Petrino's Cardinals won 63-27. Charlie Strong's team doesn't have that kind of firepower, and the Beavers might be looking for some revenge.
(5:30 ET)
Connecticut (1-1) at Temple (2-0):
Two years ago, UConn needed overtime to win at Temple. The Owls look like they could provide a test again this season.
(ESPN3.com, Noon ET)
Maine (1-1) at Syracuse (1-1):
Orange beat the Black Bears by 17 last year and should have a similarly easy time this week.
(ESPN3.com, 7:15 ET)
Bye
: Pittsburgh, Rutgers, South Florida
September, 13, 2010
9/13/10
2:05
PM ET
Let's look back at Week 2 before looking ahead to Saturday's completely full slate (11 games) of Big Ten action.
[+] Enlarge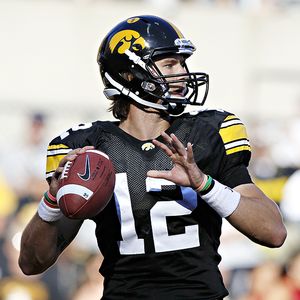 AP Photo/Charlie NeibergallRicky Stanzi and the Hawkeyes had their way with Iowa State on Saturday.
Team of the week:
Iowa. Ohio State and Michigan drew more national attention, as usual, but Iowa delivered the most impressive performance of the day. The Hawkeyes annihilated in-state rival Iowa State, storming out to a 35-0 lead behind
Adam Robinson
and
Ricky Stanzi
. Iowa State supposedly had improved since last year's meeting, but the Hawkeyes once again victimized quarterback
Austen Arnaud
for three interceptions. After walking the tightrope every week in 2009, Iowa isn't letting inferior teams hang around. It'll be interesting to see how the Hawkeyes perform Saturday at Arizona.
Best game:
Michigan at Notre Dame. For the second consecutive season, the Wolverines and Irish provided plenty of drama. And once again, a young quarterback became the hero for the Maize and Blue.
Denard Robinson
's brilliance helped Michigan overcome a late defensive breakdown and rally for a 28-24 victory in South Bend. The game featured plenty of plot twists, as Notre Dame jumped ahead early, lost quarterback
Dayne Crist
to injury, got him back and took the lead before falling. Just great theater in one of college football's great cathedrals.
Biggest play:
Going with three of them this week. Robinson set a Notre Dame Stadium record with his 87-yard touchdown run in the second quarter, a beautiful display of pure speed. And who doesn't like to see a defensive lineman rumble? That's exactly what Ohio State's Cameron Heyward did on an 80-yard interception return against Miami early in the third quarter with the game still very much in doubt. Purdue running back
Al-Terek McBurse
also deserves props for keeping his balance while rolling over a Western Illinois defender and then scooting into the end zone for a 40-yard touchdown run.
Specialist spotlight:
Michigan State entered the season with major questions at the kicker spot after losing standout Brett Swenson. Dan Conroy eased the concern Saturday against Florida Atlantic, converting field goal attempts of 50, 44 and 41 yards. Conroy is 4-for-4 on field goals for the season. Ohio State kicker Devin Barclay tied a team record with five field goals before missing his sixth attempt. "It was the first time I've ever been in a game where the kicker cramped up," Buckeyes coach Jim Tressel said afterward.
Game balls
(given to players from winning teams not selected for helmet stickers):
Northwestern QB Dan Persa: Robinson and Terrelle Pryor get all the pub, but Persa is leading the nation in pass efficiency with an amazing rating of 212.06. He has completed 86.4 percent of his passes with five touchdowns and no picks. It's still early, but Persa is answering NU's biggest question mark entering the fall.

Purdue DE Ryan Kerrigan: Kerrigan is continuing his dominant play from 2009 and recorded four tackles for loss with a sack and a forced fumble against Western Illinois. He leads the league in both tackles for loss (6.5) and forced fumbles (2), and ranks fifth in tackles (19).

Illinois RB Mikel Leshoure: Another player who has carried over his success from last fall, Leshoure racked up 115 rushing yards and two touchdowns on only 15 carries against Southern Illinois. Imagine what he'll do if he ever gets a full carries load.

Michigan State WR/KR/PR Keshawn Martin: Martin showed against Florida Atlantic why he can be so dangerous for the Spartans this year. He had a 42-yard reception, a 46-yard kickoff return and a 47-yard punt return. He finished with a game-high 204 all-purpose yards.

Michigan WR Roy Roundtree: Labeled as doubtful last Monday after taking a huge shot against UConn, Roundtree not only played against Notre Dame but led Michigan with eight receptions for 82 yards and a touchdown. Plus, he took another big hit in the game. Gutsy performance.

Wisconsin DE J.J. Watt: Watt is performing like an All-Big Ten player so far this season, and he came up big against San Jose State with 2.5 tackles for loss, a quarterback hurry and a blocked field goal attempt.

Purdue RB Dan Dierking: Dierking eased some concerns about the Boilers' run game with 14 carries for 102 yards and two touchdowns against Western Illinois. He broke career bests for rushes, rushing yardage and touchdowns for the second straight game.
How bizarre:
The entire Miami-Ohio State game fits into this category. Ohio State allowed a kickoff return touchdown and a punt return touchdown in the same game for the first time in team history. Miami's
Jacory Harris
threw four interceptions and still had a chance in the second half. Pryor completed just 12 of 27 passes but still put up great yardage totals for both passing (233) and rushing (113). Just a very weird game at The Shoe, but the Buckeyes will take the W.
Now, let's take a quick look at the Week 2 slate ...
Massachusetts (2-0) at Michigan (2-0):
What will Robinson do next? Tune in for the first half, as he might not be around for much of this one. The real subplot should be how Michigan uses backup quarterbacks
Devin Gardner
and
Tate Forcier
.
Ohio (1-1) at Ohio State (2-0):
Frank Solich's Bobcats gave the Buckeyes a real scare two years ago, but Ohio is coming off of a home loss to Toledo. Can't see Ohio State letting Ohio hang around very long.
Kent State (1-1) at Penn State (1-1):
The Lions should finally be able to get
Evan Royster
and the run game going, right? One problem: Kent State leads the nation in rush defense, allowing just 11 yards per game.
Northern Illinois (1-1) at Illinois (1-1):
The Illini looked great against Southern Illinois and try to continue maintain their unbeaten record (12-0) against public schools from the state. NIU coach Jerry Kill could miss the game
after being hospitalized Sunday
.
Ball State (1-1) at Purdue (1-1):
Life without star wide receiver
Keith Smith
begins for the Boilers, who still are looking for more consistency on both sides of the ball. Can Dierking nail down Purdue's top running back spot?
USC (2-0) at Minnesota (1-1):
These are the big-ticket games Tim Brewster wants to play at Minnesota, but the heat is rising on the fourth-year coach after an embarrassing loss to South Dakota. USC's
Matt Barkley
takes aim at a Gophers' secondary that made South Dakota's
Dante Warren
look like superman.
Arizona State (2-0) at Wisconsin (2-0):
Steven Threet
sparked Wisconsin's downward spiral in 2008 after leading Michigan to a historic come-from-behind win at the Big House. Now Threet leads the Sun Devils into Madison looking for an upset.
Indiana (1-0) at Western Kentucky (0-2):
Remember the Hoosiers? It feels like months since they last played. All-Big Ten wideout
Tandon Doss
is expected to make his season debut as Indiana hits the road for the first time.
Northwestern (2-0) at Rice (1-1):
The Michigan-Big Ten reunion continues as former Wolverines running back
Sam McGuffie
faces Northwestern. This could be a tricky game for the Wildcats, but if Persa continues to perform like he has, they should be fine.
Notre Dame (1-1) at Michigan State (2-0):
We should learn a lot more about the Spartans in this prime-time affair, as Notre Dame should test a secondary that struggled mightily in 2009. Linebacker Greg Jones and the Michigan State seniors try to go 3-1 against the Irish.
Iowa (2-0) at Arizona (2-0):
Stay up late for this one, people. Both teams have looked dominant so far, and Iowa will have to adjust to the elements in the desert.
Nick Foles
and the Arizona offense will test Adrian Clayborn & Co., but Arizona also must contend with an Iowa offense that looks very strong so far.
September, 13, 2010
9/13/10
2:04
PM ET
A look back at the week that was as we hand out a few awards.
Best offensive player:
Landry Jones, QB, Oklahoma.
Jones helped Oklahoma race to a big halftime lead after throwing for 321 yards and three touchdowns in the game's first 30 minutes.
Best defensive player:
DeJon Gomes, S, Nebraska
. Gomes broke open the Huskers' 38-17 win over Idaho with a 40-yard interception return for a touchdown and made 10 tackles. (Honorable mention: Justin Springer, LB, Kansas -- fifteen tackles, three tackles for loss, sack.)
Best team performance:
Tie, Oklahoma and Kansas.
Kansas certainly lowered the bar for expectations with its first loss, but they rebounded to be one of two teams that knocked off ranked teams in Week 2. Oklahoma continued its run of dominance inside Norman city limits.
Best offensive freshman:
Jordan Webb, QB, Kansas.
In his first-ever start, Webb consistently moved the Jayhawks offense, completed 18-of-29 passes and threw three touchdowns to lead Kansas to a 28-25 win over Georgia Tech. (Honorable mention:
James Sims
, RB, Kansas.-- 17 car, 101 yards, TD.
Henry Josey
, RB, Missouri -- 7 car, 112 yards, 3 TD)
Best defensive freshman:
Damontre Moore, DE, Texas A&M.
Playing in relief of the banged-up Von Miller, Moore took over Texas A&M's joker position and recovered a fumble, notched two sacks, forced three more fumbles and made seven tackles.
Best play:
Daymond Patterson, WR, Kansas.
Patterson caught a quick hitch behind the line of scrimmage, bounced around and through 72 Georgia Tech defenders before diving across the goal line for a 32-yard touchdown that put Kansas up 28-17 early in the fourth quarter. That earned Patterson the No. 4 play on Saturday night's Sportscenter. (Honorable mention:
Uzoma Nwachukwu
, WR, Texas A&M, who hauled in a 44-yard Hail Mary from
Jerrod Johnson
on an untimed down at the end of the first half.)
Worst play:
Brandon Weeden, QB, Oklahoma State.
Weeden, playing with a sprained thumb, fumbled a snap with only a couple kneels standing between the Cowboys and a win. The turnover gave Troy the ball back with a three-point deficit and under a minute left.
Timeliest redemption:
Justin Gent, LB, Oklahoma State.
On the next play, Gent sacked Troy quarterback
Corey Robinson
and forced a fumble that linebacker Orie Lemon recovered to re-seal the win.
Teams we still know the least about:
Tie,
Texas A&M and Texas.
That will end for the Longhorns on Saturday.
Worst half:
Colorado
. The Buffaloes fell behind 31-0 to Cal at halftime before three garbage time touchdowns in the fourth quarter produced a 52-7 final. In the first half, Colorado quarterback
Tyler Hansen
was sacked four times and the Buffaloes nine first-half possessions produced three turnovers, four punts and a missed field goal.
September, 13, 2010
9/13/10
2:04
PM ET
I know, I know, you don't want to look back. Look ahead, you cry, look ahead. Compromise. Let's do both:
[+] Enlarge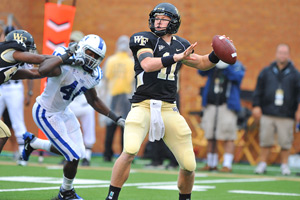 Lance King/Icon SMITanner Price threw for 190 yards and three touchdowns against Duke.
The good: Backup quarterbacks
. Wake Forest quarterback
Tanner Price
was outstanding, throwing three touchdowns and running for a fourth in a 54-48 win against Duke. Maryland backup quarterback
Danny O'Brien
threw three touchdown passes against Morgan State. Clemson quarterback
Tajh Boyd
went 4-for-9 for 87 yards and two touchdowns, including a rushing score, against Presbyterian. The future looks bright for those players.
The bad: Florida State and Miami
. College football waited and waited. It will have to wait some more. The progress and expectations of these two programs was one of the hottest topics of the offseason. But instead of living up to the hype, the two former powers looked just like they did last year. Both schools' starting quarterbacks -- Miami's
Jacory Harris
and FSU's
Christian Ponder
-- dropped out of the Heisman conversation (at least for now) and were outplayed.
The ugly:
The ACC
. Five ranked teams shrank to one, Virginia Tech dropped to 0-2 after losing to an FCS James Madison team, Georgia Tech lost to a Kansas team coming off an FCS loss, and Florida State and Miami? See above.
The surprise:
The Atlantic Division
. The Coastal Division has been the conference heavyweight, but with the Techs falling and North Carolina in the midst of a two-pronged NCAA investigation, the Atlantic Division isn't looking too bad. It went 5-1 this past weekend, with the lone loss coming from Florida State, which faced a top-10 Oklahoma team on the road. Five teams in the Atlantic Division are still undefeated. Nobody in the Coastal can say the same.
Top three games of the week:
1. Clemson at No. 16 Auburn (ESPN/ESPN3, 7 p.m. ET):
ESPN's "College GameDay" crew will be there to find out if the Tigers can carry the banner for the ACC. The Tigers' defense will get an extra boost from the return of linebacker Brandon Maye and defensive tackle Jarvis Jenkins, but will quarterback
Kyle Parker
be able to outplay
Cam Newton
?
2. Maryland at No. 21 West Virginia (ESPNU, Noon ET):
The Terps are in a position to make a push as one of the better teams in the ACC. West Virginia trailed by as many as 15 points in the fourth quarter to Marshall last week before staging an improbable comeback. The Terps found their passing game against Morgan State, but O'Brien tweaked his ankle.
3. Cincinnati at NC State (ESPN/ESPN3, 7:30 p.m. ET):
The Wolfpack are off to a 2-0 start for the first time under coach Tom O'Brien, and the defense has shown some much-needed improvement. Cincinnati hasn't done anything worth bragging about, especially after totaling a whopping 15 rushing yards in a road loss to Fresno State. Home-field advantage this week could be huge for the Pack's bowl hopes.
Yeah, I know, Georgia Tech is playing North Carolina, and it's a conference game and the Coastal race, yada yada ... But considering the way the Jackets played against Kansas, and the trouble Carolina's program is in, the three aforementioned teams deserve more ink.
September, 13, 2010
9/13/10
2:00
PM ET
Let's take a look at the good and the bad for the non-AQs in Week 2.
[+] Enlarge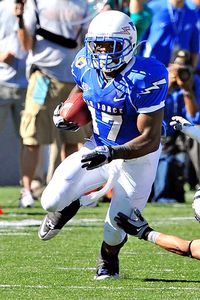 Ron Chenoy/US PresswireAsher Clark rushed 18 times for 121 yards in Saturday's win.
The good:
Air Force really showed what it is capable of in a 35-14 win over BYU. It was the Falcons' first win over the Cougars in six years. In fact, it was the first time coach Troy Calhoun has ever beaten BYU in his career.
Jared Tew
and
Asher Clark
showed why they are one of the best running back duos among the non-AQs, maybe even in the nation, with 198 yards combined on the ground.
Jonathan Warzeka
contributed as well, with six carries for 62 yards and a touchdown. Meanwhile, San Diego State is off to its first 2-0 start since 1994.
The bad:
The MAC had some pretty brutal losses, with Ball State and Akron falling to FCS opponents. Ball State coach Stan Parrish, whose team lost to Liberty 27-23, said he thought the Flames would be able to compete in the MAC, especially behind quarterback
Mike Brown
. "When you have a special player playing quarterback, look at the history of our league, it's very quarterback driven, when you have a very special quarterback like Liberty does, you can be special every week," he said. Meanwhile, New Mexico has now been outscored 124-17 in its two losses this season.
The new:
We heard all the hype about San Diego State freshman running back
Ronnie Hillman
and the hope that he would be able to rescue the Aztecs' rushing attack. Hillman proved it Saturday night against New Mexico State, rushing for 150 yards and four touchdowns in a 41-21 victory. He averaged 6.8 yards a carry, a huge improvement for the Aztecs, who had one of the worst rushing offenses in the country last year. His four rushing touchdowns set a Mountain West freshman single-game high and are the most by a San Diego State player since Larry Ned had four touchdowns against Wyoming in 2001.
A few more helmet stickers:
Toledo linebacker Dan Molls made a career-high 11 tackles, 2.5 tackles for loss, one sack and two interceptions in a 20-13 road win at Ohio. Molls set up the first Toledo touchdown with a 28-yard interception return to the 2-yard line, and also had a big fourth-down sack that allowed the Rockets to beat Ohio a 20-13 win. ... Marshall DE Vinny Curry also had 11 tackles, three for loss, two sacks and two forced fumbles in Marshall's near upset of No. 22 West Virginia on Friday night. ... Arkansas State sophomore quarterback
Ryan Aplin
passed for a school-record 438 yards and two touchdowns in a loss to Louisiana-Lafayette. Aplin has the second-most passing yards in the nation with 716.
A few injury items to note:
Houston quarterback
Case Keenum
(concussion) is day to day. Kent State running back
Eugene Jarvis
missed last week's game against Boise State with a groin injury and is most likely out this week, coach Doug Martin said Monday. He still lists Jarvis as day to day. Middle Tennessee quarterback
Logan Kilgore
sat out last week's win against Austin Peay with a foot injury, and coach Rick Stockstill said the team would know more about his status this week. Utah quarterback
Jordan Wynn
(thumb) missed last week's game against UNLV and his status is uncertain for this week.
Week 3 look ahead:
This is another big week for non-AQ teams playing some pretty important nonconference games. The biggest to watch: East Carolina at Virginia Tech; Air Force at Oklahoma; BYU at Florida State; Baylor at TCU and Houston at UCLA.