NCF Nation:

Weekend Rewind 091613
September, 16, 2013
9/16/13
11:00
AM ET
The temperature is heating up in some locales in the SEC and cooling down in others:
GLOWING EMBERS
[+] Enlarge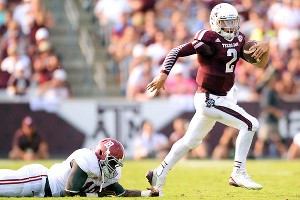 Thomas Campbell/USA TODAY SportsJohnny Manziel is one of the reasons SEC offenses are humming and its defenses are suffering.
SEC offenses:
We've played three weeks of football, and half the SEC teams are ranked in the top 38 nationally in total offense. No, that's not a typo. We're talking offense here, not defense. Not only that, but 10 of the 14 teams are averaging more than 30 points per game. They're not all rolling up these numbers against lesser competition, either. Alabama and Texas A&M combined for 91 points, 1,196 yards and 62 first downs in their 49-42 classic on Saturday in College Station. In the season opener, we saw Ole Miss defeat Vanderbilt in a wild 39-35 game. Georgia lost 38-35 to Clemson in its opener and came back the next week and beat South Carolina 41-30 in a game that featured 990 yards of total offense. Even LSU is getting into the act. Yep, the same LSU that didn't finish better than ninth in the SEC in passing offense the last four years. The Tigers have thrown it only 70 times in their first three games but are fifth in the league in passing offense (269.3 yards per game). More importantly, they're making big plays downfield. They're averaging 11.5 yards per attempt, which is second in the league behind only Georgia. Of course, with all this offense, the SEC's defensive numbers have taken a hit. Only four teams are in the top 40 nationally in total defense -- Florida (No. 3), Arkansas (No. 6), LSU (No. 10) and Ole Miss (No. 35).
HOT
Arkansas running back Alex Collins:
Not even Herschel Walker rushed for 100 yards in each of his first three games, so Collins is in rarefied air. He rushed for 115 yards in the win over Southern Miss on Saturday, becoming the first freshman in SEC history to rush for 100 yards in each of his first three games. The last freshman to do it nationally was Adrian Peterson in 2004. Collins' backfield mate, sophomore
Jonathan Williams
, has also gained 100 yards each of the first three weeks.
NOT
Alabama running back T.J. Yeldon's eardrums:
After scoring on a 4-yard touchdown run right before the half, Yeldon was hit with a 15-yard unsportsmanlike conduct penalty when he gave the old double throat slash and went all Manziel on us with the "money fingers." Alabama coach Nick Saban then proceeded to go off on Yeldon, who's probably still having a hard time hearing out of that ear.
HOT
LSU quarterback Zach Mettenberger:
He leads the SEC in passing efficiency and has thrown nine touchdown passes and no interceptions through the Tigers' first three games. His nine touchdown passes through three games are the most in school history. What's more, at this point a year ago, Mettenberger had four touchdown passes and two interceptions.
NOT
Butch Jones' road debut:
At least Tennessee won't have to face Oregon again anytime soon. Jones' first road game as the Vols' coach produced their worst beating in modern history. The 59-14 drubbing could have been worse, but the Ducks mercifully took their foot off the gas pedal late in the third quarter. It was a reminder that Oregon is off-the-charts good and Tennessee still has a long way to go before being ready to swim in those waters.
HOT
[+] Enlarge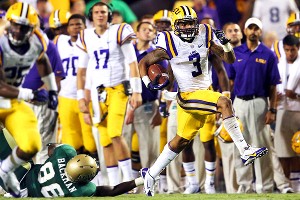 Crystal LoGiudice/USA TODAY SportsOdell Beckham (3) and Jarvis Landry have been the SEC's best receiving tandem so far.
Big-time receivers:
It's hard to beat the lineup of receivers in the SEC. Take your pick. Texas A&M's
Mike Evans
, Vanderbilt's
Jordan Matthews
and Alabama's
Amari Cooper
are as good as it gets. But what about Ole Miss'
Donte Moncrief
? And something says Missouri's
Dorial Green-Beckham
is just getting started. But in terms of combos, LSU's
Odell Beckham
and
Jarvis Landry
have combined for 10 touchdowns this season.
NOT
Targeting penalties:
Thankfully, the ejection of Alabama safety
Ha Ha Clinton-Dix
on Saturday was overturned by replay, but the 15-yard penalty stuck. It shouldn't have been a penalty; Clinton-Dix was clearly trying to make a play on the ball and there just happened to be some helmet-to-helmet contact. No wonder the coaches hate the rule given how subjective it is.
HOT
Alabama safety Vinnie Sunseri:
There was some concern about Sunseri's ability to cover, and that's still not his forte. But the guy is a football player. He has played in two games this season and has two interception returns for touchdowns. There's something to be said for being in the right place at the right time, and Sunseri always seems to be in the right places at the right times.
NOT
South Carolina's special teams:
The Gamecocks almost made enough special-teams gaffes to let Vanderbilt really make things interesting there at the end last weekend. They're getting nothing out of their kickoff return game, and
Shon Carson
fumbled two (losing one) against the Commodores. South Carolina also had a punt go off a player's heel that set up one of Vanderbilt's late touchdowns and helped the Commodores rally.
FREEZER BURN
Texas A&M's defense:
Technically, Johnny Manziel is correct. Texas A&M isn't out of the SEC or national championship race. The Aggies will need some help, but Alabama has proven the last two years that a one-loss SEC team (not even a one-loss SEC champion) can rebound to win it all. So with some help, the Aggies can still work their way back onto the guest list for the Vizio BCS National Championship. But where they're really going to need help is on defense. They've got to get better -- and get better in a hurry -- on that side of the ball, or it's not going to matter how many mesmerizing plays Manziel makes on offense. Having to score 40-plus points every week to win has a way of catching up to you. The Aggies got all their players back on defense against Alabama except for safety Floyd Raven, and while it's true that playing with different combinations can torment a defense, the Aggies' problem so far has been that they don't do anything particularly well on defense and have looked unsound at times through the first three games. We'll see what kinds of strides the Aggies can make on D, but they're clearly missing some of the playmakers who helped them play extremely well down the stretch last year.
September, 16, 2013
9/16/13
11:00
AM ET
Taking stock of Week 3 in the Pac-12.
[+] Enlarge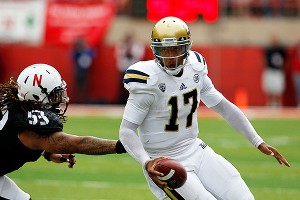 Bruce Thorson/USA TODAY SportsUCLA QB Brett Hundley and the Bruins overcame an emotional week to knock off Nebraska on the road.
Team of the week
: A major tip of the cap to UCLA coach Jim Mora, his staff and his players for their work -- most notably in the second half -- at Nebraska. The emotions of the week were brutal with the death of receiver
Nick Pasquale
, and we're not going to trivialize that by acting like winning a football game heals anything. But there can be no doubt that the emotions at work for the Bruins could have wrecked them. Instead, they came together and played a spectacular half of football. This team showed a lot of backbone on the road, which is just more evidence of the positive culture change in Westwood under Mora.
Best game
: Oregon State's 51-48 overtime win at Utah was a back-and-forth affair that featured more big plays and momentum swings than any other contest. The Beavers' euphoria over potentially saving their season, which began with a horrid loss to Eastern Washington, an FCS team, was painfully contrasted by the stunned look on the faces of Utah coaches, fans and players. The Utes, who have started 0-4 in Pac-12 play their first two seasons in the conference, fell just short of a nice statement win. But keep this in mind, Utes. Your QB,
Travis Wilson
, is a baller. It's worth noting with his and the offense's slow start that he was dealing with his own emotions as a lifelong friend of Pasquale.
Biggest play
: The officiating mess at the end of the Arizona State-Wisconsin game was the biggest misplay, but the biggest positive play -- among many choices -- was
Sean Mannion
's 6-yard TD pass to
Brandin Cooks
for Oregon State's overtime win at Utah.
Offensive standout
: In the Beavers' thrilling 51-48 victory at Utah, Mannion completed 27 of 44 passes for 443 yards with five touchdowns and no interceptions. With the Beavers' defense clearly vulnerable and the running game struggling, it's likely Mannion and company are going to need to throw the rock around in order to win games this fall. Through three weeks, he looks up to the task.
Offensive standout, runners up
: We've got to give some credit to Mannion's top target, Cooks, who hauled in nine passes for 210 yards and three TDs. That's 23.3 yards per catch. Also, Oregon quarterback
Marcus Mariota
completed 23 of 33 passes for a career-high 456 yards with four touchdown passes and no interceptions in the Ducks' blowout win over Tennessee. He also rushed for 27 yards and a TD.
(I know … I know. I left out YOUR GUY. There were just too many good offensive performances this weekend.)
Defensive standout
: UCLA All-American outside linebacker
Anthony Barr
led the Bruins' second-half domination of Nebraska. He collected a team-high 11 tackles, with 1.5 coming for a loss, in the 41-21 road victory. He also forced three fumbles, which is a good thing to do and a big reason the Cornhuskers didn't score a point in the second half.
Special teams standout
: Oregon State kicker
Trevor Romaine
was 3-for-3 on field goals in the overtime win at Utah. His boots included a career-long 49-yard effort, as well as connections of 36 and 20 yards. He's 5-for-6 on field goals for the season and 36-for-45 for his career. He now ranks ninth at OSU for career points with 184.
Smiley face
: The Pac-12 went 8-1 in nonconference games, with only California losing to No. 4 Ohio State. That included wins over ranked teams (No. 20 Wisconsin and No. 23 Nebraska) and wins over three automatic qualifying conferences (3-1 vs. Big Ten, 1-0 vs. SEC and 1-0 vs. ACC). We called it "Measuring Stick Week," and the conference measured up.
Frowny face
: The officials soiled the ending of Arizona State's win over Wisconsin. However you see the final play -- and the idea that there was easy clarity (other than after the fact) is ridiculous -- the officials dithered instead of acting decisively, and Wisconsin folks have a right to be apoplectic. And, by the way, they are. They also, by the way, should be infuriated by how the Badgers handled things at the end, too. If quarterback
Joel Stave
had simply gone to the ground in a standard way, it's unlikely the officials would have become The Three Stooges.
Thought of the week
: It's now pretty clear that the preseason perception was accurate: The Pac-12 is as deep and as good at the top as it has been for a long time. Oregon is clearly a national title contender, and Stanford, also a top-five team, is not far behind. UCLA and Washington have surged, while Arizona State is now the fifth conference team in the top 25, with Arizona also getting votes. Only Cal has a losing record, and that's because it played two ranked teams in its first three games. There isn't a team that doesn't appear capable of winning six games and becoming bowl eligible. The issue now becomes whether the top teams can avoid multiple blemishes in such a deep conference. A patsy-less conference with a nine-game conference schedule makes it tough to go unbeaten.
Questions for the week
: Who makes a statement in the Arizona State-Stanford game? The Pac-12 features its first matchup of ranked conference teams on Saturday, and it pretty much has the stage all to itself because next weekend's schedule is fairly thin after that, other than the Holy War between Utah and BYU. Has Stanford been sandbagging it through a pair of unspectacular wins? Can the Sun Devils beat a top-five team on the road and make a thunderous statement for coach Todd Graham in his second season? Big, physical Wisconsin should have been good prep for the Cardinal.
September, 16, 2013
9/16/13
11:00
AM ET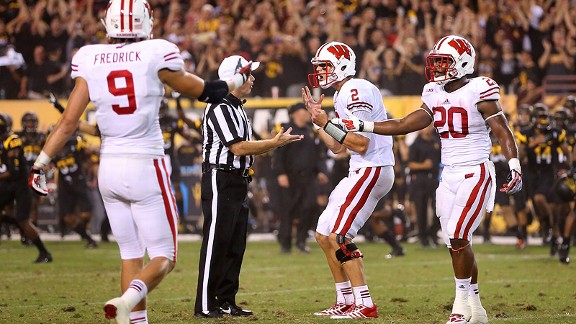 Christian Petersen/Getty ImagesJoel Stave and the rest of the Wisconsin Badgers were flabbergasted by the ending of Saturday night's loss to Arizona State, as the Badgers bizarrely ran out of time deep in ASU territory.
It was a rough weekend all around for the Big Ten, which went 0-3 against ranked teams, 1-3 versus the Pac-12 and only 5-5 against FBS competition. Even some of the winning teams either had major scares (Michigan), looked sluggish (Northwestern) or had the game overshadowed by a different concern (Minnesota).
But, really, all I want to talk about is the Wisconsin-Arizona State ending, aka the Desert Debacle.
If you haven't read up on one of the most absurd finishes of all time yet, take a moment to brush up
here
and
here
and
here
. Consider all the things that went sideways in 18 infamous seconds:
As Badgers quarterback Joel Stave ran to his left to center the ball for an upcoming field goal try, he collided into the backside of left guard Ryan Groy and very nearly clipped Groy's heel while attempting to kneel. (Groy didn't even need to be there, as he'd shed a defender and had no one left to block.) Adding to the confusion, Stave quickly bounced up and placed the ball on the 15-yard line as if the pigskin were covered with scorpions. Had he merely Tebowed it and held onto the ball for a couple of seconds, or just handed it to an official, the ensuing chaos probably doesn't occur.

A whistle had blown and the referee, stationed behind the Wisconsin offense, clearly signaled the ball as down. And yet, other officials and players seemed unsure if Stave had actually knelt or whether it was a live, loose ball. Postgame photographic evidence proved he did take a knee, but it took a specific angle on a freeze frame from the hi-def broadcast to remove doubt. Things aren't nearly as clear in full speed live action when you're a 50-year-old-plus referee who's been running around in desert heat for three-plus hours.

But here's the thing: It shouldn't have mattered whether Stave's knee actually ever touched the turf. According to the NCAA rules manual (specifically, Rule 4, Article 2, Section A), the ball is dead if "an official sounds his whistle (even though inadvertently) or otherwise signals the ball dead." Later in Rule 4, the handbook states that the play is dead "when a ball carrier simulates placing his knee on the ground." So Stave should be off the hook here, even though his actions looked odd at the time.

Three Sun Devils players went for the ball, understandably so given the mixed signals, and Anthony Jones laid on it for more than five seconds. Ironically, Arizona State fans booed earlier in the game when they thought Wisconsin's Michael Caputo faked an injury to slow their team's offensive pace by the goal line. Apparently, an even better way to disrupt tempo is to smother the ball like it's a rogue hand grenade, because Jones astonishingly got away with a clear and obvious delay of game infraction.

Even if Stave's kneel-down had gone smoothly, the clock would not have stopped, and the Badgers had no timeouts. Yet, Stave and his teammates wasted precious time by looking to the confused officials instead of rushing into formation for a spike. In fact, Wisconsin players only frantically pointed to the clock when there were two seconds left. The umpire, moving slower than most Arizona retirees, wrongly signaled for the Badgers line to back away, but even that didn't happen until 0:02. The umpire also appeared never to have looked at the referee as the latter was signaling the ball as down.
Without question, the Pac-12 officiating crew displayed a shocking lack of rules knowledge and cohesion. They never huddled together to try and figure out what had happened. The referee, who presumably whistled the play dead and signaled it as so, should have taken charge of the situation. It's disgraceful that two teams could play so hard for 59-plus minutes, only to have officials approach the frenzied final moments so casually (they sure moved fast once they'd decided the Sun Devils had won, however). And if we're going to continually interrupt games for replays, many of which have seemingly little effect on the final outcome, then why isn't there a protocol in place to correct last-second disasters like this on review?
While the officials deserve nearly all the blame, Wisconsin played with fire in trying to get the ball into only slightly better kicking position with the clock dwindling. Badgers coach Gary Andersen said his team practices that specific play for that amount of time, but any seasoned Saturday observer knows that most college teams are notoriously bad at late-game execution. That's because of both inexperienced players and the NCAA 20-hour rule that limits the amount of time coaches can spend on such scenarios. Even when teams do practice for it, they can neither simulate nor predict how quickly -- or, in this case, how interminably -- a given official will clear the pile and spot the ball.
Two more points to consider: First, the bizarre finish absolved Arizona State's Todd Graham of some atrocious clock management and play calling on the Sun Devils' final drive. Graham has yet to impress as a head coach; he twice decided to go for two-point conversions far too early in a back-and-forth game, and it nearly cost his team.
Secondly, Wisconsin's kicking game has been highly suspect for a while now, so there's no guarantee
Kyle French
makes that field goal, even if it's only from 27 yards out after a delay penalty. But French is 6-for-6 in his career from 30 yards or closer, and he'd made one from 34 earlier Saturday night. It's a shame we'll never know if he could have hit the game winner.
One last question: Why do so many weird things keep cropping up at the end of games for the Badgers, who now have 10 losses by a touchdown or less since the start of 2011? Wisconsin fans can no longer scapegoat Bret Bielema for late-game mismanagement; his wife's schadenfreude was readily apparent when Jen Bielema tweeted "#karma" shortly after the Arizona State fiasco ended.
Take that and rewind it back ...
Team of the Week:
Iowa. The Hawkeyes snapped a two-game losing streak against Iowa State, beat a FBS team for the first time since Oct. 13 of last year, and now can feel much better about a potential return to postseason play.
Biggest hangover:
Nebraska. For all
the obvious reasons
. The sky isn't falling in Lincoln, as the Huskers should still be able to win at least eight or nine games. But the sun sure ain't shining, either.
[+] Enlarge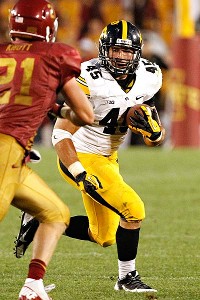 David Purdy/Getty ImagesMark Weisman made 35 carries against Iowa State. Workhorse running backs are still typical throughout the Big Ten.
Fun with numbers (via ESPN Stats & Info):
Iowa's
Mark Weisman
ranks third in the FBS in rushing yards, but his most impressive stat might be his 85 carries. Weisman, who toted it 35 times versus Iowa State, has run the ball 10 times more than anybody else in the nation. Michigan State workhorse Le'Veon Bell had 81 carries through three games last year. ... Wisconsin's
Melvin Gordon
, meanwhile, leads the country at 12.89 yards per rush. The redshirt sophomore is averaging 10.1 yards per attempt for his career. ... Indiana's
Nate Sudfeld
has taken over the Big Ten lead in QBR. Sudfeld ranks seventh nationally with his 91.7 raw score (based on a 100 point scale). Sudfeld also is tied for the national lead in most completions of 20 yards or more, with 19. ... Penn State continues to baffle with its ineptitude on third down, having now converted just four of 34 tries. Only Miami of Ohio (3-for-29) has been worse. ... Bet you wouldn't have guessed this, but Iowa is leading the league in plays per game, at 83 snaps per contest. The Hawkeyes are tied for 10
th
nationally in plays per game. Minnesota is running the fewest plays per game in the Big Ten, at 60.
Big Man on Campus (Offense):
Kenny Guiton
-- or Kenny Football, as I've taken to calling him, because the real Kenny G is far too lame -- continues to get it done in
Braxton Miller
's absence. The Ohio State quarterback threw for 276 yards and four touchdowns and ran for 92 yards in the win at Cal. Urban Meyer says he might find ways to play Guiton when Miller is healthy.
Big Man on Campus (Defense):
Not a lot of great individual defensive performances in Week 3 (see below), so we'll go with Iowa's linebackers.
Christian Kirksey
,
Anthony Hitchens
and
James Morris
combined for 25 tackles, and Morris had a 27-yard interception return. They helped limit Iowa State to just 59 yards rushing.
Big Man on Campus (Special teams):
It's time to recognize Purdue's
Cody Webster
, who might win the Ray Guy Award if it were handed out today. Webster continued his tremendous season by averaging 41.8 yards per punt and downing three of them inside the 20 versus Notre Dame.
Pointing up (the wrong way):
In the first two rewinds of 2013, we pointed out how scoring is up in the Big Ten. In Week 3, that was also true in a negative way. Six Big Ten teams (Nebraska, Ohio State, Penn State, Wisconsin, Purdue and Illinois) gave up at least 31 points, and Michigan nearly joined them (and would have been the sixth of seven to lose if so). Offenses have improved in the league, but let's face it: Most Big Ten teams still aren't well-equipped to win shootouts, so the defenses need to play better.
Strangest moment, Part II:
Nothing tops the end of the Wisconsin-Arizona State game for absurdity. But more strangeness occurred in the UCLA-Nebraska game, when officials signaled for a made field goal on a kick that was obviously wide right. The call was overturned on replay, but how is that missed in the first place? An Arizona State field goal early against Wisconsin was similarly odd, as it appeared to curve from out, to in, to above the right upright. Officials called it good, but it was hard to tell for sure. Both plays only added fuel to comedian Adam Carolla's common-sense
crusade to raise the darn uprights already
.
Did you see?
A skywriter
spelled out "Go Blue" over Spartan Stadium
shortly before Michigan State's game against Youngstown State on Saturday. Who bothered to do that or why remains unclear, but as Michigan State swimming coach Matt Gianiodis tweeted: "That's a lot of work for your 3
rd
biggest rival." Maybe Michigan fans should have focused more on Akron.
September, 16, 2013
9/16/13
11:00
AM ET
Oklahoma and Oklahoma State rolled, Texas capitulated, Texas Tech prevailed, TCU scuffled, West Virginia and Kansas State cruised, Iowa State and Kansas faltered and Baylor watched. The third weekend that was in the Big 12:
Team of the week:
Texas Tech. So far, the Red Raiders have been the big surprise of the Big 12. The first two games Tech won with quarterback
Baker Mayfield
and its air assault. Thursday, the Red Raiders beat TCU 20-10 with hard-nosed defense. Tech is off to a phenomenal start and could keep it going with four winnable games coming up next. Those games will be even more winnable if this defense proves to be the real deal.
Disappointment of the week:
Iowa State. After a disappointing opening performance, the Cyclones had high hopes they could turn their season around against their instate rival. Instead, Iowa jumped to a 27-7 lead, then withstood Iowa State's mild fourth-quarter rally. The Cyclones have not looked good offensively through two games, and outside
Sam Richardson
throwing the ball up to
Quenton Bundrage
, have really shown no pop. The Cyclones desperately need a running back and a running game to emerge. So far, neither has.
[+] Enlarge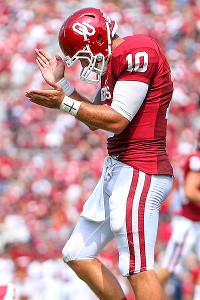 Kevin Jairaj/USA TODAY SportsBlake Bell took charge as quarterback for Oklahoma.
Big (offensive) man on campus:
Blake Bell
. After losing the preseason quarterback battle to
Trevor Knight
, Bell roared back to recapture the job for good. Bell completed 27 of 37 passes for 413 yards and four touchdowns in Oklahoma's 51-20 win over Tulsa. Accounting for both rushing and passing, Bell finished the game with a QBR of 96.7. According to ESPN Stats & Info, that's the highest single-game QBR (before opponent adjustment) by a qualifying Oklahoma quarterback since
Sam Bradford
recorded a 99.0 at Baylor in 2008.
Big (defensive) men on campus:
Terrance Bullitt
and
Will Smith
. Several different Red Raiders qualified for the honor, but the senior linebackers were instrumental in the win over TCU. Bullitt collected six tackles and batted down four passes, which helped prevent Horned Frogs quarterback
Trevone Boykin
from generating any rhythm on his shorter passes. Smith, who led Tech with nine tackles, helped stuff TCU's run up the middle. With
Tre' Porter
anchoring the secondary and
Kerry Hyder
wreaking havoc up front, the Red Raiders have the makings of a very solid defense, if this level of linebacker play from Bullitt and Smith continues.
Special teams player of the week:
Anthony Fera
. Don't blame the Texas kicker for the Longhorns' 44-23 loss to Ole Miss. Fera nailed all three of his field goal attempts in the defeat, including a 47-yarder that put Texas up two scores just before halftime. Of course, the Longhorns failed to score the rest of the game. Fera was effective punting, too, pinning Ole Miss inside its own 20 twice. The Longhorns don't have much going for them at the moment, but at least they have a reliable kicker and punter.
Play of the week:
Texas Tech's
DeAndre Washington
appeared to have scored the go-ahead touchdown on a 49-yard pass in the fourth quarter against TCU. Washington, however, let go of the football just before crossing the goal line. The ball rolled into the end zone and came to a stop, but no one touched it after the field judge signaled touchdown. The play was reviewed and the touchdown was overturned, but Tech was given the ball at the half-yard line (though a celebration penalty pushed the ball back to the 15). The Frogs have a beef about the field judge signaling touchdown prematurely, but, according to the rulebook, officials made the right call on the replay. Had a Frog picked up the ball or had the ball rolled out of the end zone, TCU would have taken over possession, but none of that happened. Instead, Tech was given back the ball, and
Davis Webb
found
Bradley Marquez
for the game-winning touchdown -- a play that could have long-lasting effects for both the Red Raiders and TCU.
Stat of the week:
After giving up 272 rushing yards to Ole Miss, Texas now has the third-worst rush defense in college football. The Longhorns are allowing 308.7 rushing yards per game. No one else in the Big 12 is giving up more than 223.
Quote of the week:
"Forget the coaches, come for the kids. Come for the young guys who are really trying, and come watch them try to beat Kansas State, which we haven't done very often."
-- coach Mack Brown, in a plea to Texas fans to keep filling the stadium despite the Longhorns' 1-2 start.
September, 16, 2013
9/16/13
11:00
AM ET
Week 3 in the ACC didn't have the same high-stakes fireworks as the first two, but there were still a few stories of note.
[+] Enlarge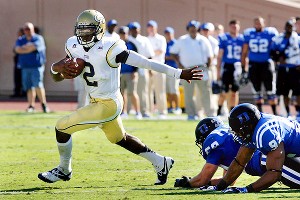 Mark Dolejs/USA TODAY SportsGeorgia Tech's Vad Lee threw for four touchdown passes and ran for another score against Duke.
The good:
Any worries Georgia Tech fans might have had about new starting quarterback
Vad Lee
should have been alleviated when the Durham, N.C., native torched his hometown team, throwing four touchdown passes and running for a fifth score in a 38-14 victory over Duke. Lee threw for 126 yards, ran for 76 more and directed the Yellow Jackets' option offense with precision. The four TD passes represented a single-game high in the Paul Johnson era at Georgia Tech, and Lee's six passing scores already have him halfway to last year's total of 12.
The bad:
Riding the high of a two-game winning streak to start the season, Boston College was thinking upset when it headed west to take on a struggling USC team. The Eagles might be improved under new coach Steve Addazio, but they're not quite ready to play with the big boys. The Trojans' languishing offense found plenty of room to work in a 35-7 win, and BC's
Chase Rettig
completed just 11 of 24 passes in a homecoming game for the Southern California native.
The ugly:
Head coach Jim Grobe was optimistic before the season. But three games in, things look awfully bad for Wake Forest. The Deacons lost their second game in a row -- 21-19 to Louisiana-Monroe after a failed two-point conversion late in the fourth quarter -- mustering just 15 yards on the ground in the game. Through three games, Wake Forest ranks 120th nationally at just 2.4 yards per rush.
The playmaker:
Pittsburgh might not be quite ready to compete with the ACC's royalty, but the Panthers clearly have some skill on offense, led by freshman phenom
Tyler Boyd
. After racking up 151 all-purpose yards in Week 1 against Florida State, Boyd demolished New Mexico with a 33-yard TD run and a 34-yard TD reception. Overall, Boyd has averaged 20.4 yards every time he's touched the ball.
The rebound:
Jameis Winston
admitted he might have been a bit too excited for his home debut at Florida State and it showed. He opened the game 2-of-5 passing and threw his first career interception early in the second quarter. But Winston wasn't rattled by the struggles. He followed the pick by completing his final 13 passes and leading six consecutive touchdown drives in the Seminoles' blowout win over Nevada.
The rebound, part II:
After two dismal weeks offensively, Syracuse finally got things going behind quarterback
Terrel Hunt
.
Drew Allen
struggled in Syracuse's first two games -- both losses -- and Scott Shafer announced he'd open up the competition. Hunt made a quick impression, completing 15 of 18 passes for 265 yards and three TDs in a 54-0 win over Wagner. What remains to be seen is whether Hunt can keep up the big numbers against better competition.
The homecoming:
Randy Edsall helped usher Connecticut into the FBS as head coach of the Huskies, but he didn't do his former team many favors when he led Maryland back to his old stomping grounds. The Terps racked up 501 yards of offense and only three turnovers kept UConn in the game. Quarterback
C.J. Brown
gained more than 100 yards rushing for the second time in three games in the 32-21 Maryland victory.
The paradox:
Virginia Tech's third game was a lot like its first. The good news was that the Hokies' defense looks legit. After an opening-drive TD, East Carolina managed just 129 yards the rest of the game and Virginia Tech forced three turnovers in a 15-10 victory. On the flip side,
Logan Thomas
and the offense continues to struggle. Tech had just 311 yards of its own, was 10-of-22 on third and fourth downs and averaged just 1.6 yards per rush. Meanwhile, kicker
Cody Journell
missed two field goals and a PAT.
The wake-up call:
Duke might still get to six victories and bowl eligibility for the second consecutive season, but it seemed clear after Saturday's loss to Georgia Tech that the Blue Devils aren't quite ready to compete for a division title. Lee torched the Duke defense and quarterback
Brandon Connette
averaged just 4.4 yards per attempt in his first start since replacing the injured
Anthony Boone
.
The quote:
"When I got out there, it was nothing but green grass." -- Florida State's
Karlos Williams
on the toss sweep that went for a 65-yard touchdown on his first career carry. He moved from safety to tailback last week.