NCF Nation:

Weekend-rewind-091911
September, 19, 2011
9/19/11
1:10
PM ET
Taking stock of the third week of games and looking ahead to Week 4.
[+] Enlarge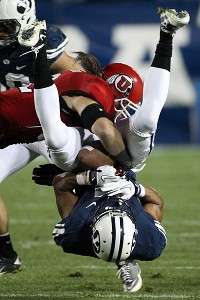 AP Photo/Colin E BraleyUtah linebacker Chaz Walker, left, upends BYU receiver Ross Apo during the Utes' 54-10 rout of the Cougars.
Team of the week
: Is there anything better than stomping your bitter rival in their own building? Answer: No (Well, touring the Mediterranean in your own yacht might be better, but it's close). The Utes' 54-10 crushing of BYU surely was great fun for the visiting team, particularly after the tough loss at USC. And it was meaningful because it was the first meeting between the two after Utah got invited to join the Pac-12 and BYU didn't (insert your own raspberry there, Utes fans, if you wish).
Best game
: A limited choice here in a weekend of blowouts, both in Pac-12 wins and losses. We're going to go with Arizona State's 17-14 loss at Illinois. Sure, the Sun Devils lost, and they didn't play particularly well. But it was the only game that was undecided deep into the fourth quarter.
Biggest play
: With 1:39 left before halftime in a tie game, Washington punted to Nebraska.
Tim Marlowe
called for a fair catch but muffed the catch, and the Huskies recovered. But the officials called the Huskies for interference. It one of those so clearly incorrect calls that it inspires fan suspicions -- "Hmm... Big Ten crew." Nebraska drove for a late field goal, the first three of 27 consecutive points.
[
Edit note
: The original post said incorrectly that the Huskies scored a TD on the muffed punt. As some have pointed out, you can't advance a muffed punt].
Offensive standout
: USC quarterback
Matt Barkley
completed 26 of 39 passes for 324 yards for five touchdowns with no interceptions in USC's
38-17 win
against Syracuse.
Defensive standout
: Utah linebacker Trevor Reilly had five tackles, two sacks, three tackles for a loss and three forced fumbles in the Utes' blowout victory against BYU. He also recovered a fumble and broke up a pass.
Special teams standout
: Stanford kicker Jordan Williamson was 3-for-3 on field goals at Arizona with a long of 45 yards, and he was 4 for 4 on PATs. Sure, Arizona coach Mike Stoops looked longingly at the redshirt freshman, seeing his kicker was 1 of 3 on field goals. Williamson is 6-for-6 for the season, including 2 for 2 from 40-49 yards. Honorable mention to Colorado freshman punter Darragh O'Neill who averaged 49.2 yards on six punts against Colorado State with a long of 56 and two killed inside the Colorado State 20-yard line.
Smiley face
: Utah and Colorado, the conference's two newest members, took care of their nonconference business. The Utes' 54-10 road-game vivisecting of BYU was particularly impressive.
Frowny face
: Arizona State is a better team that Illinois and it should have beaten Illinois. But it didn't, and there goes the national ranking. Honorable mention to the Washington defense, which was supposed to be much improved this fall, but so far hasn't been.
Thought of the week
: It seemed to become clearer over the weekend that the Pac-12 North game of the year will be Oregon at Stanford, and the Pac-12 South game of the year will be Arizona State at Utah. It mostly looked that way in the preseason, but it now appears that no surprise challenger will step up in either division.
Questions for the week
: Who is going to be a road warrior? Excluding Stanford, which is 2-0 on the road, the Pac-12 is 2-9 on the road so far this season. California, which is at Washington on Saturday, won at Colorado and Utah won at BYU (but lost at USC). Colorado is at Ohio State. Oregon is at Arizona. UCLA is at Oregon State. USC is at Arizona State. Good teams win on the road. Who steps up? And who falters?
September, 19, 2011
9/19/11
1:00
PM ET
Let's take a look back at the weekend that was for the non-AQs:
The good:
FIU pulled off yet another big win, this one against UCF, 17-10. The Panthers are 3-0 for the first time in school history and received votes in both polls for the first time in school history. They did it without star receiver
T.Y. Hilton
, who hurt his hamstring. But coach Mario Cristobal says his star player should be fine. ...
Trent Steelman
had a terrific game for Army, scoring three touchdowns in a 21-14 win over Northwestern. It was Army's first win over a team from a Big Ten team since 1988 -- which also was the last time it played a team from that conference. And that team was -- Northwestern. ... Ohio is 3-0 for the first time since 1976 after beating Marshall 44-7. ...
Ronnie Hillman
had 191 yards rushing and four touchdowns in a 42-24 win over Washington State and is now the second-leading rusher in the nation. Hillman is tied for the national lead in rushing touchdowns with eight this season.
The bad:
Perhaps bad is a kind way of describing BYU's performance against Utah. The Cougars and Utes generally play a tough, close game. Twelve of the previous 14 meetings had been decided by a touchdown or less. Then came Saturday. BYU had seven turnovers -- three from quarterback
Jake Heaps
-- and lost 54-10 to its biggest rival. Incredibly, the score was 14-10 at halftime. But one mistake after another snowballed, and BYU faces some serious questions heading into its game against UCF on Friday night.
The upset:
If you had asked for any non-AQ game considered a lock for a win Saturday, you probably would have picked Hawaii over UNLV. The Warriors came in as 20-point favorites, have a win over Colorado already this season and played Washington well. But the Rebels shocked the Warriors in one of the more stunning upsets of the day, winning 40-20. I admit it. I did a double-take when I saw the score. Hawaii had four fumbles, 6 yards rushing and converted 1-of-9 third-down opportunities in the disappointing loss. UNLV had scored 24 combined points in its first two losses of the season to Wisconsin and Washington State. But perhaps the UNLV victory should not come as a huge shock. UNLV has beaten Hawaii four of the last five times they have played in Sam Boyd Stadium.
Then there is Western Kentucky, which lost for the 17th straight time at home. Only this loss was to FCS Indiana State 44-16. It was Indiana State's first win over an FBS opponent since 2001.
The oh-so-close:
Navy played with South Carolina every step of the way in its game, taking a 21-17 lead into the fourth quarter. But South Carolina running back
Marcus Lattimore
was just too much to contain as he ran for 246 yards and three touchdowns in the 24-21 win. ... Temple was right there with Penn State as well, holding a 10-7 lead until late in the fourth quarter. But for the second straight season, the Nittany Lions squeaked out a close victory, breaking Owls' hearts again.
The comeback:
The common knock on Houston is that the Cougars generally lose at least one game a season that they should not. That looked to be happening against Louisiana Tech, as Houston trailed 34-7 with 5:11 to go in the third quarter. But alas, the Cougars have
Case Keenum
, who engineered a furious rally. Houston scored the final 28 points of the game to cap the biggest comeback in school history and win 35-34. Keenum began the rally with a 50-yard touchdown pass to
Patrick Edwards
, and he ended it with a 32-yard touchdown pass to Edwards with 1:36 remaining in the game. Keenum has now engineered three of the top four biggest comebacks in Houston history. In addition to this one, he rallied Houston from 19 points down against UTEP in a 42-37 win in 2008; and from 17 points down against UAB in a 45-20 win, also in 2008.
The heartbreak:
Bowling Green had a furious late fourth quarter rally, overcoming a 28-14 deficit when
Matt Schilz
threw touchdown passes on two straight drives. But Wyoming blocked the game-tying extra point with 3 seconds left to hold on and win 28-27. Wyoming is 3-0 for the first time since 1996. ... San Jose State was 15 yards away from pulling off one of its biggest wins in years. The Spartans trailed Nevada 17-7 in the fourth quarter before
Matt Faulkner
delivered one touchdown drive and had his team marching down the field for another. But his pass in the end zone was intercepted by Duke Williams with 1:10 left and the Wolf Pack survived 17-14. The road is much tougher for Nevada next, with games at Texas Tech and at Boise State. ... Miami (Ohio) knows the feeling.
Zac Dysert
had a pass broken up in the end zone as time expired, and the RedHawks lost to Minnesota 29-23.
Milestone watch:
TCU coach Gary Patterson earned his 100th career victory as the Horned Frogs' head coach in a 38-17 win over ULM Patterson is 100-29 in 11 seasons, and needs 10 more wins to surpass Dutch Meyer (109-79-13, 1934-52) as TCU's all-time winningest coach. Meyer coached TCU to its 1935 and 1938 national championships. Patterson is one of nine active head coaches to have 100 wins at their current school.
Helmet stickers
Ryan Griffin, QB, Tulane.
Went 22-of-26 for 281 yards and tied a career high with three touchdown passes in a 49-10 win over UAB.
Logan Harrell, DT, Fresno State.
Recorded a career-high 11 tackles and tied his career high with 4.5 tackles for a loss in a 27-22 win over North Dakota.
Kellen Moore, Boise State.
Completed 32 of 42 passes for 455 yards and five touchdowns in a win over Toledo. The 32 completions is a single-game career high for Moore, while the five touchdowns tied his career high. The five passing TDs also tied the MWC single-game record for most by a senior. The 42 pass attempts were second most in his career, as were his 455 yards.
Trent Steelman, QB, Army
. Ran the ball 28 times for 108 yards and three touchdowns in a 21-14 win over Northwestern. It was his second straight three-touchdown rushing effort.
Jordan White, WR, Western Michigan.
Had 13 receptions for 177 yards and two touchdowns in Western Michigan's 44-14 win over Central Michigan. White moved into fourth place on the career receptions list at WMU with 195, is now third in career 100-yard receiving games (13) and is tied for seventh in career receiving TDs (17).
Melvin White, DB, Louisiana.
Returned a blocked field goal 68 yards for a touchdown to break a tie and help the Ragin Cajuns beat Nicholls State 24-7. He also forced a fumble that led to the first score of the game.
September, 19, 2011
9/19/11
1:00
PM ET
The heat might be dying down outside. But in the SEC, it's still roasting. At least, in some spots.
Who's ready for a little Hot and Not?:
GLOWING EMBERS
Florida running back Chris Rainey:
About the only thing the guy hasn't done this season is sweep out the stadium after games. He lit up Tennessee for 233 all-purpose yards, including an 83-yard touchdown catch, and blocked his second punt of the season to lead to a Florida field goal. Rainey became the first Florida player since Percy Harvin in 2007 to rush for more than 100 yards and have more than 100 receiving yards in the same game. Only one other player (Georgia Tech's
Orwin Smith
) has done it this season. Rainey brought a lot of negative attention on himself last year with the whole text message incident involving his former girlfriend. A much different kind of attention has come his way this year. Through three games, he's been one of the best all-around players in college football with two rushing touchdowns, two receiving touchdowns, one punt return for a touchdown and two blocked punts. He's second in the SEC in all-purpose yards, averaging 187.7 yards per game, and is an absolute blur when he gets into the open field.
HOT
Vanderbilt's defense:
The Commodores have scored as many touchdowns on defense as they've given up through three games. They have three interception returns for touchdowns, including two by Trey Wilson, and have only given up three touchdowns on defense. Vanderbilt leads the country with 10 interceptions and is tied for second nationally with 12 forced turnovers.
NOT
Auburn's defense:
The only three teams ranked lower than Auburn right now in total defense are Memphis, Kansas and North Texas. That's not the kind of company you want to be keeping on defense when you're playing in the SEC. Auburn is ranked 117
th
nationally and has allowed a staggering 1,603 yards in three games. The stats are ugly. But the way this team is tackling right now is even uglier.
HOT
Expansion talk:
The college football landscape is about to change forever. With Syracuse and Pittsburgh joining the ACC and Oklahoma and Texas talking about a move to the Pac-12, we're moving ever so closer to four super-conferences. With Texas A&M coming over to the SEC, it looks like it will be either West Virginia or Missouri as the 14
th
member.
NOT
Tennessee's running game:
The Vols pounded out minus-9 yards rushing in their 33-23 loss to Florida. They had 14 runs by the tailbacks that netted a grand total of 27 yards and now find themselves ranked 105
th
nationally in rushing offense. Tennessee's running backs need to be more productive, for sure. But that young offensive line we've been hearing so much about, the one that's supposedly oozing with talent, needs to start playing that way.
HOT
South Carolina running back Marcus Lattimore:
Without him, South Carolina's probably 1-2 right now. Lattimore leads the country in rushing, averaging 178 yards per game. He already has 534 yards in three games and is an absolute beast running the football. For those wondering, the single-season SEC rushing record is 1,891 yards, which was set 30 years ago by the great Herschel Walker.
NOT
Mississippi State coach Dan Mullen:
Despite the two losses, Mullen is still a very good coach, but a coach who didn't have his best day last Thursday in the 19-6 loss to LSU. Mississippi State fans aren't real thrilled with the fact that he benched his starting quarterback with more than 10 minutes to play and didn't use any timeouts on the final drive. There's also the matter of Mullen's 2-10 record against Western Division foes.
HOT
LSU defensive tackle Bennie Logan:
LSU's defense racked up 16 tackles for loss in the 19-6 win over Mississippi State, and Logan had 3.5 of them. The Tigers run talented defensive linemen in and out of the game at a dizzying pace, and Logan was one of the many that the Bulldogs couldn't block last Thursday.
NOT
Kentucky's offensive line:
The Wildcats managed just 35 rushing yards in their 24-17 loss to Louisville, and quarterback
Morgan Newton
was sacked six times. This is not the offensive line everyone was expecting at Kentucky this season. Injuries have played a role, but the Wildcats have managed just three rushing touchdowns in their first three games and have already given up 12 sacks. They allowed just 19 sacks in all 13 games a year ago.
FREEZER BURN
Ole Miss:
To be fair, the Rebels' defense has not played that poorly, and it's certainly been an upgrade from last season. But when you lose 30-7 to Vanderbilt – the Commodores' most lopsided victory over an SEC team in 40 years – it's a team thing. It's not just one phase, one group of players or one coach. It's everybody, and the simple fact is that Ole Miss is reeling right now. The offense, in particular the offensive line, has been a huge disappointment. The Rebels haven't been able to run the ball, and quarterback
Zack Stoudt
had Vanderbilt defenders in his face for much of the game last Saturday. It all added up to five interceptions and just 85 yards rushing. The defense doesn't get a pass, either, not when you give up 281 rushing yards to a Vanderbilt team that hadn't rushed for that many yards against an SEC defense in 17 years. Already, the season is teetering. The Rebels desperately need to win at least one of these next two against Georgia or Fresno State. If they don't, that open week that follows will seem more like a year than a week in Oxford.
September, 19, 2011
9/19/11
1:00
PM ET
Let us take a look at the good and the bad from Week 3, with a quick peek ahead to Week 4.
[+] Enlarge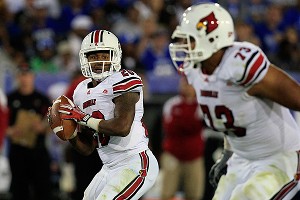 AP Photo/Ed ReinkeLouisville and RB Victor Anderson are coming off a big victory against rival Kentucky.
The good:
Big East teams went 4-3 in Week 3 and still have two undefeated teams ranked in the Top 25. West Virginia moved up to No. 16 after beating Maryland 37-31, and USF moved up to No. 18 with a 70-17 win over Florida A&M. College GameDay will be in Morgantown this weekend as the Mountaineers host No. 2 LSU in a critical game, not only for the Big East, but for West Virginia as well. Keep this in mind: West Virginia is 70-2 since 2000 when scoring 30 or more points. ... Meanwhile, Louisville pulled off the upset of the week with a 24-17 win against Kentucky, breaking a four-game losing streak against their in-state rival. Louisville has held each of its first three opponents to fewer than 300 yards of offense. ... Though Syracuse lost to USC, quarterback
Ryan Nassib
had a streak of 22 consecutive completed passes spanning the games against Rhode Island and USC. Nassib finished four shy of the NCAA record of 26, held by California's Aaron Rogers.
The bad:
You already know the bad. The games were an afterthought this weekend after news broke that Syracuse and Pitt were ready to hightail it out to the ACC. Gamedays are supposed to be sacred. But when it comes to expansion, nothing is sacred anymore.
As for on-the-field action, UConn and Pitt each blew fourth-quarter leads and lost. The Huskies had their nine-game home winning streak stopped against Iowa State. But there was nothing worse than seeing Pitt blow a 24-3 lead and fall to Iowa 31-27. Iowa scored three touchdowns in seven minutes in the fourth quarter to cap the greatest comeback in school history. The fourth quarter has been a problem for Pitt all season. The Panthers have given up 41 points in the final period in three games. They allowed teams like Buffalo and Maine to get closer than they should have been, and obviously ended up losing to Iowa because of those late-game breakdowns. Chas Alecxih told reporters after the game:
"[The team leaders],
we have to step up.
This is our team and we're up, what was it, 24-3 at the end of the third and lose?
That is a joke, that is not going to happen again, I will tell you that."
Career days:
B.J. Daniels, QB, USF.
Threw for a career-high 382 yards and four touchdowns.
Isiah Moore, WR, UConn.
Had career highs of eight catches and 143 receiving yards in a loss to Iowa State.
Nick Provo, TE, Syracuse.
Had career highs of eight receptions and 85 receiving yards against USC.
Geno Smith, QB, West Virginia.
Had career highs in completions (36), attempts (49) and passing yards (388) in a win against Maryland.
Darrell Scott, RB, USF.
Ran for a career-high 146 yards and three touchdowns.
Devin Street, WR, Pitt.
Had seven receptions for a career-high 138 yards and a touchdown against Iowa.
WR
Tavon Austin
(11 receptions, 122 yards), WR
Stedman Bailey
(8 receptions, 113 yards) and WR
Ivan McCartney
(8 receptions, 101 yards) gave West Virginia three 100-yard receivers for the first time in school history. All three are career highs.
Week 4 schedule
NC State at Cincinnati, 8 pm, Thursday, ESPN
Notre Dame at Pittsburgh, noon, Saturday, ABC
Toldeo at Syracuse, noon, Saturday, Big East Network
Ohio at Rutgers, 2 pm, Saturday, ESPN3
Connecticut at Buffalo, 3:30 p.m., Saturday, Big East Network
UTEP at USF, 7 pm, Saturday, ESPN3
LSU at West Virginia, 8 pm, Saturday, ABC
September, 19, 2011
9/19/11
1:00
PM ET
A Notre Dame win makes this look back at the weekend much more enjoyably for many of you, as the Fighting Irish washed away the demons from a pair of heartbreaking losses to top Michigan State 31-13.
The Good:
The pass rush was at its absolute best Saturday, knocking around
Kirk Cousins
and holding the Spartans' ground attack to 29 yards on 23 carries. Freshman Aaron Lynch, who didn't play at Michigan a week earlier, led the charge with six hurries, five tackles and one sack that forced Cousins to fumble.
The Bad:
Three turnovers are still three too many. As Brian Kelly said afterward, he's not at the point where he will simply take the bad with the good because of a win: "We've got to hold onto a punt late in the game. We can't do that. And Tommy [Rees]'s developing, and I'm not happy with interceptions but he knows what's happening and he's going to continue to get better.
The Ugly:
What was Mark Dantonio thinking? Down 11 just before halftime and set to get the ball to start the second half, the MSU coach passed on a chip-shot field goal by attempting another fake against the Irish. Surely, Notre Dame's guard was up, and the call made little sense given the time and situation. The attempt was stuffed, MSU went three-and-out to start the second half and the Irish scored on the next possession to make it 28-13.
Turning point:
Robert Blanton's interception and ensuing 82-yard return put to rest any nightmares Irish fans had after
John Goodman
fumbled a punt return in the MSU red zone. The pick secured the first win of the season for Notre Dame and sent a sigh of relief throughout town.
Call of the day:
George Atkinson III
's 89-yard kickoff return for a touchdown answered MSU's first score and made it a 14-3 game early. The Irish executed the play by bringing an "ambush" player, walk-on Chris Salvi, from one side of the field to the other, taking out the coverage and contain men simultaneously. It created enough room for Atkinson, a freshman, to take it all the way and give the Irish some much-needed momentum.
Next up:
The Irish travel to Heinz Field to take on a Pitt team that must be feeling how Notre Dame felt after Weeks 1 and 2. The Panthers blew a 24-3 lead at Iowa on Saturday and ultimately fell 31-27.
September, 19, 2011
9/19/11
1:00
PM ET
Looking back on the Big 12 in Week 3:
Best offensive player:
Seth Doege, QB, Texas Tech.
A lot of good offensive performances against a lot of varying competition, but if you're breaking NCAA records, you deserve player of the week honors. Doege set an NCAA record for completion percentage, completing 40-of-44 passes (90.9 percent) for 401 yards and five touchdowns, breaking fellow Red Raider Kliff Kingsbury's record.
[+] Enlarge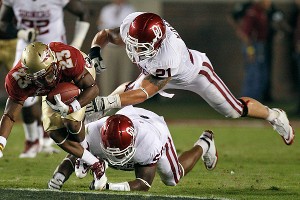 AP Photo/Chris O'MearaOklahoma linebacker Tom Wort, 21, was all over the field against Florida State.
Best defensive player:
Tom Wort, LB, Oklahoma.
The Sooners' linebacker looked like the best player on the field for most of the biggest game of the week. He finished with eight tackles, two sacks, 2.5 tackles for loss and an acrobatic interception on a screen pass he tipped to himself.
Best team performance:
Oklahoma.
The Sooners went on the road against the nation's No. 5 team and got a win, easily the Big 12's best of the year. Oklahoma's defense turned in one of its best performances in a long time, and the offense made plays when it needed them, despite allowing momentum to turn midway through the second half.
Best game:
Oklahoma 23, Florida State 13.
Anybody else feel like this game closely resembled an SEC slugfest? Oklahoma hasn't played in a game that physical for a long while, but the Sooners punched back. Both teams played outstanding defense and delivered some crushing hits. The result was a well-played, entertaining game with big-time fourth-quarter drama.
Runner up: Iowa State 24, Connecticut 20
Most bittersweet night:
Cy the Cardinal, Iowa State's mascot
. Iowa State knocked off Connecticut on Friday night, 24-20 for a sweet, sweet victory and a 3-0 start. Cy,
an All-American mascot
, wasn't around to see it. The details surrounding the accident are sketchy, but he fell down some stairs and fractured his wing, er, arm.
Worst fan of the week:
Mother Nature.
Get off our lawns. Oklahoma State made headlines with a three-hour delay that resulted in a 12:15 a.m. local time kickoff and a 3:36 a.m. finish against Tulsa. Baylor's fourth quarter was canceled by storms, and the Bears' game against Stephen F. Austin had no halftime and the third and fourth quarters were shortened to 12 minutes before the abrupt stop. Texas Tech's game was delayed twice for a total of 95 minutes in its win against New Mexico.
Worst quarter:
Kansas' third quarter. The Jayhawks trailed just 24-17 at halftime, and didn't allow the Georgia Tech offense to take a snap from inside the red zone for the entire quarter. Exceeeeept, they gave up touchdowns of 63, 67, 52 and 21 yards and were outscored 28-0 in the quarter on the way to an embarrassing 66-24 loss.
Best fans:
Oklahoma State.
They endured a three-hour delay and took shelter in the basketball gym, among other places. But when the game kicked off after midnight, Chapman Stadium in Tulsa had about 20,000 fans, and the majority were Cowboys fans. My hat is off.
Catch of the week:
Josh Lenz, WR, Iowa State
. Facing a third-and-9 and trailing by three just inside UConn territory, Lenz went full extension on the sideline and hauled in a 19-yard catch to extend the eventual game-winning, fourth-quarter drive. Big catch, bigger highlight.
Biggest rebound:
Steel Jantz, QB, Iowa State.
Three of Jantz's first four passes were intercepted and the Cyclones trailed 10-0 for the second consecutive game. But Jantz stayed the course and didn't turn the ball over the rest of the game, leading his team back to an improbable 24-20 win. He finished 18-of-29 for 200 yards with a touchdown pass.
September, 19, 2011
9/19/11
1:00
PM ET
Here's your look back at Week 3 and a sneak peek of what's coming up this week in ACC football:
The good:
Upsets of Ohio State and Auburn. Miami defeated the Buckeyes, and Clemson rallied to beat the defending national champs. The Tigers are now 3-0 heading into Saturday's home game against Florida State, and the Hurricanes have some hope that the rough start to the season could be overcome.
The bad:
Maryland's miscues. Three turnovers and seven penalties added up in a 37-31 loss to West Virginia on Saturday. Quarterback
Danny O'Brien
threw an interception with 1:13 remaining and the Terps lost their first game of the season.
The ugly:
BC's missed field goal. With 43 seconds remaining against Duke and a chance to win the game, Nate Freese's 23-yard field goal attempt hit the left upright and bounced back. Freese already had missed an extra point by hitting the right upright.
The heart-stopping:
Oklahoma's helmets-to-helmet hit on Florida State receiver
Kenny Shaw
. The replay still makes me shudder. Glad to hear he's doing OK.
The groundbreaking:
Oh, and P.S.: After the ACC hosted four ranked teams for the first time in conference history, the league expanded to 14 teams with the pending addition of Pittsburgh and Syracuse. Other than that, it was a quiet weekend.
Top 3 games of Week 4:
Florida State (2-1, 0-0) at Clemson (3-0, 0-0):
The Seminoles haven't won in Death Valley since 2001, a drought that could end this weekend if Florida State's defense stays stingy and the offense shows improvement under a healthy
EJ Manuel
. The Tigers are soaring after their upset win of Auburn, and quarterback
Tajh Boyd
has grown up quickly.
North Carolina (3-0, 1-0) at Georgia Tech (3-0, 0-0):
This game will come down to UNC's defense against Georgia Tech's high-flying offense. It's the first real test of the season for the Yellow Jackets, who are 3-0 after three nonconference wins, but Georgia Tech's offensive output has been jaw-dropping, regardless of the competition it has come against. This one will be critical for the Coastal Division race.
NC State (2-1, 0-1) at Cincinnati (2-1):
This is the kind of should-win game that could cause the Wolfpack problems. Cincinnati and NC State are both 2-1 and haven't beaten anybody of consequence. The Bearcats are fourth in the country with 51 points per game, though, and NC State's depleted defense has been struggling with injuries.
September, 19, 2011
9/19/11
1:00
PM ET
Let's use our third eye to look back on Week 3 in the Big Ten (and hope that third eye is not blind):
[+] Enlarge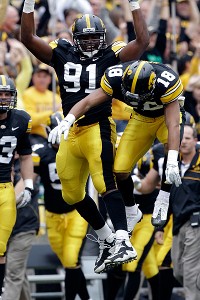 AP Photo/Charlie NeibergallIowa's Micah Hyde, 18, celebrates with Broderick Binns, 91, after intercepting a pass during the fourth quarter against Pittsburgh.
Team of the week:
Illinois. Ron Zook is back, and so are the Illini. After beating a ranked team -- Arizona State -- for the first time since it upset No. 1 Ohio State in 2007, Illinois finds itself back in the AP Top 25 for the first time since 2008. What was most impressive about Saturday's effort was the defense led the charge, showing this team is more than just a high-powered offense.
Best game:
Iowa's 31-27 win against Pittsburgh. I'm a sucker for comebacks, and this was the largest comeback in Hawkeyes history. They trailed 24-3 late in the third quarter, and people were already writing this season's obituary. One frenzied fourth quarter (and a typical Pitt meltdown) later, and Iowa is suddenly feeling much better about itself.
Biggest play:
Penn State linebacker Michael Mauti made a terrific, diving interception at the Temple 44-yard line with his team trailing 10-7 in the fourth quarter. His takeaway set up the Nittany Lions' winning score. Speaking of which ...
Best call:
Joe Paterno's decision to go for it at 4th and 1 from the Temple 3-yard line. Perhaps this was an easy call (even from the press box) because Penn State has been so bad on field goals this year. But if the plan didn't work, the Nittany Lions could have suffered a historic defeat that would have raised the criticism level of the coaching staff considerably. Instead,
Brandon Beachum
powered ahead two yards for the first down, leading to the winning touchdown on the next play.
Most questionable call:
Mark Dantonio's decision to try a fake field goal at the Notre Dame 2-yard line late in the first half. After "Little Giants" last year, everyone in the stadium was on high alert for fakes, which raised the degree of difficulty of that play to ridiculous heights and led, predictably, to its demise. Michigan State probably wasn't going to win this game anyway. But if the Spartans kick the field goal there, they cut the lead to 21-13 while getting the ball to start the second half, putting a little more pressure on a desperate Irish team. Of course, if the fake had worked, everyone would be praising Dantonio as a riverboat gambler with magic up his sleeves. That's coaching for you.
Big Man on Campus (Offense):
Iowa quarterback
James Vandenberg
. For the second straight week, this honor goes to a guy who struggled for most of three quarters before leading a huge comeback. Vandenberg scored on a 1-yard run late in the third quarter to cut the Pitt lead to 24-10. Then he led three touchdown drives in the final 10 minutes, throwing for each score. He finished with a career-high 399 passing yards.
Big Man on Campus (Defense):
Illinois linebacker Jonathan Brown. The Illini dialed up a heavy blitz scheme against Arizona State, and Brown helped lead the charge by moving all over the field. The sophomore had seven tackles, including 3.5 for loss and 1.5 sacks. He caused an interception by hitting Sun Devils quarterback
Brock Osweiler
as he threw, and later Brown grabbed his own interception to stop a promising Arizona State drive.
Big Man on Campus (Special teams):
Duane Bennett
, Minnesota. Normally the Gophers starting running back, Bennett made his biggest contribution on special teams this week. He blocked a Miami of Ohio punt and returned it for a touchdown to give his team a 29-16 lead. That proved the difference in Minnesota's first win of the season.
Worst hangover:
Plenty of people wake up feeling bad after a night in Miami, but maybe not quite like Ohio State felt Sunday morning. The Buckeyes were thoroughly exposed in their 24-6 shellacking against the Hurricanes, and their feeble offense looked like some sort of pre-World War II design. Any outside hopes of a national title are gone, and serious changes will be needed for this team to compete against the best in the Big Ten.
Strangest stat:
Indiana committed 20 penalties for 176 yards on Saturday and still won (thank goodness for South Carolina State). Eleven of the 20 penalties were false starts, and on two occasions the Hoosiers committed false starts on back-to-back snaps. Remember, they were playing at home, not in a deafening road environment. Kevin Wilson wants his team to play fast, but head starts still aren't allowed.