NCF Nation:

Weekend rewind 092313
September, 23, 2013
9/23/13
11:45
AM ET
Hard to believe the first month of the college football season has come and gone.
And while it's still hot throughout much of the South, that's not necessarily the case for everybody in the SEC.
GLOWING EMBERS
SEC offenses:
What's with this offensive explosion in the SEC? Seven of the top 35 offenses in the country, in terms of total offense, belong to SEC teams. Texas A&M (No. 5), Georgia (No. 6) and Missouri (No. 7) are all in the top 10. Surprisingly enough, two-time defending national champion Alabama isn't in the top 50 nationally in total offense and ranks 13th in the SEC. The running game simply hasn't been very consistent for the Crimson Tide. Two of the more potent offenses in the SEC will go at it this coming weekend when LSU visits Georgia. Both teams have scored 35 or more points and racked up more than 400 yards of total offense in all of their games this season. Could yet another shootout be on the horizon in Athens? We've already seen more in this league than we're accustomed to seeing.
[+] Enlarge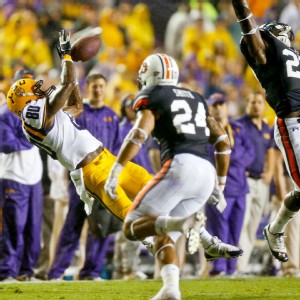 Derick E. Hingle/USA TODAY SportsJarvis Landry has had at least four receptions in each game this season, including seven in the victory over Auburn.
HOT
LSU receiver Jarvis Landry:
There's not a hotter receiver in the SEC right now than Landry, who leads the SEC with six touchdown catches and has caught one in eight of his past nine games. He had a 32-yard catch and run for a score against Auburn and finished with seven catches for 118 yards. Landry is a baller, meaning he'd be a star no matter where you lined him up on the field.
NOT
Georgia's special teams:
At one point in the third quarter of Georgia's 45-21 win over North Texas, it was a 21-21 game. Two of North Texas' three touchdowns came on special teams, a 99-yard kickoff return for a touchdown and a blocked punt that was recovered in the end zone for a touchdown. Remember, too, that the Dawgs had a high snap in the Clemson game that cost them on a short field goal attempt. Special-teams breakdowns always have a way of catching up to you.
HOT
Florida defensive end Dante Fowler Jr.:
The Vols never had any answers for Fowler, who finished with three tackles for loss and had a hand in two of the Gators' six takeaways in the game. The truth is that not many people will have answers for Fowler, who's quickly becoming one of the SEC's premier defensive difference-makers.
NOT
Alabama on third down:
No wonder Alabama is wallowing down at 13th in the SEC in total offense. The Crimson Tide have been awful on third down. They're ranked 98th nationally and have converted just 11 of 33 third downs through their first three games. Part of the problem is that they're not running the ball as consistently as they have in the past and have faced a lot of third-and-long situations. Of their 33 third downs this season, 17 have been third-and-9 or longer.
HOT
Mississippi State quarterback Dak Prescott:
Making his third consecutive start for the injured
Tyler Russell
, Prescott passed for 233 yards and a touchdown in the blowout win over Troy. He also rushed for a couple of short touchdowns and even caught a 36-yard touchdown pass. About the only thing he didn't do was hand out cowbells before the game.
NOT
Arian Foster's Vol For Life membership:
Foster has always been a speak-his-mind kind of guy. But with Tennessee already on NCAA probation, the last thing the Vols needed was one of their former players coming out five years after he left and saying publicly that he took money on the side. Maybe Foster will get a taco endorsement out of the publicity. Tennessee is sure to get more scrutiny.
HOT
NCAA:
Everywhere you look, the heat is being turned up on the NCAA, especially now with players openly protesting during games. The current model is archaic, and you can't help but wonder if we're headed toward a model where the bigger schools break off from the NCAA, take their ball and go form their own league.
NOT
Arkansas' bowl chances:
In blowing a 24-7 lead midway through the third quarter and falling at Rutgers, Arkansas' pathway to a bowl game this season just got a lot more complicated. The Hogs' next four games are against Texas A&M, Florida, South Carolina and Alabama. They also have to play at Ole Miss and at LSU later in the season. We'll see if the Hogs can win one nobody expected them to win.
FREEZER BURN
First half of Florida-Tennessee game:
Don't look for Florida's 31-17 win over Tennessee to pop up on any instant-classic replays in the near future, particularly the first half of that turnover-fest. The teams combined for seven turnovers in the first half alone, and that doesn't count a dropped snap by Florida punter
Kyle Christy
at his own 15. Tennessee managed just 31 total yards in 25 plays in the first half and turned it over four times. Redshirt freshman quarterback
Nathan Peterman
was making his first start for Tennessee and was swamped. He finished 4-of-11 for 5 yards and three turnovers and suffered an injury to his hand before taking a seat on the bench just before halftime. The Vols' only touchdown in the first half came on an interception return of a
Jeff Driskel
pass. For the Gators, the first half was bad over and above their issues on the field. Driskel was lost for the season after breaking his fibula in the first quarter.
September, 23, 2013
9/23/13
11:00
AM ET
Taking stock of Week 4 in the Pac-12.
Team of the week:
While the Pac-12 blog has been hard on Stanford for
giving up 21 unanswered points
to Arizona State in the fourth quarter, the fact remains the Cardinal posted a
two-touchdown win over a ranked team
. And that first half showed folks why Stanford is a national title contender. Need to tighten some things up? Absolutely. But Stanford at its best has plenty of irresistible force and unmovable object to it.
[+] Enlarge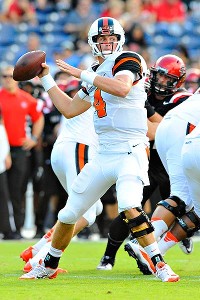 Christopher Hanewinckel/USA TODAY SportsWill Oregon State QB Sean Mannion miss coach Danny Langsdorf, who is heading to the NFL? Sure, but it shouldn't affect his production.
Best game:
Oregon State fans let out a massive, "Whew," after the Beavers overcame a 13-point fourth-quarter deficit at San Diego State and
won 34-30
. While the game was far from pretty, it was a win, and the Beavers seem like a team right now that should just be grateful to collect one. Further, the weekend was otherwise devoid of nail-biters, though USC allowed Utah State to stay unnecessarily close.
Biggest play:
Oregon State's defense has been mostly horrible, but it provided the winning margin against San Diego State when CB
Steven Nelson
returned an interception 16 yards for a TD with 2:31 remaining. The play might have saved the Beavers' season.
Offensive standout:
Oregon State can't run the ball or play defense, but QB
Sean Mannion
can throw the rock around with WR
Brandin Cooks
. Mannion completed 38 of 55 passes for 367 yards with three touchdowns and no interceptions in the Beavers' comeback win over San Diego State. Cooks was his chief weapon, catching 14 passes for 141 yards.
Defensive standout:
Utah State couldn't block USC DT
Leonard Williams
, who had eight tackles with three coming for a loss in the Trojans' 17-14 win over
Chuckie Keeton
and the Aggies. The Trojans held a previously potent offense to just 285 total yards.
Defensive standout II:
Sure, it came against woeful Idaho, but Washington State DT Xavier Cooper dominated inside. Of his five total tackles, 3.5 came for a loss, including 1.5 sacks. He was a key part of a surging defense that held the Vandals to 253 total yards. LB
Darryl Monroe
, who led the Cougars with 12 tackles, including 2.5 for a loss, also merits note.
Special-teams standout:
Think you had a long Saturday? Utah punter
Tom Hackett
punted 11 times for the Utes against BYU, averaging 44.2 yards per boot with a long of 61 yards, though that one was returned 58 yards to the Utah 13. That's 486 yards of punting from the Australian! Three were downed inside the Cougars' 20-yard line. G'day to that.
Frowny face:
USC and Oregon State were both ranked in the preseason but both appear to be significantly flawed. The Trojans can't do anything on offense, and the Beavers are struggling on defense. Hmm. Maybe if they combined forces we could generate another national title contender?
Smiley face:
The
Pac-12 is 29-4 in nonconference play
, including 21-3 against FBS teams, with just three matchups with Notre Dame left to play. That is by far the most distinguished mark in the nation. Remember when the Mountain West Conference was -- rightfully -- talking smack about the Pac-12? Well, the Pac-12 is 10-0 versus the MWC this year.
Thought of the week:
While the season is only hitting the quarter pole, we should learn a little about the conference's South Division contenders -- and pretenders -- this weekend. Arizona has played three overmatched foes and was off over the weekend. The visit to Washington should be revealing. We have no idea who the Wildcats really are. They seem much improved on defense and limited throwing the ball. A victory over the Huskies would thrust them into the top 25 and announce them as contenders in the South Division. Meanwhile, the Arizona State-USC game also seems to serve as a critical separation game in the South.
Questions for the week:
Will Lane Kiffin's last stand be in the desert? If Kiffin and the Trojans prevail and improve to 4-1, Kiffin might buy himself some goodwill -- and top-25 votes. The season would still offer plenty of hope. If the Trojans lose, they will fall to 0-2 in the conference, a major hole in the division race. At that point, reporters covering the Trojans likely would start writing speculative articles about USC's next coach.
September, 23, 2013
9/23/13
11:00
AM ET
Here is one last look back at the week that was in the ACC.
The good
: Perhaps Clemson teams of the past would have faltered when adversity struck early Thursday in Raleigh, N.C. But the defensive line stood up, and the offense made plays when it needed to, turning a close contest into a more comfortable 26-14 win, allowing the Tigers to remain the ACC's most likely national title contender.
[+] Enlarge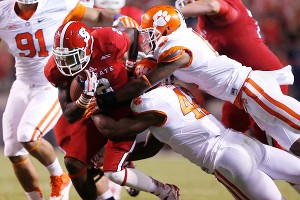 Ethan Hyman/Raleigh News & Observer/MCT via Getty ImagesThe Clemson defense played well in the win over North Carolina State.
The bad
: Pitt's defense avoids this distinction only because Duke's was worse. The Panthers escaped Durham, N.C., with a 58-55 win Saturday for their first ACC victory. The Blue Devils surrendered 598 yards of offense and did not force a single turnover, while committing four themselves. Duke coach David Cutcliffe said Sunday that he had never been a part of any game like it before.
The ugly
: Virginia Tech beat Marshall 29-21 in three overtimes to get to 3-1. The first two overtimes featured no scores. The game had five total turnovers. Marshall committed 11 penalties. Oh, and both kickers combined to go 0-for-5 on field goal attempts, with the Hokies'
Ethan Keyserling
going 0-for-3 while replacing
Cody Journell
, who was suspended for an unspecified violation of team rules. The one bright spot was
Derrick Hopkins
coming oh-so-close to a walk-off fat guy touchdown after a
Rakeem Cato
fumble in overtime No. 2.
The wake me when it's over
: The fourth quarter of Miami's 77-7 win over Savannah State was shortened to 12 minutes, as mutually agreed upon by both coaches. What more needs to be said about this matchup?
The wake me when it's over, Parts 2 and 3
: In case one FCS beatdown wasn't enough for you, Virginia beat VMI 49-0 and Florida State beat Bethune-Cookman 54-6. For those keeping count, that's a combined 180-13 margin for the three ACC squads against FCS foes this past weekend.
The rebound
: Wake Forest needed a win in the worst way, and the Demon Deacons came through Saturday at Army.
Josh Harris
had two second-half touchdowns and
Nikita Whitlock
notched 14 tackles, giving the Deacs a 25-11 win before they prepare to head to Clemson this week.
The statement
: Nice little stories don't force six turnovers and beat West Virginia 37-0. They don't hold the Mountaineers to six first downs and 175 total yards of offense. And they don't start 4-0. It may be time to take Maryland seriously after its rout of WVU, as the Terrapins are two wins shy of their previous two-year total under Randy Edsall, who refused to call the win a signature one but is surely pleased with his team's start this season.
The what-could-have-been
: Hindsight is 20/20. We don't know how ready
Terrel Hunt
would have been to start for Syracuse in the season opener. And Wagner and Tulane are not as good as Penn State and Northwestern. That said, the loss to the Nittany Lions was a winnable game. And Hunt's two starts after the Orange's first two losses with
Drew Allen
under center have been great, as he completed 16 of 21 passes Saturday against the Green Wave for 181 yards and four touchdowns. He added 39 yards and another score on the ground, and he did not turn the ball over. Hunt,
as Anish Shroff pointed out
, has the highest Total QBR rating in the country, though he has not played enough yet to qualify for the top spot.
The stand
: Georgia Tech improved to 2-0 in the conference with a 28-20 home win over North Carolina, and it did it with its defense. The Yellow Jackets trailed by 13 twice in the first half. But they held the Tar Heels without a point over the game's final 39-plus minutes and held UNC to just 319 total yards of offense.
September, 23, 2013
9/23/13
11:00
AM ET
The constant talk about the Big Ten's national perception and performance against other conferences can get a bit tiresome.
But there's also no denying that the league has an image problem that stems from a lack of noteworthy wins. And with nonconference play all but wrapped up (three nonleague games remain -- Illinois versus Miami (Ohio) and Purdue versus Northern Illinois this week, and BYU at Wisconsin in November), we can make a few judgments.
[+] Enlarge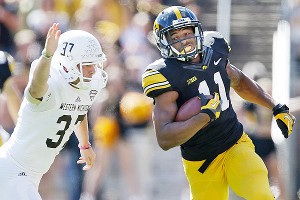 AP Photo/Charlie NeibergallIowa receiver Kevonte Martin-Manley returned two punts for touchdowns in the Hawkeyes' rout of Western Michigan.
The good news is that there weren't many total embarrassments, though Michigan certainly flirted with a couple the past two weeks. The not-so-good news: The Big Ten finished an underwhelming 9-8 against BCS AQ teams. That record is even less impressive when you consider the caliber of the competition.
The best win remains Michigan's Week 2 triumph over Notre Dame, which is the conference's only victory over a ranked opponent for now. Other BCS AQ scalps include California (twice), Cincinnati, Connecticut, Iowa State, South Florida and Syracuse (twice). The losses were to Arizona State (allegedly), Cincinnati, Notre Dame (twice), Missouri, UCF, UCLA and Washington.
The Big Ten went 3-2 against the AAC, 2-0 against the ACC (Syracuse), 1-0 against the Big 12 (Iowa State), 2-3 against the Pac-12, 0-1 against the SEC (Missouri) and 1-2 against Notre Dame. As you can tell, the league didn't exactly play the cream of the crop in the ACC, Big 12 or SEC. The Big Ten's slate was
low on marquee games
, and the conference didn't win any of the ones that were there, save for going 1-for-3 against what looks like a decent but not great Notre Dame team.
Luckily, conference play is almost here, and that will consume us for the next couple of months. But if the Big Ten wants to earn more respect nationally, it will have to wait until bowl season for another shot.
Take that and rewind it back ...
Team(s) of the week:
It's a tie between Iowa and Minnesota. The
Hawkeyes beat Western Michigan 59-3
in their most complete performance in ages, while the
Gophers dismantled San Jose State
and its NFL-caliber quarterback 43-24. Bring on Floyd of Rosedale!
Worst hangover:
Michigan State hoped that maybe, just maybe, it had found a solution to its passing game woes when
Connor Cook
and the offense rolled against Youngstown State two weeks ago. Instead, the Spartans' passing game looked just as bad as last year in a
17-13 loss at Notre Dame
. And the quarterback controversy is not even over, as coach Mark Dantonio strangely went with
Andrew Maxwell
on Michigan State's final possession -- which unfolded just as you would have expected, with three incomplete passes, two penalties and a Maxwell scramble that came up far short of the first-down marker on fourth-and-long.
The Spartans also killed the small momentum they had going in the second half by calling for a halfback pass from
R.J. Shelton
, who threw an interception into tight coverage. Apparently, Michigan State failed to learn from its rival last year, but how about everyone in the Big Ten agree not to call halfback passes in South Bend for a while? Dantonio said he made the Shelton pass call, and he likes to name his trick plays after kids' movies. Call that one "The NeverEnding Story," because that's what MSU's offensive disaster has become.
Big Man on Campus (Offense):
Minnesota QB
Mitch Leidner
made his first career start in place of the injured
Philip Nelson
, and he didn't disappoint. Leidner ran for 151 yards and four touchdowns against San Jose State. The 6-foot-4, 233-pounder showed off some speed when going around the edge and lots of toughness as he continually pushed forward for more yards after first contact.
Big Man on Campus (Defense):
Iowa cornerback
B.J. Lowery
had a pair of pick-sixes against Western Michigan.
Big Man on Campus (Special Teams):
This one's an easy call: Iowa's
Kevonte Martin-Manley
returned a pair of punts for touchdowns in the second quarter, piling up 184 total punt return yards. He became the third Big Ten player to have two punt return touchdowns in the same game and the first since 1983 (Ohio State's Garcia Lane).
Fun with numbers (via ESPN Stats & Information):
Your new Big Ten leader in Total QBR: Ohio State's
Kenny Guiton
, who's No. 10 nationally with an 86.7 rating (based on a 100-point scale). A fan asked on Twitter on Saturday night whether the Buckeyes' Guiton and
Braxton Miller
might be the best two quarterbacks in the league. A strong case could be made for that. ... Wisconsin's
Melvin Gordon
leads the nation in rushing with 624 yards. What's crazy is that the No. 2 rusher, Rutgers'
Paul James
, trails Gordon by 51 yards and has 25 more carries on the season. Gordon is still averaging just over 13 rushes per game. ... Michigan State in a nutshell: The Spartans rank third nationally in total expected points added by the defense at 74.32; the offense, meanwhile, has contributed negative-six expected points added. ... Four Big Ten teams (Wisconsin, Ohio State, Minnesota and Nebraska) rank among the top five in the FBS in rushing yards. Five league teams (Iowa, Nebraska, Minnesota, Northwestern and Ohio State) rank in the top 10 in number of total rush attempts, with the Hawkeyes leading the way at 218 (third nationally). ... Problem not solved: Nebraska has fumbled eight times this year, more than every team except Idaho. The only good news is that the Huskers have lost only four of them. ... Penn State's defense has allowed only 12.8 first downs per game, ranking fourth in the FBS, just behind Michigan State. ... An overlooked part of Minnesota's early success: Gophers opponents have started their possessions inside their own 25-yard line after a kickoff 17 times this season, the most in the nation. Thank kicker
Chris Hawthorne
and the coverage unit for that. By comparison, Michigan's opponents have started a drive after a kickoff inside their 25-yard line just five times this season.
Stern discipline:
Five days after the Pac-12 reprimanded the officials who botched the ending of the Wisconsin-Arizona State game and promised "additional sanctions" for that crew, the same group worked the Utah-BYU game on Saturday night. Yep, that's some punishment, having those officials call an intense in-state rivalry featuring a Pac-12 team on the road. BYU fans didn't like the calls that went against their team in the
20-13 Utes win
and
pelted the officials with trash after they left the field
. That was deplorable by those fans, but as far as we can tell, it was the only real punishment those refs received. The Pac-12 refs aren't the only ones who mess up, though. That was a Big Ten unit hosing Michigan State on those pass interference calls at Notre Dame.
Strangest moment(s):
San Jose State's
Harrison Waid
tried to get revenge for battered punters everywhere after
he got pancaked on a block by Minnesota's
Derrick Wells
. Waid hopped up and tried to go after Wells. Alas, that's a battle a punter will never win, and he got ejected from the game. Yes, a punter was kicked out for fighting.
Meanwhile in Columbus ... as if Ohio State needed any extra help against Florida A&M, running back
Jordan Hall
used umpire Jim Krogstad as a blocker and then a bowling pin
on his way to a touchdown. Maybe FAMU could let Krogstad wet his beak on some of the $900,000 Ohio State paid the school for that 76-0 steamrolling.
Say what?
: Remember when Penn State coach Bill O'Brien called his team a bunch of "fighters" on national TV at the end of last year's Wisconsin finale, but several people
thought he said a different "F" word
? Well, O'Brien appeared to almost use another "F" word
during his postgame news conference Saturday
before catching himself. O'Brien was then asked if he was going to say "fighters" again. "We do have a bunch of fighters," he said. "I don't know anyone who debates me on that. It's like my mom -- she still doesn't believe I said 'fighters.' Do I look like the type of guy who swears?"
September, 23, 2013
9/23/13
11:00
AM ET
Looking back at Week 4 in the Big 12:
Team of the week:
Texas. Contrary to what Kansas State linebacker
Tre Walker
had suggested this past summer, the Longhorns didn't lie down this time. Despite all the adversity they had faced the previous two weeks, the Longhorns prevailed over Kansas State 31-21, even after losing quarterback
David Ash
again because of concussion symptoms and linebacker
Jordan Hicks
to a season-ending Achilles rupture.
Johnathan Gray
was tremendous with 141 rushing yards and two touchdowns, backup quarterback
Case McCoy
managed the second half and the defense was solid in its second week with Greg Robinson as coordinator. Texas can only really salvage its season by beating Oklahoma in three weeks. But this was a solid performance for Texas to build from.
Disappointment of the week:
West Virginia. In a 37-0 defeat to Maryland in Baltimore, the Mountaineers suffered their first shutout loss in 12 years and worst shutout loss in 38 seasons. The offense looks to be in complete disarray, as the Mountaineers completed just one pass to a receiver all game and had almost as many penalty yards as offensive yards in the first half. Coordinator Shannon Dawson said West Virginia needs to figure out an offensive identity. But what could that be? The Mountaineers can't complete passes and can't open lanes for running backs
Dreamius Smith
or
Charles Sims
, either. Things don't get any easier. Conference favorite Oklahoma State travels to Morgantown, W.Va., this weekend.
[+] Enlarge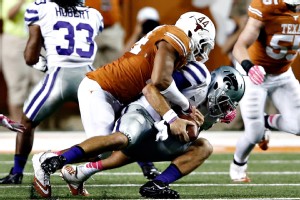 Jim Cowsert/USA TODAY SportsJackson Jeffcoat rose to the challenge on Texas' defense against Kansas State.
Big (offensive) man on campus:
Tyler Lockett
. Even though his team lost to Texas, the Kansas State receiver had a spectacular performance. Lockett finished with 237 receiving yards on 13 catches and had a hand in all three of the Wildcats' touchdown drives. Lockett had a 40-yard kickoff return, too, and almost single-handedly kept the Wildcats in the game in Austin. Lockett broke the K-State record of 214 receiving yards set by Jordy Nelson against Iowa State in 2007.
Big (defensive) man on campus:
Jackson Jeffcoat
. The Texas defensive end came up big in the fourth quarter against K-State. He had sacks on the Wildcats' final two drives of the game, turning second downs into third-and-longs for K-State. Jeffcoat added five tackles, including two for loss, and a pair of quarterback hurries. With Hicks out for the season again, Jeffcoat will have to continue to elevate his game for the Longhorns defense to play the way it did Saturday.
Special-teams player of the week:
Matthew Wyman
. The sophomore kicker drilled a 52-yard field goal as time expired to lift Kansas to a 13-10 win over Louisiana Tech. It was the Jayhawks' first victory over an FBS opponent in 23 games. Wyman tried to walk on to the team last year but didn't make the cut. He tried again this year, succeeded and eventually won the starting job.
Play of the week:
Down 17-7, Kansas State was on the move in Texas territory. But quarterback
Jake Waters
' option pitch bounced off the chest of running back
John Hubert
and into the arms of Texas defensive lineman
Desmond Jackson
to kill the drive. Six Johnathan Gray runs later, the Longhorns punched the ball into the end zone on the ensuing drive to extend their lead to 24-7.
Stat of the week:
Baylor quarterback
Bryce Petty
leads the FBS with a 98.4 Total QBR and joins an elite and exclusive group of QBs who have produced a Total QBR of 95 or above (in the past 10 seasons with a minimum of 50 action) through their first three games. According to ESPN Stats & Info, that list includes Russell Wilson (2011),
Marcus Mariota
(2013),
Taylor Martinez
(2010), Andrew Luck (2010), Pat White (2006), Robert Griffin III (2011), Colt McCoy (2008) and Colin Kaepernick (2010).
Quote of the week:
"Offensively we're as inept as we can possibly be in college football." -- West Virginia coach Dana Holgorsen, after the 37-0 loss to Maryland