NCF Nation:

Weekend rewind 100112
October, 1, 2012
10/01/12
10:35
AM ET
It's time to take our weekly temperature in the SEC and find out who's hot and who's not:
GLOWING EMBERS
Texas A&M quarterback Johnny Manziel:
Texas A&M offensive coordinator Kliff Kingsbury said it best following Manziel's record-breaking performance in the Aggies' 58-10 romp over Arkansas. "The sky is the limit," Kingsbury said. Manziel set an SEC record for total offense against the Hogs with 557 yards. He also set a Texas A&M record with 453 passing yards. Already a splendid athlete, Manziel is becoming a better quarterback every time he takes the field. In his last three games, the redshirt freshman has passed for 921 yards, 10 touchdowns and no interceptions, and he's also rushed for 306 yards with five more touchdowns. He's sixth nationally with 1,460 total yards, and at this rate, could make a run at the SEC record of 4,327 yards, which was set by Cam Newton in 2010.
HOT
Georgia's swagger:
The Bulldogs are 5-0 and have scored 40 or more points in all five games. It's a confident bunch of Dawgs that heads to No. 6 South Carolina on Saturday. Said receiver
Michael Bennett
following the 51-44 win over Tennessee: "The only team that can really beat us right now is ourselves."
NOT
Arkansas running back Knile Davis:
We saw a glimpse of the old Knile Davis last Saturday on his 64-yard touchdown reception, but it's been a tough road back from his fractured ankle. Davis is averaging just 3.3 yards per carry through five games, and he lost fumbles in both the Texas A&M and Alabama games.
HOT
[+] Enlarge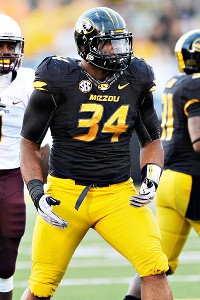 AP Photo/L.G. PattersonMissouri defensive lineman Sheldon Richardson has been making a statement with his play in recent weeks.
Missouri defensive tackle Sheldon Richardson:
He's now making news on the field after making his ill-advised "old-man football" comment prior to the Georgia game. Richardson is second on the team with 33 total tackles, including five tackles for loss, and also leads the team with six quarterback hurries. He's been as active as any interior defensive lineman in the league.
NOT
Tennessee quarterback Tyler Bray:
It goes back to making better decisions and delivering in the clutch. Bray turned the ball over on each of the Vols' final three possessions in the 51-44 loss to Georgia and missed some throws to wide-open receivers in the second half that could have gone for big gains. He'll have several more chances this month in big games to make amends.
HOT
South Carolina's second-half defense:
In the final seconds against Missouri two weeks ago, the Gamecocks gave up a meaningless touchdown. That's the only points they've allowed in the second half in their last three games after shutting out Kentucky after halftime last week.
NOT
Tennessee's defense:
In their first two SEC games, the Vols have given up a whopping 88 points. Not only that, but they've allowed at least 555 total yards in both games. The number of big plays Tennessee is giving up on defense is staggering. Just in the two league games, opponents have racked up five scoring plays that were longer than 50 yards.
HOT
Georgia's freshman phenoms:
It's still too early to make a lot of comparisons, but the Bulldogs' freshman duo of
Todd Gurley
and
Keith Marshall
has been nothing short of sensational. Between them, they have 964 rushing yards and have scored 15 touchdowns. Is it realistic to think that the Bulldogs could have a pair of true freshmen to rush for 1,000 yards this season?
NOT
LSU's edge:
Even though the Tigers have lost some key players to injury and suspension, they're not lacking in talent. But something's missing. It's a team that's done just enough to skate by the past few weeks, and that's going to catch up with them unless the Tigers regain their edge. They're going to need it these next four games -- at Florida, South Carolina at home, at Texas A&M and Alabama at home.
FREEZER BURN
Arkansas' season:
There's such a thing as collapses and meltdowns, and then there's what has happened to the Hogs this season. It was only natural to wonder how the whole Bobby Petrino scandal and his ouster would affect the team this season and whether or not the Hogs would be fragile when they encountered adversity. But to see this team totally unravel has been stunning. The Hogs have gone from being a top-10 team nationally in the preseason to battling with Kentucky for the dubious distinction of being the worst team in the SEC. Right now, the Hogs aren't even competitive and are abysmal on defense. They're 116
th
nationally (out of 120 teams) in scoring defense and have given up 179 points in four games against FBS foes.
October, 1, 2012
10/01/12
10:00
AM ET
Here's a look back at Week 5 in the ACC:
[+] Enlarge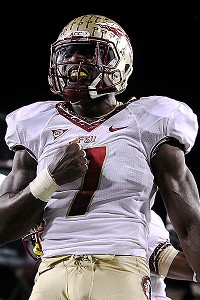 Kim Klement/US PresswireChristian Jones and Florida State kept their national title hopes alive with a win at South Florida.
The good:
Ranked teams stayed ranked. Florida State held off a scrappy South Florida team for its first road win of the season, and Clemson avoided "pulling a Clemson" and escaped Boston College with a win. Through five weeks, the ACC still has a national title contender and a chance at two BCS bowl bids.
The bad:
Turnovers. NC State had six. Georgia Tech had four. It would be nice to stop there, but Wake Forest had four, Virginia had three and so did Virginia Tech.
The ugly:
The ACC's 2-3 nonconference record. Georgia Tech's home loss to Middle Tennessee, Virginia's home loss to Louisiana Tech and the Hokies' loss to Cincinnati at FedEx Field didn't do the ACC's image any favors. Virginia Tech's loss to Cincy dropped the Hokies to 0-2 against the Big East this year and the ACC to 3-4 overall against the Big East this season.
The streak:
Wake Forest's 12-game winning streak over Duke was snapped. It was the first time since 1999 that the Blue Devils found a way to beat the Deacs.
The record:
Miami quarterback
Stephen Morris
threw for a school- and ACC-record 566 yards and five touchdowns. His final touchdown came with 19 seconds left and sealed the Canes' 44-37 win over NC State for their first three-game winning streak since 2009. Morris was 26-of-50 passing for Miami, which finished with 652 yards of offense.
The record II:
UNC set a school single-game scoring record in its 66-0 win over Idaho. The Tar Heels had 371 yards and 45 points by halftime before finishing with 575 total yards.
The record III:
Conner Vernon
tied an ACC record with his 232nd career reception with about three minutes left for Duke.
The stat:
Clemson's defense had eight plays that resulted in negative yards for Boston College. Entering the game, the Clemson defense had just 20 for the season.
The quote:
"I don't know, in 38 years I've never been involved with a team that made this many mistakes," -- NC State coach Tom O'Brien, according to the Raleigh News & Observer.
October, 1, 2012
10/01/12
10:00
AM ET
It's time to pass out some awards and look back on the week that was in the Big 12.
Best offensive performance: Geno Smith, QB, West Virginia.
Can't be any question on this one, folks. Sorry. Geno had one of the best performances by a quarterback I've ever seen. He threw 51 passes. Eight went for touchdowns. Six were incomplete. I counted maybe two or three (depending on your judgment) that had any chance of getting picked off. That's near perfection.
Honorable mention: Nick Florence, QB, Baylor; Terrance Williams, WR, Baylor; Stedman Bailey, WR, West Virginia; David Ash, QB, Texas
[+] Enlarge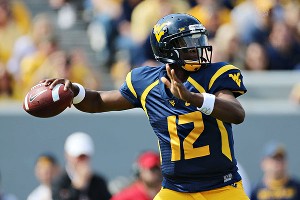 Rob Christy/US PresswireGeno Smith was close to perfect Saturday -- throwing for 656 yards and eight touchdowns.
Best defensive performance: A.J. Klein, LB, Iowa State.
Klein gets the narrow nod here for a huge day that featured 11 tackles and the biggest play of the day for the Cyclones. ISU harassed
Seth Doege
for most of the first half, but Klein took advantage of a big mistake, stepping in front of a pass over the middle and returning it 87 yards to put ISU up 7-0 in an eventual loss to Texas Tech.
Honorable mention: Jackson Jeffcoat, DE, Texas; Shaun Lewis, LB, Oklahoma State; Devonte Fields, DE, TCU
Best game: West Virginia 70, Baylor 63.
This one was too much fun. There was a lot of bad defense but it wasn't all bad. Don't overlook the fact that Smith and Florence are two really, really good quarterbacks throwing to really deep, with really, really good receiving corps. Not many defensive backfields could cover those guys well. Better than giving up 63 and 70 points? Probably. But this one was the game that left everybody talking on Saturday.
Second-best game: Texas 41, Oklahoma State 36.
Sadly, this game got overshadowed a bit by the craziness of the early session.The Longhorns and Cowboys traded the lead six times, including four times in the game's final 10 minutes. It featured a pair of clutch Texas drives, and a fourth-down toss from Ash for the books at Texas. It also nearly ended in even more spectacular fashion, but we'll get to that later.
Best offensive performance by a freshman: J.W. Walsh, QB, Oklahoma State.
Walsh didn't run as much as some expected, but he helped make a good Texas defense look very average. Much of the trouble was tackling downfield, but Walsh made great decisions for the most part and took care of the ball, moving the chains and capitalizing for big plays. He completed 18 of 27 passes for 301 yards and two touchdowns, adding 57 yards rushing. Great stuff from the youngster in relief of
Wes Lunt
.
Best defensive performance by a freshman: Fields.
Is there any doubt that Fields is writing the early chapters of a story that ends with him being one of the best defenders to come through this league in a long while? In his first four games as a true freshman, Fields has five sacks. He finished with four tackles for loss against SMU and seven tackles, bringing his TFL total to 8.5, more than any defender in the Big 12. Crazy.
Worst play: TCU punt team.
Facing a fourth-and-18 on their 25-yard line, the snap to punter
Ethan Perry
was mishandled, and SMU took over on TCU's 1-yard line in a 24-10 game early in the fourth quarter. Fortunately for the Frogs, Fields came to the rescue and the defense held, giving up zero points.
Best play: Ash to D.J. Grant for 29 yards.
Facing a fourth-and-6 on the Longhorns' final drive with just more than 90 seconds to play, Ash stood tall in the pocket with the crowd at Boone Pickens as loud as it had been all night. He found Grant dragging from his left to right, and hit Grant squarely in the numbers to keep the game alive and extend the eventual game-winning drive. Mack Brown called the toss "unbelievable" after the game.
Biggest eye-opening revelation: West Virginia's coaches.
After Saturday's game, they
revealed to CBS Sports' Bruce Feldman
that Smith checked live at the line of scrimmage into a play that wasn't even in the game plan, because he saw something in the Bears' coverage he could exploit. The result: one of his eight touchdown passes on the day. Ridiculous. Smith's a whole lot more than a big arm, folks.
Second-worst play: West Virginia's defense on the final play of the first half.
If somebody says to you, "Prevent this team from reaching the end zone 67 yards away in one play," most defenses would hold up. West Virginia's? Well, Baylor's
Lanear Sampson
and Florence hooked up to prove they could embarrass WVU to tie the score at 35 after the first 30 minutes.
Best play that nearly became legend: Walsh to Charlie Moore on the final play versusTexas.
I was on the sideline for this one, and the play on the south side of the field (Boone Pickens Stadium, if you didn't know, runs east to west) looked like a mess. Walsh fired a backward pass all the way across to the north side of the field to Moore, who was all alone. He caught the ball about 10-to-15 yards right in front of me. I careened my head down the sideline ... all green pastures ahead of Moore. That kind of feeling? That's why we love football. Not much can duplicate that, and I wasn't even playing. I can only imagine what it felt like for Moore. With another block or two, that might have been the greatest play in Big 12 history, edging out Graham Harrell to Michael Crabtree back in 2008.
Best quote: Dana Holgorsen, on Smith's day.
"He was 45-of-51 for 656 yards with eight touchdowns and zero interceptions. Can you please explain to me how you can improve on that?"
October, 1, 2012
10/01/12
10:00
AM ET
One last look back at the weekend that was in the Big East.
The good
: The Big East went 3-1 Saturday, improving to 4-3 against the ACC this season and even exacting a bit of revenge against the MAC, as UConn topped Buffalo at home. This was the final real nonconference weekend for the Big East, and by and large it did not disappoint.
[+] Enlarge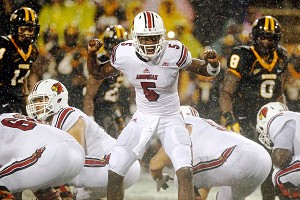 AP Photo/Rogelio V. SolisThe Cardinals and Teddy Bridgewater played through horrendous conditions to eke out a win.
The bad
: South Florida had the conference's lone loss, though the Bulls put forth a valiant effort against the No. 4 team in the country. UConn and Louisville both had offensive shortcomings but managed to come away with wins against far inferior opponents.
The ugly
: The Southern Miss field. Woof.
The clutch
:
Munchie Legaux
connected with
Damon Julian
for a 39-yard touchdown pass with 13 seconds left, leading Cincinnati to an upset over Virginia Tech. More consistency is needed for Legaux, but he took a huge step forward with the pressure and spotlight on him. Props to Julian for bouncing back from a dropped touchdown earlier in the fourth quarter as well.
The scare
: Louisville barely beat a winless Conference USA opponent in a game said opponent completed only two passes. And the Cardinals needed a botched punt to set up their game-winning touchdown drive. Yes, the conditions were awful, and the defense deserves plenty of credit. But this would have been as bad a loss as the conference could have had, regardless of the field, as the preseason No. 1 team survived a scare from a Southern Miss team in its first year under a new regime.
The improvement
: The numbers may not exactly reflect it, but USF's defensive line played a strong game against Florida State. The Seminoles rushed for 183 yards, one week after they rushed for 287 in a win over Clemson. Yes, the Bulls lost a third straight game, but a defense that had trouble at Ball State played much better against a potential national title contender, and this is something the team can build on as it enters conference play.
The gutsy call(s)
: Buffalo coach Jeff Quinn called for an onside kick following his team's first touchdown, one it recovered. In the third quarter,
Alex Zordich
hit
Alex Neutz
with a short pass, with Neutz then lateraling the ball to
Brandon Murie
for a 50-yard hook-and-ladder touchdown. The risk-taking almost paid off, as the Bulls climbed back from a 17-point deficit at UConn and had a chance to drive for the win at the end.
October, 1, 2012
10/01/12
10:00
AM ET
Be kind. Rewind.
Team of the week:
Ohio State. While Nebraska, Iowa, Penn State and Northwestern all notched conference victories as well, the Buckeyes were the only team to go on the road in a hostile environment and beat a strong opponent (sorry, Penn Staters, but Illinois doesn't fulfill either of those qualifications right now). The Michigan State game always looked like a crucial date on the Buckeyes' schedule, because they face only two potentially difficult trips the rest of the way (at Penn State and at Wisconsin). Ohio State also proved it could win a Big Ten slugfest under Urban Meyer and was just tougher at the line of scrimmage than the Spartans.
[+] Enlarge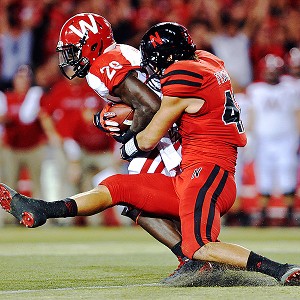 AP Photo/Dave WeaverAfter a sluggish start for the Nebraska defense, Sean Fisher and the Huskers managed to slow Montee Ball and Wisconsin on Saturday night.
Best game:
The last game of the day was the best in the Big Ten on Saturday. Nebraska rallied from a 27-10 second-half deficit to nip Wisconsin 30-27 in a comeback reminiscent of last year's win over Ohio State. The game featured all sorts of big plays in all three phases and huge momentum swings. And credit the Sea of Red for creating an amazing atmosphere under the lights at Memorial Stadium.
Biggest play:
Braxton Miller
's 63-yard touchdown pass down the right sideline to
Devin Smith
. Michigan State had just seized momentum when
Keith Mumphery
carried would-be tacklers into the end zone for the Spartans' first lead of the game in the third quarter. But Ohio State, as it did all game, immediately answered with Miller's pass coming just 1:44 later. The Buckeyes caught Michigan State in a blitz, and Smith got a step on cornerback
Johnny Adams
. Miller placed the ball beautifully, hitting Smith perfectly in stride for what turned out to be the game-winning score.
Best call:
New Iowa offensive coordinator Greg Davis has heard his share of criticism this early season with the Hawkeyes' struggles. But Davis pulled out a brilliant call in the first half of Iowa's 31-13 beatdown of Minnesota. With the Gophers stacked at the line of scrimmage to try to stop the tank that is
Mark Weisman
, Davis dialed up a flea flicker. Weisman faked a run, tossed the ball back to
James Vandenberg
, and Vandenberg hit a wide-open
Jordan Cotton
for a 47-yard touchdown that made the score 17-0. "We've been practicing that since the spring," head coach Kirk Ferentz said. "Just part of the offensive package that Greg's installed. It's all about the timing. Like every play, it's all about execution. Our guys really did a nice job on it."
Big Man on Campus (Offense):
Northwestern's
Kain Colter
is technically a quarterback, but he's more like a Swiss army knife. He led the Wildcats in receiving in the 44-29 win over Indiana with nine catches for 131 yards and also paced them in rushing with 161 yards on only 14 carries. He also scored four touchdowns to power Northwestern's 704-yard offensive effort.
Big Man on Campus (Defense):
Penn State's
Michael Mauti
wasn't happy about Illinois' poaching attempts this summer, and he did something about it Saturday. The senior had two interceptions to go along with six tackles and half a sack. He set a school record with a 99-yard interception return to end the first half, coming up just short of what would have been a highly poetic touchdown.
Big Man on Campus (Special teams):
Nebraska's
Brett Maher
made three field goals, including the tying and go-ahead kicks, and his only miss against Wisconsin came on a 52-yarder. He also averaged 46.7 yards on three punts. Special teams special shoutout to Indiana freshman
Tevin Coleman
, who returned a kickoff 96 yards for a third-quarter touchdown to keep his team in the game.
Worst hangover:
Lot to choose from here, but how about Minnesota? The Gophers were feeling awfully good about themselves after a 4-0 start and had a chance to deliver a knockout punch to a reeling Iowa team in the Big Ten opener. Instead, the Hawkeyes battered and fried Minnesota in the Floyd of Rosedale game, leading 24-0 at halftime and physically manhandling Jerry Kill's team. If the Gophers can't come close to beating Iowa, how are they going to win many Big Ten games? Get well soon,
MarQueis Gray
.
Strangest moment:
And we thought the NFL replacement refs were painful. Somehow in Purdue's 51-41 win over Marshall, Thundering Herd coach Doc Holliday got knocked down by an official while one of his players,
Derek Mitchell
, was scoring a touchdown on a blocked punt. Holliday had a big cut on his cheek,
was bleeding on the sideline
and said after the game he wasn't sure what happened. "I ran into a big official, or he was bigger than I was, anyway," Holliday told reporters. Making matters worse, Marshall got a delay of game penalty on the collision. The
original Doc Holliday
probably would have challenged someone to a duel over such an indiscretion.
October, 1, 2012
10/01/12
10:00
AM ET
Taking stock of the fifth week of games in the Pac-12.
Team of the week
: Arizona State has been operating under the radar, in large part because it has posted good wins as it climbed to 4-1, but not one that distinguished it nationally. Still, the 27-17 victory over California had an impressive solidity to it, with the Sun Devils making critical plays on both sides of the ball. Further, you can't forget you can no longer type that ASU hasn't won in Berkeley since 1997, as I did 457 times this past week.
Best game
: Oregon State's 38-35 win at Arizona wasn't over until the final minute. It featured six second-half lead changes and 1,158 yards of offense. It featured a lot of gumption from both teams, too. Probably the most entertaining game so far this year. Of course, if you subscribe to DirectTV, you didn't see it. Sorry.
[+] Enlarge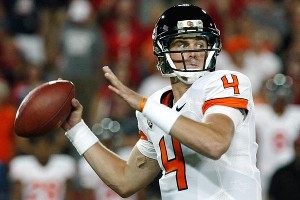 Rick Scuteri/US PresswireBeavers quarterback Sean Mannion had a stellar game against Arizona on Saturday.
Biggest play
: In a game dominated by the offenses, it was a defensive play that gave the Beavers the prize at Arizona. With less than a minute left, Arizona had a first down on its 42, needing a field goal to force overtime and a TD to win. A minute is plenty of time for the Wildcats' fast-paced offense, which had gashed the Beavers throughout the second half. But Beavers cornerback
Rashaad Reynolds
jumped in front of a
Matt Scott
pass and grabbed the game-clinching interception.
Offensive standout
: Oregon State QB
Sean Mannion
completed 29 of 45 throws for a career-high 433 yards and three touchdowns with no interceptions against the Wildcats. It was the fifth most passing yards in school history. Further, on the game-winning drive, he was 6-for-6 for 52 yards with a 9-yard TD pass to
Connor Hamlett
.
Defensive standout
: UCLA's
Damien Holmes
moved from defensive end to inside linebacker this year. Then, when
Jordan Zumwalt
got hurt, he moved to outside linebacker against Colorado. All he did was record seven solo tackles -- five coming for a loss -- with three sacks in UCLA's 42-14 win.
Special teams standout
: Washington State true freshman
Teondray Caldwell
had eight kick returns for 220 yards against Oregon, including a 92-yard effort that set up a Cougars TD. It was the second most kickoff return yards in a single game in school history.
Smiley face
: The way Week 5 played out helped the conference end up with six teams ranked in the AP poll. Now-No. 23 Washington's win against Stanford was impressive enough for voters to forget the debacle at LSU. No. 25 UCLA, which shouldn't have been voted out in the first place, bounced back from its loss to Oregon State by winning in an appropriately dominant fashion at Colorado. UCLA joined No. 2 Oregon, No. 13 USC, No. 14 Oregon State and No. 18 Stanford. It's been a long time since the conference earned this much respect for its depth.
Frowny face
: With its loss to Arizona State, California fell to 1-4 and 0-2. It was the second defeat so far in newly remodeled Memorial Stadium. The Bears' bowl hopes are feeling increasingly unlikely. QB
Zach Maynard
doesn't look improved as a second-year starter. The offensive line is getting pushed round. Even the defense has been spotty at times. Things are not going well for coach Jeff Tedford, who will only hear the grousing increase if his team can't find a way to avoid a losing season.
Thought of the week
: Conference of quarterbacks? Only one Pac-12 QB, Arizona State's
Taylor Kelly
, at No. 16, ranks in the top 25 in the nation in passing efficiency. Meanwhile, seven conference teams rank among the top 25 in sacks per game: No. 5 Arizona State (4.2 sacks per game), No. 6 USC (4.0), No. 10 UCLA (3.4), No. 13 teams Washington State and Oregon (3.2) and No. 25 teams Stanford and Utah (2.75).
Questions for the week:
Will the Pac-12 start eating itself up or will the final regular-season rankings still feature five or six teams? How many teams are capable of winning nine or 10 games? There are some interesting misses of note: USC and Oregon State, Arizona State and Stanford, Oregon and UCLA, Washington and either Arizona State or UCLA. When good teams don't play, it makes it easier for multiple teams to remain in the rankings. That's a secret you learn from conferences with eight-game conference schedules.