NCF Nation:

weekend rewind 100812
October, 8, 2012
10/08/12
11:02
AM ET
It's Monday morning, which means in the world of SEC football it's time to take a closer look at who's hot and who's not:
GLOWING EMBERS
[+] Enlarge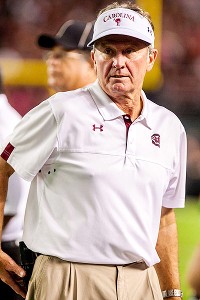 Jeff Blake/US PresswireSteve Spurrier has led South Carolina to a No. 3 national ranking, the school's highest in 28 seasons.
South Carolina's ascent:
Don't blink. The nation's longest win streak belongs to South Carolina, which is No. 3 in both polls this week and has won 10 straight games going back to last season. This is the same South Carolina program that had never won more than 10 games in a season until last year. Only four times in school history have the Gamecocks won more than eight games in a season. Steve Spurrier has done it each of the past two seasons and has this program pointed in a direction that South Carolina fans only dreamed about as recently as a decade ago. South Carolina manhandled then-No. 5 Georgia 35-7 last Saturday, which was the Gamecocks' third conquest over a nationally ranked team during their winning streak. This is South Carolina's highest ranking in the polls since 1984, when the Gamecocks started 9-0 and climbed to No. 2 before being upset by Navy. South Carolina also has won three in a row over Georgia for the first time. In fact, the Gamecocks have only 17 wins over the Bulldogs in a series that spans 65 games. Spurrier is responsible for four of those wins.
HOT
Arkansas' defense:
The Hogs have been scalded for much of this season for playing matador defense, so let's give them a little love for manning up and laying the hammer down on Auburn last week. Arkansas had eight sacks and forced five turnovers in a 24-7 beatdown of the Tigers, who were held to 40 rushing yards on 32 attempts.
NOT
"Gurshall":
It's a pretty cool nickname, and
Todd Gurley
and
Keith Marshall
are still splendid freshman running backs. But the whole "Gurshall" train came to a screeching halt last Saturday thanks to South Carolina's smothering defense. Gurley and Marshall combined for 76 rushing yards on 25 carries, and their longest run was a 15-yarder by Gurley.
HOT
Stingy defenses:
With all this talk about scoring being up, it's also worth noting that five of the top 15 scoring defenses in the country belong to SEC teams. Alabama is first (7 ppg). South Carolina is fourth (10.5 ppg). Then it's Florida sixth (11.4 ppg), LSU tied for eighth (12.8) and Texas A&M 14
th
(14.8).
NOT
Knucklehead fans:
Fans are going to be fans and call for coaches' jobs, be critical of players and generally live on the edge. But the losers who rolled and egged the house shared by Georgia's
Aaron Murray
and
Christian Robinson
ought to have to suit up and go through practice with the Bulldogs this week. Geez, get a life.
HOT
Florida's defense:
In its past four games, all SEC tilts, Florida has allowed a total of 13 second-half points. The Gators haven't given up any points after the break in their past two games and still haven't allowed any fourth-quarter points this season. This defense is playing at a championship level.
NOT
Richt's record vs. ranked teams:
The 35-7 loss to South Carolina was Georgia coach Mark Richt's third straight loss to a nationally ranked team going back to last season. He now has lost eight of his past 10 games to ranked teams dating to the start of the 2010 season.
HOT
Missouri's locker room:
Following the 19-15 home loss to Vanderbilt last Saturday, the Missouri locker room (or anywhere in the vicinity) was no place for the squeamish. It was a locker room boiling over with frustration, embarrassment and raw anger over what has happened to the Tigers, who are 0-3 in the SEC and seemingly getting worse by the week. Now, they're without injured quarterback
James Franklin
and get No. 1 Alabama next. You might want to cover your ears if you find yourself anywhere close to the Missouri locker room this Saturday.
NOT
LSU's offense:
It's not all on quarterback
Zach Mettenberger
, who's clearly struggling. It's also not all on LSU's offensive line, which has had its own struggles since losing left tackle
Chris Faulk
to a knee injury. It's really pretty much everything right now offensively for the Tigers, and nothing seems to be working. They've scored exactly 18 points in two SEC games, and even with a defense as good as LSU's, that's not going to cut it in this league.
FREEZER BURN
Auburn's season:
At this point, it's difficult to see Auburn salvaging a winning season out of what has become a real stinker on the Plains. The Tigers, after barely putting up a fight last week at home in a 24-7 loss to Arkansas, are now 1-4 with back-to-back road games upcoming at Ole Miss and Vanderbilt. How far have the Tigers fallen? This is how far: They're an underdog this week to an Ole Miss team that has lost 16 straight SEC games. Auburn coach Gene Chizik apologized to the "Auburn family" following the loss to Arkansas. It's only fair to wonder how fractured that family is right now and where this all leads. This Auburn offense rates up there with that 2008 offense in terms of ineptitude, and that's saying something. It's not a lot of fun right now on the Plains. But if the Tigers manage to lose these next two against Ole Miss and Vanderbilt, it will be utter misery.
October, 8, 2012
10/08/12
10:00
AM ET
Bring that beat back.
Team(s) of the week:
Ohio State and Michigan share top billing this week. The Buckeyes turned in an attention-grabbing 63-38 blowout of Nebraska on national TV and have climbed up to No. 8 in The Associated Press poll. An undefeated season remains a strong possibility. Michigan was also very impressive, going on the road to clobber Purdue 44-13 in a must-have win. Anybody else already looking forward to The Game this year?
Best game:
Even though Northwestern led Penn State 28-17 in the fourth quarter, you just knew it wasn't over. In fact, the Nittany Lions were just getting started. They reeled off 22 fourth-quarter points in a game that featured several wild momentum swings and fourth-down plays.
[+] Enlarge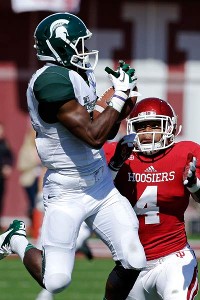 Darron Cummings/AP PhotoMichigan State wide receiver Aaron Burbridge makes a reception while being defended by Indiana linebacker Forisse Hardin.
Biggest play:
Michigan State probably didn't think it would need a big play in the fourth quarter against Indiana, but it sure did. The Spartans were down 27-17 and faced third-and-10 from their own 29 when
Andrew Maxwell
hit receiver
Aaron Burbridge
through double coverage for a 16-yard gain. A punt deep in its own territory would have made it difficult for Michigan State's slow-moving offense to complete the comeback. But that third-down conversion kept alive a drive that resulted in a touchdown en route to a 31-27 victory. Burbridge, a true freshman, gave the Spartans a much-needed shot in the arm with eight catches for 134 yards in his first start.
Best call:
No one can accuse Bill O'Brien of playing it safe. Even though Penn State's kicking game is very shaky, most coaches would have settled for the field goal on fourth-and-4 from the other team's 5-yard line when trailing by three points in the fourth quarter. O'Brien is not most coaches. He rolled the dice and went for it, and
Matt McGloin
scrambled into the end zone for what turned out to be the winning score. Penn State was 5-of-6 on fourth-down conversion attempts against Northwestern.
Second guessing:
Indiana was humming along in the first half against Michigan State but got strangely conservative right before halftime. Kevin Wilson gambled and pulled off an onsides kick after going up 24-14 late in the half. But after driving to the Michigan State 6-yard line, the Hoosiers ran three straight running plays and gained only 4 yards. Wilson elected to kick the field goal instead of going for it on fourth down, even though Michigan State was on the ropes and a touchdown might have provided a knockout blow. That's not the reason Indiana lost, because the Spartans pitched a shutout in the second half. But I bet Wilson would at least throw a pass into the end zone if he had to do that over again. Maybe he and O'Brien should compare notes.
Big men on campus (offense):
It's all about the quarterbacks. Michigan's
Denard Robinson
ran for 235 yards (more than Purdue's entire offense generated) and threw for 105 more in the win over the Boilermakers. Ohio State's
Braxton Miller
ran for 186 yards and threw for 127 more in the pasting of Nebraska. And McGloin threw for 282 yards and accounted for three touchdowns while leading the Nittany Lions' fourth-quarter comeback.
Big man on campus (defense):
Ohio State's
Bradley Roby
had a pair of interceptions against Nebraska and returned the first one 49 yards for a touchdown to open the Buckeyes' scoring onslaught. Props also to Roby's teammate
John Simon
, who had five tackles for loss versus the Huskers.
Big men on campus (special teams):
Northwestern's
Venric Mark
and Ohio State's
Corey Brown
each scored on punt returns. Mark went for 75 yards against Penn State, while Brown took his 76 yards to the house.
Worst hangover:
Purdue. Yes, Nebraska isn't going to enjoy the next two weeks after getting steamrolled by Ohio State. But the Cornhuskers always knew that was going to be a tough road game they could lose and still win the Big Ten. The Boilermakers were fired up after a solid start to the season, and many around the team believed a breakthrough was coming for Danny Hope's program. Instead, Michigan waltzed into Ross-Ade Stadium, rolled out to a 28-3 first-half lead and put Purdue back in its place. Now there are questions again about whether the Boilers will ever turn the corner under Hope. A win over Wisconsin this week now becomes paramount.
Strangest moment(s):
It was a painful day for some of the officials in the Big Ten on Saturday.
In the Northwestern-Penn State game, line judge Michael Mahouski suffered a ruptured quad tendon while avoiding a hit on the sideline and had to be carted off. Another line judge was carted off in the Illinois-Wisconsin game. Forget replacement refs. Big Ten officials might need some replacement hips at this rate.
But those weren't even the weirdest circumstances involving an official on Saturday. In that Illinois-Wisconsin game, Illini quarterback
Nathan Scheelhaase
tried to high-five back judge
Mike Brown after scoring on a short touchdown run. Brown was not having any of it.
"Our deal is to hand the ball to the official," Scheelhaase explained. "But somehow the ball got loose -- I probably, like, threw it a little bit -- and in apology, I tried to give him a high-five. I almost knocked him over. He almost tripped.
"I don't think they can [high-five players]. One of the refs told me they weren't able to do that."
At least Mahouski got a handshake from Northwestern coach Pat Fitzgerald as he left the field on the cart.
October, 8, 2012
10/08/12
10:00
AM ET
NC State and Duke are probably the only teams that really want to look back on Week 6, but here we go. ...
The stunning:
One week after committing six turnovers and 14 penalties in a loss to Miami, NC State regrouped and knocked off the No. 3 team in the country, Florida State, 17-16. FSU led 16-0 at halftime.
[+] Enlarge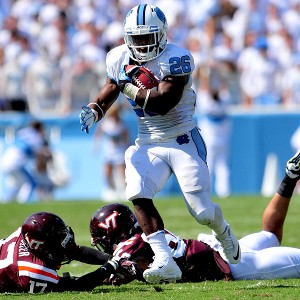 Lance King/Getty ImagesGiovani Bernard exploded for 262 yards rushing against Virginia Tech.
The good:
Maryland's defense. It was the highlight of the Terps' first conference game and win of the season, and it helped Maryland improve upon last year's two-win season. Wake Forest was held to just 45 yards in the second half, and only 2 in the fourth quarter.
The performance:
UNC running back
Giovani Bernard
. He rushed for a career-high 262 yards on 23 carries and a touchdown in the 48-34 win over Virginia Tech. He became the first Tar Heel to rush for 200-plus yards in a game since 2003. The 262-yard mark is the fifth-highest in UNC single-game history and the most ever gained against Virginia Tech in any game. The 11.4 yards per carry for Bernard was the most in school history, surpassing Kelvin Bryant's mark of 11.1 in 1981 versus East Carolina.
The bad:
The Coastal Division. Miami, Virginia Tech, Georgia Tech and Virginia all lost. Bowl eligibility is a legitimate question for each of the latter three.
The ugly:
The ACC's national relevance. With Florida State's loss to NC State, the ACC lost its best hope at a national title contender and its leading Heisman candidate in quarterback
E.J. Manuel
. It also lost its best chance at having two BCS bowl teams for the second straight season.
The record:
Duke receiver
Conner Vernon
set the ACC career record for receptions in the 42-17 win over Virginia. With his seven catches for 93 yards, Vernon now has 239 receptions in his career. Vernon surpassed Clemson's Aaron Kelly as the ACC's all-time leader in career receptions when he made a catch for minus-2 yards in the first quarter.
The debuts:
Duke quarterback
Anthony Boone
and Virginia quarterback
Phillip Sims
made their first career starts in Wallace Wade Stadium. Boone threw four touchdown passes, 212 yards and no interceptions in place of injured starter
Sean Renfree
. Sims threw no touchdown passes and two interceptions.
The surprise:
Maryland, Duke and Miami are the only three teams still undefeated in league play.
The surprise II:
Wake Forest suspended six players for the Maryland game, including four starters, for a violation of team rules. It was an out-of-character announcement for a program that typically doesn't consider discipline a problem.
The stat:
No. 3 Florida State was the highest-ranked opponent NC State has defeated since downing No. 2 Florida State 24-7 in 1998. NC State has now beaten a ranked FSU team in five of the past seven meetings.
The quote:
"This is as good as it gets," NC State quarterback
Mike Glennon
, according to The Associated Press, following his team's 17-16 win over then-No. 3-ranked FSU.
October, 8, 2012
10/08/12
10:00
AM ET
Taking stock of the sixth week of games in the Pac-12.
Team of the week
: Just as the hot seat talk for California coach Jeff Tedford was starting to crescendo, the Bears pulled out an impressive 43-17 win over No. 25 UCLA. The Bears played tough on both sides of the ball, and QB
Zach Maynard
overcame an early interception to post perhaps his best career game, accounting for five TDs -- four throwing, one running. The defense forced six turnovers and pressured UCLA QB
Brett Hundley
most of the evening. Cal needed a win, and it got it.
Best game
: There were nine lead changes in the first three quarters of Arizona's visit to Stanford, as neither defense could get a stop. But when the Wildcats jumped up 48-34 with nine minutes left in the game, it didn't appear we'd get an 11th change. But Stanford rallied around QB
Josh Nunes
and forced overtime. At that point, the Cardinal defense stepped up, forcing a turnover, and RB
Stepfan Taylor
's 21-yard TD run provided the winning points at 54-48.
[+] Enlarge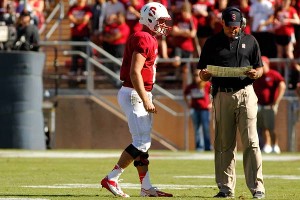 Cary Edmondson/US PresswireStanford QB Josh Nunes talks with coach David Shaw during a timeout against Arizona on Saturday.
Biggest play
: Down seven with 1:21 left and facing a fourth-and-9 at the Arizona 20-yard line, Nunes found
Zach Ertz
over the middle for 17 yards to the 3-yard line. Nunes went the final 3 yards for the tying touchdown that got Stanford to OT.
Offensive standout
: Nine days after a loss at Washington had some fans calling for him to be benched, Nunes' clutch performance against Arizona might end up being more resonant than his struggles versus the Huskies. He overcame a slow start and accounted for five Stanford touchdowns, completing 21 of 34 passes for 360 yards and two scores while also rushing for 33 yards on seven carries and three touchdowns.
Defensive standout
: What's it with all these three-interception games? Oregon State CB
Jordan Poyer
grabbed three picks against Washington State, while Cal's
Kameron Jackson
did the same against UCLA. Both also had four tackles. Earlier in the year, UCLA CB
Sheldon Price
had three picks against Houston.
Special teams standout
: Stanford's
Daniel Zychlinski
averaged 54.3 yards on four punts in the Cardinal's overtime win over Arizona with a long of 59 yards.
Smiley face
: The Pac-12's top four teams: Oregon, USC, Oregon State and Stanford each found different ways to win. Oregon rolled over rival Washington 52-21, looking like a dominant, national title contender along the way. USC overcame a horrible start that left it in a 14-0 hole two minutes into its visit to Utah. Oregon State was sloppy and inefficient on offense but was bailed out by its defense against Washington State. And Stanford, as already mentioned, overcame a 14-point fourth-quarter deficit to beat Arizona in overtime. One of the signs of a good conference is when its ranked teams just get it done, even if they aren't clicking.
Frowny face
: Mike Leach was supposed to bring a high-powered passing offense to Washington State, and the Cougars were supposed to have the QB-WR combinations to make it potent. But it hasn't played out that way. The Cougars were held to two field goals in a 19-6 loss to Oregon State. They finished with a measly 227 total yards with five turnovers, including four interceptions. Neither
Connor Halliday
nor
Jeff Tuel
is playing well, and the receivers have been making too many drops. The Cougs are 98th in the nation in scoring with 21.8 points per game.
Thought of the week
: Notre Dame, which Stanford visits on Saturday, is 5-0 and ranked seventh. The Fighting Irish appear to be finally emerging from a long period of malaise, and that's good for the Pac-12. The past few years, Stanford's and USC's annual whipping of the Irish meant little to the national audience. But a ranked Notre Dame team provides an opportunity for Stanford and USC to post wins that do raise eyebrows nationally, as well as raise the perception of the conference. Of course, Stanford and USC have to win those games for Notre Dame's return to relevance to be a positive one.
Questions for the week
: The Pac-12 features four teams ranked from Nos. 2 through 17: No. 2 Oregon, No. 10 Oregon State, No. 11 USC and No. 17 Stanford. While any of those four teams could fall apart and out of the rankings, they do appear to comprise a top third of the conference so far. But who might rise from the Pac-12 and become a fifth ranked team, or at least the fifth team in the Pac-12 pecking order? The conference isn't lacking candidates. You'd have to rank Arizona State and Washington as the top two. The Sun Devils are playing well, while the Huskies already have a win over Stanford. Then there's UCLA, Arizona and Utah. And, perhaps, a resurgent California, which just beat UCLA. Will a nine-win team emerge from that group? Or will we end up with a lot of 7-5, 6-6 and 5-7?
October, 8, 2012
10/08/12
10:00
AM ET
Notre Dame beat Miami by 38 points on Saturday to improve to 5-0. Here's one last look back at how the Irish got there.
The good:
Everett Golson
had the best game of his young career, completing 17 of 22 passes for 186 yards and rushing for 51 yards, and the Irish moved to 5-0 for the first time since 2002, when they started 8-0. Notre Dame netted 376 rushing yards, its most in a game since rushing for 380 on Nov. 11, 2000 against Boston College.
The bad:
I suppose being late for a team meeting is bad when you're the starting quarterback, and that will take the starter label away from you from a technical standpoint, but there really isn't much to complain about here from Notre Dame's end Saturday night.
Tommy Rees
, by the way, officially improved his career record as a starter to 13-4.
The ugly:
OK, we'll lay off the helmets for once. Instead, we'll turn to poor
Phillip Dorsett
, whom you can
read about here from colleague Andrea Adelson
. Miami had been working on that game-opening play all week. Instead, Notre Dame kept its five-game streak of never trailing alive, though it did surrender first-quarter points for the first time this season. The Irish have not started a season without trailing in any of its first five contests since the national title season of 1947, which did not face a deficit that year or the year before.
No rush:
The Irish are one of two teams (TCU is the other) to not allow a rushing touchdown this season. They did not allow a rushing score during their final two games of 2011, so the streak is technically at seven games. Notre Dame has not gone five straight games to start a season without surrendering a rushing score since 1989.
Next up:
No. 17 Stanford is coming to town. So is "College GameDay," for the first time since the infamous "Bush Push" game of 2005. Notre Dame is 3-4 all-time when hosting GameDay. The Cardinal bring in a three-game winning streak over the Irish, and they boast a signature win over USC this season. It will likely be Notre Dame's toughest test yet, though we have said that before during this season.
October, 8, 2012
10/08/12
10:00
AM ET
The first
true
week of conference play is in the books. What went down?
The good
: The Big East
has three teams ranked in both polls for the first time since the end of the 2009 season
. Rutgers and Cincinnati took care of business at home to move up in the polls, with the Bearcats making their debut in this year's AP poll. No. 18/16 Louisville was idle.
The bad
: USF has now lost four in a row and is 0-2 in Big East play. UConn's offense remains a huge question mark. And Pitt, well, good luck figuring that team out after five games.
The ugly
: Pitt and Syracuse gave anything but a clinic in offensive execution, with the Orange winning despite their only offensive points coming on their first drive. UConn and Rutgers was not exactly easy on the eyes, either, though the Scarlet Knights had the more opportunistic defense, especially in the second half.
[+] Enlarge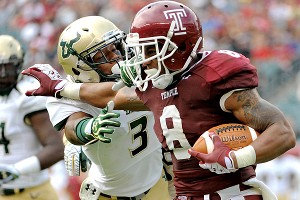 Eric Hartline/US PRESSWIRETemple's Montel Harris rushed for 133 yards and two touchdowns against South Florida.
Welcome back
: Temple made the most of its official return to Big East play, defeating favored USF and putting on an offensive display many didn't know the Owls had in them. The program had been near extinction since its dismissal from the Big East in 2004, but it climbed its way back and delivered a win in its first opportunity Saturday.
Welcome back, Pt. II
: One of the more interesting developments from Temple's win was the reemergence of
Montel Harris
, who rushed for 133 yards and two touchdowns on 24 carries. It was his 23rd career 100-yard game but first with his new team, showing no sign of wear after being plagued by injuries over much of the past year with Boston College and Temple.
(Not so) special teams
: Here are some of the, um, highlights from these units in Rutgers' win over UConn: Huskies fumble a first-quarter kick return. … Huskies punt it just 21 yards after a low snap. …
Shamar Stephen
blocks a Rutgers field goal attempt. … Rutgers punts it just 12 yards on a bad kick. …
Jeremy Deering
returns the opening kickoff of the second half 57 yards before fumbling it away to UConn.
Off-field trouble
:
Lyle McCombs
was
arrested before UConn's game and charged with second-degree breach of peace
. Temple's
Kamal Johnson
was
arraigned Saturday on charges stemming from an alleged Sept. 27 assault
. Not the kind of headlines you want to see on game day.
October, 8, 2012
10/08/12
10:00
AM ET
Here's what you need to know from the Big 12 in Week 6:
Best offensive performance: Andrew Buie, RB, West Virginia.
Geno Smith
said it best about Buie's performance on Saturday: "He carried us." Buie logged 31 carries and turned them into 207 yards and two touchdowns in the Mountaineers' 48-45 win at Texas. On West Virginia's final drive, he carried the ball on seven of eight plays for 63 yards and a touchdown. That won the game for the Eers, and the sophomore showed up big with
Shawne Alston
sidelined by a thigh bruise. Buie also caught three passes for 66 yards and would have scored, but the Turf Monster reached up and tripped him on the way into the end zone. Here's
what I wrote about Buie's day
.
[+] Enlarge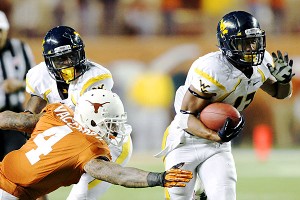 Tim Heitman/US PresswireAndrew Buie's performance helped the Mountaineers top Texas.
Best defensive performance: Jake Knott, LB, Iowa State.
For the second time this season, Knott sealed a huge road victory with an interception. He finished with 13 tackles (10 solo) and made a tackle for loss in the Cyclones' 37-23 win at TCU. Knott and his teammate,
A.J. Klein
, are just as good as advertised. Perhaps even better.
Best team performance: Oklahoma.
Yes, West Virginia had the best win, but I knew the Mountaineers could do it. I picked 'em to do it, in fact. I was surprised to find myself in such a small minority of folks picking WVU to take care of business on the road. The Sooners, though? Did anybody think they could waltz into Lubbock and paste Tech by four touchdowns? I certainly didn't. They scored 41 points in three quarters and held Texas Tech to just 28 yards on its first six drives of the second half. That's crazy.
Best quote: Geno Smith, QB, West Virginia
, on Texas fans' chants of "Geno sucks!" "Where does that come from? Obviously, I don't suck."
Second-best quote: Dana Holgorsen, West Virginia.
"For the fourth game in a row, we didn't turn it over." Holgorsen paused. "... We probably did turn it over, now that I think about it," he said. "There's a lot of stuff going through my head. Boy, we did turn it over two times, didn't we?" Hey, people ask quarterbacks to have short memories. The same must go for coaches, I suppose.
Best game: West Virginia 48, Texas 45
. Five total lead changes, including three in the second half? A whole bunch of big plays on both offense and defense? West Virginia goes 5-5 on fourth down? That's a heck of a ballgame on its own.
Worst quarter: Kansas' third quarter.
The Jayhawks turned the ball over three times in the period, but did manage a safety after one of the turnovers. The problem? The safety came on the second of two
Dayne Crist
interceptions on consecutive throws, and the Jayhawks fumbled the kickoff on the safety. Kansas State broke a 32-yard touchdown run on the next play, and the Jayhawks were outscored 28-2 in the period.
Best quarter: Oklahoma's third quarter.
The Sooners outscored Texas Tech 17-0 and turned a 24-13 lead into a 41-13 lead. Oklahoma scored on both of its offensive possessions and returned a
Seth Doege
interception 46 yards for a touchdown. Not bad, boys.
Worst play: Mack Brown, Texas.
Facing a fourth-and-4 late in the first quarter, Texas' defensive line crashed the backfield and sacked Smith to get a huge defensive stop and ignite the crowd. The only problem? Texas had called a timeout before the ball was snapped. A harbinger of things to come ...
Best play: Tavon Austin, WR, West Virginia.
On WVU's second chance, Austin caught a short pass over the middle to convert the fourth down (West Virginia would finish 5-of-5), and looked faster than anybody else in the Big 12, turning the corner on the Texas defense and racing for a 40-yard touchdown that put WVU up 14-7. Absolutely the sickest thing I saw all weekend.