NCF Nation:

weekend-rewind-101110
October, 11, 2010
10/11/10
3:09
PM ET
A look back on the week that was.
Team of the week
: Oregon State announced its return to relevancy with a win at No. 9 Arizona. The biggest revelation: Sophomore QB
Ryan Katz
is ready for primetime.
Best game
: You can't beat a game with two game-winning drives, unless your team is the one that produced the penultimate game-winning drive, which was the case of USC in its 37-35 loss at Stanford. For the second consecutive weekend, the Trojans lost on a last-second field goal. Still, a game billed as a potential blowout showed USC has plenty of fight left, at least on offense. (Wow. Are we now citing "moral" victories for the Trojans?)
Biggest play
: There were so many big plays in Oregon State's 29-27 win over Arizona that it's hard to pick just one. But if you had to, it might just be Katz's 43-yard completion to H-back
Joe Halahuni
on a second and 13 play from the Beavers 33-yard line. With
James Rodgers
out with a knee injury, Katz's top passing options were limited, and if he'd missed the throw over the middle, it's possible the Beavers wouldn't have been too aggressive on a third-and-long call from their own territory. The Beavers got a first down on the Wildcats 24 and were able to run a lot of clock -- six of the next seven plays were runs -- before scoring a TD that gave them a a 29-20 lead, which made it a two-possession game.
[+] Enlarge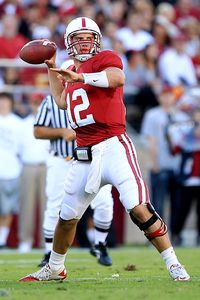 Ezra Shaw/Getty ImagesAndrew Luck passed for 285 yards with three touchdowns against USC on Saturday.
Offensive standout
: As usual, so many to choose from: Katz, Oregon's
LaMichael James
, California's
Shane Vereen
, USC's
Matt Barkley
, USC's
Robert Woods
, etc. But
Andrew Luck
was masterful against USC, completing 20 of 24 passes for 285 yards with three TDs and no interceptions. What's more: He led a seven-play, 62-yard drive in 1:08 to set up the game-winning field goal. And did you see his hit on Trojans CB Shareece Wright after a fumble? Smack goes the QB!
Defensive standout
: Cal cornerback Darian Hagan had a bad year last season. Not this year. He had two sacks, an interception and five tackles while leading the Bears stellar defensive effort against UCLA. Honorable mentions include Arizona State's Jamaar Jarrett, who had two sacks at Washington, and Oregon's Brandon Bair, who had 3.5 tackles for a loss at Washington State.
Special teams standout
: Oregon's Cliff Harris returned a punt 67 yards for a TD at Washington. He has done that three times this year, which is the most in FBS football. Oh, and he returned an interception for a TD at Tennessee.
Smiley face
: Cal suffered two tough losses in September: It got embarrassed at Nevada and lost a heartbreaker at Arizona. It could have yielded. Instead, it whipped a hot UCLA team 35-7 and showed it can stop a pistol offense by holding the Bruins to just 144 yards.
Frowny face
: Washington had injury issues and QB
Jake Locker
was trying to play through a flu-like illness, but that doesn't change the fact that it couldn't maintain the momentum it built after a win at USC. Arizona State had plenty of issues, too, but it found a way to win on the road in a rainstorm, weather one would think would benefit the Huskies far more than the Sun Devils.
Thought of the week
: Oregon fans: How different did it feel when QB
Darron Thomas
injured his throwing shoulder knowing you had senior
Nate Costa
on the bench ready to step in? While Thomas may be back as soon as the UCLA game on Oct. 21, the Ducks would still feel like the Rose Bowl favorites with Costa as the starter. Recall in 2007 that when Dennis Dixon was lost for the year with a knee injury, almost everyone immediately realized the Ducks were in big trouble.
Questions for the week
: Does the cannibalism begin now? Or do a couple of teams emerge at the top of the conference? Arizona's loss to Oregon State -- which left only Oregon undefeated -- hinted that stringing together wins is going to be extremely difficult due to the depth of the conference. So does that mean we end up with a muddle of two, three and four-loss teams? Or will Oregon ride home unscathed with an escort in the top-10?
October, 11, 2010
10/11/10
2:36
PM ET
There's warm. There's downright toasty, and there's scalding.
We'll keep it to Hot and Not, our weekly rewind in the SEC:
EN FUEGO
Balance in the SEC:
Having five teams ranked in the top 12 nationally midway through the season speaks for itself. There's no question that Alabama and Florida have dominated this league for the past two years, but it's clear that Arkansas, Auburn, LSU and South Carolina are serious about having a say in who wins the SEC championship this season. The knock on this conference recently has been that it's a two-team league with several other mediocre teams filling out the upper tier. Those critics might want to think again. South Carolina's convincing win against Alabama last week reinforced just how strong this league really is.
HOT
[+] Enlarge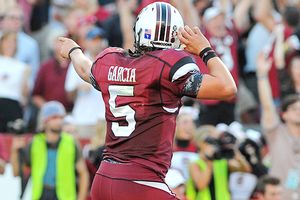 Al Messerschmidt/Getty ImagesStephen Garcia's performance was key in South Carolina's upset win over Alabama.
South Carolina quarterback Stephen Garcia:
He played nearly perfect football in the upset of Alabama, threw three touchdown passes, was extremely humble afterward and was praised profusely by his head coach. Yes, the same Head Ball Coach that was hammering away at him during the spring and summer.
NOT
Alabama running back Mark Ingram:
Maybe he is human after all. Last season's Heisman Trophy winner has been held to 88 rushing yards on 23 carries the past two games and was kept out of the end zone against the Gamecocks.
HOT
Arkansas's defense:
What's wrong with this picture? The Hogs' defense saved the day last week in the 24-17 win over Texas A&M with one critical stop after another. Willy Robinson's unit has improved tremendously.
NOT
Florida running back Emmanuel Moody:
The Gators keep waiting on him to break through and be that consistent threat in the running game, but it just hasn't happened. He didn't help matters by losing a costly fumble just before halftime in the 33-29 loss to LSU.
HOT
South Carolina in the red zone:
Let's refer to it as the "garnet zone." The Gamecocks lead the SEC in red zone offense, scoring touchdowns in 17 of their 20 trips inside the 20. They also lead the league in red zone defense, allowing opponents just five touchdowns in 20 trips.
NOT
Kentucky's run defense:
The Wildcats are getting gashed on the ground. They're last in the SEC in rushing defense, allowing 190.3 rushing yards per game, and have already given up 15 rushing touchdowns this season.
HOT
LSU quarterback Jarrett Lee:
He's a perfect example of why it pays to hang in there. Lee threw 16 interceptions two years ago as a redshirt freshman, and seven of those were returned for interceptions. But he's come off the bench to pull the Tigers out of the fire each of the last two weeks with game-winning drives.
NOT
Florida offensive coordinator Steve Addazio:
The boos were hard to miss last Saturday by the Florida fans as the Gators continued to limp along on offense. Nobody in Swamp Land is real thrilled with anything about this offense, including the play-calling.
FREEZER BURN
Tennessee's pass protection:
It will be a minor miracle at this rate if Tennessee quarterback
Matt Simms
finishes the season in one piece. He's taking a wicked beating, as the Vols' young offensive line continues to struggle when it comes to protecting the passer. They've now allowed 23 sacks, which is more than any other FBS team in the country. Simms has been sacked nine times in his past two games, and that's not even counting the other times when he was knocked around after just getting rid of the ball. Hope he's got a good whirlpool where he lives, because he's going to need it.
October, 11, 2010
10/11/10
2:08
PM ET
The ever-living ghost of what once was ...
Team of the week:
(Tie) Syracuse and Rutgers. The Orange beat South Florida for the first time ever and did it on the road, no less, to move into a tie for first place ridiculously early into Big East play. And the Scarlet Knights, after receiving much criticism (including from this corner) for their performances against Tulane and North Carolina, rebounded to win their conference opener against Connecticut.
Best game:
The UConn-Rutgers game was close, as it almost always is, and it came down to a San San Te field goal with 13 seconds left as the Scarlet Knights escaped 27-24.
Biggest play and best call:
Rutgers quarterback
Chas Dodd
's 52-yard touchdown pass to
Mark Harrison
with a little over four minutes left tied the score at 24. Dodd faked a swing pass to
Jordan Thomas
and found Harrison all alone down the sideline.
Best drive:
Syracuse went 98 yards in the fourth quarter to score the game's lone offensive touchdown in its 13-9 win over South Florida. The drive included only two plays of longer than 8 yards as the Orange methodically matriculated the ball downfield.
[+] Enlarge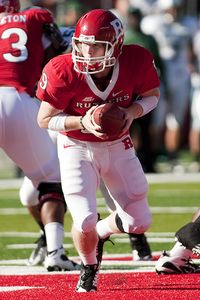 Duncan Williams/Icon SMIRutgers' Chas Dodd has performed well since earning additional playing time.
Big Man on Campus (Offense):
Dodd. Several players posted huge statistics this week in blowouts, but no one energized an entire fan base that so needed something positive like the true freshman quarterback. He had 322 yards passing and two touchdowns in his first start and may have Wally Pipp-ed
Tom Savage
.
Big Man on Campus (Defense):
Craig Marshall, DE, South Florida. It came in a losing cause, but Marshall was huge for the Bulls. He had eight tackles and tied a school record with three sacks.
Big Man on Campus (Special teams):
Nick Williams
, KR, Connecticut. His also came in a losing effort, but Williams delivered a 100-yard kickoff return for a touchdown for the Huskies.
Strangest moment:
Pitt's late-game strategy against Notre Dame. The Panthers took over at their own 10 with 4:45 left, trailing by six. They proceeded to call two straight running plays to
Dion Lewis
, followed by a short pass to
Jon Baldwin
that was batted down at the line of scrimmage. Then, facing a fourth-and-5, Pitt called one of its three timeouts -- in order to set up a punt. It is sequences like that which cause people to question Dave Wannstedt's coaching acumen and conservative philosophy.
Biggest hangover:
Connecticut. South Florida lost at home, which is bad. But no one really expected the Bulls to win the Big East this season. The Huskies were considered a contender, and they came into the Rutgers game with all the momentum on their side. Instead, they turned in a lackluster second half and failed yet again to beat the Scarlet Knights. Now at 3-3, the hopes for a breakthrough season have all but evaporated.
Now let's look at Week 7, which offers a short, but mostly meaningful slate (Games listed in descending order of interest/importance):
Pittsburgh (2-3) at Syracuse (4-1, 1-0 Big East):
Are the Orange for real? Can they really get to 2-0 in league play? And how will Pitt respond entering conference action? Lots of intriguing angles here.
(ESPN3.com, Saturday, Noon ET)
South Florida (3-2, 0-1) at West Virginia (4-1):
The Mountaineers begin Big East play against a team that has been their nemesis in recent years. It could be payback time.
(ESPN, Thursday, 7:30 ET)
Cincinnati (2-3) at Louisville (3-2):
The Cardinals are looking pretty feisty right about now, and this could be a real tug-of-war for the Keg of Nails.
(ESPN, Friday, 8 ET)
Army (4-2) at Rutgers (3-2, 1-0):
Army looks much improved and just waxed the same Tulane team that won in Piscataway two weeks ago. (Saturday, 2 ET)
Bye:
Connecticut
October, 11, 2010
10/11/10
2:07
PM ET
It's time to look back at Saturday's action before peeking ahead at Week 7 in the Big Ten.
[+] Enlarge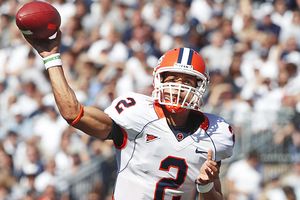 AP Photo/Keith SrakocicNathan Scheelhaase played well in Happy Valley as Illinois made history.
Team of the week:
Illinois. The Fighting Illini made history in more than one way Saturday at Penn State. They recorded their first win in Happy Valley and handed Penn State its worst Homecoming loss (33-13) in Joe Paterno's 45 years as head coach. After giving Ohio State a scare in Week 5, Illinois continued to deliver on defense, stuffing Penn State in the red zone and getting a huge lift from Nate Bussey's pick-six. Vic Koenning's defense held Penn State to season lows in first downs (7), total yards (235), third-down conversions (2-for-14) and time of possession (21:48). Illinois redshirt freshman quarterback
Nathan Scheelhaase
showed impressive growth in his first road Big Ten start and capitalized on a banged-up Penn State defense. Michigan State and Purdue merit mentions for road wins.
Best game:
Purdue at Northwestern
. Not many choices here as four of the five Big Ten games were decided by 17 points or more. At least the Boilers and Wildcats provided some fourth-quarter drama. Down 17-13, Purdue mounted a 14-play, 75-yard scoring drive that featured two third-down conversions and a fourth-down touchdown run by
Dan Dierking
to give his team the lead with 3:54 left. Northwestern quickly moved the ball into Purdue territory and appeared set up for the game-winning touchdown when
Jacob Schmidt
dashed inside the 5-yard line on third-and-5. But a holding penalty negated the run and Northwestern had to settle for a potential game-tying field-goal attempt, which senior Stefan Demos missed badly. The banged-up Boilers left Evanston with a confidence-boosting win.
Biggest play:
Not a clear choice this week. Purdue made several big plays to win its Big Ten opener, including Dierking's 7-yard touchdown run on fourth-and-inches and Kawann Short's field-goal block early in the fourth quarter. Bussey's pick-six against Penn State was huge for Illinois, and Michigan State set the tone for a big second half at Michigan with a 41-yard touchdown pass from
Kirk Cousins
to
Mark Dell
early in the third quarter. Cousins got the ball away just before absorbing a hit and made a perfect throw to Dell for the score.
Specialist spotlight:
Illinois kicker Derek Dimke gets the nod this week after going 4-for-4 on field-goal attempts at Penn State, connecting from 50, 41, 37 and 31 yards away. His 50-yarder put Illinois up 17-10 in the second quarter, and he closed the half with a 31-yarder. Dimke became the first Illinois kicker to make four field goals in a game since 2006. Several Big Ten punters had good days Saturday, including Michigan State's Aaron Bates (45-yard average, two punts inside the 20), Penn State's Anthony Fera (6 points, 44-yard average) and Purdue's Cody Webster (6 punts, 47.7-yard average).
Most talked-about call:
Bret Bielema's decision to attempt a two-point conversion with Wisconsin leading Minnesota 41-16 midway through the fourth quarter. Bielema claimed he was following the coaches' guide on when to go for two, but Minnesota coach Tim Brewster and many others saw it as an attempt to run up the score. Brewster might not get a chance for revenge in the rivalry, but you can bet Minnesota's underclassmen will remember what happened.
Game balls
:
Illinois LB Nate Bussey: Bussey made an athletic play to record a 16-yard interception return for a touchdown against Penn State and tied his career high with eight tackles in the victory.

Purdue's defense: Hard to give this to only one player, so the Boilers' defenders will have to share after an outstanding effort at Northwestern. Some notables include linebacker Joe Holland (12 tackles, 2 TFLs, 1 sack), tackle Kawann Short (8 tackles, 1.5 TFL, 1 sack, 1 blocked kick, 1 pass breakup) and safety Logan Link (6 tackles, 1 forced fumble, 1 pass breakup). Ryan Kerrigan had a sack and created a ton of problems for Northwestern.

Michigan State S Trenton Robinson: Robinson came up big on the opening drive against Michigan, recording a touchdown-saving tackle on Michael Shaw and then intercepting a Denard Robinson pass in the end zone. The much-hyped Spartans junior finished with seven tackles and a pass breakup in the win.

Michigan State QB Kirk Cousins: Cousins has been brilliant in his last six quarters of football and dissected Michigan for 284 pass yards on 18 of 25 attempts with a touchdown and no interceptions.

Ohio State WR DeVier Posey: Somewhat overshadowed by fellow receiver Dane Sanzenbacher this year, Posey led Ohio State in both receptions (8) and receiving yards (103) in Saturday's blowout win against Indiana. He hauled in a 17-yard touchdown pass from Terrelle Pryor in the second quarter.

Wisconsin LB Mike Taylor: Taylor recorded a career-high three tackles for loss against Minnesota and finished with seven stops in the game.
OK, now let's take a quick look at Week 7.
Illinois (3-2, 1-1 Big Ten) at No. 13 Michigan State (6-0, 2-0):
In most years, this would be a classic trap game for Michigan State, which comes off of two emotion-charged victories against ranked opponents. This Spartans team seems much more grounded and mentally tough. Still, Illinois' improved defense and strong running game provides a good test. Two the Big Ten's best running backs match up with Michigan State's
Edwin Baker
and Illinois'
Mikel Leshoure
.
Minnesota (1-5, 0-2) at Purdue (3-2, 1-0):
What looked like the Basement Bowl before Saturday night suddenly becomes an opportunity for Purdue to start 2-0 in league play. Freshman quarterback
Rob Henry
tries to gash a Minnesota defense that allows 196.3 rush yards a game, last in the Big Ten. Minnesota has won back-to-back games in the series and needs a victory in the worst way Saturday.
Arkansas State (2-4) at Indiana (3-2):
After back-to-back losses, Indiana should get well against an Arkansas State team that ranks 88th nationally against the pass (237.7 ypg). That said, the Hoosiers shouldn't overlook a Red Wolves team that can throw the ball with talented sophomore
Ryan Aplin
and has been in every game since a season-opening 26-point loss to Auburn. Indiana needs to get its defense in order before resuming Big Ten play at Illinois.
No. 15 Iowa (4-1, 1-0) at Michigan (5-1, 1-1):
Extra prep time usually translates to Iowa success, and the Hawkeyes have had two weeks to prepare for Denard Robinson after shutting down Penn State. Robinson ran for 49 yards and a touchdown against the Hawkeyes last year, and he'll provide a good test for Adrian Clayborn and the defense. Look for Iowa quarterback
Ricky Stanzi
to attack Michigan's shaky secondary down the field with
Derrell Johnson-Koulianos
.
No. 1 Ohio State (6-0, 2-0) at No. 18 Wisconsin (5-1, 1-1):
All eyes will be on Madison as Ohio State tries to take a big step toward the national championship game against a Wisconsin team that is 40-4 at home since the start of the 2004 season. Wisconsin's home dominance is offset by Ohio State's brilliant play in Big Ten road games under Jim Tressel. Ohio State boasts the more accomplished defense, but Wisconsin can be the Big Ten's best offense when hitting on all cylinders.
Bye:
Northwestern (5-1, 1-1), Penn State (3-3, 0-2)
October, 11, 2010
10/11/10
2:06
PM ET
Here's a look back at the best and worst of the week that was in the Big 12.
Best offensive player:
Taylor Martinez, QB, Nebraska.
It's pretty simple this week. He broke the Nebraska quarterback rushing record with 241 yards and accounted for five touchdowns. Martinez is the spark that was missing from the Nebraska offense last year, and if the Huskers make a run at the Big 12 title, he'll be the reason why.
Best defensive player:
Lavonte David, LB, Nebraska.
David was one of the reasons Nebraska managed to bottle up Daniel Thomas so effectively, limiting the Big 12's leading rusher to just 63 yards on 22 carries. The junior finished with 16 tackles, a sack and two tackles for loss. Call it a coming out party for the JUCO transfer and first-year starter.
[+] Enlarge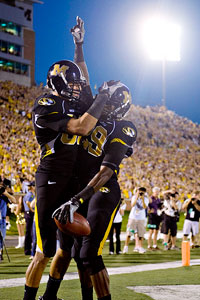 AP Photo/L.G. PattersonMissouri's Jerrell Jackson (right) and Michael Egnew celebrate Jackson's 30-yard TD catch in the Tigers' win against Colorado.
Best team performance:
Missouri
. The Tigers could have given up all the Fifth Downs Colorado wanted. The Buffs still probably wouldn't have scored.
Runner up
: Nebraska. The Huskers ran away with a conference road win against Kansas State, and they did it with tons of eyes watching a national Thursday night telecast.
Best offensive freshman:
Past Martinez, there wasn't much, so we'll hand this one to to T-Magic, too. Iowa State running back Shontrelle Johnson was the next-most deserving, but he had 50 yards on five carries in the loss to Utah.
Best defensive freshman:
Tre' Porter, CB, Texas Tech.
The secondary gave up 384 yards to Robert Griffin, but in a seven-point win, if Porter misses any of his 10 solo tackles, the outcome might have been different. He finished with 12 total tackles.
Best play:
Taylor Martinez, QB, Nebraska.
So you say you could run through the kind of holes Taylor Martinez had on Thursday night? Well, could you run through it, split a couple linebackers, a pair of safeties and run 80 yards untouched for a score to put your team up 24-3? No, and neither could 98 percent of the rest of the players in college football.
Best play II:
Baron Batch, RB, Texas Tech.
Batch broke three tackles and raced to the end zone for a 37-yard touchdown that tied the game at 21 in Texas Tech's win over Baylor.
Best play III:
Justin Blackmon, WR, Oklahoma State
. We'll let the decision-making by Brandon Weeden slide on this one.Weeden threw up a deep ball into double coverage for Blackmon, who jumped over a pair of defensive backs, caught it and trotted into the end zone for a 37-yard touchdown.
Worst play:
Texas Tech's onside kick team.
Are you guys serious? I can't remember the last time I saw an onside kick returned for a touchdown, and now these guys have given one up two weeks in a row? This week's fiasco was way more embarrassing. The kick didn't make it the required 10 yards (bad enough on its own), but the Texas Tech players casually loitering near the ball allowed Baylor's Terrance Ganaway to pick it up and outrun them for a 38-yard touchdown, one of the shortest kick return scores in college football history.
Worst quarter:
Iowa State's second quarter.
The Cyclones were outscored 31-0 in the quarter (!) after leading No. 10 Utah 14-10 when the first quarter ended. The finished the day with a 68-27 (!) home loss.
Worst team performance:
Colorado
. Getting shut out in Columbia for the second consecutive time is not exactly the statement you want to send before exiting a league. Ya'll need to watch a few Nebraska games...then do that. Or better yet, take a look at your future Pac-12 buddies, Utah. Ask Iowa State about them.
Runner-up
: Iowa State. Because...obviously.
Worst call:
The Cowboys almost pulled it off, but why exactly is Oklahoma State trying to sneak in an onside kick up 24-21 in the third quarter? OSU got bailed out by an interception from Andrew McGee on the first play of the following drive, but the Cowboys didn't need any of that to beat the Ragin' Cajuns. Save it for the Huskers, Sooners or Longhorns.
Most poorly thought-out celebration:
Kip Edwards, CB, Missouri.
Edwards picked off a fourth-quarter Cody Hawkins pass and returned it 49 yards into Colorado territory to preserve Missouri's shutout. He was deservedly jacked up about it, but apparently so jacked up he forgot that cleats and asphalt make poor bedfellows. Edwards' celebration progressed onto the blacktop loop surrounding Faurot Field and took a nasty spill, but shook it off, got up and kept celebrating with his teammates. Nice job, just keep it on the turf next time.
Timeliest redemption:
Texas Tech.
The Red Raiders had to have a win, and they got one, taking the lead for good with a 21-0 spurt in the second quarter after trailing 21-14 to Baylor. They also scored the first 10 points of the second half to stretch their lead to 17 in the third quarter.
Best game:
Texas Tech 45, Baylor 38.
Any game that comes down to the final snap is a good one, and Baylor had two chances to win the game late, including a dropped touchdown pass to Kendall Wright on 3rd-and-15 that would have tied the game with under four minutes to play. Baylor let what chances it had slip away, but Texas Tech earned the win. Great game that looked less like arena football after halftime, when the teams headed to the locker room with Texas Tech holding a 35-28 lead.
October, 11, 2010
10/11/10
2:06
PM ET
Here's a look back at Week 6 and a look ahead at Week 7
The good:
Florida State's offensive line. The Seminoles won the battle up front and paved the way for another impressive day running with 298 yards and four rushing touchdowns. Quarterback
Christian Ponder
wasn't sacked once, as the Noles were able to fend off the nation's No. 4-ranked team in sacks.
The bad:
Miami. The Hurricanes came out flat. They were outplayed and outcoached in all three phases of the game. There were missed tackles, dropped passes and the linebackers were rendered ineffective. Instead of taking an important step forward on their home field, Miami looked like it took a step back.
The ugly:
You can't spell North Carolina without NCAA (no, really, you can't). The careers of Marvin Austin, Greg Little< and Robert Quinn are over, but the investigation is not. And the more that is revealed -- this time that the aforementioned players weren't truthful with the NCAA during the course of the investigation -- the uglier things look in Chapel Hill.
Top three games of Week 7:
1. Maryland at Clemson:
The Terps have had something on Clemson in recent years, as Maryland was able to beat the Atlantic Division champs last year for its lone league win of the season. The Terps beat Clemson 13-12 in 2006, 20-17 in 2008, and 24-21 last year. Maryland is 4-1 and has something to play for this year, and they're catching the Tigers when they're down.
2. North Carolina at Virginia:
Virginia has won four straight and UNC hasn't won in Charlottesville since 1981, losing 14 straight times. North Carolina holds a 56-54-4 advantage in the all-time series that dates back to 1892 but the two schools differ on the series record. Why? Because of the game in 1956 that North Carolina forfeited for using an ineligible player. You know what they say, history repeats itself.
3. NC State at East Carolina:
The Pirates should just join the ACC. Seriously. The Hokies have played them, North Carolina has played them. Now it's the Pack's turn. The Wolfpack should win this one with some style points, since ECU's defense has been abysmal, but it's on the road, and any game against an in-state opponent has the potential to be a trap game.
October, 11, 2010
10/11/10
2:00
PM ET
Let's take a look at the good and the bad for the non-AQs in Week 6.
[+] Enlarge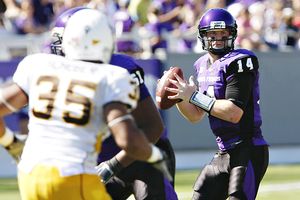 AP Photo/Jeffery WashingtonTCU quarterback Andy Dalton has been outstanding at home this season.
The good:
The elite non-AQ teams have done their jobs midway through the season. TCU put together an impressive 45-0 win. Quarterback
Andy Dalton
, who has been up and down this season, was 14-of-17 for 270 yards with three touchdowns. In three home games this season, Dalton is 50-of-61 (82 percent) for 719 yards with six touchdowns and no interceptions. … Utah trailed Iowa State 14-10, but then the second quarter started. The Utes outscored the Cyclones 31-0 and have now outscored opponents an eye-popping 101-7 in the second quarter this season. …
Bryant Moniz
continues his incredible rise. He came to Hawaii as a walk-on last season, and now is leading the country with 2,245 passing yards – the only quarterback with more than 2,000 yards so far this season. Hawaii has the top ranked passing offense in the country.
Greg Salas
leads the country in receiving yards, and teammate
Kealoha Pilares
ranks third. … UTEP quarterback
Trevor Vittatoe
set new school career records for touchdown throws (89), passing yards (11,260) and total offensive yards (11,117).
The bad:
Ball State coach Stan Parrish said his team played one of the worst games since he became head coach, in a 45-16 loss to Western Michigan. His team fumbled the opening kickoff, then had an interception returned for a touchdown on the second series. It was downhill from there, with three more turnovers erasing any chance to win. … Utah State had one of its best wins a week ago against BYU, beating its in-state rival 31-16. But the Aggies had their worst game of the season on Saturday in a 24-6 loss to Louisiana Tech. They had just 73 yards passing and 195 total yards of offense, a week after racking up 434 yards of total offense against the Cougars. Coach Gary Andersen said his team is much better at handling adversity than success.
The heartache:
FAU fought back from a 12-0 deficit to take a 20-17 lead against ULM. But a fumbled snap gave ULM the ball at its own 45 with 4:51 remaining.
Kolton Browning
led the team down the field, and
Jyruss Edwards
ran for a 5-yard touchdown with 2:43 remaining, handing the Owls their fourth straight loss. … New Mexico clung to a 14-13 lead over in-state rival New Mexico State, but
Stump Godfrey
fumbled late, setting up Tyler Stamper's 22-yard field goal to win it for the Aggies. New Mexico turned the ball over four times, and leads the nation with 20 turnovers this season. … San Jose State might have lost 35-13 to Nevada, but it was the first game all season where the Spartans didn't lose a player to a season-ending injury. Those injuries have taken a toll, but so has the brutal start to the season, with games at Alabama, Wisconsin, Utah and Nevada.
A few more helmet stickers:
Nevada defensive end Dontay Moch and running back
Vai Taua
have had excellent back-to-back games. Moch has a combined 18 tackles, eight tackles for loss, one sack and one forced fumble in the past two games, and Taua has 35 carries for 382 yards and eight total touchdowns (seven rushing, one receiving). … Air Force cornerback Reggie Rembert had a season-high seven tackles, an interception, three pass breakups and a fumble recovery in a 49-27 win against Colorado State. … In his first college game, North Texas kicker Zach Olen was perfect on all five of his kicks against Arkansas State, making 4-0f-4 field goals and his only extra-point attempt.
A few injury items to note:
Toledo quarterback
Austin Dantin
is questionable after being carted off the field in a loss to Boise State last week. Dantin took a hard hit following a run in the fourth quarter and was motionless on the field, but coach Tim Beckman said his quarterback was coherent and he was put on a stretcher as a precautionary measure.
Terrance Owens
would get the nod if Dantin can't play. … Temple offensive lineman Steve Caputo (leg) is out for the season. Ohio has lost its two best players -- receiver
LaVon Brazill
(leg) is out for the season, and linebacker Noah Keller (foot) is doubtful to return this season. North Texas quarterback
Riley Dodge
(wrist) will have a pin inserted in his broken wrist, and the team is hoping he can return as early as Oct. 30 against Western Kentucky.
Week 7 look ahead:
There are some really interesting games in the Mountain West and WAC. Nevada is at Hawaii in a matchup of contrasting offenses. The Wolf Pack love to run, the Warriors love to pass. This is going to be a very big test for Nevada, no question. Air Force plays at San Diego State to start a brutal four-game stretch. Following that game, the Falcons are at TCU, home to Utah then at Army. BYU is at TCU, and there might not be any love lost here. TCU coach Gary Patterson was critical of the Cougars' move to go independent before the season started.