NCF Nation:

Weekend-rewind-102411
October, 24, 2011
10/24/11
2:24
PM ET
Our weekly look at who's hot and who's not in the SEC:
GLOWING EMBERS
LSU's resiliency:
It's been phenomenal the way LSU has kept its focus this season and not allowed anything to sidetrack it. The Tigers have had players arrested, including their starting quarterback. They've had players suspended. They've had players injured. Their offensive coordinator, Steve Kragthorpe, had to give up the play-calling duties after announcing that he had Parkinson's disease. And then last week, Tyrann Mathieu,
Spencer Ware
and Tharold Simon were all suspended after testing positive for synthetic marijuana. It's been one thing after another, but the Tigers seem to get better every week. They now have two weeks before they face Alabama in the big showdown on Nov. 5. At the rate they're going, maybe they need something else to happen off the field, because they seem to thrive in those situations.
HOT
[+] Enlarge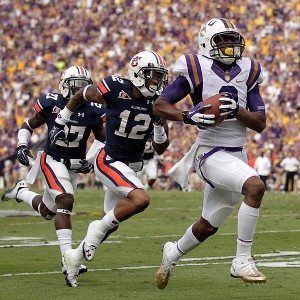 AP Photo/Gerald HerbertLSU wide receiver Rueben Randle has developed into one of the SEC's best deep threats.
LSU receiver Rueben Randle:
In keeping with the LSU theme, is there a better receiver in the SEC right now than Randle? He leads the league with seven touchdown catches, and had scoring grabs of 46 and 42 yards last week against Auburn.
NOT
Arkansas' starts:
Sooner or later, these slow starts are going to catch up with the Hogs. They did it again last week against Ole Miss and fell behind 17-0. They've been explosive enough on offense to come charging back each of the past three games, but it's not a habit you want to get into in this league.
HOT
Vanderbilt running back Zac Stacy:
The Commodores have been looking for more firepower on offense, and Stacy provided it in the 44-21 win against Army with a career-high 198 rushing yards and a career-high three touchdowns.
NOT
Auburn's passing game:
It wasn't just
Clint Moseley
, who was making his first start at quarterback. For most of the day, he didn't have any time to throw and was sacked six times. The Tigers are hurting all the way around in their vertical passing game and desperately need top receiver
Emory Blake
back.
HOT
Alabama's second-half defense:
A big part of Alabama's second-half awakening last Saturday in its 37-6 win against Tennessee was a defense that locked down the Vols. In shutting Tennessee out in the second half, Alabama held the Vols to 41 total yards after the break and no first downs.
NOT
Drama surrounding John Brantley:
There is none. Florida's senior quarterback will be on the field this Saturday against Georgia after missing the past two games with a high ankle sprain. Brantley was throwing the ball as well as he ever had prior to getting injured against Alabama.
FREEZER BURN
SEC expansion talk:
Now that it looks like Missouri is indeed headed to the SEC, maybe we can finally cool it on all the expansion talk and who's coming and who's going. At the risk of sounding like Coach Saban, I could give a (bleep). OK, I won't go that far and do realize that there's a ton of interest in the ever-changing landscape in college sports. But enough is enough. Let's play football.
October, 24, 2011
10/24/11
1:35
PM ET
Taking stock of the eighth week of games in the Pac-12.
Team of the week
: Arizona. The Wildcats ended a 10-game losing streak to FBS foes with a bang, thumping UCLA 48-12 on ESPN last Thursday. Little has gone right for the Wildcats this season, including the termination of coach Mike Stoops, but an outstanding performance on both sides of the ball in interim coach Tim Kish's debut merits a tip of the cap.
Best game
: No game was closer than two touchdowns, but USC's 31-17 whipping of Notre Dame speaks well for the conference. The Trojans dominated the action on both sides of the ball, and perhaps sent a message to Stanford and Oregon that both have more than a one-game season ahead.
[+] Enlarge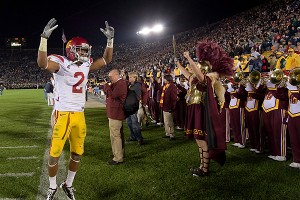 Matt Cashore/US PresswireReceiver Robert Woods and USC had much to celebrate after beating Notre Dame.
Biggest play
: No question here. Trailing just 17-10, Notre Dame faced a third-and-goal on the USC 1-yard line, with the home fans certain a tie game was at hand. But Irish quarterback
Dayne Crist
-- who was in because starter
Tommy Rees
hurt his knee -- fumbled the snap. Trojans safety Jawanza Starling scooped up the rolling ball and went 80 yards for a touchdown the other way. That, my friends, is a game-changing moment.
Offensive standout
: Forget the skill guys this week -- Stanford's offensive line takes this one. The Cardinal dominated the line of scrimmage against Washington, opening holes for a school-record 446 yards rushing and yielding no sacks. The Cardinal have surrendered just two sacks this season -- fewest in the nation -- and rank 17th in rushing offense with 219 yards per game.
Defensive standout
: Oregon linebacker Josh Kaddu had 10 tackles -- all solo -- three for a loss, and two sacks in the 45-2 win at Colorado. He was the best player on a defense that pitched a shutout.
Special-teams standout
: Darragh O'Neill. Colorado's punter was the lone bright spot for the Buffaloes in the loss to Oregon. He punted 12 times for a 43.2 average, with a net of 40.3. He set school records with six punts downed inside the 20 and four inside the 10 (two of those inside the 5), as Oregon's average starting field position after his kicks was its own 23. Four of the kicks traveled 50-plus yards.
Smiley face
: USC's and Stanford's impressive wins against quality foes sets up a marquee national game on Saturday in the Coliseum with ESPN's "College GameDay" on hand. After a slow start to the season, the Pac-12 is now on the national map, with the Cardinal solidly in the national championship hunt and the conference potentially in position to land two BCS bowl berths.
Frowny face
: Utah and Colorado are now 0-8 in Pac-12 play. They combined for 409 yards and 12 points in blowout losses Saturday. Recall how, in the past, the Pac-10 had to defend its defensive performances by pointing out its defenses had to play Pac-10 offenses? Well, here you go. The old Pac-10 can play defense. It just needed some new blood -- teams lacking offensive playmakers -- to prove it.
Thought of the week
: The Pac-12's bottom and muddled middle need to rally -- big -- if the conference is going to fill its bowl slots, particularly if the conference produces two BCS bowl teams. USC is ineligible and Colorado already is guaranteed a losing season. That leaves 10 teams. The conference has bowl contracts with seven games, which would increase to eight spots with two BCS bowl teams. While four teams -- Stanford, Oregon, Washington and Arizona State -- are already bowl-eligible or are nearly certain to get there, six teams have between two and four wins. How many teams get off the carpet? Or does the conference have five to seven losing teams?
Questions for the week
: Will there be a monumental upset this season? While it's possible to reduce the season to a small handful of games centered around Oregon's visit to Stanford on Nov. 12, most years one of the conference's topflight teams falls to a mediocre one -- recall how USC used to do that. It didn't happen last season, as Oregon and Stanford rolled, with just the Ducks' win against the Cardinal in Autzen Stadium between them. Will that be the case again? Or will the Cardinal or Ducks -- or Sun Devils -- get clipped by a team they don't see coming?
October, 24, 2011
10/24/11
1:16
PM ET
Reverse course.
Team of the week:
Michigan State. The Spartans earn this honor for the second straight week, and with good reason. They are now the Big Ten's top-ranked team after an earth-rattling victory over Wisconsin. Michigan State is unscathed through 75 percent of its October group of death and has to be considered a leading Rose Bowl contender.
Best game:
Michigan State 37, Wisconsin 31. What else? Obscured by the game's final play was a very exciting 14-point comeback in the fourth quarter by Wisconsin. There were four total touchdowns in the fourth quarter, not to mention some huge special-teams plays by the Spartans. And of course, there was the ...
[+] Enlarge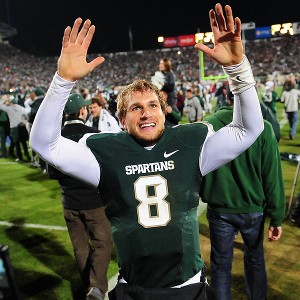 Andrew Weber/US PresswireKirk Cousins was all smiles after his game-winning touchdown pass.
Biggest play:
Michigan State receiver
Keith Nichol
's game-winning Hail Mary reception
with no time left on the clock
.
So much had to go right for that play to work.
Kirk Cousins
had to launch the ball into the end zone with his left foot standing on his own 45-yard line as a Wisconsin defender leaped toward him. The ball had to go right through the hands of Wisconsin receiver
Jared Abbrederis
, who was playing defense because of his catching ability. Abbrederis appeared to mistime his jump just a bit but got his hand on the ball just enough to deflect it slightly.
Then the ball came right to
B.J. Cunningham
, Michigan State's best receiver, who was in position to make the play. But the deflection may have surprised him, and the ball bounced right off his face mask. (And had Cunningham or Nichol gone out of bounds? The referee had thrown his hat on the ground, indicating a receiver had left the field of play.) Yet somehow the carom straightened out perfectly to Nichol a couple of feet shy of the end zone. Nichol then had to wrestle
the ball over the goal line with two defenders wrapped around him. And finally, the replay officials had to have the courage to make the call that decided the game -- the right call, by the way. That's why "Rocket" will be talked about for decades in East Lansing, Madison and beyond.
Best call:
Penn State finally starting
Matt McGloin
at quarterback at Northwestern. McGloin played very well in the first half and threw two touchdown passes as the Lions led 27-24 at halftime. Though he cooled off in the second half, Penn State couldn't afford to fall behind and give Northwestern confidence in a game that was ultimately decided by only 10 points.
Most questionable call(s):
Bret Bielema's two timeouts in the final 42 seconds, which allowed Michigan State enough time to pull off the miracle. The first timeout was very understandable, as the Spartans had just fumbled and faced second-and-20 from their own 24. You have to make Michigan State put the ball in the air there and risk a turnover, or you can take more timeouts if they run the ball and try to get it back. The second timeout came after an 11-yard pass
and with 30 seconds left. If the philosophy was to put pressure on Michigan State on second down by calling timeout, then
you might as well do the same thing on third down, right?
However, even if Wisconsin gets a stop there or if the Spartans merely run a safe running play, the Badgers' best options were (A) blocking the punt; (B) hoping Michigan State muffs the snap on the punt; or (C) getting the ball back with about 20 seconds left, probably deep in your own territory since you went for a punt block and not a return. The risks likely outweigh the rewards there. But the bottom line is that Wisconsin should have been able to knock away a Hail Mary pass that had to have everything go right (see above). And Bielema has always been a very aggressive coach, so the same fans who celebrate the 70-point games have to accept that aggression will backfire every now and then.
Big Men on Campus (Offense):
Iowa receiver
Marvin McNutt
and Michigan State quarterback Kirk Cousins. McNutt set the Iowa career record for touchdown receptions early in the win over Indiana, then added two more to pad his lead in the record book. Cousins had one of the best performances of his career in one of his team's biggest games. The senior went 22-of-31 for 290 yards and three touchdown passes, the last of which of course was the game winner.
Big Men on Campus (Defense):
Penn State linebacker Gerald Hodges and Purdue defensive lineman Kawann Short. Hodges had a career-high 14 tackles, plus 1.5 sacks and a 63-yard interception return to set up the game's final score in the Nittany Lions' 34-24 win at Northwestern. Short had 3.5 tackles for loss and two sacks to lead Purdue's defensive charge in a 21-14 victory over Illinois.
Big Man on Campus (Special teams):
Michigan State's Kyler Elsworth. He blocked a punt in the final minute of the first half, which Michigan State recovered in the end zone for a 23-14 halftime lead. It was Michigan State's first blocked punt that resulted in a touchdown since 2006.
Worst hangover:
Illinois. While Wisconsin fans aren't feeling too good this week, either, at least the Badgers can still get to the Big Ten title game and possibly Pasadena. The Illini have seen a 6-0 start fade into two straight losses as their once-powerful offense has mustered just 21 points in eight quarters. The heart of their schedule still remains. Folks in Champaign were talking about a 10-win season and a possible BCS bowl. Now Illinois must right the ship quickly or risk this turning into another mediocre year.
Strangest moment:
It's one thing when the fans in the stands and even the TV commentators don't understand a rule. It's much stranger when both veteran coaches are perplexed by a call that turns out to be correct.
That's what happened in the first quarter of the Nebraska-Minnesota game. The Huskers had a fourth-and-1 from the Gophers' 13-yard line when
Taylor Martinez
made a bad pitch to
Aaron Green
. The ball went off Green's hands and bounced forward to the 11. Minnesota celebrated, assuming -- like most people watching -- that a team can't benefit by advancing a fumble.
Ah, but it wasn't a fumble. Instead, it was technically a backwards pass. Rule 72-4A on page 72 of the NCAA rulebook says that when a backwards pass goes out of bounds between the goal lines, the ball belongs to the passing team at the out-of-bounds spot. That was news to a lot of people.
"I said, 'How can you reward a fumble?'" Minnesota coach Jerry Kill said, recalling his conversation with the head official. "He goes, 'You're right, Coach, but that's the rule.' And he's right."
"I actually didn't understand the rule myself," Nebraska coach Bo Pelini said. "I originally thought, probably like Coach Kill, that it was a fumble."
The play helped Nebraska, which went on to score a touchdown. Are there coaches out there now coming up with designed backward-pass fumbles?
October, 24, 2011
10/24/11
1:00
PM ET
Time to take a look back at Week 8 for the non-AQs:
Quarterbacks rule.
In case you missed it, three quarterbacks had pretty awesome days on Saturday.
Dominique Davis
of East Carolina completed 26 straight passes.
Kellen Moore
of Boise State tied the NCAA record for career wins with 45.
Case Keenum
of Houston became the NCAA career leader for total offense, with the NCAA career passing mark and NCAA career touchdown passing mark in his sights. You can read more about their days
here
.
[+] Enlarge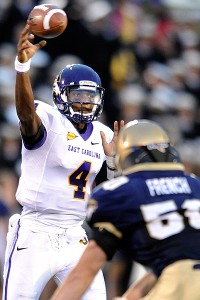 AP Photo/Gail BurtonDominique Davis misfired on only five of his 45 pass attempts in East Carolina's win over Navy.
Southern Miss streaking.
The Golden Eagles are off to their best start since 2000 after an impressive 27-3 win over SMU. They are ranked No. 25 in the coaches' poll, their first ranking since 2004, and have won five straight.
Austin Davis
has been impressive but so has the defense, which has made big-time improvements this season and has been a major reason this team is now the favorite to win the East Division in Conference USA. SMU came into the game with its high-powered passing offense, but Southern Miss totally shut down the Mustangs, who had season lows for points and passing yards (173). Southern Miss had two interceptions, including one returned for a touchdown. After it plays UTEP (4-3) Saturday, Southern Miss does not have a team left on the schedule with a winning record, making it conceivable the Golden Eagles could win out. Who would they face in the C-USA title game? The West is still wide open between Houston (7-0, 3-0), Tulsa (4-3, 3-0) and SMU (5-2, 3-1), but the No. 17 Cougars would have to be the favorite if they keep rolling. They get Rice this Thursday, but close the season with back-to-back games against the Mustangs at home, then at Tulsa on Nov. 26.
Bowl bound:
Southern Miss and Houston are two of five non-AQs already bowl eligible (Boise State, ULL, BYU).
Next up on deck, with games this weekend:
Arkansas State (5-2) vs. North Texas
Toledo (5-3) vs. Northern Illinois (Nov. 1)
Ball State (5-3) at Western Michigan
Northern Illinois (5-3) at Toledo (Nov. 1)
Temple (5-3) vs. Ohio (Nov. 2)
Ohio (5-3) vs. Temple (Nov. 2)
TCU (5-2) vs. BYU (Arlington, Friday)
SMU (5-2) at Tulsa
* Eastern Michigan is 5-3 but the Golden Eagles need to get to seven wins because they have two wins over FCS opponents.
Disappointments:
This has been a popular question during my weekly chats: Which team(s) have been the biggest disappointment. There are three on my list today: Fresno State, UCF and Colorado State. The Bulldogs had WAC nemesis Boise State out of the way this season, the perfect opportunity to win a league championship before moving on to the Mountain West. Instead, they have sputtered to a 3-5 start and just lost to Nevada. Fresno State needs to win three games to become bowl eligible. It should be able to get there, but nothing is a given with the improved play of Louisiana Tech, New Mexico State and San Jose State. Meanwhile, there were those who thought Colorado State had everything it needed to get back to a bowl game, with a young quarterback in
Pete Thomas
and 14 starters returning. But injuries have completed decimated this team, and the Rams are 3-4 and are going to need to pull an upset or two to get to six wins with UNLV, San Diego State, TCU, Air Force and Wyoming left.
Perhaps most disappointing of all, though, has been UCF. Here you have a program coming off the first Top 25 season in school history and a win over Georgia in the bowl game. Many thought that would give this program much-needed momentum and a building block for the future. Instead, the Knights dropped to 3-4 and 1-2 in conference last week after a loss to previously winless UAB, losing to a team that played its backup quarterback and backup running back. Starting quarterback
Jeff Godfrey
was benched in favor of
Blake Bortles
, who nearly led the Knights to a win. Now UCF might have a quarterback controversy on its hands, as coach George O'Leary has declined to say who would start Saturday against Memphis. The Knights have some tough games left and are going to need help to make it back to the C-USA title game.
The heartbreak:
You have got to feel for Navy, one of the most snake-bitten teams in college football. Navy has lost four games this year by a total of eight points. The Midshipmen, Utah State and Indiana are the only three teams in the country to lose four games by eight points or fewer. The heartbreak continued Saturday in a 38-35 loss to East Carolina. The Midshipmen hung tough after losing starting quarterback
Kriss Proctor
(elbow) and had a chance to win in the closing minute. An apparent touchdown pass from
Trey Miller
to
Matt Aiken
was ruled incomplete, and then Navy missed yet another field goal. Aiken appeared to cross the plane after catching the ball at the 2, but the ball came loose as he hit the ground. Replay officials ruled Aiken did not maintain control as the reason for the ruling of an incomplete pass. Navy dropped to 2-5 and is in danger of breaking its eight-year bowl streak.
Helmet stickers
Mike Ball, RB, Nevada.
Ball had a career-high 198 yards rushing and a touchdown on 26 carries in a 45-38 win over Fresno State. He had rushes of 35 and 41 yards, the two longest runs by any Nevada player this year.
Byron Hout, LB, Boise State.
Had a career-high 18 tackles in a 37-26 win over Air Force. His tackle total is the most by a Broncos player since Korey Hall had 15 against New Mexico State in 2006.
Javonti Greene, RB, Eastern Michigan.
Caught a 50-yard pass from
Alex Gillett
in the first quarter and scored on a 50-yard run midway through the fourth quarter for both touchdowns in a 14-10 victory over Western Michigan.
Bobby McCain, DB, Memphis.
McCain had a 79-yard interception for a touchdown in a 33-17 win over Tulane. The interception gave the Tigers the lead for good in their first conference win since beating UTEP 35-20 Oct. 10, 2009.
Bobby Rainey, RB, Western Kentucky.
Rainey ran for 206 yards and a career-high three touchdowns as the Hilltoppers won their first home game since 2008 with a 42-23 victory over Louisiana-Lafayette. Rainey moved into fourth place on the WKU career rushing list with his performance -- the second 200-yard rushing game of his career.
October, 24, 2011
10/24/11
1:00
PM ET
Here's our look back at the weekend that was.
Best offensive player:
Seth Doege, QB, Texas Tech.
Doege quarterbacked the Red Raiders to a huge win over Oklahoma, snapping the Sooners' 39-game home winning streak. He finished 33-of-52 for 441 yards and four touchdowns without a turnover in the 41-38 win.
[+] Enlarge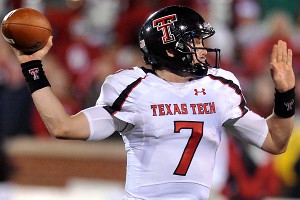 Mark D. Smith/US PresswireSeth Doege threw four touchdown passes in Texas Tech's upset of Oklahoma.
Best defensive player:
Jamie Blatnick, DE, Oklahoma State
. OSU ran away from Mizzou late, aided by big plays from the Cowboys defender. Blatnick tipped two passes and both were intercepted by teammates. He also notched a sack and forced a
James Franklin
fumble for another turnover to help the Cowboys get a big win in the turnover column (4-1).
Best team performance:
Texas Tech.
The Red Raiders were unfazed and went toe-to-toe with the Big 12's top team, beating them in every phase of the game on their home field, and did it while being hampered by injuries, too.
Best game:
Texas Tech 41, Oklahoma 38. The Red Raiders jumped out to a 31-7 third-quarter lead and held off a furious late charge by the Sooners for the win. Great theater in a great nightcap after a less-than-thrilling set of early games. The closest margin of victory was Texas A&M's 16-point win over Iowa State.
Best performance in relief:
Deveric Gallington, C, Texas Tech
. Justin Keown is already playing with one injured knee, and hurt the other early on in the win over Oklahoma. The answer? Gallington, who had never played center. He stepped in admirably, blocking well. And although there were a few shaky snaps, he was an unsung hero in a huge win for Tech.
Second-best performance in relief:
Jared Barnett, QB, Iowa State.
Steele Jantz
struggled early, and the Cyclones turned to Barnett. His completion percentage (44 percent) wasn't high, but he led the team with 66 yards rushing and threw for 180 yards. That's a good sign for the future.
Biggest guts:
Tommy Tuberville, Texas Tech
. Tubs was is full "Riverboat Gambler" mode on Saturday night. He went for a fourth down inside the 5-yard line in the first half and scored a touchdown. He did it again in the second half and failed, as did a fake punt, but it said a lot about Tech's intentions, and the Red Raiders won. Just imagine if they'd won those last two gambles ...
Worst 90 seconds:
Kansas before/after halftime.
Kansas grabbed momentum with a late first-half touchdown to come within 28-14 with :14 left in the half. In the 1:21 of game time that followed, Kansas State's lead grew to 45-14. A 48-yard pass to
Tyler Lockett
set up a field goal. Lockett returned the opening kick of the second half for a score, then scored again after a quick fumble inside the 10-yard line by
Tony Pierson
. Yikes.
Best trend:
Big 12 road warriors.
Every road team (Texas Tech, Texas A&M, Kansas State, Oklahoma State) won on Saturday, the first time that's happened since 2000 and just the third time in Big 12 history.
Worst guest:
Mother Nature.
Once again, she rudely interrupted an already late kickoff in the Big 12. Baylor and Texas Tech have dealt with weather delays, and Oklahoma State didn't kick off a game until after midnight earlier this season. Oklahoma and Texas Tech endured a 94-minute delay before their game, which kicked off at 8:45 p.m. The Sooners ran plays and worked out in their indoor facility while Tech passed the time with peanut butter and jelly sandwiches in the cramped visitor's locker room.
October, 24, 2011
10/24/11
1:00
PM ET
Here's a look back at Week 8 and a fast-forward to Week 9:
The good:
NC State's comeback. Coach Tom O'Brien has won more than he has lost in the second half of the seasons during his tenure at NC State, and Saturday's victory over Virginia was a step toward continuing that trend. The Wolfpack earned their first conference win, a much-needed boost to the program's chances of playing in a bowl game and also keeping one foot in the Atlantic Division race.
The historic:
Clemson's No. 5 ranking in the latest
BCS standings
is the highest the program has ever reached.
[+] Enlarge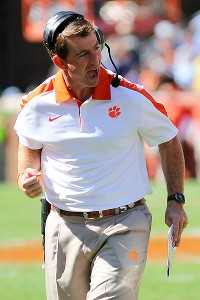 Joshua S. Kelly/US PresswireDabo Swinney's Clemson team, riding its highest BCS rank ever, visits Georgia Tech on Saturday.
The consistent:
Virginia Tech running back
David Wilson
and quarterback
Logan Thomas
. For the third time in four years, a Virginia Tech tailback rushed for more than 1,000 yards in a season. David Wilson rushed for 134 yards on 17 carries in a victory over Boston College, marking the fifth consecutive game he rushed for more than 100 yards. Thomas became the first quarterback under coach Frank Beamer to throw for at least 260 yards in three consecutive games. He also extended his streak without throwing an interception to 118 pass attempts.
The bad:
Georgia Tech's demise. The back-to-back losses to Virginia and Miami have not only put the Yellow Jackets behind in the Coastal Division race, but it has also dropped the team out of the latest BCS standings. With two Coastal Division losses, Georgia Tech will need some help to get back into the ACC race.
The ugly
: BC's ACC record. It is the second consecutive 0-4 start in conference play for the Eagles, and they have played themselves right out of the Atlantic Division race this year.
Top three games of Week 9:
Clemson at Georgia Tech:
This is the granddaddy of November, the showdown many ACC fans have been waiting for since both teams were 6-0 earlier this season. Granted, Georgia Tech's back-to-back losses have diminished the national appeal of this game, but knowing the history between these two programs and the unpredictable nature of the ACC, this could be one of the best games in the country this week. At the very least, a wee bit of offense should be expected on Saturday.
Wake Forest at North Carolina:
The Demon Deacons have a chance to push Clemson for the Atlantic Division title, but the Tar Heels are currently standing in the way. The Deacs are coming off a one-point win on the road against Duke and continue to find ways to win in the fourth quarter. North Carolina is coming off a loss to Clemson in which the Tar Heels turned the ball over six times.
NC State at Florida State:
Is NC State … back? OK, so it was one win, but it was on the road against an ACC opponent and it might have been just what the Wolfpack needed to spark a second-half turnaround. Despite the fact that both of these teams are on the outside of the Atlantic Division race looking in, it could still be crucial to the division standings. With just two league losses each, one of these teams could sneak back into the picture if Wake Forest and/or Clemson falls.
October, 24, 2011
10/24/11
1:00
PM ET
Let us take a look at the good and the bad from Week 8:
[+] Enlarge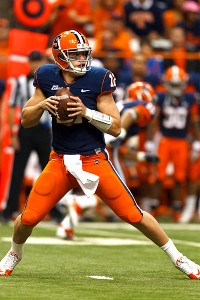 Jason O. Watson/US PresswireRyan Nassib threw four touchdown passes in Syracuse's win over West Virginia.
The good:
Syracuse had one of its best performances in recent memory in its 49-23 upset win over then-No. 15 West Virginia on Friday night. The Mountaineers were the highest-ranked team Syracuse had beaten since a 50-42 triple-overtime win over No. 8 Virginia Tech in 2002. The win was also the first over West Virginia at home since 2001. The 49 points were a series high as well, beating its previous high of 45 points in 1960. Nine different receivers caught passes in the game -- including three tight ends -- and
Antwon Bailey
has reached 100 yards rushing in four straight games. ... Louisville got a much-needed 16-14 win over Rutgers, snapping a four-game losing streak in conference home openers. Chris Philpott made a 52-yard field goal to tie a school record, and is one of just two FBS kickers this season to kick a 50-yard field goal in back-to-back games. The Cardinals had their first 100-yard rusher of the season and a season-high 183 yards on the ground. Louisville also had its first third-quarter touchdown of the season when
Teddy Bridgewater
threw an 18-yard score to
Michaelee Harris
. Louisville recorded three interceptions in a game for the second time since it joined the Big East in 2005. ... Cincinnati is not in the BCS standings, but ranked No. 23 in the coaches' poll. The Bearcats are 20-8-1 as a ranked team. In two straight games, they have rallied from a second-half deficit to win. Against USF, they rallied from two second-half deficits to post the victory. After winning four games last season, they are now bowl eligible for the fifth time in the past six years.
The bad:
West Virginia fans cannot possibly want to relive the loss to the Orange. There was nothing good about it. The Mountaineers gave up their most points ever to the Orange, and their two losses this season have each been by 26 points. The Mountaineers went into the game having allowed seven total sacks. They gave up four to the Orange. Meanwhile, the run game continues to be an area of concern. West Virginia failed to reach 100 yards on the ground for the fifth time in seven games this season, getting just 70 as the game got out of hand. Despite the loss, West Virginia remained ranked in the BCS standings at No. 25, but clearly the defeat was another hit for the Big East. Two non-AQs are ranked higher than the league, and the Big East is the only AQ league with just one team in the standings. ... Rutgers had its four-game winning streak snapped and it was yet another close call. All three of Rutgers' road games have been decided by three points or fewer (Syracuse is the lone win).
Gary Nova
lost his first game as a starting quarterback since eighth grade, but coach Greg Schiano is sticking with him as the starter. Kicker San San Te missed two field goals against Louisville. He has made just 12 of 20 field goals this season. ... USF has lost its three conference games in a variety of ways: starting with a blowout and ending with a heartbreaker. Mistakes have doomed USF in all three. It is now minus-4 in turnover margin in those three games. Penalties have hurt, and coach Skip Holtz was questioned over his clock management on a goal-line situation at the end of the second quarter.
Notable
Stedman Bailey, WR, West Virginia.
Bailey had seven catches for 130 yards and has five straight games with at least 100 receiving yards.
Zach Collaros, QB, Cincinnati.
Collaros threw for 389 yards and three touchdowns over USF. He became only the second quarterback in school history, along with Gino Guidugli, to throw for 5,000 yards and 50 touchdowns in his career.
B.J. Daniels, QB, USF.
Daniels threw for 409 yards in a loss to Cincinnati, a career high and school record for passing yards in a game.
Ryan Nassib, QB, Syracuse.
Nassib passed Troy Nunes and Don McPherson and now ranks fourth all-time in completions at Syracuse with 386. Nassib accounted for five touchdowns (four passing, one rushing) to move into sixth on the school career list for most touchdowns (40).
Mohamed Sanu, WR, Rutgers.
Sanu had 10 catches for 128 yards and a touchdown against Louisville. Sanu has had back-to-back games with at least 10 receptions and 100 receiving yards.
Geno Smith, QB. West Virginia.
Smith threw for 338 yards and two touchdowns to moved into sixth place on the school career passing list (5,664 yards). Smith is tied with Chad Johnston and current WVU athletics director Oliver Luck for fourth in career touchdown passes (43) at the school.
Deonte Welch, WR, USF.
Welch had a career-high 130 yards receiving on five catches against Cincinnati. He went into the game with six catches for 83 yards in six career games.
Week 9 schedule

UConn at Pitt, 8 p.m., Wednesday, ESPN
Syracuse at Louisville, noon, Saturday, Big East Network
West Virginia at Rutgers, 3:30 p.m., Saturday, ABC
October, 24, 2011
10/24/11
1:00
PM ET
It's time to take a look back at the weekend that was in Notre Dame football, as the 83rd meeting with rival USC ended with a
31-17 loss
.
The Good:
There wasn't a whole lot to point to on the field, but the recruiting implications from the first home night game in 21 years could be big. Brian Kelly said Sunday he received positive reactions from the recruits in attendance, with most of the comments centering around the atmosphere and home-field advantage Notre Dame helped to create. Said Kelly: "I think maybe for the first time since I've been here we clearly had that."
The Bad:
Notre Dame rushed for just 41 yards, averaging 2.9 yards per rush. Starter
Cierre Wood
netted just 5 yards on five carries. On the other side, USC's ground game had its best performance of the season, rushing for 219 yards and averaging 5 yards per carry in what to many was a surprisingly impressive performance.
The Ugly:
The yips returned again, with the Irish turning the ball over three times in the second half and killing any chance of completing a comeback from their early 17-0 deficit. The turnovers were particularly frustrating for Notre Dame given the Irish's consecutive no-turnover performances in their previous two games before Saturday's.
Turning point:
The Irish faced a third-and-goal from the 1 and were about to tie the game. But
Dayne Crist
fumbled the snap from Braxston Cave and USC's Jawanza Starling took it back 80 yards for a Trojans touchdown and a 14-point turnaround.
Call of the day:
This will anger and surprise many, but USC coach Lane Kiffin deserves a lot of credit for getting his team to focus on the field. Kiffin often referred to Saturday as an event for Notre Dame, and he was able to get his players to block out all of the extracurriculars and play their best game of the year.
Next up:
Notre Dame hosts a Navy team coming off a
38-35 loss
to East Carolina, its fifth consecutive defeat after a 2-0 start. Nonetheless, the Irish cannot overlook the Midshipmen, having dropped three of the last four meetings between the two. Navy also boasts the No. 3 rushing game in the nation.