NCF Nation:

weekend rewind 102912
October, 29, 2012
10/29/12
11:00
AM ET
Our weekly check of who's hot and who's not in the SEC:
GLOWING EMBERS
[+] Enlarge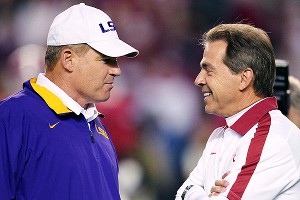 Marvin Gentry/US PresswireClose contests have been the norm when LSU's Les Miles faces Alabama's Nick Saban.
Alabama-LSU rivalry:
It's become the best rivalry in college football and the rivalry that means the most each year in the national championship race. Saturday's matchup in Baton Rouge will be the third time these two teams have met in the past 12 months. They're deadlocked at 3-3 in their past six meetings, although Alabama won 21-0 in the BCS National Championship Game to cap the 2011 season. That's the only time in the past six meetings, dating back to Nick Saban's arrival at Alabama in 2007, that these games haven't come down to the final few minutes. Alabama and LSU are each 31-4 over their past 35 games. Two of Alabama's losses during that span have been to LSU, and one of LSU's losses was to Alabama. Between them, Alabama and LSU are 26-8 against nationally ranked opponents over their past 35 games. This truly is a battle of college football's titans.
HOT
Coaches' seats:
The way it's looking right now, there could be four coaching vacancies in the SEC this season. It's a given that John L. Smith won't be back at Arkansas, and the odds are against Auburn's Gene Chizik, Tennessee's Derek Dooley and Kentucky's Joker Phillips returning. Auburn, Tennessee and Kentucky are a combined 0-17 in the SEC.
NOT
Auburn's defense:
There were some ugly moments for Auburn's offense earlier this season, but the Tigers' defense was roasted for 671 yards in the 63-21 shellacking by Texas A&M. It's the most yards Auburn has ever allowed in a game, and it's the most points the Tigers have allowed in a game since a 68-7 loss to Georgia Tech in 1917.
HOT
Gruden rumors:
If Jon Gruden is not the next coach at Tennessee, the entire state of Tennessee will have to go on depression medication. The Vols' fan base has "Chucky" all but hired, and there are reports that some Tennessee fans have begun naming their newborn kids "Gruden." OK, maybe that last part isn't true. At least, we hope it's not. But Gruden Mania has taken on a life of its own in Big Orange Country.
NOT
Marcus Lattimore's luck:
Another season, another knee injury for the South Carolina running back. Nobody ever said football was fair, but it's nauseating that a player (and a person) as first-class as Lattimore would have such horrible luck. If anybody can make it back from this latest injury, which was a dislocated right knee and ligament damage, it's Lattimore. They don't come any finer than No. 21.
HOT
Ole Miss coach Hugh Freeze:
The coach of the year vote in the SEC this season will be an interesting one. Alabama's Nick Saban and Florida's Will Muschamp certainly will receive consideration, and so should Mississippi State's Dan Mullen and Texas A&M's Kevin Sumlin. But if Ole Miss manages to get bowl-eligible, my vote goes to Freeze. Nobody gave the Rebels a chance to be playing in the postseason this year, not with the number of young players they're playing and not with Freeze taking over a program that had lost 14 straight SEC games. He and his staff have done an exemplary job.
NOT
Florida's ball security:
It's amazing that Florida was even in the game against Georgia when you consider that the Gators had six turnovers. They lost four fumbles and had two interceptions. You have zero chance to win a big game when you turn it over that many times, and the frustrating thing for the Gators was that they'd turned it over only four times in their first seven games.
HOT
Alabama's discipline:
Much has been made about Alabama's talent, and there's no question that the Crimson Tide have a roster full of great players. But their edge is built around their discipline, their keen awareness on the field and the fact that they simply don't give you anything easy. It's uncanny how few mental errors they make and how they're always in the right spots, blocking the right people and making the right checks. Alabama is the best team in college football and also the best-coached team in college football.
NOT
Empty seats:
Did you see the shot of Jordan-Hare Stadium on Saturday in the fourth quarter? It looked like a football ghost town. Imagine what it's going to be like this Saturday for the New Mexico State game. The same goes for Neyland Stadium when Troy comes to town this weekend. Anybody looking for some cheap tickets?
FREEZER BURN
Tennessee's defense:
The Vols have played some rock-solid defense during their proud history and won a national championship in 1998 thanks to a defense that will forever be the measuring stick on Rocky Top. This 2012 defense will also be remembered ... for its ineptitude. It's inexplicable how bad the Vols are on defense right now, how confused they look, how eternally out of position they are and how they're the perfect recipe for the opposing quarterback to have a career day. Tennessee is last in the SEC in both total defense and scoring defense. In five SEC games, the Vols have given up a staggering 211 points, and they've allowed at least 450 yards of total offense in all five games. They give up big plays like most people give out candy on Halloween. Fifty times this season (that's right, 50), they've given up a play that has gone for 20 yards or longer. It's been a complete disaster, and even if Derek Dooley survives, the Sal Sunseri experiment as defensive coordinator would almost certainly seem over. The Vols managed to give up a touchdown pass to South Carolina last week on a third-and-goal play from the 26. That's not the worst part. The worst part was that Tennessee had a single safety back on the play, which pretty well sums up the sad state of this Tennessee defense right now.
October, 29, 2012
10/29/12
10:00
AM ET
One last look at the Irish's biggest weekend in recent memory.
The good
: Notre Dame proved it is a legitimate national title contender by escaping Norman, Okla., as 30-13 winners. The Irish are 8-0 and No. 3 in the current BCS rankings. And — something that's been overlooked during this dream run so far — the program has won eight games in three straight years for the first time since 1991 to '93. Remember when
that
seemed like a big talking point during the spring?

The bad
: The Irish gave up a rushing touchdown for the first time this season and the first time since last year's senior-day win over Boston College. How dare they.
The ugly
: Sooners WR
Kenny Stills
mouthed off to Irish CB
Bennett Jackson
after Stills' 34-yard touchdown catch on Oklahoma's last drive while down by 17 … except the touchdown was overturned and he was marked out of bounds at the 1. Then Stills tossed
KeiVarae Russell
on the next play on another touchdown catch … that was also brought back because of a blatant offensive pass interference call.
Landry Jones
was then sacked by
Prince Shembo
at his own 22, a fitting closure to the game.
Did you notice?
: Three-time NBA scoring champ Kevin Durant was on the sideline — the Notre Dame sideline, the former Texas Longhorn
clarified
. (He did not
sound as enthusiastic about the Thunder's trade of James Harden during the night
. … Nor
did Sooners center Gabe Ikard
.)
Next up
: Notre Dame hosts a Pitt team that may be as erratic as any team in the country. The Panthers have lost at home by double digits to an FCS team (Youngstown State), but they have also looked great, particularly in a rout of Virginia Tech. Last year's 15-12 Irish win at Heinz Field was not easy on the eyes. The Panthers are 4-4 under first-year coach Paul Chryst.
October, 29, 2012
10/29/12
10:00
AM ET
Backbackbackbackback ....
Team of the week:
Nebraska, Ohio State and Michigan State all notched big wins on Saturday. But a team that rarely sniffs this space gets the honor this week: Indiana. The Hoosiers deserve a nod after winning their first Big Ten game since 2010 with a two-touchdown triumph at Illinois. Sure, the Illini are pretty awful. But Indiana has been close all year long and finally got over the hump with a road win where its defense played well. And with Wisconsin losing, the Hoosiers are still very much alive for the Leaders Division title, as crazy as that might sound. The best news for head coach
Kevin Wilson
might be that his team wasn't overly exuberant about beating Illinois. "I think they expected it," he said. "They weren't just jumping up and down. We talked about how you want to get used to that feeling. We've been doing a lot of things right and it's nice to get a Saturday scoreboard to go our way, and we want a lot more of those."
Game of the week:
A much anticipated Saturday featuring many closely-matched teams did not actually produce any truly great games. The best of the bunch was Michigan State's 16-13 overtime win at Wisconsin, though the two offenses made that one hard to watch for long stretches. But at least there was a good finish, finally, by the Spartans, who drove the field for a tying touchdown with 1:08 left and then won in the first overtime. "We've been close, and we just kept coming," Michigan State coach Mark Dantonio said. "What I'd like to say is basically, 'Hey, we're not going to quit.'"
Biggest play:
We go back to East Lansing for
Andrew Maxwell
's game-winning touchdown pass in overtime to
Bennie Fowler
on third-and-8. It was a great back-shoulder throw by Maxwell and an even better grab by Fowler, who had to adjust to the ball while falling backward. Both players had drawn heavy criticism this season for their play, so it was nice to see them both succeed in a key moment. "This could be the spark that we need to kind of carry us over and propel us the rest of the way," Maxwell said.
[+] Enlarge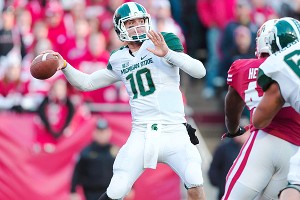 Jeff Hanisch/US PresswireMichigan State quarterback Andrew Maxwell came up big for the Spartans against Wisconsin.
Best play:
The stat sheet just says it was a 1-yard touchdown run by Ohio State's
Braxton Miller
. But anyone who saw the play knows it was a piece of performance art. Miller
stunned Penn State and his own teammates
with his contortions after he and
Carlos Hyde
looked absolutely stuffed on a goal line option-read play. Miller's twisting, mid-air juke job even had his own coaches going "Oh, my god" on their headsets. We need some "The Matrix" style slow-motion camera work to truly appreciate the most outstanding 1-yard run of the season. Whoa, indeed.
Best call:
The Nebraska defenders turned down an offer to have their blackshirts handed out after last week's win at Northwestern. They wanted to show consistency first, and they did so with a signature performance against Michigan. The Wolverines mustered only 188 yards and failed to score a touchdown (for the second straight week) in Nebraska's key 23-9. Yes, the injury to
Denard Robinson
was a huge factor, but it wasn't like Michigan was moving the ball at will before that, and the Huskers knocked him out of the game. Nebraska tortured Wolverines backup
Russell Bellomy
, who completed only 3-of-16 throws and had three interceptions. The blackshirts were well earned with this one.
Big Man on Campus (Offense):
Northwestern QB
Kain Colter
. When you call out your own offense for lacking an identity, as Colter did last week to ESPN.com, you'd better back it up. Colter sure did, running the ball 26 times for 166 yards and three touchdowns and throwing for 80 yards and a score in the Wildcats' 28-17 win over Iowa.
Big Man on Campus (Defense):
Michigan State DE
William Gholston
. The highly-talented junior hasn't always lived up to sky high expectations, but he was all over the place against Wisconsin. Gholston had 4.5 tackles for loss and a sack and put the hit on quarterback
Joel Stave
that changed the game (and possibly both teams' season).
Big Man on Campus (Special teams):
Ohio State's
Adam Griffin
has been a special teams ace, and he made one huge play at Penn State. The Nittany Lions called for a fake punt on the Buckeyes' 43, and punter
Alex Butterworth
threw to
Derek Day
, who was open for the first-down reception. But Griffin hustled back to break up the pass, and Ohio State would then march in for a touchdown that made it 21-10. "I thought that was the turning point of the game," Urban Meyer said afterward. Griffin's dad, two-time Heisman winner Archie Griffin, had to be proud.
Big (Fresh)man on Campus:
Get ready to see a lot of
Philip Nelson
highlights over the next three or four years. Minnesota's precocious true freshman was tremendous in just his second college game, completing 11 of his first 12 passes and going 15-for-22 for 246 yards with three touchdowns, all in the first half, in a 44-28 win over Purdue. Nelson was so good that Gophers fans are
asking what took so long
for him to play.
Worst hangover:
Wisconsin. Just when it seemed like the Badgers had bounced back and were ready to shoot up the Top 25, their offense got completely shut down against Michigan State. Worse, reports say Stave is out for the year with a broken collarbone, and backup
Danny O'Brien
was once again wildly ineffective at quarterback. Wisconsin probably will still go to the Big Ten championship game, but that beeping you hear is the sound of the Badgers backing their way into Indy.
Strangest moment:
Midway through the second quarter in the Michigan State-Wisconsin game, we saw one of the ugliest series you'll ever (hopefully) witness.
First, the Spartans blocked a punt after
Drew Meyer
took his eye off the snap and a Keystone Cops reenactment ensued. Michigan State ook over on the Badgers' 11-yard line, in great position to score. Except that the Spartans possession went like this: holding penalty, incomplete pass, false start, sack, incomplete pass, delay of game penalty. When it was all said and done, Michigan State had lost 23 yards and somehow winded up punting on fourth-and-33. That "drive" appeared to encapsulate all of the Spartans' problems this season in one horrific sequence, but at least they solved them late for the win.
October, 29, 2012
10/29/12
10:00
AM ET
Here's what I saw on a Saturday full of surprises across the Big 12 in Week 9:
Best offensive performance:
Steele Jantz, QB, Iowa State.
Cry about Baylor's defense all you want, but Jantz had to complete the passes. He had a huge career day, completing 36 of 53 passes for 381 yards and five touchdowns with an interception in ISU's 35-21 win over Baylor. He also ran for 54 yards on 10 carries.
[+] Enlarge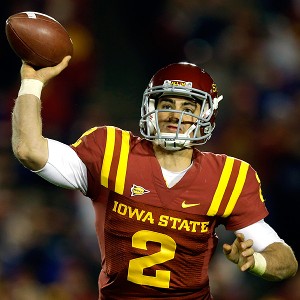 AP Photo/Charlie NeibergallSteele Jantz threw five touchdown passes in the Cyclones' 35-21 victory over Baylor.
Best defensive performance:
Elisha Olabode, S, TCU
. The Frogs safety had a huge day with 10 tackles and a forced fumble. His biggest play, though, was an 11-yard interception return for a touchdown that put TCU up 7-0 early.
Best team performance: Kansas State.
Another top-15 team, another dominant performance from the Wildcats, who rode a huge second-half surge to a head-turning 55-24 win over Texas Tech. K-State made it look easy in the second half.
Best game: Texas 21, Kansas 17.
This one was unwatchable for the first three-and-a-half quarters, but you've got to love some late drama. No other Big 12 game this week had it. KU kicked a go-ahead field goal with 2:28 to play, but
Case McCoy
entered in relief and rallied the Longhorns to a dramatic comeback, highlighted by a fourth-down conversion to
Jaxon Shipley
. More on that later.
Best quote: Tony Jefferson, S, Oklahoma.
"I hate this. I hate this feeling." Sometimes, a few words says all you need to know. Simple, but poignant from the Sooners' star after a frustrating 30-13 loss to Notre Dame at home.
Worst play: Kansas State's latest red zone disaster.
Facing a third-and-goal and the game tied at 10, Kansas State handed the ball off to
Angelo Pease
, who stopped short of the line of scrimmage and attempted a jump pass. The only problem? He was hit as he threw it, and it was some sort of weird two-handed, overhead toss that fell incomplete. Ugly stuff, and this is the second time this year K-State has earned this nod for a play in the red zone. Earlier this year,
Collin Klein
attempted a behind-the-back jump pass for a huge loss. At least K-State made the field goal this time. It missed it after the disaster against Miami.
Dirtiest play: Cyril Richardson, OL, Baylor.
There are plenty of ways to get a player off you. Kicking them in the groin should be nowhere on that list. Richardson kicked upward and connected with the groin of Iowa State's
Brandon Jensen
, earning himself an ejection and helping prevent the Bears from scoring on the early fourth-quarter drive.
Best play: Case McCoy x 2.
The first ignited a game-winning drive that hardly even started. McCoy found Shipley over the middle for an 18-yard gain to keep the Horns alive. Later in the drive, he found
Mike Davis
over the top for a 39-yard gain to set up
Joe Bergeron
's game-winning touchdown in the Horns' 21-17 win over Kansas.
Best special-teams performance: Quinn Sharp, P/K, Oklahoma State.
Sharp made five field goals and pinned TCU inside its 20-yard line on two of his five punts. Nice day.
Worst team performance: Texas.
Even with the win, I can't let the Horns off the hook here. Kansas has lost 17 consecutive Big 12 games now, but outplayed the Horns and held them to just seven points over the first 3 1/2 quarters on Saturday. Texas had 60 more penalty yards and needed a dramatic rally, despite winning the turnover battle 3-1. It also made an inexplicable switch to McCoy after
David Ash
struggled early. Once McCoy was in the game, Texas ran seven consecutive running plays on a touchdown drive, and now may have a quarterback controversy on its hands. That said, it should just play Ash.
October, 29, 2012
10/29/12
10:00
AM ET
Down goes another undefeated. Here's the best, the worst and everything in between of the weekend that was in the Big East.
[+] Enlarge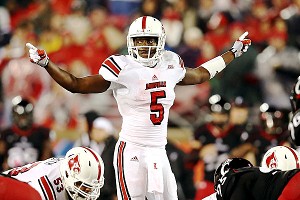 Andy Lyons/Getty ImagesTeddy Bridgewater and the Cardinals remain the final undefeated team in the Big East after their overtime win over Cincinnati.
The good
: The ball is in Louisville's court. The Cardinals are the lone undefeated Big East team after withstanding Cincinnati in overtime Friday night and watching Rutgers lose the next day. Louisville is the Big East front-runner, and it would be in the conference's best interest to see a team like the Cardinals win out and carry its flag nationally.
The bad
:
Munchie Legaux
will want that overtime interception back, especially in light of his comments earlier in the week about being better than
Teddy Bridgewater
. Temple's second straight 20-plus-point loss has knocked the Owls off the high of a two-game winning streak to start Big East play. And what else can we really say about USF at this point?
The ugly
:
Gary Nova
, the reigning Big East offensive player of the week, threw six interceptions, and Rutgers turned it over seven times in a 12-point home loss to Kent State for its first defeat of the season. They don't make them much uglier than this one.
First-half quarterback play, anyone?
What's up with the slow starts from some of the conference's best signal-callers? Four of Nova's six picks came in the first half. Legaux and Bridgewater combined to go 13-of-37 for 208 yards with three picks and no touchdown passes in the first half of Cincinnati's tilt with Louisville.
Ryan Nassib
threw all four of his touchdown passes in the second half, which began with his team in a 20-point hole.
Uni watch
: Kent State's all-everything back
Dri Archer
had to change jersey numbers after his uniform was ripped to shreds during a second-quarter play. He came back in as No. 26 and reached the end zone for the 16th time this season. Pitt players, meanwhile, get names on their jerseys this coming weekend after beating Temple.
#MACtion
: Kent State's 35-23 win at undefeated Rutgers helped the Mid-American Conference improve to 4-4 against the Big East this season. It's worth noting,
as Andrea did Sunday
, that Temple made the jump from the MAC to the Big East this year and couldn't keep up with Rutgers at home one week earlier.
USF collapse
: Another week, another Bulls collapse. USF has now dropped three games with the final possession on the line, the latest a home loss to Syracuse that saw the Bulls surrender a 20-point halftime lead. USF has now lost six straight games.
October, 29, 2012
10/29/12
10:00
AM ET
Here's a look back at the week that was in the ACC …
The good:
Boston College's first ACC win. The Eagles ended a five-game losing streak with a 20-17 win over Maryland on Saturday. It was also the first win over an FBS opponent this year.
The bad:
Wake Forest's defense. The Deacs allowed Clemson 534 total yards and to convert on 10 of 17 third downs.
The ugly:
Georgia Tech's offense on third downs. Oh-fer-10.
The great:
Quarterbacks. NC State quarterback
Mike Glennon
threw for a career-high 467 yards and tied a school record with five touchdowns. Clemson quarterback
Tajh Boyd
threw for a school-record 428 yards with five touchdown passes. FSU quarterback
EJ Manuel
threw for 282 yards and two touchdowns against Duke. UNC quarterback
Bryn Renner
completed 30 of 47 passes for 358 yards, one touchdown and one interception.
[+] Enlarge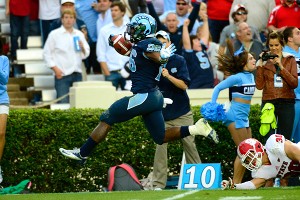 Bob Donnan/US PresswireGiovani Bernard capped off a day in which he gained 230 yards from scrimmage with a 74-yard game-winning punt return.
The spectacular:
Returns for TDs. UNC running back
Giovani Bernard
returned a punt 74 yards for a touchdown to beat NC State with 13 seconds left in the fourth quarter. On only his third punt return ever, FSU sophomore
Tyler Hunter
returned it 75 yards for a touchdown against Duke, the Noles' longest punt return of the season. And Georgia Tech sophomore
Jamal Golden
had a 97-yard kickoff return for touchdown Saturday against BYU, and finished with 174 yards on his five kick returns. The kick return for a touchdown broke a streak of 177 games without one for Georgia Tech.
The quote:
"It feels great, just getting a win it feels so good. You can feel the atmosphere in the locker room. Everyone's just so excited about it. It doesn't fix everything, but it just feels awesome. We're 1-0 today, that's how I think about it." -- Boston College WR
Alex Amidon
.
The quote II:
"We feel like we're ready to prove everybody wrong, that we had that one loss but we let that go and we're ready to move on," FSU cornerback
Xavier Rhodes
told NoleNation's David Hale. "To prove to everybody this is the team they thought it would be."
The record:
FSU kicker Dustin Hopkins' 56-yard field goal in the fourth quarter was a career-best and also set a new ACC record for career field goals with 81, breaking former Maryland kicker Nick Novak's mark of 80 set from 2001-04. The 56-yard field goal also tied for the second-longest in FSU history with Sebastian Janikowski, who made a 56-yarder against Wake Forest in 1997.
The milestone
: Clemson became the second ACC team in history to score at least 37 points in seven straight games.
The stat:
UNC and NC State combined for 1,104 yards, the most in a UNC game since 2002, when the Tar Heels and Arizona State combined for 1,135 yards in a 38-35 Carolina victory.
The streaks:
BC's losing streak has ended, Duke's losing streak against FSU was extended to 18 games. UNC ended a five-game losing streak to rival NC State.
October, 29, 2012
10/29/12
10:00
AM ET
Taking stock of Week 9 in the Pac-12.
Team of the week:
Three fantastic choices this week -- all with strong cases. UCLA's win over Arizona State was huge, as was Washington's win over Oregon State. But the kudos go to Arizona for taking haymakers from the best wide receiver in the country, getting back up and delivering some shots of its own and eventually upending USC. Sure, the Wildcats might have screwed over Oregon. And yes, their win was a surgical and devastating carpet bombing to the landscape of the South. So be it. Great game, great win.
Best game:
Not surprising, the three candidates above for team of the week are also in the mix for game of the week. This time the pick goes to UCLA-ASU for their back-and-forth slugfest. Anytime a game is won on the final play, it's going to get the nod.
[+] Enlarge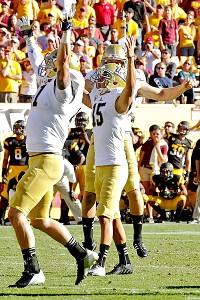 AP Photo/Matt YorkKa'imi Fairbairn's clutch field goal lifted UCLA over Arizona State.
Biggest play:
A true freshman kicked a 33-yard pitchfork dead center into the heart of the Sun Devils and lifted the Bruins to a victory on the road. Clutch, Mr.
Ka'imi Fairbairn
. Very clutch indeed.
Offensive standout:
In a losing effort,
Marqise Lee
set the new standard for Pac-12 wide receivers. Reflect on how many A-list receivers have come through this conference and you'll start to appreciate his performance in the loss to Arizona. Lee broke the Pac-12 record with 345 yards receiving on 16 catches and scored two touchdowns.
Defensive standout:
Some outstanding candidates this week, but the nod goes to Arizona linebacker
Marquis Flowers
, who had a pair of interceptions and forced a fumble in the Wildcats' home upset of USC. No game has sent more shockwaves through the conference than the Wildcats' come-from-behind win.
Special teams standout:
Not once, but twice, Utah's
Reggie Dunn
returned kickoffs for 100-yard touchdowns in the Utes' win over Cal. Tough to do once, really hard to do more than once in a season and practically unheard of to do it twice in the same game.
Special teams standout II:
De'Anthony Thomas
and his 73-yard punt return was just plain silly. You probably shouldn't field a rolling/bouncing ball with your back to the opposing end zone. But hey, it's DAT. Thomas rolled to his right (eventually decided he'd run upfield), got bottled, stopped, cut, darted and then blasted his way down the sidelines for a touchdown. DAT at his finest.
Smiley face:
Once again, half of the conference is ranked. With UCLA's and Arizona's victories, they are back in the Top 25, setting the stage for a fantastic showdown Saturday in Pasadena.
Frowney face:
Oregon State and USC collapsed on the road, and they looked bad doing it. And while it's nice that the conference now has six ranked teams, it has only one in the top 10.
Thought of the week:
Not sure if there is much of a call for an open quarterback competition at Oregon State this week after
Sean Mannion
's four-interception performance. If there is, there shouldn't be. If you checked out this week's Game Day Final, I broke down the numbers of opposing quarterbacks at The Clink this year, and Mannion isn't the only one who has struggled there. So far, four quarterbacks are completing only 50 percent of throws for an average of 167.5 yards with three passing touchdowns to seven interceptions. Mannion has earned the benefit of the doubt for more than just one shaky performance.
Random thought of the week:
Really good pie is better than really good cake.
Question of the week:
Does Cal coach Jeff Tedford make it through the end of the season? Just when it seemed as though the Bears might get a little traction after beating UCLA and Washington State, their fall the past two weeks has been swift and painful. This is typed with a heavy heart because the Pac-12 blog is a fan of Tedford the man. But it's tough to see Tedford the coach and his Oakleys walking the sideline in Berkeley next season.