NCF Nation:

Weekend-rewind-110711
November, 7, 2011
11/07/11
3:24
PM ET
I'd say the Bayou is still hot and rocking.
Who else is hot (or not)? As we do every Monday, we find out:
GLOWING EMBERS
[+] Enlarge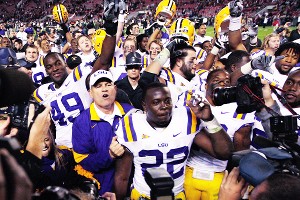 Streeter Lecka/Getty ImagesLes Miles has LSU within reach of playing for a second national title in the past five years.
Les Miles:
He's starting to become a cult hero in addition to being one of the best football coaches out there. What's not to like about Miles? He wins big games. He's genuinely a nice man. He chooses family over football. He tells on himself when one of his players knocks him down on the way to the field. He's must-see TV any time he's speaking. No, he's not perfect and has had his moments where we've all scratched our heads and written it off as a "Les moment." But, boy, does he look like a barrel of fun to play for, and his players swear by him. Here's the other thing: He's guided this team through one land mine after another this season, and the Tigers are in great shape now to play for their second national championship in the past five years. There might have been a time when even the LSU faithful weren't quite sure about Miles. But they'd all agree now: The Hat is hip.
HOT
LSU punter Brad Wing:
His idea of football might be a little skewed coming from Australia, but where would this LSU team be without him? Wing's 73-yard punt changed the complexion of the game in the 9-6 overtime victory against Alabama, and he kept the Tigers in it by pinning the Crimson Tide inside their 5 twice.
NOT
Alabama's discipline:
Everybody's going to blame the Alabama place-kickers, but the Crimson Tide made too many mistakes to win the LSU game. They had two interceptions, a costly penalty on Mark Barron's interception return, and go back and look at how many times they had penalties or negative plays any time they moved inside the LSU 40.
HOT
Arkansas receiver Jarius Wright:
Always a good player, Wright has become a great player for the Hogs and is having just a fabulous season. He caught two more touchdown passes in the win over South Carolina to go along with 103 receiving yards and leads the SEC with nine touchdown catches.
NOT
South Carolina's defense:
After going five consecutive games without giving up more than 16 points, South Carolina came back to reality against Arkansas. The Hogs rolled 44-28 and piled up 435 yards of total offense. One of the touchdowns was a kickoff return, but the Gamecocks were just never able to consistently stop the Hogs.
HOT
Georgia quarterback Aaron Murray:
Throwing five touchdown passes in one game is always an accomplishment. But Murray threw five in the second quarter last week in the win over New Mexico State. Murray, a sophomore, now has 47 touchdown passes for his career. The SEC career record is 114 by Florida's Danny Wuerffel. The Georgia career record is 72 by David Greene.
NOT
SEC quarterbacks:
This won't be a season to remember for overall quarterback play in this league. Injuries have played a big part. Throw in some youth, too, and then in some cases, teams simply haven't been able to recruit and/or develop enough good quarterbacks. Playing against some of the defenses in this league isn't a quarterback's idea of nirvana, either.
FREEZER BURN
Nutt's end:
For a guy who's spent 14 seasons in the SEC as a head coach, this isn't the way it was supposed to end for Houston Nutt. He's not being retained by Ole Miss after four seasons, although he will coach these final three games. Two losing seasons in a row is what did him in, not to mention a 12-game SEC losing streak. There are few places in the SEC where anybody could survive back-to-back losing seasons when they're in Year No. 4 on the job and still be around for Year No. 5. The unfortunate thing for Nutt is that he guided the Rebels to back-to-back nine-win seasons his first two years on the job, including Cotton Bowl victories each year, but it's doubtful many people will remember those first two seasons. They will remember how it all ended for Nutt, who's been successful before and will be again. He'll get another shot somewhere else and deserves another shot.
November, 7, 2011
11/07/11
1:01
PM ET
Taking stock of the 10th week of games in the Pac-12.
Team of the week
: UCLA and coach Rick Neuheisel were left for dead on Oct. 20 after an embarrassing loss at Arizona in which ESPN commentators questioned the Bruins' pride. Since then, however, the Bruins have won two in a row, including nipping No. 19 Arizona State on Saturday. That 29-28 win means the Bruins control their own destiny in the Pac-12 South Division. Win-out, and they play for the conference championship on Dec. 2.
Best game
: The UCLA-Arizona State game wasn't decided until Sun Devils kicker Alex Garoutte missed from 46 yards on the game's final play. It was Garoutte's third missed field goal. The game featured five lead changes.
[+] Enlarge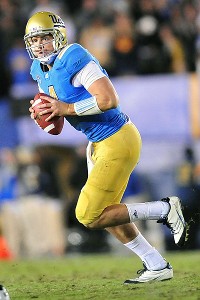 Gary A. Vasquez/US PresswireBruins quarterback Kevin Prince delivered in the clutch in UCLA's win against Arizona State.
Biggest play
: Facing a third and 29 from the Arizona State 39 on a desperation drive, UCLA quarterback
Kevin Prince
found
Nelson Rosario
for 33 yards to the Sun Devils' 6-yard line. Three plays later, the Bruins scored the winning points.
Offensive standout
: USC quarterback
Matt Barkley
set a school record with six touchdown passes in the Trojans
42-17 win
against Colorado. He completed 25 of 39 throws for 318 yards with an interception. His 28 touchdown passes ranks first in the Pac-12 and third in the country.
Defensive standout
: Oregon safety Eddie Pleasant grabbed two interceptions in the
34-17 win
against Washington. His returning those picks for 65 combined yards also helped set up two short Ducks touchdown drives.
Special teams standout
: Oregon State punter Johnny Hekker averaged 44 yards on five punts against Stanford, with three downed inside the 20, including one at the Cardinal 8-yard line and another at the 5-yard line. He also had a 65-yard punt.
Smiley face
: Oregon and Stanford took care of business -- last weekend and all season -- to set up the Pac-12 game of the year, a matchup of top-10 teams with national title implications in Palo Alto. It looked like a redletter date in the preseason, but both teams had to avoid upsets to make it happen. They did.
Frowny face
: Arizona State had a chance for a special season. The schedule set up for a 10-2 regular season and a South Division championship. Such a finish likely would have landed it in or at least near the top-10. And a win in the Pac-12 championship game would have earned them a Rose Bowl berth. The Sun Devils might, indeed, still win the South, but the loss at UCLA put an unexpected smirch on the season. And certainly made the Sun Devils, who are no longer ranked, look less like a team that could beat the eventual North champion.
Thought of the week
: Zzzzzzzzz. Oh, hey... Sorry. I was just watching a replay of last weekend's game of the century between Alabama and LSU. Great defenses yes. Some of the best we've seen in college football, no doubt. But, really, let's admit what's unquestionably true. The great numbers of SEC defenses are due, in part, because of bad -- terrible in some cases -- SEC offenses. I'd pick LSU and Alabama to beat any Pac-12 team. And, yes, extra time to prepare makes those SEC defenses particularly valuable in BCS bowl games. But I guarantee five conference teams -- Oregon, Stanford, USC, Arizona State and Washington -- would at least score a freaking touchdown against either one.
Questions for the week
: Speaking of games of the century, what will the Pac-12's version at Stanford yield? Will
Andrew Luck
and the Cardinal come out and make a Heisman Trophy and national title statement? If the Cardinal beats Oregon worse than LSU beat Oregon -- 13 points -- then that will raise some national eyebrows. And if the Ducks win decisively, might they become a darkhorse for the national title discussion? And when the smoke clears, will the Pac-12 be well-positioned, at least, to earn two BCS bowl berths?
November, 7, 2011
11/07/11
1:00
PM ET
Upon further review ...
Team of the week:
Northwestern. In a season in which hardly any of the top contenders can win on the road, the Wildcats went into Lincoln and upset then-No. 10 Nebraska 28-25. After a rough season, including a five-game losing steak, Northwestern is back in position to make a bowl game if it can win two of its final three at home.
[+] Enlarge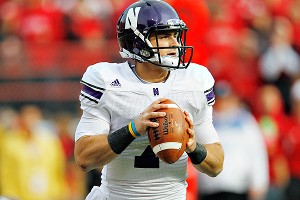 Bruce Thorson/US PresswireDan Persa and the Wildcats are in position to become bowl eligible with at least two more wins.
Game of the week:
Iowa 24, Michigan 16. Four of the five Big Ten games were in doubt until late in the fourth quarter, which was surprising given how some of the matchups looked on paper. The Iowa-Michigan game wasn't the best-played game of the day, but it had as much of an impact on the league title race as any. And the excitement level at the end was unparalleled throughout the league as Michigan had four chances from the 3-yard line to score and set up a potential two-point conversion try. Speaking of which ...
Biggest play(s):
All four plays on that goal line stand were huge, but particularly the ones on second and fourth down. On second down,
Junior Hemingway
made an incredible adjustment on a
Denard Robinson
pass and appeared to catch the ball at the back of the end zone. The officials on the field ruled it incomplete, however, and the replay officials let the call stand. Hemingway certainly thought it was a catch, tweeting after the game, "I caught that 1 no If ands or buts about it!!!!" On fourth down, Robinson threw a slant to
Roy Roundtree
that was broken up by Iowa's B.J. Lowery, who looked like he made contact well before the ball arrived. The Wolverines didn't like either call, but Brady Hoke didn't publicly complain about either.
Bottom line: Michigan shouldn't have put itself in position to need help from the officials in the end.
Best call:
Pat Fitzgerald's decision to go for it on fourth-and-one from the Nebraska 18 with 5:05 left. The Wildcats led only 21-18, so a field goal there could have put them in position to lose if the Cornhuskers answered with a touchdown. "There's no question we lost momentum," Fitzgerald said. "I just felt it was time to go for the win."
The call was perfect, too, as quarterback
Kain Colter
kept the ball on an option play for a four-yard gain. Northwestern went on to score a touchdown in an impressive 66-yard drive that chewed up more than seven minutes of clock and featured 13 straight running plays.
Big Men on Campus (Offense):
Northwestern's Kain Colter and Wisconsin's
Montee Ball
. Colter led the Wildcats on three straight touchdown drives in the second half after starting quarterback
Dan Persa
left with an injury. Colter had 229 yards of total offense (57 rushing, 115 passing, 57 receiving) and three total touchdowns. Ball ran for a career-high 223 yards, the most by a Badgers player since 2007, on just 20 carries. He also scored three touchdowns, giving him a school-record 24 on the season. The Big Ten single-season record is 26.
Big Man on Campus (Defense):
Wisconsin linebacker Chris Borland. The sophomore had 11 tackles, including 3.5 for loss, plus an interception and two forced fumbles in the win over Purdue. The Boilers had only 284 yards and no second-half points.
Big Man on Campus (Special teams):
Michigan State punter Mike Sadler. The freshman placed four of his five punts inside the 20-yard line and had two downed inside the Minnesota 10-yard line with under eight minutes to play. Field position proved to be a big factor in the Spartans 31-24 win.
Worst hangover:
Nebraska. The Cornhuskers were ranked No. 10 and in control of their own destiny in the Legends Division. After the stunning upset, they now need help to get to Indianapolis, and that's if they can win on the road at Penn State and Michigan, not to mention the finale against Iowa. The fact that Nebraska's offense had trouble getting going against one of the worst defenses in the league was baffling. Of course, the team that had the worst weekend in Week 11 was one that didn't play: Penn State.
November, 7, 2011
11/07/11
1:00
PM ET
Time for our look back at the week that was in the Big 12.
Best offensive player:
Brandon Weeden, QB, Oklahoma State.
Weeden was on point for 60 minutes on Saturday, save a couple regrettable interceptions. He completed 36 of 46 passes for 502 yards and four touchdowns against Kansas State, and was at his best when Oklahoma State needed him late in the fourth quarter.
[+] Enlarge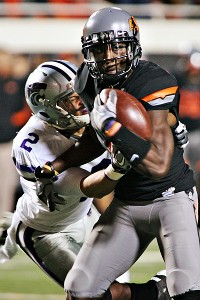 Brett Dering/Getty ImagesJustin Blackmon caught 13 passes for 205 yards and two touchdowns in Oklahoma State's victory.
Best defensive player:
Ronnell Lewis, DE, Oklahoma.
Lewis was all over the place for the Sooners, making a team-high nine tackles, including two tackles for loss. He also intercepted a pass and returned it 11 yards, broke up another pass and logged a quarterback hurry in Oklahoma's
41-25
victory over Texas A&M.
Best game:
Oklahoma State 52, Kansas State 45.
This was pretty reminiscent of Bedlam last year. We saw four touchdowns in just three minutes of actual game time, but this one came with three lead changes and a tie game. Very nice. Easily the game of the year to this point, and a heart-wrenching loss for the Wildcats.
Best play:
Brandon Weeden to Justin Blackmon for a 54-yard touchdown.
Oklahoma State made a pressure-packed drive look easy, hooking up for a long score to take the lead back after trailing 38-37. They followed it up with a 2-point conversion and the Cowboys trailed for just 29 seconds.
Best team performance:
Texas
. The Longhorns were physical on both sides of the ball, muscling up on talented Texas Tech receivers and dominating the line of scrimmage on offense. Despite missing their leading receiver and leading rusher, the Longhorns rolled for 400 yards rushing in consecutive games for the first time in 24 years.
Joe Bergeron
ran for 191 yards, and finally, Mack Brown looks like he's developing the running game he's wanted for so long.
Worst moment:
Ryan Broyles' injury.
Injuries are the worst part about this game, and there's nothing good about seeing a player like Broyles, one of the most talented and hardest-working guys in the country, go down. If you ever doubt how much this game means to most of these players, look back at Broyles in tears on the sideline while trainers looked at his injured knee. Think of all the man-hours that go into preparing for a season — gone in one fluke play. Just unfair. Broyles isn't the only guy to suffer a season-ending injury this season, but don't forget how hard injuries like that can be to deal with when you consider exactly what players lost.
Worst quarter:
Texas A&M's third quarter.
I can't explain it. If Texas A&M could, they'd fix it. Either way, it's unbelievable. A&M and OU were playing an SEC slobberknocker until a Big 12 blowout broke out in the third quarter. The Aggies were outscored 28-0 in a span of less than seven minutes and a 13-10 deficit ballooned to a 41-10 blowout and a fourth second-half meltdown this year.
Worst confusion:
Baylor fans.
The Bear faithful reportedly kicked off a sarcastic "S-E-C!" chant after beating new SEC addition Missouri on Saturday. Now, come on Baylor. It's my understanding that the sarcastic S-E-C chant has been abandoned in favor of the earnest "Big 12! Big 12!" chant. Oklahoma State fans started the trend after a victory over Texas A&M earlier this season, so get with the program, Bears.
Best confession:
Trey Gaddy, Oklahoma State.
The student helped settle maybe the funniest pseudocontroversy in the Big 12 this year, admitting to me after Saturday's game that he was the man behind Missouri's upside-down flag at Boone Pickens Stadium last week. Call him the Big 12's version of The Bagman, I guess.
Best fashion sense:
Bill Snyder, Kansas State.
Leave it to Snyder to go retro and make it look good. He busted out what was presumably a purple windbreaker commemorating K-State's appearance in the 2002 Holiday Bowl. I think the only other place you could find another one is a thrift store in Brooklyn. Snyder, however, surely found it in his closet. For that, we salute the timeless legend.
Second-best fashion sense:
Oklahoma State.
The Cowboys' gray helmets, black jerseys and gray helmets looked pretty outstanding. Basically the Raiders, except they weren't a horribly mismanaged team.
November, 7, 2011
11/07/11
1:00
PM ET
Here's your look back at Week 10 and fast-forward to Week 11:
[+] Enlarge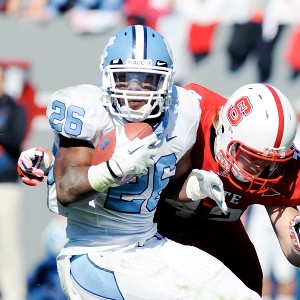 Liz Condo/US PresswireRedshirt freshman Giovani Bernard is North Carolina's first 1,000-yard rusher in 14 years.
The good
: Long-awaited 1,000-yard rushers. Welcome to the club,
Lamar Miller
and
Giovani Bernard
. If there was one highlight for UNC in Saturday's 13-0 loss to rival NC State, it was that the program produced its first 1,000-yard rusher in 14 years. Bernard needed just 34 yards in the game to reach the milestone, and he barely got it with 47 yards on 18 carries. At Miami, Miller became the program's first 1,000-yard rusher since Willis McGahee in 2002. Miller had 147 yards and two touchdowns on 20 carries.
The bad:
UNC's offense. Three rushing yards. Four sacks. Three turnovers. And 4-of-14 third down conversions. (smh).
The ugly:
Maryland's rushing defense. For the fifth straight game, Maryland allowed an opponent to run for at least 200 yards. The Terps allowed Virginia 220 rushing yards, and
Perry Jones
ran for 139 of them, along with two touchdowns. Against BC, the Terps allowed 372 rushing yards, including 243 by
Rolandan Finch
. FSU had 218 yards on the ground, and Clemson had 306, Georgia Tech 272.
The streaks: Streak I:
NC State is 5-0 against UNC under Tom O'Brien, and the winning streak ties as the longest in the 101-year history of the series. Dick Sheridan led his State teams to victories over the Tar Heels five straight times from 1988-1992.
Streak II:
In the Coastal Division, Miami is now 7-0 against Duke since joining the ACC.
Streak III:
BC linebacker Luke Kuechly had 20 tackles against FSU, his 31st straight game with 10 or more.
Streak IV:
BC's streak of 12 consecutive bowl games came to an end, while FSU extended its bowl streak to 30 games, the longest active streak in the country.
Top three games of Week 11:
1. No. 10 Virginia Tech at No. 21 Georgia Tech:
This matchup continues to carry some of the heaviest weight in the Coastal Division standings. If the Hokies win this one, the Yellow Jackets are eliminated from the ACC race. Both have had bye weeks to prepare, and Virginia Tech defensive coordinator Bud Foster needed it, as he revamped his injury-laden defense to better prepare for Georgia Tech's spread option offense.
2. Wake Forest at No. 9 Clemson:
The Tigers have had a bye week to rest and regroup after their loss to Georgia Tech, while Wake Forest put together an impressive effort in a respectable loss to Notre Dame. Now the Deacs have a chance to play spoiler in the Atlantic Division race, but they have to win the next two games to get to the ACC championship game.
3. Miami at Florida State:
There was a time when this used to be the No. 1 game. Period. Now it's not even the best game in the ACC. It is, however, still Florida State and Miami, and the history and tradition of these two programs remains among the best in the nation. Both teams are playing at a high level right now and coming off of wins. Neither team is out of its respective division race, though both of them need a lot of help to actually win it, and neither can afford another league loss.
November, 7, 2011
11/07/11
1:00
PM ET
Let us take one final look back at Week 10 before moving on to Week 11.
[+] Enlarge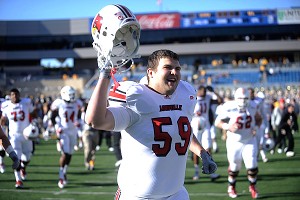 AP Photo/Jeff GentnerZach Perkins and Louisville had plenty to celebrate after beating West Virginia on Saturday afternoon.
The good:
Cincinnati moved to 3-0, but this is a team living on the edge right now. The Bearcats have faced second-half deficits of nine against Louisville, 10 against USF and 10 against Pitt in their three Big East games, but have been able to come back to win all three. I am sure coach Butch Jones would like to not have to sweat a game out, but the Bearcats are going to be in for another huge test Saturday when they play West Virginia. Both teams have high-powered offenses to be sure, but against Pitt, Cincinnati did not have a passing touchdown for the first time this season. ... Meanwhile, Louisville is on a roll, having won three straight league games for the first time since 2006. The Cardinals have been bolstered with excellent first quarters, outscoring their past five opponents 41-7 in that period. The win was particularly stunning because West Virginia has owned the series. It was the first win for Louisville since a 44-34 win at home in 2006.
Teddy Bridgewater
continued his improvement, throwing for a career-high 246 yards. He has completed more than 70 percent of his passes in back-to-back wins against Syracuse and West Virginia. ... UConn got a much-needed win against Syracuse, and relied on its ground game to get it. The Huskies had a season-high 198 yards on the ground against an FBS opponent.
Lyle McCombs
had a career-high 152 yards rushing and UConn got three rushing touchdowns after getting just one in its first seven games against FBS teams. ... Rutgers is bowl eligible for the sixth time in seven seasons after a comeback win against USF. It was the second time this season the Scarlet Knights erased a double-digit fourth-quarter deficit. They won both those games in overtime. Receiver
Mohamed Sanu
has 81 receptions for 844 yards on the season, and needs 12 catches to break Larry Fitzgerald's single-season league record of 92. ... Syracuse safety Phillip Thomas leads the Big East with six interceptions after getting two against UConn. It was his second multi-interception game of the season.
The bad:
The Bulls have lost their past four games with every breakdown imaginable. The defense faltered in losses to Pitt and Cincinnati; the offense faltered in a loss at UConn; special teams hurt bigtime in a loss to Rutgers. They have now lost four straight games for the first time in program history. Incredibly, USF has scored first in all eight of its games this season. The Bulls just cannot hang onto wins. They have had second-half leads in their past three games, but have lost all three. ... Meanwhile, West Virginia has dropped two conference games for the sixth straight season after a disappointing loss to Louisville. The Mountaineers have not finished better than 5-2 in league play since going 7-0 in 2005. It was just the third time they lost a game when scoring at least 30 points since 2000. They are now 73-3 since 2000 when scoring 30 or more points. They had a blocked field goal returned for a touchdown, the first such score against West Virginia since Virginia Tech did it in 2004. ... Syracuse forced a season-high five turnovers against Connecticut, which should be good. Except the Orange failed to turn any of them into points and lost their second straight game. It actually is the second time this season a Big East team forced five turnovers and lost (Rutgers against North Carolina). ... Pitt has had tough luck in close games, but the Panthers have themselves to blame. In four of their losses this season, they have held second-half leads. Against Iowa, Notre Dame and Cincinnati, those leads were lost in the third or fourth quarters.
Notable
Stedman Bailey
, WR, West Virginia, had a career-high eight receptions for 118 yards, his sixth 100-yard game of the season.
Justin Francis, DT, Rutgers, had a career-high 11 tackles with four tackles for loss and two sacks against USF.
Khaseem Greene, LB, Rutgers, had a career-high 17 tackles against USF.
Kevin Harper, K, Pitt, made a career-long 52-yard field goal against Cincinnati, marking the longest field goal by a collegiate player in Heinz Field history.
DeDe Lattimore, LB, USF, had a career-high 2.5 sacks against Rutgers.
Alec Lemon
, WR, Syracuse, had a career-high 157 yards receiving on nine catches against UConn, becoming the ninth player in school history with 100 career receptions.
Nick Provo
, TE, Syracuse, has 39 receptions this season, setting a single-season record for a Syracuse tight end.
Geno Smith
, QB, West Virginia, threw for 410 yards and moved into second place on the school's career passing chart with 6,197 yards. He had his third 400-yard game of the season.
Devin Street
, WR, Pitt, had a career-high eight receptions for 118 yards against Cincinnati.
Week 11
USF at Syracuse, 8 p.m., Friday, ESPN2
Pitt at Louisville, noon, Saturday, Big East Network
West Virginia at Cincinnati, noon, Saturday, ABC
Rutgers at Army, 3:30 p.m., CBS Sports Network
November, 7, 2011
11/07/11
1:00
PM ET
Let's take a look back at Week 10 in the non-AQs.
Records fall.
As expected,
Kellen Moore
and
Case Keenum
set major NCAA records in victories this weekend. Moore helped the Broncos beat UNLV 48-21 for his 46th career win, breaking the record set by Colt McCoy for most career wins. Meanwhile, Keenum threw for 407 yards in a 56-13 win against UAB to become the most prolific passer in NCAA history. Keenum passed the mark held by Timmy Chang and now has 17,212 career passing yards. He is averaging 402.9 yards a game, putting him on pace to potentially get another 2,000 yards this season should the Cougars play in the Conference USA championship game.
[+] Enlarge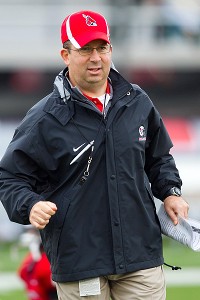 Michael Hickey/US PresswireCoach Pete Lembo has Ball State eligible for a bowl for the first time since 2008.
Bowl eligibility.
Ohio, Northern Illinois, Tulsa, SMU and Ball State all became bowl eligible this weekend. It has been a nice turnaround season for Ball State under first-year coach Pete Lembo, getting the Cardinals to bowl eligibility for the first time since 2008. Teams that have a chance to become bowl eligible this week:
FIU (5-4) vs. FAU
Western Kentucky (5-4) at LSU
Louisiana Tech (5-4) at Ole Miss
Nevada (5-3) vs. Hawaii
Game of the week.
Louisiana-Lafayette 36, Louisiana-Monroe 35. The Ragin' Cajuns overcame an 11-point deficit with 3:08 left, scoring two touchdowns in the span of two minutes to complete the incredible comeback.
Blaine Gautier
threw a 16-yard touchdown pass to
Darryl Surgent
with 2:05 left to close the gap to 35-30. They failed to make the 2-point conversion but did recover the onside kick.
Alonzo Harris
scored on a run from 3 yards with 1:06 remaining.
Greatest turnarounds.
Speaking of the Sun Belt, Louisiana-Lafayette has the best turnaround in the country from last season, winning five more games than 2010. That league has three teams with some of the best turnarounds among the non-AQs.
2010, 2011
ULL 3-9, 8-2
Houston 9-0, 5-7
Ark. St 4-8, 7-2
WKU 2-10, 5-4
E. Mich 2-10, 5-4
Conference race update. Let us check in with all the non-AQ conferences to see who is leading in the race for a championship.
C-USA.
Southern Miss is in control of the East Division after a convincing 48-28 win against East Carolina. The Golden Eagles host defending East Division champs Central Florida on Saturday. They have a one-game lead over the Pirates and Marshall, though their only loss this season came to the Thundering Herd. In the West, Houston and Tulsa are undefeated in league play at 5-0, setting up a huge showdown in the season finale Nov. 25 at Tulsa. Houston has Tulane and SMU before then; Tulsa has Marshall and UTEP. Both teams will be favored to be 7-0 in league play headed into their game.
MAC.
Ohio dealt a huge blow to Temple's chances of winning the East with a 35-31 win in Week 2. The Bobcats and defending East champ Miami (Ohio) are 3-2 in league play. They end the season against each other Nov. 22 at Ohio. In the West, Northern Illinois and Toledo each are 4-1 but the Huskies have a huge head-to-head win against Toledo, 63-60 in a wild game in Week 10. If they both win out, Northern Illinois goes to get another MAC title game.
Mountain West.
As expected, TCU and Boise State are undefeated in league play headed into their huge game Saturday in Boise. The winner will be in the driver's seat to win the conference. Remember, this game was initially set for Forth Worth, but moved to Boise after TCU announced it was leaving the conference.
Sun Belt.
Louisiana-Lafayette (8-2, 6-1) has a huge game at Arkansas State (7-2, 5-0). If Louisiana-Lafayette wins, it would create a three-way tie with Western Kentucky (5-4, 5-1) atop the Sun Belt standings. If all three then win out, they would each be considered co-champs. If Arkansas State wins, then the Red Wolves would remain undefeated in the Sun Belt and control their destiny.
WAC.
Nevada is the only undefeated team in league play at 3-0 and controls its hopes for a second straight league title. Louisiana Tech at 4-1 is in second place. The teams play in Reno on Nov. 19.
Helmet stickers
Ryan Aplin, QB, Arkansas State.
Aplin had five touchdowns in a 39-21 victory at FAU, rushing for 49 yards and four touchdowns and completing 24-of-37 passes for 244 yards and another score. His four rushing touchdowns are the most for any player in the Sun Belt this season, and his five overall touchdowns are tied for the most.
Kama Bailey, RB, Idaho.
Bailey ran for a career-high 163 yards on 19 carries and had two scores as Idaho came back to beat San Jose State 32-29.
Jon Davis, DB, Air Force.
Davis had a game-high 12 tackles and recorded one interception as Air Force retained the Commander-In-Chief's trophy with a 24-21 win against Army. Davis also forced and recovered a fumble.
Nick Fanuzzi, QB, Rice.
Fanuzzi completed 30-of-43 for 405 yards with three touchdowns and no interceptions in a 41-37 win against UTEP. It was his first start of the season, and he is just the third player in school history to pass for more than 400 yards.
Donte Harden, RB, Ohio.
Harden finished with a school-record 322 all-purpose yards (184 rushing, 75 receiving and 63 return yards) and scored a pair of touchdowns in a 35-31 win against Temple.
November, 7, 2011
11/07/11
1:00
PM ET
Here's a look at the weekend that was for the Irish in their first-ever trip to Winston-Salem, N.C.:
The Good:
Notre Dame overcame a seven-point halftime deficit to beat Wake Forest 24-17. The Irish became bowl eligible and won their first-ever game under Brian Kelly after trailing at halftime.
Jonas Gray
and
Cierre Wood
combined for 179 yards on the ground and the Irish defense stifled Wake Forest's offense during the final 30 minutes.
[+] Enlarge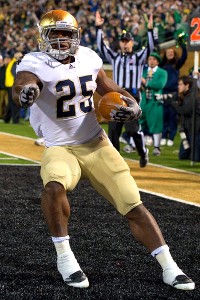 Matt Cashore/US PresswireJonas Gray added a touchdown to go with his 92 rushing yards against Wake Forest.
The Bad:
Notre Dame turned the ball over twice, most notably when Josh Bush intercepted a
Tommy Rees
pass off a flea flicker and returned it 54 yards, putting the Demon Deacons in position to tie the game. Ultimately, it went for naught.
The Ugly:
Braxston Cave left after the first play of the second quarter with a mid-foot sprain. Manti Te'o missed Wake Forest's final drive of the third quarter because of an ankle injury before re-entering the next series. Aaron Lynch left the game twice and has a lateral sprain. And, in the truly ugly department,
T.J. Jones
took a big hit and had a rough landing on a 6-yard catch in the third quarter, though, amazingly, he re-entered the game and is apparently doing better than his other three injured teammates.
Turning point:
Wake Forest was knocking on the door, down seven in the third with a second-and-goal following a huge interception return. Then Harrison Smith jarred the ball loose from
Brandon Pendergrass
and Gary Gray pounced on it, and the Irish came up with a huge turnover, stopping the Demon Deacons on what would be their best chance at tying the game in the second half.
Call of the day:
Going into nickel packages for a majority of the second half paid huge dividends for the Notre Dame defense, which did not allow a second-half point after giving up 17 in the first half. Jamoris Slaughter played the hybrid role for the Irish, replacing drop linebacker Prince Shembo.
Next up:
Notre Dame plays Maryland in what is technically an Irish home game at FedEx Field in Landover, Md. The Terrapins, in their first year under coach Randy Edsall, are an abysmal 2-7 this season, and just 1-5 in ACC play. They also
have a way with uniforms
.