NCF Nation:

weekend-rewind-110810
November, 8, 2010
11/08/10
4:15
PM ET
A look back on the week that was.
Team of the week
: Stanford rolled up 510 yards of offense against one of the nation's best defenses in a 42-17 win against Arizona. The Cardinal defense wasn't too shabby either while holding the Wildcats to 15.6 points less than their season scoring average.
A Facebook page
has been set up to promote the Cardinal's potential availability for an at-large BCS bowl berth.
[+] Enlarge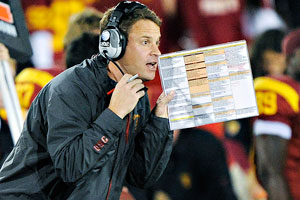 AP Photo/Mark J. TerrillLane Kiffin and USC emerged from a wild game against Arizona State with a 34-33 win.
Best game
: USC's entertaining 34-33 win against Arizona State included: 1. Two long interception returns for TDs; 2. A 100-yard kickoff return for a score; 3. A blocked PAT returned for a critical 2-points for USC; 4. 46 second-half points after a rather slow first half; 5. A missed potential game-winning field goal by slumping Arizona State kicker Thomas Weber, a former Groza Award winner; and, 6. A personal foul penalty from linebacker Vontaze Burfict (again) that helped set up the Trojans game-winning field goal.
Biggest play
: Call this the biggest "replay." With four seconds left in the UCLA-Oregon State game, Bruins quarterback
Richard Brehaut
completed a 12-yard pass to
Randall Carroll
to put the Bruins in position for a 51-yard field goal. But it appeared the play clock had expired, as the field officials ruled. But the Bruins challenged the call and won, getting 1 more second to play, and kicker Kai Forbath connected for a 17-14 win.
Offensive standout
: Stanford quarterback
Andrew Luck
dominated a good Arizona defense, completing 23 of 32 for 293 yards with two TDs in the Cardinal's 42-17 win. He also ran for 25 yards on three carries and avoided getting sacked even once by a defense that led the Pac-10 in taking down quarterbacks.
Defensive standout
: USC linebacker
Malcolm Smith
, who's missed two games with a knee injury, recorded seven tackles and a sack against Arizona State and he also returned an interception 74 yards for a TD in the Trojans' victory.
Special teams standout
: Arizona State's LeQuan Lewis had a 100-yard kickoff return against USC. The return cut the Sun Devils deficit at USC to 29-21 and seemed to ignite a comeback that ultimately fell short.
Smiley face
: California, UCLA and USC each have had their heart questioned this year. All three showed heart this weekend while winning games many thought they'd lose.
Frowny face
: Arizona State and Oregon State. The Sun Devils mounted a nice comeback but (again) let a game slip away. Lots of what ifs (again).
And we are as baffled as coach
Mike Riley about the Beavers' spiritless performance at UCLA.
Thought of the week
: If Stanford and Oregon keep winning, it seems likely that both Cardinal quarterback Andrew Luck and Ducks running back
LaMichael James
will get invited to the Heisman Trophy ceremony. The Pac-10 sent two to New York in 2005 (USC's Matt Leinart and Reggie Bush), but the last time two different conference schools produced finalists was 1988 (USC's Rodney Peete finished second to Barry Sanders; UCLA's Troy Aikman was third).
Questions for the week
: Is the Pac-1o going to end up top-heavy? It seems like there's a solid chance that Oregon and Stanford will win the rest of their games. But what about everyone else? Arizona is the only other ranked team, and it's got some tough games ahead (USC, at Oregon, Arizona State). It's possible the final rankings will feature two top-five Pac-10 teams and no one else. And could there
really
be five teams with losing records?
November, 8, 2010
11/08/10
2:15
PM ET
It wouldn't be a Monday without our weekly look at who's hot and who's not in the SEC:
EN FUEGO
The Mad Hatter:
As Les Miles says himself, it's not the way he wears his hat or what's in his hat … or even in some of the odd things he says. It's more about getting a team to believe, getting a team to play its best in the biggest games and getting a team to a point where it has a chance to either win a championship or play in a BCS bowl. For all the things that have been said about Miles (many of them by his own fans), the one thing you can't say about him is that doesn't play to win. The fourth-down play call on the reverse was as good as it gets, maybe the play call of the year in college football.
[+] Enlarge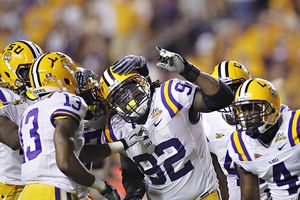 AP Photo/Gerald HerbertDefensive tackle Drake Nevis, 92, was a force in LSU's win against Alabama.
HOT
LSU defensive tackle Drake Nevis:
After having a down game for his standards two weeks ago against Auburn, Nevis made life miserable for the middle of the Alabama offensive line last Saturday.
NOT
Alabama's running game:
The Crimson Tide were held to a mere 30 yards rushing in the second half against LSU. There was a time when two plays might have netted the Tide 30 yards.
HOT
Tennessee quarterback Tyler Bray:
Talk about successful debuts. Bray, making his first start, threw five touchdown passes in the first half against Memphis. Looks like the Vols have their quarterback of the future and present.
NOT
November patsies:
Some of these November nonconference games around the league are embarrassing, and there were three of them last week. Auburn routed Chattanooga. Georgia beat up on Idaho State, and Kentucky did the same to Charleston Southern. It doesn't stop there. Florida's gearing up for Appalachian State next week, and Alabama is bracing for Georgia State.
HOT
Arkansas running back Knile Davis:
Arkansas was looking for some pop in its running game and found it in Davis, who's scored eight rushing touchdowns in his past three games. He's also averaging 6.2 yards per carry.
NOT
South Carolina's defense:
For some reason, the Gamecocks have lost their edge on defense. The biggest problem has been pass defense, but Arkansas also managed 140 yards on the ground last week. The Gamecocks are playing beneath their talent level on defense right now.
HOT
LSU quarterback Jordan Jefferson:
It's been a tough season for Jefferson throwing the football, but he came through with some clutch throws last week in the 24-21 win against Alabama. He's handled the criticism like a champ, too, which tells you a lot about his character.
NOT
Vanderbilt's kicking game:
The Commodores had a pair of punts blocked in their 55-14 loss to Florida. The first blocked punt was recovered at the 3 and led to an easy Florida touchdown. The second blocked punt was returned for a touchdown.
FREEZER BURN
Eastern Division:
Never has the Eastern Division been this down. We already know that for the first time ever the East champion will have three SEC losses. But after the Florida-South Carolina game this Saturday, which will determine who goes to the SEC championship game, everybody in the East but the divisional champ will have four SEC losses. The West has dominated the East in inter-divisional play. In fact, the East's only two wins this season were South Carolina beating Alabama and Vanderbilt beating Ole Miss. So, is it the "East" or the "Least?"
November, 8, 2010
11/08/10
2:07
PM ET
A look back at the week that was in the Big East, which offered a pretty small sample size:
Team of the week:
Louisville. The Cardinals stopped an 11-game losing streak in conference road games and stopped Syracuse's momentum with a 28-20 victory in the Carrier Dome. That puts them one win away from making their first bowl game since the 2006 season.
[+] Enlarge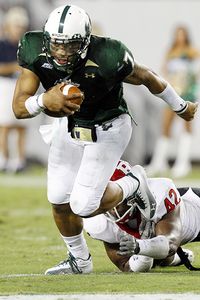 AP Photo/Mike CarlsonB.J. Daniels and South Florida pulled out a crucial win against Rutgers.
Game of the week:
Only two games in Week 10, and both were close. I'll choose South Florida's 28-27 win against Rutgers for the razor-thin margin. I expect a lot more close games the rest of the way in this very balanced league.
Biggest play:
Keith McCaskill's tackle of Rutgers'
Kordell Young
on a screen pass in the end zone for a South Florida safety late in the third quarter. The Bulls made two great defensive plays before that to back the Scarlet Knights into deep trouble, then McCaskill made a perfect read for a score that turned out to be crucial.
Best call:
I loved seeing Charlie Strong go for it on 4th-and-1 from his own 39 late in the Syracuse win. He knew Louisville's offensive line had dominated all day and was good enough to pick up the first down, which it did on a
Justin Burke
sneak. That also forced the Orange to burn their last timeout and helped salt away the game. On the road in that spot, Strong showed great confidence in his players, and they delivered.
Big Man on Campus (Offense):
Jeremy Wright
, RB, Louisville. With
Bilal Powell
out of action, the redshirt freshman Wright picked up the slack with 19 carries for 98 yards and two touchdowns.
Big Man on Campus (Defense):
Jacquain Williams, LB, South Florida. The senior had 11 tackles and 1.5 sacks in the Bulls' win. His sack of
Chas Dodd
on fourth down from the USF 41 effectively ended the game.
Big Man on Campus (Special teams):
Rutgers'
Mason Robinson
returned a punt 60-yards for a touchdown Wednesday night. Speaking of which ...
Strangest moment:
How about that punt return? Robinson was surrounded by six Bulls' defenders when he caught the ball, but all of them apparently thought he would signal for a fair catch given the circumstances. But Robinson boldly fielded it and then ran in untouched for the score. Skip Holtz called it "the craziest punt return I've ever seen in all my days of coaching."
Worst hangover:
Syracuse. For the second time, the Orange disappointed a home crowd eager to embrace them. More distressingly, they failed to clinch bowl eligibility. They still have three chances to do so, but each missed opportunity will only increase the pressure on the team to get the postseason monkey off its back.
Now let's take a look ahead to Week 11, when all eight teams are back in action (Games are listed in descending order of interest/importance):
Pittsburgh (5-3, 3-0 Big East) at Connecticut (4-4, 1-2):
The league-leading Panthers try to keep their two-game cushion against a Huskies team that has yet to lose this year at Rentschler Field.
(ESPN, Thursday, 7:30 p.m. ET)
South Florida (5-3, 2-2) at Louisville (5-4, 2-2):
Two teams on the rise under first-year coaches. The Bulls have never won in Louisville.
(ESPNU, Noon, ET)

Cincinnati (3-5, 1-2) at West Virginia (5-3, 1-2):
The Bearcats have won two straight in this series, and West Virginia wants revenge, though the Mountaineers should be more concerned with themselves at this point
(ESPN3.com, Noon ET)

Syracuse (6-3, 3-2) at Rutgers (4-4, 1-2):
The Orange turnaround began with a blowout win against Rutgers last year. Don't think the Scarlet Knights have forgotten that one.
(ESPNU, 3:30 p.m. ET)
November, 8, 2010
11/08/10
2:07
PM ET
It's time to take a look back at Week 10 before peeking ahead to Week 11.
Team of the week:
Michigan. The Wolverines are at least the Big Ten's "one-third of a team of the week" after a historic offensive performance against Illinois. Rich Rodriguez's crew racked up 67 points, 676 offensive yards and 33 first downs Saturday, and it needed all of it to outlast Illinois 67-65 in three overtimes. More amazing is the fact that Michigan overcame five turnovers and a minus-4 turnover ratio to snap its three-game losing streak. Penn State also deserves some love after rattling off 35 unanswered points to record the biggest home comeback under coach Joe Paterno and give the 83-year-old his 400th coaching victory.
Best game:
Illinois at Michigan
. This likely will be the game of the year in the Big Ten when all is said and done. The Big Ten doesn't see many offensive shootouts like this, and some folks say it was the most exciting Big Ten regular-season game since Northwestern and Michigan combined for 105 points in 2000 (a 54-51 Northwestern win in regulation). The 132 combined points were the most ever scored in a game involving Michigan. The teams also combined for 1,237 offensive yards. The game featured two 100-yard rushers, two 100-yard receivers and a 300-yard passer.
[+] Enlarge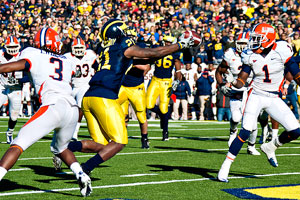 AP Photo/Tony DingJunior Hemingway's touchdown in the second overtime kept Michigan in the game.
Biggest play:
Junior Hemingway
's juggling catch on a pass nearly picked off by Illinois helped Michigan tie the score in the second overtime. If Illinois intercepts the ball, the game ends and Michigan's season teeters. Hemingway also wrong-footed several Illinois defenders on an electrifying 45-yard touchdown in the second quarter. The single best catch of the day came from Northwestern's
Drake Dunsmore
, who made a one-handed grab at full extension and managed to get his foot down in the back of the end zone for a touchdown at Beaver Stadium.
Marvin McNutt
's 52-yard touchdown reception late in the Indiana game gave Iowa the lead for good, while
Brett Brackett
's leaping touchdown catch with three seconds left in the first half gave Penn State a huge lift against Northwestern.
Specialist spotlight:
Not a ton to choose from this week, but Iowa freshman Michael Meyer connected on four field-goal attempts in the win against Indiana. Meyer hit two 27-yarders and a 23-yarder in the first half before converting a career-long 42-yarder in the fourth quarter to cut Iowa's deficit to one. Illinois punter Anthony Santella continued his stellar season, averaging 47 yards on six attempts at Michigan. Punters Brad Nortman of Wisconsin and Cody Webster of Purdue both had nice games at Ross-Ade Stadium.
Most memorable moment:
Easy one here. I'll never forget being on the field at Beaver Stadium when
Paterno recorded his 400th career victory
. Penn State players carried Paterno on their shoulders to midfield, a gesture he surprisingly enjoyed. The school then held a short ceremony that included a video montage of Paterno through the years and a crystal football presented to JoePa to commemorate No. 400. Paterno briefly addressed the crowd of 104,147, all of whom stayed to witness history. "People ask me why I've stayed here so long," the 83-year-old said. "Look around!" Just an amazing moment.
Game balls
(given to players on winning or losing teams who didn't receive helmet stickers)
Michigan QB Tate Forcier and WR Junior Hemingway: Remember all the buzz about Forcier transferring? Michigan is very fortunate he stuck around. Forcier once again relieved an injured Denard Robinson and led Michigan to a huge win, completing 12 of 19 passes for 114 yards with two touchdowns and an interception. He got a ton of help from Hemingway, his favorite target in 2009, as the receiver caught six passes for 104 yards and two scores.

Penn State RBs Evan Royster and Silas Redd: The senior and the freshman spurred Penn State's rushing attack against Northwestern, getting plenty of help from an improving offensive line. Royster and Redd combined for 265 rush yards and a touchdown on 36 carries. They became the first Penn State tandem to both eclipse 130 rush yards in a game since Franco Harris and Lydell Mitchell did so against Iowa on Sept. 25, 1971.

Wisconsin RB Montee Ball: I can't say enough about how much Ball has meant to Wisconsin the past two games. After coming up big late in the Iowa win, he relieved an injured John Clay against Purdue and rushed for a career-high 127 yards and two touchdowns on 21 carries.

Michigan State LB Greg Jones and S Marcus Hyde: Jones did his thing with a team-leading nine tackles, including 2.5 for loss, in the win against Minnesota. Hyde bounced back from a rough day at Iowa to record an interception, which he returned 41 yards, and two pass breakups. Jones now ranks second in team history in career tackles for loss with 44.5.

Illinois QB Nathan Scheelhaase and RBs Mikel Leshoure and Jason Ford: These three certainly did their part to help Illinois' cause at the Big House. Scheelhaase recorded 211 pass yards and three touchdowns to go along with 101 rush yards and a score. Leshoure added 120 rush yards and three touchdowns, and he also recorded two touchdown receptions. His five total touchdowns are tied for fourth most in Big Ten history. Ford had 101 rush yards and a score on only 10 carries.

Northwestern QB Dan Persa: His team melted down in the second half, but Persa earned a ton of respect from Penn State with his gutsy performance. A week after a concussion, Persa racked up 109 rush yards and two touchdowns to go along with 201 pass yards and a touchdown against Penn State. "If you give me 22 Dan Persas, I'll show you ... a national champion," Northwestern coach Pat Fitzgerald said.

[+] Enlarge

AP Photo/Gene J. PuskarThe Big Ten named Michael Mauti the Co-Defensive player of the week for his performance against Northwestern.

Penn State LB Michael Mauti: After a slow start, the sophomore is starting to hit his stride for the Nittany Lions' defense. Mauti set career highs in both tackles (11) and tackles for loss (3) and recorded a sack in the win against Northwestern. He has recorded career bests in tackles in each of the last two games.

Iowa WR Marvin McNutt: McNutt once again showed why he's one of the Big Ten's best deep threats, hauling in a 52-yard touchdown with 2:50 left against Indiana. The junior finished with six catches for 126 yards in Iowa's win.
Deep breath. Now let's take a look ahead at Week 11.
No. 13 Iowa (7-2, 4-1 Big Ten) at Northwestern (6-3, 2-3):
The Hawkeyes' late-game fortunes turned in Bloomington, as
Damarlo Belcher
's drop in the end zone kept Iowa alive for the Big Ten title. Only one hurdle remains between Iowa and its Nov. 20 showdown against Ohio State, but this is always a tricky game. Northwestern has won four of the teams' past five meetings, although just one of those has come in Evanston.
Indiana (4-5, 0-5) at No. 7 Wisconsin (8-1, 4-1):
After a mini scare at Purdue, Wisconsin returns to Camp Randall Stadium, where it is 41-4 since the start of the 2004 season. The Badgers should have running backs
John Clay
and
James White
healthy for an Indiana defense that allows 166.1 rush yards a game. Indiana still needs two wins to get bowl eligible but gave Wisconsin a tough game last year, mounting a late before falling 31-28.
Michigan (6-3, 2-3) at Purdue (4-5, 2-3):
Rodriguez and the Wolverines finally are bowl eligible, and a win Saturday at Ross-Ade Stadium likely ensures the coach will return for a fourth season in 2011. Robinson is expected to return after injuring his head against Illinois, while Purdue's quarterback situation remains fluid with
Sean Robinson
,
Rob Henry
and possibly
Justin Siller
, who led the Boilers to a win against Michigan in 2008.
Minnesota (1-9, 0-6) at Illinois (5-4, 3-3):
The Illini take a second stab at becoming bowl eligible against last-place Minnesota. Watch out for Scheelhaase, Leshoure, Ford and the Illinois rushing attack to have a big day against a Minnesota defense that has slipped to 106th nationally against the run.
MarQueis Gray
finally got a shot at quarterback for the Gophers on Saturday, and it'll be interesting to see how many snaps he takes against an angry Illinois defense.
Penn State (6-3, 3-2) at No. 9 Ohio State (8-1, 4-1):
This year's matchup lacks the hype of the previous two meetings, but Penn State's recent surge has added some intrigue to the rivalry. The Nittany Lions come in on a three-game win streak and are getting better play from an offense led by quarterback Matt McGloin and Royster. Ohio State is rested after an open week and begins its quest for another Big Ten title in its signature month under coach Jim Tressel.
Bye:
No. 11 Michigan State (9-1, 5-1)
November, 8, 2010
11/08/10
2:06
PM ET
Here's your weekly rewind and sneak preview in the ACC:
The good:
Backup quarterbacks. Miami couldn't have asked for much more from true freshman backup
Stephen Morris
, who guided the Canes to a 26-20 comeback win against Maryland. Morris completed 18-of-30 passes against Maryland, including the game-winning, 35-yard touchdown to
Leonard Hankerson
with 37 seconds to play. Morris threw for 286 yards, a single-game high for any UM quarterback this season, and also rushed for 13 yards.
[+] Enlarge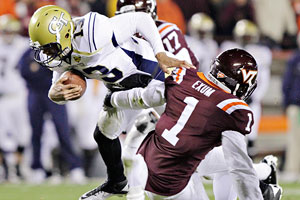 AP Photo/Steve HelberGeorgia Tech backup QB Tevin Washington played well when pressed into action against Virginia Tech.
And the effort from Georgia Tech's
Tevin Washington
after
Joshua Nesbitt
broke his right forearm was almost good enough to beat Virginia Tech. Washington will have to continue to make strides, as Nesbitt is out for the rest of the regular season and possibly a bowl game.
The bad:
Turnovers and penalties. ACC teams combined for 23 turnovers (congrats, FSU and UNC for not contributing to that total). Virginia had 11 penalties for 103 yards. Miami had 10 penalties for 100 yards. Clemson had a touchdown called back for holding.
The ugly:
The Atlantic Division. Florida State, NC State and Maryland all blew fourth-quarter leads. FSU had two missed field goals and so did Clemson, which also fumbled five times and lost three. For NC State, it was the second time in conference play the Wolfpack has lost despite leading by 10 points in the third quarter.
The quotable:
Duke running back
Desmond Scott
, on leaping into the corner of the end zone on his game-winning 35-yard touchdown run against Virginia: "I was pretty good at geometry. I knew with the angle I had on the guy, I could dive, so that's what I did." Only at Duke does geometry fit into the touchdown equation.
The manster:
Virginia Tech linebacker Bruce Taylor made a career-high 14 tackles, including a game-high two sacks, in the win against Georgia Tech. His two sacks resulted in a loss of six yards. He earned 58 points in the coaches' grading system, one of the top totals this year.
Top three games of Week 11:
Virginia Tech at North Carolina:
UNC's upset of Florida State makes this game a lot more interesting for the Coastal Division standings. The Tar Heels will have to overcome yet another setback as leading rusher
Johnny White
is out for the rest of the season with a broken collar bone. Both quarterbacks,
Tyrod Taylor
and
T.J. Yates
, have been integral to their teams' success this year.
Clemson at Florida State:
The Tigers are still alive in the Atlantic Division race, and Florida State is trying to rebound from back-to-back heartbreakers. A Clemson win would make the standings even more jumbled, as NC State and Maryland still have to play each other.
Miami at Georgia Tech:
This one has some history to it – the series is split over the past two seasons - and it's a must-win for the Canes if they hope to stay in the ACC race. It's the final road trip of the season for the Canes, but they haven't won at Georgia Tech since 2004. Miami's rushing defense is No. 7 in the ACC, allowing 150.7 yards per game. The Jackets are averaging 320.6.
November, 8, 2010
11/08/10
2:05
PM ET
Best offensive player:
Brandon Weeden, QB, Oklahoma State.
Weeden completed a school-record 34 passes for a school-record 435 yards, pacing an offense that moved the ball for a school-record 725 total yards. Maybe you didn't notice, but not a lot of guys have had a day like that this year.
Best defensive player:
Michael Hodges, LB, Texas A&M.
Hodges was everywhere against Oklahoma, making 19 stops and a pair of sacks in the Aggies upset win that landed them in the top 25. Eight of his tackles were solo, too.
Honorable mention:
Tie, Tysyn Hartman, S, Kansas State and Ty Zimmerman, S, Kansas State
.
I'll spare you the wordplay on this one, but this pair of safeties both picked off Texas quarterback
Garrett Gilbert
twice and racked up 93 yards of interception return yardage.
Best team performance:
Oklahoma State.
No competition here. The Cowboys dominated a good Baylor team on both sides of the ball and never let the Bears seriously threaten to win, scoring the game's first 34 points.
Best offensive freshman:
James Sims, RB, Kansas.
Sims rushed for 123 yards on 20 carries, but most importantly, his three of his fourth touchdowns came in the fourth quarter, helping Kansas complete its miracle comeback against Colorado.
Best defensive freshman:
Tre Walker, LB, Kansas State.
Walker made 11 tackles in the win over Texas to lead the Wildcats defense in stops.
Classiest gesture:
Taylor Potts, QB, Texas Tech
. After leading a Texas Tech comeback, Potts eschewed postgame interviews
to make this speech to the media
about what the team's jerseys on Saturday meant to him.
Best play:
Justin Blackmon, WR, Oklahoma State.
The only way Baylor was going to come back and beat Oklahoma State was with a big start to the second half. Blackmon was the one who got it, and last I checked, he didn't play for Baylor. The Cowboys faked a screen play and Weeden pitched to Blackmon, who raced down the left sideline for a 69-yard touchdown that put Oklahoma State up 31-0 seconds into the third quarter.
Honorable mention:
James Sims' game-winning 28-yard run in the final minute against Colorado.
Honorable mention:
Any of Texas A&M's three goal-line stands.
Best play II:
Josh Cherry, K, Kansas State.
Cherry had his extra point attempt on Kansas State's final touchdown blocked, but the kicker scooped up the ball and took it into the end zone for a two-point conversion.
Worst play:
Daniel Kuehl, P, Iowa State
. I'm sure
Kuehl's effort on the game's final play
was his best try, but if anyone did that in a game with friends at the park, they wouldn't live it down for decades.
Worst quarter:
Colorado's fourth quarter.
It started off innocently enough, with a touchdown on the first play to go up 45-17. By now,
you probably know the rest
. It wasn't very good.
Best game:
Nebraska 31, Iowa State 30 (OT).
The wind and Nebraska's quarterback injuries were big equalizers for the Cyclones, but Iowa State rallied from a 14-point deficit in the fourth quarter to force overtime, and nearly pulled off the play of the year in the Big 12 with Paul Rhoads' fake extra point attempt for the win.
November, 8, 2010
11/08/10
2:00
PM ET
Let's take a look at the good and the bad for the non-AQs in Week 10.
The good:
Boise State and TCU remained in the national title hunt with big wins this weekend. Though their offenses made headlines -- the Broncos racked up a school-record 737 yards and TCU had more than 500 yards -- both defenses played something fierce. They both held their opponents to fewer than 200 yards of total offense. Now they are the top two teams in the country in total defense and scoring defense. TCU is No. 1 in both categories. … Meanwhile, New Mexico won its first game of the season, 34-31 over Wyoming. Quarterback
Stump Godfrey
made his first career start as
B.R. Holbrook
sat out because of an injury and went 16-of-20 for 211 yards with two touchdowns. The Lobos, which had been giving the ball away as if it was a Christmas present, forced four turnovers. It was just the second time all season they won the turnover battle in a game. … How about Nevada racking up 844 yards of total offense? Not only did
Colin Kaepernick
have 300 yards passing, the Wolf Pack had three 100-yard rushers: Mark Lampford,
Mike Ball
and
Vai Taua
.
The bad:
Western Michigan controlled its own bowl destiny heading into its game against Central Michigan. None of the four opponents left on its schedule had a winning record, so finishing up 7-5 or 6-6 seemed realistic. But the Broncos lost for the fifth straight time to their in-state rivals -- even though the Chippewas went into the game with just two wins. Backup RB
Brian Fields
fumbled 2 yards from the end zone with 1:37 remaining, the fourth lost fumble of the game for Western Michigan and the Chippewas held on 26-22.
The heartache:
The
Akron Zips
are now the only winless team in the country, but missed out on a great opportunity in a 37-30 double-overtime loss to Ball State. After tying the score late to send the game into overtime, the Zips and Cardinals traded touchdowns in the first overtime. Ball State went ahead in overtime No. 2. But all hopes were lost for Akron when
Patrick Nicely
was intercepted on third down by Joshua Howard to end the game. Akron had more first downs and more rushing yards than Ball State and won the turnover battle as well. … Tulane had Southern Miss on the ropes heading into the fourth quarter. The two teams were tied at 30, but the Golden Eagles scored 16 unanswered points in the fourth quarter to win 46-30. Tulane (402) outgained Southern Miss (358) and had 11 more first downs.
[+] Enlarge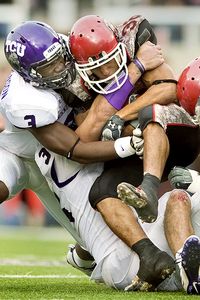 Douglas C. Pizac/US PresswireTCU shut down the high-powered Utah offense.
The off-balance:
Utah and Hawaii went into their respective games as some of the highest-scoring teams in the country. But each were held to just a touchdown. Utah had been averaging 45.2 points a game, tied for No. 3 in the nation. Hawaii had been averaging 39. 2 points a game. … Meanwhile, BYU exploded offensively for the first time all season, posting more than 300 yards passing and 200 yards rushing and a season-high 55 points against UNLV. The Cougars are 39-0 since 1972 and 5-0 under current head coach Bronco Mendenhall when passing for 300 and running for 200.
A few more helmet stickers:
FIU WR
T.Y. Hilton
had 291 all-purpose yards and four touchdowns in a 42-35 double-overtime win over ULM. He became the first Panther to score a touchdown three different ways in the same game, as he caught two touchdowns, ran for one and returned a kick for a score. … Central Michigan LB Armond Staten had 11 tackles, 1.5 tackles for loss, one sack and three forced fumbles in an upset win over Western Michigan. … San Diego State LB Miles Burris had a career-high 10 tackles, four tackles for loss (minus-39 yards), two sacks and two forced fumbles in a 24-19 victory over Colorado State.
A few injury items to note:
Ohio quarterback
Boo Jackson
is questionable for the Nov. 16 game against Temple after reportedly getting into a
fight outside a bar and sustaining serious injuries to his face
. Coach Frank Solich would only say that Jackson is questionable for the game. Backup
Phil Bates
has been slowed by a shoulder injury, leaving the possibility that Ohio could burn the redshirt of true freshman
Kyle Snyder
. "We're going to have to talk about it some more and look at it from different angles and make a decision about a player being brought out of redshirt if he needs to be," Solich said. … Kent State star LB Cobrani Mixon is doubtful for Saturday's game against Army with a shoulder injury, and starting quarterback
Spencer Keith
injured his thumb and is day-to-day. … BYU TE
Marcus Mathews
is out for the season with a lacerated spleen.
Week 11 look ahead:
TCU plays San Diego State (7-2) in a classic letdown game. Will the Horned Frogs suffer an emotional low after an emotional high over Utah? Boise State has a big rivalry game against Idaho, perhaps made even bigger after comments during the offseason where school president Bob Kustra slammed Vandal culture as "nasty" and "inebriated." Southern Miss travels to UCF in a big East Division game. The Knights, ranked for the first time in school history, control their destiny. We can't forget about the big Tuesday night game between MAC West Division leaders Toledo and Northern Illinois.