NCF Nation:

weekend rewind 111212
November, 12, 2012
11/12/12
10:00
AM ET
Time to hand out some superlatives from the week that was around the Big 12:
Best offensive performance: David Ash, QB, Texas.
Ash took care of business against Iowa State, bouncing back after some struggles earlier in conference play. He completed a 47-yard pass to start the game on a trick play out of the wishbone formation. More on that in a bit. His day only got better. He completed his first 11 passes and finished with 364 yards and two touchdowns on 25-of-31 passing.
[+] Enlarge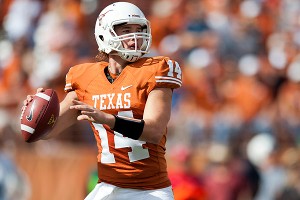 Cooper Neill/Getty ImagesTexas' David Ash threw for 364 yards and two touchdowns in Saturday's win over Iowa State.
Best defensive performance: Meshak Williams, DE, Kansas State.
Williams was everywhere for Kansas State in the Big 12's most dominant defensive performance of the weekend, a 23-10 win over TCU in Fort Worth. He had a pair of sacks and three tackles for loss among his seven stops. Those three TFLs accounted for a loss of 28 yards, too. Williams also batted down a pass.
Honorable mention: Lyndell Johnson, LB, Oklahoma State.
Best game: Texas Tech 41, Kansas 34, 2OT.
Another week, another OT thriller. This one, though, lacked the presence of TCU. All three Big 12 overtime games have gone multiple extra periods, but Tech's game-winning score came on a cheeky halfback jump pass from
Eric Stephens
to
Darrin Moore
. The Jayhawks erased a double-digit, fourth-quarter deficit to send the game into overtime, but once again, the Jayhawks came up just short from ending their painful Big 12 losing streak.
Best quote: Gary Patterson
, to Bill Snyder after K-State, Patterson's alma mater, knocked off TCU in Fort Worth to go 10-0. "Go win it all," he said.
Best team performance: Texas
. It started with a fantastic tribute to Darrell Royal, but the Longhorns' evisceration of Iowa State was as complete a beating as you'll see in a Big 12 game not involving Kansas. Texas' defensive woes looked like a distant memory as the offense outgained the Cyclones by more than 300 yards and won the turnover battle 2-0. The Longhorns had the ball almost twice as long as ISU, ran the ball well and played amazingly efficient offense. Add it up, and you get the worst beating Iowa State's received all year. No small feat.
Honorable mention: Kansas State
Worst overall performance:
West Virginia's special teams. What a nightmare for this unit. Two different kicks took odd bounces, hit WVU players and were recovered by Oklahoma State to account for both of WVU's turnovers. Another play resulted in a touchback when four different WVU special-teamers got greedy and decided to let a punt bounce one more time. That's a 20-yard mistake, and eight plays later, OSU capitalized with a touchdown to go ahead 48-34. Does that happen if OSU is pinned inside its 5-yard line? It's worth asking.
Worst explanation: Tommy Tuberville.
Hey, only Tuberville knows exactly what he was trying to do when he aggressively swiped the headset off a graduate assistant on the sideline in the middle of giving him an earful. His explanation, though, that he was trying to get him off the field and meant to grab his shirt simply doesn't line up with what the video clearly shows. There was no urgency on the part of Tuberville to get the assistant off the field, and he missed his shirt by a long, long way with the swipe. I don't believe Tuberville deserves any truly serious punishment for an incident that looked worse than it actually was, but his explanation was an insult to viewers' vision and intelligence.
Best play: Jaxon Shipley/David Ash/Greg Daniels, Texas
. The Longhorns announced to the world what formation they would open up in, and gained 47 yards anyway. Ash pitched it to Shipley out of the wishbone, a three-back formation popularized by legendary Texas coach Darrell Royal, who died last week. The Longhorns made the move as a tribute to Royal. Shipley threw the ball back to Ash in the backfield, who found Daniels for a 47-yard gain. There was irony in doing so in honor of a coach who said that only three things can happen when you pass the ball, and two of 'em are bad, but this one was very, very good for the Horns.
Most deserving of a thank-you card: Texas A&M.
Kansas State looked likely to get squeezed out of the title game by Alabama and Oregon if the Tide, Ducks and Cats all went undefeated. Then the Big 12 expats knocked off the No. 1 team in the country on its home field. Snyder owes you one, Kevin Sumlin and Johnny Football.
November, 12, 2012
11/12/12
10:00
AM ET
Taking stock of Week 11 in the Pac-12.
Team of the week:
Stanford's showdown with Oregon State was the game of the week, with the winner becoming the top potential challenger to Oregon in the Pac-12 North Division. When the smoke cleared from a highly physical contest, it was the Cardinal and freshman quarterback
Kevin Hogan
, who had made his first college start, making the key fourth-quarter plays to notch the victory 27-23.
Best game:
While a furious Washington State comeback made things interesting against UCLA, it was another weekend mostly of blowouts. So Stanford's gritty victory is hard to ignore. Hogan threw a 13-yard TD pass with five minutes left to put Stanford ahead, and the Cardinal defense made it stand with a pair of subsequent defensive stops.
[+] Enlarge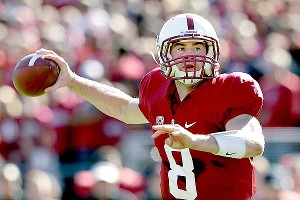 AP Photo/Jeff ChiuKevin Hogan, making first collegiate start, made plays like a veteran in the fourth quarter to put the game away for the Cardinal.
Biggest play:
With 8:34 left at Stanford, Oregon State quarterback
Cody Vaz
lost control of the ball without contact, and Stanford recovered at the Beavers' 29-yard line. That set up the Cardinal's decisive score. It also seemed to shake Vaz, who was out of sorts on Oregon State's next two possessions.
Offensive standout:
While it was against the terrible Colorado defense, it's impossible to overlook Arizona running back
Ka'Deem Carey
, who set a new Pac-12 single-game rushing record with 366 yards against the Buffaloes. He averaged 14.6 yards per carry and scored five touchdowns in the blowout win.
Offensive standout II:
Despite getting banged up in the first half, Oregon quarterback
Marcus Mariota
was brilliant in the win at California, completing 27 of 34 passes for 377 yards and six touchdowns. He also rushed six times for 42 yards. He's now No. 1 in the nation in passing efficiency.
Defensive standout
: UCLA outside linebacker
Anthony Barr
recorded eight tackles, 2.5 sacks -- one of which produced a safety -- and blocked a punt in the win over Washington State. He has 10 sacks this season.
Special-teams standout:
UCLA's special teams,
lauded by the Pac-12 blog
last week but derided by
Sam From Los Angeles
, blocked two field goals and two punts against Washington State.
Smiley face:
When California went 74 yards in nine plays for a touchdown on its first third-quarter possession to cut Oregon's lead to 24-17, there was just a tremor of worry among the Ducks' fan base, right? Weird things happen to Oregon in Berkeley. And Alabama already had lost, making it feel as though it might become
one of those
weekends in college football, when things go haywire. But the Ducks answered emphatically, rolling up 35 unanswered points to turn the game into another blowout victory. Oregon is flashy, yes, but as important is its poise and mental toughness.
Frowny face:
: Because there are two sides to every story, the best assessment of the
Marquess Wilson versus Mike Leach dustup
is both parties probably haven't always conducted themselves in a laudable way. Wilson's attitude and effort were often transparently mediocre, something you could see during games and ascertain from practice reports. But there's also this: Leach's motivational techniques have failed this season. He inherited a team that had potential to get to a bowl game and made it worse. That doesn't mean things won't get better -- way better, perhaps -- in the future. It only means that he seemingly sacrificed this season to install a "my way or the highway" approach that included a near weekly calling out of his team's character. The media love Leach's intelligence, humor and candor. But they also sometimes make just about any observer squirm.
Thought of the week:
If things hold true to present form, Oregon will meet Kansas State for the national title on Jan. 7. That means the
infamous canceled series
between the two could end up getting played on the biggest stage in college football. That surely will settle things! And talk about a story that will get beaten to death for weeks in advance of the game. If the Wildcats lose to either Baylor or Texas, then it's likely the Ducks would meet Notre Dame. If Notre Dame loses to either Wake Forest or at USC, then the Ducks probably would play the SEC champion -- Alabama or Georgia -- for the national title.
Questions for the week:
Which of Oregon's
long list of injured players
on defense will play against Stanford on Saturday, and which will not? At some points against California, the Ducks were playing five freshmen along their defensive front seven. The Cardinal, with a much better offensive line than California, will have a chance to exploit that. If D-linemen
Taylor Hart
(foot),
Dion Jordan
(shoulder),
Isaac Remington
(ankle),
Ricky Heimuli
(knee) and tackle
Wade Keliikipi
play, then the Ducks defense will have an advantage up front. If they -- or most of them -- don't, then things could get interesting.
November, 12, 2012
11/12/12
10:00
AM ET
Here's a look back at the highlights (and lowlights) of Week 11:
The good:
NC State's bowl eligibility. With its 37-6 win over Wake Forest on Saturday, NC State reached the six-win mark and will go bowling for the third straight year under coach Tom O'Brien. The Wolfpack joined Florida State, Clemson and Duke as the ACC's only bowl-eligible teams with two weeks remaining in the regular season. It was an important turnaround following a flat, uninspired performance in a Week 10 loss to Virginia. It was also another important lock for the postseason, considering how many ACC teams are still looking for win No. 6.
The much-needed:
Florida State's road win. The ACC's reputation is hanging in the balance the way it is, but could you imagine if the league's top-ranked team lost on the road to a five-loss team? Clemson, of course, wouldn't have minded an FSU loss one bit, but FSU and the ACC avoided disaster on Thursday night in Lane Stadium.
[+] Enlarge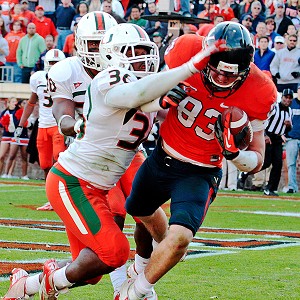 AP Photo/Steve HelberWithout three starters on defense, Miami had a tough time trying to stop Jake McGee and Virginia.
The bad:
Defenses. What defenses? UNC didn't have any. Georgia Tech didn't have any. Miami was without three of its defensive starters, Maryland was without its leading tackler, and Virginia just didn't play much of it. Even Florida State's defense was friendlier than usual, allowing the usually stagnant Hokies offense 385 total yards.
The ugly:
FSU's running game, which was held to minus-15 yards. The Noles entered the game with the No. 14 rushing offense in the country. Hey, at least the Hokies played some D.
The painful:
Wake's pass protection. The Deacs were beaten soundly up front all game by NC State, and quarterback
Tanner Price
was sacked five times. He was throwing under pressure all afternoon, and completed 18 of 33 passes for no touchdowns and one interception.
The record:
Georgia Tech's 68 points were the program's most in an ACC game. Georgia Tech and UNC set a record for the most combined points in an ACC conference game, breaking the old record of 106 set on Oct. 31, 1981, when Clemson beat Wake Forest 82-24. Speaking of Clemson ...
The record II:
Clemson set a school record with 12 straight home wins.
The campaign:
What more does
Duke Johnson
need to do to solidify his rookie of the year campaign? Nada. He had 368 all-purpose yards in the loss to UVa. He threw an 8-yard touchdown pass, giving him at least one score passing, rushing, receiving and off a kick return this season. Johnson set a personal best with 150 yards on 16 carries.
The quote:
"It was a whole lot different today than one week ago. We got back to playing the way we did the previous four weeks. I think it took a lot out of our guys coming down to so many games decided on the final play, but that is no excuse for our performance last week. The last thing I said to them was we are at a fork in the road. We can either go to a bowl game, or go the other direction. They all stood up and said they are going to a bowl game." -- NC State coach Tom O'Brien
November, 12, 2012
11/12/12
10:00
AM ET
Here's one more look back at what went down this past weekend in the Big East:
The good
: Connecticut finally notched a Big East 'W.' Rutgers got back on the winning track. And Syracuse and Cincinnati turned in dominating performances a week after their tight battle, which went the Bearcats' way.
The bad
: Louisville, which had risen to No. 9 in the BCS rankings and was carrying the banner for the conference, laid a gigantic egg in Syracuse, getting blown out 45-26. Lots of credit to the Orange, but make no mistake, this was a huge blow for the conference, which was already getting disrespected by computers and pollsters who had two two-loss teams ahead of the unbeaten Cardinals.
The ugly
: Oh, Pitt. What shall we do with you? A week after taking the No. 3 team in the country to triple-overtime on the road, you fall behind 24-0 to a UConn team that has not moved the ball well in more than a month. Now your bowl chances are very slim, and you really have nowhere to look but in the mirror following some mind-boggling defeats this season.
The replacements
:
Brendon Kay
's first start for Cincinnati could not have gone better, as the fifth-year senior completed 13 of 21 passes for 244 yards and two touchdowns, adding 71 rushing yards on seven carries. His second-half opponent,
Clinton Granger
, replaced
Chris Coyer
, who has been ineffective throughout Temple's four-game losing streak. Here's guessing one of these teams' QB situations will be a lot clearer than the other's heading into this week.
Send it in, Jerome!
Jerome Smith
has now rushed for 100 or more yards in four straight games for Syracuse, who notched another huge home upset under coach Doug Marrone. The Orange are on the brink of returning to bowl eligibility, and their re-established running game is a big reason for that, with Syracuse winning three of its past four games.
Nice to see you again
: Oh hey, UConn's rushing game.
Lyle McCombs
had his first 100-yard game since Sept. 22. In fact, he had not rushed for even 50 yards in a game since September, and the Huskies had not scored a second-half touchdown since then, either. But the nation's 116th-ranked rushing attack put up 132 yards while holding Pitt to 48, this after
Ray Graham
picked apart Notre Dame's defense for 172 rushing yards a week earlier.
Wild finish awaits
: Rutgers is the only team without a Big East loss, but it will have its hands full this week at Cincinnati. Rutgers and Louisville both control their own destinies when they meet in the Nov. 29 regular-season finale, but the Bearcats can turn this into a completely chaotic race if they take down the Scarlet Knights this weekend.
November, 12, 2012
11/12/12
10:00
AM ET
Here's one final look back at how Notre Dame got to 10-0.
The good
: No. 1 Alabama lost, No. 4 Notre Dame won, and now if the Irish win out, they likely need just one more team in front of them to lose in order to reach the national title game. Considering the Tide were ranked first, it's safe to say the biggest domino has already fallen Notre Dame's way in this BCS beauty contest.
The bad
: Two fumbles kept this game from getting out of hand and, consequently, hurt whatever chance Notre Dame had getting style points.
The ugly
:
DaVaris Daniels
(broken left clavicle) is lost for the regular season after a nasty fall on a deep ball in the third quarter. He went to the locker room shortly after the play and was in a sling after the game.
Louis Nix
and BC's
Bobby Vardaro
getting ejected in the closing minutes was not a pretty sight, either.
How about that?
Manti Te'o
recorded his sixth interception of the season, which gives him the school record for a linebacker. His six picks are more than any cornerback in the country, too.
Next up
: Notre Dame readies for Senior Day, which brings to town a Wake Forest team that is seeking one more win to become bowl eligible. The Demon Deacons gave the Irish all they could handle last season in Winston-Salem, N.C., with Notre Dame escaping with a 24-17 win. The Deacs are coming off a 37-6 loss at NC State.
November, 12, 2012
11/12/12
10:00
AM ET
Through the lens of history ...
Team of the week:
Wisconsin. Reports of the Badgers' demise were premature. While everybody was hopping aboard the Indiana bandwagon last week, Wisconsin simply got back to what it does best: running the ball. Bret Bielema's team steamrolled to a school-record 564 rushing yards and threw it only seven times in a 62-14 rout of the Hoosiers. As a result, the Badgers are going back to the Big Ten championship game.
Game of the week:
Lots of good ones Saturday, but the most drama came in Ann Arbor. Michigan outlasted Northwestern 38-31 in overtime thanks to a last-minute miracle and plenty of chutzpah from
Devin Gardner
. There is some magic in those Michigan uniforms at the Big House.
[+] Enlarge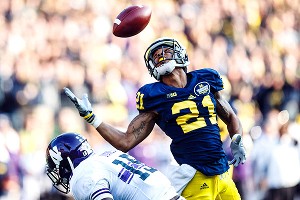 Rick Osentoski/US PresswireRoy Roundtree made one of the biggest plays in the Big Ten all season with a miraculous catch in the final seconds of regulation.
Biggest play:
As if there were any doubt. We've had the Immaculate Reception; should we call this one the Roundtree Revelation?
Roy Roundtree
's
53-yard catch off a tipped ball
(around the 1:20 mark) with eight seconds left to set up Michigan's tying field goal may well go down as the Big Ten play of the year. How did Roundtree get so open on a post route, with Northwestern in a prevent defense? "Anybody who goes to catch the ball I'd like to have triple-teamed," Wildcats coach Pat Fitzgerald said. "That would be ideal. But I can't say I would change the call. I just wish we had knocked the dang ball down." Instead, Roundtree and Northwestern cornerback
Daniel Jones
both got their hands it, the ball bounced straight up and Roundtree maintained his concentration long enough to haul it in while falling down. Roundtree's Roundabout Reception (OK, this still needs some work) will go down in Wolverines' lore.
Best call:
Minnesota was struggling again in the red zone at Illinois and was locked in a 3-3 game in the second half when it faced a fourth-and-inches on the Illini 16. Instead of going for the easy field goal, head coach Jerry Kill went for the kill. A
Philip Nelson
sneak picked up the first down, and the Gophers would go on to score a touchdown en route to an eventual 17-3 victory. Minnesota reached the six-win plateau and is going bowling for the first time since 2009. Ski-U-Mah!
Testiest news conference:
It's not much fun being either a coach or a reporter at a news conference when a team is losing; there are only so many ways to ask the question: Why do you stink? And so it went at Iowa, which lost its fourth straight game by falling at home to Purdue. The very first question posed to head coach Kirk Ferentz was why and how he got outcoached. "You can say it's this, it's that, lunar moon, whatever," Ferentz said. "But that's coaching. And that's me. Coaching starts with me." Later, after more questions about his team's struggles, Ferentz tried to defend Iowa's season by pointing to victories over Minnesota and Michigan State. "It's not like this has been a dog crap team," Ferentz said. "You want to paint that picture, I'm not buying that." (And if such a picture is for sale, I want to avoid that arts and crafts show.)
Big Man on Campus (Offense):
This fall may not totally belong to Ball, but the state of Indiana sure does.
Montee Ball
ran for 198 yards and three touchdowns in Wisconsin's 62-14 hammering of Indiana, putting the Badgers' star within one touchdown of tying the NCAA career record. For his career, Ball has tallied 824 rushing yards and 13 touchdowns in five games while playing in the Hoosier State. He's got one more left: the Dec. 1 Big Ten title game in Indianapolis.
Big Man on Campus (Defense):
Nebraska safety
Daimion Stafford
was part of a dominant second-half defensive effort from the Blackshirts in a 32-23 win over Penn State. Stafford's interception of Matt McGloin helped set up the tying touchdown in the third quarter, and he later recovered the fumble by
Matt Lehman
in the end zone. Special mention also goes to Purdue defensive tackle
Kawann Short
, who had four tackles for loss to help the Boilermakers control the line of scrimmage at Iowa.
Big Man on Campus (Special teams):
Purdue freshman
Paul Griggs
missed a short field goal at the end of the first half at Iowa and had misfired on a couple of tries at Ohio State that could have changed the outcome of that overtime loss. But he made up for that by drilling a 46-yard field goal as time expired to give the Boilers the 27-24 victory. "It seemed like everybody was grabbing me, and I know I got grabbed by a couple of the guys after the kick," Griggs said. "As soon as I got away from them, I was running over toward the fans, and my mom ran out of the stands and she blindsided me. She was quite happy."
Worst hangover:
Northwestern could be 10-0 right now. In all three of their losses, the Wildcats held double-digit leads in the fourth quarter. A good season could have been a great one in a very winnable Big Ten. Instead, Northwestern keeps finding ways to punch its fans in the gut. The Michigan loss was the worst one yet, as the Wildcats first surrendered a 10-point fourth-quarter lead, then went ahead again late only to surrender the miraculous catch to Roundtree.
Strangest moment:
Penn State sure wasn't happy about the controversial fumble call on Lehman's near-touchdown. But there was a strange penalty earlier in the game that went against the Nittany Lions, too.
Late in the first half, Nebraska's
Brett Maher
shanked a punt for 16 yards, apparently giving Penn State great field position. But the officials called sideline interference on the Lions, a 15-yard penalty.
Sideline interference? You see teams get warned for that but rarely flagged. Penn State beat writers in the press box thought that secondary coach John Butler, who often crowds the field, was the one who drew the flag. But Bill O'Brien said that wasn't the case.
"I guess the referee was running down the sideline and from what I was told, he ran into one of our players and I guess that's sideline interference," O'Brien said.
From that point on, a Penn State staff member made sure to keep telling coaches and players to move back anytime they got close to the field. And the Nittany Lions were left to wonder when they were going to get a break from the refs.