NCF Nation:

weekend-rewind-112811
November, 28, 2011
11/28/11
1:43
PM ET
The regular season is behind us, but the good stuff is still to come.
Time to find out who's hot and who's not in the SEC:
GLOWING EMBERS
[+] Enlarge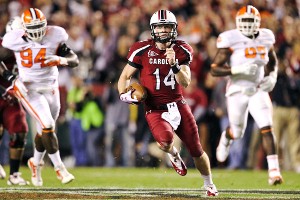 Daniel Shirey/US PresswireConnor Shaw brought stability to the QB position last season for South Carolina.
South Carolina quarterback Connor Shaw:
Calm down, Gamecocks fans. We didn't forget about Shaw. The sophomore quarterback was sensational in a 34-13 win against Clemson with a career-high 107 rushing yards while completing 14 of 20 passes for 210 yards. Shaw threw three touchdown passes and wasn't intercepted, and also ran 15 yards for a touchdown. After everything the Gamecocks went through with
Stephen Garcia
, Shaw has been a breath of fresh air. He works hard, does it exactly the way Steve Spurrier asks him to do it and plays within himself. It's a different-looking offense with Shaw at the helm, but give him credit for stepping into a tough situation and leading the Gamecocks to just their second 10-win season in school history.
HOT
LSU's running game:
If you really want to know what running the football with a purpose looks like, watch LSU run the ball. The Tigers mash people up front, and they're so deep at running back that you can't keep track of who's in the game. Trying to slow down their running game in the second half is like trying to stop a tidal wave.
NOT
Arkansas coach Bobby Petrino:
If you're an accomplished lip reader, the television cameras caught Petrino mouthing some not-so-nice things while gesturing across the field to the LSU sideline in the final minutes of Friday's game. The postgame handshake was awkward, too, when it looked as though Petrino sort of pulled away. Asked if they had words, LSU coach Les Miles cracked, "Not many."
HOT
Vanderbilt's offense:
It's hard to believe this is the same offense that went back-to-back games against South Carolina and Alabama without scoring a touchdown. The Commodores routed Wake Forest 41-7 on Saturday and rolled up 481 yards in total offense. It's been a total metamorphosis, and everybody deserves credit -- the offensive coaches, quarterback
Jordan Rodgers
, running back
Zac Stacy
, receiver
Jordan Matthews
and an offensive line that might be the most improved unit in the league.
NOT
Florida's offense:
The Gators have shown up in this space more than once this season for their offensive ineptitude. Come to think of it, they did last season, too. Surely, it can't get any worse on that side of the ball in Gainesville, but it's also difficult to look ahead to next season and make a strong case for why the Gators will be appreciably better.
HOT
LSU's defense:
Even without injured starting safety Eric Reid, the Tigers were dominant in their 41-17 win against Arkansas and the Hogs' high-powered offense. The Hogs managed just 89 total yards in the second half. LSU's first-team defense has now gone six straight games without allowing a touchdown in the second half.
NOT
Auburn's finish:
There was a time this season when it looked like Auburn might hang in there and be one of the surprise teams in the league. But the Tigers unraveled down the stretch. Not only did they lose three of their last four SEC games, but they lost those games by a combined 132-31 margin.
FREEZER BURN
The Big Orange Nation:
The ground is quaking right now on Rocky Top coming off Tennessee's first loss to Kentucky since 1984, a loss that ensured the Vols' second straight losing season. The last time that happened was 1910 and 1911. It's Tennessee's fourth losing season in the past seven years, and even though a lot of the fans want to give second-year coach Derek Dooley the benefit of the doubt because of the situation he walked into in terms of player attrition and the NCAA cloud hovering, the gloves have come off after the loss to Kentucky. Several former Tennessee players, some who played on the Vols' 1998 national championship game, went on a Knoxville radio show the day after the loss and unloaded on Dooley. It's a broken football program right now, and Dooley will get at least one more year to fix it. But if the Vols don't make some major strides next season, one more year might be all he gets.
November, 28, 2011
11/28/11
1:30
PM ET
Taking stock of the 12th week of games in the Pac-12.
[+] Enlarge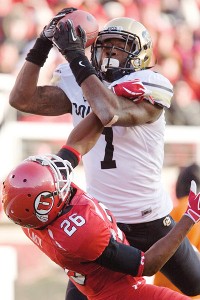 Russ Isabella/US PresswireToney Clemons and the Buffaloes end their regular season on a high note, beating Utah 17-14.
Team of the week
: Colorado didn't quit on its season, and it was rewarded -- finally -- with a 17-14 win at Utah, a victory that ended a 24-game losing streak outside the state of Colorado. It was a nice way for 26 seniors to go out -- with a smile after a long, difficult season -- and an even better way for the players who will be back to hit the offseason with some positive momentum. And, by winning, Colorado pushed UCLA into the Pac-12 championship game against Oregon. Wait. Is that good?
Best game
: The Buffaloes' win over Utah wasn't decided until Utes kicker Coleman Petersen missed a 48-yard field goal try with two seconds remaining.
Biggest play
: Can there be a "big play" in a 50-0 game? We think so. After USC took a quick 7-0 lead on UCLA, the Bruins efficiently drove 79 yards to the Trojans' 1-yard line, where they faced a fourth-down decision. Coach Rick Neuheisel did the only thing he could do: He went for it. After a timeout, the ball went to
Derrick Coleman
, but he was stopped for no gain by Dion Bailey and Jawanza Starling. You sort of knew right then this wasn't going to be Neuheisel's night.
Offensive standout
: USC QB
Matt Barkley
completed 35 of 42 passes for 423 yards with six touchdowns and no interceptions in the win against UCLA. He set a conference record with 39 TD passes this season. And there's a decent shot he'll get invited to the Heisman Trophy ceremony.
Defensive standout:
Stanford OLB Chase Thomas had five tackles, two sacks, three tackles for a loss, a forced fumble and two QB hurries in Stanford's
28-14 win
over Notre Dame.
Special-teams standout
: California kicker Giorgio Tavecchio was 4-of-4 on field goals and 5-of-5 on PATs in the Bears' 47-38 win at Arizona State.
Smiley face
: Tim Kish went 3-3 as Arizona's interim head coach, beating rival Arizona State along the way. Kish is a hard guy not to like, but this isn't about that. It's about a guy being a good soldier for his school and his players. Kish excelled in a thankless job, stepping in after Mike Stoops was fired. Kish is a highly respected assistant. New Wildcats coach Rich Rodriguez should give him a long look for his new staff.
Frowny face
: 50-0? Really? Does that accurately represent the gap between UCLA and USC? Perhaps in pride even more so than athletic ability. It's clear Neuheisel is going to pay for that result as well as his inability to get the Bruins to play consistently good football. But there are a lot of players who should be ashamed of their performance and effort, which was bad and lacking. Let's put it like this: 50-0 will be the single biggest memory of the 2011 season for every Bruin and Trojan. That should sting for the folks in Westwood.
Thought of the week
: It appears the Pac-12 will again get two teams in BCS bowl games. That's good news even if you're not a Stanford or Oregon fan. Why? Well, last year a second BCS bowl team meant an extra $6 million distributed to the conference on top of the $21.2 million the conference got for one berth. All the bowl money is divided evenly among the conference teams, so we're talking an extra $500,000 per team, which is nice.
Questions for the week
: Does UCLA have any chance at all against Oregon? Will the Bruins even show up? Or are we talking another 50-point blowout? Vegas has set a 31-point spread. So the expectations is ugly for Friday night.
November, 28, 2011
11/28/11
1:00
PM ET
STANFORD, Calif. -- The regular season is over. There is one more unknown game to be played at an unknown location against an unknown team. But we know this: The Cardinal are 11-1 in the regular season for the second straight year. Before we start speculating on where to pick up bowling shoes, let's take a look back at some of the highlights of Saturday's 28-14 win over the Irish.
Highlight reel: Ever see those preseason training camp highlights of players running with their teammates holding them back with giant rubber bands -- or receivers dragging weighted sleds behind them attached at the hips? Coby Fleener showed Saturday night on his 28-yard touchdown reception why that's sound training.
Best play: Not the most innovative play the Stanford coaching staff has ever come up with, but still a nice grab from 6-foot-8 tight end Levine Toilolo on the 3-yard touchdown pass from Andrew Luck. Quarterback throws to really tall guy. Really tall guy jumps high and catches ball. Sometimes simpler is better.
Who's hot: Luck and Fleener. Arguably the two best players at their positions in college football lit it up in their final game at Stanford Stadium. Luck threw four touchdown passes -- two of them to Fleener, who added a 55-yarder to his 28-yard sledding performance.
Who's not: Irish quarterbacks. Another game, another quarterback controversy for Brian Kelly & Co. It didn't help that they were sacked five times Saturday night.
The good: 11 wins. Really good.
The bad: 1 loss. Really bad.
November, 28, 2011
11/28/11
1:00
PM ET
Let's take a look back at the non-AQs in Week 13:
Houston one step away.
The Cougars faced a tough task on the road at Tulsa, with a spot in the Conference USA championship game on the line. Tulsa jumped out to a 10-6 lead early in the game, and some had to wonder whether we were seeing the old Houston come back to life. But these are not the Cougars of 2009 or 2010. The Cougars reeled off 28 straight points in the second half to blow open the game and win 48-16.
Case Keenum
threw for 457 yards and five touchdown passes, and
Patrick Edwards
had 181 yards and four touchdowns as Houston won a school-record 12th game. Two of their touchdown connections came on fourth down. Edwards went over 100 yards for the 16th time in his career and also broke the conference record for career receiving yards. Houston now hosts Southern Miss on Saturday with a chance to make its first BCS appearance.
Coaching carousel starts.
Akron, Memphis and UAB all are in the market for new head coaches. The Zips fired Rob Ianello after he went 2-22 in his two seasons at the helm. The Tigers fired Larry Porter after he went 3-21 in two seasons. UAB fired Neil Callaway after he went 18-42 in five seasons with the Blazers. Athletic directors at all three schools essentially said they did not see improvement in their programs and decided to go in different directions. Callaway is the third Conference USA coach who has been fired this season, joining Bob Toledo of Tulane. New Mexico also fired coach Mike Locksley earlier this season, but already hired former Notre Dame coach Bob Davie. Meanwhile, Ianello was reportedly fired as he drove to his mother's funeral in Long Island, N.Y.
Going bowling.
Marshall became bowl eligible for the first time under coach Doc Holliday, after a 34-27 win over East Carolina in overtime. The Pirates sent the game into the extra period when
Dominique Davis
threw a 6-yard touchdown pass to
Justin Jones
with 14 seconds left in regulation. But Davis threw an interception in overtime, after
Tron Martinez
scored on a 1-yard run for the Herd. East Carolina will not be in a bowl game for the first time in six years. As for the Herd, they are one of several non-AQ teams to become bowl eligible after losing seasons in 2010:
Ball State improved from 4-8 to 6-6.
Western Kentucky improved from 2-10 to 7-5.
Wyoming improved from 3-9 to 7-4, with one game remaining at Colorado State.
Louisiana Tech improved from 5-7 to 8-4 and WAC champs.
Utah State improved from 4-8 to 6-5 with one game remaining at New Mexico State.
Arkansas State improved from 4-8 to 9-2.
Louisiana-Lafayette improved from 3-9 to 8-4.
As you can see, three Sun Belt teams made five-game improvements, and the league has four bowl-eligible teams this season.
Game of the week. FAU 38, UAB 35.
Howard Schnellenberger announced his retirement before the season, began but his final season was not exactly going according to plan. The Owls were the only winless team in FBS heading into Week 13. But alas, the football gods conspired to make sure the legendary program builder would not go out without a win. The Owls played inspired football Saturday against UAB, beating the Blazers 38-35 as Schnellenberger avoided his first winless season.
Alfred Morris
had a career-high four touchdowns, with a career-high 198 yards on 38 carries to notch his fifth straight 100-yard game. "I got the biggest and best kiss from [wife] Beverlee in a long time on the sideline," Schnellenberger said afterward. "And I'm expecting more when I get home."
WAC-ky WAC.
Nevada was in control of the WAC heading into last week's game against Louisiana Tech. But the Wolf Pack have now dropped two straight games, losing to Utah State 21-17 on Saturday. The Bulldogs had no such problems after their big win over Nevada last week and beat New Mexico State 44-0 to win their first WAC title since 2001. Louisiana Tech has won seven straight after starting the year 1-4. The team also accepted a bowl spot in the San Diego County Credit Union Poinsettia Bowl, the fifth bowl bid in school history. This will be first bowl appearance since an Independence Bowl victory over Northern Illinois in 2008.
Helmet Stickers
Rakeem Cato, QB, Marshall. Cato went 23-of-29 for 341 yards and two touchdowns in a 34-27 overtime win over East Carolina to get the Thundering Herd to a bowl game.
Bernard Pierce, RB, Temple.
Pierce had a season-high 189 yards and three touchdowns on 24 carries in a 34-16 win over Kent State. Pierce went over the 100-yard mark in rushing for the 17th time in his career and eighth time this season. Pierce has had three or more touchdowns in six games this year.
Bobby Rainey, RB, Western Kentucky.
Rainey had a season-high 227-yards and three touchdowns in a 41-18 win over Troy. Rainey also broke the school's single-season rushing record, ending the regular season with 1,695 yards. He now leads the nation for the second straight season in carries and broke his own school record with 369 attempts on the season.
Travis Stanaway, S, Boise State. Stanaway, making just the second start of his career for Boise State, had a career-high nine tackles, forced a fumble and had his first career interception as a Bronco in a 36-14 win over Wyoming.
Bobby Wagner, LB, Utah State. Wagner had a game-high 15 tackles in a 21-17 win over Nevada, and also had a critical fumble recovery on a fourth-and-1 in the final minutes of the game to preserve the victory.
November, 28, 2011
11/28/11
1:00
PM ET
It's time to take one more look back at Notre Dame's regular-season ending 28-14 loss at Stanford.
[+] Enlarge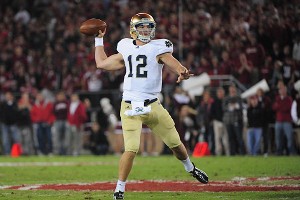 Kyle Terada/US PresswireQuarterback Andrew Hendrix saw extensive playing time in Notre Dame's loss against Stanford.
The Good:
Better late than never, right?
Andrew Hendrix
saw his first extended action since Oct. 22 against USC, playing the entire second half. The sophomore completed 11 of 24 passes for 192 yards and a touchdown, and added 20 rushing yards and another touchdown on 12 carries.
The Bad:
Whatever BCS-bowl hopes Notre Dame hung onto went up in flames with a convincing road loss against a likely BCS bowl team. The Irish were out-gained 287-75 in a first half that ended with them trailing 21-0.
The Ugly:
In falling to 1-3 against ranked opponents this season, Notre Dame surrendered five sacks, missed a 20-yard field goal and committed 10 penalties for 68 yards. Not the recipe for beating a top-10 team on the road.
Turning point:
After Darius Fleming picked off
Andrew Luck
in the second quarter and returned the ball -- with the help of a horse-collar penalty -- to the Stanford 11, David Ruffer missed a 20-yard field goal. Luck and the Cardinal then marched 80 yards in 10 plays, ending with a 28-yard touchdown pass to
Coby Fleener
that made it 14-0 and swung the momentum.
Call of the day:
Hard to point to just one call, but Stanford did a tremendous job of taking advantage of its massive tight ends against the Irish's small cornerbacks. Luck hit 6-foot-8
Levine Toilolo
for a three-yard touchdown pass on a first-quarter fade route when Toilolo was matched up against the 5-11 Gary Gray. For his second touchdown pass, Luck hit the 6-6, 244-pound Fleener near the 14-yard line when he was covered by the 6-1 Robert Blanton. Fleener essentially dragged Blanton the rest of the way into the end zone, resulting in a 28-yard touchdown pass and 14-0 Stanford lead in the second quarter.
Next up:
Despite its 3-0 ACC record (4-0 if you include soon-to-be ACC school Pittsburgh), Notre Dame will not be playing in this Saturday's ACC title game. That contest will feature Clemson and Virginia Tech. The Irish might get Clemson in the Champs Sports Bowl if the Tigers fall Saturday, but the Irish's bowl and opponent is, at the moment, not yet officially determined.
November, 28, 2011
11/28/11
1:00
PM ET
For the final time in the 2011 regular season, let's press the rewind button:
[+] Enlarge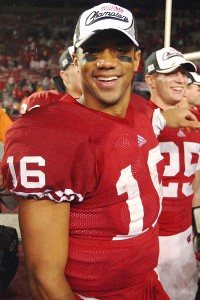 Mary Langenfeld/US PresswireRussell Wilson's one season at Wisconsin was surely something to smile about.
Team of the week:
Wisconsin. The Badgers had an uphill climb after losing back-to-back games against Michigan State and Ohio State to end October. But they battled back to win their final four games in impressive fashion, including Saturday's
45-7 blowout
of Penn State in Madison. Now they're just one win away from their second straight Rose Bowl appearance.
Game of the week:
Michigan 40, Ohio State 34. Five lead changes, more than 800 yards of offense, a duel between two super-athletic quarterbacks and a game that came down to the final two minutes in a huge rivalry. Yep, this one was a no-doubter this week. Best edition of The Game since 2006.
Biggest play:
Josh Johnson's interception of Indiana quarterback
Tre Roberson
late in the fourth quarter. The Hoosiers had moved the ball well all day and only trailed Purdue by eight points as they started their final drive. Johnson and receiver Nick Stoner caught Roberson's pass simultaneously, but Johnson ripped the ball away when they hit the turf. That allowed the Boilermakers to run out the clock, get back the Old Oaken Bucket, clinch bowl eligibility and quite possibly save Danny Hope's job. Good thing for them the play was not reviewable by rule.
Best call:
Nebraska's decision to let
Rex Burkhead
break the school record for carries with a kneel down for No. 38 against Iowa. Burkhead, who hadn't played for several minutes after scoring a touchdown on his 37th carry, was typically humble when asked to go in for the record, telling his teammates he didn't want to get it that way. But offensive lineman Marcel Jones convinced him to do it for the seniors. Burkhead wasn't anywhere near 100 percent for last week's game but has been one of the biggest warriors in the Big Ten all season. He deserves as many places in the Nebraska record book as he can get.
Big Men on Campus (Offense):
Michigan's
Denard Robinson
and Wisconsin's
Montee Ball
. These two share the award for a second straight week, and with good cause. Robinson accounted for five touchdowns and more than 330 yards of total offense, becoming just the fourth player in NCAA history to gain 2,000 yards passing and 1,000 yards rushing in a season twice in his career. He ran for 170 yards in the 40-34 win over Ohio State. Ball just keeps on piling up the touchdowns, adding four more in the win over Penn State. He ran for 156 yards on 25 carries and set the NCAA record with multiple touchdowns in 12 straight games. He has 34 touchdowns on the season, second-most of any FBS player in history and just five short of Barry Sanders' record of 39.
Big Men on Campus (Defense):
Minnesota's Kim Royston and Nebraska's Lavonte David. Royston had 13 tackles against Illinois, the eighth time this season he finished a game with 10 or more stops. He also had his first sack of the season and a pass breakup while finishing the season with 123 tackles, the most by a Gopher since 2001. David capped his spectacular regular season with eight tackles and a sack, along with two pass break-ups, a forced fumble and a fumble recovery, as the Huskers nearly shut out Iowa.
Big Man on Campus (Special teams):
Purdue's Carson Wiggs. He made four field goals -- from 48, 43, 29 and 22 yards -- in the Boilers' bowl-clinching 33-25 win over Indiana.
Best moment:
It wasn't quite "Rudy," but it was close at Camp Randall on Saturday.
Wisconsin senior defensive end Greg Russo served two tours in Iraq before walking on to the Badgers last spring. For almost the entire season, he'd been waiting for the NCAA to clear him to appear in a game.
He finally got on the field for the first time with about a minute left in the win over Penn State. He didn't record a tackle like Rudy, but he didn't care.
"We stand on the field every day for practice," Russo told the Wisconsin State Journal. "But tonight, standing in the middle of the field and looking around and seeing the fans there and knowing I was a part of something that big, a part of being the Leaders Division champs, it was a totally different feeling, like I was on a completely different field and I was in a completely different place."
November, 28, 2011
11/28/11
1:00
PM ET
The regular season has come to a close in the ACC. Here's a look back at the highlights and lowlights of Week 13:
The good:
Al Golden's contract extension. Speculation about Golden's future at Miami should no longer be a distraction to the program or used against the Canes on the recruiting trail. Golden's contract takes him through Feb. 1, 2020, and he has made it clear he and his family are happy there.
[+] Enlarge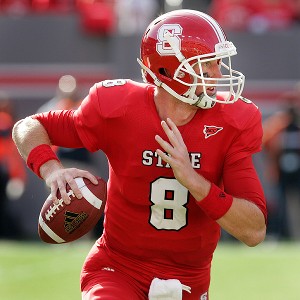 Mark Dolejs/US PresswireNC State QB Mike Glennon said that extending plays will be an area of focus for him this spring.
The great:
NC State's comeback. Wow. It was the biggest comeback in school history and the second-biggest comeback in ACC history. The Pack trailed by as many as 27, but scored six straight times and had 35 points in the fourth quarter. Quarterback
Mike Glennon
accounted for six touchdowns, and NC State won, 56-41 to become bowl eligible.
The consistent:
Following their 38-0 win against Virginia, the Hokies are now 53-11 in ACC games since joining the conference in 2004, and are 25-2 in November conference games during that time. The win against the Hoos was Virginia Tech's eighth straight win in the series and the 13th-straight road win, the longest active streak in the FBS.
The bad
: The ACC's effort against the SEC. Georgia Tech lost to Georgia, Clemson lost to South Carolina, and Wake Forest lost to Vanderbilt. It all added up to a 2-3 record this season against the SEC. It was the third straight year with a losing record, and the seventh in the past eight (the ACC finished 6-6 against the SEC in 2008 and last had a winning record at 5-4 in 2003).
The disastrous
: Maryland's meltdown. This isn't confined to what happened in Raleigh. That was just the final kick in the ribs. According to Patrick Stevens of the Washington Times, the Terps became the first major-conference program to have a winning season sandwiched between a pair of 10-loss seasons. Maryland suffered a school-record seven straight losses by double digits to end the season. The decline of seven wins matched the second-largest presided over by a first-year coach in a major conference in the past half-century.
The encore?
If the win against Miami was the final performance for BC linebacker Luke Kuechly, who should be a first-round NFL draft pick if he decides to leave early as a junior, it was one to remember. He ran an interception back for a touchdown and became Boston College's all-time tackles leader in the first half with the 525th stop of his career.
November, 28, 2011
11/28/11
1:00
PM ET
Let's take a look back at Week 13 in the Big East and quick look ahead to Week 14:
[+] Enlarge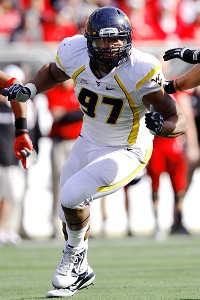 Frank Victores/US PresswireJulian Miller has been a defensive force for WVU this season.
The good:
West Virginia put together its best defensive effort of the season in a 21-20 win over Pitt. The Mountaineers had a season-high 10 sacks, and now have 15 sacks in the last two games. They had 11 combined in the first nine -- including five in a win over UConn. Julian Miller tied a school record with four sacks in one game. West Virginia held Pitt to 296 yards, the first time since a win over UConn that it held its opponent to under 300 yards of total offense. Miller wasn't the only one with four sacks this weekend. UConn defensive end Trevardo Williams also had four sacks in a 40-22 win over Rutgers, giving him a Big East leading 12.5 sacks this season. The 40 points the Huskies scored were the second-most all-time in the series with Rutgers.
Lyle McCombs
had 95 yards rushing, and now has 1,109 rushing yards this year, good for the ninth-best single-season rushing total in school history. ... Louisville finished at 5-2 in the league, which is the most wins in the league since the Cardinals went 6-1 in 2006. Cards held USF to only 64 yards rushing, marking the third time this season they have held an opponent under 70 yards on the ground. It also marks the sixth time they have held an opponent below 100 yards rushing. Louisville also had three sacks, extended its streak to 17 straight games with at least one in a game. ... Cincinnati showed up on offense, with
Munchie Legaux
throwing the first two touchdown passes of his career, and
Jordan Luallen
adding 77 yards on six carries in a 30-13 win over Syracuse.
Isaiah Pead
had 246 all-purpose yards and leads the Big East with 13 touchdowns. After notching a season-low 225 yards of total offense against Rutgers, Cincinnati had 368 against Syracuse. ... Rutgers receiver
Mohamed Sanu
ends the season with a Big East-record 109 receptions.
The bad:
One of the stories of the season for Pitt has been its play on the offensive line. With injuries and inexperience, the Panthers have been one of the worst in the country in this area. They gave up a whopping 10 sacks against West Virginia -- the most they have given up in a Big East game. Much of the blame against the Mountaineers falls on quarterback
Tino Sunseri
, who held onto the ball way too long in many of the instances. He was sacked three times on the final seven plays of the game. Pitt blew a 20-7 lead because its offense was simply unable to move the ball. The Panthers scored touchdowns on two of their first three drives, but were held out of the end zone for the rest of the game. . ... USF also blew a lead against Louisville. The Bulls held an early 17-3 lead, but was outscored 24-7 in the second half, marking the fourth time this season they could not hold onto a second-half lead. After starting the season 4-0 with a national ranking, the Bulls have lost six of their last seven games and are in danger of missing a bowl game for the first time in seven seasons. ... Syracuse has had just as tough a time in Big East play, as the Orange have lost four straight games since beating West Virginia. Their offense struggled once again, scoring 13 points in a loss to Cincinnati. Syracuse is 1-5 this season when it is held to 21 points or fewer. ... Rutgers lost a chance to win a share of its first Big East title after turning the ball over a season-high six times in a loss to UConn.
Chas Dodd
was pulled from the game in the fourth quarter, and Rutgers had minus-9 yards rushing, a week after going over 200 yards in a win over Cincinnati. After leading the league for much of the season in turnover margin, Rutgers finishes up at plus-3. ... About the only thing that went wrong for UConn -- kicker Dave Teggart had his Big East record streak of consecutive made extra points end at 127 when he had an attempt blocked against Rutgers.
Milestone watch
Tavon Austin, WR, West Virginia.
Austin set the school-record for receptions against Pitt, and now has 82.
Stedman Bailey, WR, West Virginia.
Bailey set the school record for single-season receiving yards against Pitt, and now has 1,117 this season.
Teddy Bridgewater, WR, Louisville.
Bridgewater broke the school's freshman passing yards record, and has 1,855 yards on the season. Chris Redman set the record of 1,773 yards in 1996.
Brandon Coleman, WR, Rutgers.
Had career-highs with 223 yards receiving and six receptions in a 40-22 loss to UConn. The yardage total is the fourth-highest in school history.
Khaseem Greene, LB, Rutgers.
Greene has 127 tackles on the season, the most by a Scarlet Knight since Gary Brackett totaled 130 tackles in 2002.
Alec Lemon, WR, Syracuse.
Has a school-record 60 receptions this season.
Geno Smith, QB, West Virginia.
Smith set the single-season school records for attempts (448), completions (291) and passing yards (3,741) in a win over Pitt.
Week 14 schedule
Thursday
West Virginia at USF, 8 p.m., ESPN
Saturday
UConn at Cincinnati, noon, ESPN
Syracuse at Pitt, noon, ESPN2
November, 28, 2011
11/28/11
1:00
PM ET
Here's our look back at the weekend that was in the Big 12, which set up a de facto Big 12 Championship game between Oklahoma and Oklahoma State.
Best offensive player:
Terrance Ganaway, RB, Baylor.
Ganaway quite literally "put da team on his back, doe." The 250-pounder rumbled for 247 yards and two touchdowns on a school-record
42
carries.
Robert Griffin III
was out with a concussion and Baylor needed somebody to step up. Ganaway did it in spectacular fashion, helping the Bears hold off Texas
[+] Enlarge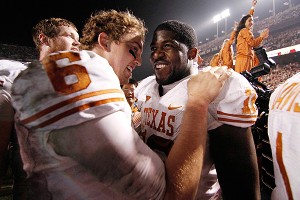 Brett Davis/US PresswireQB Case McCoy, 6, celebrates with Emmanuel Acho after Texas defeated Texas A&M last week.
Best defensive player:
Emmanuel Acho, LB, Texas.
Acho was everywhere for the Longhorns in their 27-25 win against Texas A&M. He made 14 tackles (10 solo) and had a tackle for loss in the win.
Best play:
Texas kicker Justin Tucker's 40-yard game-winner to beat Texas A&M.
No pressure, man. Just the bragging rights of one of America's quintessential football states for a long, long time. Tucker's kick was perfect. A no-doubter as soon as he kicked it. No matter what happens in the future, Tucker will always hold a special place in burnt orange lore. An ugly game with a gorgeous finish for the Longhorns.
Best game:
Baylor 66, Texas Tech 42.
So, Texas and Texas A&M had all the drama, but it was a pretty unattractive game. The Bears and Red Raiders in Cowboys Stadium was a ton of fun and had a different kind of drama. We had a crazy trick play, a team trying to rally without perhaps the nation's best player, big plays by his replacement, tons of turnovers and lots of offensive talent that put a ton of points on the board. This one was just fun to watch. A lot more fun than the Lone Star Finale.
Coolest play:
Texas Tech's mistaken identity TD
. Texas Tech backup quarterback
Jacob Karam
's No. 3 jersey was torn in pregame, and the Red Raiders gave him a nameless No. 85 jersey instead. Quarterback
Seth Doege
faked a handoff to the running back and tossed it to Karam on the end around, and we can only assume Baylor had no idea who No. 85 was. Karam slung it downfield to
Darrin Moore
, who caught it over a defender, stayed on his feet and trotted in the last few yards for a 43-yard score that cut Baylor's lead to 24-21 midway through the second quarter.
Best fashion sense:
Texas A&M
. The Aggies broke out maroon jerseys, maroon pants and maroon helmets for the first time since 2006 in their rivalry finale against Texas. A solid look.
Craziest statistic:
Texas A&M
. I heard it on Thursday and double-checked it. In the Aggies' six losses this season, they've been outscored 83-0 in the third quarter.
Best team performance:
Texas
. The Longhorns didn't do it pretty, but the defense kept them in it with a defensive touchdown, and Quandre Diggs added a huge 81-yard punt return to help Texas outscore the Aggies 17-0 in the third quarter. Texas played in one of the most frenzied atmospheres in the league this year, and strung together a huge late drive after the Aggies snatched the lead with 1:48 to play. Texas showed a lot of guts in this one.
Best appearance in relief:
Nick Florence, QB, Baylor
. RG3 came back in after taking a hit to the head and having it slammed against the turf. He looked dazed, but returned to the game and ran for a touchdown. When the Bears returned from halftime, though, the Bears announced that Griffin was done. Enter Florence. He made plays and threw two 40-plus yard touchdown passes, completing 9-of-12 passes for 151 yards and two scores.
Worst moment:
The clock running out in Texas' and Missouri's victories
. To me, it's nothing but sad. I watched games like Ohio State and Michigan on Saturday. It's rivalry weekend. The idea of never playing that game again is insanity. In the Big 12, though, it's accepted. The Border Showdown and Lone Star Showdown are done for awhile, and to me, it's the worst aspect of the recent realignment moves.
Best tweets:
Cyrus Gray, RB, Texas A&M
. Gray was hurt and stuck on the sidelines in a letter jacket after suffering a stress fracture in his shoulder against Kansas. Gray, though, was tweeting and taking photos from the sideline and
giving some love to his replacement
,
Ben Malena
, who played outstanding against the Aggies.