NCF Nation:

weekend rewind 120312
December, 3, 2012
12/03/12
11:24
AM ET
As we have for each of the past 14 weeks, it's time to break out the thermometer in the SEC:
GLOWING EMBERS
SEC drama:
It doesn't get much better than Alabama's 32-28 win over Georgia last Saturday in the SEC championship game. And, really, the league needed a good game after duds each of the past two years. Both teams showed a lot of moxie and a lot of resolve, and the battle on the line of scrimmage epitomized what SEC football is all about. The interest around the country was already massive. The winner earned the right to play in the Discover BCS National Championship Game. But with the game coming down to the final play, it made for the kind of drama that brings the most reserved fan to the edge of his seat. It's the first time since the 2008 SEC championship game when Florida played a flawless fourth quarter to outlast Alabama that the game was decided in the final quarter. Tickets certainly weren't cheap. But if you paid $600 or $700 a pop, at least you got your money's worth.
HOT
[+] Enlarge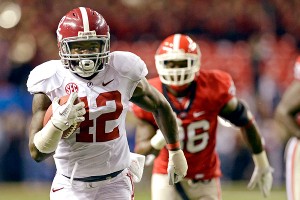 John David Mercer/USA TODAY SportsEddie Lacy (pictured) and T.J. Yeldon led to way to an SEC championship game-record 350 rushing yards for the Crimson Tide.
Eddie Lacy and T.J. Yeldon:
Not only did they combine for 334 rushing yards in the SEC championship game win over Georgia, but they both reached 1,000 yards for the season. Lacy has 1,182 and Yeldon 1,000. It's the first time in Alabama history that two running backs have rushed for 1,000 yards in the same season and the first time it has happened in the SEC since 2007, when Arkansas' Darren McFadden rushed for 1,830 yards and Felix Jones 1,113. Auburn had a pair of 1,000-yard rushers in 2010 -- quarterback Cam Newton and running back Michael Dyer.
NOT
Notre Dame's chances:
Notre Dame might be unbeaten and ranked No. 1. But already, the prevailing sentiment in and around college football is that the Irish don't stand much of a chance against Alabama. The Crimson Tide are favored by more than 10 points in some quarters. Think Brian Kelly loves being such a decided underdog when his team hasn't lost a game this season? You bet he does.
HOT
Vanderbilt coach James Franklin:
He has done wonders for the Commodores' program and has become a coaching commodity. Keeping him in Nashville long term will be difficult, but Vanderbilt has stepped up to the plate with
a new deal for Franklin
that will pay him more than $3 million per year and guarantee in writing upgrades to Vanderbilt Stadium and the football complex.
NOT
Georgia's record in big games:
Mark Richt was peeved at the question and understandably so. His team had just lost on the last play of the game and showed a lot of heart in driving right back down the field in that last minute and knocking on the door of Alabama's end zone. But the fact is that Georgia hasn't won a lot of marquee games over the past few years. The Bulldogs have lost nine of their past 12 games against nationally ranked opponents.
HOT
Alabama center Barrett Jones:
The whole Alabama offensive line deserves some serious props. But for Jones to play most of that game essentially on one leg after injuring his foot in the first quarter -- and play the way he did against Georgia's touted interior personnel -- tells you all you need to know about Jones and his deep sense of team. You win with great players in the SEC, but you also win with great people.
NOT
Coach search candor:
With three SEC schools -- Arkansas, Auburn and Tennessee -- still looking for head coaches, we're reminded that the one true gospel as it relates to coach searches is that nobody ever tells the complete truth. The only thing more prevalent than the untruths floating around out there is the misinformation. No coach ever interviews for a job. No athletic director ever gets turned down by a coach. No agent ever leverages one school against another.
FREEZER BURN
Georgia's run defense:
What Georgia safety
Bacarri Rambo
said prior to the SEC championship game was probably accurate. He went on ESPN Radio and said Georgia was more talented than Alabama. "We have better players at each position, across the board, especially on defense," Rambo said. And when the NFL draft rolls around the next two years, he probably will be proved correct. But talent only matters when you play up to that talent, and the Bulldogs might as well have been playing with walk-ons Saturday when it came to stopping the run. Alabama lined up and hit Georgia in the mouth over and over again, and the Bulldogs wanted no part of it. The Crimson Tide finished with an SEC championship game-record 350 rushing yards. On one drive in the second half, they ran the same play five straight times. It was a total mismatch, and there's no way it should have been. Echoing what Rambo said last week, there are probably six players on that Georgia defense who will play in the NFL. And, sure, Alabama is outstanding on the offensive line with its own collection of future NFL players, but there's no excuse for getting pummeled the way the Bulldogs did in their run defense.
December, 3, 2012
12/03/12
10:00
AM ET
With just one game during the weekend, we'll dispense with the usual categories and do things a little differently with the rewind. Here's the good, the bad and the ugly from Wisconsin's
70-31 win over
Nebraska in the Big Ten championship game.
The good:
Good doesn't begin to describe Wisconsin's running game. The Badgers piled up 539 rushing yards, the most ever yielded by a Cornhuskers defense, and it was hard to single out one guy.
Montee Ball
had 202 yards and three touchdowns.
James White
ran for more than 100 yards and had five total touchdowns, including a touchdown pass.
Melvin Gordon
, who came into the game with 354 rushing yards the entire season, finished with 216 yards on just nine carries. Wisconsin used him to devastating effect on jet sweeps, and he became an effective decoy on plays where he didn't get the handoff.
[+] Enlarge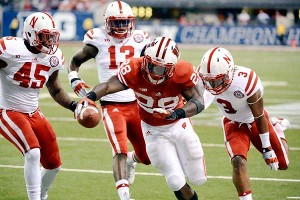 Richard Mackson/USA Today SportsMontee Ball focused on his production after contact this season. Wise move. He enters the Rose Bowl with 21 TDs.
Overall, the Badgers just looked faster than they had all season, surprising us all by taking better advantage of the turf at Lucas Oil Stadium than Nebraska did. They also ran to the outside more than we had seen all season.
"They were on the edge most of the game," Cornhuskers linebacker
Will Compton
said. "They weren't the up-the-middle, pound-and-pound team. They had got outside plays and really stuck with it, and then when that stuff works, why get away from it?"
Wisconsin stayed with it most of the night, throwing only 10 passes yet scoring 10 touchdowns.
The bad
: The announced attendance for Saturday's game was just 41,260, or about 23,000 fewer fans than at last year's inaugural title game. Whole sections in the upper end zones and corners of Lucas Oil were empty, especially on the Wisconsin side. The Big Ten anticipated a smaller crowd than last year because of the unusual circumstances of the Badgers' season, but the league was hoping to cross the 50,000 mark through strong walk-up sales. By comparison, the ACC title game Saturday -- usually the butt of bad-attendance jokes -- drew 64,778.
That said, Indianapolis again proved to be an excellent host, and it sure didn't hurt that it was 60 degrees on Saturday. The streets were packed with red Friday and Saturday, and the Big Ten fan fest was packed before the game. The small crowd had some wondering whether the league should move the game to Chicago, where there are more casual Big Ten fans, or play it at home sites. But there's no guaranteed way to attract more fans. The Pac-12 title game between UCLA and Stanford was held Friday at Stanford. The announced crowd: 31,622.
We really can't judge this game until there's a team involved that has a chance to play for a BCS title or a spot in the forthcoming four-team playoff. Or if Ohio State or Michigan are in it. Then we'd probably see a whole different atmosphere.
The ugly:
Nebraska's defense, obviously. This was as bad a defensive performance as you could see on a big stage, and the Cornhuskers for some reason looked completely unprepared. They took lousy angles to the ball and settled for arm tackles instead of trying to wrap up ball carriers. While coach Bo Pelini rightly said that the absence of injured defensive tackle
Baker Steinkuhler
was only a tiny factor, it's also true that Wisconsin's offensive line took advantage of a smallish defensive front featuring guys like 250-pound
Eric Martin
and 260-pound
Cam Meredith
. And as the game began to slip away, so did Nebraska's effort on defense, highlighted by some comical attempts at tackling Ball on his 57-yard touchdown run.
"What is defensive football?" Pelini said (and no, he wasn't asking for advice, smart aleck). "It's play your gaps. Handle your responsibility. Be where you're supposed to be and make tackles when you're there. We did none of the above."
The continual defensive lapses by this program on the road under a defense-first coach make you wonder. The Omaha World-Herald's Sam McKewon
offered this stat
Monday: In the Huskers' past 17 games away from home, they are giving up an average of 30.3 points and 400 yards per game. Record in those games: 8-9. (The offense isn't helping much, either, as Nebraska has an unfathomable minus-27 turnover margin and 40 giveaways in those 17 games.)
December, 3, 2012
12/03/12
10:00
AM ET
One last look back at the final regular-season weekend in the Big East:
[+] Enlarge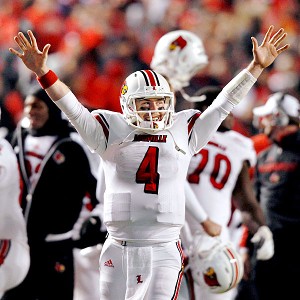 AP Photo/Mel EvansLouisville will head to a BCS bowl as the Big East representative after its comeback win against Rutgers.
The good
: Everybody's a champion! Well, almost everybody. Four of the Big East's eight teams can stake a claim to the "co-champions" label after a wild final two weeks, with Louisville securing the BCS bowl bid following its come-from-behind win Thursday night at Rutgers.
The bad
: UConn's loss to Cincinnati means the Huskies will not be bowling in either of Paul Pasqualoni's first two years as head coach. Rutgers' dropping its final two games with a BCS bid on the line would qualify as bad, too.
The ugly
: South Florida had 55 yards of total offense through three quarters against Pitt before finishing the game with a program single-game worst of 115.
So long
: Skip Holtz
is out at USF after three years and two consecutive 1-6 records in Big East play
. The Bulls went through a program-worst 3-9 season after entering the campaign as the Big East's preseason No. 2 team.
So long?
: Butch Jones is among the hottest names in the coaching industry after leading the Bearcats to consecutive shares of the Big East title. Whether he leaves for another job remains to be seen,
but the publicness of his meeting with Purdue
has to be at least a little alarming for Cincinnati fans.
Welcome back
: West Virginia can return to Big East play … sort of. We'll see whether the high-scoring attack of the Mountaineers translates to the cold weather when they face Syracuse in the Dec. 29 Pinstripe Bowl at Yankee Stadium. The Orange crushed WVU last season at the Carrier Dome.
You again?
: Louisville coach Charlie Strong returns to the scene of his final game as Florida's defensive coordinator … and will face Florida. Strong has accomplished much with the Cardinals in the three years since the Gators' Sugar Bowl win over Cincinnati, and his new program's return to a BCS bowl is the highlight of his young head-coaching career.
December, 3, 2012
12/03/12
10:00
AM ET
Taking stock of Week 14 in the Pac-12.
Team of the week
: Stanford didn't receive any votes as the Pac-12 champion in the preseason media poll. That's out of 123 voters. And all of those voters -- including Kevin and I -- were wrong.
[+] Enlarge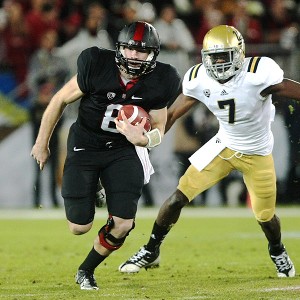 Kelley L Cox/US PresswireAgainst UCLA< Stanford QB Kevin Hogan was 16 for 22, with 155 yards passing and two all-purpose TDs.
Best game
: Stanford's
27-24 win
over UCLA in the Pac-12 championship game wasn't resolved until the final minute. It was a clean game -- just one turnover -- with multiple momentum turns. While the poor attendance was mocked -- hey, it was pouring rain on a 5 p.m. PT kickoff -- it was a strong showing in terms of the quality of the game.
Biggest play
: UCLA led Stanford 14-7 early in the second quarter and faced a second-and-16 from the Cardinal 36-yard line. Who knows how things might have gone if the Bruins had gone up 21-7? But quarterback
Brett Hundley
threw his only interception on the night, and it was returned 80 yards by
Ed Reynolds
to the Bruins' 1-yard line. A play later, it was 14-14.
Offensive standout
: UCLA RB
Johnathan Franklin
rushed 19 times for 194 yards and a pair of touchdowns -- that's 10.2 yards per carry -- in the Bruins' loss.
Defensive standout
: Stanford OLB
Chase Thomas
had 10 tackles and two sacks with a pass breakup in the Cardinal's win.
Special-teams standout
: It appears Stanford kicker
Jordan Williamson
has regained his mojo. He was 2-for-2 on field goals against the Bruins, connecting on 37-yard and 36-yard attempts that proved critical in the Cardinal's victory.
Smiley face
: While some might question what the Bruins showed in the final regular-season game against Stanford -- a 35-17 loss -- there's no doubt that they showed up with their A-game at Stanford. Statistically, at least, they outplayed the Cardinal. The Bruins lost to Stanford 45-19 last year. In just one year -- and one week -- they showed they've closed the gap between themselves and a top-10 team.
Frowny face
: Yes, the weather was terrible in the Bay Area this past weekend. And, yes, a 5 p.m. Friday kickoff is difficult to manage anywhere, much less a high-traffic, metropolitan area. But it would have been nice to see more than an official 31,622 on hand for the Pac-12 championship game.
Thought of the week
: With two BCS bowl teams and eight bowl teams overall, the Pac-12 can make a major statement this bowl season, namely that it is the SEC's top rival. Or it can look bad and accomplish the opposite.
Questions for the week
: We have two: 1. Will Stanford look at Wisconsin's five losses and take the Badgers lightly in the Rose Bowl? The Cardinal might want to watch the Big Ten championship game closely. The team that physically manhandled Nebraska is not the same team that meandered around much of the season. 2. Oregon is going to get its shot at Kansas State after all in the Fiesta Bowl. Ducks fans -- and, yes, the Pac-12 blog -- have kicked the Wildcats around pretty good for the Wildcats' cancellation of a home-and-home series. Who's going to have the last laugh?
December, 3, 2012
12/03/12
10:00
AM ET
Here's a look back at Florida State's 20-15 win in the Dr Pepper ACC championship game:
The good:
Florida State's defense. Wow, what a smothering job on the triple option. And the Noles did it with two of their starters -- linebacker
Nick Moody
and defensive end
Tank Carradine
-- sidelined with injuries. The Jackets were held to just 118 rushing yards after entering the game with an average of 312.54, good for No. 3 in the nation. It was only fitting that the defense came to play, as it was the final farewell for coordinator Mark Stoops, who on Sunday was introduced as Kentucky's next head coach.
The bad:
Florida State's offense in the second half. The Noles were shut out. It was only the second time all season FSU was held scoreless in a half. The other time? At NC State, of course. It was the first time the ACC champ didn't score in the second half.
[+] Enlarge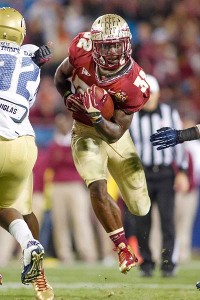 Jeremy Brevard/US PresswireSeminoles running back James Wilder Jr. had a stellar game against Georgia Tech in the ACC championship game.
The ugly:
Georgia Tech is bowl eligible at 6-7, thanks to a waiver by the NCAA. Even uglier: They've gotta lineup against USC in El Paso, Texas, to try to snap Paul Johnson's 0-4 record in bowl games.
The ugly II:
The attendance. It was well-documented, well-Tweeted, and well, about half empty.
The moment:
Following the game, Stoops stood in front of the Florida State band and tipped his brand new ACC champions hat to them. The band members honored him with a chant of "thank you coach!" It was too much for him. "I gotta get out of here," he mumbled. "This is embarrassing."
The stat:
194-183. The Seminoles outgained one of the most of the nation's most prolific rushing offenses, with MVP
James Wilder Jr.
leading the way.
The stat II:
Florida State entered Saturday's game with 3,284 yards passing and 2,445 rushing. With 194 yards rushing in the game, the Seminoles became just the second FSU squad to pass for 3,000 yards and rush for 2,500 yards in a season, joining the 1993 squad (3,909 yards, 2,667 rushing).
The random stat:
Florida State moved to 11-0 when
Devonta Freeman
scores a touchdown.
The play
:
Karlos Williams
, who was playing linebacker for the first time all season, snagged his first career interception with less than a minute remaining to seal the win.
The record:
Tevin Washington
's 1-yard touchdown run in the third quarter was his 19th of the season, setting the ACC single season record for most rushing touchdowns by a quarterback. Washington is also fourth among ACC quarterbacks with 2,159 career rushing yards.
The record II:
FSU senior kicker
Dustin Hopkins
made three extra points in the first half to give him 133 points this season, setting a new ACC record. The previous mark was held by former Virginia Tech running back
Ryan Williams
(132) set during the 2009 season.
The quote:
"Everybody has told them they're not very good and they don't belong, and I think they wanted to show that they did, that they did belong. And, like I said, they came out and played their tail off. They played with some effort and some heart." -- Georgia Tech coach Paul Johnson
December, 3, 2012
12/03/12
10:00
AM ET
It's time to once again hand out a few superlatives to wrap up the final weekend of the Big 12 season.
Best offensive performance: Geno Smith, QB, West Virginia.
Smith looked more like his early-season Heisman form in his last game at Milan Puskar Stadium, a 59-10 win over Big 12 bottom-feeder Kansas. He completed 23 of 24 passes for 407 yards and three touchdowns to lead the Mountaineers to a seventh win.
Honorable mention: Lache Seastrunk, RB, Baylor.
[+] Enlarge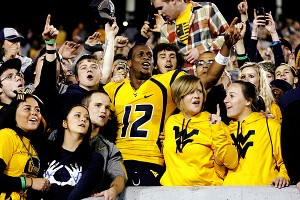 Charles LeClaire/US PRESSWIREGeno Smith's final performance at Milan Puskar Field was a reason to celebrate.
Best defensive performance: Karl Joseph, S, West Virginia
. Joseph was all over the field for West Virginia against Kansas. He made seven tackles, notched half a tackle for loss and intercepted a pass, returning it 22 yards. He also forced a fumble and broke up another pass.
Honorable mention: Kenny Vaccaro, S, Texas; Eddie Lackey, LB, Baylor.
Best team performance: Baylor.
The Bears looked dominant against an Oklahoma State team that has been beating the heck out of some good teams in the Big 12 to close the season. OSU made it interesting late, but Baylor was in control from start to finish during the 41-34 win, led by Lache Seastrunk's 178 yards on 16 carries.
Best game: Oklahoma 24, TCU 17.
This was fun from start to finish. Oklahoma let TCU in the game with an 80-yard touchdown on a busted play and an interception by
Landry Jones
to give the Frogs a touchdown on a drive that began inside the 10-yard line, but the Sooners won a third consecutive game that came down to the final play or final seconds. Amazing stuff, and the Sooners find a way yet again.
Best play: Lache Seastrunk, RB, Baylor.
Seastrunk has had cramping issues this season, and looked to suffer another one at the worst possible time -- right after clearing the Oklahoma State offense. No worries. He limped, stumbled and bumbled the last 30 yards of his 76-yard touchdown run to ice the game in the final minutes.
Honorable mention: Oklahoma's offensive line on Damien Williams' untouched, 66-yard touchdown run.
Biggest bailout: Nigel Malone, CB, Kansas State.
Malone was nearly a nominee for worst play, but an odd ruling earns him a special nod. Malone intercepted a wobbly ball to the sideline from
Case McCoy
and looked to return it for a touchdown, but pulled what's commonly known as a "DeSean Jackson," dropping the ball before he crossed the goal line. Instead of a touchback, K-State was given the ball on the half-yard line, and
Collin Klein
punched it in. Still. Mack Brown wasn't happy about the call, and I still don't think I understand why it wasn't a touchback.
Best quote: Tony Jefferson, S, Oklahoma,
on the Sooners' shared title with Kansas State. "Hey, sharing is caring."
Worst play: Blaize Foltz, G, TCU.
Trevone Boykin
would have escaped the defender, but Foltz still got flagged for a game-changing holding penalty on what might have been a game-tying touchdown in the final minute of TCU's 24-17 loss to Oklahoma. Boykin had escaped the pocket and reached the end zone to set off a celebration, but it was all for naught, and the penalty backed up TCU into a near impossible situation with the game on the line.
Best quarter: Baylor's first quarter.
The Bears scored a defensive touchdown and added another seven points on a 16-play, 98-yard drive to set the tone for the game. This would be Baylor's day against a team that Art Briles had never beaten, and had beaten Baylor six consecutive times. The Bears took control after falling behind 3-0 early and never looked back.