December, 20, 2010
12/20/10
11:14
AM ET
In the midst of a season of change in the ACC, BC has opted for stability and extended coach Frank Spaziani's contract for two years (through the 2015 season), the school announced on Monday. Spaziani had three years remaining on his original contract.
"Frank Spaziani has done a terrific job in his first two seasons as our head football coach," athletic director Gene DeFilippo said in a prepared statement. "There is no doubt in my mind that he has our program headed in the right direction. He is a man of uncompromised integrity and principle, and he has provided great stability to our program. He has overcome some obstacles along the way and is building the foundation for great things to come. This contract extension is an indication of the university's confidence in him."
"I am very appreciative of this contract extension," Spaziani said in the release. "As I have said in the past, I am honored to be the head football coach at Boston College; there's no other place I would rather be. I look forward to leading this program into the future."
It's a good, timely move for BC that will give the staff some security as it comes time to close in on recruits -- especially as the staffs at Maryland and Miami are in transitions (or, in Maryland's case, falling apart). It's also a deserved extension, as Spaziani continues to squeeze the most out of his undermanned teams.
The Eagles began the season 2-5 and were plagued by injuries to key defensive starters Alex Albright, Wes Davis and DeLeon Gause. The receiving corps was hurt before the season even started when
Colin Larmond Jr
., the team's leading returner, suffered a season-ending injury.
Midway through the season, 25 of the 44 players on the team's two-deep were freshmen or sophomores. Led by the nation's leading tackler, Luke Kuechly, and the ACC's leading rusher,
Montel Harris
, the Eagles became the first team in ACC history to win five consecutive games after losing five in a row. In so doing, they became eligible for their 12th consecutive bowl game.
Having to depend on so many young players made for a rough season, but it also gave the program a jump start on its future, especially at quarterback, where true freshman
Chase Rettig
took over.
November, 16, 2010
11/16/10
9:00
AM ET
BC linebacker
Luke Kuechly
was around the ball so much against Duke last week you'd think that he was the one carrying it.
[+] Enlarge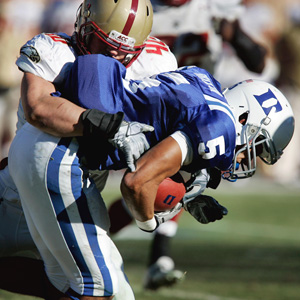 Mark Dolejs/US PresswireBoston College linebacker Luke Kuechly leads the nation with 146 tackles.
Kuechly finished with a career-high 21 tackles, broke up two passes, forced a fumble and recovered another on the next series.
Did you get that?
Twenty-one tackles
. Neither team could even get that many first downs.
When it comes to making tackles, no one in the country is better.
Kuechly is the only player in the nation to have two games with at least 20 tackles. He also had 20 at NC State on Oct. 9. For the second straight year, Kuechly has ranked either No. 1 or No. 2 in the country in total tackles and solo tackles. Last year he finished second in total tackles. This year he leads all players with 146. Yet after two seasons of racking up flabbergasting numbers, Kuechly is one of the most under-the-radar players outside of the ACC.
"Luke Kuechly is a great football player," said Duke coach David Cutcliffe. "He is a humble youngster; I know him well. I think he is the best defensive football player in college football. Absolutely, without question. And I will vote in that regard."
Cutcliffe wouldn't be the first.
As a true freshman last year, Kuechly earned All-America honors from the Football Writers Association of America. His 158 tackles were the most by a BC defender since 1993 and his 12.15 tackles per game were the most by a rookie since the NCAA began tracking tackles in 2003.
And somehow, this year, he's even better.
"Now that I've got a year under my belt I think I'm more comfortable with the whole scheme of our defense," he said. "I feel more comfortable not only with what I'm doing, but with what other people are doing, too. That's allowed me to play a little more comfortably out there and have a little more confidence in what I'm doing."
Despite his breakout season as a true freshman, it took Kuechly, a former high school safety, some time to learn the position. He was thrown into a starting role last year after Mark Herzlich was diagnosed with cancer and Mike McLaughlin ruptured his Achilles.
"He worked at it," said defensive coordinator and linebackers coach Bill McGovern. "He was one of those guys when he came in the meeting room he would ask questions. He wanted to know where he was supposed to be and how he fit, what was going on and why he should be doing that. He learned the game quickly. He takes a lot of pride in understanding what's going on, what we're doing on defense and also how the offense is attacking him."
Apparently, not very well.
Against Duke, Kuechly extended his streak of games with 10-plus tackles to 19, which is the nation's longest active streak.
In addition to his playmaking abilities, what separates Kuechly from many of his peers is his humility.
The interception at Wake Forest? He passed it off as just being "in the right place at the right time." The forced and recovered fumble at Duke? "I was just kind of around the ball." His ridiculous stats? "If I have two tackles and we can win the game I'm perfectly OK with that."
Those within the program have nicknamed him everything from Boy Wonder, to Superman and Clark Kent (because of his studious, off-field look with glasses), but Kuechly said he's just an "average student" in BC's business school, taking some electives and trying to figure out what he wants to do with the rest of his life.
He's got some time to decide.
The fact that Kuechly is a sophomore means the best is yet to come. But how does he top what he's already done? He self-scouts every week to find out.
"I need to work on angles to the ball and things," he said. "I missed a couple of tackles this past weekend because I took poor angles to the ball. There's some things in pass coverage I need to work on, get in better position, not only help myself but help the secondary behind me. That's one of the things that kind of goes unnoticed if you don't particularly know what you're looking at. I have to get in better position for pass coverage."
Regardless of how much success he has, or how much progress he continues to make, one thing that's unlikely to change about Kuechly is his modesty.
"The biggest thing is that I didn't get to where I am by myself," he said. "There's people who were constantly helping me out, guys like Wes Davis and Mark Herzlich. Everyone around me has really helped me get to where I am today. Without them I wouldn't be in this situation. The thing that you have to keep in the back of your mind is that there's always somebody better than you, and there's always somebody who helped you get to where you are."
And right now, Kuechly is at the top.
October, 28, 2010
10/28/10
10:24
AM ET
Here's a look at 10 things to keep an eye on this week, in no particular order:
[+] Enlarge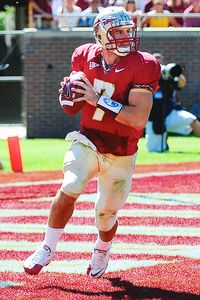 Reid Compton/Icon SMIFSU quarterback Christian Ponder needs to bounce tonight against NC State.
Quarterbacks in Raleigh.
Both
Christian Ponder
and
Russell Wilson
are two of the veterans in the league, but they've both struggled with interceptions recently. Ponder threw three in the win over Boston College and lost a fumble, and Wilson threw three in the loss at East Carolina. Odds are whichever one rebounds, comes out on top.
NC State's run defense.
It will be one of the biggest keys to the game, as FSU enters Raleigh with the No. 19 rushing offense in the nation at 211.71 yards per game. NC State is holding opponents to 148.13.
The replacements in BC
. BC defensive end Alex Albright's season ended last week with a broken fibula. It's Max Holloway's job now, and safety Wes Davis is definitely out after sustaining a neck injury against Maryland. Okechukwu Okoroha is expected to start in his place. Cornerback DeLeon Gause did not practice on Wednesday but is still listed as day-to-day.
Bowl eligibility.
Maryland, NC State and Miami are all chasing their sixth win of the season this week. So far, only Virginia Tech and Florida State are bowl-eligible in the ACC. It's of particular importance to the Terps and Wolfpack, who were both home for the holidays last year.
Clemson's turnover-free streak.
The Tigers have gone three straight games without turning the ball over -- a first in school history. The Clemson offense has run 196 consecutive plays without a turnover, a streak that dates to the last play of the Miami (FL) game on October 2. Overall, Clemson has four games this year when it has not committed a turnover. BC's defense has had 18 takeaways this year.
Nation's top tacklers in Chestnut Hill.
Saturday's game between BC and Clemson will feature two of the nation's top tacklers in BC linebacker Luke Kuechly and Clemson defensive end Da'Quan Bowers. Kuechly leads the nation in tackles per game with 13.9 and is three shy of 100 tackles for the season. Bowers leads the nation in sacks and tackles for loss, and he is on a record-setting pace with 10 sacks in seven games so far this season. Boston College is one of the worst teams in the country in sacks allowed with 2.86 per game. Bowers needs three more to set the record for most sacks in a season in school history by a defensive lineman.
Wake Forest running back Josh Harris.
In his first career start against Virginia Tech, Harris rushed 20 times for 241 yards and two touchdowns. Harris' 241 yards rushing were the most ever allowed by Virginia Tech, surpassing the 239 by Temple's Paul Palmer in 1986. Harris became the first Deacon since 2005 to rush for over 200 yards in a game. Maryland has the No. 4 rushing defense in the ACC, holding opponents to 143.6 yards per game. The Terps have held each of their last three opponents (Duke, Clemson, and BC) under 100 yards on the ground. It's the first time the defense has done that since 2004.
Maryland's secondary.
Two players who are having great seasons are flying under the radar in College Park, Md. Against Boston College, safety Antwine Perez had a career-best two interceptions and recovered a fumble. Perez is second on the team in pass breakups (six) and tied for third in the league in interceptions (0.43 pg). Kenny Tate is the leading tackler in the ACC among defensive backs (8.0 per game). He is also atop the league chart with four forced fumbles, the most by a Terp since Milton Harris also had four in 2005.
Shoop vs. Shoop.
UNC offensive coordinator John Shoop will face his older brother, William & Mary defensive coordinator Bob Shoop. It is believed to be one of only three matchups in college football this season pitting brothers against each other, according to UNC's sports information department. (The other two involve Oklahoma). Both Shoops are in their fourth seasons at their respective schools. Carolina is averaging 365 yards per game and the Tribe is allowing just 318 yards. May the best Shoop win.
Pass defenses in Charlottesville.
The ACC's top two pass defenses will be featured in the Miami-Virginia game. Miami leads the ACC with 149.1 passing yards per game allowed, and Virginia follows at 165.4. The Canes have 14 interceptions, Virginia five.
October, 25, 2010
10/25/10
2:17
PM ET
It's time to look back on Week 8 one last time and fast-forward to Week 9:
[+] Enlarge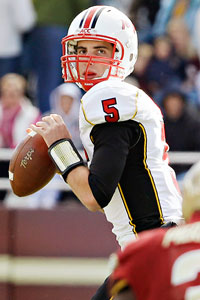 AP Photo/Stephan SavoiaMaryland's Danny O'Brien threw three TD passes in a 24-21 win against Boston College.
The good:
Quarterback redemption. One week after throwing three interceptions apiece, Virginia quarterback
Marc Verica
and Maryland quarterback Danny O'Brien guided their respective teams to victories without one interception. Even Duke quarterback
Sean Renfree
, who threw five picks in the loss to Miami, cut it down to only one interception against Virginia Tech. And Miami quarterback
Jacory Harris
only threw one interception while UNC's
T.J. Yates
, who had only thrown one all season, threw two against the Canes.
The bad:
Injuries. None was worse than the motor scooter accident at Maryland, which left starting offensive lineman Pete DeSouza in intensive care with two broken bones in both legs. But Boston College also lost a leader for the season when starting defensive end Alex Albright – the Eagles' top pass rusher and a team captain – broke his fibula and will miss the rest of the season. Starting safety Wes Davis, another team captain, suffered a neck injury but has full mobility and has been released from the hospital.
The ugly:
Virginia's attendance. The Cavaliers finally got an FBS win, but Hoo cares if nobody was there to see it? The announced crowd was 36,600 – the fewest in Scott Stadium since UVA played Duke in 1997.
The broken:
Streaks. Miami coach Randy Shannon was awarded the game ball after snapping his three-game losing streak to North Carolina coach Butch Davis, and Clemson coach Dabo Swinney snapped his three-game losing streak to Georgia Tech coach Paul Johnson.
The unbelievable:
Georgia Tech quarterback
Joshua Nesbitt
, who was just 44 yards shy of becoming the ACC's most prolific rushing quarterback, was held to two rushing yards against Clemson.
The front-runners:
Virginia Tech quarterback
Tyrod Taylor
and Clemson defensive end Da'Quan Bowers continued to make cases in the races for offensive and defensive players of the year, respectively. Taylor threw for 280 yards and three touchdowns, and Bowers had his 10th sack of the season and finished with 2.5 tackles for loss.
The Atlantic Division takes center stage in this week's top three games:
Florida State at NC State:
It's lost some of its luster since NC State lost to East Carolina and wasn't able to hold onto its spot in the Associated Press Top 25 for more than a week, but it should still be a great game that holds championship implications. The winner of this game should be considered the favorite to win the Atlantic Division.
Wake Forest at Maryland:
The Terps can become bowl eligible with a home win on Saturday, but the Deacs have had a week off to rest and prepare and could play the role of spoiler.
Clemson at Boston College:
It's a chance for the Tigers to continue their momentum, and they're catching the Eagles at one of their lowest points in years. BC never quits, though, especially at home, and considering its poor start, Clemson can't afford to overlook anyone.
October, 24, 2010
10/24/10
6:46
PM ET
Boston College senior defensive end Alex Albright has a fractured right fibula and
is done for the season
. It's terrible news for Albright, a team captain and genuinely good guy, who has battled injuries his entire career. And it's obviously not good news for BC's defense. Albright had nine tackles for loss this year, 4.5 sacks, an interception and two pass breakups.
Safety Wes Davis, who injured his neck and was carted off the field and taken to St. Elizabeth's Hospital during Saturday's game against Maryland, will be discharged from the hospital today. He has full movement and is listed as day-to-day. That's two of BC's four captains, and two very good people. Cornerback DeLeon Gause has a knee injury that doesn't need surgery and is listed as day to day.
BC's defense was the one good thing it had going for it, and a lot of it was because of the aforementioned players.
September, 29, 2010
9/29/10
2:08
PM ET
Boston College fullback
James McCluskey
's best memory of playing Notre Dame is from 2008, when he broke his left fibula on the last play of the game with a minute left and had to be helped off the field by trainers.
Yes, that was his
best
memory. After all,
BC won, 17-0
.
As McCluskey said, the storied "Holy War" rivalry is "not just another game."
[+] Enlarge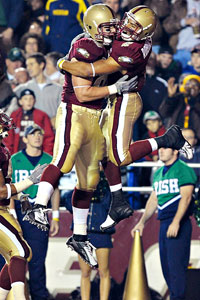 Matt Cashore/US PresswireBrandon Robinson celebrated his touchdown with tight end Ryan Purvis during Boston College's 17-0 win over Notre Dame in 2008.
"Even though I broke my leg, we won," he said, "and I was happy to be a part of that."
It doesn't matter that Notre Dame is 1-3, or Boston College will be breaking in a new starting quarterback and coming off its first shutout at home in over a decade. Beating the Irish carries a lot of weight in Chestnut Hill -- so much so that McCluskey would rather break his leg and win than stay healthy and lose.
"Yeah," he said, "I would."
Boston College and Notre Dame are the only two Catholic universities to play football in the FBS. The Irish lead the series 10-9, but the Eagles have won six of the past seven games. Boston College is coming off a 19-0 loss to Virginia Tech, but there's no time to sulk, as Notre Dame appears on the brink of turning things around under first-year coach Brian Kelly, who was born in Everett, Mass., and raised in Chelsea, Mass. Notre Dame is looking for its first win in Alumni Stadium since 1998.
"Every Sunday after practice we always tell each other once we walk off the field today, on Sunday, we say that game's over with, let's move on," McCluskey said. "We can't afford to waste any days at practice looking at it like, 'Damn, I wish we'd won last week.' We know how prepared we have to be, how important it is to get good days of practice in. For what we want to do, what our team goals are, it's just as important as an ACC game even though it doesn't have an effect on our chances to go to the ACC championship."
It does have an effect on bragging rights. Boston College's defense was able to force Virginia Tech to kick four field goals instead of scoring touchdowns, but will face one of the better passing offenses in the country on Saturday. No other Notre Dame quarterback has passed for more yards through his first four career starts than
Dayne Crist
, who has 1,155. The Irish are averaging 315.5 passing yards per game, but have lost three in a row to Michigan, Michigan State and No. 16 Stanford -- hardly a string of cupcakes.
"Despite their 1-3 record they're a very good football team," said coach Frank Spaziani. "They're big, strong and fast and extremely well-coached. They have all the pieces to the puzzle, they just ran into a little bit of a buzz saw early on in a new regime. We're looking for a very good football team to come in here, a very hungry team."
Boston College safety Wes Davis, a native of San Diego, said he has embraced the rivalry and can sense how much it means to the fans and the students on campus.
"The students are a little more interested," he said. "I think you'll see some more butts in the seats before game time. This is my fifth year here. I know how it's going to be, how excited people are for it. There's definitely a different atmosphere, but from a team perspective it's status quo.
"It would be ridiculous for us to say we're preparing any different for Notre Dame than we did for Virginia Tech," he said. "That would be asinine. I don't think Notre Dame is doing that either. As a whole we respect how much our fans enjoy this atmosphere and the game. It means a lot to the folks here."
It also means a lot to the players -- just ask McCluskey.
Posted by ESPN.com's Heather Dinich
There are some teams in the ACC that are stacked at a particular position or positions -- meaning there's not just depth there, but depth and legitimate all-conference talent. Here's a quick look at who in the conference is simply loaded:
UNC front seven: All four starters return on the defensive line, and there is outstanding depth both there and in the secondary. On the line, tackle Cam Thompson is coming off his best season at UNC, tackle Marvin Austin and end E.J. Wilson both started the majority of games last season, and Robert Quinn had 6.5 tackles for loss, two sacks and two forced fumbles.
Linebackers Bruce Carter and Quan Sturdivant both started every game last season, and the position is the deepest it's been in recent years. Carter led the team with 11 tackles for loss and Sturdivant led the nation with 87 solo tackles.
Georgia Tech running backs: Jonathan Dwyer, Roddy Jones, Anthony Allen, Marcus Wright -- so many players, only one football.
Georgia Tech secondary: Morgan Burnett, Rashaad Reid, Mario Butler, Dominique Reese, and Cooper Taylor all have experience, and the group also welcomes back Jerrard Tarrant from a suspension.
Virginia Tech running backs: Darren Evans and Ryan Williams are all the Hokies will need, but they've also got Josh Oglesby and Kenny Lewis Jr. as players they can count on.
Boston College secondary: The Eagles return DeLeon Gause, Wes Davis and Roderick Rollins, who have combined for 32 career starts. This should be the best group BC has had in a while.
Clemson defensive line: The Tigers return three starters across the front, and coach Dabo Swinney has said this unit could be the strength of the entire team. Ricky Sapp is the leader, senior Kevin Alexander is a returning starter, and there are really three starters returning for the two defensive end positions, including DaQuan Bowers, who started six games last year and finished with 47 tackles, the most among the linemen.
Miami wide receivers: Travis Benjamin, Aldarius Johnson, Thearon Collier, LaRon Byrd, Kendal Thompkins, Tommy Streeter ... the Hurricanes could field a team that consists entirely of receivers.
Florida State offensive line: The Noles are oozing with talent here. Tackle Andrew Datko, guard Rodney Hudson and center Ryan McMahon combined to start all but one game last season. What was the youngest offensive line in the FBS last season could be one of the best this year. For the first time since 2004, all five starters return.
Wake Forest offensive line: The Demon Deacons return eight offensive linemen with a total of 118 career starts among them. Jeff Griffin and Joe Birdsong are Wake's returning starters at tackle while Barrett McMillin and Joe Looney each started at guard in 2008. Russell Nenon, who started the season at guard, moved to center at midseason following an injury to Trey Bailey. Bailey returns after fully healing from a broken ankle. The Deacons also welcome back Chris DeGeare who missed the 2008 season while getting his academics in order.
May, 22, 2009
5/22/09
9:00
AM ET
Posted by ESPN.com's Heather Dinich
There was some progress in the ACC this spring, and each team got a little bit of help at certain positions. Here's a look at who found some help this spring and where:
BOSTON COLLEGE: Marcellus Bowman and Wes Davis are two safeties who should help make the Eagles' secondary one of the best BC fans have seen in recent years. Four players return to the secondary with starting experience.
CLEMSON: It's amazing what a year of experience can do, and the Tigers' offensive line needed it. The only direction for this group to go is up, and it started to do that this spring. All five starters return.
DUKE: The return of running back Re'quan Boyette will give the Blue Devils' running game a more potent punch. He could be a difference maker on the field this fall, and Duke will need him to be.
FLORIDA STATE: Leading rusher Antone Smith is gone, but FSU fans can rest assured Jermaine Thomas and Ty Jones can carry the load for the Noles. Both had several breakaway runs this spring.
GEORGIA TECH: On a defense that lost its leaders up front, defensive end Derrick Morgan and safety Morgan Burnett established themselves as the new captains of the ship this spring, and they should be the Jackets' top two defenders.
MARYLAND: Phil Costa helped ease the transition of the graduation of longtime leader Edwin Williams at center. The Terps lost three starters up front and have four players in new positions, but Costa proved he can be the new leader of the group.
MIAMI: This "got help" award goes to new offensive coordinator Mark Whipple. He had an immediate impact on the offense this spring and has Jacory Harris' full attention.
NORTH CAROLINA: Da'Norris Searcy and Melvin Williams gave the staff some confidence in life without Trimane Goddard. Searcy played well in the Meineke Car Care bowl as a fifth defensive back and played with confidence this spring.
NC STATE: Mike Glennon answered the distress signal at backup quarterback, a position that had been exposed far too many times in the past. Glennon completed 23 of 38 passes for 272 yards and one touchdown in the Kay Yow Spring Game.
VIRGINIA: The return of Jameel Sewell at quarterback and addition of Vic Hall no doubt helped the Cavaliers. At this point last year, they didn't have one quarterback who had any starting experience. Now they've got three.
VIRGINIA TECH: Confidence grew in the linebackers this spring, and that's because of the efforts of Barquell Rivers and Jake Johnson. Bruce Taylor and Quillie Odom are still learning, but there was progress at this position.
WAKE FOREST: Kenny Okoro and Josh Bush both proved to be dependable players at a position that just lost Alphonso Smith. Okoro in particular stood out, but both of them got a lot of reps with Brandon Ghee out with an injury.
August, 20, 2008
8/20/08
4:00
PM ET
Posted by ESPN.com's Heather Dinich
| | |
| --- | --- |
| | |
| | Rob Tringali/Sportschrome/Getty Images |
| | Jeff Jagodzinski says some things are easier for him now that he has one year under his belt. |
CHESTNUT HILL, Mass. -- It is an absolutely perfect day here, about 77 degrees and sunny. I'm heading out to practice now, but first some excerpts from my interview with Boston College coach Jeff Jagodzinski Wednesday afternoon:
What have you learned about your team this summer?
JJ: They're a hard-working group of guys. They did everything I asked them to do. They stayed here both sessions of summer school. Our strength coach has put them through a workout like he's never put a team through before, just tougher, more demanding.
What was the biggest surprise of the summer, whether it was a player or a group that made significant progress?

JJ: Josh Haden did a really nice job this summer. Just being in the program since last January has really helped him. Actually, all of those guys that came in are going to have to contribute this year. They would've had a hard time doing it if they weren't here from last January.
Do you feel like your offense might be a little less one-dimensional because you're adding more of a mobile quarterback, more of a running game this year?
JJ: Let me point out something about our running game. Our short control passing game we consider runs here. Everybody was saying you didn't run the ball. Andre Callender had over 1,600 yards last year, total offense. He caught the ball ... every time he touched the ball he gained 10 yards. Now, do you want to hand it to him? Or do you want to throw it to him? That's our running game. I think that's skewed in the fact I'm not going to take it out of that quarterback's hands -- that would not be smart. But Andre still had close to 1,000 yards rushing last year. That was the best way we could use him last year.
Is Chris, though, a more mobile quarterback?

JJ: Oh yeah, we'll be able to use him in more play-action and movement type stuff more so than drop-back like we did last year, because that was not Matt's strength.
How much have you seen Chris develop as a leader, sort of taking ownership of this offense?
JJ: When you're never in that position, you can never blossom. [Offensive coordinator Steve] Logan and I were watching film the other day from his first spring scrimmage to where he is right now, it's night and day, just the way he takes command of the offense. Until you've done it, you haven't done it.
The same can be said, though, about his first season as starter, even though it's not like he hasn't played before.
JJ: He is a fifth-year freshman right now.
How much confidence do you have in that fifth-year freshman?
JJ: I've got as much confidence as I have in any starting quarterback. If he's your guy, he's your guy.
Is this an easier season for you because it's your second season?

JJ: As far as knowing what to expect it's a lot easier, and going through our guys knowing what I expect and how things are done the way I want the program to look, yeah, that was a lot easier. As a coach, it's a matter of getting the kids to buy into what you're doing and they did that early on last year and that's just continued.
How is the secondary looking?

JJ: To be honest with you, they are more athletically gifted than what we've had. As far as being football players, we're going to find out. But the guys that are taking Jamie Silva's spot are more athletically gifted than Jamie was. Jamie was an instinctive guy that made plays. We'll find out what these guys can do, [Marcellus] Bowman and Wes Davis.
Check back later for more on BC.