November, 10, 2012
11/10/12
6:59
PM ET
With the Trojans ahead 21-17 late in the third quarter, ASU was driving and had the ball in USC territory. On third down, a short pass to an open
Davon Coleman
was missed and the Sun Devils went for it on fourth down, but
Wes Horton
got the sack on
Taylor Kelly
to force a change of possession. USC promptly scored a touchdown on the ensuing drive and never looked back, easily cruising to
a 38-17 win
.


It was over when:
With six minutes left in the game,
Marqise Lee
took a handoff on a reverse, changed direction, got a block from
Matt Barkley
and raced 38 yards down the sideline to the ASU 9-yard line. The Trojans ended up kicking a field goal on the drive to make the score 31-17, which is where the score stayed until a late USC touchdown.
Stat of game:
Turnovers. ASU forced five turnovers (three interceptions and two fumbles) that helped keep the Sun Devils in the game early on. On USC's first offensive play of the game, Lee fumbled. ASU recovered it and quickly scored to take a 7-0 lead. The Sun Devils also added an interception return for a score when
Alden Darby
read a Barkley pass, stepped in front for the pick and went 70 yards for the touchdown. USC forced four turnovers of its own -- one fumble and three interceptions.
Game ball goes to:
USC's defense. A unit that has been much maligned in recent weeks for poor performances against spread offenses put together a solid effort against the Sun Devils' version of the spread. ASU came into the game among the nation's leaders in passing efficiency and scoring offense but Kelly was held to 19-of-30 passing for 174 yards and a touchdown.
Unsung hero:
USC running back
Curtis McNeal
took over as the starter with
Silas Redd
sidelined and ran for 163 yards on 31 carries with two touchdowns and helped steady the Trojans' offense throughout the game.
Record performance:
Barkley set the Pac-12 career passing yardage record. He now has 12,026 yards, breaking the previous mark held by Carson Palmer (USC).
What it means for USC:
The Trojans' game against UCLA next week at the Rose Bowl will be a good old fashion rivalry game with high stakes on both sides, as the winner will represent the Pac-12 South in the conference title game.
What it means for ASU:
A season that looked to be a rebirth under new coach Todd Graham has turned in the wrong direction with a four-game losing streak. All four losses were to ranked teams but that will be of little consolation to the Sun Devils.
August, 27, 2012
8/27/12
12:30
PM ET
In 2000, Oklahoma won the national title without any starters missing a game due to injury. Think about that. Think of all the injuries that your team has suffered through the years that make you go "what if?" I hear you Oregon, 2007.
With that thought, we introduce you to the 2012
USC Trojans
-- a team loaded with talent and top-ranked by the Associated Press. If the national title game were to be played Saturday, the Trojans would be solid favorites against anyone.
And, yes, when that's the case, the media hype machine opens its maw wide and spews forth words, pictures and video that function as polarizing, love-hate attention-getters. USC and coach Lane Kiffin don't inspire many neutral reactions across the college football nation. Switzerland, USC is not.
As for talent, USC's is fairly remarkable, particularly on offense. There is no better offensive troika in the nation than quarterback
Matt Barkley
and receivers
Robert Woods
and
Marqise Lee
. More than a handful of NFL teams would trade what they have for what USC has. There are a pair of 1,000-yard rushers behind Barkley:
Curtis McNeal
, who averaged 6.9 yards per rush in 2011, and Penn State transfer
Silas Redd
. Four starters are back from an offensive line that was very good last year. And both tight ends are NFL prospects.
[+] Enlarge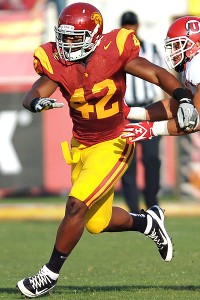 Cal Sport Media via AP ImagesThe Trojans were already replacing three starters on the D-line when they likely lost defensive end Devon Kennard for the season.
On defense, the back seven returns intact. And the Trojans welcome back both specialists.
Of course, you've read this before. In fact, this accounting of USC's starting 24 has become redundant. As is the caveat that the Trojans -- limited to 75 scholarships, 10 below the typical limit per NCAA sanctions -- are thin behind that strong starting lineup. In fact, most measures show the Trojans at present with just 71 scholarship players.
Yes, on paper today, this team looks better than anyone. But 12 regular-season games and a Pac-12 championship game lie between the Trojans and a berth in the BCS national title game. Attrition is typically an immutable -- and frustrating -- rule of college football. A redo of Oklahoma in 2000 is probably too much for Trojans fans to expect.
So, starting with a home date with Hawaii on Saturday -- Norm Chow finally getting his chance as a head coach -- the million dollar question is, can USC stay healthy enough to claw its way back to the top of college football? That's the first issue.
The second? How do folks feel about USC's quick return to the national title race despite brutal -- and brutally unfair -- NCAA sanctions that were intended to cripple a dominant power?
In the Pac-12, Oregon fans feel slighted by the USC hype. After all, the Ducks stepped up when the Trojans stepped down and won three consecutive conference titles. Nationally, there's the widespread -- and ignorant -- opinion that USC is one of the nation's corrupt , football-first programs. And down South there's the whispered suspicion that the biggest threat to SEC supremacy is USC.
Wherever you stand, be prepared: If USC piles up wins and impressive performances, the hype churn will only get more frenzied. Just the way it is.
As for depth issues -- so mundane! -- plenty of teams are thinner than the Trojans, whose roster is still full of four- and five-star recruits. But it's not difficult to create worry when fiddling with a black marker and the USC depth chart, particularly on defense.
For example, what if you mark off sophomore
George Uko
, the Trojans' best and most experienced defensive tackle? The remaining four defensive tackles are all freshmen. The Trojans already were replacing three starters on their defensive line when end
Devon Kennard
was likely lost for the season due to a torn pectoral. Kennard split time with
Wes Horton
last year. Any further hit to the D-line could mean trouble.
Or take away one of those talented sophomore linebackers. "Uh-oh" is right. In fact, the only position on defense where there's solid, proven depth is safety.
Things are deeper on offense, though it's worth noting both of Barkley's backups are redshirt freshmen.
As for the schedule, USC stands as a clear favorite -- today -- against all 12 foes, including Oregon on Nov. 3. There's a tough Week 3 road date at Stanford, and then back-to-back visits to Utah (a Thursday night game) and Washington. Those certainly won't be walkovers.
But it's not difficult to look at USC's depth chart -- today -- and look at the schedule and conclude this team will be headed Jan. 7 to South Florida, where it won its last national title in 2004.
The "USC Watch," with all the cheers and jeers it will inspire, begins in earnest this week.
But an observer who can contain his emotions about the polarizing program might want to focus on the Trojans' injury report, which could prove as telling in the early going as the scoreboard.
September, 8, 2011
9/08/11
1:43
PM ET
Utah fans will file into their pie slice of the Coliseum on Saturday and they will enjoy the music. At first.
"Boy," one will say. "USC has great fight songs. 'Fight on!' is inspiring."
[+] Enlarge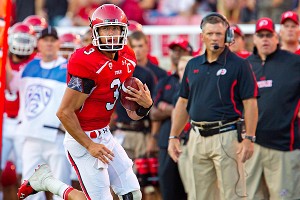 Russ Isabella/US PresswireJordan Wynn and coach Kyle Whittingham will lead Utah into its first Pac-12 game, at USC.
"I prefer 'Tribute to Troy'; it's cool how they play it after every defensive stop, even though I don't want our beloved Utes to be stopped," another will reply.
Then the third quarter will arrive. Upon the, oh, 132nd playing of each song, feelings figure to be a wee bit different for those adorned in red.
"I hate the USC band," the first will say.
"Me too," the other will respond.
And Utah will officially become a member of the Pac-12.
It's just another game against a quality foe, the coaches will say. And, sure, playing in the first-ever Pac-12 game doesn't change preparation. Still, it's pretty cool.
"It's awesome," Utah tackle Tony Bergstrom said. "To be a senior playing in the first Pac-12 game, I think it's awesome. It's a neat experience."
The Utes and Trojans will be coming at the game from different angles. Utah will be looking for validation. While the Utes have won two BCS bowl games, have finished ranked in the top-25 five of the past eight years and have an 8-5 record versus the Pac-10 over the past decade, more than a few skeptics are expecting things to be different when Utah enters the grind of a nine-game Pac-12 schedule.
USC? It's trying to maintain its perch in the top-half of the conference while it's dealing with severe NCAA sanctions, which include the second year of a two-year postseason ban.
A big game for the Trojans? Perhaps not in the locker room, but coach Lane Kiffin said he and the players are certainly aware of the perception.
"We do feel it from the media and people around here," he said.
Kiffin seemed more worried about what he called Utah's "very dominant front seven." The first key for USC is protecting quarterback
Matt Barkley
. If the Trojans' questionable offensive line can do that, the Utes are inexperienced in the secondary, and Barkley and receiver
Robert Woods
might be able to take advantage.
On the other side of the ball, Bergstrom and fellow tackle John Cullen, who missed the opener against Montana State with a concussion, will present a good matchup with USC's three defensive ends: Nick Perry, Devon Kennard and Wes Horton.
But for Utah's offense, it's not only about protecting quarterback
Jordan Wynn
, it's about Wynn gaining confidence in his surgically repaired shoulder and his ability to lead the Utes' new offense under coordinator Norm Chow. Against Montana State, Wynn was out of sorts, particularly in the second half when the Utes failed to score a touchdown.
"We need to dial up more shots downfield more than we did on [against Montana State] and Jordan Wynn has to gain confidence in his arm," Utah coach Kyle Whittingham said. "It's not a physical thing, but after surgery there is a period time where you have to figure out that you can cut loose and throw the way you want to without worrying about pain. He's battling through that psychologically, so it's a matter of getting over the hump mentally."
Of course, it's likely the Utes didn't show much against an FCS team in the opener. What might Chow have in his bag of tricks to spring on USC? Kiffin and Chow have plenty of history --
some of it not so good
-- having coached together at USC and against each other for the previous two seasons (Chow's previous team, UCLA, faced Kiffin in 2009 when he was at Tennessee).
Said Kiffin, "There's a chess match element to it."
Still, when it comes down to it, Utah and USC will be about blocking, tackling , big plays and miscues. Just like any other game.
The Utes have played in -- and been successful in -- plenty of big stadiums against elite programs. There's zero chance they will be intimidated by the opponent or the atmosphere. The history at hand is about before and after -- not between the white lines -- and is mostly a media and fan angle.
The contested issue is simple: Who draws first blood between these new South Division rivals?
"We don't place more importance on any other game than another," Whittingham said. "It's just our first conference game, which happens to be in a great venue against a team with a storied tradition like the program at USC, so that adds to the attention that this game's getting. We're just going to try to take care of business the same way we always do."
August, 31, 2011
8/31/11
11:00
AM ET
In 2008, USC produced one of the all-time great college defenses. It took just two years for the unit to become mediocre-to-bad.
Last fall, the Trojans surrendered 44 plays of 20 or more yards, which ranked 102nd in the nation. By comparison, the 2008 unit yielded just 14, the lowest total over the past three years by six.
So what happened?
[+] Enlarge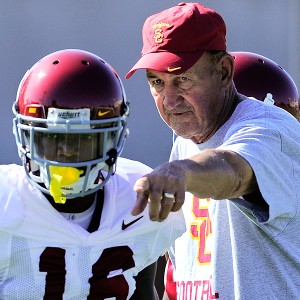 AP Photo/Mark J. TerrillThe Trojans hope the second year in Monte Kiffin's defense yields better results.
Well, for one, Pete Carroll, who'd built one of the nation's premier defensive powers, bolted for the Seattle Seahawks. Next: The talent he left behind for new coach Lane Kiffin wasn't nearly as good as it had been from 2002-2008. Then Kiffin, worried about injuries, significantly limited tackling during preseason camp. Finally, it seemed that the Trojans never fully figured out new coordinator Monte Kiffin's Tampa-2 scheme, which had been so successful in the NFL.
The result? A unit that surrendered a Pac-10-high 30 TD passes (five more than ninth-place Washington State) and wasn't much better against the run, ranking sixth in the conference (140.5).
But if you're wondering why many still rate the Trojans as the favorites in the Pac-12 South Division and believe they will improve upon their 8-5 finish of a year ago, the defense is a good place to start.
"I feel like we know what we're doing a little bit better as far as it being the second year in the system," Lane Kiffin said. "And in scrimmage formats, we're tackling better."
That will be put to its first test Saturday when Minnesota comes calling to the Coliseum.
The Trojans welcome back seven starters from last year's unit. They look strong at end with Nick Perry, Devon Kennard and Wes Horton. And few teams boast a better safety-cornerback combination than All-American T.J. McDonald and Nickell Robey. But there are questions at linebacker, where they will be young around injury-prone Chris Galippo.
The Golden Gophers shouldn't provide too difficult a test. Coming off a 3-9 season in which Tim Brewster got fired and was replaced by Jerry Kill, who rebuilt Northern Illinois, they are replacing three starters on their offensive line and they don't look like a team that will be throwing the ball well. They are, however, intriguing at quarterback. That's where
MarQueis Gray
steps in. He's a 6-foot-4, 240-pound junior who has been primarily a receiver, though he got behind center in "Wildcat" formations. Passing the ball over the past two years, he's just 8-of-23 for 86 yards with a TD and an interception.
Of course, Kiffin went the "oh, no" route and compared him to former Texas quarterback Vince Young.
"It's very scary for us," he said. "We've got our hands full. This is a big-time challenge for our defense."
USC won at Minnesota 32-21 last year, a victory that was part of a 4-0 start. But the Trojans proved inconsistent on both sides of the ball once conference play began, inspiring some questions of motivation because NCAA sanctions made them ineligible for the postseason. That's an issue again this fall, though it's probably not one in the season-opener, when everyone is fired up to play.
"I don't think the motivation shows up as much early in the year," Kiffin said. "It becomes more of an issue towards the end of the year or if you hit one or two losses in a row there."
Still, with
Matt Barkley
at quarterback and a strong crew of receivers, the Trojans should at least be a factor in determining other team's postseasons. As for the South Division, that probably hangs on how much the Trojans' defense reverts back to its old ways. Preseason optimism about knowing the scheme better and improved tackling only goes so far.
Said Kiffin: "That all sounds good but it won't mean anything if come Saturday we don't do it when it really counts."
October, 27, 2010
10/27/10
11:57
AM ET
From 2002 through 2008, USC's defense ranked among the nation's elite every season (other than 2005). Even last year, when the Trojans suffered humbling defeats to Oregon and Stanford, the defense ranked among the nation's top 25, surrendering a respectable 19.85 points per game.
When Lane Kiffin was hired as the Trojans' new coach and brought along his dad, the highly respected Monte Kiffin, and fiery defensive line coach Ed Orgeron, the general feeling was that a young but talented defense would regain its spark. In fact, Lane Kiffin repeatedly praised his defense during spring practices.
Oh, but things have not gone smoothly. Not by any measure. The defense has been a porous, poor-tackling, undisciplined bunch. It ranks 87th in the nation in total defense (402.6 yards per game) and 60th in scoring defense (24.3 ppg). The young secondary has been particularly clueless, ranking 89th in the nation in pass-efficiency defense.
[+] Enlarge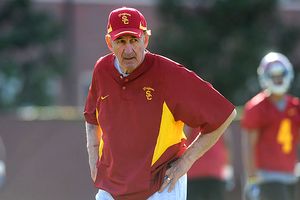 Chris Williams/Icon SMIMonte Kiffin's USC defense ranks 87th in the nation, allowing 402.6 yards per game.
The Trojans (5-2, 2-2 Pac-10) like to note that they are just three points and a few seconds from being unbeaten and ranked in the top 10. But the dirty secret of that fair assertion is that's indeed the case because the defense yielded drives for game-winning field goals in the waning moments against Washington and Stanford without much resistance.
Monte Kiffin ticks off plenty of reasonable explanations for the shortcomings: new system, new coaches, youth, injuries, etc. But he concludes with the bottom line: "We didn't play well."
"We didn't put it together and we let a couple of games get away from us that we really should've won," he said.
Ah, but there is some good news for the Trojans' defense as it gets ready for a visit from No. 2 Oregon and its ludicrous speed offense.
First, the Trojans' defense is coming off its best performance: A dominant effort in a 48-14 win over California on Oct. 16. The Bears, who trailed 42-0 at the half, finished with 245 yards and 10 first downs.
Second, they've had an extra week to prepare for the Ducks' spread-option offense, which is good because Monte Kiffin is a long-time NFL coordinator without much experience game-planning vs. that type of scheme.
And, third, they will be as healthy as they have been all year on defense. End Wes Horton will return from a back injury that knocked him out of the past three games. End Nick Perry has had extra time to rest a nagging ankle injury. And tackle-end Armond Armstead got time to rest various tweaks. Linebacker Malcolm Smith is still nursing a knee injury but he is expected to play.
But rest wasn't what the Trojans focused on during the bye week. In fact, there was extra running, live tackling -- something Kiffin has avoided due to injury worries for a team that lacks depth -- and fast-paced practices that attempted to match the pace with which Oregon plays.
"We worked harder during the bye week," cornerback Shareece Wright said. "We actually didn't take a break."
The fundamental issue is fairly simple: What the heck are the Trojans going to do against the nation's best offense? Apparently something different. Monte Kiffin has been widely hailed as one of the originators of the Tampa-2 defensive scheme, which it appears the Trojans are finally getting the hang of. But that's not the right defense to defend a spread-option, Lane Kiffin said.
"That defense really does not fit playing against Oregon at all," he said. "That defense is more about stopping the pass."
The Ducks pass pretty well, but they do rank third in the nation in rushing with 322 yards per game.
Of course, it's possible there's a bit of gamesmanship going on here, with Kiffin intimating an entirely new defensive scheme for Chip Kelly's Ducks to try to figure out. Kelly didn't seem too concerned, however, noting that it's typical for the Ducks to see new schemes.
"Usually, what we see on Saturday isn't what we saw on film, because we play a different offense than most everybody else in our league," he said. "We have to make adjustments within the game."
And the Ducks seem to do that well, see 54.3 points and 569 yards per game, with both totals ranking No. 1 in the nation.
The Trojans also have one of the nation's best offenses -- see 37 points and 494 yards per game. At home, you'd figure they'll be able to get some points.
But can they slow Oregon? The younger Kiffin, once known for bluster, was almost reverent describing the Ducks' offense.
"They are so explosive," Kiffin said. "The style they play is like something we haven't seen. Or probably anybody's ever seen."
October, 16, 2010
10/16/10
3:30
PM ET
Three key USC players are out, according to the
Orange County Register's Michael Lev
: running back
Dillon Baxter
(toes), defensive end Wes Horton (back), and linebacker
Malcolm Smith
(knee).
The loss of Baxter isn't nearly as problematic as losing two defensive starters. The Trojans defense lacks depth even when it's healthy. Moreover, a number of guys who are playing are banged up, such as end Nick Perry.
That should help California today.
August, 20, 2008
8/20/08
2:26
PM ET
Posted by ESPN.com's Ted Miller
| | |
| --- | --- |
| | |
| | AP Photo/Kevork Djansezian |
| | Pete Carroll and the Trojans have their sights set on a Pac-10 title. |
LOS ANGELES -- Sat down with USC coach Pete Carroll on Sunday night. He ate ice cream and answered questions.
What's your feeling on this scenario: Let's say Mitch Mustain starts at quarterback against Virginia and has a lights out game. Do you have a philosophical opinion on whether an injured starter [Mark Sanchez] always retains his job or do you go with the hot hand against Ohio State?
Pete Carroll: I would never... I can't even answer a question about that. To surmise what's going to happen with one guy and then what we're going to do with the next guy? I wouldn't even tell you what the first stage of it is let alone the second or third. So I'm not going to answer that. Too much conjecture there.
You talk about getting better and growing every year. What have you changed in the past couple of years about how you do things?
PC: Not very much. We do mostly the same stuff with just small changes. It depends on our staff continuity. This year, we've got 99 percent staff continuity so it's really easy [only staff change was the GA who works with the secondary]. We're able to do more things with that. When we're bringing new people along, we can't do that. We can't afford to go off and experiment. This year, we've done more things but it's kind of like if you have a philosophy then why would you change? The consistency is part of the philosophy -- how you recruit, where you recruit, who you recruit. The consistency of what the expectations are, the consistency of the standards for practice, the offseason programs. All of those things are the same. We get better at them. We get better versed on knowing what we want and getting more astute as we go along but we don't change much.
I know this is going to sound pretty stupid, but you're the only coach who can be asked this: Is winning the Rose Bowl ever not enough?
PC: No. You've got to understand that our mindset is to focus only on what we can control. We can only control getting to the Rose Bowl. Winning our conference and going to the Rose Bowl is what our goal is every year. Our goal isn't about national championships, because we don't have control of that -- that's in somebody else's hands. We found that out years ago [2003], when we were No. 1 but then we were No. 3. We already knew that but that just proved it. If we win our games and we're out there and they want us to go somewhere else, then we'll go. We love the Rose Bowl.
Does it ever register with you that there's such a small margin for error for USC that if you don't win the national championship then some believe it hasn't had a successful season?
PC: I know people say that but I don't care. They can say whatever they want.
Could you give me a couple of names of younger guys who have stepped up in preseason practices?
PC: A guy who's had a really good camp is Travon Patterson, a wide receiver. He's caught touchdowns on every big day, every big scrimmage we've had. He's playing fast and has made a lot of plays for us. The guys who have done a lot of good stuff are the freshmen -- [TE] Blake Ayles is a guy you might not have expected to but he's looked great. The other guy is [RB] Allen Bradford. He's had a great camp again. I really like [WR] Jordan Cameron. All four of the freshmen defensive linemen [Armond Armstead, Jurrell Casey, Wes Horton and Malik Jackson] -- they look great. These guys have a chance to play early. Uona Kaveinga has been playing second-team "Mike" linebacker. [Safety] Drew McAllister has looked really good -- he's had three or four picks in big, scrimmage-type situations and hit well. It's been a really solid freshmen class. The offensive linemen have looked good but it's going to take them some time.
Things get a little juicer in Part II, when Carroll talks about new UCLA coach Rick Neuheisel, his future and what he thinks of his legacy.