January, 2, 2013
1/02/13
2:00
PM ET
IRVING, Texas -- Before Kevin Sumlin hired Kliff Kingsbury, Kingsbury got Sumlin fired.
From Texas A&M, no less, too.
Sumlin jokes about it these days, and of course, it's not quite that simple, but Sumlin was on R.C. Slocum's staff in College Station back in 2001 when the Aggies headed to Lubbock. They lost, 12-0, to a Kingsbury-led Red Raiders squad.
[+] Enlarge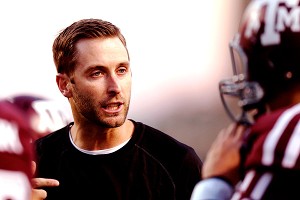 Thomas Campbell/USA TODAY SportsThose who know him say Kliff Kingsbury will bring passion and enthusiasm to the Red Raiders.
"Probably the only game I've been a part of that we got shutout," Sumlin said, adding that Tech fans tore down the goal posts (among other activities) that night.
A year later, Sumlin faced questions from folks wondering if A&M would score against the Red Raiders this time around. They did -- on the game's first play. It didn't change the outcome, though. Missed extra-point attempts meant overtime, and Kingsbury joined Wes Welker in knocking off the Aggies, 48-47, in overtime.
"Wes Welker and those guys hung around us at Houston -- Wes is around all the time, that's Kliff's guy -- and they proceeded to really cost me my job at the end of the year," Sumlin said.
Slocum was fired at the end of the 6-6 season and Sumlin landed on Bob Stoops' staff at Oklahoma. Still, less than a decade later, Sumlin brought Kingsbury to his staff at Houston and brought him to Texas A&M for the 2012 season, too. He helped
Johnny Manziel
become the first freshman to win the Heisman Trophy, and the Aggies to make a splash in the SEC with 10 wins and a status as one of the hottest teams and biggest surprises in college football.
Kingsbury parlayed that success into a head coaching job at his alma mater.
"They're getting a heck of a coach. He worked hard this year. He was there every day at 5 a.m. and he was the last person to leave. I know you hear that and you think it may just be people saying that, but it was true," Manziel said. "Every morning I was up there to work out or whatever it was, he was already there for hours ahead of time."
A&M fans remembered Kingsbury from his days at Tech and Sumlin had to deal with minor blowback from bringing the Big 12 legend on staff in the Aggies' first year in the SEC.
"People were worried, like 'Why is Kliff Kingsbury here?' I just said, 'Get over it. He's here to do the best job he can,'" Sumlin said. "Obviously, he has. He's going to be highly successful."
That's the hope for Texas Tech, who hired the 33-year-old in hopes of rediscovering the spark and big wins that Mike Leach brought to Lubbock and Tommy Tuberville had difficulty maintaining.
"Coach Kingsbury brings a lot of energy, brings a lot of passion. He's going to come, and he was the guy that gave us a spark whenever we needed it. Whenever we were dragging a little bit, whatever it was, he was the guy that brought a lot of spark," Manziel said. "He was a young guy, energetic and that's what he brought to the table. He would get everybody fired up, he would give a speech. He'd be running around just like we would be, and that was cool for us to see."
Sumlin also knows the advantage that Kingsbury has in being an alum at the school that just hired him. Texas Tech, like many others, comes with unique sets of challenges and desires that sometimes aren't tangible. Experience inside the program is the only solution.
"The difference in college football and pro football, it's not a plug and play. You have to have a background and an understanding of what particular institutions value," Sumlin said. "He gets that."
And Tech gets Kingsbury.
October, 14, 2011
10/14/11
9:00
AM ET
SOUTH BEND, Ind. -- It's not that
Robby Toma
was barely 60 pounds when he first played Pop Warner as a nine-year-old in fourth grade. It's that he gained only 40 pounds from then to his freshman year of high school, when he stood just 5-feet tall and weighed 100 pounds.
"I think for me that was my more major concern," Ross Toma, Robby's father, said. "When he went into JV being that size, that was the first time I thought, 'Man, maybe I better pull him out.'"
[+] Enlarge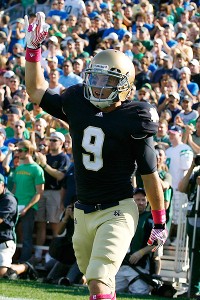 Brian Spurlock/US PresswireRobby Toma says he's focused on making the most of his chances in Theo Riddick's absence.
Doing that would have meant no football scholarship to Notre Dame, nearly 5,000 miles and four time zones away from the Tomas' hometown of Laie, Hawaii. And it would have meant no moments like the one Toma experienced this past Saturday, when he hauled in a 10-yard first-quarter touchdown pass from
Tommy Rees
.
The now 5-foot-9, 185-pound Toma has won over Irish fans with his style of play. Judging by his teammates' reaction after his first career score Saturday, he has won them over as well.
"When I got into the end zone it was an amazing feeling, especially here at Notre Dame in front of 80,000," Toma said. "And it was a great experience to see all of my teammates and how excited they were for me, and it really meant a lot to me."
That excitement was clear at a young age, keeping Ross Toma from telling his son that he was having second thoughts about his football career. Quelling those thoughts was the fact his son was shifty enough on the field, quieting any potential talk from other parents or coaches off the field.
Robby's mother, Tammy, overcame any parental concerns immediately and was almost always pushing him.
"Initially she was that way, but once he got in she was full-force support and just go," Ross Toma said. "After a while almost if he got injured or whatnot, she'd be like, 'Get up and just go. Stop complaining.'"
A lifelong friend and high school teammate of Irish standout linebacker Manti Te'o, Robby Toma's first introduction to the game was from Te'o's father, Brian, who coached both in Pop Warner.
"Brian kept saying, 'You've got to play football, you've got to play football,'" Ross Toma recalled. "And me and my wife were like, 'Uh, he's a little bit small.' But sure enough he bugged us and really wanted to play and we said OK."
Despite being the smallest kid on the team, Robby Toma played running back and outside linebacker initially, and "Uncle Brian" pitted him against Te'o in his first-ever hitting drill.
"I got crushed," he said with a laugh.
He didn't become a wide receiver until high school, and he has found no shortage of fellow little guys at the position to model himself after. Toma will often go on YouTube and study pro players like the Patriots'
Wes Welker
or the Dolphins'
Davone Bess
, the latter having played college ball in Toma's backyard at Hawaii.
"Just the way we're smaller guys, so we have to use our quickness to our advantage and really concentrate on getting in on our breaks," Toma said of techniques he looks at. "And obviously making sure you catch the ball."
The last part has been easier said than done for Toma, though that has been more of a matter of circumstance than lack of seizing the moment. The junior was overthrown in the end zone two weeks ago at Purdue, and he has just two catches for 26 yards through the first half of this season.
But his ability to step up in place of an injured
Theo Riddick
last season -- notching 14 receptions for 187 yards -- is proof that his diminutive stature can handle the load when his number is called.
"I feel like I can play," Toma said. "Obviously I'm not the biggest guy, but when I'm out there I don't feel like I'm that much smaller than anybody, and I feel like I've worked hard to be where I'm at."
January, 22, 2010
1/22/10
1:57
PM ET
By
Tim Griffin
| ESPN.com
With all of the looking back we've done this week, I couldn't leave without picking my own All-Big 12 all-decade team.

It was a tough choice at several positions, but here's my all-decade team.

Please feel free to provide any changes you would make, and explain why you would make them.

Believe me, it's a hard choice. I spent more than an hour trying to choose between Darren Sproles and Cedric Benson and Jermaine Gresham and Chase Coffman.

OFFENSE

QB: Vince Young, Texas

RB: Adrian Peterson, Oklahoma

RB: Cedric Benson, Texas

WR: Michael Crabtree, Texas Tech

WR: Rashaun Woods, Oklahoma State

TE: Chase Coffman, Missouri

T: Russell Okung, Oklahoma State

T: Jammal Brown, Oklahoma

G: Duke Robinson, Oklahoma

G: Derrick Dockery, Texas

C: Andre Gurode, Colorado

DEFENSE

DE: Brian Orakpo, Texas

DT: Ndamukong Suh, Nebraska

DT: Tommie Harris, Oklahoma

DE: Dan Cody, Oklahoma

LB: Derrick Johnson, Texas

LB: Rocky Calmus, Oklahoma

LB: Teddy Lehman, Oklahoma

CB: Terence Newman, Kansas State

CB: Derrick Strait, Oklahoma

S: Roy Williams, Oklahoma

S: Michael Huff, Texas

K: Mason Crosby, Colorado

P: Daniel Sepulveda, Baylor

Ret: Wes Welker, Texas Tech
December, 30, 2009
12/30/09
4:24
PM ET
By
Tim Griffin
| ESPN.com
Mike Leach's firing wasn't a surprise on Wednesday.
His attorney had predicted to several reporters earlier this week that his client would be let go by Texas Tech officials -- probably sooner rather than later.
[+] Enlarge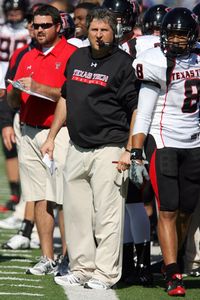 Douglas Jones/US PresswireMike Leach led Texas Tech to 10 straight bowl appearances.
But it was still a cataclysmic shock in Lubbock and West Texas when Leach was let go earlier this morning. For a period after his firing was announced, the Lubbock Avalanche-Journal's Web site crashed due to interest in the story.
That firing speaks to a larger controversy than what happened over
Adam James
' concussion and "The Shed."
Leach and Tech athletic director Gerald Myers always had a contentious relationship from the very beginning of his tenure there. It's understandable when you consider the turf wars that sometimes develop in athletic departments when a headstrong former basketball coach is the athletic director and makes decisions over a similarly headstrong football coach.
It all started in 2002, when rumors about Leach's off-field activities led to an investigation by the athletic department.
Leach was cleared, but the schism between him and his boss started at that time. At one point, Myers stopped Leach's outgoing mail in a dispute about postage stamps.
It simmered early in Leach's time when the Red Raiders played the toughest nonconference schedule in the Big 12 as a way to make money for the athletic department. During the 2002 season, for example, Tech played Ohio State, Mississippi and NC State in addition to the Big 12 South gauntlet.
That chapped Leach and he let Myers know about his concerns. The two always seemed to be better off if they were an arms-length away from the other.
Tech officials weren't happy when news surfaced of Leach shopping himself for a number of major coaching openings over the past several years.
And it continued when he went through an extremely contentious negotiation with school officials before he was given a three-year extension on what was a five-year, $12.7 million contract. To get the deal done, Leach went over Myers' head and personally negotiated with Tech chancellor Kent Hance.
Under terms of the contract, Leach was due an $800,000 bonus if he was still the Red Raiders' coach on Thursday.
Now, it appears he won't receive that bonus, although I'm sure the contract is headed for litigation between Leach and the school.
Even with the firing, Leach will be considered one of Tech's top football coaches ever, leaving the school with a program he helped boost into contention in the extremely difficult Big 12 South Division. It's not a stretch to say that he was one of the seminal figures in Big 12 history, helping transform the way offense was played from the ground-based philosophies of the old Southwest and Big Eight conferences into today's high-powered aerial attacks that have become the national rage recently.
Leach built a program out of castoffs like Wes Welker, Michael Crabtree, Graham Harrell and Brandon Williams and turned them into a team that could consistently compete with teams like Texas and Oklahoma. The Red Raiders were ranked No. 2 in the nation for a three-week period during last year's 11-2 season, which was a national breakthrough for the school.
Leach was Texas Tech football. He was as much a part of Lubbock as dust storms, Buddy Holly's statue and the blueberry muffins at the legendary Fifty-Yard Line Restaurant.
And no matter who follows Leach, he will face a mammoth chore of replacing a legend who directed the Red Raiders to 10 consecutive bowl appearances and more bowl victories in his tenure than the rest of the school's 85-season football history combined.
The football program upstaged Myers' basketball program and his hand-picked coach of choice, Bob Knight. Even with the legendary career leader in victories along the sidelines, the Red Raiders' basketball team had trouble filling the United Spirit Arena or selling the personal-seat licenses that were intended to help build the facility.
But that wasn't the case for the football program, which became a national phenomenon under their quirky coach. Tech's success led to him being a cover story in the New York Times magazine and the subject of a fawning piece on CBS-TV's "60 Minutes" late last season.
Leach gained notoriety for his fascination with pirates, mobsters and Indian chiefs. His stint as a weatherman on a Lubbock television station -- memorable because of his explanation of the local occurrence of "raining mud" -- became a YouTube staple with hundreds of thousands of hits.
He could coach a little, too. During what was expected to be a rebuilding job this season, Leach juggled three starting quarterbacks en route to an 8-4 mark and a berth in Saturday night's Valero Alamo Bowl.
He'll be gone from the sidelines in that game. The Red Raiders likely have the perfect solution to settle the upheaval with unassuming defensive coordinator Ruffin McNeill. He's familiar with the players because of his recruiting and will give them the best opportunity to keep their program together against Michigan State on Saturday night.
But after that, it will be a different story.
Myers needs to mobilize quickly to salvage what had been the best recruiting season for Tech in recent years. Whether those recruits will be willing to stay firm on their commitments to the far-flung West Texas locale that is still one of the toughest recruiting destinations in the Big 12 will be interesting to see.
Leach carved an identity that made Tech one of the top 25 or 30 programs in the country over the past 10 years.
Now, we'll see if his replacement can keep it there.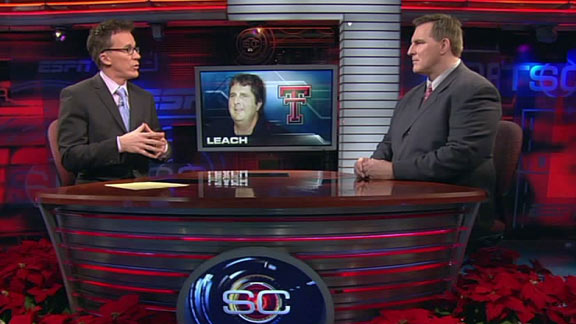 December, 17, 2008
12/17/08
3:19
PM ET
Posted by ESPN.com's Tim Griffin
The Big 12 held up with a good, but not great, showing Tuesday when the Pro Bowl rosters were announced by the NFL.
A check of the rosters of both the AFC and NFC indicated that eight former Big 12 players were selected. That total ranks the conference third among the other conferences.
Here's how the conferences rank in Pro Bowl players.
Atlantic Coast: 19
Southeastern: 14
Big 12: 8
Big Ten: 7
FCS teams: 7
Conference USA: 6
Pac-10: 6
Big East: 4
Mid-American: 3
Mountain West: 3
Sun Belt: 2
WAC: 2
Independents: 2
Comm. college: 1
Here's a breakdown of how Big 12 schools were represented
And the Big 12 teams hardly ranked among some of the nation's powerhouse programs. Here's a look at how the schools with multiple selections broke down
Miami: 6
Florida State: 5
Tennessee: 3
Alabama: 2
Auburn: 2
California: 2
Central Florida: 2
Kent State: 2
LSU: 2
Michigan: 2
Mississippi: 2
North Carolina State: 2
Notre Dame: 2
Ohio State: 2
Pittsburgh: 2
Texas: 2
Texas A&M: 2
Utah: 2
Virginia: 2