May, 13, 2013
5/13/13
2:38
PM ET
The other day I was asked a question about the SEC that caught me off guard a little.
And no, it wasn't about Bob Stoops or scheduling.
I was asked if the league would be a quarterback or running back league in 2013. Obviously, when you think about the SEC, you think of pound-it-out, grind-it-out football. Games are won and lost in the trenches and running backs are usually a team's most coveted asset. The more the merrier, too.
But the SEC returns some pretty good experience at both positions.
At running back, the SEC will be without four of the league's top 10 rushers -- Eddie Lacy, Mike Gillislee, Zac Stacy and Kendial Lawrence -- from the 2012 season. The SEC will be without three of the top 10 passers -- Tyler Bray,
Tyler Wilson
and Jordan Rodgers.
Now, my math skills tell me that seven top players at a position is better than six, but the SEC is
deep
at running back this season. Of the seven top quarterbacks returning, six reached 2,500 passing yards, while only two made it to 3,000 yards --
Aaron Murray
and
Johnny Manziel
. Nine true starters return (Kentucky's
Maxwell Smith
missed most of last season and ended the spring behind
Jalen Whitlow
). So five teams are breaking in new starters.
The SEC saw eight running backs hit the 1,000-yard mark last season. There's a chance the league could not only reach that number again but it could eclipse it.
[+] Enlarge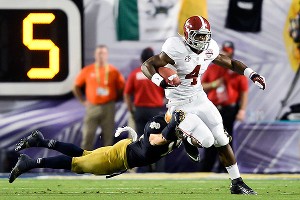 AP Photo/Romeo GuzmanT.J. Yeldon takes over for running back Eddie Lacy as "the guy" for Alabama.
Alabama lost Lacy -- and his 1,322 yards/17 touchdowns -- but rising sophomore
T.J. Yeldon
appears more than ready to take over as the lead back. He rushed for 1,108 yards and 12 touchdowns last year, and it sounds like he looked even better as
the guy
. He'll also have help from fellow sophomore
Kenyan Drake
, who played in 12 games last year, and
Jalston Fowler
and
Dee Hart
, who are both returning from season-ending knee injuries. Remember, Fowler had nearly 400 rushing yards in 2011. True freshman Derrick Henry, who was tearing it up this spring before his leg injury, should help once he's healthy this fall.
Oh, and Alabama will welcome three more backs this summer, including ESPN 150 member Alvn Kamara.
Texas A&M and Florida will also have the luxury of a packed backfield. The Aggies return leading rusher (for a running back)
Ben Malena
(808 yards), but will also have rising sophomore
Trey Williams
, and transfers
Brandon Williams
and
Tra Carson
. Brandon Williams might be the most talented of the bunch, and none of these guys should get too tired with all those legs to work with.
The Gators lost Gillislee, but sophomore-to-be
Matt Jones
had an excellent spring. He knew the playbook backward and forward and showed a more physical style. He already has the goal of getting 1,500 yards. But he'll have help from redshirt junior
Mack Brown
, who had a very solid spring, and freshmen Kelvin Taylor (early enrollee) and Adam Lane. The coaches feel very good about all four contributing a lot this fall.
Georgia is a little thin at running back, but with Gurley and
Keith Marshall
returning, the Dawgs could have the best running back duo in the SEC -- maybe the country.
Here's a quick look at how other SEC teams currently fare at running back heading into the summer:
Arkansas
The Razorbacks lack experience at the position, but sophomore
Jonathan Williams
made good strides this spring and looks poised to be the top back. He'll also have incoming freshman Alex Collins to help him this fall.
Auburn
Tre Mason
and his 1,000 yards return. He should have even more space to work with in Gus Malzahn's spread, which could spell trouble for defenses. Junior college transfer Cameron Artis-Payne had a solid spring, and
Corey Grant
returns.
Kentucky
Leading rushers
Raymond Sanders
(669 yards) and
Jonathan George
(504 yards) return with two talented youngsters to help out.
Dyshawn Mobley
had an excellent spring and
Josh Clemons
is back from a devastating knee injury he suffered in 2011.
LSU
Legal issues have
Jeremy Hill
's fall status unknown for the fall. If he returns, he gives the Tigers on of the top backs in the league.
Kenny Hilliard
and
Alfred Blue
return, but LSU will be thin at the position without Hill.
Mississippi State
LaDarius Perkins
returns after his 1,000-yard season. He's a complete back and can hurt teams running and catching.
Josh Robinson
returns after a productive year as the backup.
Nick Griffin
has a ton of skill, but still hasn't reached his potential.
Missouri
Lawrence is gone, but
Henry Josey
is back and says he's 100 percent after his devastating knee injury in 2011. He was one of the Big 12's best and most explosive running backs before his injury. The Tigers have plenty of bodies at running back and should get good use out of
Marcus Murphy
and
Russell Hansbrough
.
Ole Miss
Leading rusher
Jeff Scott
(846) is back and he'll be working with some solid sophomores in
I'Tavius Mathers
and
Jaylen Walton
. True freshman Mark Dodson had a productive spring as well. Along with the six returning lettermen, Ole Miss will have three more signees on campus this fall.
South Carolina
Mike Davis
isn't trying to be Marcus Lattimore, but he did a good job of taking his spot this spring. The rising sophomore can pound it or break out for that home run play.
Brandon Wilds
and
Shon Carson
are back from injuries and ESPN 150 member
David Williams
will be in town this fall.
Tennessee
Marlin Lane
's off-field problems didn't help things this spring, but Butch Jones was very happy with the play of
Alden Hill
and
Rajion Neal
this spring. Lane has every chance to come back and if he does the Vols will have a pretty solid three-headed rushing monster.
Vanderbilt
Stacy is gone, but
Wesley Tate
and
Brian Kimbrow
had good springs in Nashville.
Jerron Seymour
gives Vandy another body to use, as well. Tate and Kimbrow both have big-play ability, but they'll have to stay healthy because there isn't a lot of experience behind them.
February, 25, 2013
2/25/13
10:18
AM ET
We're taking a look at key storylines for all seven teams in the SEC Eastern Division.
Chris will take a look at the main issues in the Western Division on Tuesday.

FLORIDA GATORS
Spring start:
March 13
Spring game:
April 6
What to watch:
1. Rebuilding at linebacker: The Gators have to start figuring out the linebacker situation. Do they go with redshirt junior Michael Taylor in the middle, who's a run-stuffer but has to come off the field in passing downs? Or do they try sophomore Antonio Morrison, who played outside at 218 pounds as a freshman and has hopefully bulked up a bit? The most likely scenario is Morrison, which means UF has to find a weakside linebacker. That could be freshmen early enrollee Daniel McMillian or Alex Anzalone. The strongside starter should be, at least entering the spring, redshirt junior Neiron Ball.

2. Robinson's growth: One of the most scrutinized players this spring will be receiver Demarcus Robinson. He was the only one of UF's five receiver signees to enroll early and he'll be given every chance to win a starting spot. UF's receivers have been below average for the past three seasons and the Gators desperately need someone to become a consistent playmaker. The 6-foot-2, 195-pound Robinson, who caught 53 passes for more than 1,000 yards and scored 15 touchdowns as a senior at Fort Valley (Ga.) Peach County, is going to be under a lot of pressure to produce.

3. Driskel's confidence: Quarterback Jeff Driskel returns for his second season as a starter, and it'll be interesting to see how much he improves on his decision-making, release and accuracy. He's sure to benefit from not splitting reps 50-50 any longer. But just as important as Driskel's development is what happens behind him with redshirt junior Tyler Murphy and redshirt freshman Skyler Mornhinweg. Neither has thrown a pass in a college game. Why is that important? Because Driskel has not been able to stay healthy in his first two seasons in Gainesville. He missed starts as a freshman and sophomore because of ankle injuries. UF was lucky in 2012 to have Jacoby Brissett, who had played significantly as John Brantley's backup in 2011. With Brissett transferring to NC State, the Gators no longer have that luxury.

-- Mike DiRocco, GatorNation
GEORGIA BULLDOGS

Spring start:
March 2
Spring game:
April 6
What to watch:
1. Rebuilding the defense: Georgia begins its transition to a completely new collection of defensive talent this spring. No longer are Jarvis Jones, Alec Ogletree, Shawn Williams, Bacarri Rambo and John Jenkins on the roster. In fact, the Bulldogs must replace a total of 12 defensive players who were either full-time starters or key contributors, and at some positions, the possible replacements have little to no college experience. That makes this a pivotal time for defensive coordinator Todd Grantham to begin identifying which players will fill those roles, as the Bulldogs will have little margin for error when they open the season against Clemson's explosive offense Aug. 31. Some names to watch this spring: Josh Harvey-Clemons, Sheldon Dawson and Jonathan Taylor.

2. Developing the youngsters: The good news for Grantham and the other defensive coaches is that they brought in a number of January enrollees who should be able to help immediately. Junior college transfer Chris Mayes and John Atkins hope to fill the void left by Jenkins and Kwame Geathers at noseguard. Ryne Rankin and Reggie Carter will immediately enter the mix at linebacker. And cornerback Reggie Wilkerson and safeties Tray Matthews and Quincy Mauger can help address Georgia's depth shortage in a secondary that lost four key players. Georgia's 13 early enrollees -- more than twice as many January enrollees as Georgia coach Mark Richt has ever brought in before -- will help fill needs on both sides of the ball, but the defense is where the newcomers were most necessary.

3. Offensive line reps: For the most part, Georgia used the same starting lineup along its offensive line throughout the 2012 season and each of those starters should return this fall. But two of those starters -- right guard Chris Burnette and right tackle John Theus -- underwent surgeries during the offseason and will miss all or part of spring practice. There was a good chance that offensive line coach Will Friend was going to deploy more players in his line rotation this fall anyway, but the valuable practice reps that will be available with Burnette and Theus sidelined might make a deeper rotation even more likely. Someone still has to take advantage of the opportunity, however.

-- David Ching, DawgNation
KENTUCKY WILDCATS

Spring start:
March 18
Spring game:
April 13
What to watch:
1. Getting used to new coaches: New coaches are roaming Kentucky's football facility this spring. Mark Stoops brings a more defense-minded philosophy to Lexington, but his coaches will have to get things going on offense if the Wildcats are going to improve in 2013. There are always awkward moments when transitioning to a new staff, but now's the time to create valuable trust on both sides.

2. Finding offensive playmakers: Stoops might have a strong defensive background, but the Wildcats have to find answers on offense. Injuries were an issue last year, but for two straight years the Wildcats had real problems finding consistent playmakers on offense. Quarterback Maxwell Smith returns, but he needs more than just wide receiver La'Rod King to help him. Getting running back Josh Clemons back would be big, but expect the coaches to turn to a young group of receivers and running backs.

3. Tougher team: One thing Stoops wants from his players is a tougher identity. Stoops wants to build a stronger team from the ground up. He's taking a page from Texas A&M coach Kevin Sumlin when it comes to preparing his new team. This spring, we'll see just how much of an emphasis the coaches put on the weight room and conditioning before hitting the football side of things.
MISSOURI TIGERS

Spring start:
March 12
Spring game:
April 20
What to watch:
1. Josey's rehab: The Tigers will be keeping tabs on running back Henry Josey, who missed all of 2012 after suffering a devastating knee injury midway through the 2011 season. He was the Big 12's best running back before his injury and Mizzou needs him back. The staff has had to be patient, but this could be a crucial time in his rehab, as he looks to get his football legs back.

2. Rebuilding the front seven: Mizzou must replace a lot in its front seven. Star defensive tackle Sheldon Richardson's absence leaves a gaping hole up front, while linebackers Will Ebner and Zaviar Gooden must be replaced. Lucas Vincent will be first in line to take Richardson's spot, while Darvin Ruise, Donovan Bonner and Michael Scherer are three players to watch at linebacker.

3. Toughening up: Injuries ravaged Mizzou's offense last year, but it's clear that Mizzou wasn't in the playing shape that it would have liked to be in during its first year in the SEC. Injuries are part of the game, but gaining that toughness factor this spring will go a long way for the Tigers in 2013. The SEC is more than just a grind, and the Tigers found out the hard way that conditioning in this league is a little different than in the Big 12.
SOUTH CAROLINA GAMECOCKS

Spring start:
March 5
Spring game:
April 13
What to watch:
1. New backfield options: Marcus Lattimore and Kenny Miles are gone, so the Gamecocks will have to turn to their younger backs. Brandon Wilds missed the 2012 season with an ankle injury but should return this spring. Rising sophomore Mike Davis has all the tools to be a big-time player for the Gamecocks and could be the top option in the Gamecocks' backfield. Shifty Shon Carson also returns from a knee injury, so South Carolina will have a solid group to work with this spring.

2. QB controversy: Quarterback Connor Shaw might be tabbed as the starter, but with him out for the spring, Dylan Thompson will take the first-team reps. Thompson proved to be very valuable last year, and both will play this fall. Thompson has become one of the most vocal players on the team and is a strong leader. A good spring could bring some real controversy to the position.

3. Holes at linebacker: South Carolina will be without its two-deep at linebacker and "Spur" DeVonte Holloman is gone. That means there's a lot of work to be done when it comes to finding viable replacements. Sharrod Golightly will get the early crack at the Spur, and keep an eye on Kaiwan Lews, who was a true freshman last year and has a lot of potential to work with.
TENNESSEE VOLUNTEERS

Spring start:
March 9
Spring game:
April 20
What to watch:
1. New coaches on the block: With Butch Jones in town, the Vols have to get used to their third head coach in five springs. Jones and his staff have helped bring some much-needed energy to the program since arriving, but now it's time to develop vital on-field chemistry between the coaches and players.

2. Receiving help: The Vols' offense took at major hit at receiver. Juniors Justin Hunter and Cordarrelle Patterson made the leap to the NFL, while deep threat Zach Rogers and tight end Mychal Rivera graduated. Tennessee will now turn to a host of inexperienced receiving targets, including rising sophomore Alton Howard and early enrollee Paul Harris.

3. Quarterback battle: With Tyler Bray leaving for the NFL, Tennessee will work with rising junior Justin Worley and redshirt freshman Nathan Peterman. Worley has the edge when it comes to game experience, but with a new staff, this battle will be wide-open. They will also need to make strides before freshmen Joshua Dobbs and Riley Ferguson get on campus this summer.
VANDERBILT COMMODORES

Spring start:
March 15
Spring game:
April 13
What to watch:
1. Replacing Rodgers: Quarterback Jordan Rodgers is gone. The good news is Austyn Carta-Samuels has good experience after starting two years at Wyoming before transferring to Vandy. Redshirt freshman Patton Robinette is someone the coaches also are excited about, especially with his dual-threat ability, and should really push Carta-Samuels the whole spring.

2. Running back battles: The Commodores lost star running back Zac Stacy, so veteran Wesley Tate, who has bounced around positions, and rising sophomore Brian Kimbrow, who has the do-everything look to him at running back, will share reps. Warren Norman and Jerron Seymour also return, making for quite the talented backfield.

3. Keeping the edge: Now that another very successful season under James Franklin is over, the Dores have to continue to keep the edge that got them to where they are. It might sound like a broken record, but Vanderbilt still has to prove that it isn't the Vandy of old. People are certainly taking the Dores more seriously, but keeping that edge is important for more growth.
January, 9, 2013
1/09/13
2:16
PM ET
It's time to take a look into our own crystal balls here on the SEC blog. Now that bowl season is over, we're taking a look at some potential breakout players for the 2013 season.
We are looking for guys who made the jump like Alabama's
Amari Cooper
and
T.J. Yeldon
, or Georgia's
Todd Gurley
. Players like Florida's
Mike Gillislee
, South Carolina's
Ace Sanders
and LSU's
Kevin Minter
are also great examples of what we're looking for. Now will these candidates be as spectacular as the guys above? We'll have to wait to find out -- but we think they have the ability to make a difference next fall. Players who earned first- or second-team All-SEC honors from either the media or the league's coaches weren't eligible for our list.
We're starting with the SEC East. We'll take a look at five offensive players to keep an eye on in 2013 and then move over to the defense later today.
Here are five offensive players in the East to keep an eye on in 2013 (in alphabetical order):
Mike Davis, RB, South Carolina:
With
Marcus Lattimore
and
Kenny Miles
gone, the Gamecocks will turn to their young guys to get their running game going. Davis was used more once Lattimore went down with his season-ending knee injury. Davis ended the season with a decent first-year résumé, averaging 5.3 yards per carry by season's end. Davis is a tough runner, who showed some elusiveness at times last fall. With the starting running back spot up for grabs, Davis has a chance to have a big second year with the Gamecocks.
[+] Enlarge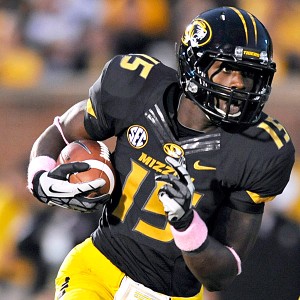 AP Photo/L.G. Patterson/AP PhotoDorial Green-Beckham revved up his production at the end of the season, catching 21 passes in the last five games.
Dorial Green-Beckham, WR, Missouri:
He was supposed to be an instant star for the Tigers, but it took him a while to get used to playing at the college level. The former top recruit caught just 28 passes in his first year, but 21 of them came in Mizzou's last five games. He showed some big-time, big-play ability throughout the year and with his late-season momentum, Green-Beckham could really breakout in 2013. With
T.J. Moe
gone, the Tigers will need another major weapon in the passing game and Green-Beckham has all the tools to be one of the best receivers in the SEC.
Matt Jones, RB, Florida:
Gillislee was the Gators' top offensive weapon in 2012, but he's graduating, leaving a major hole in Florida's offense. With a passing game that needs major work, the Gators will likely be looking to run the ball a lot in 2013, and Jones showed down the stretch that he has the strength and speed to make some plays for the Gators. For someone who ran so upright in high school, Jones packed way more of a punch than a lot of people expected in his first year, especially during the second half of the season. He'll enter spring as the Gators' No. 1 back.
Brian Kimbrow, RB, Vanderbilt:
The sophomore-to-be entered his freshman year as the Commodores' prized recruit. Now that
Zac Stacy
will be graduating, Kimbrow will get even more looks on offense next fall.
Wesley Tate
and
Warren Norman
will still be in the backfield, but Kimbrow has the explosiveness and elusiveness that could make him a star for the Commodores. He carried the ball just 66 times but was second on the team with 413 yards. For the non-math majors, that's 6.3 yards per carry.
Justin Worley, QB, Tennessee:
With
Tyler Bray
taking his talents to the NFL, Worley is first in line to be the Vols' new starting quarterback. Now, a lot is going to look different in Knoxville with Butch Jones calling the shots and those two monster receivers gone, but Worley was a top QB prospect coming out of high school and has show flashes here and there. He's had his rough patches in the past, and he'll have a battle on his hands with redshirt freshman
Nathan Peterman
, but he has a chance to put up some numbers this fall if he's named
the guy
. Also, having some of those talented youngsters to throw to won't be so bad.
November, 3, 2012
11/03/12
4:35
PM ET
Vanderbilt is now one win away from becoming bowl eligible for back-to-back season for the first time in school history, as the Commodores completely
dismantled Kentucky 40-0
in front of a very sparse crowd in Lexington, Ky.


Vandy (5-4, 3-3 SEC), which has now won three straight games, wasted no time punching the Wildcats in the mouth with an offensive explosion in the first half. Kentucky (1-9, 0-7) talked all week about being a more physical team on Saturday, but had absolutely no answer for a Commodores offense that scored 27 first-half points and racked up 269 yards of offense before heading into halftime.
Vanderbilt's 27-0 lead at the half is its largest over an SEC opponent since 1969 when the Commodores led Kentucky 35-0.
The Commodores were extremely balanced, churning out 227 rushing yards, with three running backs registering 11 carries or more, and quarterback
Jordan Rodgers
threw for 220 yards and two touchdowns. Receivers
Chris Boyd
and
Jordan Matthews
combined to catch 11 passes for 156 yards and two scores.
Zac Stacy
,
Brian Kimbrow
and
Wesley Tate
each scored a rushing touchdown against a battered Kentucky defense.
For Vandy coach James Franklin, he's showing more and more just how far this Vanderbilt program has come under his watch. This team has risen out of the SEC's cellar to deliver some quality football during Franklin's two-year tenure. The offense had been looking to rediscover the spark it had for most of the season and appears to have found it during its three-game winning streak.
One more win will take this program to new heights.
While everyone is all smiles in Nashville, things are just getting worse and worse for Joker Phillips and Kentucky. The Wildcats have been ravaged by injuries and have had to play a handful of youngsters, but those youngsters just aren't getting it done on the field. They might be getting valuable experience, but a loss like this just shows how behind Kentucky is in this league.
All those empty seats inside Commonwealth Stadium say it all.
Phillips' coaching seat has been hot all year, and now there's little he can do to cool things in Lexington. This team made five straight bowls before last season, and now the Wildcats will be missing out on the postseason for the second straight year. It certainly hasn't helped that the Commodores are just getting better and better, and the Wildcats are looking up at them.
You have to expect changes at Kentucky, but how significant those changes will be is still unknown.
September, 3, 2011
9/03/11
11:11
PM ET


James Franklin will surely point to all sorts of things his team can do better in what was his head coaching debut Saturday night.
A lot went right, too, starting with the way the Commodores finished the game.
After Elon pulled within 21-14 early in the third quarter, Vanderbilt scored the game's final 24 points to roll to a
42-14 victory
.
While the Commodores were outgained in total offense (323 yards to 309 yards), they forced three turnovers and didn't have any turnovers of their own. They went for it three times on fourth down and converted all three and scored a defensive touchdown on Trey Wilson's 21-yard interception return.
It was also a good sign for the Commodores to see some new faces making big plays. Sophomore receiver
Chris Boyd
had a pair of touchdown catches, and
Wesley Tate
also scored on a 23-yard touchdown run.
They have to continue to develop playmakers on the offensive side of the ball if they're going to be any kind of factor in the East this season.
April, 25, 2011
4/25/11
2:30
PM ET
With spring officially over in the SEC world, it's time to take another look at some of the guys who surprised this spring.
After the first weekend of spring games, guys like LSU wide receiver
Kadron Boone
and South Carolina offensive lineman A.J. Cann drew high praise from their respective coaches.
Here's a look at the players from the past two weeks of spring games who helped get their names out there:

Alabama
RB Eddie Lacy
-- Last season, Lacy's production was hindered because of a problem with fumbling. Lacy helped shake that stigma with a strong spring and appears to have secured the No. 2 running back spot. He finished the spring game with 74 yards (44 rushing, 30 receiving).
WR Brandon Gibson
-- The fifth-year senior had a productive spring not only at wideout, but he's becoming more of a leader for the Tide. He's always been a special-teams workhorse, but he's looking to make a name at receiver. He recorded five catches for 53 yards, including a long of 27, in Alabama's spring game.

Arkansas
S Eric Bennett
-- The sophomore from Tulsa, Okla., made it a battle this spring at the strong safety position with senior Elton Ford. Bennett was a quarterback in high school and has an edge to him that all coaches like. Whether he wins the starting job or not, he's proved that he can help the Hogs in the secondary in 2011.
RB Ronnie Wingo, Jr.
-- With the season
Knile Davis
had a year ago, a lot of people forgot about Wingo. But he came back this spring and showed his big-play capability both as a ball carrier and pass-catcher. He rushed for 62 yards on 11 carries in the spring game.

Auburn
DE Joel Bonomolo
– The junior college transfer was injured all of 2010, and while he's still a bit raw, he led the defense during the spring game with six tackles, three for a loss, including two sacks. He still has some things to learn, but he finished the spring on the right track heading into the offseason.
RB Anthony Morgan
-- Morgan has moved all over the field during his Auburn career, but seemed to make a statement at running back this spring. He finished the spring game with a team-high 57 yards on six carries, and if he continues to improve, coach Gene Chizik said he could earn playing time this fall.

Georgia
DT Kwame Geathers
-- The sophomore noseguard was one of the biggest surprises of the spring for the Bulldogs. He was named the defensive MVP for spring practice by Georgia's coaches and had four tackles, including two for loss, in the spring game.
RB Ken Malcome
-- Injured for part of the spring and seemingly buried on the depth chart, Malcome showed some of his bulldozing ability in the spring game. He's the kind of downhill runner the Bulldogs want in their offense, and if he's healthy he could contribute. He scored the game-winning, 12-yard touchdown and finished with 39 yards on the ground.

Kentucky
DE Collins Ukwu
-- A starter a year ago, Ukwu only had one sack all season and none in SEC games. Look for that to change in 2011. He's gotten bigger and stronger, adding to his great speed, and was a force this spring. He had two tackles for loss, including a sack, in the spring game.
WR Brian Adams
-- The Wildcats were looking for dependable playmakers at receiver following the loss of
Randall Cobb
and
Chris Matthews
, and even though Adams split his time between football and baseball, he was as consistent as anybody. He was the star of the spring game with seven catches for 121 yards and two touchdowns.

Ole Miss
WR Vincent Sanders
-- The redshirt freshman looked like the playmaker the Rebels had desperately searched for at times this spring. Like most of the other receivers, he was inconsistent at times, but finished the spring game with a game-high 96 receiving yards and a touchdown on four catches.
S Brishen Mathews
-- Mathews worked his way into the No. 1 strong safety spot exiting spring. He was a pleasant surprise for the Rebels' secondary and finished the spring game tying for a game-high eight tackles.

Tennessee
DT Daniel Hood
-- After spending last season on the offensive line, Hood moved to defense and exited the spring as one of the starters at tackle. The Vols are extremely thin inside on the defensive line, and Hood gives them another big, athletic body in there.
RB Rajion Neal
-- After carrying the ball just 46 times last season, Neal emerged this spring as a nice complement to
Tauren Poole
. Tennessee coach Derek Dooley is looking for two No. 1' at running back, and Neal showed some big-play ability the Vols were missing a year ago.

Vanderbilt
DT Colt Nichter
-- With the injuries the Commodores were forced to weather up front last season, Nichter stepped in and played very well. But this spring, he showed signs of becoming a star and was a disruptive presence in every scrimmage. He had two sacks and two pass breakups in the spring game.
RB Wesley Tate
-- The two big names in the Commodores' backfield last season were
Warren Norman
and
Zac Stacy
, but get ready to add a third name to that equation. The 225-pound Tate showcased power and speed this spring and will add a different dimension to the Vanderbilt running game now that he's healthy.
April, 6, 2011
4/06/11
3:02
PM ET
It's been a busy spring for Vanderbilt sophomore running back
Wesley Tate
, and that's exactly the way he wants it.
To this point in his career, there's been far too much sitting and watching, far too much rehabilitating from injuries and far too much waiting and wondering what he could do if he were truly 100 percent.
"This is as healthy as I've been since I got to Vanderbilt," said Tate, who will enter his third year in the program next season. "I've had a foot, a knee, a couple of ankles. It's been a lot of rehab and working hard to feel 100 percent again. I finally feel like I'm there."
The timing couldn't have been better for Tate, either.
With junior running back
Warren Norman
sitting out spring practice this year while recovering from wrist surgery, Tate has been front and center in the Commodores' backfield as
James Franklin
and his first-year Vanderbilt coaching staff assess their personnel for the first time on the field.
Franklin has made it clear that he's looking for more of that explosive speed the Commodores have traditionally lacked, and the 6-2, 225-pound Tate possesses that blend of size and speed that Franklin covets.
"The thing about Tate is that he's a big kid, 225 pounds, but he can run," Franklin said. "He's a guy I think can take it the distance in this league. If you just take height, weight and speed, that combination, I'd rank him with anybody in the country. What he's got to be able to do is produce on Saturdays. But the combination of Norman, Tate and (Zac) Stacy is an impressive group of backs, and they all complement each other."
Tate, the younger brother of
Seattle Seahawks
receiver
Golden Tate
, said the frustration of trying to fight off one injury after another nearly got the best of him. About the time he thought he might be turning the corner, he'd aggravate the stress fracture in his foot.
"I'd never had any serious injuries before I got here, and it was just a continuous thing," Tate said. "It seemed like new stuff kept popping up. All I could do was try to keep it positive, but it wasn't easy."
Tate has meshed well with the new coaching staff, and he said new strength and conditioning coach Dwight Galt has helped him to get stronger and maybe even faster.
"It's a clean slate for everybody, and the coaches have had a lot of opportunities to evaluate me," said Tate, who's one of the faster players on the team.
In addition to being healthy, the other thing that's so enticing to Tate is Franklin's system. Tate feels like it's a perfect fit for what he does best.
"We're not out of the shotgun all the time and are instead under center most of the time now," Tate said. "I'd rather be running downhill behind the quarterback and attack the weaknesses of defense. We're also going to get the backs involved in the passing game. I love this system."
The label Tate wants to shed is that he's more of a third-down back.
"I definitely think I can be an every-down running back, a complete running back," he said. "I can split out wide and catch the ball, but I can also get the tough yards when it's third-and-1 or third-and-2 and also make the explosive plays down the field.
"There's a lot of room for me to get better, but I feel like this is my year to show what kind of player I am and show all of the aspects of a great running back."