NCF Nation:

West Virginia
February, 20, 2012
2/20/12
9:51
AM ET
Conference realignment is coming along with short-term costs in the 2012 college football schedule.
Before it left the Big East, West Virginia canceled its game against non-conference opponent Florida State and paid a $500,000 cancellation fee. But Elliott Finebloom, an assistant athletic director at FSU, said the loss of the home game will cost the Seminoles far more than the program received in the cancellation fee.
"We'll probably lose $2.5 million in ticket sales," he said, and that's not including a drop in season ticket sales resulting from the cancellation. It could cost FSU another $1 million to bring an opponent into town. Filling the WVU slot with an away game is not going to happen, said Finebloom.
"Seven home games is something every business in town counts on, from hotels to restaurants," he said. "People think it's about the athletic department wanting to make more money, but we have a responsibility to area businesses who count on seven home games."
Texas A&M, which moves from the Big 12 to the SEC this year, has given up home games and has only five scheduled at Kyle Field for 2012. The school has had seven home games for the past six years.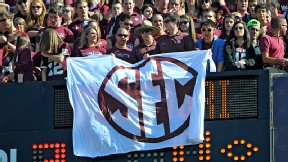 Patrick Green/Icon SMITexas A&M may only have five home games this season as a result of its move to the SEC.
For the 2010 season, Texas A&M's average revenue from ticket sales, concessions, novelties, program sales and parking was $4.2 million per game, according to NCAA disclosures. With two fewer home games this year, the Aggies could be looking at an $8 million-plus loss.
Alan Cannon, an associate athletic director at Texas A&M, said the schedule still isn't set in stone, though.
"It has been the desire of [athletic director] Bill Byrne to have six or seven home games, if at all possible," he said. "The location of the Arkansas game is still not determined."
Texas A&M and Arkansas agreed to play a neutral site game at Cowboys Stadium for 10 years. But with the Aggies' move to the SEC, both sides are discussing whether the game will remain there.
There are short-term winners in the conference realignment story.
Smaller programs could see increased profits in 2012 as major programs are forced to pay guarantees to secure home games or travel to locales they normally wouldn't consider.
One such school is Louisiana Tech. Although considered a home game, Louisiana Tech will play Texas A&M in Shreveport's Independence Stadium, which gives Louisiana Tech the ability to bank big profits for the game and gain exposure.
"[Playing in Shreveport] helps us expand our market," said Patrick Walsh, an associate director in the school's athletic department. "Our goal is to be the premiere flagship university in Northern Louisiana. Playing occasional games in Shreveport and growing our fan base there is critical to our success."
For a regular season home game against a conference opponent, Louisiana Tech makes approximately $30,000. The club seating area in Independence Stadium alone gives Louisiana Tech the chance to make more than twice that amount. A sellout would allow the school to bank more than $1.1 million in profit.
"We played Miami there in 2003 and had over 43,000 [people]. We had over 40,000 when A&M came to Shreveport in 1999," said Walsh.
Schools in the Big East are unclear just how much WVU's departure may cost them as they scramble to fill schedules. Big East schools also have to fill the TCU game, which came open before the school even joined the conference.
"I wish there was an easy strategy we could all employ to make it work," said Bob Arkeilpane, Cincinnati's deputy athletics director. "The truth is, it's extremely difficult. You want to come up with a balanced schedule that will work financially and make the coach happy, make the fans happy, and the Big East happy."
The solution? Arkeilpane thinks perhaps the conference will get involved, though not necessarily by giving schools some of the money it is receiving from the WVU departure payout.
"I've heard absolutely nothing like that, but it makes sense you would hear a lot of speculation," he said.
Arkeilpane also worries about the bowl implications if Cincinnati has to play two FCS schools in order to fill out its schedule. If a team plays two FCS opponents, it must have seven wins -- instead of six -- to be bowl eligible. Cincinnati is already scheduled to open the season at home against FCS opponent Delaware State.
The Big East could petition the NCAA for an exemption to the FCS rule. Big East officials declined to comment on that possibility. Such an exemption has been sought before: In 2010, Arizona State asked for an exemption after San Jose State backed out of a game and the Sun Devils scheduled Portland State. The NCAA denied the request.
In the end, however, Arkeilpane is confident the conference will work things out, so for now, the Bearcats wait.
"This is a Big East issue and all the member institutions will have to work together to figure out what the solution is," said Arkeilpane.
November, 1, 2011
11/01/11
11:11
AM ET
West Virginia University didn't hand out a Halloween treat to the Big East when it filed a lawsuit against the conference in a Morgantown, W.Va.
Full of legal claims like "breach of contract" and "breach of fiduciary duty," the lawsuit seeks to allow West Virginia to escape to the Big 12 without having to serve a 27-month mandatory waiting period required by the Big East's bylaws. I've
explained previously
why the Big East might enforce this provision.
Here's what West Virginia claims:
1. That the bylaws are void because of any one of the following reasons:
There has been a "material breach" of contract. WVU alleges that the Big East and its commissioner breached their fiduciary duties to the university by failing to keep the Big East a viable football conference.
WVU's performance under the contract has become "impossible or unreasonably burdensome" because the university contends it has always valued the strength of the Big East as a significant football conference.
The principal purpose of WVU entering into an agreement with the Big East has become "substantially frustrated." This means that although WVU could still perform under the contract, its purpose in entering into the contract has been destroyed.
2. That a new conference agreement was made between WVU and the Big East when the Big East accepted a $2.5 million payout from West Virginia when it told the conference it was leaving.
3. That the 27-month exit provision is an "unreasonable restraint on trade," meaning WVU believes the provision isn't necessary to protect the Big East's interests.
Here are the counter-arguments the Big East could be expected to make:
With regard to the material breach claim, one factor courts will examine is whether WVU is deprived of the benefit it expected to receive from its Big East contract. To this end, WVU states in its lawsuit that the material breach is due to the commissioner's "failure to maintain a ratio of football-to-non-football universities of eight-to-eight and maintaining and enhancing the level of competition in the Big East football conference."
However, the Big East can be expected to argue that during the 27 months WVU will remain a member of the conference there will be eight football members, as other defectors Pitt and Syracuse will also be held in the conference through the 2013 season as part of the 27-month requirement. In addition, the
BCS has confirmed
that the Big East will remain an BCS football conference through the 2013 season.
WVU's claim that performance under the bylaws has become "impossible or unreasonably burdensome" relies in part on the assertion that the Big East is "no longer a viable and competitive football conference." Again, the Big East will likely argue that there will be no change during the seasons WVU will continue to compete as a conference member, and the conference will operate the same in 2012 and 2013 as it did in 2010 and 2011. The same argument will likely be used to oppose WVU's claim that its purpose in entering into an agreement with the Big East has been "substantially frustrated."
Another argument by WVU is that even if the bylaws are valid, a new agreement was struck with the Big East for immediate withdrawal upon payment of $2.5 million. WVU claims the Big East accepted the new agreement by accepting the payment. However, the Big East requires such a payment be made when a school notifies the conference of its plans to exit, with another $2.5 million to be paid by the time a school exits. Without additional evidence from WVU on the new agreement it claims was reached, it appears the Big East could argue WVU was only remitting payment as required.
West Virginia's final argument is that the 27-month withdrawal period is an unreasonable restraint of trade, one that is unnecessary in order to protect the Big East's interests. Here, attorneys likely will point out that the Big East has already waived its right to enforce the 27-month notice period because it allowed TCU out of its commitment; essentially, the conference can't hold one school to the 27-month period and not another. Big East Associate Commissioner John Paquette said Tuesday afternoon that the Big East had a separate agreement with TCU that stated if it left before competing, it would not be subject to the 27-month provision.
Paquette said Monday evening that he could not reveal whether WVU voted in favor of the 27-month withdrawal period in the bylaws when it was added. But he did point out: "David Hardesty, the former WVU president, helped write the current withdrawal policies." Expect the Big East to bring this up in its response to the lawsuit.
The case is important, because it will likely decide the Big East fates of Pitt and Syracuse, which are bound to stay through the 2013 season before heading to the ACC. Although each of those schools could file suit in their respective states, Washington, D.C. law (where the WVU suit will be heard) would govern, according to the Big East bylaws. So any decision in WVU's case would create precedent for any case filed by Pitt or Syracuse.
Additionally, any decision rendered by a court in this case could impact future conference realignment involving any other conference. Although the decision wouldn't have to be followed by courts in other jurisdictions, it could be persuasive. No doubt WVU is gambling on the Big East settling the case before a decision is rendered which could impact conference realignment for years to come.
October, 25, 2011
10/25/11
5:55
PM ET
My colleague, Joe Schad,
is reporting
that the Big 12 has told West Virginia it will be accepted into the conference pending formal approval, which could happen very soon.
While Texas A&M and TCU, which recently announced conference moves, will join their new conferences for the 2012 season, Schad notes the Big East could try to keep WVU, along with Pitt and Syracuse, in the conference for up to 27 months, per conference guidelines.
Why would the Big East play hardball with its defectors? Because more than $20 million per year is at stake given the Big East's automatic-BCS-qualifying status.
For the 2011-12 school year, BCS conferences will receive $22.3 million for their qualifying team and can earn another $6.1 million if another member receives an at-large berth. A non-automatic-qualifying conference team selected for a BCS game receives $26.4 million but must divide that revenue with the other four non-automatic-qualifying conferences.
If the Big East were to lose Pitt, Syracuse and West Virginia at the end of this school year, it could jeopardize the Big East's BCS status. Here's how it works:
Current BCS conferences were determined based on data from the 2004-07 football seasons. Data from the 2008-11 seasons will be reviewed following this season to determine if a seventh conference makes the cut to be an automatic-qualifier for the 2012 and 2013 BCS bowl seasons. In addition to that review, each current BCS conference is reviewed for annual qualification.
This is where it gets dicey for conferences losing teams.
Three sets of data are considered in the annual review: First, the average ranking of the highest-ranked team in the BCS standings over the four-year period; second, the average rank of all the conference's teams based on rankings from each of the six BCS computers over the four-year period; and third, something called a conference's Adjusted Top 25 Performance -- a calculation based on a conference's number of teams in the Top 25 of BCS standings over the four-year period as a percentage of the top conference in this calculation, which would have been rated 100 percent.
The threshold for annual qualification requires each conference to be in the top six in the first two sets of data and in the top 50 percent in the third set of data. However, a waiver can be obtained from the BCS' Presidential Oversight Committee if a conference is in the top six of the first two sets of data and top 33 percent of the third set, or top five of one of the first two sets and top seven in the other, along with top 33 percent of the third set.
When asked how conference realignment might affect these reviews, Maxey Parrish of the BCS said: "Since it's impossible to determine how a team would have played had they been a member of another conference, the rankings count for the conference schools [which] were members of [the conference] at that time. For example, TCU is not factored into the Big 12's status as an AQ until the 2012 season."
What happens if a conference doesn't meet the annual threshold? "Then there is the potential for them to be taken off the list of AQ conferences," Parrish said. However, Big East Associate Commissioner John Paquette said the conference's BCS status is guaranteed through the 2013 season.
The Big East's 27-month waiting period for members exiting ensures the conference will have suitable time to find a replacement and that current members will be included in automatic-qualifying calculations following the 2013 season, which is when new BCS agreements would have to be put into place following the expiration of current ones.
September, 24, 2010
9/24/10
11:30
AM ET
We've got big games from coast to coast in Week 4, so let's check out the top 10 storylines to watch heading into Saturday:
[+] Enlarge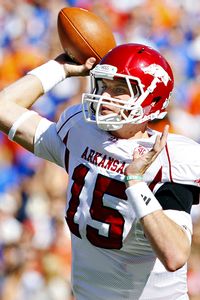 Kim Klement/US PresswireCan Arkansas quarterback Ryan Mallett lead his team to a win over the No. 1 team in the nation?
1. Does Arkansas have what it takes to beat Alabama?
Certainly the Razorbacks are much improved on defense, and
Ryan Mallett
has lived up to his Heisman Trophy billing. But does this team have a killer instinct? This is a team that had a 7-0 halftime lead over ULM, then blew a 24-10 fourth-quarter lead against Georgia last week before rallying for 31-24 the victory. Alabama will try to confuse Mallett the way it did last season. Offensively,
there are so many options for the Tide
, the Razorbacks are going to have to prove just how good they have become on defense.
2. Does Oregon State have a chance to beat Boise State?
Absolutely the Beavers have a chance. Is it going to happen? That is another question. Some keys to watch: Oregon State might not be able to run into the heart of that Boise State defensive line. Do the Beavers try to run sweeps to the outside with their speedy receivers to loosen them up? The Rodgers brothers, James and Jacquizz, are always a threat to take it the distance. The Boise State secondary has been vulnerable at times, so if
Ryan Katz
has time to throw, he could connect for some big plays.
3. Can Notre Dame close out a win?
So far 2010 has looked a lot like 2009 for the Fighting Irish, what with losing games in the closing seconds to Michigan and Michigan State. They could just as easily be 3-0 with a few more plays going their way. Instead, they are staring at the prospect of a 1-3 start, given the way Stanford has played going into the game. This could be a national statement game for Stanford quarterback
Andrew Luck
, who has 674 yards passing with 10 touchdowns and no interceptions.
4. Can the Big East represent in big nonconference games?
Pittsburgh, one of the popular preseason picks to win the Big East, fell flat on its face Thursday night in a 31-3 loss to Miami. That leaves Cincinnati and West Virginia this weekend in huge national profile games. Oklahoma visits the Bearcats, who have fallen on hard times just one season removed from an undefeated regular season. They hardly resemble the outfit that made it to the Sugar Bowl last season, having already lost to Fresno State and NC State. West Virginia, meanwhile, travels to LSU. The Mountaineers might be the best hope to win the Big East, but then again they nearly lost to Marshall.
5. How does Michigan State respond without coach Mark Dantonio?
Luckily, the Spartans play Northern Colorado, not exactly the toughest challenge. Dantonio suffered a heart attack in the hours after the Spartans' overtime win over Notre Dame, and offensive coordinator Don Treadwell will lead the team in his absence. A big game looms next week at home against Wisconsin. The bigger question is whether Dantonio will be back in time for that one.
6. Does South Carolina need to prove that it is for real even after beating Georgia?
Some believe the answer is yes. Well here it is, perhaps an even bigger test because the Gamecocks must play a better Auburn team on the road. Last week, Auburn struggled to stop Clemson running back
Andre Ellington
, who had 140 yards and a touchdown. This week, the Tigers face a bigger, more physical back in freshman stud
Marcus Lattimore
. The key for the Tigers: shutting him down to force
Stephen Garcia
into trying to win the game. South Carolina has the defense to be able to slow down Cam Newton.
7. How does Iowa respond after its heartbreaking loss to Arizona?
The Hawkeyes get an easier challenge this week against Ball State, but they are beginning life once again without
Jewel Hampton
, out for the season with a torn ACL. This game serves as an excellent tune-up headed into next Saturday's big game against Penn State. Iowa has to figure out how to get its offensive line going, perhaps the most glaring weakness on the team, which was completely exposed against the Wildcats.
8. How does Arizona respond after its big win over Iowa?
We can ask the question both ways. The Wildcats are up to No. 14 in the polls after that win, and now all of a sudden are a team everyone believes is right there in the mix for the Pac-10 title. They play a California team that lost to Nevada last week. What was striking in that game was the way Nevada dominated on both lines. That doesn't bode well going into this game, considering how strong Arizona looked on the offensive and defensive lines against the Hawkeyes.
9. Can Virginia Tech win at Boston College without Ryan Williams?
This is a crucial game for the Hokies, who could drop to 1-3 with a loss. Without Williams,
Darren Evans
and
David Wilson
will carry the load. But Evans has lost two fumbles in two weeks, and the Hokies traditionally struggle running the ball against the Eagles. That was until last season, when they had 235 yards on the ground. They are going to need another performance like that to win, but it's going to be much harder without their top runner.
10. Can Oregon keep up its scoring pace?
Hard to imagine the Ducks will be able to hang half a hundred on Arizona State, a team that came
thisclose
to beating Wisconsin on the road last week. Oregon has averaged over a point a minute in its three games this season, but the Sun Devils are no New Mexico and are certainly no Tennessee. Still, Arizona State has to be better in the red zone to have any shot at the upset.
September, 23, 2010
9/23/10
1:42
PM ET
BYU will play West Virginia at FedEx Field on Sept. 24, 2016, the
Cougars announced Thursday
.
The game is just the latest to be held at the neutral site in Landover, Md. Earlier this year, Boise State beat Virginia Tech 33-30 there. Other games scheduled for FedEx Field:
Penn State vs. Indiana later this season, on Nov. 20.
Notre Dame vs. Maryland on Nov. 12, 2011.
Army-Navy Game on Dec. 10, 2011.
Virginia Tech vs. Cincinnati in 2012.
Maryland vs. Texas on Sept. 1, 2018.
"This is a unique opportunity for our fans on the East Coast to see our football team play in person," BYU athletic director Tom Holmoe said in a statement. "West Virginia is a very good football program and FedEx Field is a fantastic NFL venue. It's a great opportunity for our program."
BYU and West Virginia have never played before in football. The game is obviously an important one for BYU as it begins life as an independent in 2011. The Cougars already have a scheduling agreement with Texas in place, and one is also in the works with Notre Dame.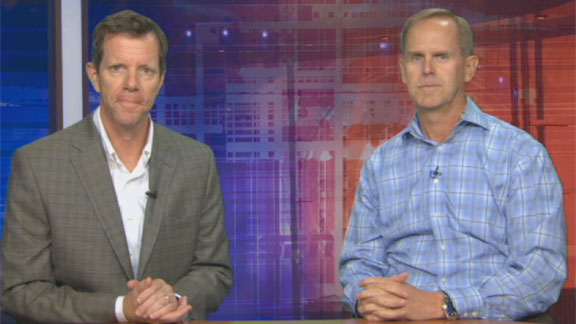 September, 10, 2010
9/10/10
12:49
PM ET
August, 18, 2009
8/18/09
5:00
AM ET
Posted by ESPN.com's Ivan Maisel
1. Northwestern's All-Big Ten defensive end Corey Wootton tore his right ACL late in the Alamo Bowl only eight months ago. Yet he is working out with the Wildcats, resembling the guy who had 10 sacks in 2008. He wears braces on both knees in practice and is limited to one practice per day (No two-a-days. Darn.) Wootton will wear the right brace in games and, coach Pat Fitzgerald said in a text, "won't even notice a difference." Fitzgerald said this, too: "He is great. He will be ready for the opener!" In eight months? Amazing.
2. In his four seasons behind Pat White, West Virginia quarterback Jarrett Brown did plenty of watching, inlcuding a lot of video of Tom Brady and Peyton Manning to pick up "the little things they do: timing, sitting in the pocket, how to be a leader," Brown said. "Peyton and (wide receiver Marvin) Harrison, their relationship was so great. It's just so hard to defend. If you throw the ball before the guy gets out of his break, how is a defensive back going to make a play on it?"
3. Couldn't help but notice that in Pat Forde's dash of the 40 biggest villains in college football history that the Southeastern Conference led all leagues with 11, followed by the Big 12 with nine.. That makes sense. Villains engender hate, which is passion in its rawest form (clothed division). Nowhere are fans more passionate than in the SEC (ditto). The Pac-10, where football isn't quite as important, had three villains. Whatever, dude.